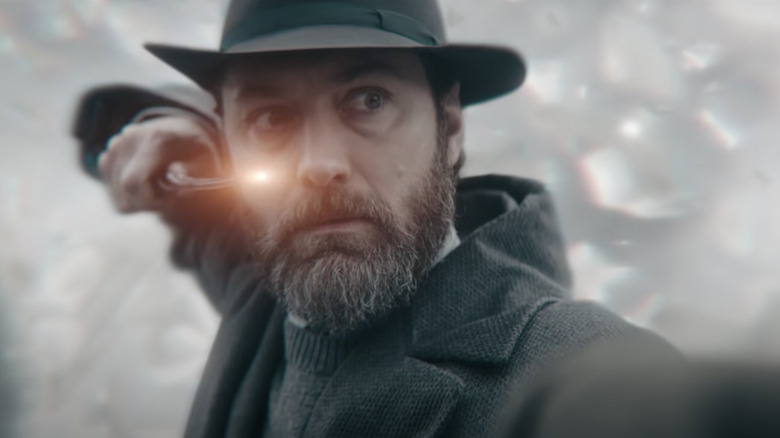 Keeping track of the chaos known as "whatever is going on at Warner Bros. Discovery" feels like its own full time job, but that's what your good friends at /Film are here for. The company had their Q2 earnings call today, and released the results of their second-quarter 2022 earnings. For the uninitiated, Q2 covers April, May, and June, which meant in terms of studio/theatrical releases, we're talking about the end of the theatrical run for "The Batman," "Fantastic Beasts: The Secrets of Dumbledore," and the Baz Luhrmann "Elvis" biopic. When reading the Q2 report, we clocked an interesting note included beneath their financial numbers.
"Theatrical performance was unfavorably impacted by the timing of releases."
Disregarding "The Batman," which made most of its money during Q1, this line is evident that Warner Bros. Discovery was disappointed with the box office performances of "Fantastic Beasts: The Secrets of Dumbledore" and "Elvis." Looking at the numbers, "Elvis" has brought in over $237 million worldwide against its $85 million budget (this doesn't include the cost of marketing), while "Secrets of Dumbledore" only brought home $405 million against its $200 million budget before marketing. The "timing" argument works for "Elvis," which was released as "Top Gun: Maverick" destroyed everything in its path, but "Secrets of Dumbledore" was released the same month as "Sonic the Hedgehog 2," "Ambulance," "The Northman," and perennial pop culture punching bag, "Morbius."
"Fantastic Beasts: Secrets of Dumbledore," should have been a sure thing. It's a spin-off from one of the most profitable franchises in movie history, both previous "Fantastic Beasts" films made ridiculous amounts of money, and none of its competitors were particularly big box office hits. What "timing" are they talking about?
Let Harry Potter Die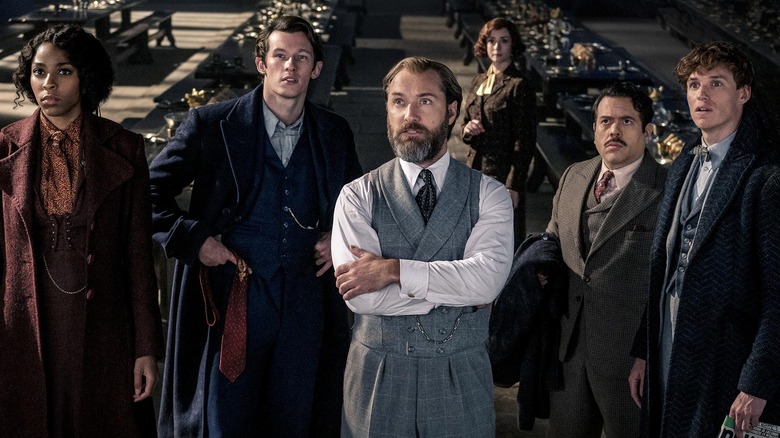 The timing of "Fantastic Beasts: Secrets of Dumbledore," was atrocious, but it had nothing to do with the landscape of the box office and everything to do with the way public opinion of all things "Harry Potter" has shifted. Author J.K. Rowling has actively chosen to destroy her legacy by becoming the world's most recognizable transphobe instead of enjoying her wealth and keeping her backasswards opinions to herself, which has torn apart the "Harry Potter" fandom from the inside out. An overwhelming number of people refuse to support anything that puts more money in her bank account, which meant even die-hard Potterheads chose to skip "Secrets of Dumbledore."
If that wasn't enough, the film was plagued in controversy due to the recasting of Johnny Depp with Mads Mikkelsen following his domestic abuse allegations, and co-star Ezra Miller was arrested the month prior to release in what would become a trend of arrests and increasingly troubling headlines. So yes, the timing of "Secrets of Dumbledore" was poor, but call it for what it is. The movie didn't perform well because people involved with the project have tanked the public stock in irreparable ways. Ignoring the reality of why the movie actually failed is not only irresponsible, but allows those with power who are directly harming the releases of these films a way to skirt accountability. I understand wanting to use neutral business speak so as to not ruffle the feathers of shareholders, but until studios finally acknowledge the way outside forces influence their bottom line, we're going to be stuck in an endless loop of Morbin' time until the sun fries out.
Read this next: The Best Movies Of 2021
The post Warner Bros. Discovery Blames Lower Box Office On Badly Timed Movie Releases appeared first on /Film.