Sunscreen? Check. Sunglasses? Check. But how about your sun hat? Do you have a stylish hat to protect your face from sun damage? Let's take a look at the best sun hats for women you can choose this summer.
What to think about when choosing your sun hat
There are a number of things to consider when choosing the best sun hats for you,
What do you need it for?
Are you heading off on vacation? Do you need your hat to travel well? Or do you want your sun hat for when you're in the garden at home for example?
How wide is the brim?
To protect your face, you'll want a hat with a good size brim. Plus, as an added bonus, wide brim hats tend to add a touch of glamour.
Dawn Lucy @fashionshouldbefun above (read her style interview here) matches her hat to her bag.
Recreate her outfit with this similar top (another option here), shorts, sandals, tote, sun hat and necklace.
How about one with extra sun protection?
Just as you can get clothing specially designed to protect you from the sun's harmful rays, you can get hats with a UV rating. If you're particularly worried about keeping your face protected, looking out for a hat with built-in UV protection is a good idea.
Your face shape
Just as you would choose any other style of hat to match your face shape, whether it is for a wedding or to keep you warm in winter, you should choose your hat to flatter you. Take a look at how to choose a hat for your face shape
best sun hats for women
Now, let's look at some of the most stylish, well-recommended hats you could choose this summer.
Beach hat
The beach hat below comes in a good choice of colors and prints, and should keep the delicate skin on your face protected while you relax on the beach. It has UV protection and a stylish wide brim. Reviewers say it offers superb sun protection.
Coolibar UPF 50+ Brittany Beach Hat
Foldable hat with an SPF
One of the problems with a hat when you're heading off on vacation is how do you pack it? Or do you have to wear it on your journey? Opting for a foldable hat means it will pack in your suitcase and still look great when you get to your destination.
For more travel essentials, also look at these stylish travel clothes.
FURTALK Wide Brim UPF 50 Foldable Floppy Hat
fedora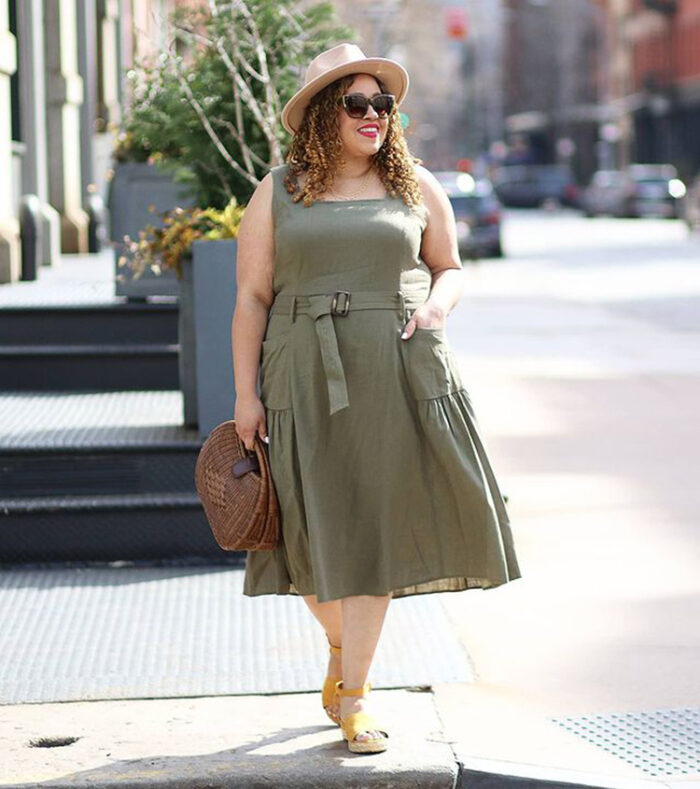 A fedora can add a little edge to your outfit as it takes inspiration from menswear. So this can create a lovely juxtaposition if you team it with a feminine dress like Sandra @lapecosapreciosa above
Check out this linen dress, sandals, fedora, handbag and sunglasses.
Bucket hat
Bucket hats are particularly on trend now, and can lend your outfit a youthful feel. The bucket cap (below) has UV protection and is designed to be packable so you can pop it in your luggage. It comes in a huge choice of colors and reviewers say it's the perfect beach hat.
Somaler UPF 50+ UV Packable Bucket Cap
Sun protection straw hat
A straw hat is always a timeless choice for the beach. The hat below features a wide black band and there's also a velcro band so enable you to adjust it to your head size.
Sun visor
If you are concerned about protecting your face, you don't necessarily need to opt for a full hat. The visor (below) comes in a vast array of neutral and bright shades so you should find one to suit your favorite vacation wear.
San Diego Hat Company Ultrabraid Large Brim Visor
Floppy hat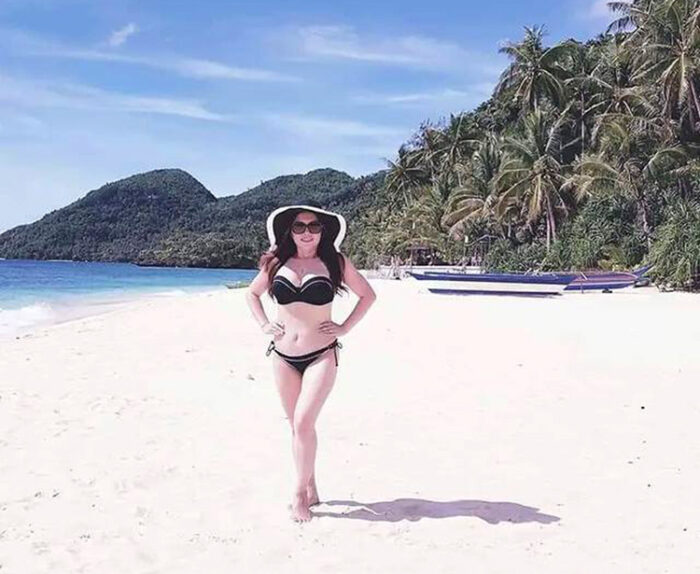 A big, floppy hat will never go out of style and will add more than a touch of glamour. Suzette @suzettepetrov above looks beautiful in her hat and matching bikini.
Recreate her look with this similar two-piece swimsuit (another option here), sunhat and sunglasses.
You could also try the floppy hat below. It rolls up and should pop back into its original form. Reviewers describe it as the best hat ever.
Lanzom Wide Brim Floppy Foldable Sun Hat
Muryobao
I also like the wide brim hat (below) with the stripe detailing on the brim. Reviewers say its a great option for the money. Although some said it does crease so this is a good choice if you don't want to pack it.
Muryobao Wide Brim UV UPF 50 Summer Hat
Wide brim bucket hat
If you like the style of a bucket hat but want to ensure that the brim is wide enough to cover your face, then the wide brim bucket hat (below) could be the right choice for you. There are 13 different colors, and reviewers say it is a good choice for sun protection.
Wide brim panama
Another choice that takes its inspiration from menswear but looks fabulous on a woman is a panama. I think the J Crew hat (below) would look great with a maxi dress or palazzo pants.
havana hat
If you love the look of a panama but want a slightly smaller brim, the havana hat below looks great. Carelia @carelia_medich above (read her style interview here) looks beautiful in her classic, stylish outfit and hat.
Check out this similar striped tank, skirt, sandals, sun hat, straw handbag, earrings and sunglasses.
Hiking hat
If you're planning on some serious walking and you know you'll be out in the sun for a while, then a hat especially designed for hiking will be a good idea. The outdoor hat (below) should keep the sun (or rain) off your head.
You might also want to take a look at the best shoes for hiking to finish off your outfit.
Ordenado Outdoor Waterproof Sun Hat
JACQUARD KNIT hat
If you want a hat that is a little out of the ordinary, then COS is a good place to take a look. The knit bucket hat (below) can be worn down or with the brim folded to give a different look.
stripe hat
Another choice from COS is the striped option (below) which would look good worn with your shorts and t-shirt or your black summer dress.
Oversized hat – best sun hats for women
Sheree @shesheshow above looks fabulous in her very wide brim hat which he cleverly matches to the stripes in her dress (and the chairs!). She is wearing a dress from Coldesina Designs, sun hat from San Diego Hat Company and sandals from Tara Grinna.
Anthropologie Oversized Floppy Straw Hat
Polka dot hats
You don't have to opt for plain colors when you choose your summer hat. You could always opt for a playful print. I think the Anthropologie hat (below) would look great with a floaty white or red summer dress.
Anthropologie Greenpacha Kona Bucket Hat
Foldable brim
For a hat that you can alter the way the brim folds up, the Scala medium brim hat (below) is a good choice. There are cords on the inside that you can tie to make it fit well to your head.
Wallaroo hat company
For a classic choice that comes in a great choice of colors, including bright shades and pastels, try the Wallaroo hat company option below. Women who have worn it say it is sturdy and well made but lightweight.
Wallaroo Hat Company Victoria Sun Hat
Canvas bucket hat
The J Crew bucket hat (below) has a little fringe detailing which gives it a casual edge – perfect to wear with your shorts and t-shirt.
J.Crew Canvas Bucket Hat With Fringe
Capri sun hat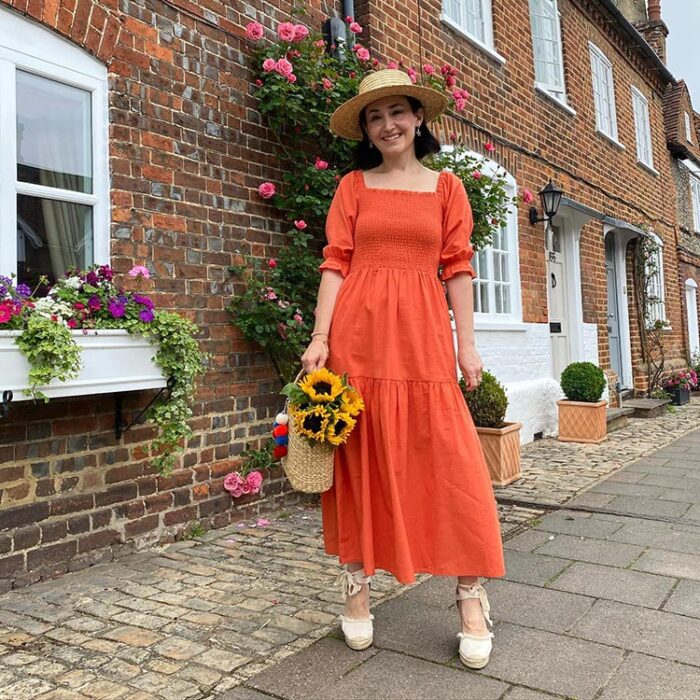 Emms @beautifuleveryday_uk above looks summer ready in her flat-top straw hat and summer outfit, against that beautiful floral backdrop.
Get her look with this similar dress, espadrilles, hat and straw tote.
The flat top of the straw hat (below) from Gigi Pip will add a point of difference to your outfit.
Rag and Bone fedora
If you are looking for the best sun hats for women and want to invest in a sunhat that won't date, then the Rag & Bone packable fedora (below) is a deigner choice that you can wear summer after summer.
rag & bone Lexie Packable Wide Brim Fedora
shop the best sun hats for women below:
Tell me about your sun hat recommendations. Can you add your best sun hats for women recommendations in the comments below?
Continue reading:
Like this article on the best sun hats for women? Share it on Pinterest
Feature image by Carelia @carelia_medich
The post the best sun hats for women to protect your face from those harmful rays appeared first on 40+ Style.