— Recommendations are independently chosen by Reviewed's editors. Purchases you make through our links may earn us a commission.
Feeling the effects of our pandemic hibernation, lifestyles focused on wellness and homestays are trending strong and will continue into 2022 and 2023, particularly among millennials. Accordingly, cool shades of blue—from indigo to powder blue to Scandi blue—that support the relaxation vibe are popping up everywhere, including among decorations for the 2021 Christmas season.
Upmarket Christmas retailer Balsam Hill says that blue hues are in already, inclusive of people who celebrate both Christmas and Hanukkah, and that blue is showing up in wreaths, garlands, and ornament sets, among other decorations.
Not sure how to make it happen in your home? We've scoured the retail scene and found these festive blue holiday decorations so you can stray from the season's traditional green and red motif with confidence.
Christmas trees—from blue spruces to navy stunners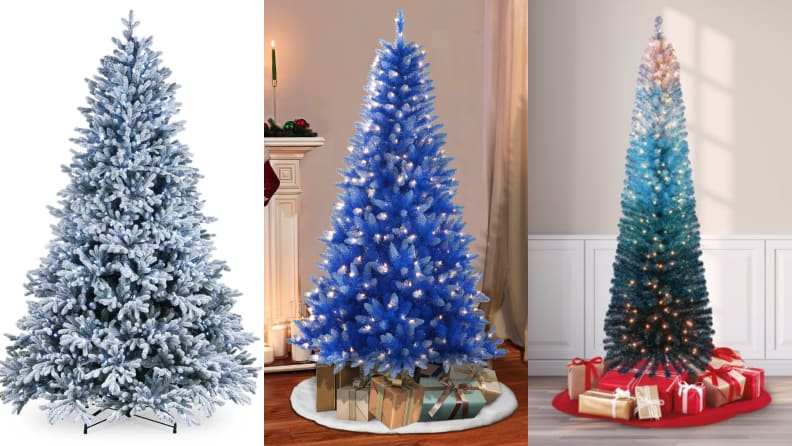 Let's start with the centerpiece of most folks' celebrations: the Christmas tree. Whether you celebrate Christmas as a religious or a secular holiday, you're bound to have a tree. Some people prefer live trees—and that's great, even if you still want to rock a blue holiday. But, if you're looking to go all out with a blue Christmas tree, start here. Looks range from a realistic-ish blue spruce to a 14-foot navy blue stunner.
Spread the blues with a tree skirt … or a tree collar
Every magazine-page-worthy, pine-decked standout sparks the impulse to hide an unsightly tree stand with something. Enter: the tree skirt.
Whether you want to embrace the Scandinavian aesthetic or steer more toward something simple, a tree skirt offers the opportunity to bring in both blue hues and some character to your holiday décor.
If you're more of a neatnik, you can try a tree collar in blue, a rising trend for 2021.
Tabletop trees cast a relaxing glow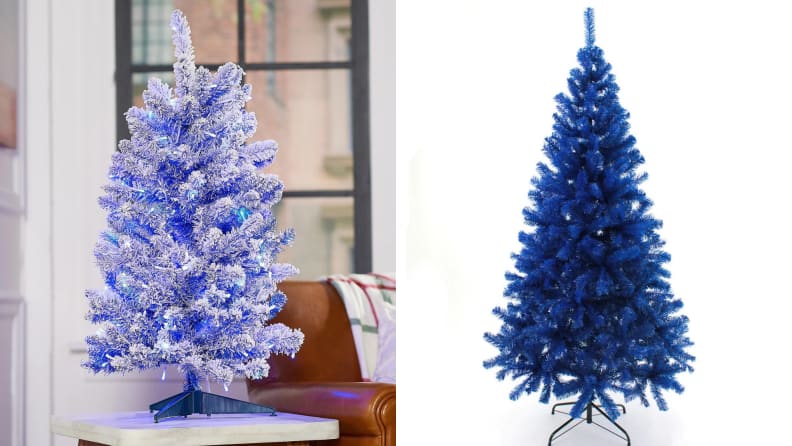 Just because you live in or work in less square footage—apartment/in-law suite/closet office—doesn't mean you don't have space for a Christmas tree. This year, turn to tabletop trees for decorating smaller areas. Not only are they a better fit, they're much easier to lift! Here are some adorable ones in blue shades.
Two trends meet with LED twig trees
If you really want to buck tradition, forget pine boughs all together and deck out your family room with an LED twig tree—in doing so, you'll be combining two hot trends this holiday season.
You can certainly replace your traditional tree with one of these twig trees, or you can place multiple ones around your living space to create an ambiance that casts a blue aura.
Blue hues in stockings say it's a cozy winter
Santa needs somewhere to stuff the more petite presents on your list. Or, maybe you're planning to propose this year? Don't let this year's blue theme stop you from hanging a stocking on the mantle.
There are plenty on the market, whether your style ranges from buffalo plaid to fur-cuffed, or you're simply looking for something to match your favorite Canadian tuxedo.
Ornaments with blue notes give your tree an elegant appeal
When it comes time to decorate your Christmas tree, there are many schools of thought for how to do it right. Some people like to coordinate their ornaments, create a put-together, unified look. Others prefer to infuse their tree with personality, hanging one-off ornaments that recall past vacations, funny events, or cherished memories. Either way, bringing blue into your practice shouldn't be hard.
Ornament sets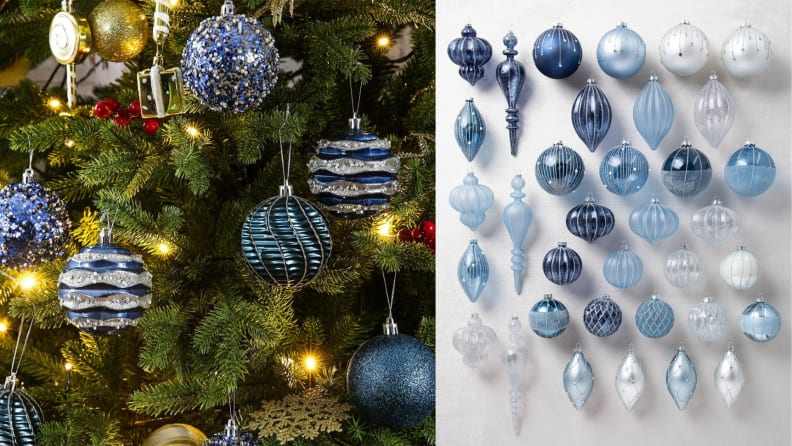 Single ornaments
Blues offer unique takes on religious symbolism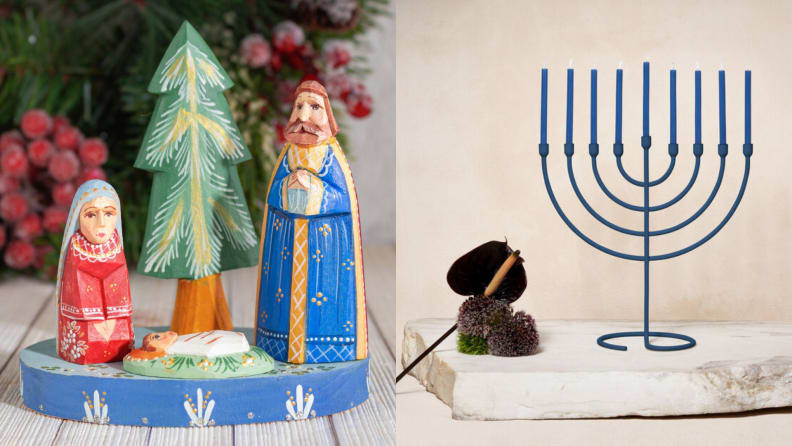 Regardless of your cultural or spiritual background, chances are you're celebrating something in December. Christians commemorate Jesus' birth with nativity scenes. Those of Jewish faith celebrate Hanukkah by lighting candles in a menorah or hanukkiah over eight days. While blue tones are natural for the Jewish festival, it's less so for traditional renditions of the nativity—but it's not impossible.
Candles put a warm spin on cool blues
The only thing that makes the holiday season cozier than hot cocoa and twinkling strings around the tree is candlelight. And, while the flames will always glow orange, candles put a warm spin on cool blues.
Assorted décor continues the blue theme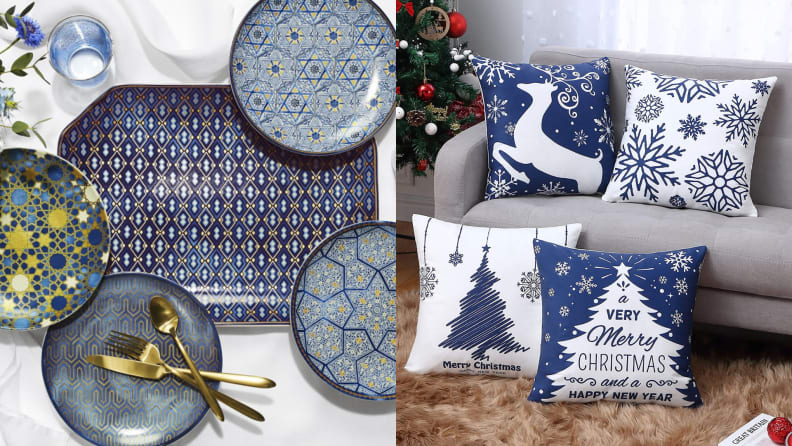 Plump holiday pillows for the couch, festive tea towels, holiday snacking dishes, adorable DIY advent calendars, menorahs, nativity sets, and more. All these things can be done in, yes, shades of blue.
Baubles and blueberries pop on wreaths and garland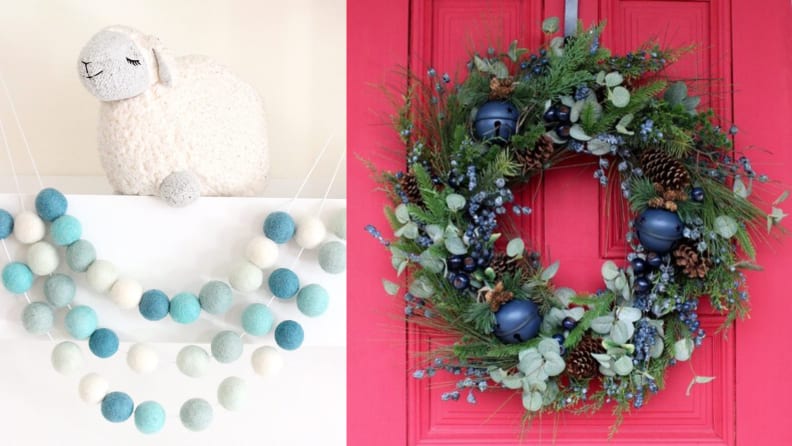 Of all the holiday season's decorations, we think that wreaths and garland say the most about your style. These items are, after all, how you greet your guests during the season, whether it's a wreath hung on the front door or garlands perched on the mantel or around the tree.
From shiny baubles and flocked pine boughs to minimalist felt pom-poms, your look shows your personality.
The product experts at Reviewed have all your shopping needs covered. Follow Reviewed on Facebook, Twitter, Instagram, TikTok, or Flipboard for the latest deals, product reviews, and more.
Prices were accurate at the time this article was published but may change over time.