The new gasoline-powered version of BMW's flagship sedan incorporates updated engines and a rear seat theater system By Benjamin Preston
BMW revealed its new 7 Series sedans during the New York International Auto Show, including the fully electric i7 xDrive60, a first-ever for the 7 Series, and a slate of newly improved gasoline-powered versions. (Read more about the 2023 BMW i7 xDrive60.)
In this article, we provide details about the new gasoline-powered versions, which have added features and luxuries, as well as updated engines that BMW says are vastly improved over the older models. The six-cylinder version, for instance, gains more than 40 horsepower.
What it competes with: Audi A8, Lexus LS, Mercedes-Benz S-Class and EQS, Tesla Model S
What it looks like: A pair of large BMW kidney grilles with a very large, otherwise nondescript sedan attached to them. 
Powertrain: 3.0-liter, 375-hp twin turbo inline-six, 383 lb.-ft. torque; 4.4-liter, 536-hp twin turbo V8, 553 lb.-ft. torque; 8-speed automatic transmission with 48V mild-hybrid system; rear or all-wheel drive. 
Starting Price: $93,300 (740i); $113,600 (760i xDrive) (not including $995 destination charge)
On sale: November 2022
CR's Take
In addition to improved engines, drivers and passengers of BMW's new 7 Series sedans can expect to be coddled in the most luxurious, up-to-date interior the automaker has available, whichever powertrain the buyers of these expensive cars end up choosing.
Inside the car, the instrument cluster and infotainment screens are now housed below a large, curved piece of glass that spans more than half of the dash. The second row is available with one reclining seat behind the front passenger position, as well as 5G connectivity, and a rear-seat theater system with a 31-inch drop-down screen and a high-end audio system.
Outside
The new 7 Series is a big car, having grown more than 5 inches longer than the previous model, to 212.2 inches. It is also nearly 2 inches wider and 2 inches taller. For the most part, it looks like a generic sedan—conservatively styled and relatively nondescript. It bears a passing resemblance to a Rolls-Royce, except for the front-and-center kidney/baboon-posterior-shaped grilles, and the Hofmeister kink in the rear door window's trailing edge. Those two cues are very BMW. The slit headlamps on either side of the grille, popularized by models like the 2011 Nissan Juke and 2014 Jeep Cherokee, are new, but now part of the automaker's new design language, BMW says.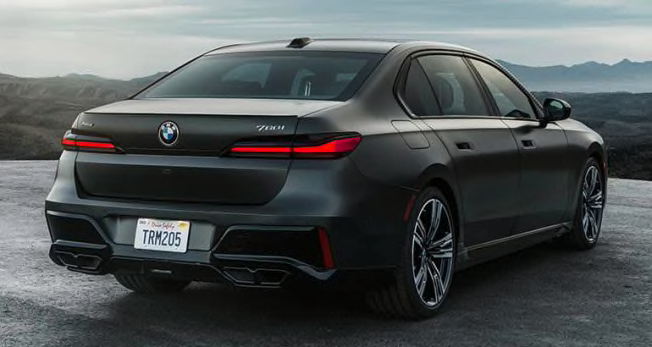 Photo: BMW
Inside
Outside of the steering wheel, don't expect to find many buttons. The interior aesthetic is spare in a refreshing way, and screens tend to dominate. The 12.3-inch instrument cluster and 14.9-inch infotainment screens are combined behind a single, curved glass strip that takes up a good bit of real estate on the upper dash. BMW says it has designed touch-screen operation to resemble smartphone function, including bold, easily recognizable icons that can be moved to a favorites bar depending upon the driver's preference. Although it is a significant departure from BMW's current iDrive system, there is still a physical control knob with surrounding buttons on the center console, which, along with voice commands, give options to those who prefer not to use a touch screen. There is a smartphone-sized control panel—glass-faced with app-like selections—in the armrest of each rear door.
A glass spear runs across the entire dash beneath the curved instrument panel. BMW is calling it the "interaction bar," and most of it is a touch screen that operates the climate system controls, glove box door, and other functions. It can be configured in a variety of colors and themes, and can also display moving graphics. The heating and cooling vents are mere slits and don't command much notice.
The center console contains a large storage cubby, and there is a smaller one in a fold-down armrest in the middle of the rear seat back. The armrest also conceals a pass-through door for longer objects such as skis. Front seat heat and ventilation, as well as a massage function, are standard on the 760i xDrive, and optional on the 740i. The same equipment is optional on all trims for the rear seats.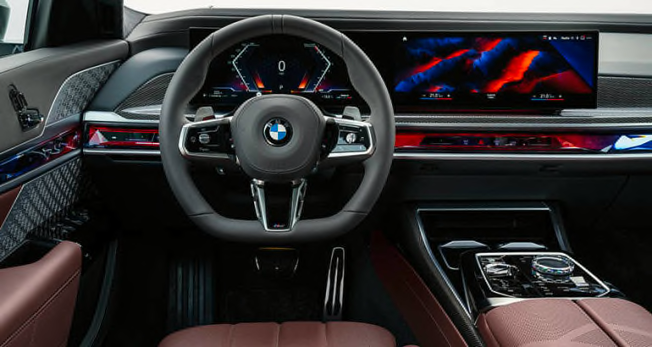 Photo: BMW
An optional 31-inch theater screen drops down from the ceiling, and includes built-in Amazon Fire TV, 8K resolution, and a Bowers & Wilkins Diamond Surround Sound system. Rear seat passengers can use the door armrest controls to close all the rear shades simultaneously to darken the rear seat for better viewing. The theater system includes streaming capability for videos, movies, and games, but CR found in a brief in-person assessment that the high, centered location of the screen made for odd head and eye angles during viewing.
There is an interior camera system that serves two functions: BMW says it can be a fun way to capture passenger activity for social media purposes, and on the serious side, the cameras can monitor parking attendants and look inside the car using a smartphone app if the alarm system has been activated. As with the BMW iX, the interior camera is not for driver monitoring.
A feature called Intelligent Personal Assistant functions like Siri or Alexa—everything from the driver assistance system to the automatic doors (on models equipped with them) can be operated using voice commands.
The 7 Series will come with an updated version of BMW's Digital Key system—although currently it is designed to work only with an Apple iPhone. BMW says the digital key will render a traditional key fob unnecessary, and will make it possible to open the 7 Series' doors automatically without removing the phone from your pocket (a major drawback of the current Digital Key feature that prevents it from completely replacing the fob). As the driver approaches the car, the grille, dash, and other components light up, and the computer unlocks the doors. Next, a startup animation plays on the center touch screen.
What Drives It
The two gasoline-powered versions of the 7 Series include a rear-wheel-drive model powered by a twin-turbo, inline six-cylinder engine, and an all-wheel-drive version powered by a twin-turbo V8. BMW says it has made numerous improvements to both engines, including improved cylinder heads and exhaust manifolds, more efficient turbochargers, and a secondary low-pressure fuel injection system designed to reduce carbon deposits on the intake valves and lower CO₂ emissions. Both engines are mated to an 8-speed automatic transmission that incorporates a small, 48-volt electric motor to provide additional torque for smoother acceleration and better fuel efficiency. The 48-volt battery for the mild hybrid system lives beneath the floor of the cargo area. (Read more about the 2023 BMW i7 xDrive60.)
The 7 Series is heavy—with the 740i weighing in at 4,594 pounds, and the 760i xDrive at 4,969 pounds. Regardless, BMW claims the inline-six will propel the 740i to 60mph from a stop in 5 seconds, while the V8-powered 760i xDrive will sprint to 60 mph in 4.2 seconds. Both models will come standard with an electronically controlled adaptive air suspension system. Selectable driver modes will change the car's ride height—lower for sporty and highway driving, and higher for rough roads. The electronic steering system will turn the rear wheels up to 3.5 degrees—in the same direction as the front wheels to provide stability and smoothness during lane changes, and at low speeds, in the opposite direction as the front wheels to tighten the big sedan's turning circle.
An optional electronic anti-roll system is available in the 760i xDrive, and uses 48-volt swivel motors to counteract the lateral forces that would otherwise be handled by conventional anti-roll bars. Both gasoline-powered cars come standard with 21-inch wheels and all-season tires, and 21-inch wheels and performance tires can be added.
Drive modes can be selected using voice commands, or with a button mounted on the center console. There are three standard modes—Personal Mode, Sport Mode, and Efficient Mode—as well as three customizable My Mode settings. All of them fine-tune the car's powertrain performance, ride, and handling characteristics. A seventh mode called Expressive Mode combines a custom drive mode with custom ambient lighting.
An M Sport package will be available on both gasoline-powered models, incorporating a performance front skirt and air intake. Upgraded M Sport brakes will be optional on only the 760i xDrive.
Safety and Active Features
The 7 Series comes standard with forward collision warning (FCW), automatic emergency braking (AEB), lane departure warning (LDW), all part of a suite of active safety features that will warn the driver of pedestrians and bicyclists approaching the car from behind during a right turn, as well as vehicles or other hazards approaching from the front during a left turn.
Active driver assist features are optional, and work with an array of cameras and radar sensors—albeit fewer, because it uses Mobileye technology—and incorporates a hands-free driving mode that will work at speeds up to 80 mph. The BMW Live Cockpit is available with a feature called Augmented View that shows a birds-eye view of the car and its surroundings using exterior cameras. Live Cockpit also adds to the navigation system by projecting directional arrows and other navigational instructions onto a driver's-view image displayed on the instrument cluster screen. Other automated features include a parking assist, and one called Maneuver Assistant that stores information from up to 10 regularly used scenarios—tricky spots such as a tight driveway or sharp corner—and can maneuver the car through them automatically.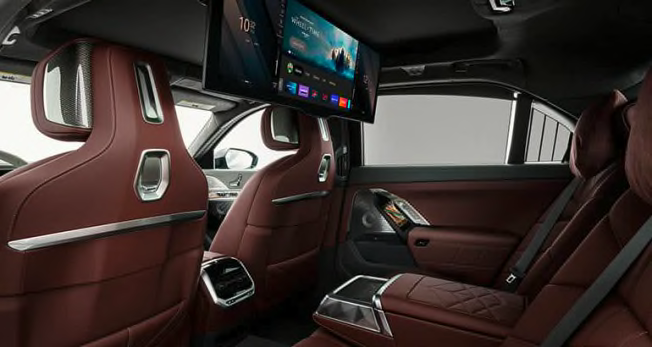 Photo: BMW
Consumer Reports is an independent, nonprofit organization that works side by side with consumers to create a fairer, safer, and healthier world. CR does not endorse products or services, and does not accept advertising. Copyright © 2022, Consumer Reports, Inc.