The return of Y2K trends to fashion's zeitgeist has ruffled many. Two decades later, it feels like the toxic body standards promoted by midriff-exposing tops and low-rise jeans, and the ultra-thin celebrities who wore them in the '00s, haven't changed that much. For proof, see the comeback of the torso-baring trend shown on the spring 2022 runways that featured few plus-size models. It begs the question of: Who gets to participate in this trend revival? 
The answer should be: everyone. But given fashion's slow progress when it comes to body diversity on the runways, when a trend that's only shown on thin models goes so viral even fast fashion and mass retail chains try to copy it, it's hard not to question the industry's intention. At Miu Miu, where low-rise mini skirts and ultra-cropped blazers and button-up shirts dominated, no plus-size models were cast to showcase the torso-baring looks. This was also the case at Blumarine, which has been credited for leading the Y2K comeback in recent years.
"It's really not surprising to see that there was little to no body diversity when it came to showing this trend," says Gianluca Russo, a fashion writer and the author of Power of Plus. "In fashion, the people who lead the trends have remained the thinnest people."
Even when brands cast plus-size models in their lineups, the styling choices they're given often exclude them from participating in some of the skimpier trends. "You can see the stark difference in how plus-size versus straight-size bodies are represented," says Russo.
While there are various factors that go into the looks chosen for each model, take, for example, the spring 2022 Balmain show, which included a slew of midriff-exposing looks on straight-size models. Meanwhile, Precious Lee modeled a long-sleeved, midi black dress. The same was seen at Versace, where thin models walked in low-rise metallic mini skirts and cropped tops, while Lee sported a flowy button-down shirt and capri pants. "Brands get commended for having size inclusivity on the runway," says New York-based stylist Ansley Morgan. "But most of the time, [the plus-size models] are in some sort of stretchy piece of material." (Refinery29 reached out to both brands for comment on how they choose looks for models; Versace declined to comment and Balmain has not responded at the time of publication.)
There are some exceptions, though: At the spring shows, Paloma Elsesser sported a floss-string bikini top with a pair of mid-rise pants at Maryam Nassir Zadeh, while Lee sported midriff-exposing crop top and high-waisted tulle skirt look at Christian Siriano and a mini dress at Brandon Maxwell. 
Yet, when it comes to the viral looks the fashion world has fawned over the past few months, there has been little plus-size representation in media. 
A quick look at the Instagram account @miumiuset — which is dedicated to documenting the many times celebrities, models, and influencers have sported the teeny-tiny Miu Miu skirt look — exhibits just how little brands and magazines have tried to advocate for the trend to be worn by non-straight-size bodies. There are celebrities like Nicole Kidman on the cover of Vanity Fair, Bella Hadid inside the pages of Vogue, and Zendaya for Interview. Only one image stands out: Elsesser on the cover of i-D (which is owned by Refinery29's parent company, Vice Media Group) with her torso front and center in the photo alongside the headline, "I'm not wearing a stretchy dress. I'm wearing Miu Miu."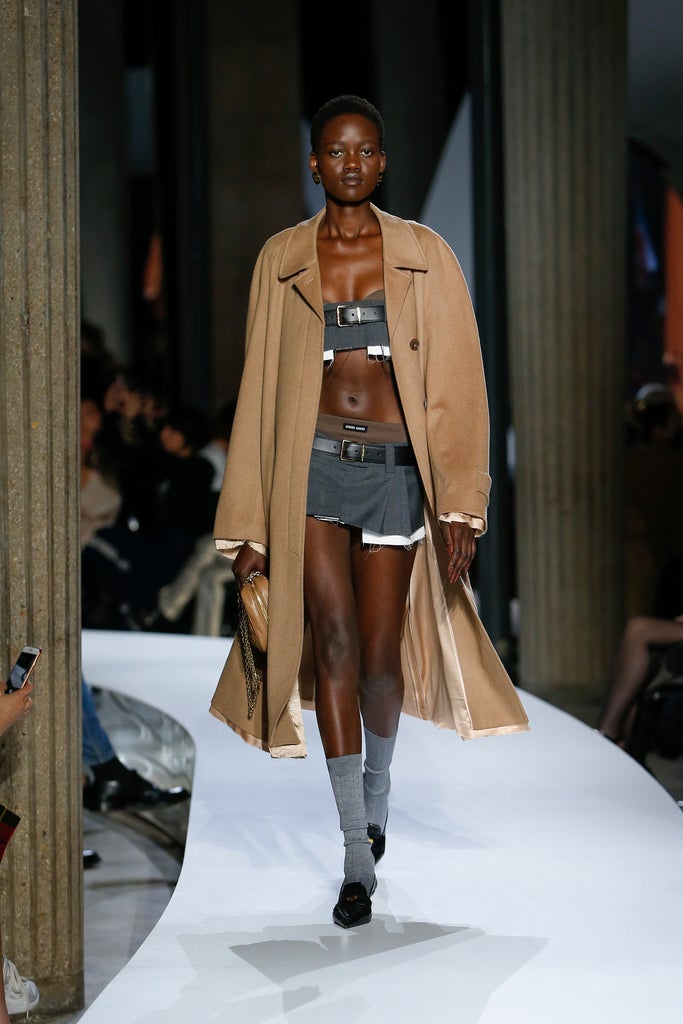 But even this cover was not without controversy. On Twitter, fashion insiders, including writer Shelton Boyd-Griffith and Fashionista's editor-in-chief Tyler McCall, pointed out that, while they appreciate the representation, it misses the point if real plus-size women can't wear the look modeled: Currently, Miu Miu only sells items up to a European size 48 (U.S. size 14), according to the brand's website. (A size 16 is generally considered the lower end of the plus-size spectrum.) "Is it even worth doing if no one can actually wear it?" asked  Russo. (Refinery29 reached out to Miu Miu for comment but has not heard back at the time of publication.)
For Morgan, it's one more example of how brands continue to purposely exclude plus-size women: "We've been told that if you don't look a certain way, you can't wear certain things. They don't even give us the option." She adds that brands are missing out, not just on an opportunity to do the right thing for the plus-size consumer, but also on financial gain: "There's a lot of people who have the money and would spend it if brands just like gave them the opportunity to."
One thing that has changed in 2022 is that plus-size women will no longer be told about what they can and can't wear. In the interview for i-D, Elsesser said that she is "reclaiming perceptions of what people think plus size bodies are capable of; how we're supposed to look, or supposed to exist and occupy space in this world." For Morgan, that is reason enough to be optimistic about the future. "Now, versus the early '00s, there will be plus-size people who do try it. Twenty years ago that wouldn't have happened," she says. "It definitely helps when you see people who look like you, but I hope to see more plus-size people wearing it."
Like what you see? How about some more R29 goodness, right here?
Why Some Millennials Are Embracing The Y2K Trends
The Y2K Metal Mesh Trend Is Made For The Holidays