Are you finding it tricky to figure out what to wear to a winter wedding?
No wonder! Not only do you have to look chic and stylish, but you also have to think about staying warm. Here are some of the best winter wedding guest dresses and outfits to give you some inspiration.
Before you start planning for your winter wedding
Just like a wedding at any other time of year, you will want to consider how formal the event is (your host should provide you with a dress code on your invite), as well as your own budget and personal style.
Try to find out how much time you will be spending indoors and outdoors. For example, you may have to be outside for photographs, in which case you will definitely need to add some stylish outerwear to your winter wedding guest attire.
Why winter wedding outfits can be fun to put together
Winter weddings can actually give you some stunning options. You could opt for richer hues than you would do for a summer wedding, and you can add luxe detailing such as velvet and faux fur.
Talking about budget, I would say its always worth splashing out a bit more on a wedding guest outfit, particularly as youre likely to be able to wear a winter wedding outfit again for other events, such as black-tie dinners and festive parties.
What to wear to a winter wedding?
Here are a few quick tips when thinking about what to wear to a winter wedding. Youll find plenty of inspiration if you are looking for winter wedding outfits for over 50s, 40s, or any age you happen to be:
Wear rich hues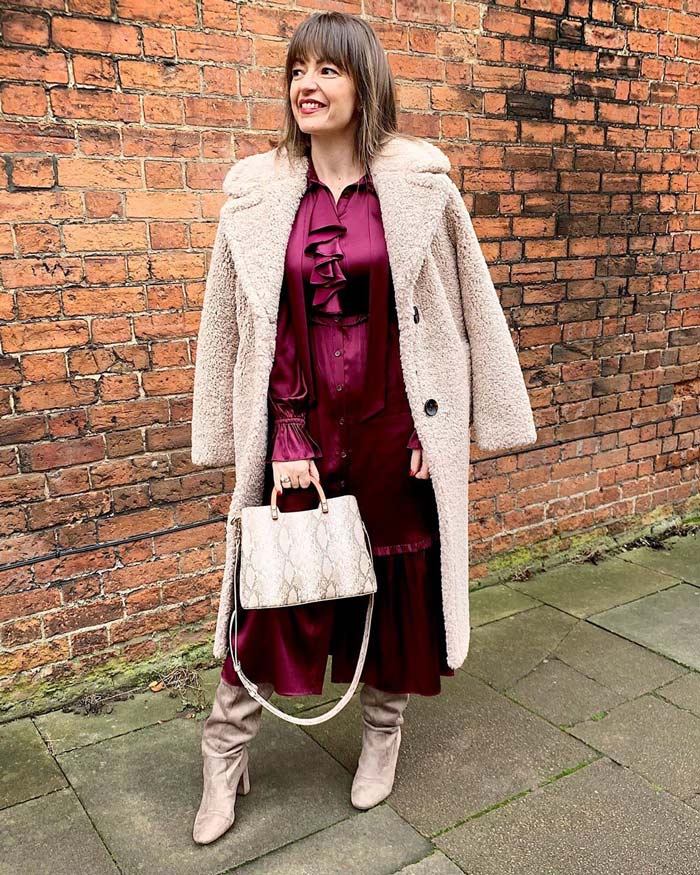 While pale pastels may be great for spring and summer, they could look out of place for winter. Think about rich jewel tones such as sapphire, emerald and garnet.
Lizzi (above) wears a rich plum dress.
Recreate her look with this similar dress, coat, booties and snake print handbag.
Id avoid black, unless you also have another color in your palette or you have a different hue close to your face as it can wash you out as well as looking funereal.
Wear sumptuousfabrics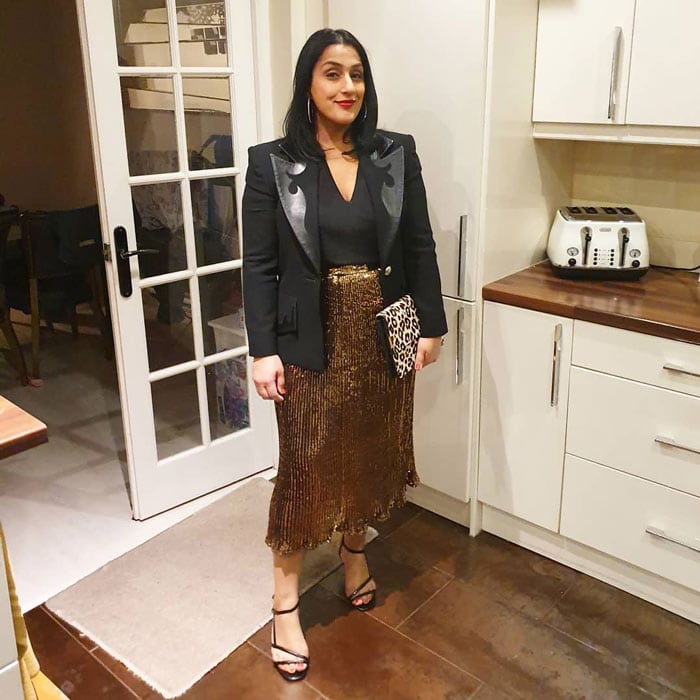 Texture looks fabulous in winter. Try fabrics you probably wouldnt choose in summer, such as velvet, brocades, metallics, satin, lace and fur.
Jas (above) elevates her outfit with a statement collar.
Recreate her look with this similar blazer, v-neck blouse, metallic skirt, clutch and heels.
Choose wedding outfits with sleeves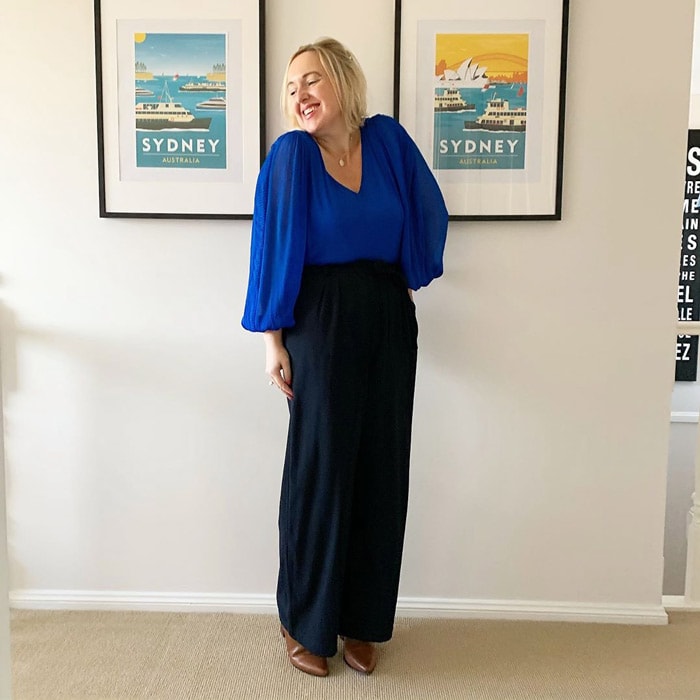 Not only will sleeves cover your upper arms if you arent keen on this part of your body, but they will also stop you from getting goosebumps in colder weather.
Kylie (above) opts for different shades of blue.
Check out this similar blouse, wide leg pants and booties to get her look.
Also take a look at the best dresses with sleeves.
Add a wrap or bolero over your dress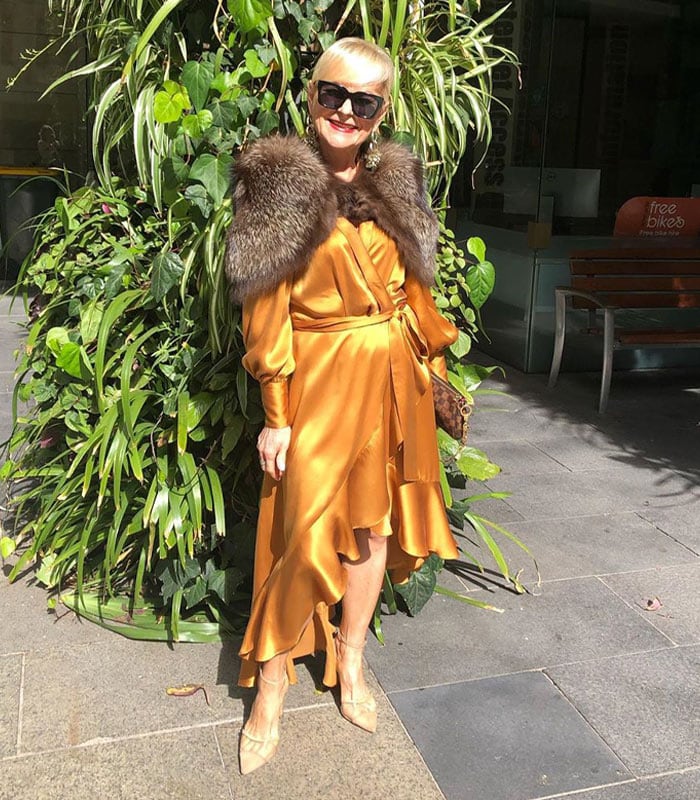 Just as a scarf is great for tying together casual outfits, a more formal wrap can keep you warm and bring the colors of your outfit together.
Marina (above) adds a wrap to her satin dress.
Check out this similar satin dress, faux fur bolero and heels.
Youre all set
Now, all you need to do is add some heels, and perhaps take a dressy coat with you to keep warm.
Here are some of the best wedding guest outfits, whether the occasion is formal, cocktail or casual
Knee-length and cocktail dresses to wear to a winter wedding
A knee-length is a classic outfit choice to wear to a winter wedding.
While you may opt for lighter florals during summer, you could choose embroidery or jacquard for winter.
You could always add opaque tights if you feel you will be too cold.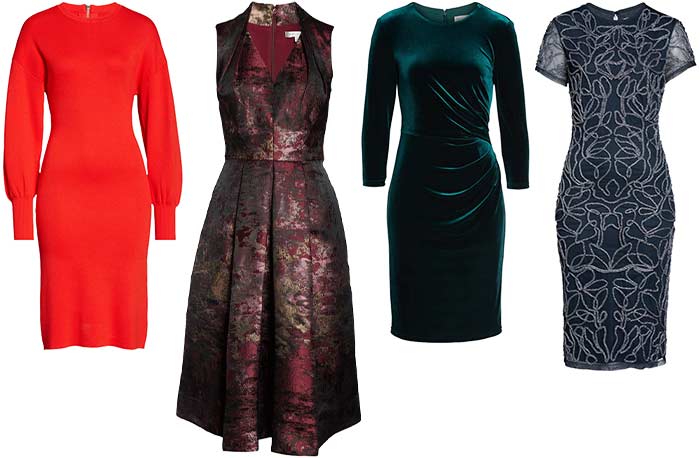 Vince Camuto sweater dress Kay Unger jacquard cocktail dress Eliza J sheath dress JS Collections mesh cocktail dress
Long and midi dresses to wear to a winter wedding
A longer length option can also be a stylish outfit choice for a winter wedding or evening reception event.
You can tailor the degree of formality depending on the type of wedding you are attending.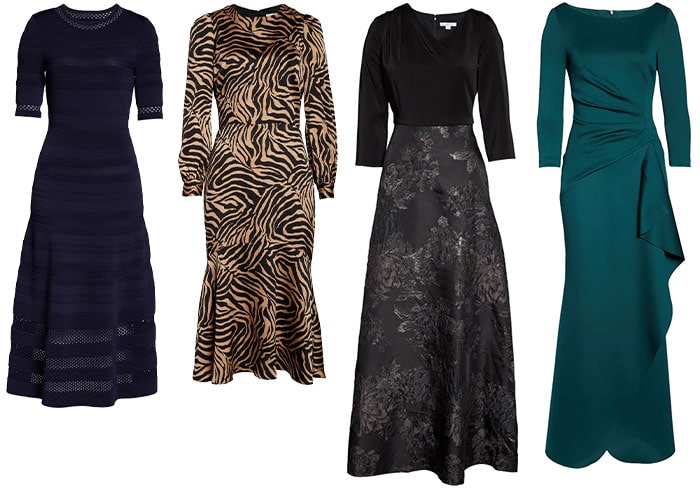 Eliza J sweater dress Chelsea28 zebra print dress Kay Ungar a-line evening gown Eliza J scuba pleat evening dress
Winter wedding attire: Jumpsuits
As well as a dress, dont rule out the option of a jumpsuit for a winter wedding.
You can add a blazer, a wrap or a fur stole to your outfit. And, you can always wear your jumpsuit to winter parties.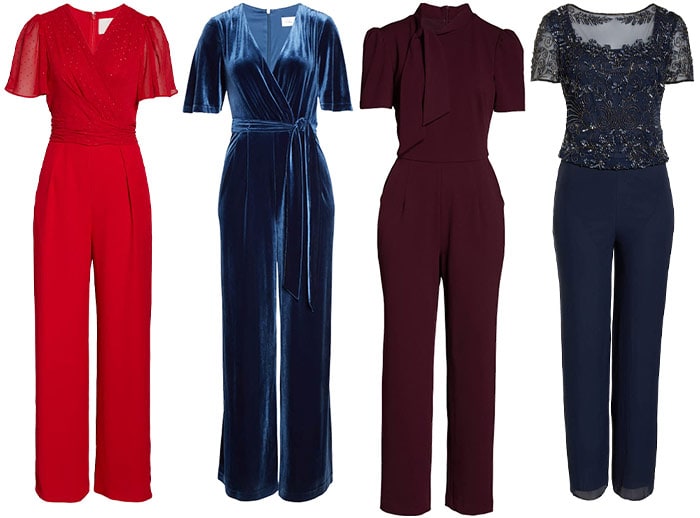 Gal Meets Glam Collection chiffon jumpsuit Eliza J wide leg jumpsuit Maggy London tie neck jumpsuit Pisarro Nights beaded two-piece jumpsuit
Winter wedding outfit ideas: Tops
Of course, you dont have to choose a dress for a wedding. You can also opt for separates. To stay warm, and stylish, you can look for a top with sleeves, or wear with a blazer.

Rebecca Taylor tie shoulder satin tank Rachel Parcell ruffle neck satin blouse Rachel Parcell puff shoulder turtleneck Chelsea28 texture geo dot top
Winter wedding guest attire: Pants and skirts
If you want to wear pants to a wedding, a wide-legged style can be a good alternative to a dress or skirt.
Or you could choose a full maxi skirt for real impact, as well as thinking about fabrics such as lace.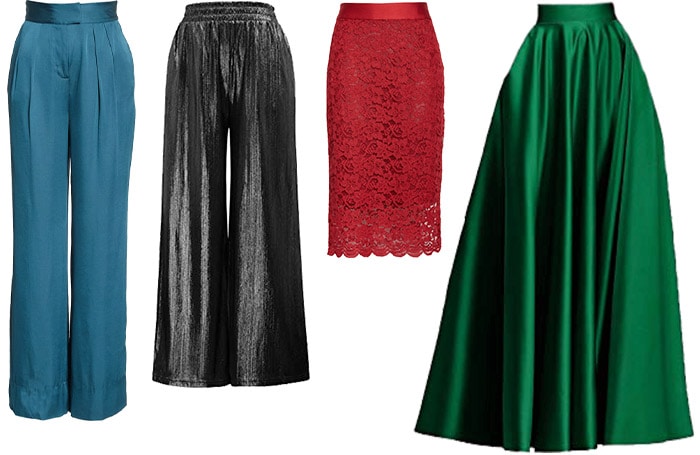 Rebecca Taylor wide leg satin trousers Grace Karin shiny wide leg pants Honey Qiao maxi satin skirt Smythe lace pencil skirt
What to wear for an outdoor winter wedding: Outerwear
Unlike summer weddings where a dress, heels and accessories may be all you need, you will definitely have to think about outerwear when attending a wedding during the colder months.
You could choose a faux fur bolero, a velvet jacket or a satin wrap.
Avoid wearing white or cream fur as the bride may be topping her dress with a fur capelet.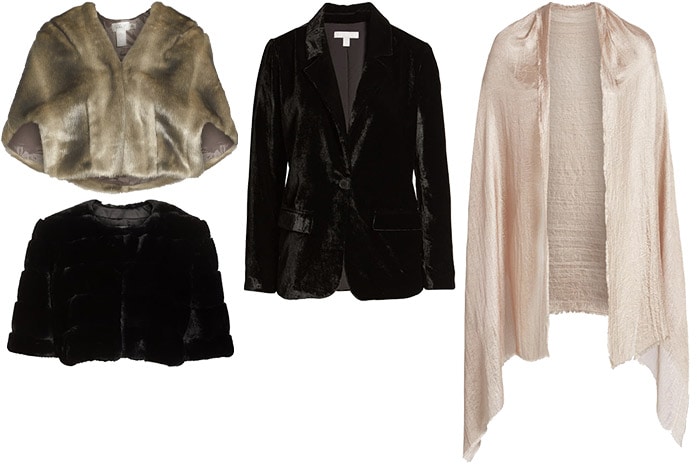 Eliza J faux fur crop jacket Eliza J faux fur capelet Nordstrom shimmer wrap Chelsea28 velvet blazer
Shoes to wear to a winter wedding
Heels can be problematic in winter if you are likely to have to make your way across uneven ground or grass for wedding photos.
However, you could always opt for a block heel, or a lower kitten heel to make sure you are comfortable.
Depending on how formal or informal the occasion, you could also think about wearing boots to a winter wedding.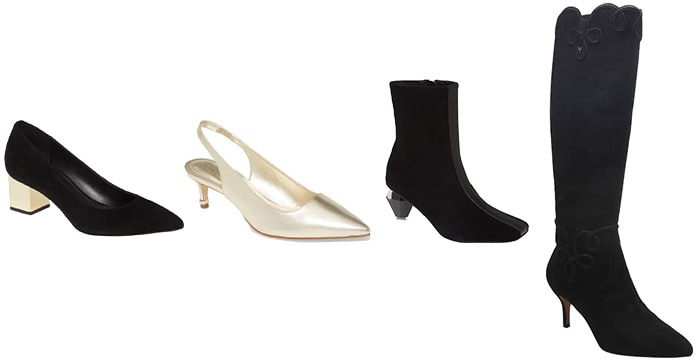 Michael Kors pump Lilly Pultizer slingback pump JAGAR diamond heel bootie J. Rene knee high boot
Accessories to wear
When it comes to accessories, you will want to choose a clutch bag that you can fit your essentials in during the day.
A pair of statement earrings will elevate your look. Plus, if you arent wearing a hat or fascinator, headbands are an on-trend option.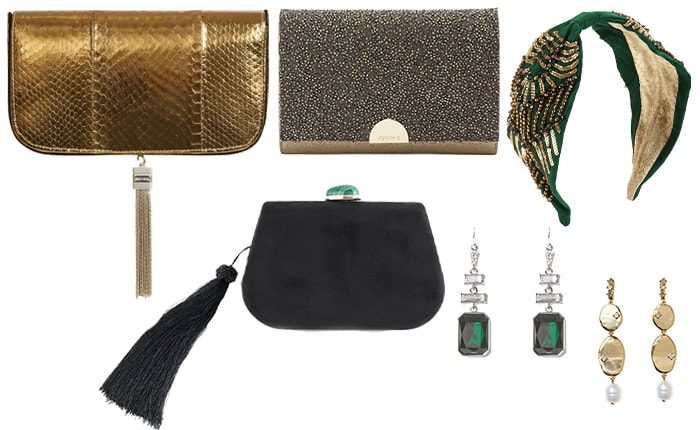 Reiss snakeskin tassel clutch Olga Berg embellished shoulder bag Shiraleah velvet tassel minaudire Vince Camuto drop earrings Sole Society linear drop earrings NAMJOSH beaded knotted headband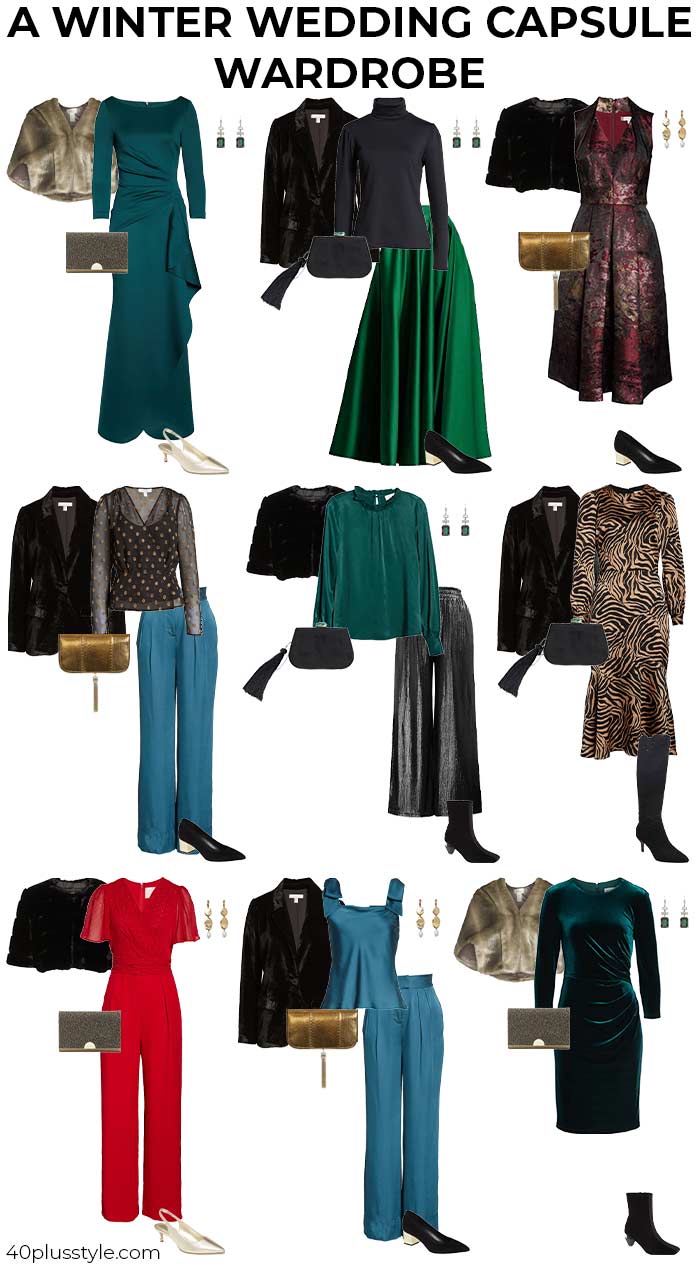 For more inspiration, you may want to check out what stylish 40+ women wore as wedding guests. You may also love our article on how to dress as the mother of the bride.
Have you got a winter wedding invite, or have your already attended a wedding during the colder months? What did you wear to a winter wedding?
Continue reading:
Like this article on what to wear to a winter wedding? Save it on Pinterest!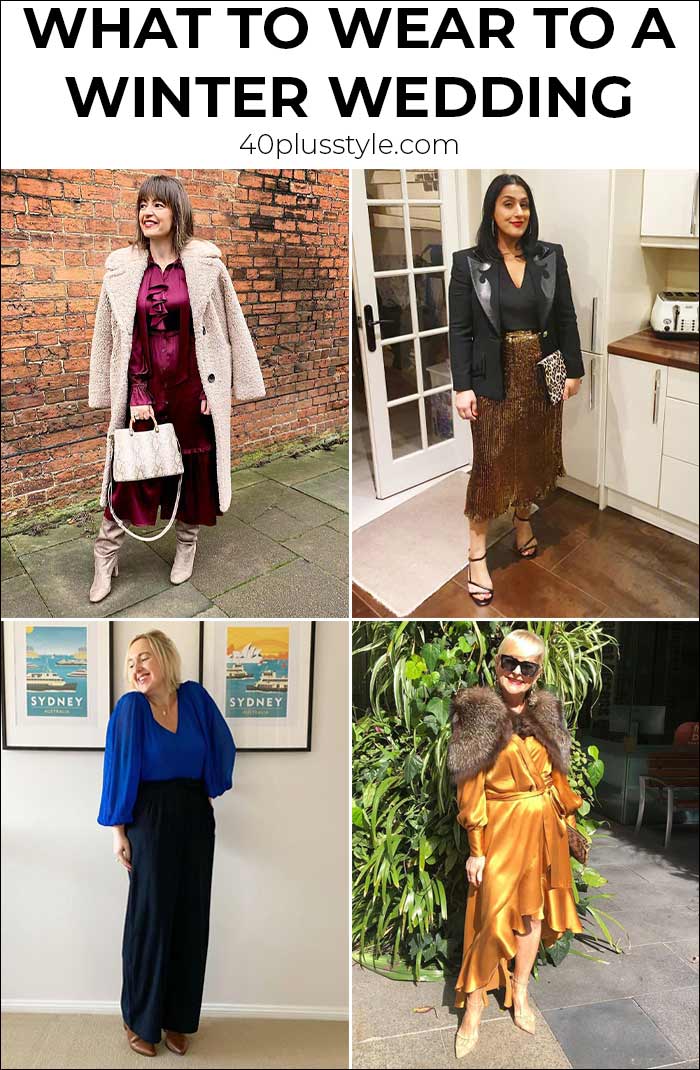 The post What to wear to a winter wedding: 6 outfit ideas for you appeared first on 40+ Style.