Independence Day can have a special significance for people who immigrated to the U.S., and for their children. But the holiday still involves food. By Althea Chang-Cook
I spent sweltering summers and Fourth of July celebrations in the cooler Pacific Northwest as a kid, lighting sparklers and sitting on my mom's roof till the sun went down and the fireworks came out. We had hamburgers, hot dogs, sodas, and watermelon. But that's about it. 
It may have been my level of assimilation and somewhat of a detachment from my heritage that I barely noticed that we didn't make an effort to prepare a Chinese dish. 
But today, that makes it all the more exciting to learn about all the different foods others use to celebrate Independence Day, the day I thank my lucky stars I was born here.
While hot dogs and hamburgers may be standard Fourth of July fare, I asked some immigrants and children of immigrants what their favorite cookout dishes are, specifically those with a connection to their heritage. Here are some highlights.
Classic Meat for the Grill
Claudia Valladares, whose parents came from Mexico to East Texas, where she currently lives, says she and her family have always celebrated Independence Day with charcoal-grilled carne asada, a marinated skirt steak with garlic, herbs, and spices.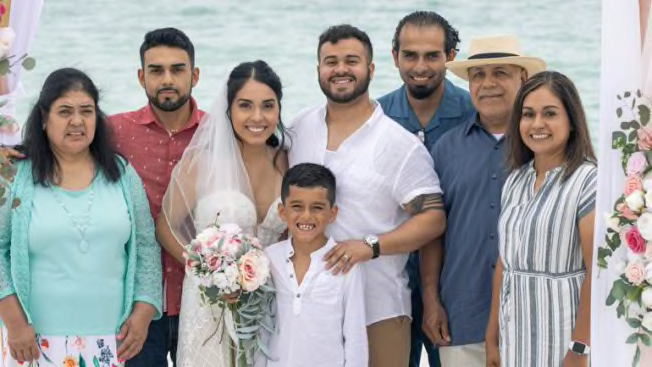 Claudia Valladares, a child of immigrants who lives in East Texas (third from left), says carne asada is a highlight of her family's Fourth of July celebrations.
Photo: Courtesy Claudia Valladares
Instead of starting from scratch, Valladares says she buys her carne asada preseasoned from a nearby Mexican grocery store, grills it on a charcoal grill, and serves it with rice, frijoles charros (pinto beans simmered with bacon, onions, and garlic), guacamole, spicy salsa, and corn tortillas.
Valladares says she's thankful that when her parents were in their 20s, they decided to come to the U.S. to pursue the American Dream. Her mom had to drop out of school early on to help work on her family's farm, so "to even finish high school is such a great accomplishment," she says. "I am glad I have the privilege of living in this country," she says.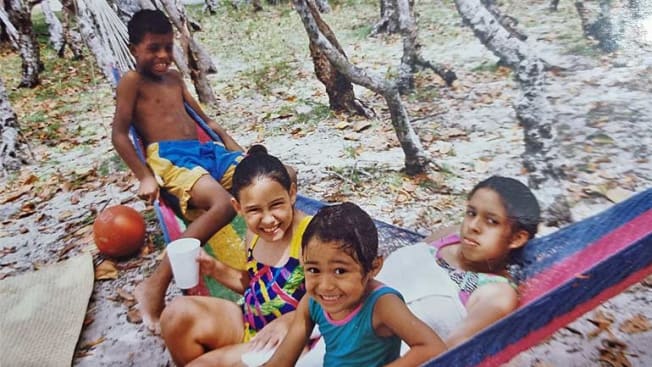 Michelle Melo (right), with her brother Cesar Alexander, and cousins Vicky and Kimberlyn Perez, as kids.
Courtesy Michelle Melo
Michelle Melo—the daughter of a Guatemalan mother and Dominican father, and now married to a U.S. diplomat, living in Nairobi, Kenya—shared a more labor-intensive process for making carne asada, which was also a highlight at her family's Fourth of July cookouts growing up.
Melo says the carne is marinated overnight in her mom's special marinade, cooked on her uncle's charcoal grill, and served with homemade tortillas. And she wasn't shy about sharing the recipe: Steak is marinated in garlic, lemon, vinegar, pepper, bitter orange, salt, oregano, and onion powder. "It's really nothing fancy, but it's incredible when left overnight to then grill the following day," she says.
While Melo's mom and aunt did much of the cooking when she was a kid, homemade corn tortillas were made by hands big and small. "All the kids will make sure to make a small one for themselves," she says. They were made in a pan on the stove, then when it was time to eat, they'd be reheated on the grill, she says.
Alongside the carne asada and corn tortillas, her family served pico de gallo and pickled vegetables. They also served frijoles molidos—made with black beans, grilled onions, garlic, and spices including cumin, pepper, and an annato seasoning known as achiote—cooked in a pressure cooker. You can also find fried sweet plantains, and rice made with peas, carrots, green pepper, onions, garlic, and strips of chayote on the dinner table.
Melo, who has celebrated Fourth of July holidays while living at embassies in Barbados, the Czech Republic, Ecuador, and the United Arab Emirates, says, "It's amazing how many different cultures are represented on Independence Day—and how much fun it is to incorporate them into the festivities, especially when it comes to food. Although nothing can compare to my mom's asadas and tortillas."
Not Just Your Typical American Barbecue
Renata Castro, an immigration lawyer originally from Brazil, will be celebrating the Fourth of July with churrasco, or Brazilian barbecue, at her vacation property in Clayton, Ga.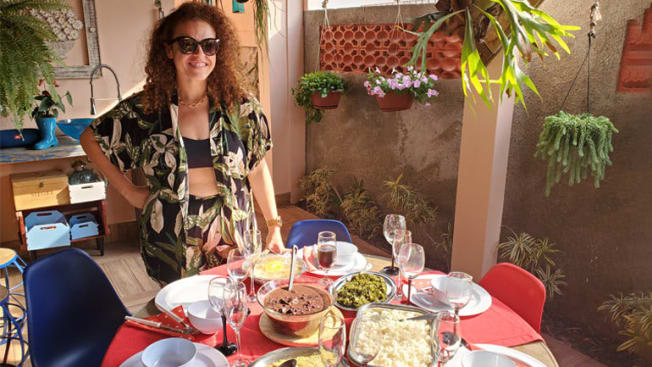 Renata Castro, an immigration attorney who came to the U.S. from Brazil, celebrates the Fourth of July with churrasco.
Photo: Courtesy Renata Castro
Castro says celebrating the Fourth of July is a way to bond with her kids over their Brazilian heritage and American values. "Nothing is more Brazilian than to eat churrasco . . . and to have friends, neighbors, and family over for one big party," she says.
"This is what America is all about—taking the best people and the food they have to offer, blending it all, and making something amazing out of something seemingly ordinary," she says. "Our American friends go crazy over Brazilian barbecue!"
Castro says the star of the show at her family's Independence Day celebrations is picanha, or rump cap, a cut of beef that comes from the top of the rump, which is rubbed in kosher salt and grilled over charcoal.
"Nothing says home more" than churrasco, Castro says, especially when combined with rice; Brazilian potato salad; yucca flour pan-seared with bacon, eggs, and onions; and a dish of tomato, onion, and bell peppers soaked in vinegar and olive oil. Also competing for star of the show are caipirinhas, a Brazilian drink traditionally made with a sugar-cane rum called cachaça, plus sugar, muddled limes, and ice. This year, "to keep with American tradition, blueberries will be served—maybe a version of Blueberry caipirinhas?" she says.
Shrimp on the Barbecue
Cindy Li, a daughter of immigrants from northeast China, grew up eating a mix of Chinese and American grilled foods including spiced grilled prawns served alongside a cool cucumber salad for the Fourth of July.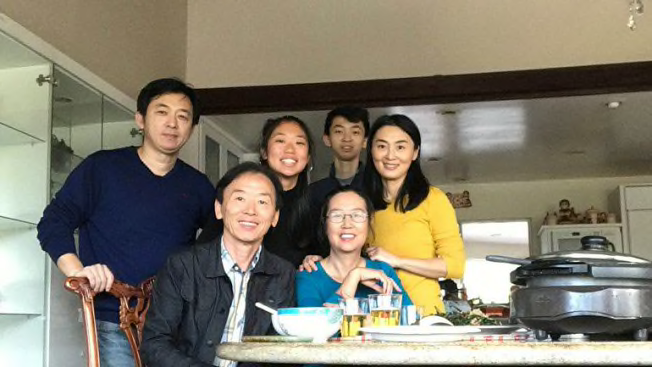 Cindy Li (right) and her family at the dinner table. One of her favorite dishes for the Fourth is grilled shrimp with a dipping sauce made with ginger, scallions, sesame, and more.
Photo: Courtesy Cindy Li
"As with most American families we have the essentials: barbecue, salad, watermelon, and iced tea," says Li, who was born in Los Angeles, where her parents immigrated in 1996 when her mom was pregnant with Li, her second child.
The prawns are grilled unseasoned, Li says. They're then served with a dipping sauce made of soy sauce, black vinegar, sesame oil, minced garlic, minced ginger, and chopped scallions. "Even thinking of this sauce makes me salivate," she says.
The cucumber salad consists of shredded or julienned cucumbers, boiled glass noodles, boiled egg sliced into ribbons, all topped generously with cilantro, minced garlic, black vinegar, soy sauce, sesame paste, and sesame oil, Li says. That black vinegar, as it turns out, is something that I recognized from my childhood kitchens.
Thai Mu Kratha
"Thai culture is still very present within me," says Paul Vongjalorn, who moved with his parents from Thailand to Guam, then to Tampa, Fla., and eventually to Spokane, Wash. "But we have embraced the American holidays and do celebrate the Fourth of July as well, but with a twist."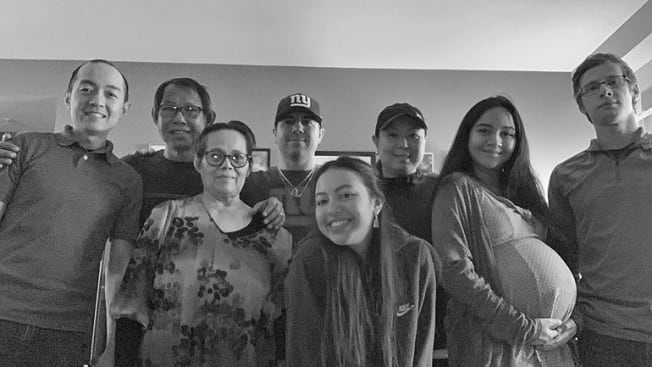 Paul Vongjalorn (left) moved to the U.S. from Thailand with his parents, and estimates that he still eats 75 percent Thai food and 25 percent "everything else."
Photo: Courtesy Paul Vongjalorn
His family makes mu kratha, which consists of pork and other meats prepared over a dome-shaped grill surrounded by a moat of hot broth. Each family member then cooks vegetables and other foods by dunking them into the broth. Food is served with dipping sauces, rice, and noodles.
Day to day, Vongjalorn says, his sister runs a food truck in Spokane that serves food that reflects the diversity of cuisines they enjoyed growing up.
One Way to Enhance Flavor
Cooking on a charcoal grill is key when it comes to preparing carne asada and churrasco, my sources say, plus many other dishes prepared on the Fourth of July. Here are a few of the top charcoal grills in Consumer Reports' tests.
Dyna-Glo DGN576DNC-D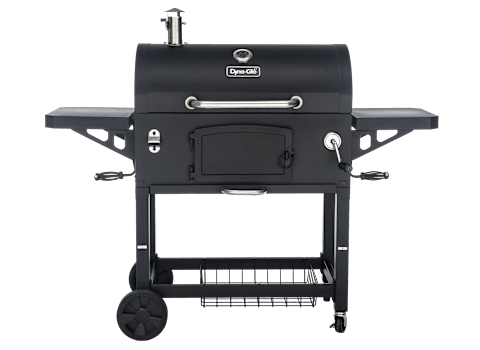 Char-Broil Charcoal Grill 580 16302038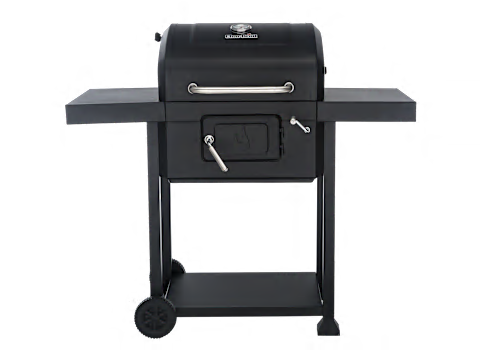 Weber 22" 14401001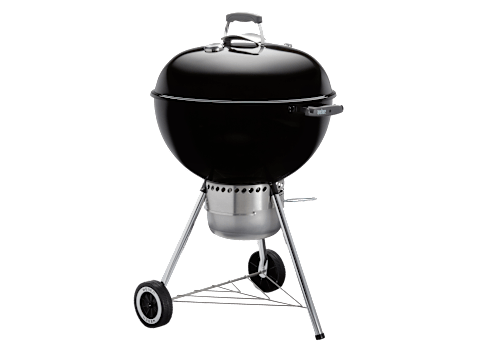 Consumer Reports is an independent, nonprofit organization that works side by side with consumers to create a fairer, safer, and healthier world. CR does not endorse products or services, and does not accept advertising. Copyright © 2022, Consumer Reports, Inc.