You've stayed in tiny cabins, you've glamped in luxury tents, now check out the newest way to get away from it all—South Australia's new luxury, off-grid, futuristic pod.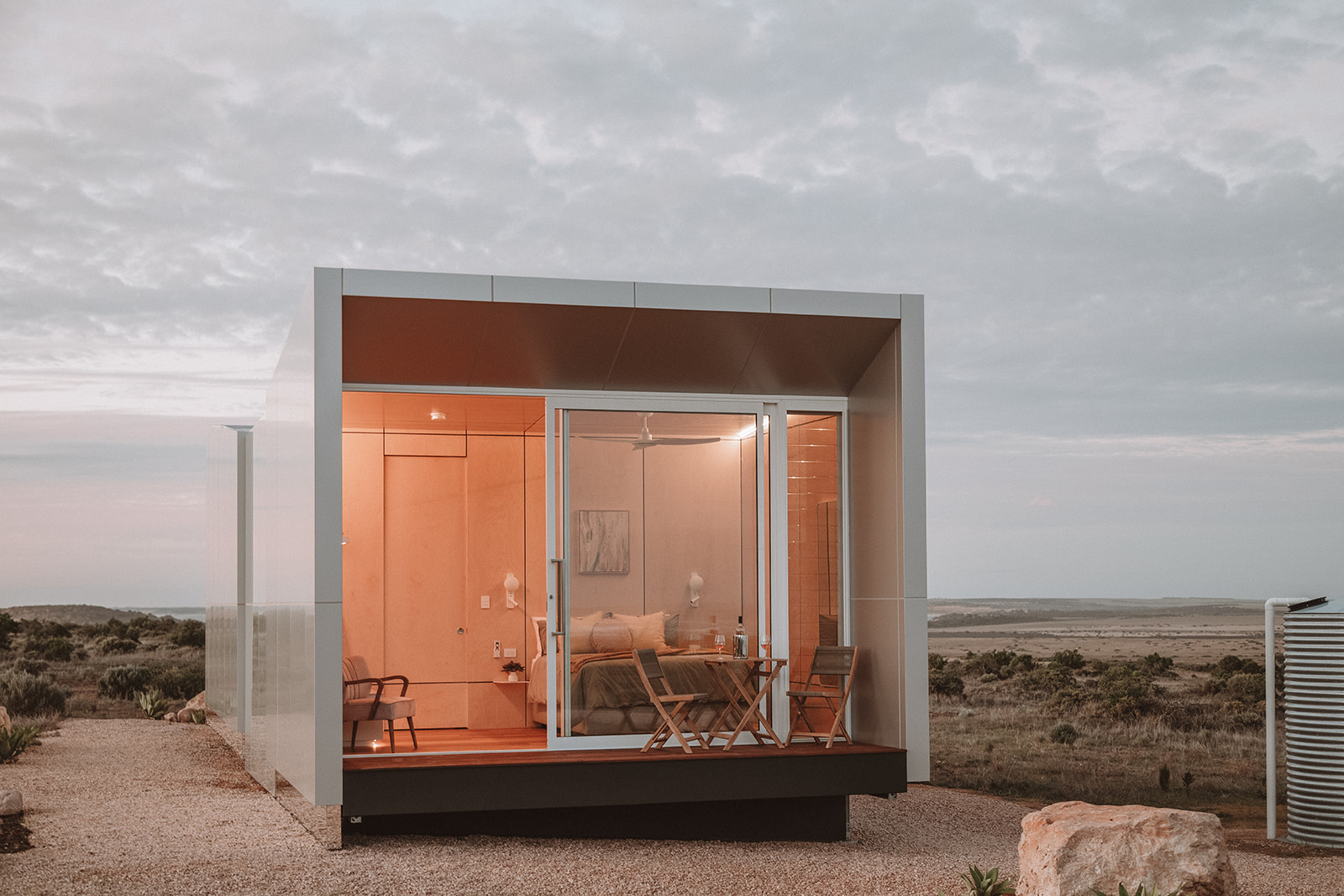 On 300 acres of Eyre Peninsula coastal bushland near Streaky Bay in South Australia sits Pod[e]'s Mulla Mulla—a one-of-a-kind, futuristic pod that is out of this world.
Located on Mount Westall with commanding views and only five minutes to the water, the unique, off-grid pod offers an immersive and futuristic escape for the modern traveller.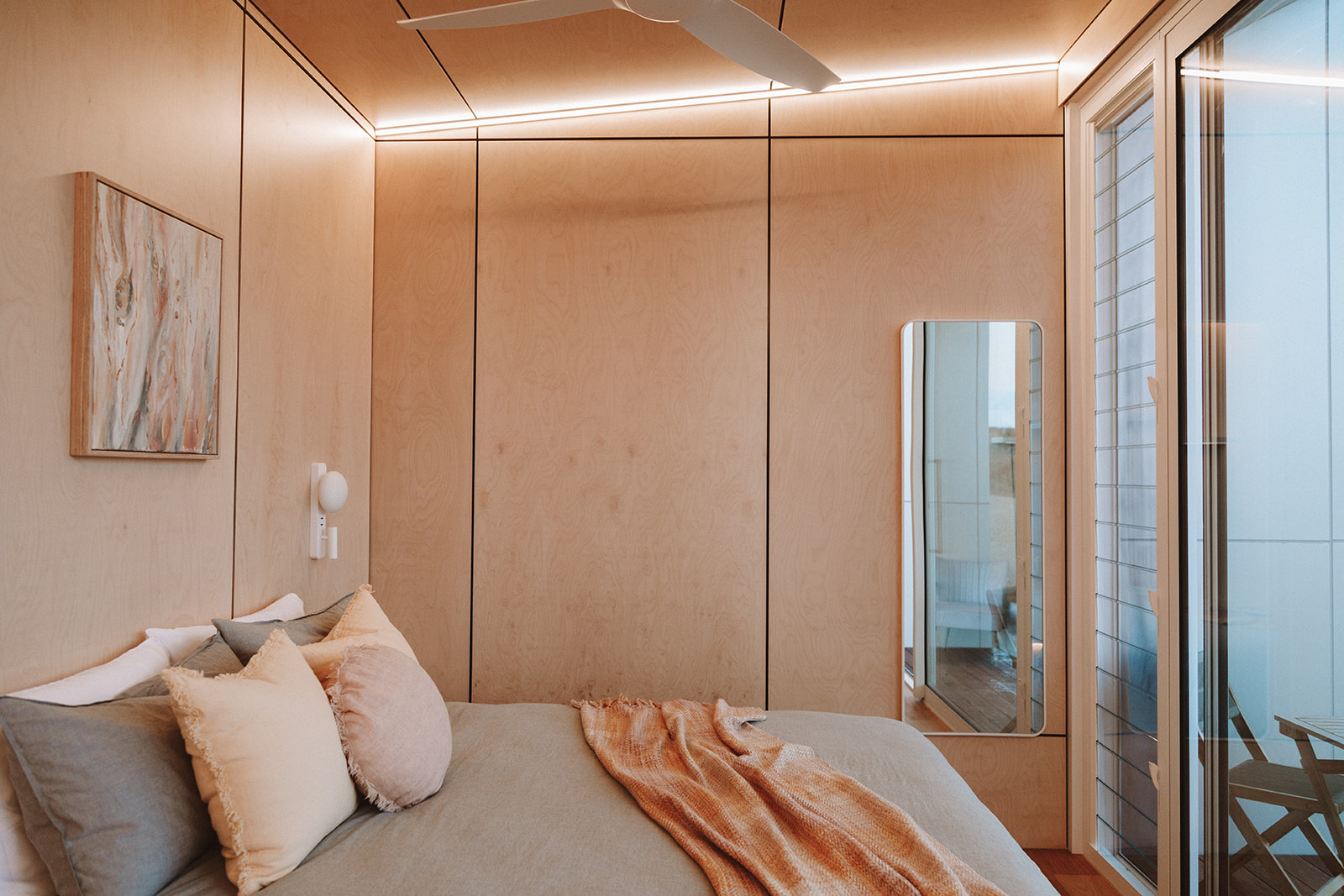 Scott Taylor, the co-founder of Pod[e], was inspired to build the unique accommodation experience after his family fell in love with the west coast while on holiday.
"The idea for Pod[e] came about after many family trips to the Eyre Peninsula, where we just fell in love with the west coast, its views, and its unique wildness," Scott said.
"For several years, we spoke about creating a completely off-grid experience that allowed guests to reconnect with nature without compromising their comfort, and this is what we've created with Mulla Mulla.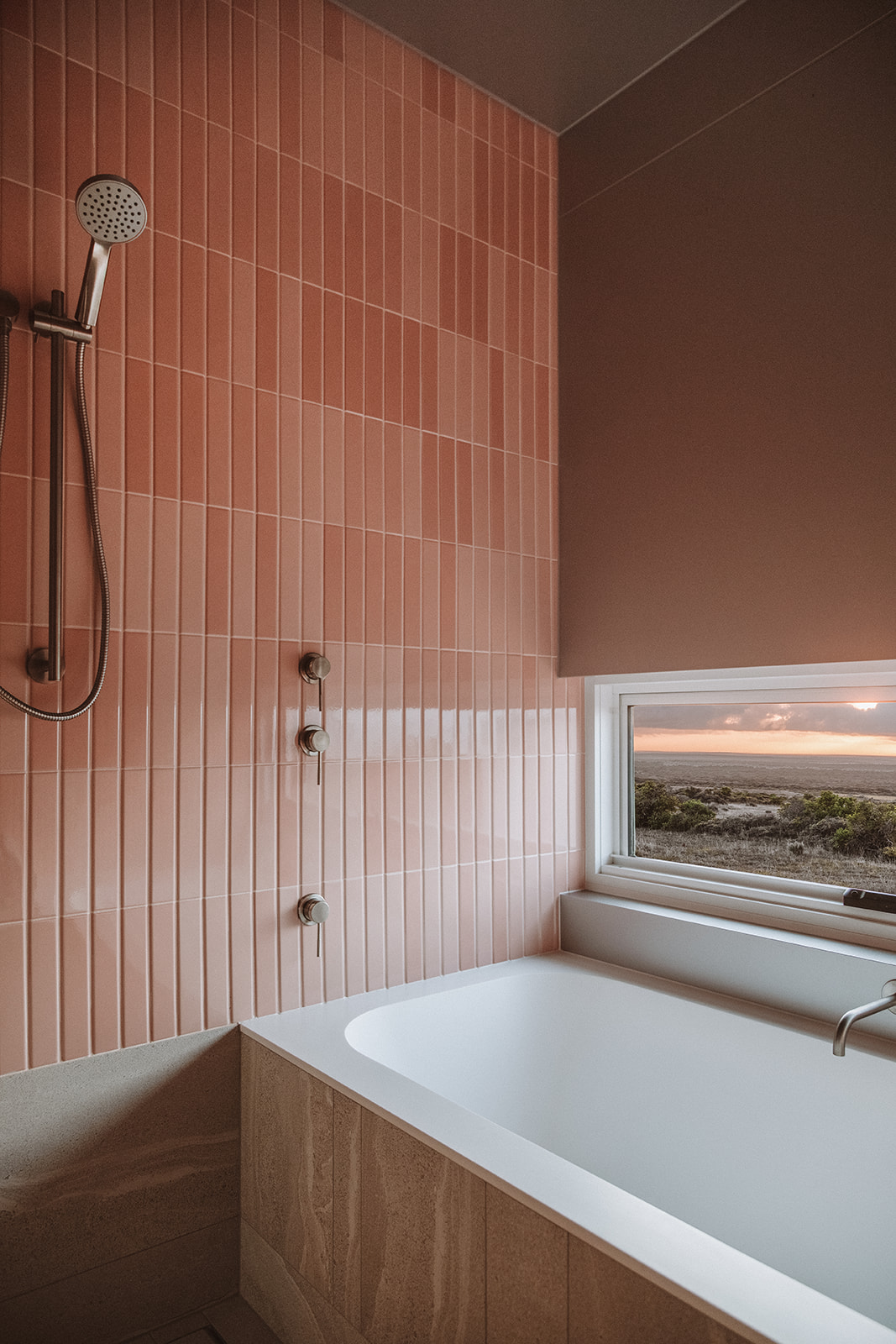 "After exploring many parcels of land in the area, my business partner Steve and I came across the Mount Westall property, which had epic sea views, isolation, and a non-negotiable north-south orientation that was crucial for the positioning of the pods.
"We were thrilled to have found such a perfect location, and we're excited that Mulla Mulla is the first of four pods that are approved for the property."
Mulla Mulla is an ambitious project, not only in its design and execution but also in its vision. The pod's small footprint design and off-grid capabilities provide a template for the future of eco-tourism, where guests can enjoy luxurious, immersive experiences while reducing their impact on the environment.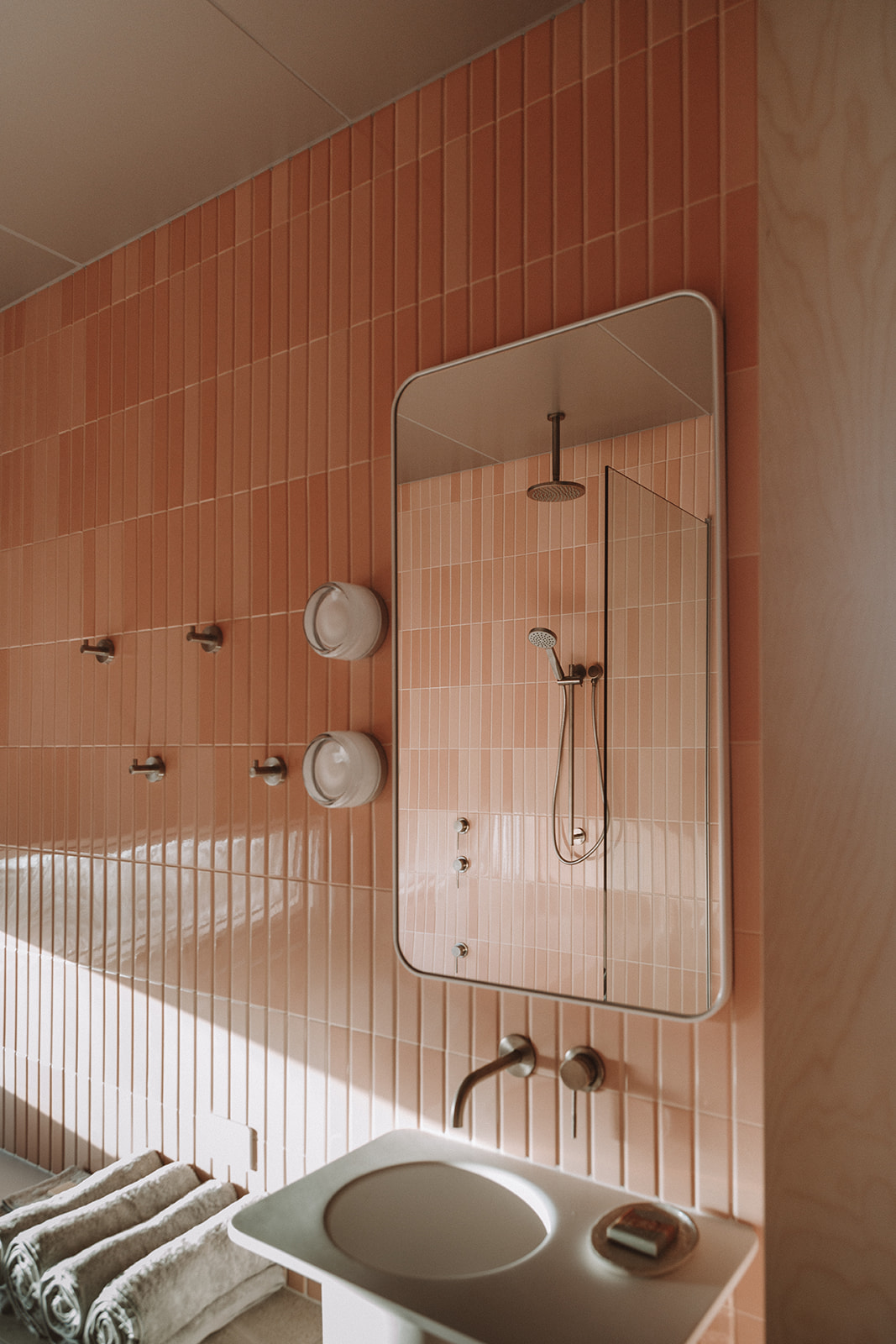 "We believe this is completely unique and offers a glimpse of what's yet to come on the small footprint accommodation market," Scott said.
At 12 metres by five metres, with an additional 50 square metres of decking, Mulla Mulla might not be big, but it definitely packs a hefty design punch. Designed by A-HA Design Studio, with input from Taylor, the pod's bold exterior, with its mirror skirt and champagne and prismatic coloured panels, is unlike anything else available on the short-stay travel market today.
"The champagne and prismatic coloured panel magically adapt to the changing light of day, creating a captivating and ever-evolving visual experience," Scott said. "The mirror 'skirt' down to the ground creates the effect that the pod is hovering just off the ground—something reminiscent of a sci-fi movie yet still sympathetic to its surroundings."
Inside, the pod is an exercise in minimalism and sophistication with sleek lines and carefully selected materials that offer both comfort and sustainability. The walls are lined with GenEco Birch Plywood, and the floors are made of Blackbutt hardwood with subtle hints of pink throughout the grain.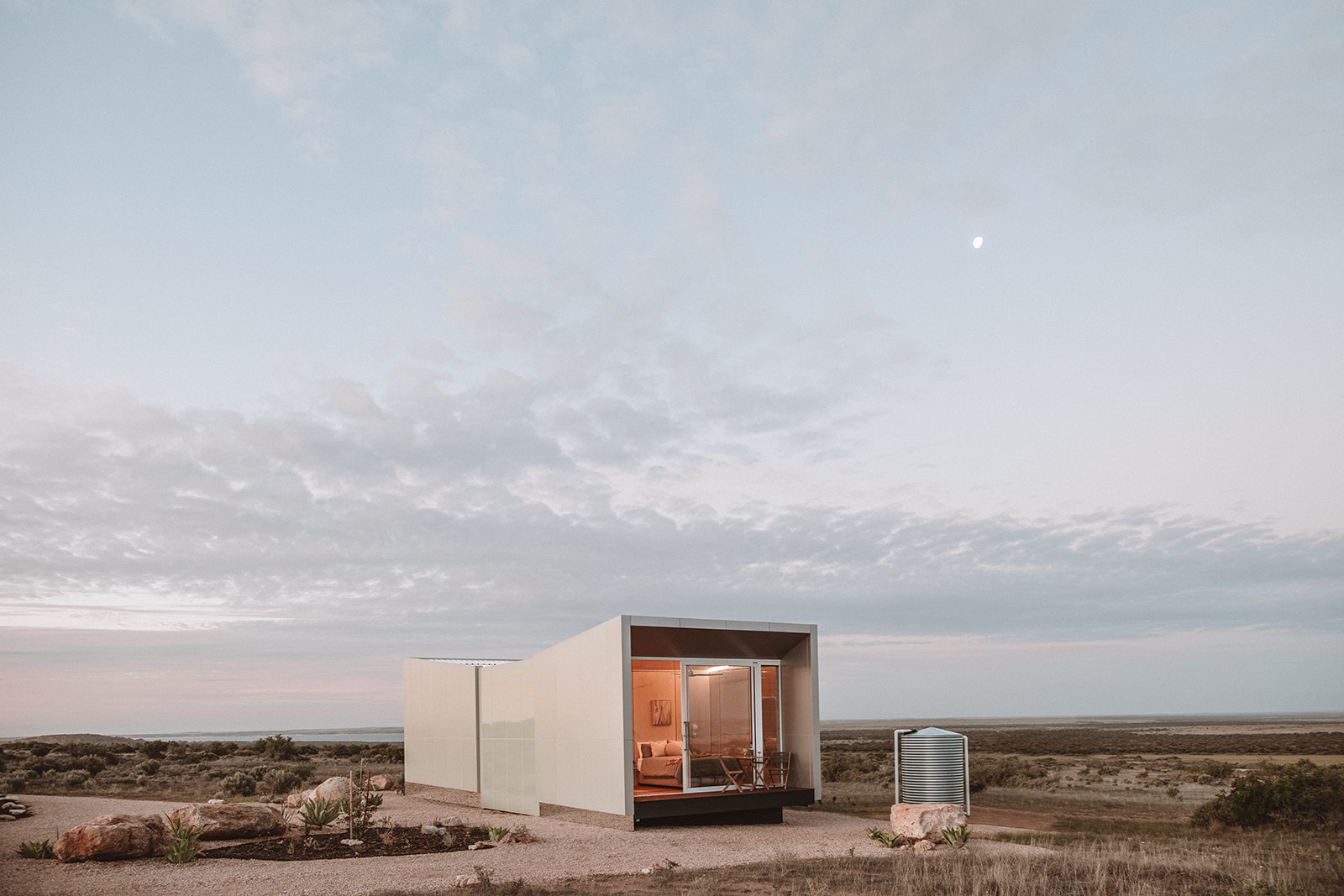 The matte white joinery and large format windows and louvres allow for cross-flow ventilation and natural light, creating an airy and comfortable living space, while the kitchen features a red travertine honed natural stone bench top.
But it's not all about looks—the property offers all the comforts you'd expect from a luxury retreat, with a fully equipped kitchen, a full size bathroom with a luxury bath, overhead shower and toilet, an outside shower, laundry facilities, wi-fi and the list goes on.
Mulla Mulla has serious eco-credentials too, with an energy efficiency rating of 7.8 stars and a range of sustainability features."The futuristic design combined with the pod's eco credentials and emphasis on sustainability show that luxury and environmental responsibility are not mutually exclusive", Scott said.
"From the orientation of the pod to the footing system and building materials used, everything has been designed with sustainability in mind. A concrete-free footing system was used, and the roof, wall, and flooring products were specifically chosen for their high insulating properties.
"The combination of double glazed windows, ceiling fans, clever use of the natural airflow, and a combustion heater ensure that the pod remains comfortable all year round, with minimal impact on the environment."
The great thing about this accommodation is that it's entirely off-grid—powered by solar energy and rainwater, with a worm farm for the waste system. "Waste products are kept to a minimum, and any on-site waste is disposed of appropriately, with recycling being a top priority," said Scott.
"Extensive research was put into products and materials that were chosen and have been sourced from local businesses that share the Pod[e] team's sustainability ethos and practices. The property focuses on revegetation, with Greening Australia's support to help remove carbon dioxide from the atmosphere and store it in plants as they grow."
Pod[e] have planted more than 4,000 native trees and shrubs, with more than 100 acres of natural Mallee scrub and another 100 acres converted from once-used farming land to scrub land, supporting the native bird and kangaroo populations.
The property is named and styled after the 'Ironstone Mulla Mulla,' a compact native shrub with a flower bursting with light feathery blooms. This threatened species is endemic to the Eyre Peninsula and can be found in coastal areas. Pod[e] had over 300 of these plants grown and they are thriving in their new environment.
Mulla Mulla offers more than just a unique design and exceptional sustainability credentials; it's the ultimate destination for guests seeking a luxury eco-tourism experience and a natural playground to explore. With over 300 acres of private land to explore, including a diverse ecosystem of flora and fauna, the pod provides guests with a unique opportunity to immerse themselves in the natural beauty of the Eyre Peninsula.
Guests can enjoy a range of activities such as a complimentary E-bike & Coast Experience, which includes the use of two e-bikes and snorkelling equipment, and a self-guided tour of the Sceale Bay Conservation Park and surrounding coastal areas.
Whether you're interested in bushwalking, birdwatching, fishing, or simply relaxing and taking in the breathtaking scenery, Mulla Mulla offers something for everyone.
Mulla Mulla is available for $490 per night and sleeps up to four people.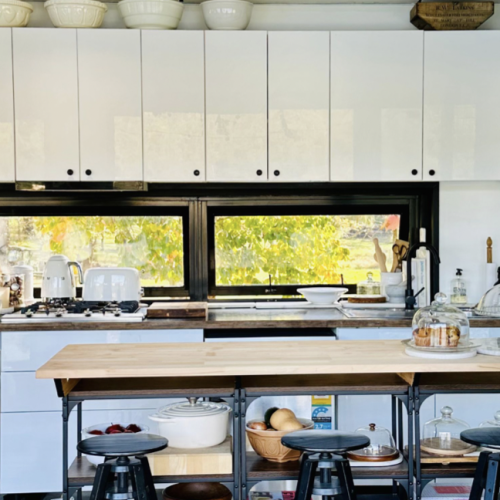 Tiny house living Australia: stylist finds it cosy & affordable
The choice to make the move to a tiny house was financially motivated for Justine Wilson but she's found the…
The post Tiny home style: the latest South Australian designer example appeared first on The Interiors Addict.