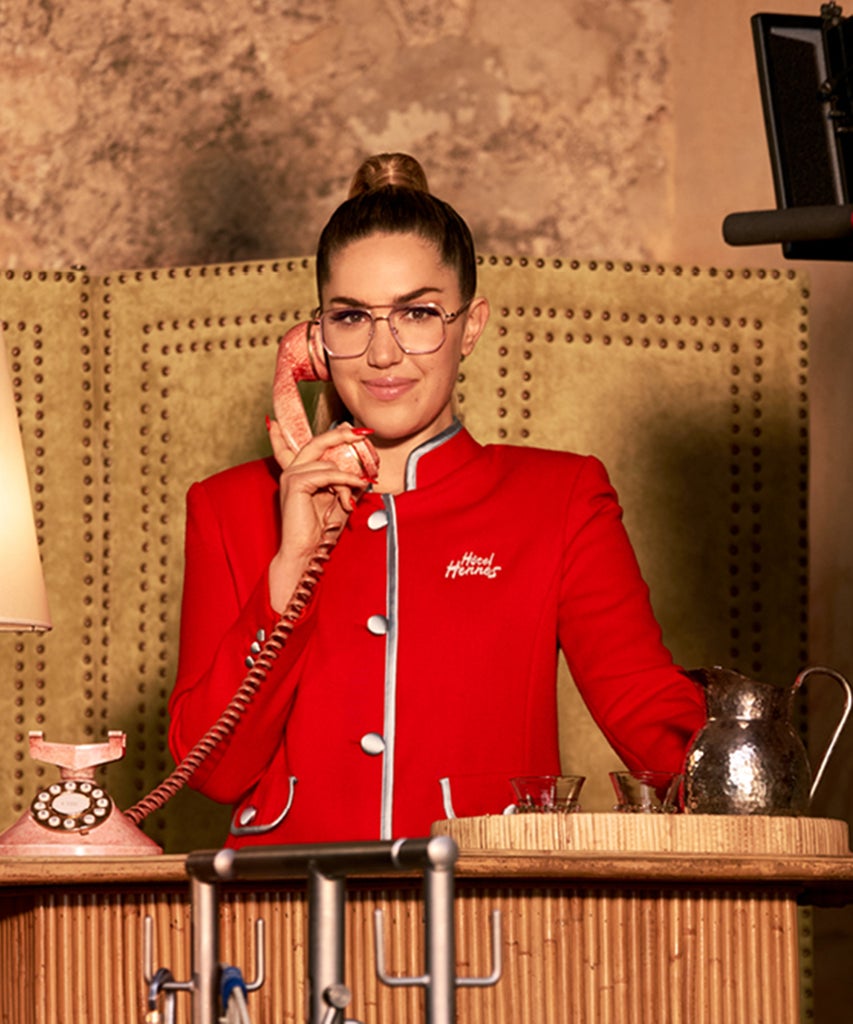 "Rich Moms love a monochrome moment, like a linen pant and a nice linen blouse. They love a bathing suit with a sarong over it and some amazing statement jewelry.  And then they love a maxi-dress because, when you're on the yacht, you just need something easy and free-flowing."
If you've spent any time on TikTok, you would instantly recognize this as the Gospel of Tinx. I am on the phone with the TikTok star (whose real name is Christina Najjar), and we are talking about summer trends, which leads me to ask what fashion we should expect from Rich Moms — the subject of Tinx's many videos that have earned her 1.5M followers on the social media app  — this season. 
While Tinx is more known for poking fun at the affluent archetypes, dishing out dating advice, and offering recommendations for the best salads in New York (where she lived) and Los Angeles (where she moved almost three years ago), she has become an unofficial fashion influencer — with followers asking just as much about the brands that she wears as they do "box theory." That can be attributed to how seamlessly she can go from wearing aspirational designer looks to a brand event to a Nirvana T-shirt to make videos from her bed to a puffer from The North Face x Gucci collaboration to stroll around New York City. 
It is this penchant for high-low dressing that likely landed her a leading role in H&M's new Hôtel Hennes campaign, in which she plays a hotel receptionist who offers dating, summer plans, and fashion advice alongside celebrities like Gigi Hadid and Precious Lee. As I transition to asking Tinx about her personal style, she sheds the Rich Mom persona and becomes the relatable creator who has earned monikers like "TikTok's big sister" and "advice columnist but on Instagram." 
"I've worn H&M since I can remember," she says. "I grew up in London, and I remember when it came in. I was just so excited, and I would drag my mom there and have her buy me clothes from there." 
Ahead, Tinx on her ever-changing fashion aesthetic, the one Y2K trend she will never bring back into her closet, and why you should wear black when you know you're going to bump into your ex.
This campaign seems very fitting for you. What appeals to you about high-low style?
I have to credit my upbringing in London. High-low dressing was born on High Street, that's really where it started. I love to mix high-street designers with high-end pieces. I love to get secondhand things. I like to have a big mix of things. And H&M has always been such a big part of my wardrobe. I truly still can't believe it — it is really cool to go from wearing the clothes to being in a campaign. 
How would you describe your personal aesthetic?
It's constantly evolving. I like to dress for my surroundings. So if I'm in L.A., I'm more casual. If I'm in New York, I'm a little bit more dressed-up. To me, that makes things fun. Clothes are a way for me to express my feelings, so it's not always that consistent, because a lot of my fashion is based on how I feel: Am I in a playful mood? Am I in a sexy mood? I really just use clothes as an outward expression of what's going on with me.
Would you say then that your aesthetic changed over the years?
Oh god, yeah. I mean, I had a phase where I literally told my mom that my aesthetic was "Victorian Pirate." I've gone through many different phases. I went through a phase of being preppy, I went through a phase of kind of dropping a little emo. I went through a phase of dressing like a 60-year-old coastal grandmother. I like to go through phases. I think fashion is fun and playful, and I like to have different eras. So right now, I'm definitely in my "Rich Mom Athleisure" era, where I just wear a lot of matching workout sets.
How did you develop your personal style and start to have fun with fashion?
I wore a [school] uniform until I was 18, and I think that that really developed my personal style. It made me appreciate fashion so much, the little ways that girls would kind of make their outfits stand out. Some girls would wear crazy socks or they would do crazy things with their hair, and I was like, "Wow, this is such a form of self-expression, and it's something that everybody can do and everybody makes their own. And there's a way to be unique [even when wearing the same uniform]."
I remember that I ripped off the boring button on my uniform's skirt and I sewed on this really ornate gold button that I found in my house. The button wasn't even exposed, but it was just under my sweater, and I knew it was there. 
I think that that's why I've always loved personal style so much. It's just a way to express yourself on a daily basis. 
Speaking of fashion from younger days. Y2K fashion made a comeback this year. What are some of your favorite '00s trends that you are bringing back?
I love the color palette, so the pinks and the purples, the baby blue — those are all my favorite colors! — so that's been really fun. I love the makeup — the frosted eyeshadow and lip gloss. I love the hair — the space buns. I love the little matching set, I would say that's my number one trend to come back. Whether it's a little mini skirt and a crop tank or like a mesh pant and top.
Any aughts trends that you will never wear again?
Low-rise jeans without a shadow of a doubt. For me personally, those are never coming back. I just cannot handle those. We never need to see those again. Those are so scary and bad.
What's your favorite fashion rule to break?
To wear pink and red together. I think that it is the best color combination. The colors make me so happy, and they remind me of love. 
What are some of your favorite ways to shop?
I find so many cool brands from TikTok. I see all these amazing people on there, and it's just really cool. I love to just explore there, it's really fun. I shop a lot secondhand, too. 
Rapid-fire question round. You are the receptionist at Hôtel Hennes. People are calling you to ask you what to wear…
… to live out your best hot girl summer plans?
The first and foremost thing you need to remember is that there are no rules. It's all about you and your expression of yourself and having fun. 
… to a first date with someone you think you like?
Wear a really fun dress in a bright color so that their eyes are immediately drawn to you. 
… to exude main character energy?
Something like a monochromatic bathing suit with huge gold hoop earrings.
… to an event where you might run into your ex? 
You should wear a really sexy little black dress. Black because you're in mourning that you ever associated with such a loser. 
… to a rich mom staycation?
Some really amazing, long, relaxed pants with, like, a little crop top. Relaxed but still a luxury, you know? 
This interview has been edited and condensed for clarity.
Like what you see? How about some more R29 goodness, right here?
Tinx Wants To Be Clear — She Loves Botox
Watch Gigi Hadid Star In H&M's Latest Campaign