Despite my overall quality of being moderately influence-able—I could get suckered into buying a product from one of my coworkers mentioning it offhand in the office one day—it's really rare that an Instagram ad gets me. Sure, one will pique my interest once in a while, but getting me through to their site to finding a product I love to actually editing in my credit card info to check out? Near impossible—that is, until recently.
If you're on the fashion side of TikTok or Instagram, odds are you've heard mumblings of DISSH on your algorithm by now. The Australian brand is women-owned and lead, and specializes in refined, easy-going pieces that happen to exude the quiet luxury trend that has taken over 2023. They blend natural materials with modern silhouettes—hello, linen maxi dresses—that are the kind of pieces you can wear year-round. 
After getting to the point that I recognized their pieces when I saw them hanging on my favorite TikTokers, I decided it was time to take the plunge on a couple of pieces of my own to see what the hype is all about. Perusing their site proved to be a challenge all of its own, since I literally had my cart filled with 15 pieces I had to sleep on overnight in order to narrow down. After much heated deliberation, I landed on a blazer, strapless top, and linen maxi dress so I could experience a solid variety of their pieces—and to my surprise, I absolutely love all three of them. 
The oversized blazer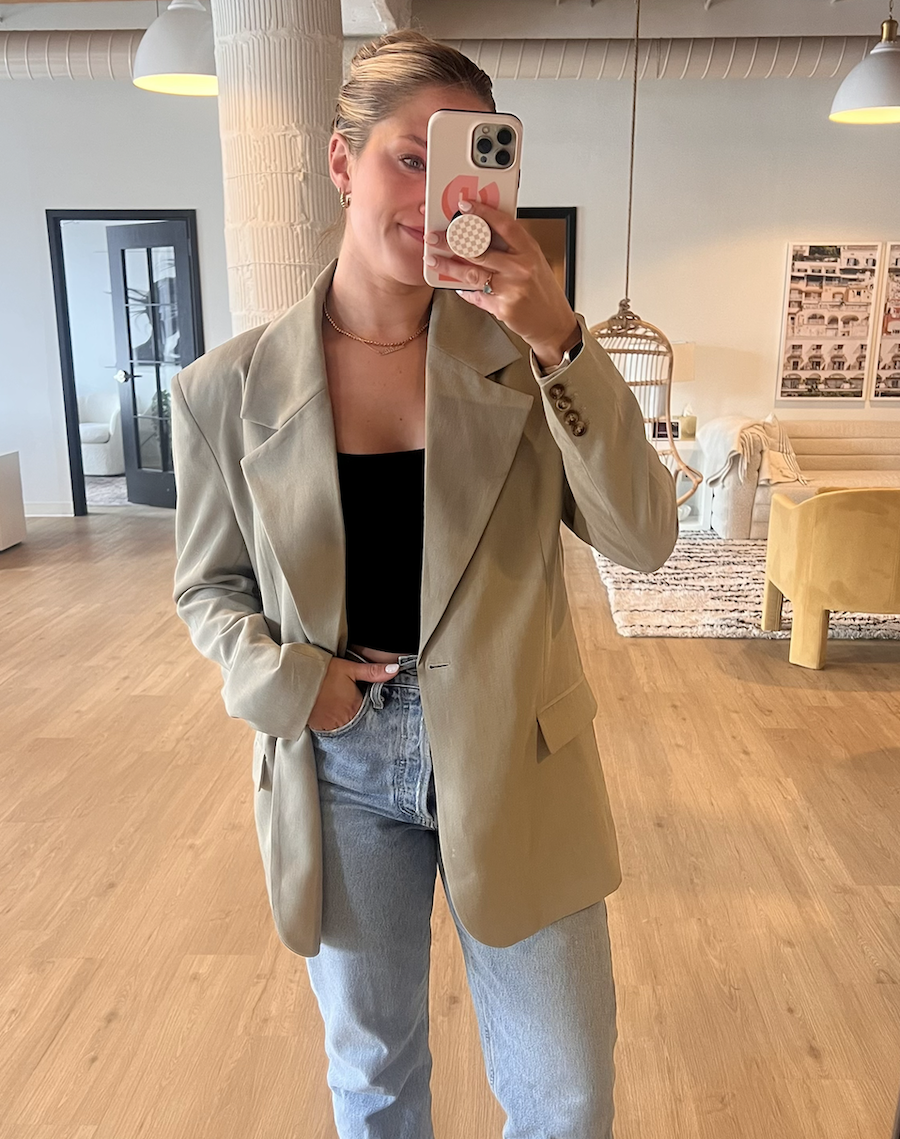 I have a truly embarrassing amount of blazers, but something about the shade of this taupe one made my heart absolutely sing. I always gravitate toward ones that come in an oversized fit like this one, rather than buying one in a size or two up to make it oversized—that way, it looks intentionally oversized, rather than like it's just too big. When I put this one on, it actually took me aback a little because of how well it hung on my body. It just looks and feels high-quality, and it really shows in the fit. 
Despite my dozen-plus blazers in my closet, I think this one is actually my new #1. I've already worn it three times since I got it because of how versatile the style and color are, and I've felt like a 10 in it every time I did. It's a versatile basic done really, really well, which is exactly what I'm trying to fill my closet with right now.
The strapless top
Despite my excess of clothes, sometimes I feel like I'm lacking in the top department (but honestly, who doesn't). I have piles of plain tees and tanks and bodysuits, but sometimes you just want… more. Whenever I'm doing something medium-level fancy like going to a dinner with friends or meeting my parents for brunch, I struggle to figure out what to put on my top half in the summer, which is why this caught my eye. I felt like I could wear it with linen pants or shorts in the summer or under blazers with jeans when it's a little chilly out, and it really fits into that specific "I just need a top to wear" category that for whatever reason, is a hard gap to fill. 
The maxi dress
If you run into me on a hot summer day there's a 99% chance I'll be wearing a linen dress, and this one is simply *chef's kiss* to me. It's 100% linen, which shows in how it moves and hangs and feels on the body. It's simple enough that I know I'll be able to wear it next summer (and the one after that), but has enough intentional details that it doesn't feel plain or boring. It's the quintessential boppin'-around-on-a-summer-day dress that anyone could get a ton of wear out of.
DISSH pieces I have my eye on
The post This Brand Screams 'Quiet Luxury,' but Is Totally Affordable appeared first on The Everygirl.