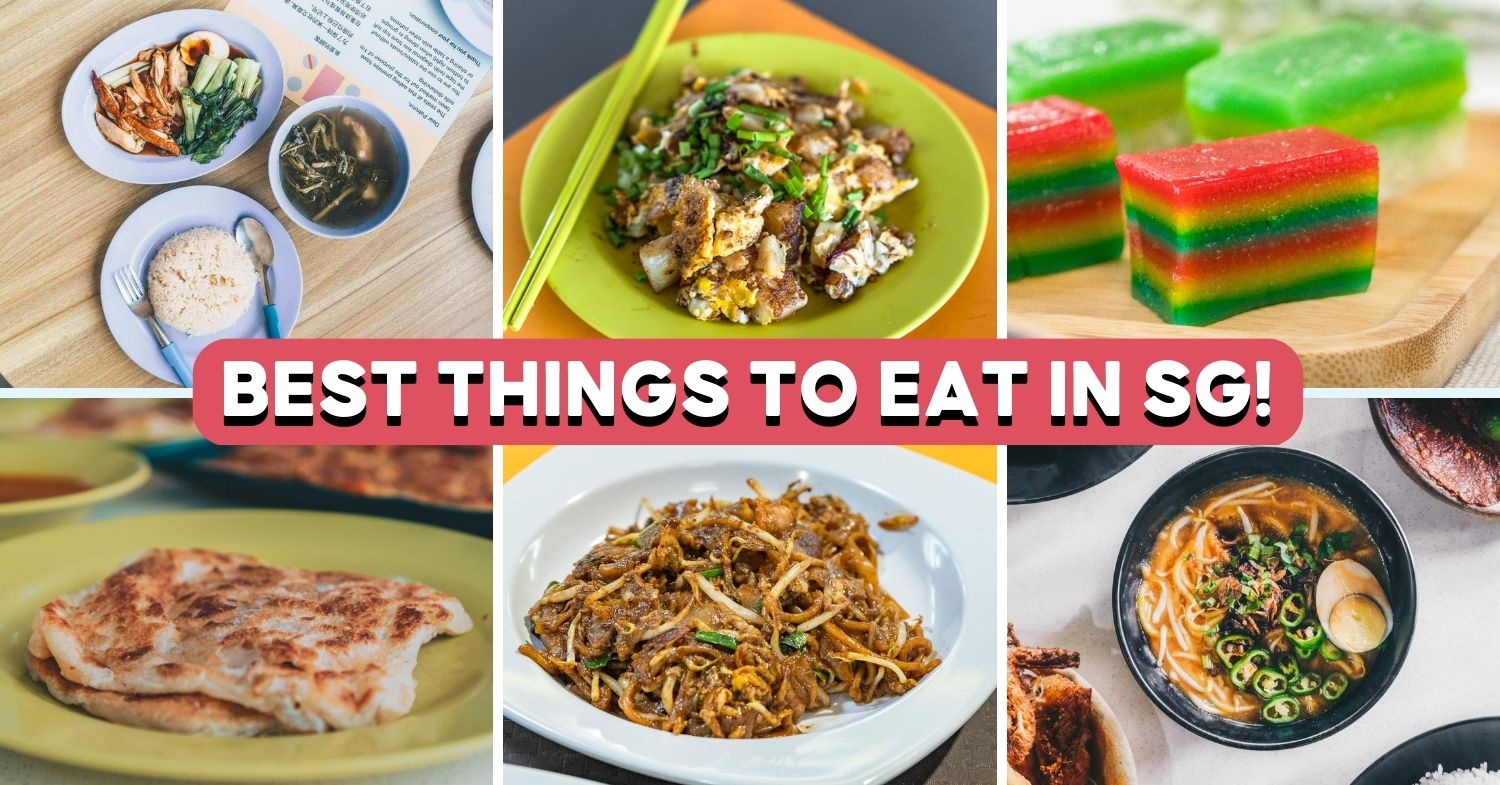 ---
75 best Singapore food you must try
---
Singapore is, undeniably, one of the greatest food cities in Asia, if not the world. Eating and drinking is pretty much a national pastime, and for good reason: our Little Red Dot is chock full of dining destinations for all tastes, cuisines, pursuits, and occasions, just waiting to be explored.
The beating heart of our local food scene, however, is our unique hawker culture. Born out of our status as a global port, Singaporean cuisine is both distinct, and in debt to many other ethnic and national cuisines.
Our hawker food scene is also so ingrained into our national imagination and the way we eat day-to-day that our hawker landscape recently earned itself a place on the UNESCO Intangible Heritage list in 2020.
Dining in Singapore can be overwhelming, especially if you're visiting for the first time. To help you skirt past the tourist traps and get to the real, locals-approved stuff, here is our guide to the best food in Singapore you must eat.
We're also aware 75 dishes may be a ton to work your way through unless you're planning to stay for a while, so if you're in Singapore for a quick trip, jump straight to the stalls with asterisks (*) in their title, because they're the essential ones we've decided on.
---
1. Ayam Penyet
---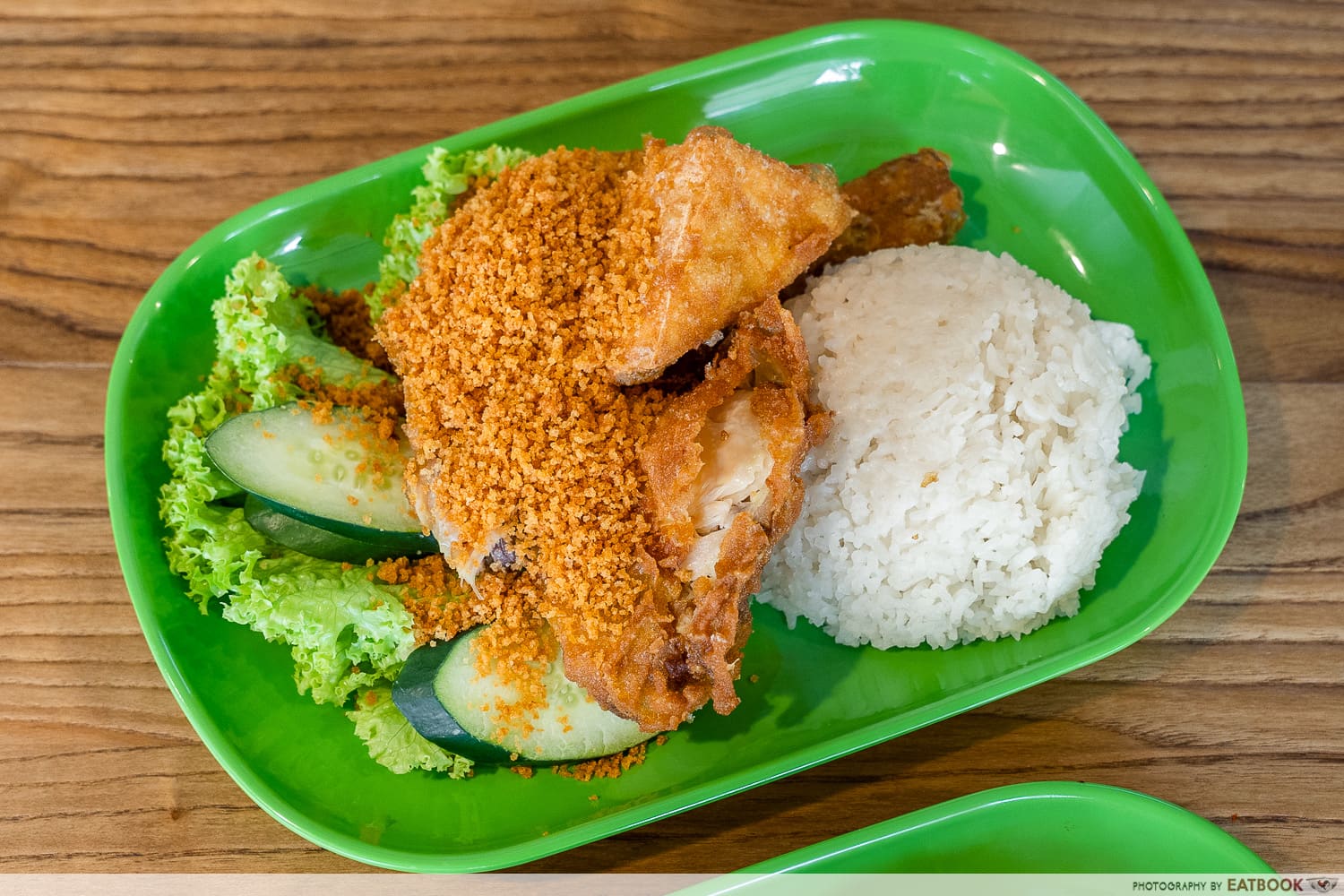 Originating from Java, Indonesia, ayam penyet has grown to become a popular dish in countries such as Singapore, Malaysia, and Brunei. This flavourful dish sees deep-fried chicken coated in a batter made from a blend of spices, consisting mainly of turmeric, galangal, and ginger. 
The chicken is smashed on a pestle and mortar before serving to separate the meat from the bone and crispy skin—hence the name 'penyet', which means 'smashed' in Malay. While it's delicious on its own, ayam penyet is not complete without sambal.
If you're on the hunt for top-tier ayam penyet, we recommend Ayam Penyet President, a famous ayam penyet chain that popularised the dish when it first opened in Lucky Plaza in 2009.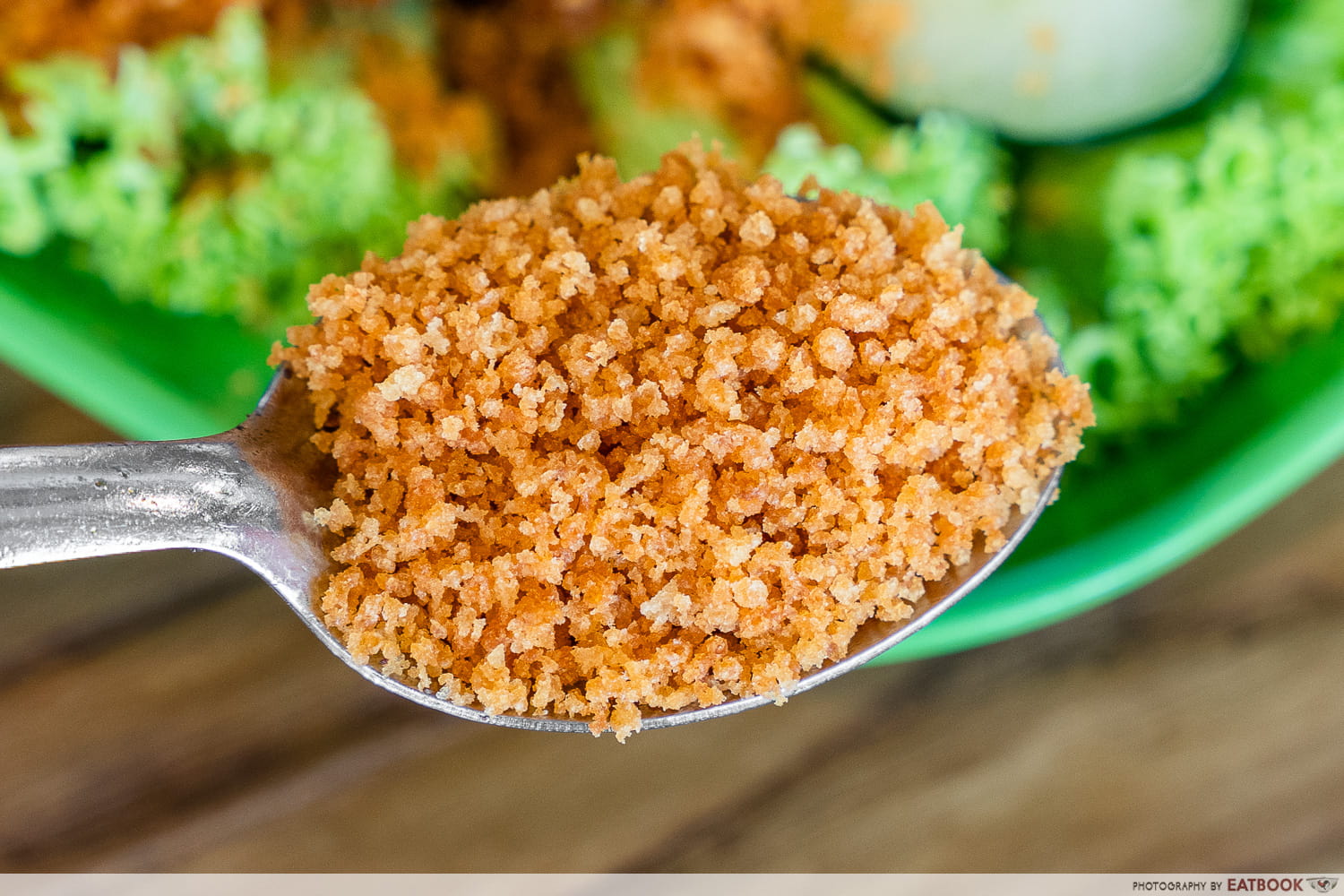 Another popular place for ayam penyet is Uncle Penyet, well-loved for the tasty and crispy garlic crumbs that come with their ayam penyet. The chicken here is fried till golden, boasting juicy and moist flesh within. 
Expected prices: $6.50 – $10
Read our guide to the best ayam penyet in Singapore. 
8 Famous Ayam Penyet Places At $5.50 And Below Around Singapore
---
2. Bak Chor Mee*
---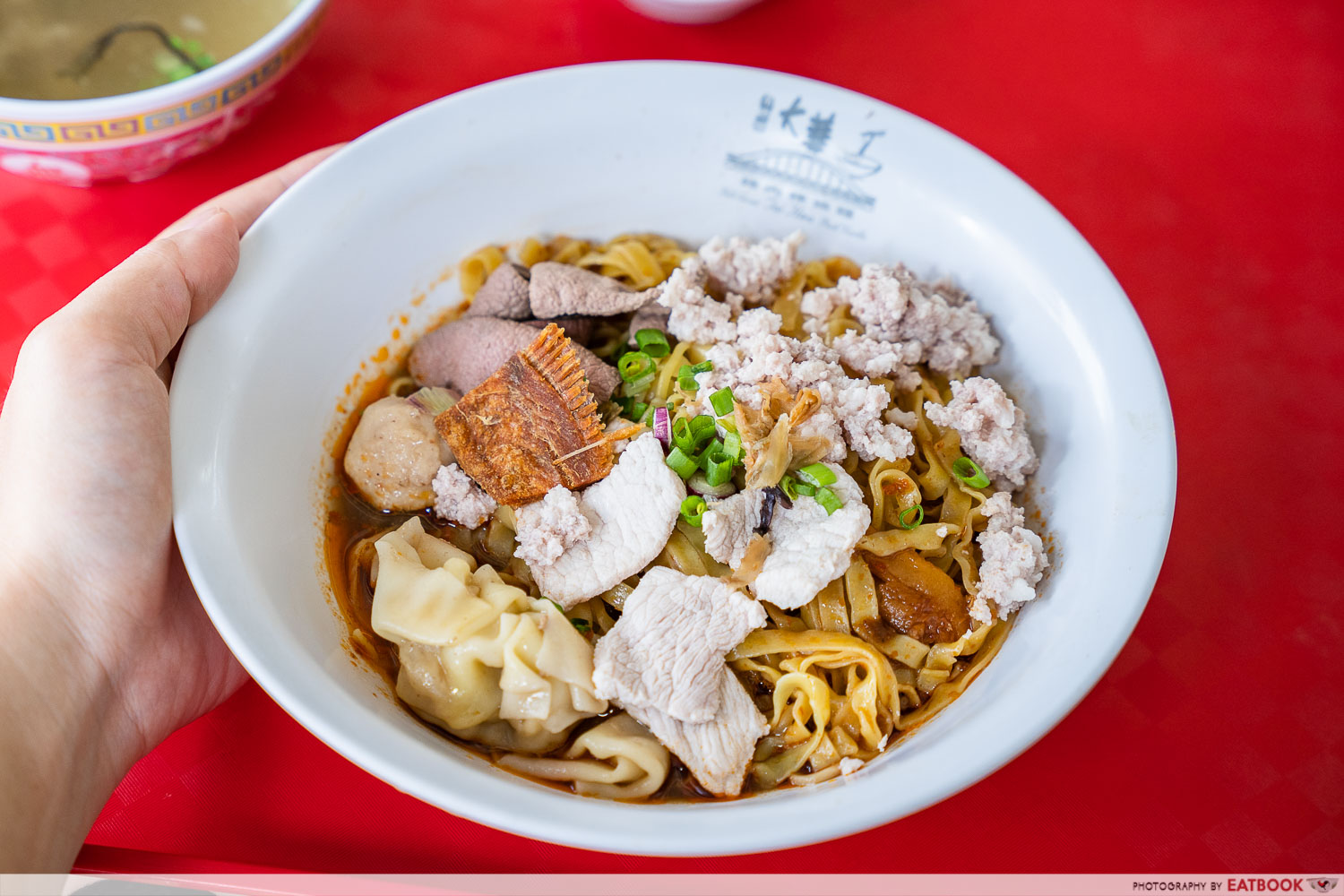 Nowhere else in the world will you find bak chor mee (BCM): a uniquely Singaporean hawker dish that in its most basic form, comprises noodles and pork. The name bak chor mee is Hokkien for minced meat noodles, but the dish is Teochew in origin, with its history dating back to 1920s Singapore as a soup-based dish. 
Today, the most common iteration is the dry version, spiked with black vinegar, crisp lard cubes, and chilli paste. Depending on the stall you visit, other toppings you'll find include pork liver, dumplings, fried sole fish, meatballs and more.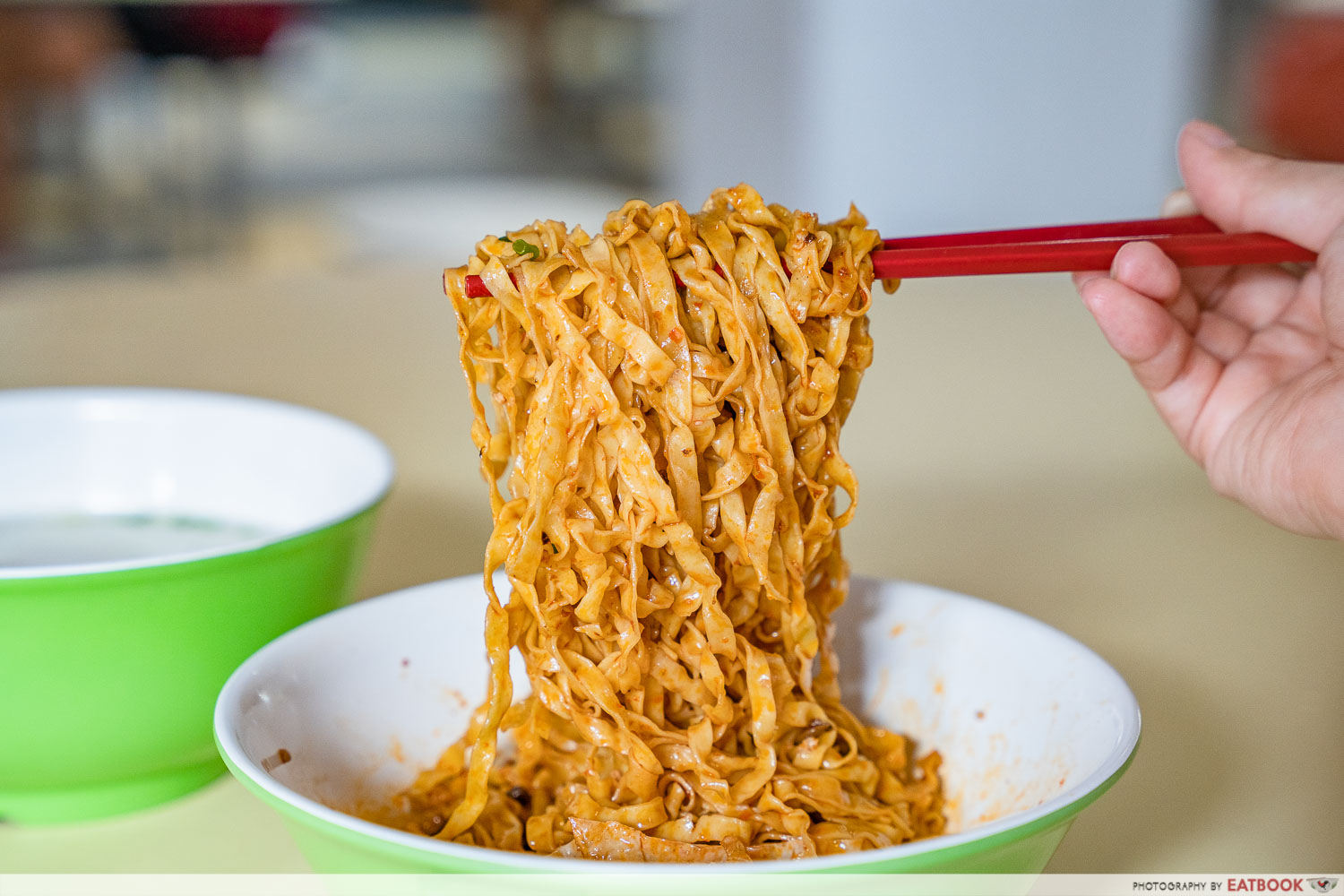 You'll find bak chor mee sold in almost every hawker centre or food court, but here are some notable stalls you should definitely check out: the OG Hill Street Tai Hwa Pork Noodle near Lavender, which, at point of writing, is the only hawker stall in Singapore that holds a Michelin star. Unaffiliated, yet descended from the same family is Tai Wah Pork Noodle, which you'll find at many locations across Singapore. If you're looking for soupy BCM, head to Eunos for Famous Eunos Bak Chor Mee, or further East to Bedok, where rival stalls Xing Ji Rou Cuo Mian and Seng Hiang Bak Chor Mee are located.
Expected prices: $2.50 – $10
Check out how we ranked 10 of Singapore's best bak chor mee stalls.
10 Best Bak Chor Mee In Singapore Ranked—Tai Hwa, Tai Wah, Seng Kee And More
---
3. Bak Kut Teh*
---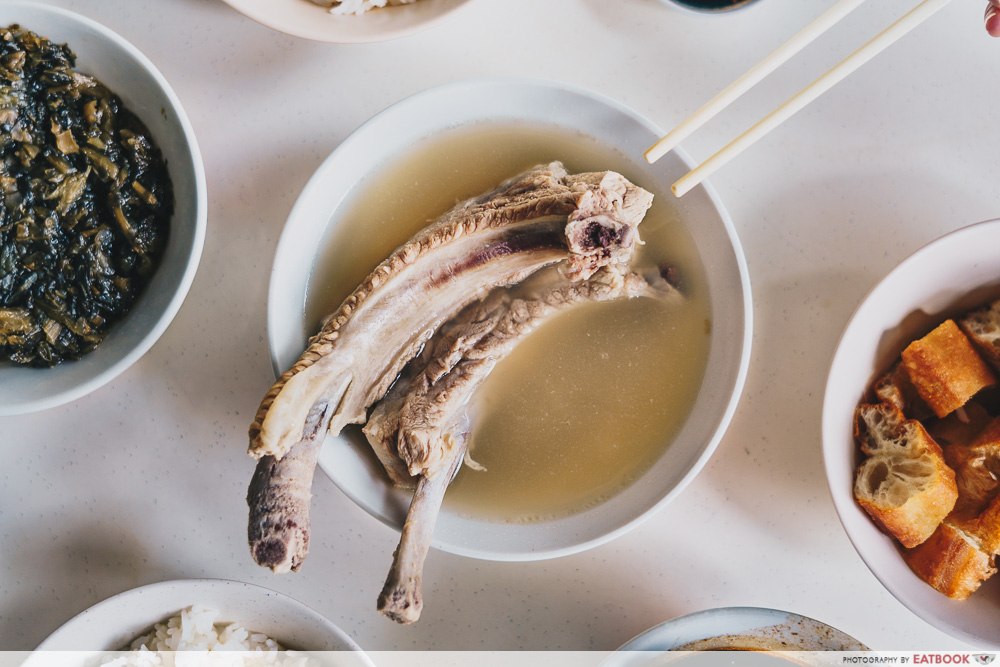 The story goes that bak kut teh was born out of poverty and necessity. In the 1920s, Chinese coolies couldn't afford pork meat, so they used meatless pork bones, garlic, and pepper to create a nourishing and robust soup. 
But as the popularity of bak kut teh grew, people of all classes began to enjoy the dish. In response to that, succulent pork ribs were added to the soup, completing the modern-day bak kut teh.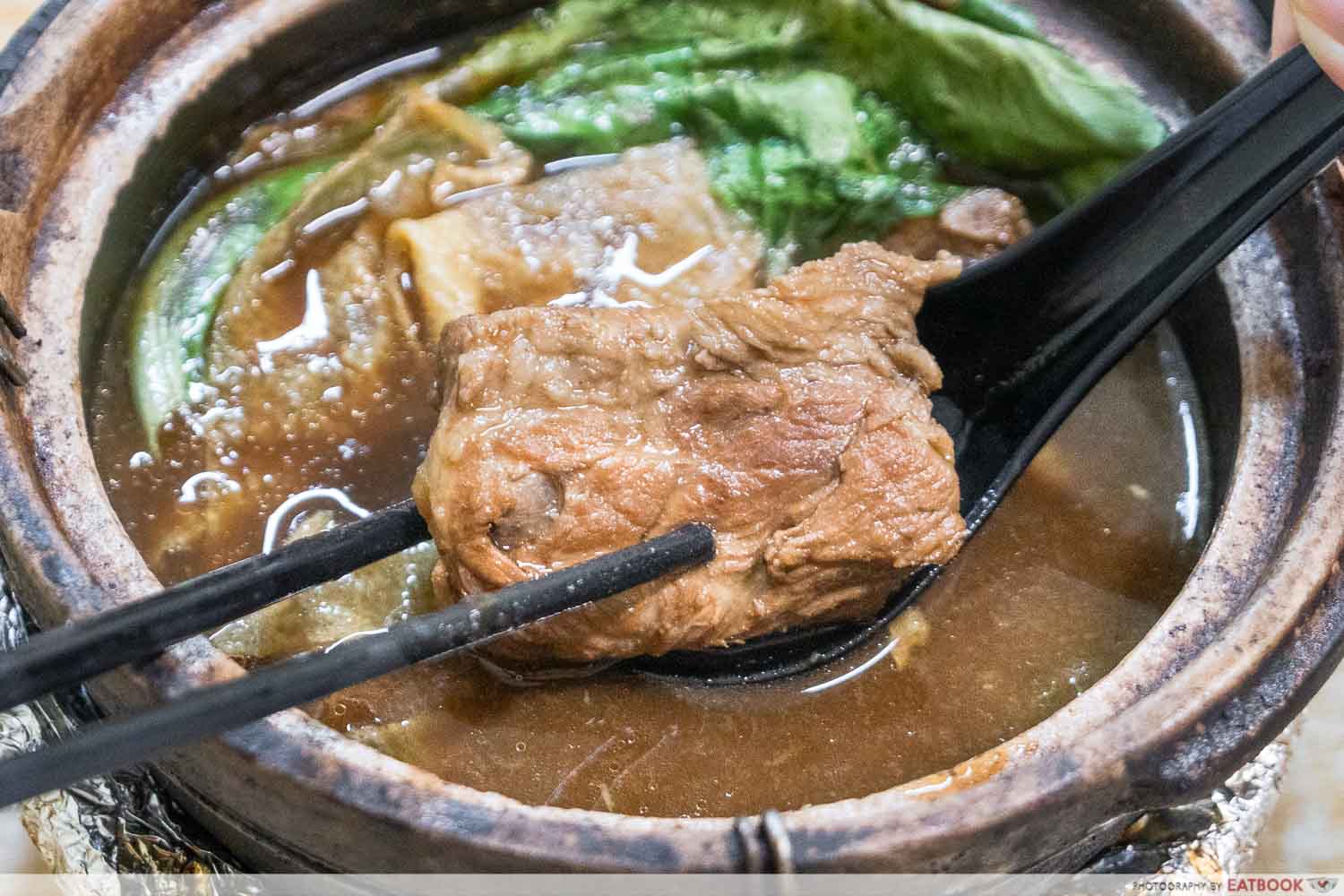 Today, there are two main types of bak kut teh. Teochew-style, with its peppery and garlicky clear broth, is the more commonly found version in Singapore—popular eateries that offer this include Song Fa Bak Kut Teh and Founder Bak Kut Teh. Hokkien-style, meanwhile, has a darker-coloured broth and a more herbal taste. You'll find this variant at places such as Jia Bin Klang Bak Kut Teh and Hokkien Street Bak Kut Teh. 
Expected prices: $4 – $12
Read our guide to the best bak kut teh in Singapore.
17 Bak Kut Teh in Singapore To Try, Including Dry Klang BKT, 80-Year-Old Hokkien BKT And More
---
4. Bak Zhang
---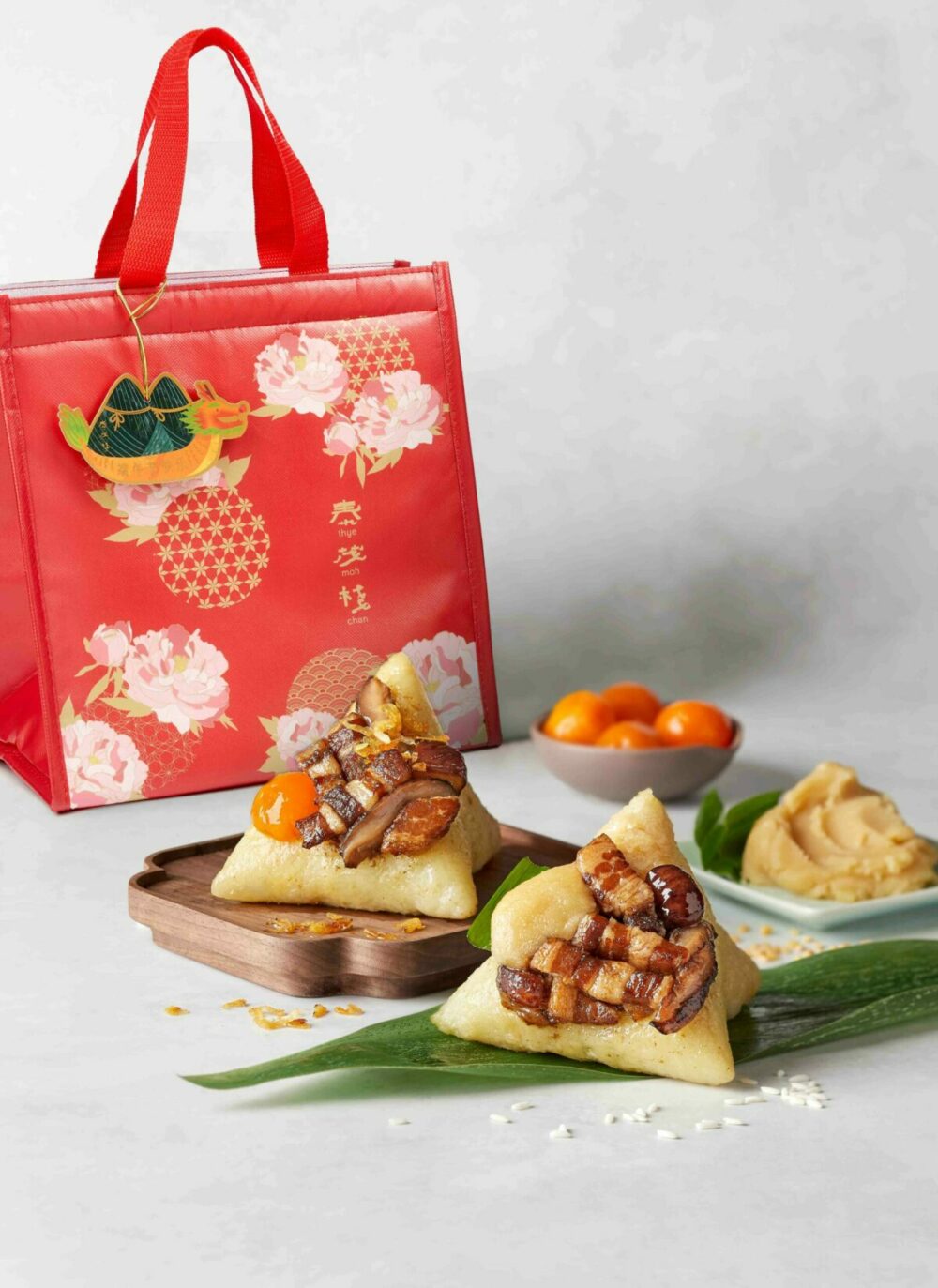 Image credit: Thye Moh Chan 
Bak chang, AKA zong zi, is a glutinous rice dumpling frequently enjoyed during the Dragon Boat Festival. While it has its roots in Chinese mythology, the dumplings have also become a commonplace snack sold round the year by local hawkers and artisans. Typically, the dish is either served savoury or sweet. The former includes glutinous rice laced with dates, bean paste, or gula melaka, while the latter is packed with meat, yam, ham, mushrooms, and salted duck's egg.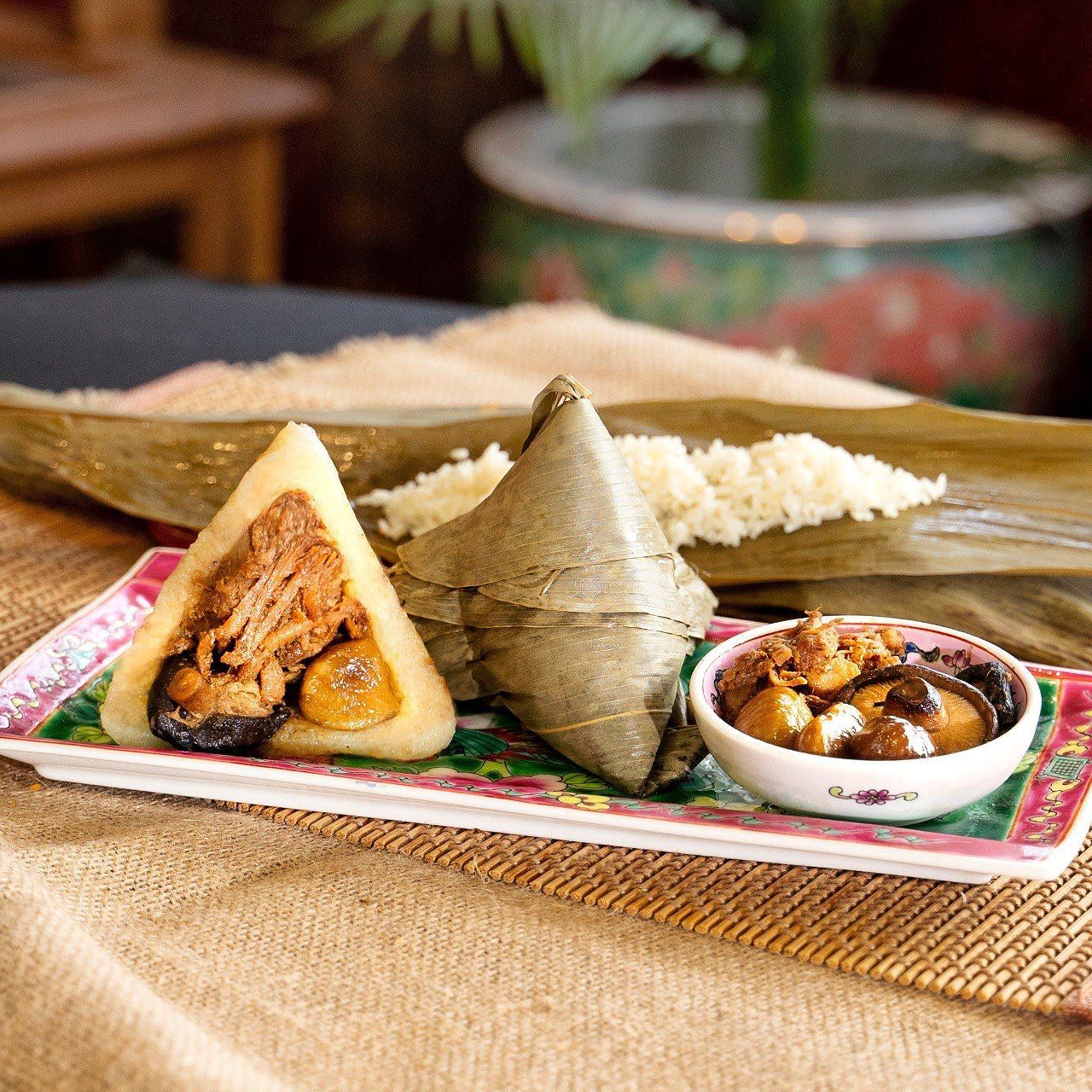 Image credit: Kim Choo Kueh Chang
For wallet-friendly, quality bak chang, swing by SohGood BakChang, a hawker stall in Chinatown Complex that fans dub as one of the best in Singapore. All their sweet and savoury dumplings are handmade with traditional recipes, ranging from the classic Traditional Pork Belly Bak Chang to Red Been Paste Kee Chang. 
East siders making a pitstop at Kim Choo Kueh Chang for their Nyonya kueh should also get their hands on their house-made dumplings. The Joo Chiat eatery offers Cantonese, Teochew, and Nyonya bak chang flavours—a veritable masterclass on the different types of zong zi available.
Expected prices: $3 – $6
Read our guide to bak chang delivery in Singapore.
10 Bak Chang Deliveries For Dragon Boat Festival, Including Truffle Char Siew And Orh Nee Flavours
---
5. Ban Mian
---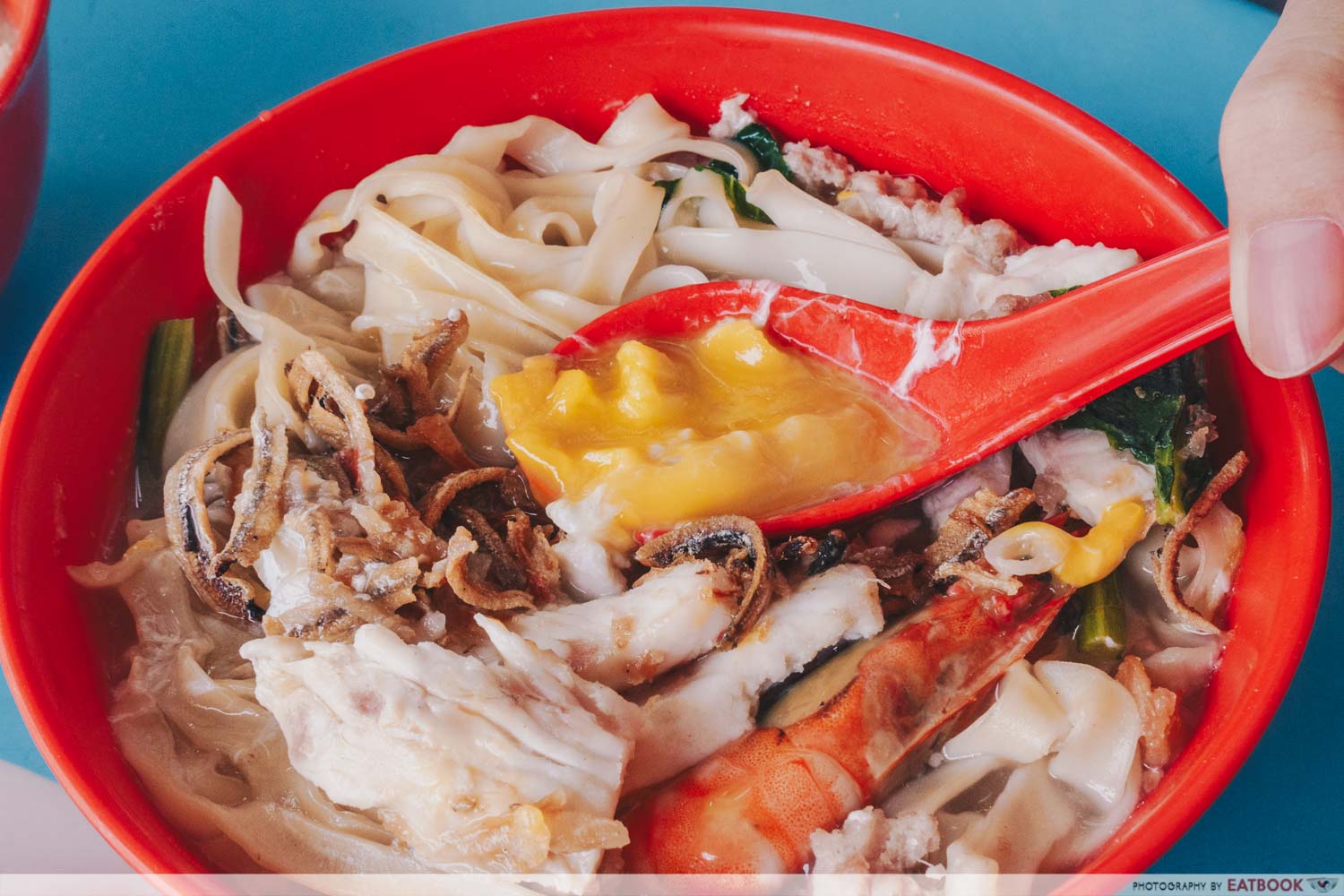 Ban mian hails from China, but its roots spread across many different Chinese cultures. The Hakkas, for instance, can lay claim to traditional ban mian and you mian, but the Hokkiens are the ones responsible for mee hoon kueh, where thicker chunks of dough, instead of noodles, are served with soup. All three tend to be sold at generic ban mian stalls in Singapore nowadays.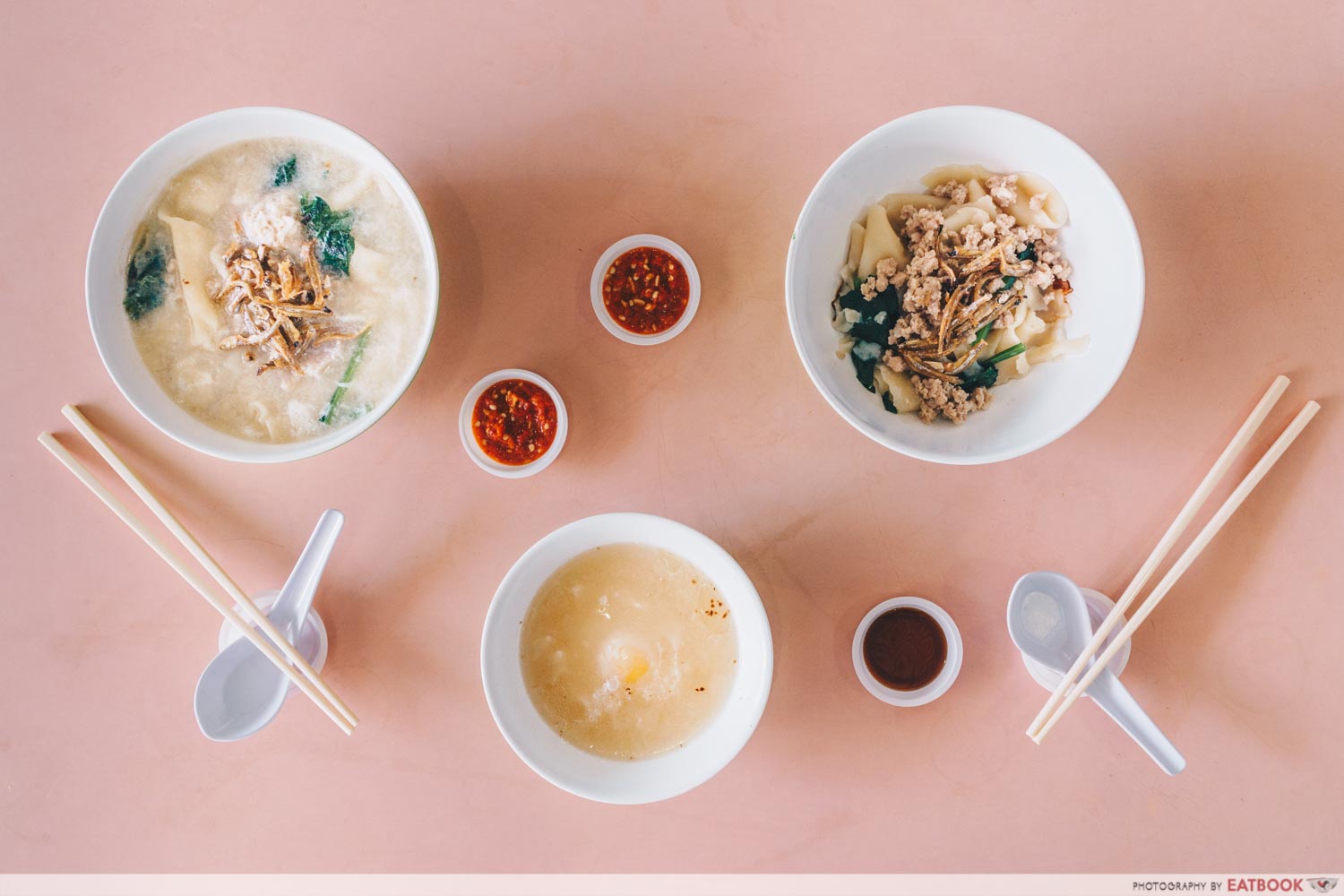 It's definitely a wholesome dish that's great for rainy days, or when one is craving comfort food. While there's now a ban mian stall at nearly every local hawker centre, we recommend going out of the way to visit L32 Handmade Noodles in Geylang, a stall that makes all their noodles fresh to order. For a more accessible option, there's Jiak Song Mee Hoon Kway. Founded by an ex-MasterChef finalist, the stall debuted to much acclaim, and now has six outlets islandwide, including stalls in Telok Blangah, Bedok South, and Bugis.
Expected prices: $5 – $8
Read our guide to the best ban mian in Singapore.
18 Ban Mian In Singapore Including Masterchef Ban Mian, $2 Ban Mian And More
---
6. Barbecue Sambal Stingray
---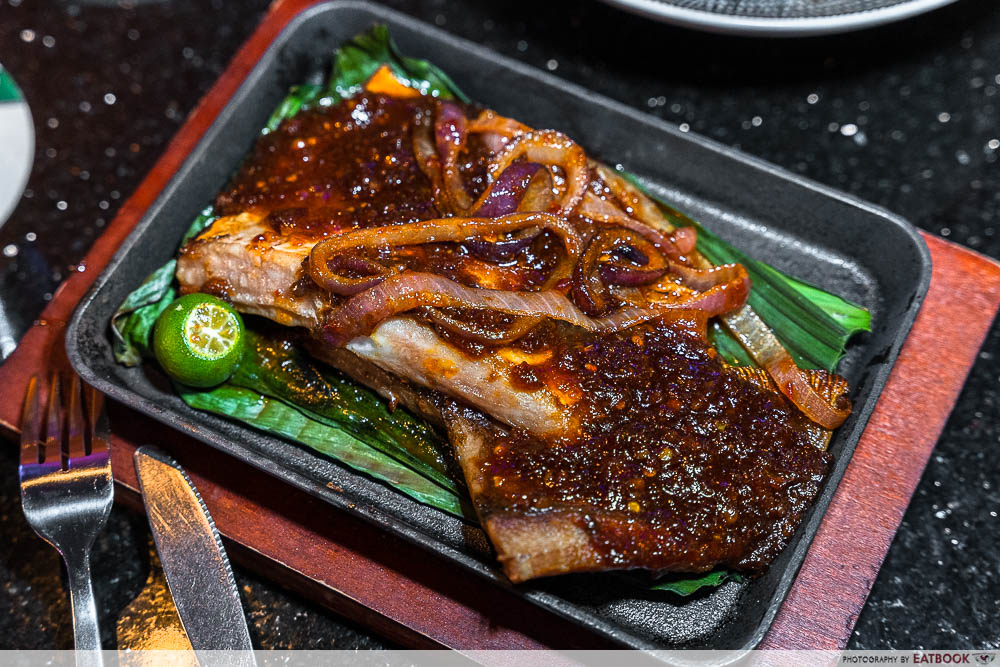 Barbecue sambal stingray, AKA ikan bakar, is a popular dish one finds at seafood stalls located in many of Singapore's largest food centres. The dish has its origins in Malaysian and Eurasian cuisine, with Portuguese influences. Stingray used to be an unwanted catch, but quickly turned into a firm favourite given the rise of recipes like ikan bakar. Typically, a piece of stingray is topped with a piquant peanut and dried shrimp sambal, wrapped in a banana leaf, then tossed on the grill to cook. When served, drizzle some lime juice over the fish, and you have a dish that is good enough to eat on its own, or with a bowl of white rice.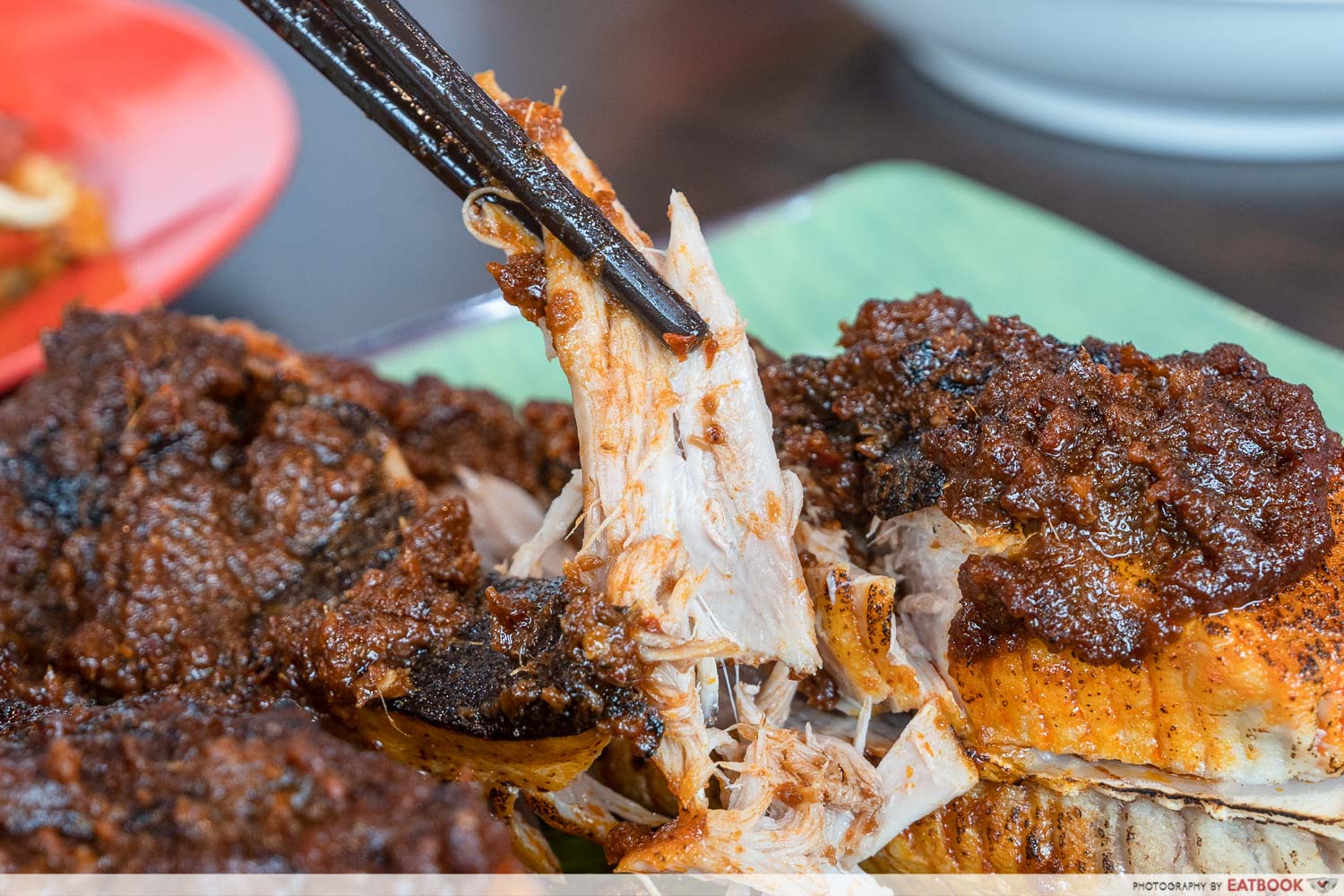 Newton Food Centre and Chomp Chomp Food Centre are two hawker hubs for sambal stingray in Singapore. There, you'll find stalls a plenty selling the dish, along with other barbecued seafood delights. Another central pick is MacPherson Barbecue Seafood at Boat Quay. Unlike the tourist traps lining the riverside, his humble hawker stall serves up decently priced sambal stingray that's received rave reviews from locals and travellers alike. Best part: they have individually portioned ikan bakar sets, so you can have your sambal stingray fix solo!
Expected price: $8 – $20
Read our guide to the best barbecue sambal stingray in Singapore.
---
7. Beef Noodles
---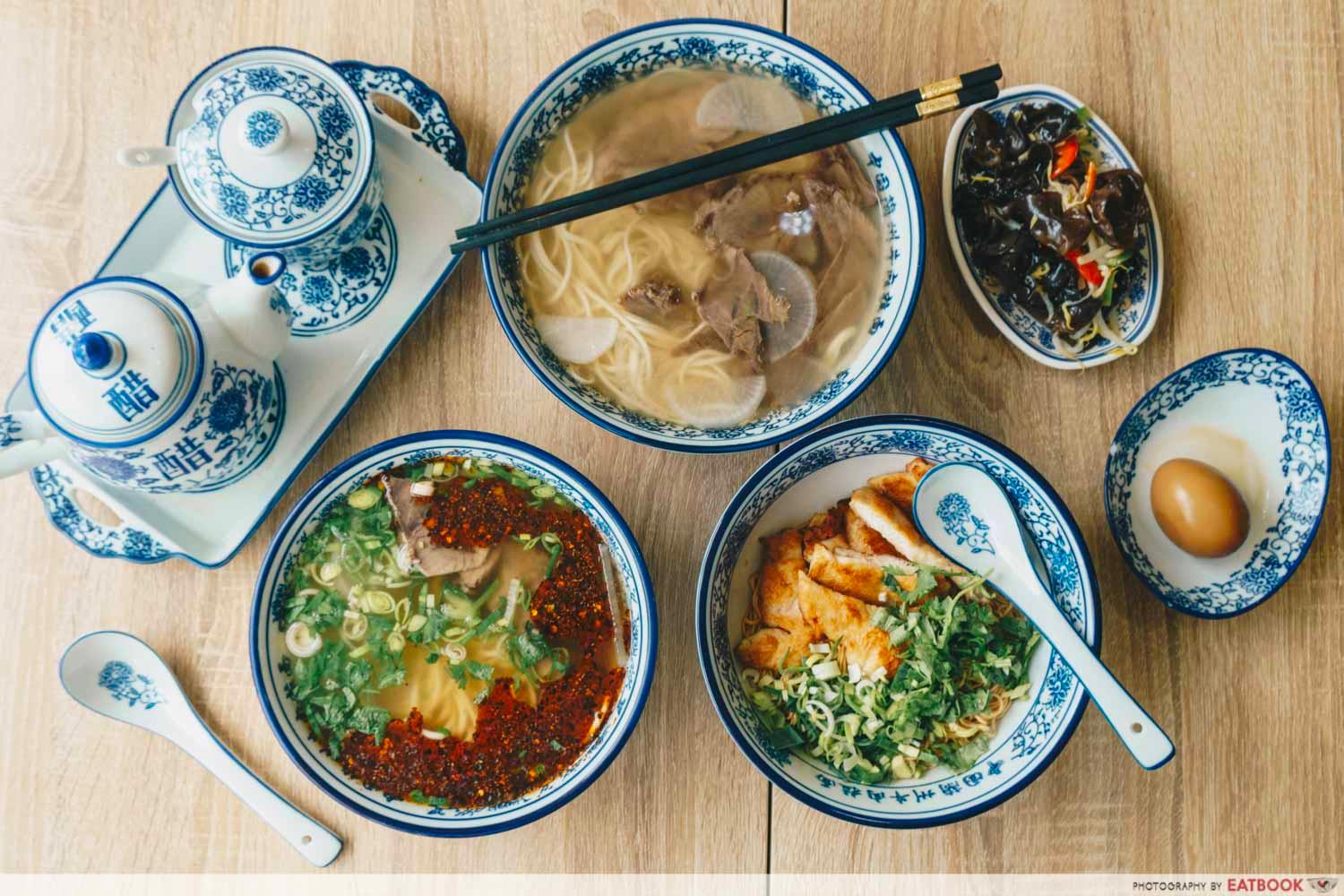 Although beef noodle soup is said to have originated from Swatow in the Guangdong Province in China, there are plenty of beef noodle variations in Singapore, all coming from the diversity of cultures here. There are a few components that define a good bowl of beef noodle soup: a rich soup base, rice noodles, and thinly sliced beef that's usually simmered for hours till extremely tender.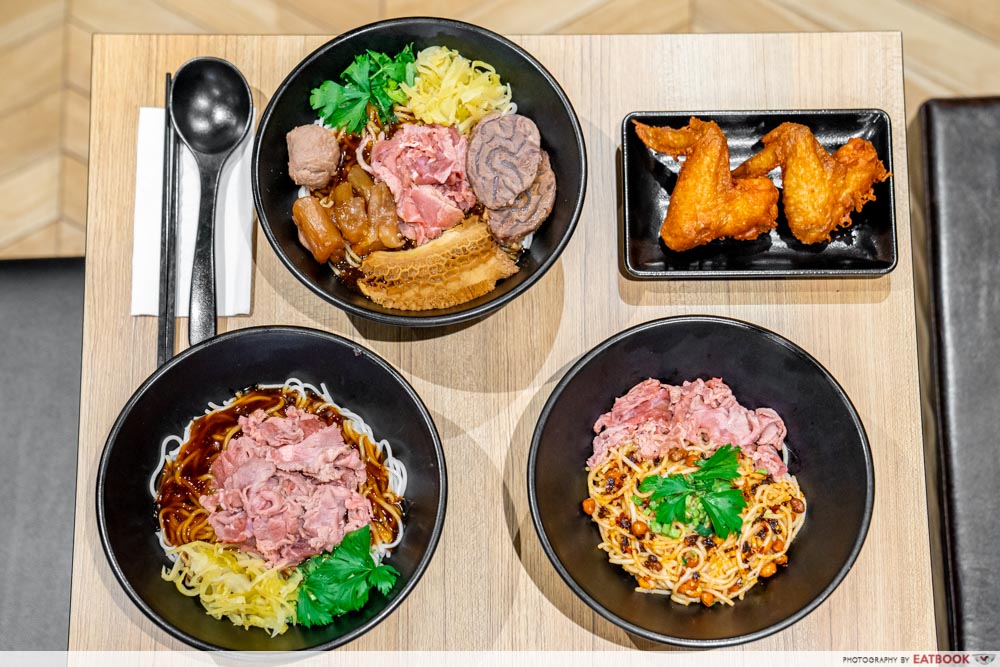 Blanco Court Beef Noodles is one famous eatery that's been open since 1979, serving up delicious bowls of Hainanese beef noodles. Formerly located at the now-defunct Blanco Court Hawker Centre, they've since expanded with multiple branches islandwide, drawing long queues for the perennial favourite, Superior Beef Noodles.
Halal-certified Nuodle is an equally delicious pick, serving Lanzhou-style beef la mian. The noodles here are all house-made from scratch daily, in different thicknesses and shapes. 
Expected prices: $9 – $12
Read our guide to the best beef noodles in Singapore.
8 Best Beef Noodles In Singapore Worth Queuing Up For, Including A Stall Open Since 1921
---
8. Briyani*
---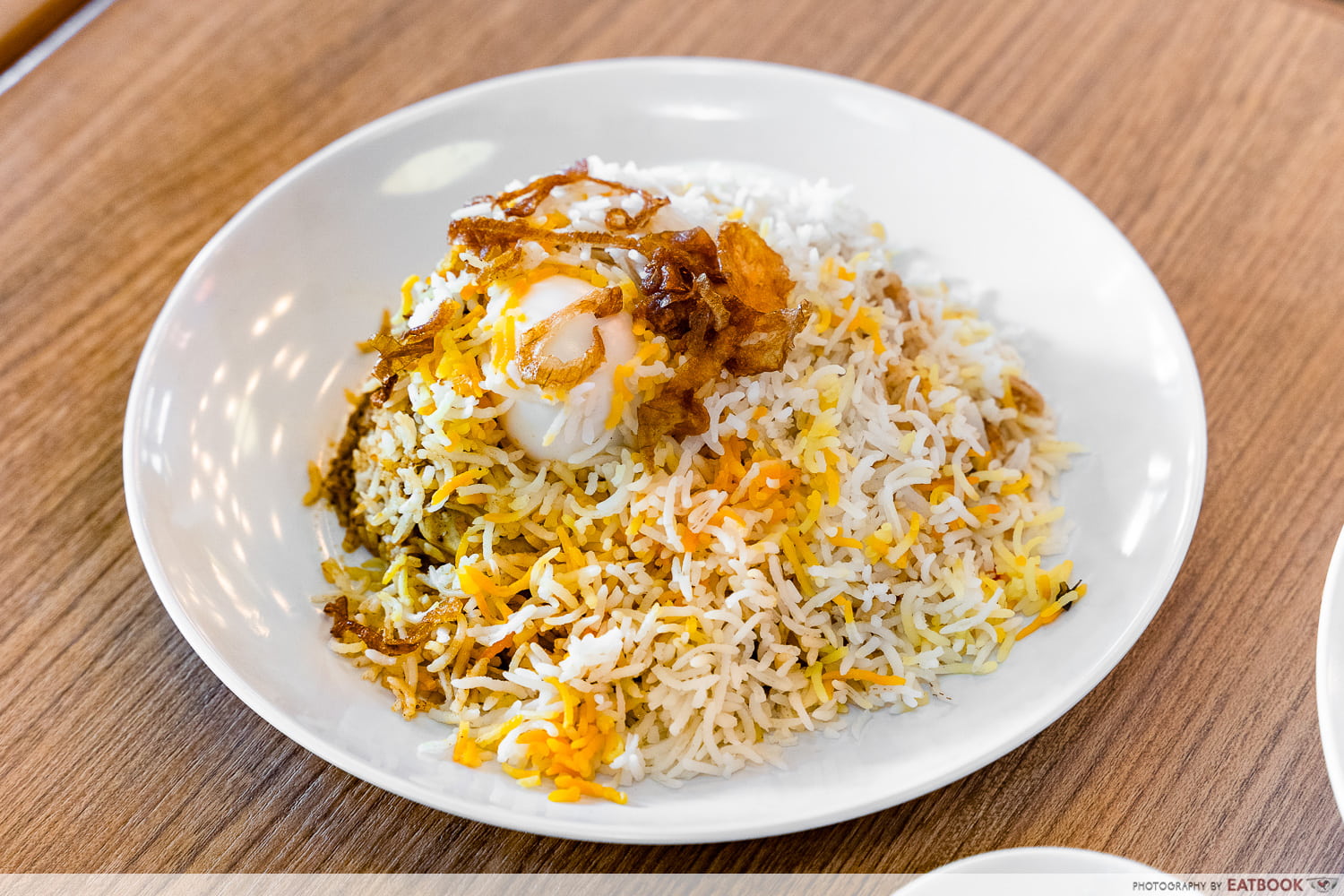 Mention Indian food and briyani is a dish that'll often pop up. Contrary to popular belief, the dish did not originate from India; its origins reportedly trace back to Persia, which is now known as Iran. Derived from the word 'birinj', or 'rice' in Persian, this flavourful dish is perfumed with saffron, aromatics, and plenty of spices. You'll also find that it's usually cooked with meat, traditionally mutton and chicken, but these days, you can find options with prawns or fish. There's meatless variations too, and these include egg briyani, and even potato briyani.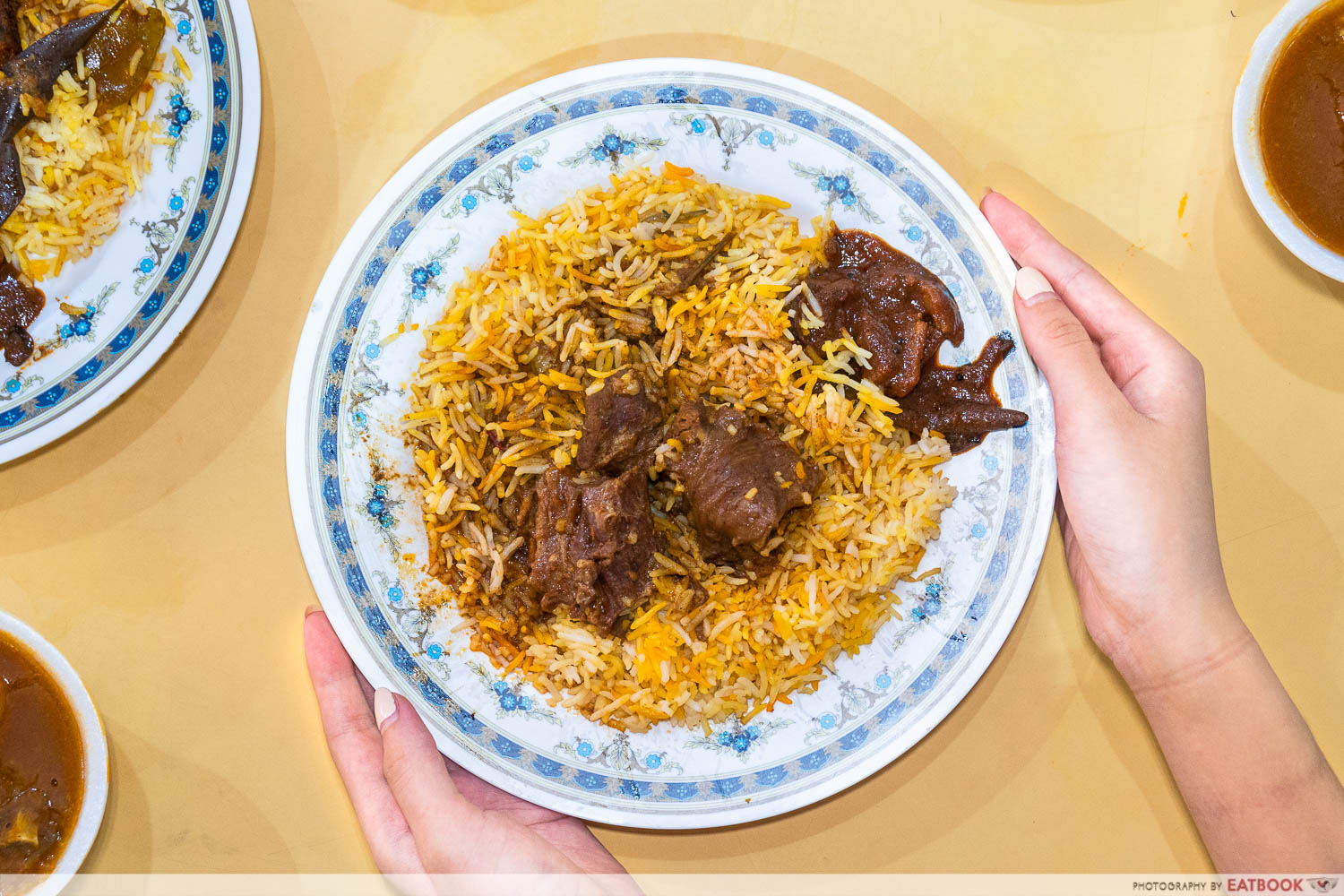 With over 100 years in the food industry, Islamic Restaurant is where you find some of the tastiest briyani in Singapore. Their best-selling dish, the mutton briyani, is full of flavour. 
Another close competitor is Geylang (Hamid's) Briyani Stall, a briyani stall that's been passed down through three generations. They've only got three dishes on their menu, including chicken, mutton, and fried chicken briyani. The briyani here leans towards the spicier side, with fluffy basmati rice that isn't too greasy and heavy. 
Expected prices: $6 – $10
Read our guide to the best briyani in Singapore. 
20 Briyani In Singapore To Try, Including XXL Platters And Michelin-Approved Stalls
---
9. Carrot Cake*
---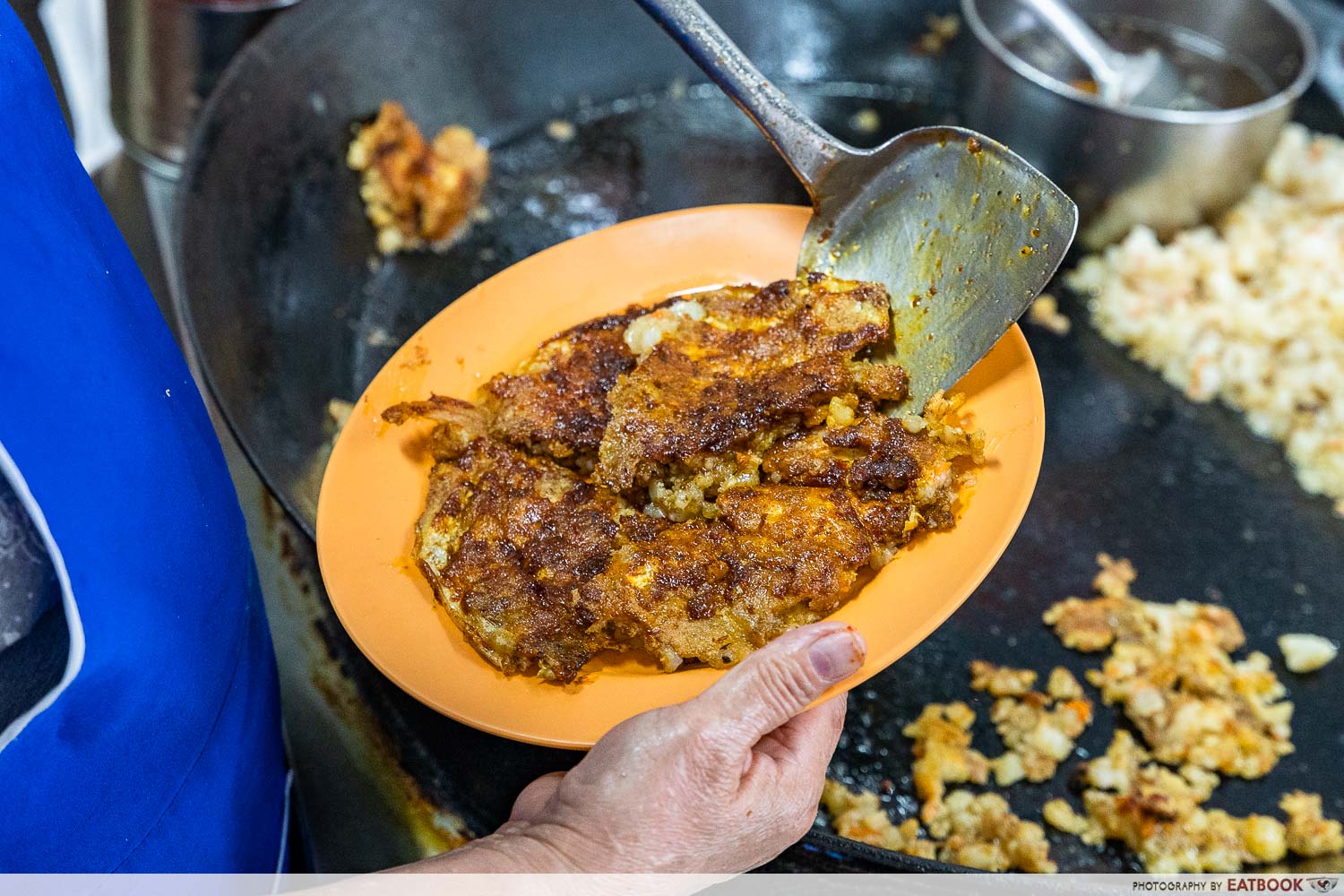 There are few breakfast dishes more unhealthy—and satisfying—than fried carrot cake, AKA chai tow kway. Featuring radish cake, preserved radish, egg, and chilli, the dish is stir-fried together in a large wok for that smoky, wok hei aroma. You can choose to either have it in its original form, also known as white carrot cake, or its sweet dark soy sauce-infused version, known as black carrot cake. 
In case you haven't noticed, there are no actual carrots used in the dish. Instead, the "carrot" refers to radish, which is known as "white carrot" in Chinese.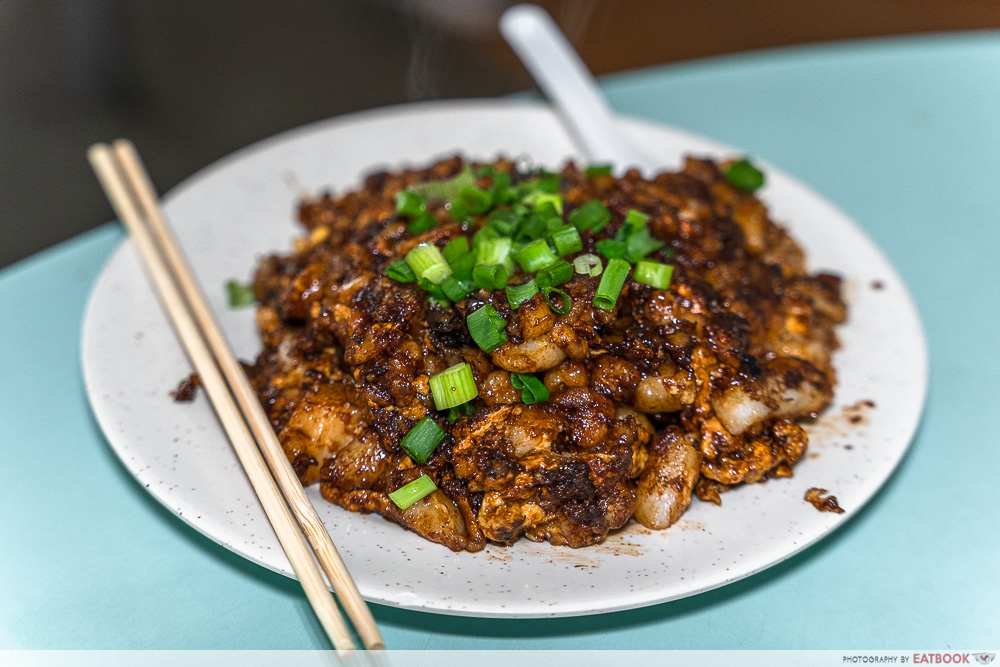 Fried carrot cake has evolved considerably over the years. It has its roots in Teochew rice cakes brought here by early immigrants, and eventually, radish and the other ingredients were added to the dish. 
Its latest form, with the black and white versions chopped up into small bits, can be found at stalls such as Fu Ming Cooked Food, which offers wok hei-filled carrot cake that was awarded the Michelin Bib Gourmand as recently as 2022. Fried Carrot Cake (Clementi) is another good place to check out, as its chai tow kway is brilliant in terms of both flavour and texture. For a bit of history, check out Bukit Merah View Carrot Cake, a stall that's been around since the 1950s.
Read our guide to the 10 best black carrot cake stalls in Singapore here. 
Expected prices: $3 – $5
10 Best Black Carrot Cake in Singapore Ranked, Including Michelin-Approved And 70-Year-Old Stalls
---
10. Char Kway Teow*
---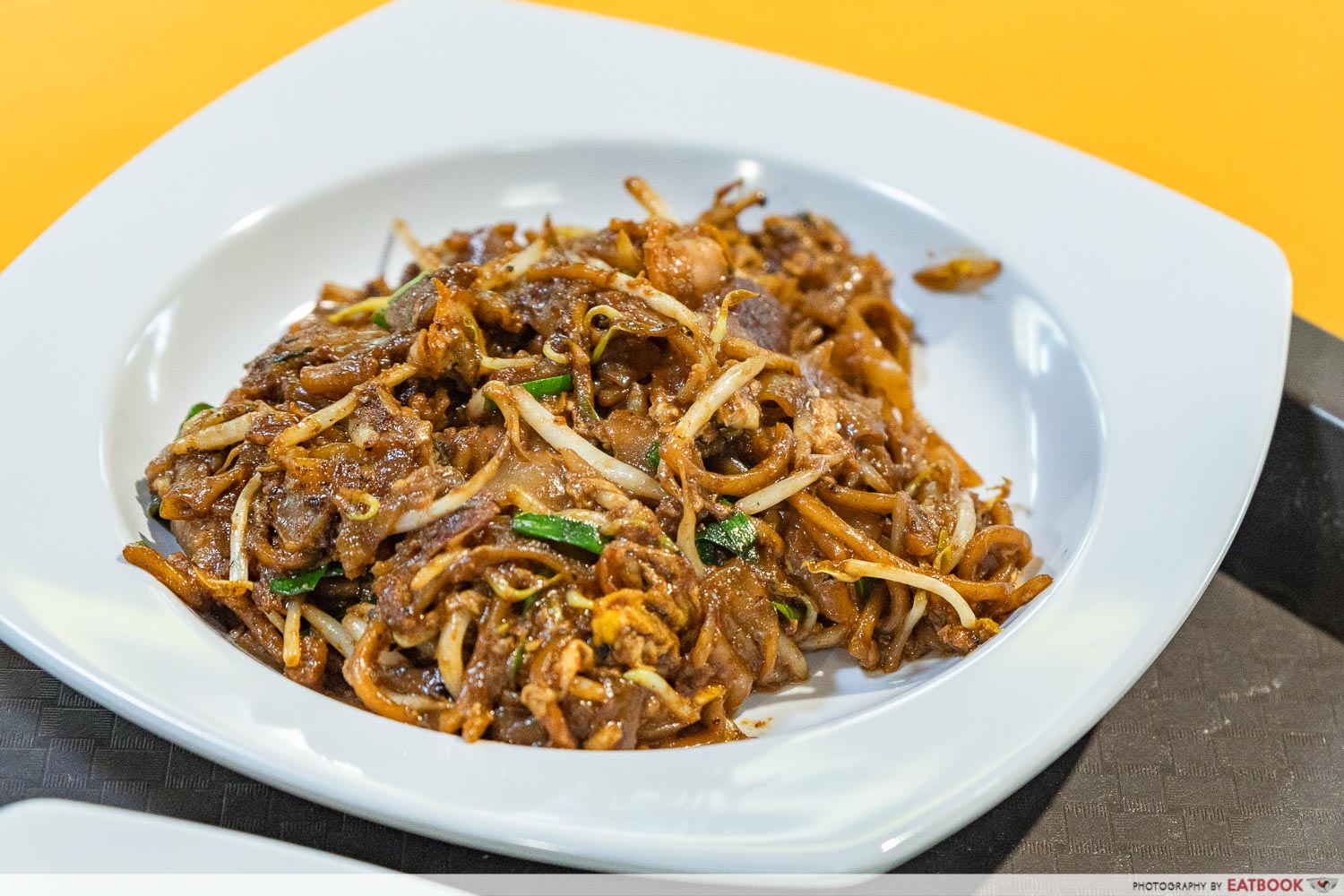 Char kway teow (CKT) is one of Singapore's most renowned hawker dishes, and for good reason. Messy and greasy in the best way, the wok-fried noodle dish has evolved since its 20th-century origins, so now, you can find strikingly different versions between Singapore and different parts of Malaysia.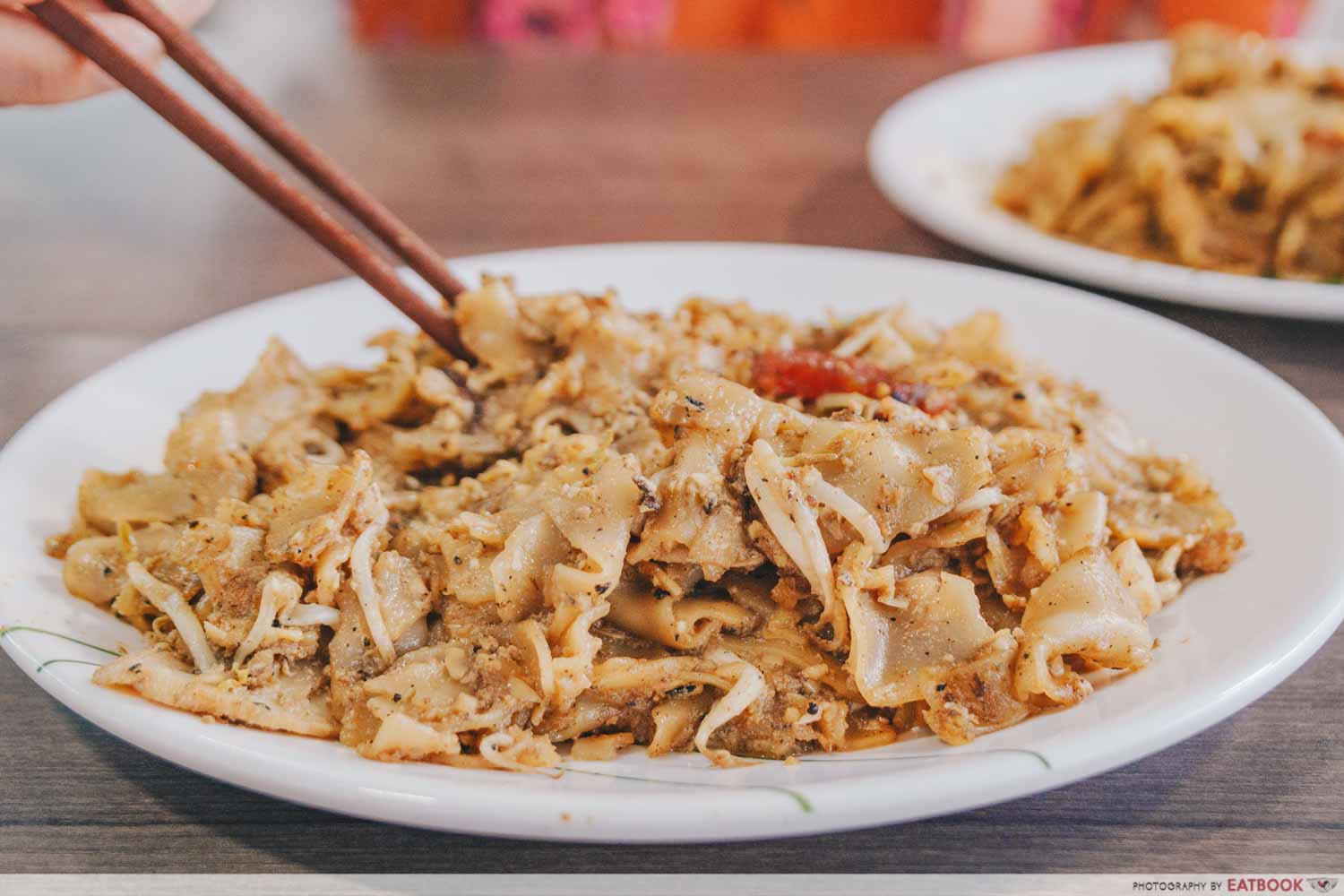 For true-blue Singaporean char kway teow that doesn't shy away from wok hei, pay a visit to Outram Park Char Kway Teow. They've been around since the 1930s and are known for their immensely smoky CKT, garnished with eggs, cockles, and sweet sausage. Another renowned name is Hill Street Char Kway Teow. Also located in Chinatown, the stall boasts snaking queues during peak mealtimes, so it's best to swing by before the crowd hits. Here, the CKT is double-fried for extra richness.
Expected prices: $5 – $10
Read our guide to the best char kway teow in Singapore.
15 Best Char Kway Teow In Singapore, Including Famous Apollo Fresh Cockle Fried Kway Teow and Penang CKT
---
11. Chee Cheong Fun
---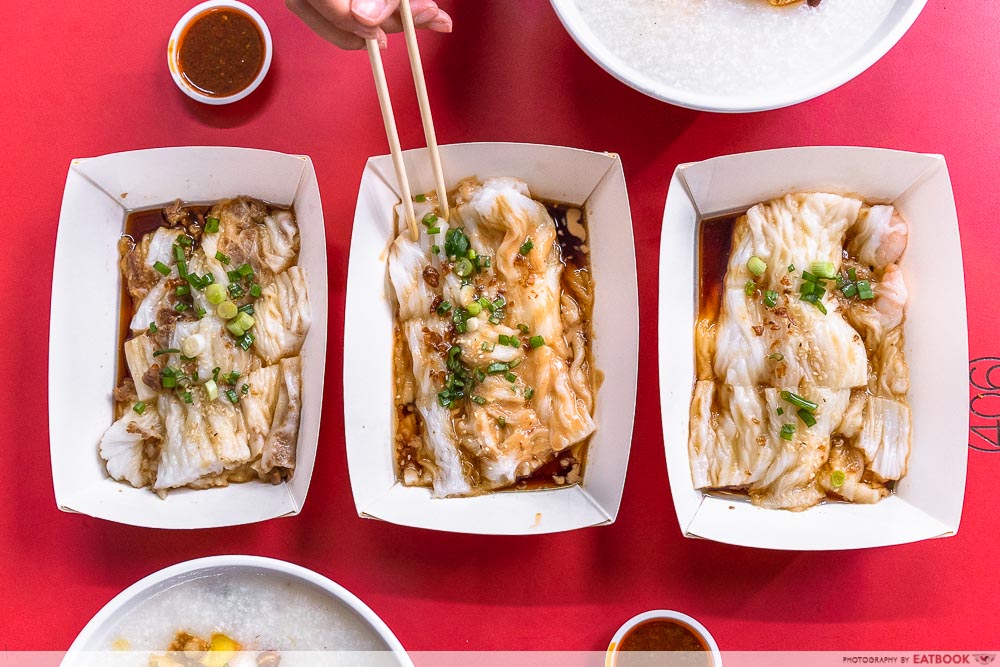 While most commonly found on dim sum restaurant menus, chee cheong fun experienced quite a boom in Singapore over the past couple of years. This has resulted in many standalone stalls that offer unique variations on this Cantonese classic. While the rice noodle sheets are typically rolled with fillings such as shrimp or char siew, you can now find chee cheong fun filled with scallops and mushrooms, or even sporting pink skins dyed with beetroot.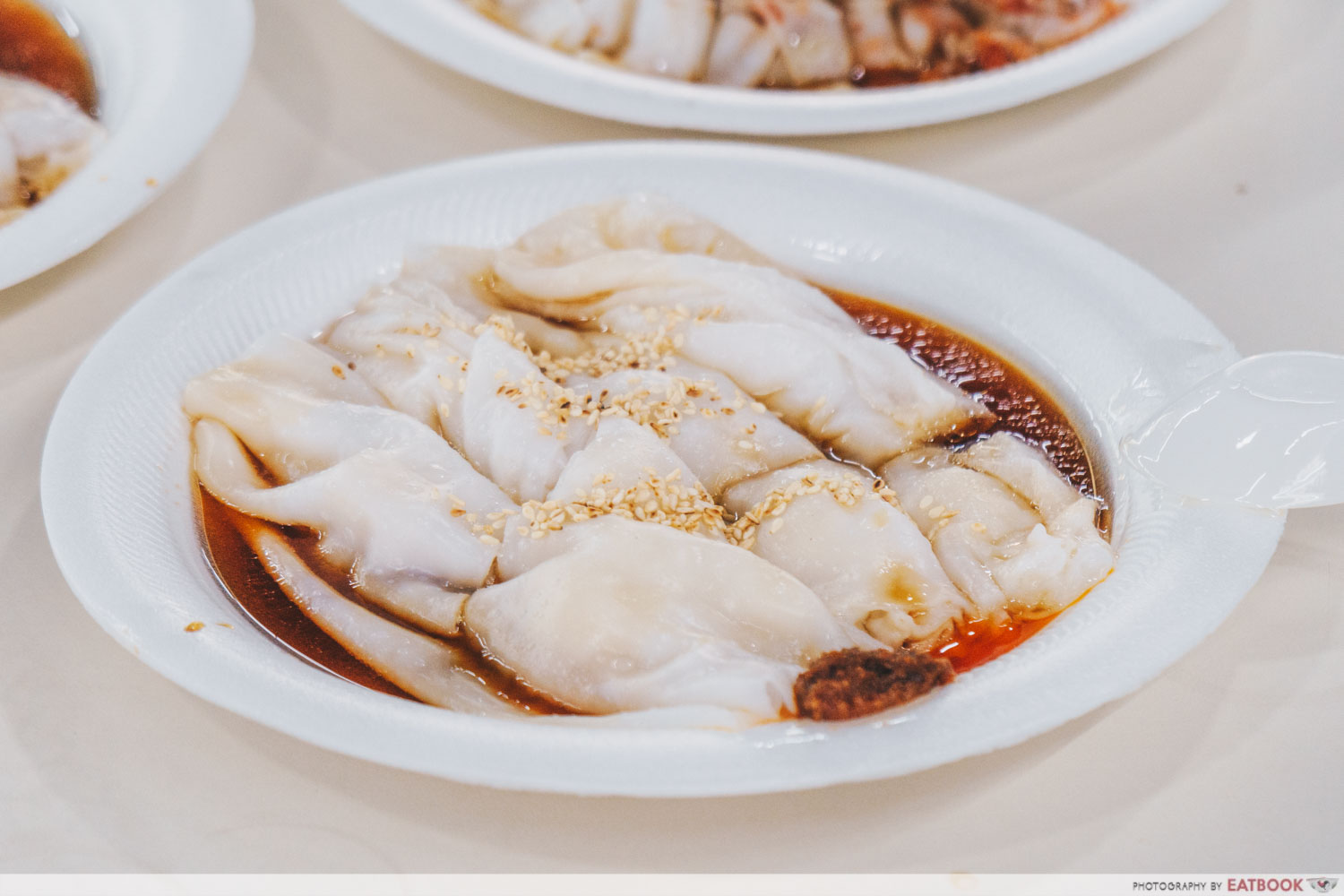 Many of these standalone chee cheong fun stalls are run by former hotel chefs, including Chef Leung's Authentic Hand-milled Rice Noodle Rolls. Located in Chinatown, the stall is run by its eponymous Chef Leung, who hails from Hong Kong but spent 18 years working at Raffles Hotel. Another household name in the scene is Pin Wei Chee Cheong Fun. The family-run stall has been selling traditional rice rolls for decades—clearly ahead of the curve—and draws long queues for their silky smooth, flavourful signature dish.
Expected prices: $3 – $8
Read our guide to the best chee cheong fun in Singapore.
9 Chee Cheong Fun Stalls To Try, Including Malaysian-Style And Ex-Restaurant Chef Options
---
12. Chendol*
---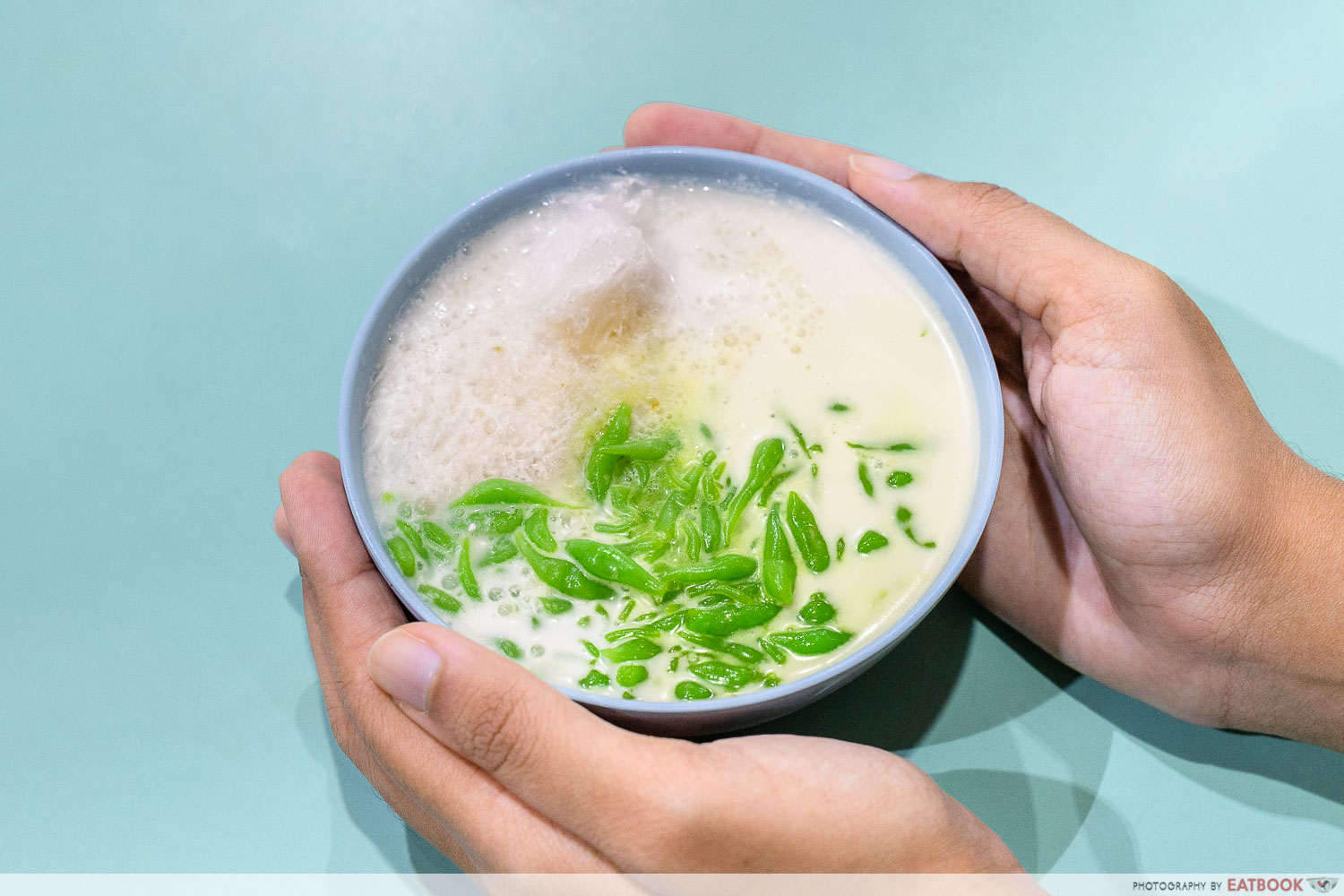 Chendol is a dessert that'll always be a popular pick amongst Singaporeans—it's also listed under CNN's list of 50 best desserts around the world. While there's been some discourse on which country truly invented it, its origins can be traced to a dish originally known as 'dawet', found in the early 12th century Kediri Kingdom in Java, Indonesia. 
Over the years, chendol has grown to be a popular dessert enjoyed across all of Southeast Asia with different renditions, featuring all sorts of toppings.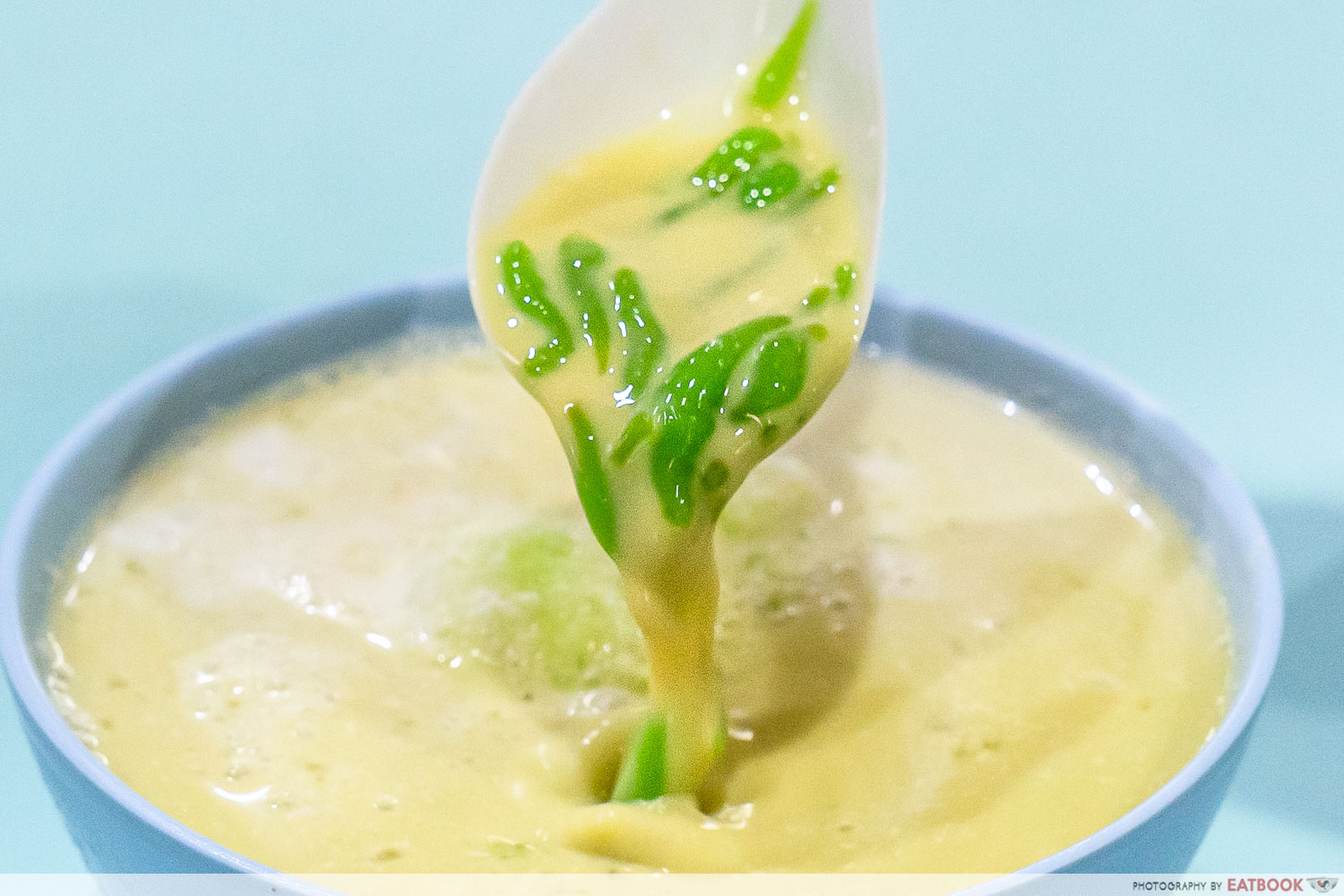 Chendol Geylang Serai is one of the first stalls people mention when it comes to finding some of the best chendol. They've been around since the 1950s, dishing up bowls of this sweet treat done the traditional way—all of their ingredients are house-made to obtain maximum freshness, including their gula melaka syrup.  
Here's another popular spot to check out: Old Amoy Chendol. Every single ingredient here is also made from scratch. This includes charcoal-cooking their azuki red beans, cold-pressing their coconut milk, and making pandan noodles by hand. 
Expected prices: $2 – $3
Read our guide to the best chendol in Singapore. 
10 Chendol In Singapore From $1.50 That Can Rival Malaysia's
---
13. Chicken Rice*
---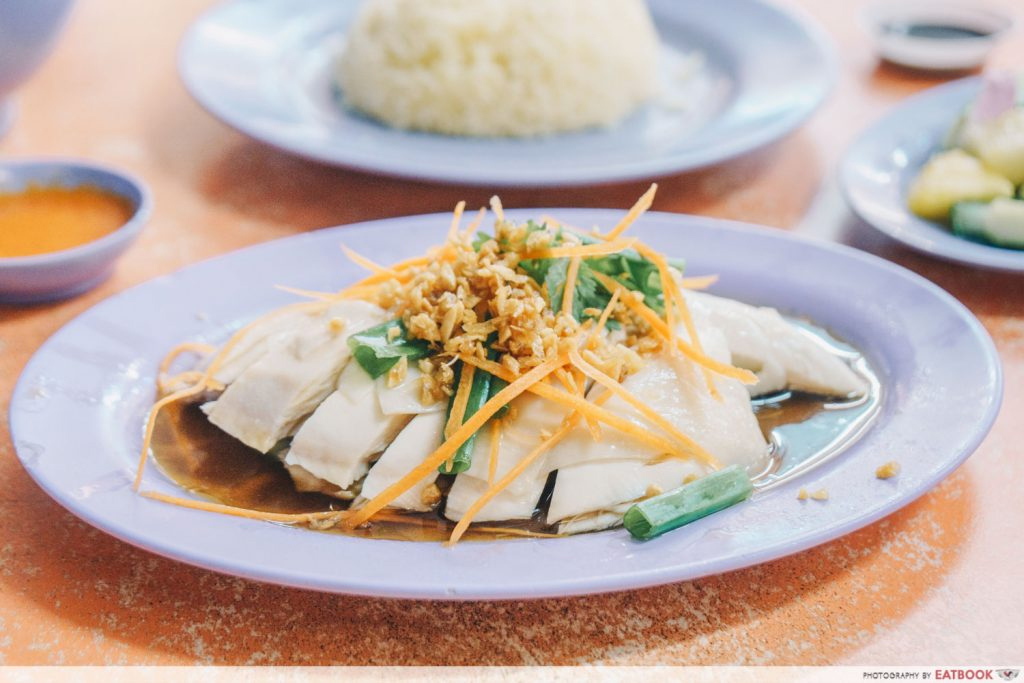 Chicken rice is probably the dish people associate the most with Singapore. Its roots can be traced to Hainanese and Cantonese migrant communities, but today, it is arguably the most ubiquitous Singaporean dish there is. Though there is a chicken rice stall in almost every hawker centre, including plenty of halal-certified options, some stalls are decidedly a cut above the rest and are worth dining at.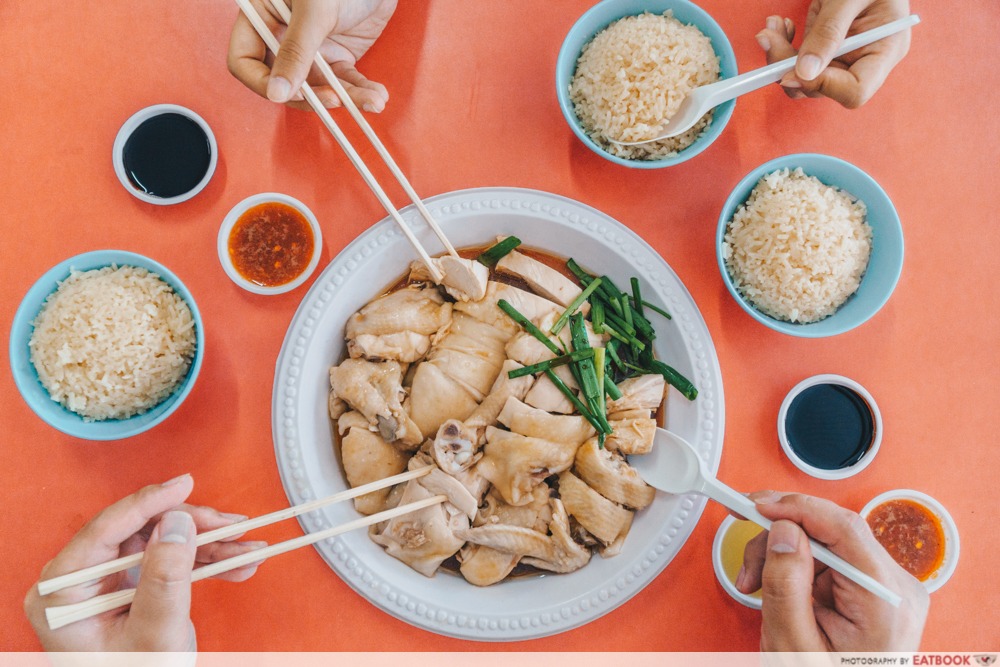 Loy Kee, which first opened as a hawker stall in 1953, is one to visit if you'd like to enjoy your chicken rice in a slightly upscale setting, with air conditioning to boot. The restaurant is solely dedicated to chicken rice, so you know they've put in the work to perfect their recipe. Else, our other top pick is Hua Kee Chicken Rice. Located in Redhill, Hua Kee often flies under the radar, but we think they deserve more recognition for serving up some of the best, most aromatic chicken rice in the country.
Expected prices: $5 – $10
Read our guide to the best chicken rice in Singapore.
10 Best Chicken Rice In Singapore Ranked, Including Tian Tian And Boon Tong Kee
---
14. Chicken Wings
---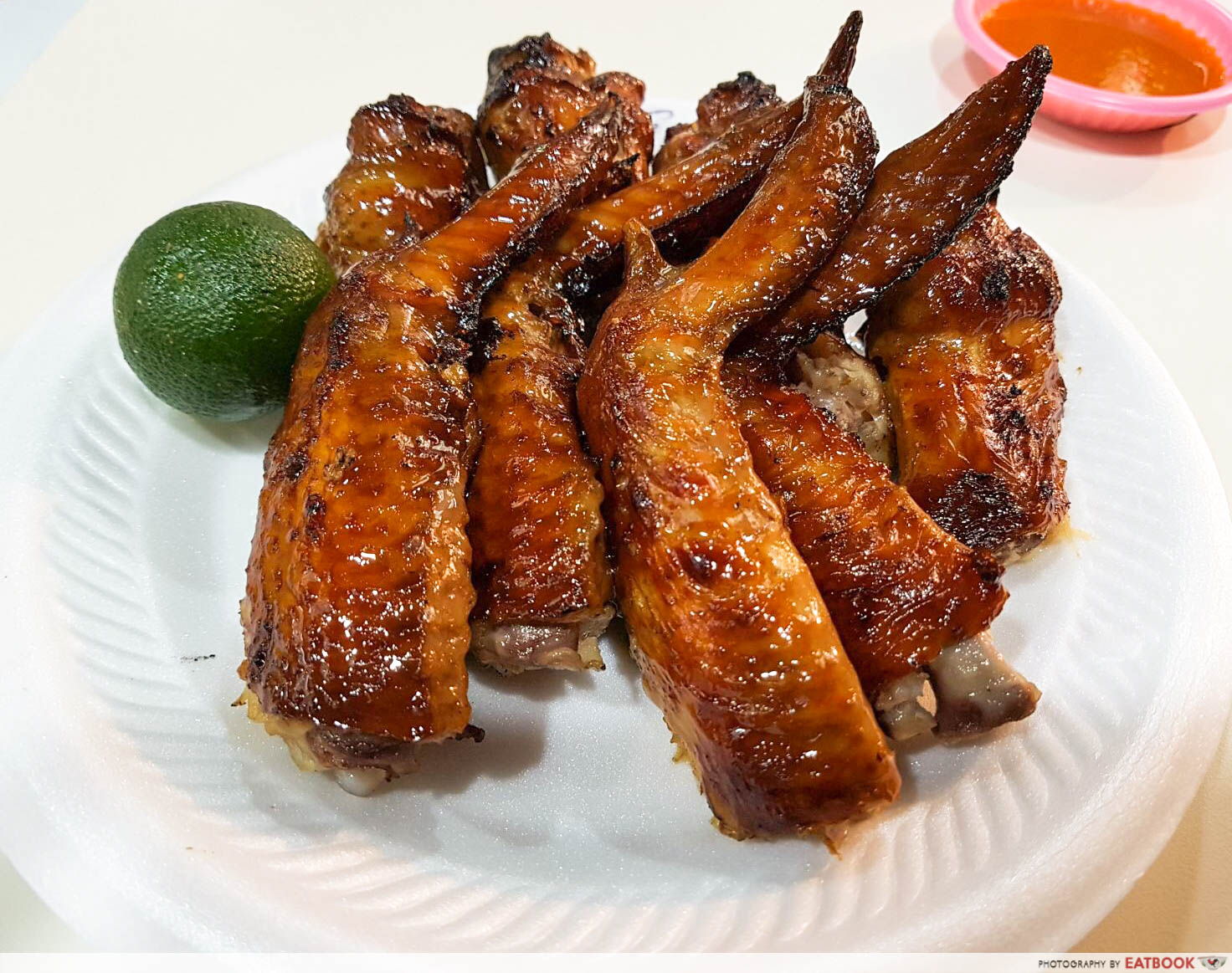 Chicken wings are a classic hawker dinnertime snack, akin to satay. A plate piled high with roasted chicken wings, refreshed with a squeeze of calamansi, feels like the compulsory companion to ice-cold mugs of Tiger Beer. Apart from roasted wings, Singapore also has a handful of hawker stalls that specialise in their more sinful counterpart: deep-fried chicken wings, often served with chicken rice or fried bee hoon.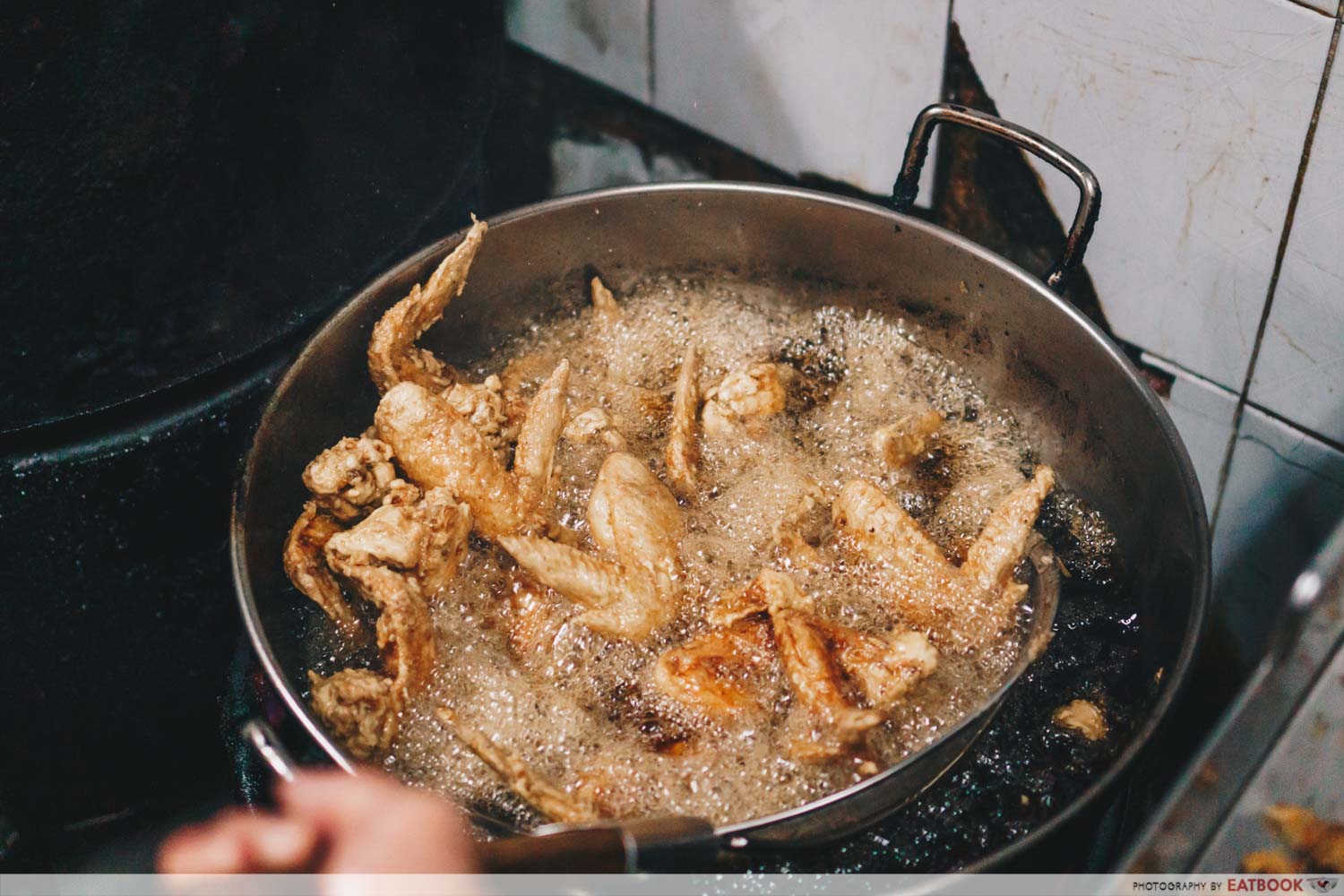 For the former variation, Ah Hwee BBQ Chicken Wing & Spring Chicken at East Coast Lagoon is a fantastic pick. The wings are basted in a honey glaze while they're roasted, resulting in crispy skin and juicy meat. As for the latter, Eng Kee Chicken Wings in Redhill Food Centre is well worth the trip—so much so that our prime minister Lee Hsien Loong was once seen standing in line waiting to order their signature dish.
Expected prices: $5 – $15
---
15. Chilli Crab
---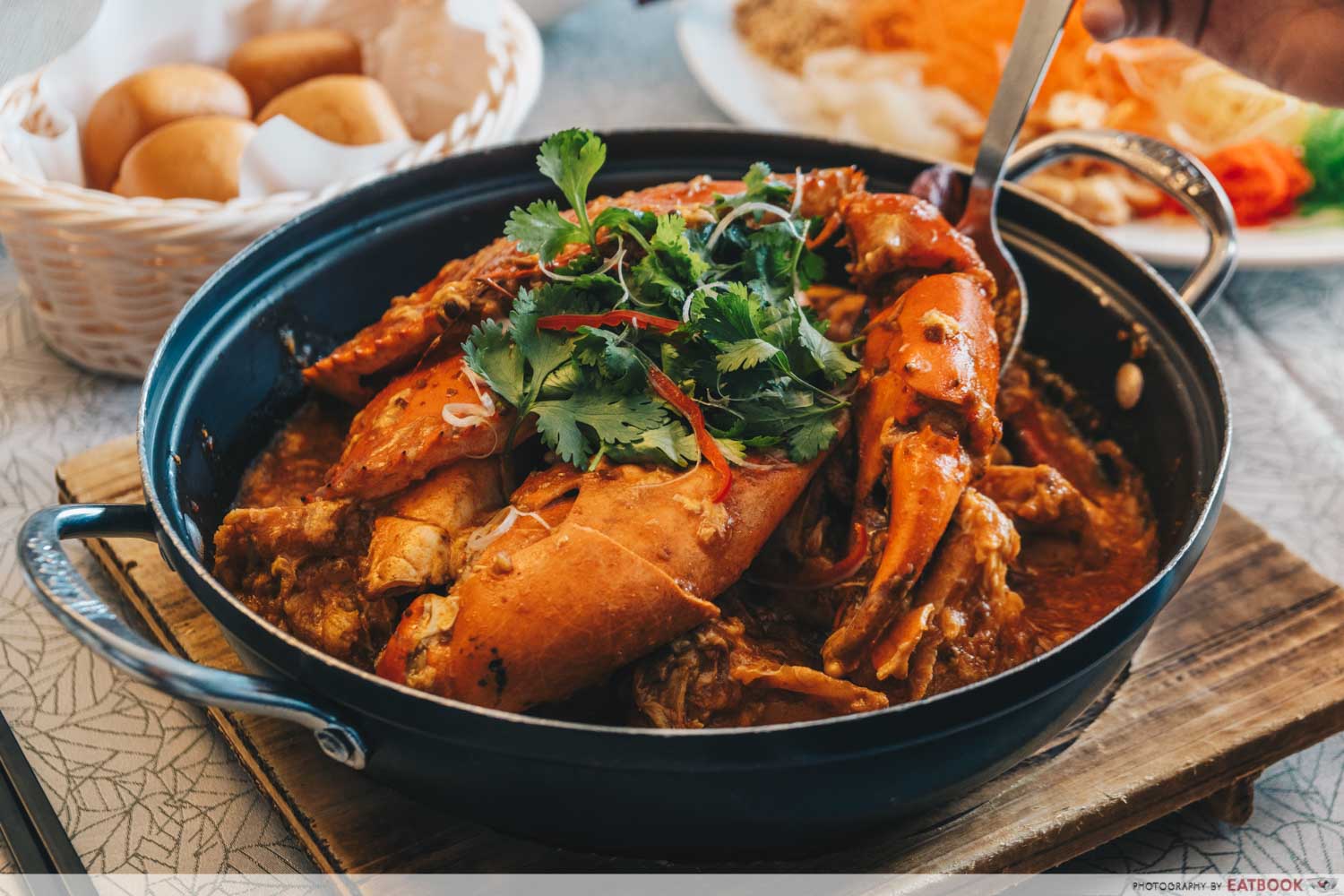 Chilli crab is one of the most iconic dishes in Singapore, and it's often described as Singapore's national seafood dish. In its early beginnings, chilli crab was sold by pushcart hawkers. As the dish gained popularity over the years, chilli crab can now be found in many eateries, ranging from neighbourhood zi char hawkers to seafood restaurants.
Featuring mud crabs wok-fried in a sweet-spicy sauce, this dish's highly addictive taste is well-loved by locals for its rich flavour and savouriness. In recent years, local brands have also come up with innovative ways to incorporate chilli crab into their dishes and pastries, such as chilli crab dim sum, chilli crab curry puffs and more.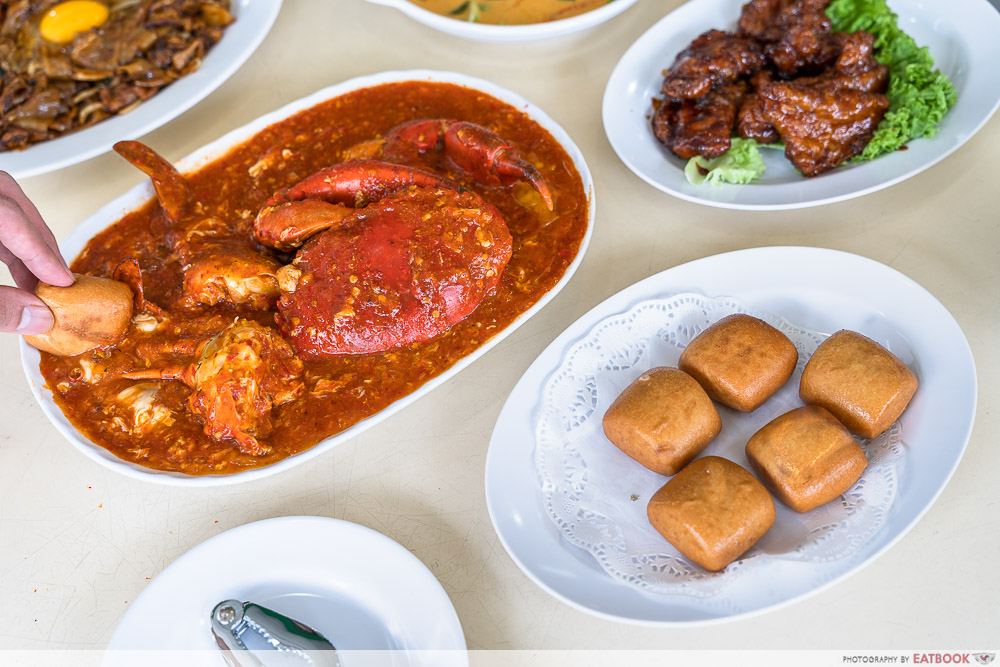 For some of the best chilli crab in Singapore, check out JUMBO Seafood at East Coast Park, which is famous for their award-winning chilli crabs. If your spice tolerance is high, consider Long Beach located at Robertson Quay, IMM, Dempsey or East Coast Park. Their chilli crab boasts a spicier and tangier gravy tossed over premium crabs. No matter where you go, make sure to get a serving of mantou to dip into the fragrant chilli crab gravy.
Expected prices: $40 – $100
Read our guide to the best chilli crab in Singapore.
---
16. Chwee Kueh
---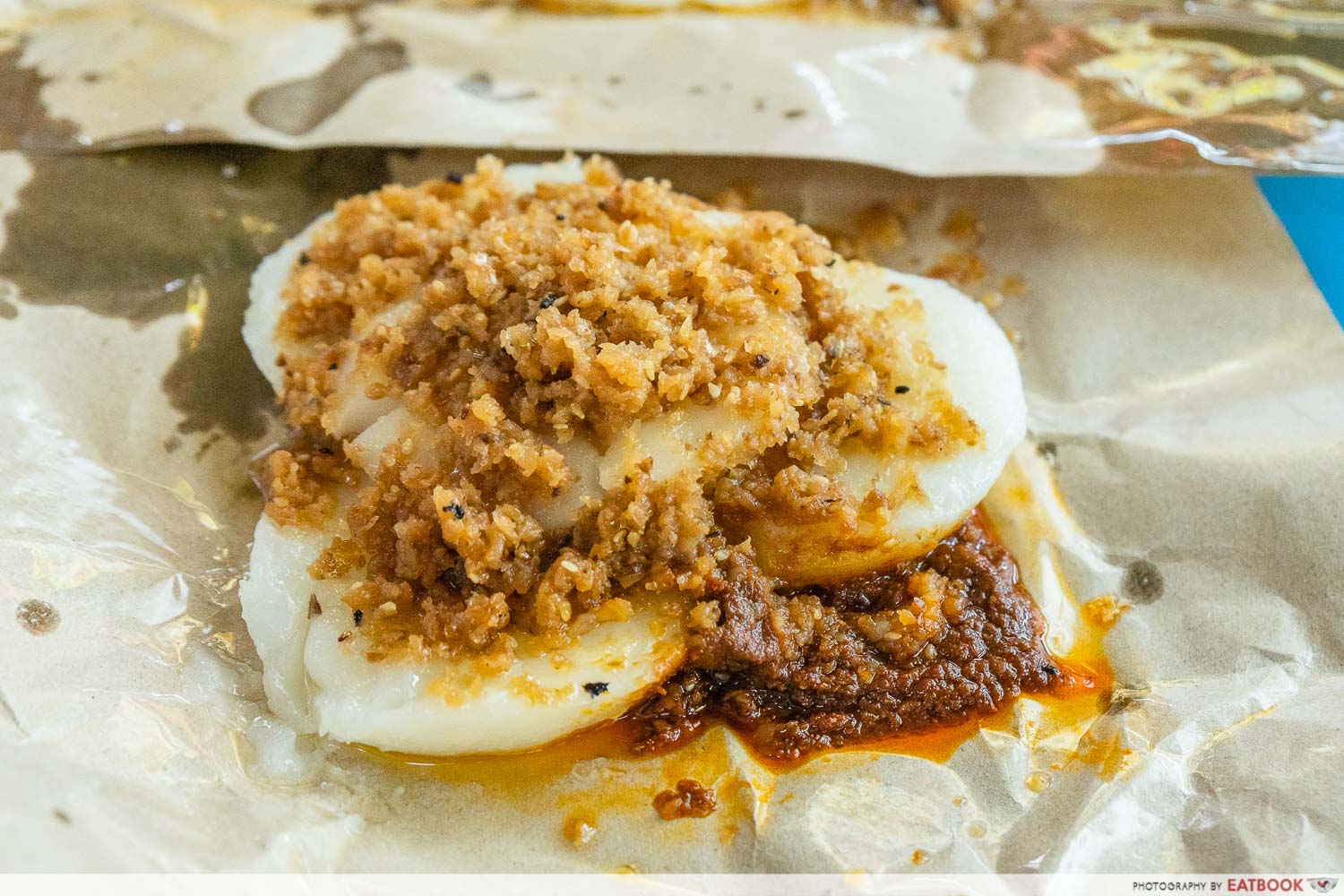 The Teochews deserve all the credit for bringing chwee kueh to our shores. Often eaten as breakfast or a snack, chwee kueh is equal measures salty, sweet, and satisfying. The dish comprises three main components that have to be exactly right: a steamed rice cake, preserved radish AKA chye poh as a topping, and a sweet chilli sauce.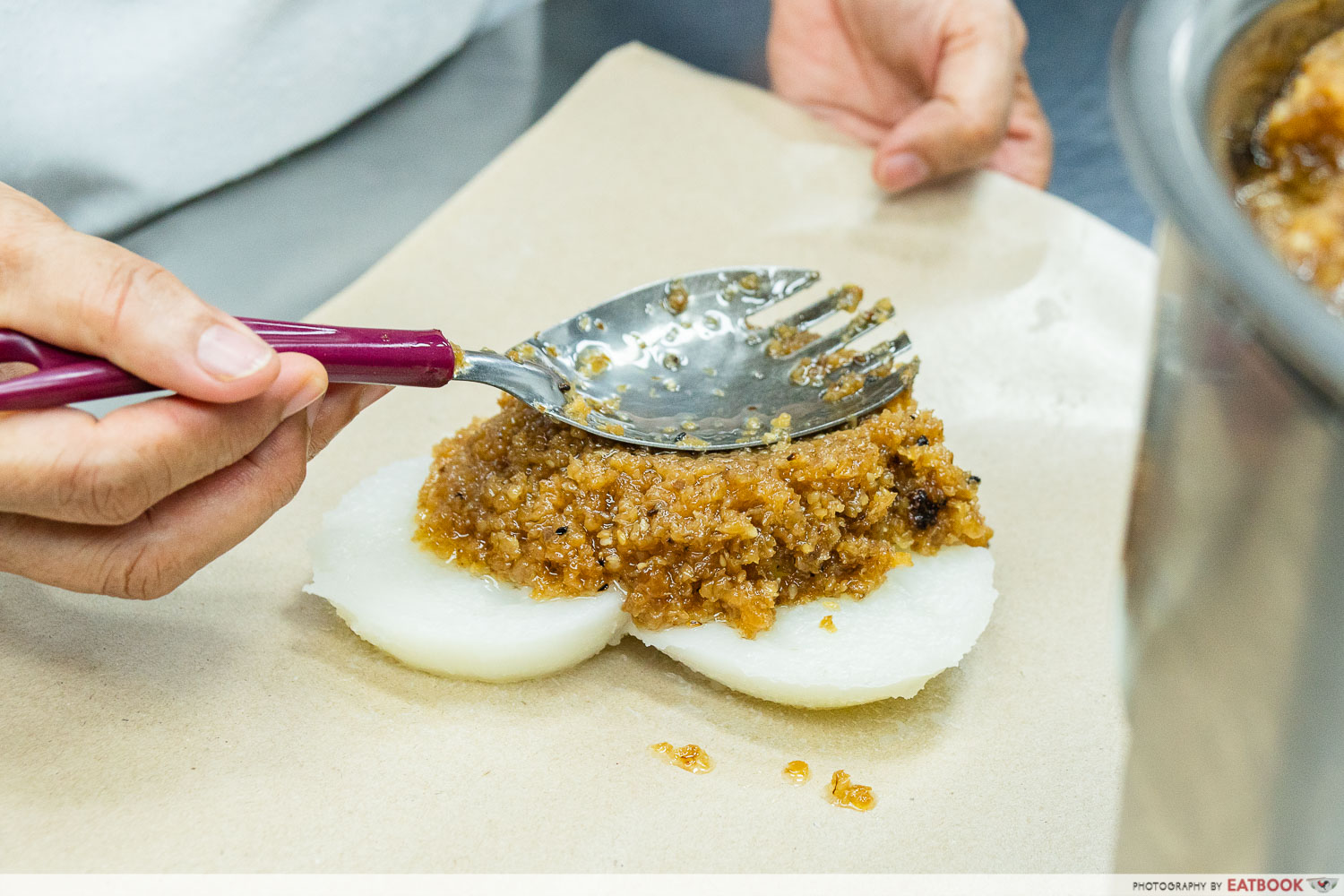 Jian Bo Shui Kueh in Tiong Bahru Market is the granddaddy of chwee kueh stalls. Having been around since 1958, the stall constantly sports long queues and has recently bagged itself a spot on the Michelin Bib Gourmand list. Else, Bedok Chwee Kueh is worth your time if you're in the area, and are prepared to wait in line. The stall is said to be extra generous with the chye poh, and their rice cakes are bigger than most, so you get plenty of bang for your buck.
Expected prices: $2 – $5
Read our guide to the best chwee kueh in Singapore.
8 Chwee Kueh Stalls In Singapore To Try, Including XXL Chwee Kueh And A 60-Year-Old Recipe
---
17. Claypot Rice*
---
Claypot rice has its roots in Guandong, China. The one-pot dish typically contains rice, chicken, Taiwanese sausage, braised mushrooms, and dried salted fish, slow-cooked over a charcoal stove to develop its signature char. Because of this, claypot rice stalls tend to have long waiting times—sometimes up to 45 minutes—but we can assure you, it's worth it.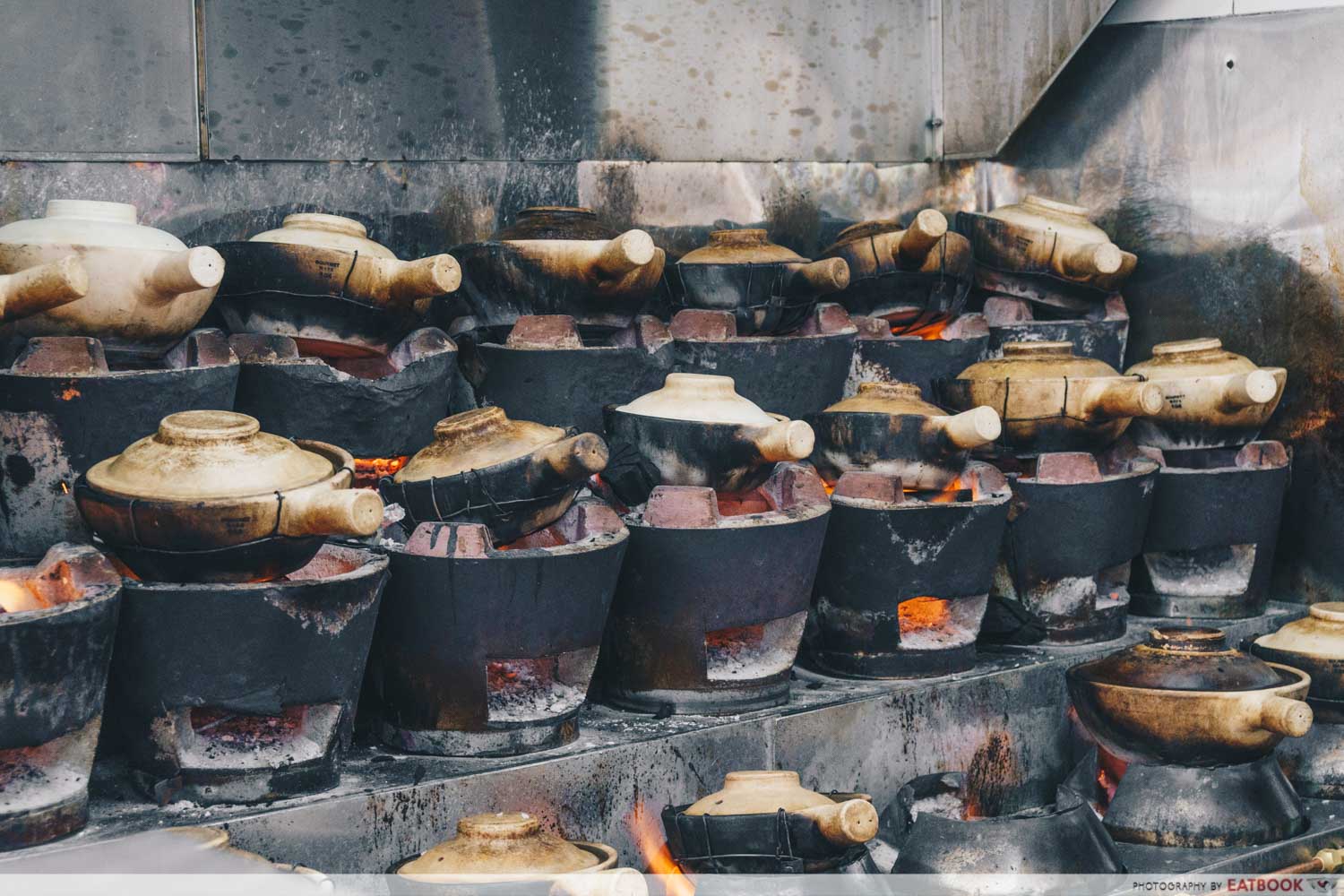 If you're looking for claypot rice stalls to visit, here are our recommendations. There's the Michelin Bib Gourmand New Lucky Claypot Rice, located in Holland Drive Food Centre, which expertly prepares their signature dish over traditional charcoal stoves. Each bowl is laced with dark soya sauce, and spring onion oil infused with chicken fat. Lian He Ben Ji is another time-tested classic. The Chinatown Complex stall has been in operation for over four decades now, and is run by three sisters. Queues can be up to 40 minutes long for their signature Mixed Rice, but you'll be rewarded with a treasure trove of fragrant, charred rice, sauce, and tender meats.
Also, it's worth noting that claypot rice stalls typically sell Cantonese-style double-boiled soups—a great accompaniment to the meal.
Expected prices: $8 – $15
Read our guide to the best claypot rice in Singapore.
10 Claypot Rice Stalls In Singapore Including Halal And Michelin Bib Gourmand Claypot Rice
---
18. Congee
---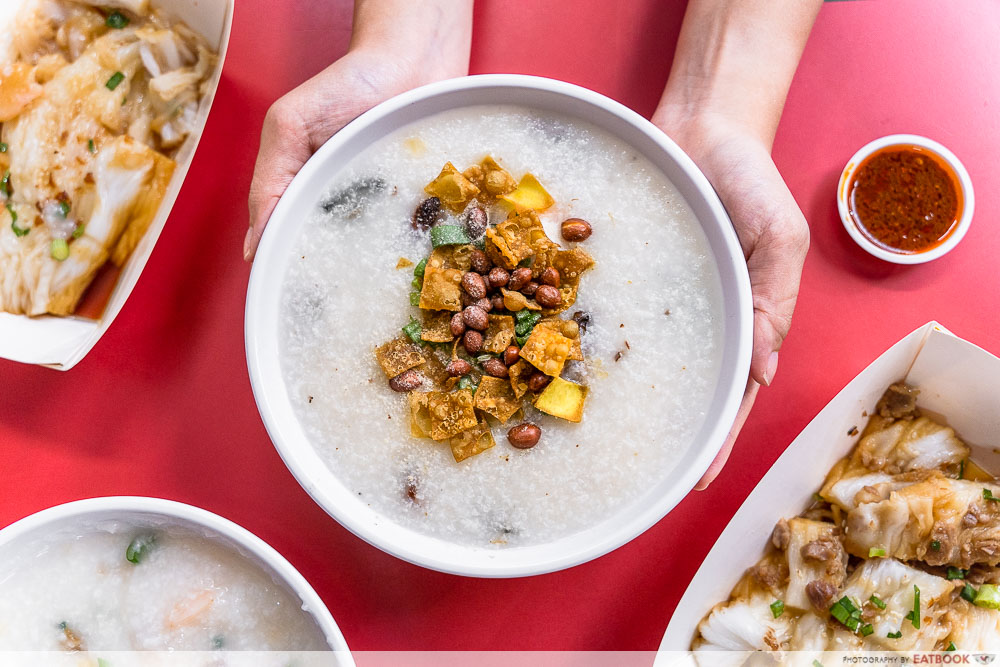 Congee, or jook, is the literal definition of soul-warming comfort food. The rice gruel dates back something like 3,000 years, since it was first recorded in the Zhou dynasty in China. Variations on this familiar meal can be found across the Asian continent. 
In Singapore, you'll typically find people batting for one of two camps: watery, Teochew-style porridge, or what's known generically as jook━the thick, stodgy sort where rice and liquid are one. If you're being pedantic, there's the one and only jook, which is Cantonese in origin, where the rice grains are cooked till they break down into a creamy, silken mush. Then there's Hainanese-style congee, which is similarly thick in consistency, but here, broken rice grains are still visible.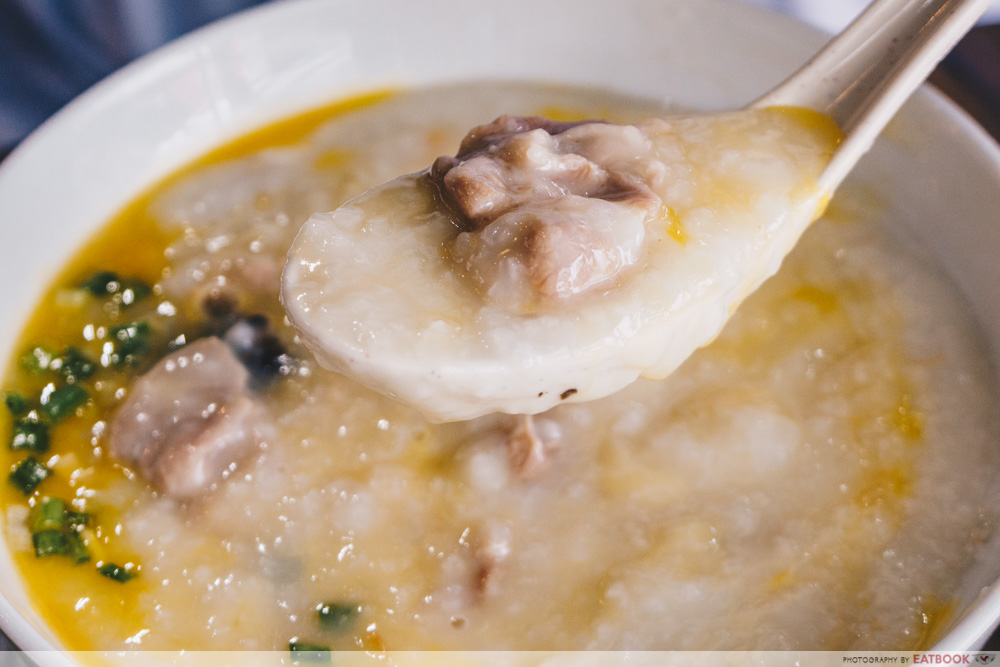 Head to Johor Road Boon Kee Pork Porridge for Hainanese-style pork porridge━it's run by a third-gen hawker whose grandfather first sold this very congee more than 70 years ago. If you're looking for jook, consider Sin Heng Kee Porridge or Botak Cantonese Porridge: expect long waiting times at the former's Hougang branch in particular, while the latter is run by a young hawker in her 20s, and is lauded for their house-made meatballs. Another popular institution is Old Shifu Charcoal Porridge, where their porridge is cooked over charcoal for a smoke-kissed finish.
Expected prices: $3 – $8
Read our guide to porridge stalls in Singapore. 
10 Porridge Stalls In Singapore For HK-Style Congee, Congee Hot Pot And More
---
19. Curry Chicken Noodle
---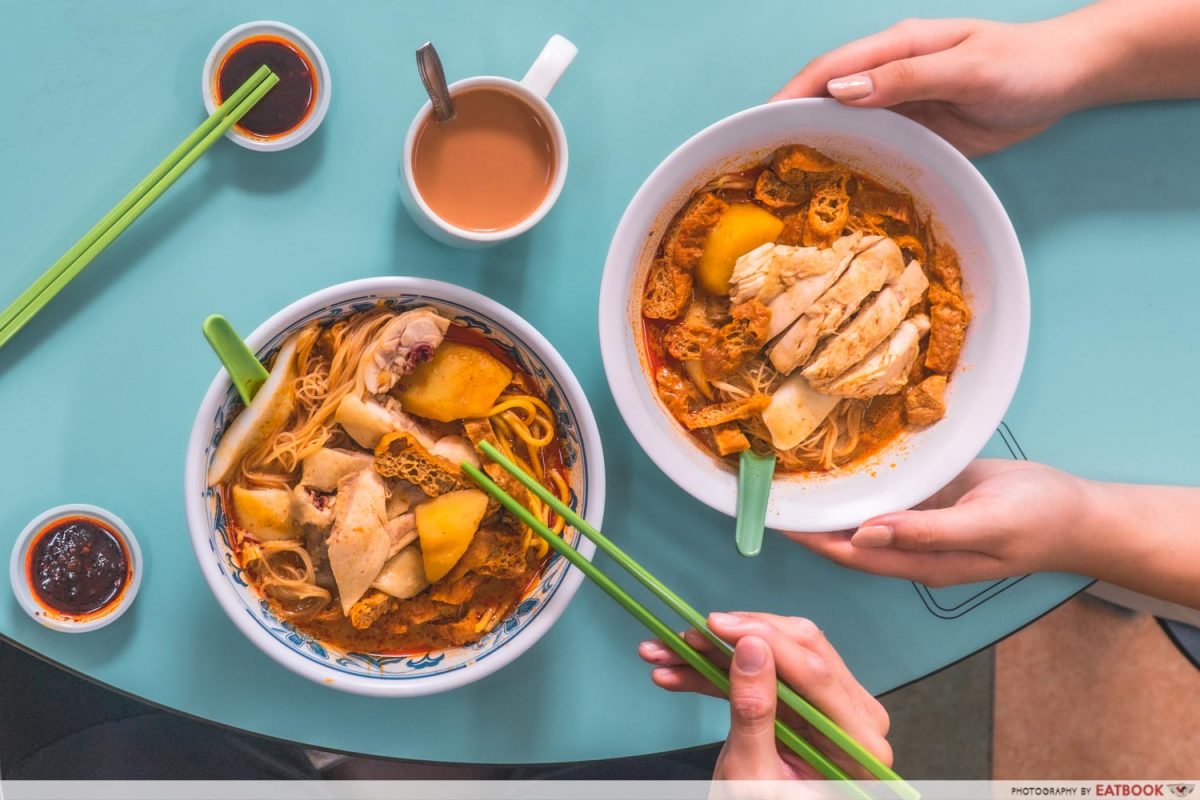 Ask any Singaporean about the dry curried bee hoon dish called Singaporean noodles, and they'll probably give you a blank look. Singapore noodles may not actually exist in Singapore, but curry chicken noodles sure do. Featuring bee hoon, yellow noodles, or even mee kia in a bowl of piping hot chicken curry, some stalls selling this Singaporean hawker dish have been around for over 50 years!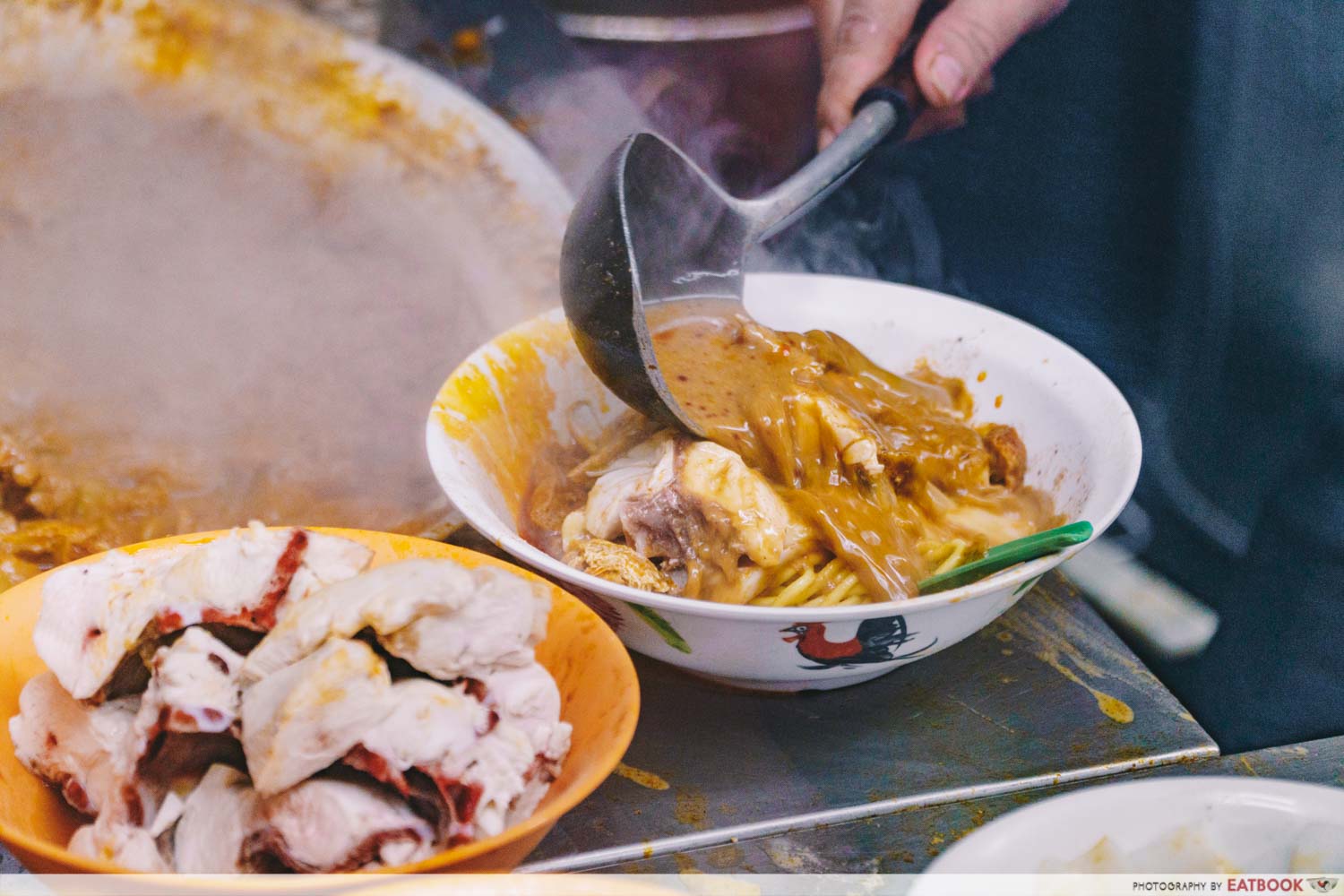 One of the most famous curry chicken noodle stalls is Heng Kee Curry Chicken, where the third-generation owner still makes his stall's curry from scratch every morning. Slowly pouring the Teochew-style curry into the bowl of taupok, fishcake, potato, chicken, and noodles, the curry soaks into the ingredients and infuses them with a fragrant, spicy heat. 
For something different, Jian Zao Ipoh Curry Noodles sells legit Ipoh-style curry chicken noodles in Ang Mo Kio so you don't have cause to cross the causeway for your fix. The 30-year-old recipe differs from its Singaporean counterparts by adding pork-based ingredients like char siew and pig skin, creating a far richer curry base.
Expected prices: $4.50 – $8
Read our guide to the best curry chicken noodles in Singapore. 
10 Curry Chicken Noodle Stalls Worth Queueing For, Including A 50-Year-Old Recipe
---
20. Curry Puff*
---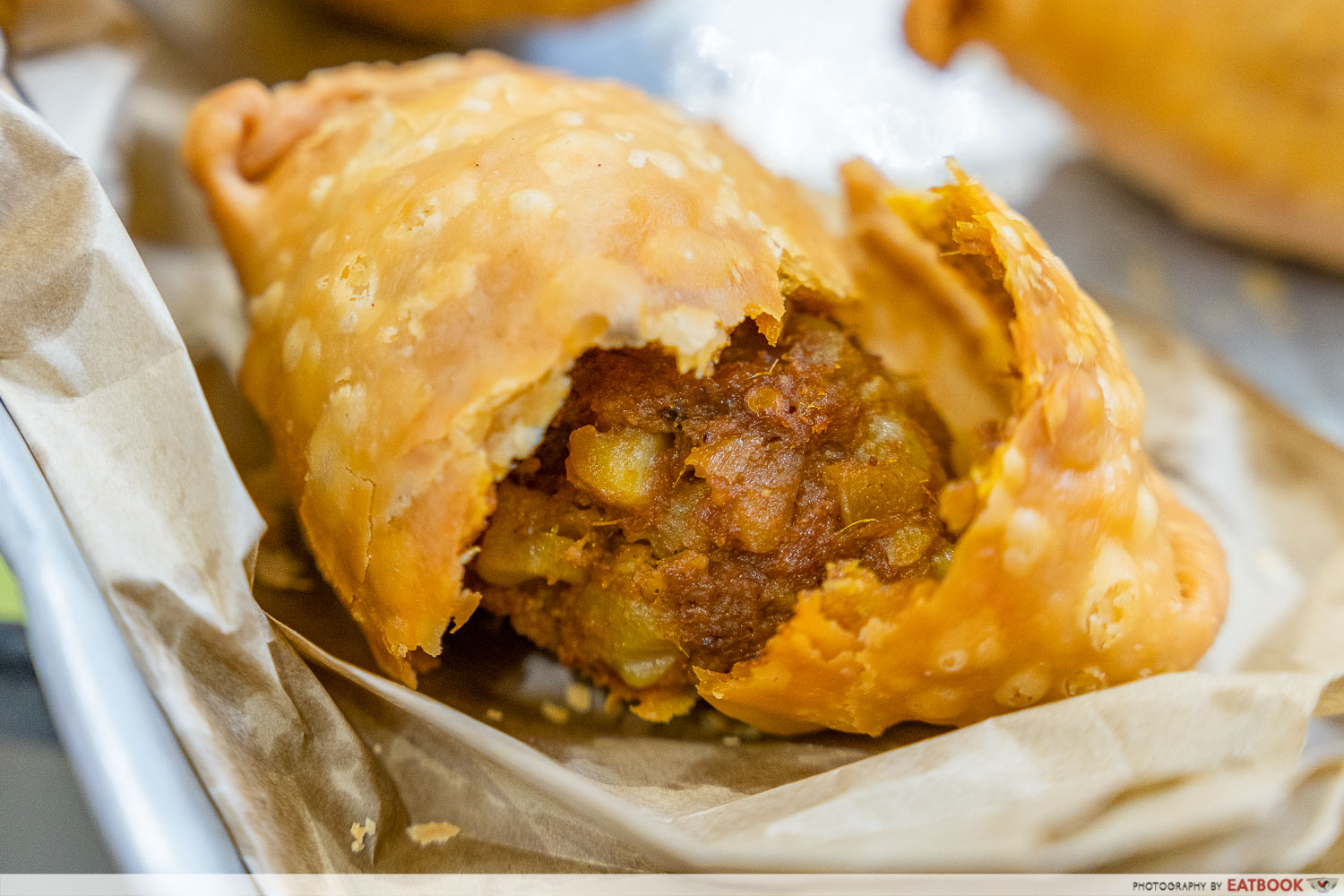 The curry puff, AKA epok epok, is a childhood favourite snack of many. The deep-fried puff is said to be an interpretation of Cornish pastries and Portuguese empanadas, but some also believe it's inspired by Indian samosas. In Singapore, the Malay-style curry puff grew in popularity in the 1900s, when many itinerant hawkers sold these snacks out of pushcarts. 
Traditionally, curry puffs were filled with sardines or potatoes spiced with rempah. Over the years, the Chinese communities have adapted the snack to include chicken, potato, and a hardboiled egg within each puff. They've also created a version that features ultra-crispy skin and flaky layers.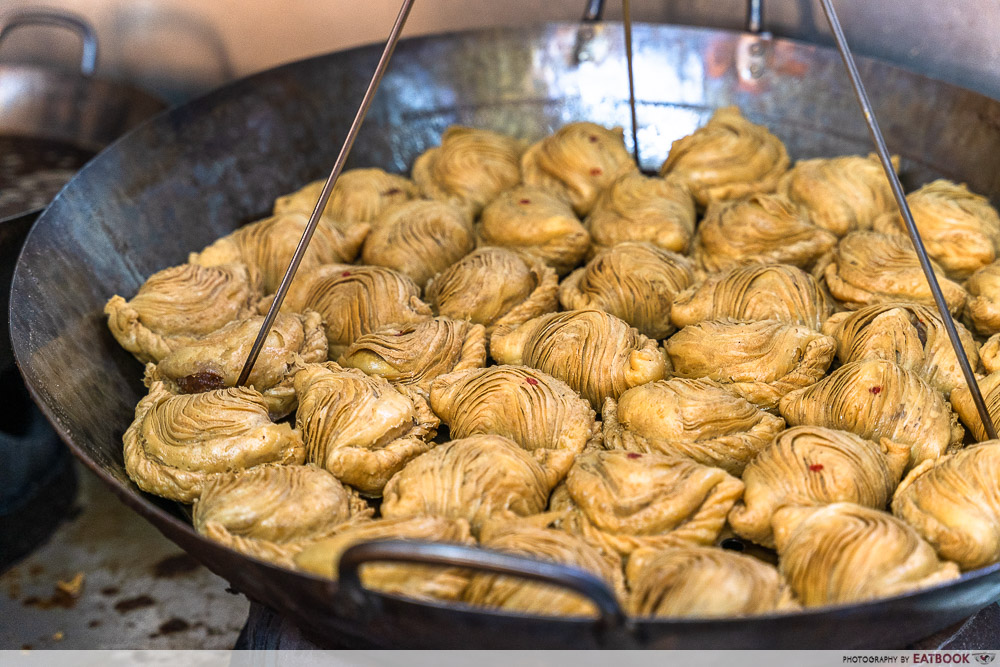 One notable stall is Wang Wang Crispy Curry Puff, which is said to be a crispy curry puff pioneer. Their signature pastry shell bears a striking resemblance to Teochew-style mooncakes—the laminated dough is extremely flaky and buttery. Everything is handmade on-site and fried in small batches to ensure freshness. Another popular stall is J2 Famous Crispy Curry Puff, a Michelin Bib Gourmand awardee from 2016 to 2018. 
Expected prices: $1 – $2
Read our list of recommended curry puffs stalls in Singapore! 
12 Underrated Curry Puff Stalls Around Singapore That Are As Good As Old Chang Kee
---
21. Dim Sum
---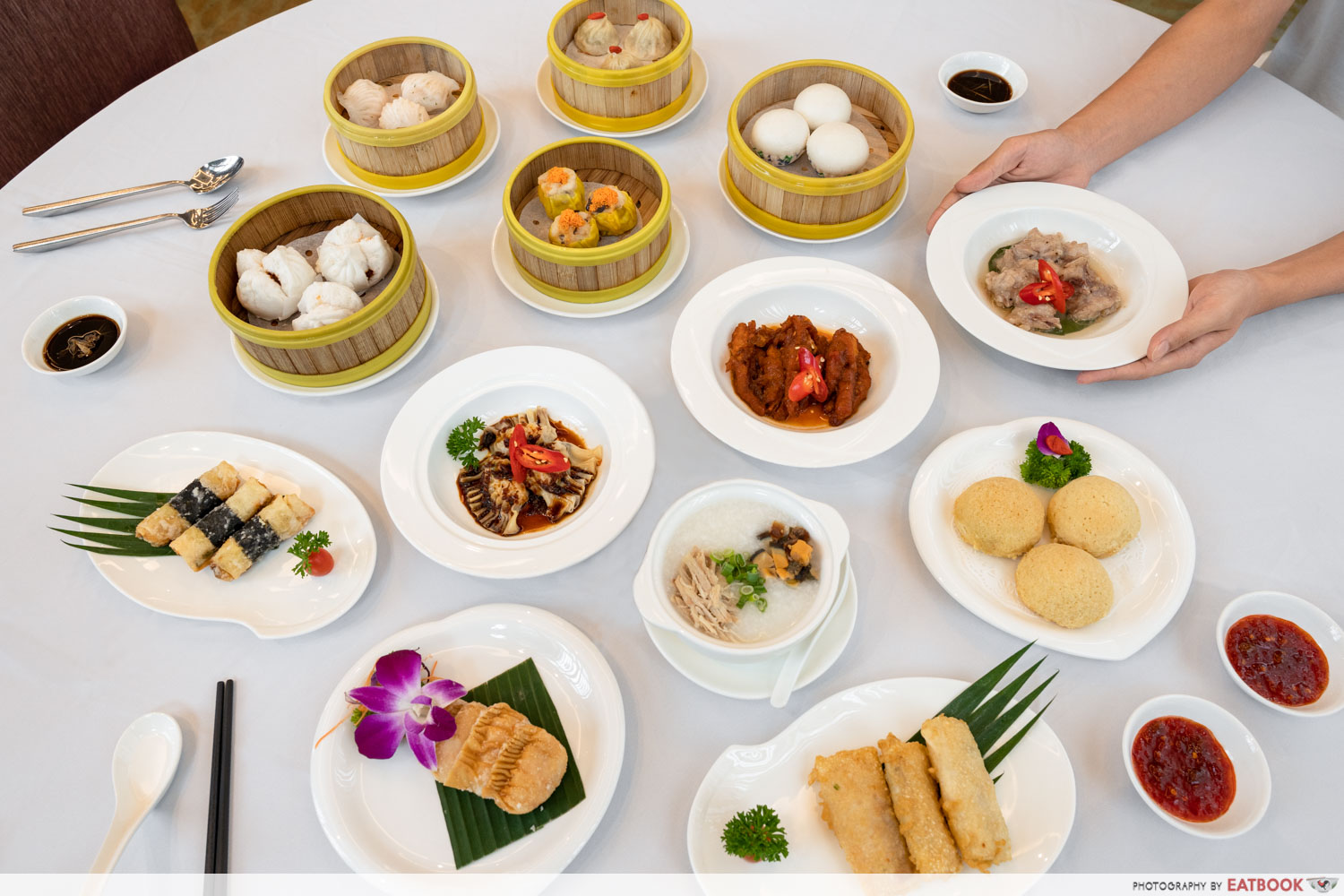 Dim sum, AKA yum cha, connotes a range of small Cantonese dishes, typically eaten for brunch. Over the years, dim sum has evolved to encompass a plethora of Chinese delicacies, from dumplings, to buns, pastries and more. Dishes are often served in bamboo baskets, meant to be shared among friends and family so that everyone can enjoy these different dishes together.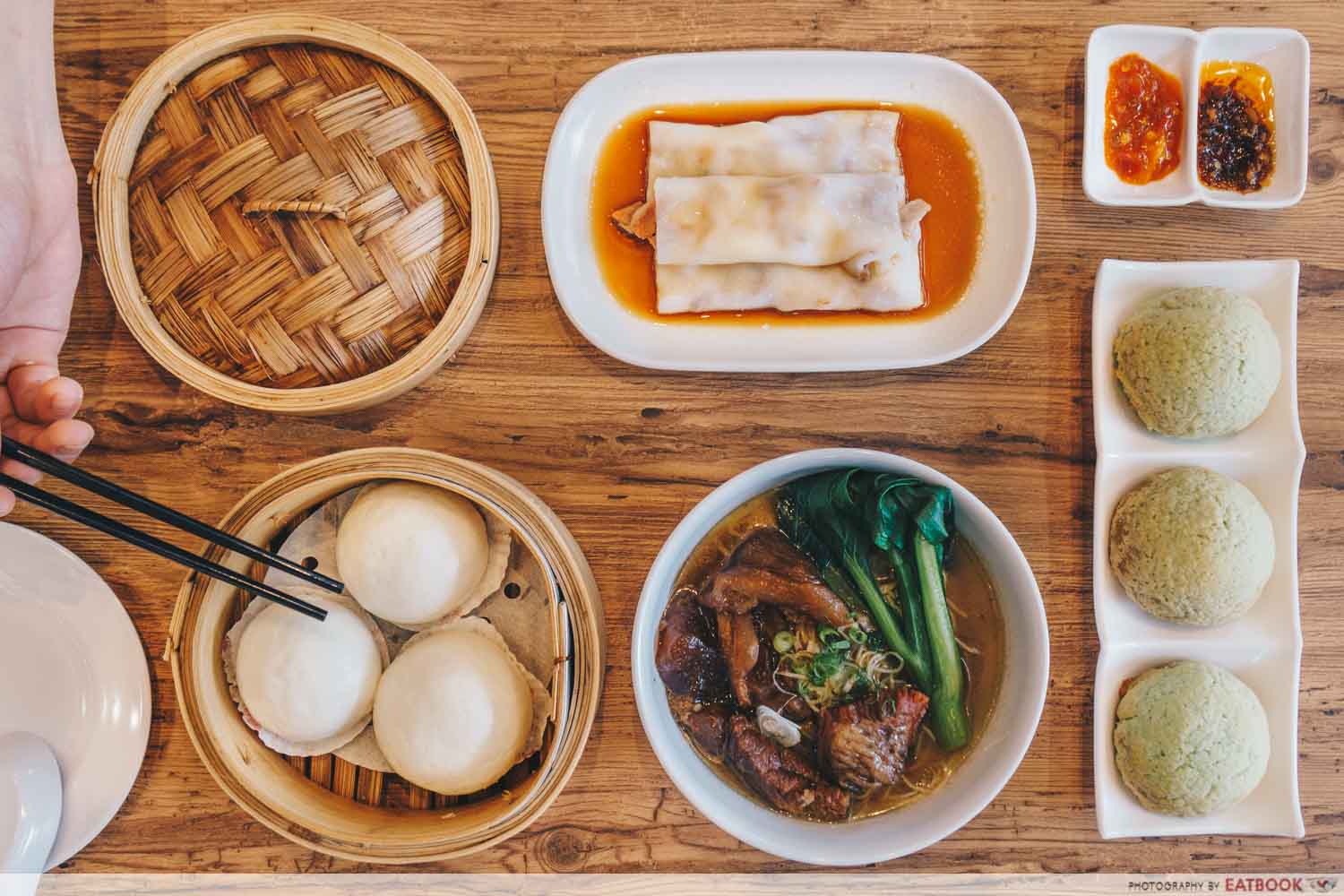 Swee Choon at Jalan Besar is one of the most popular dim sum restaurants in Singapore. They offer all-time favourite dim sum items to choose from, ranging from Salted Egg Yolk Custard Bun, to Pan Fried Pork Dumplings, and even Shanghai Xiao Long Bao! Alternatively, you can visit Sum Dim Sum a street away, for pandan-flavoured Crispy Pork Buns and other classic HK-style dim sum. If you prefer dim sum for supper, Mongkok Dim Sum is open 24/7. They offer a range of unique dishes to pick from, including Steamed Chilli Crab Buns and 3 Yolk Crab Porridge.
Expected prices: $5 – $50
Read our guide to the best dim sum in Singapore.
25 Best Dim Sum Places In Singapore From $1.30, Including Halal Dim Sum And Buffets
---
22. Duck Rice*
---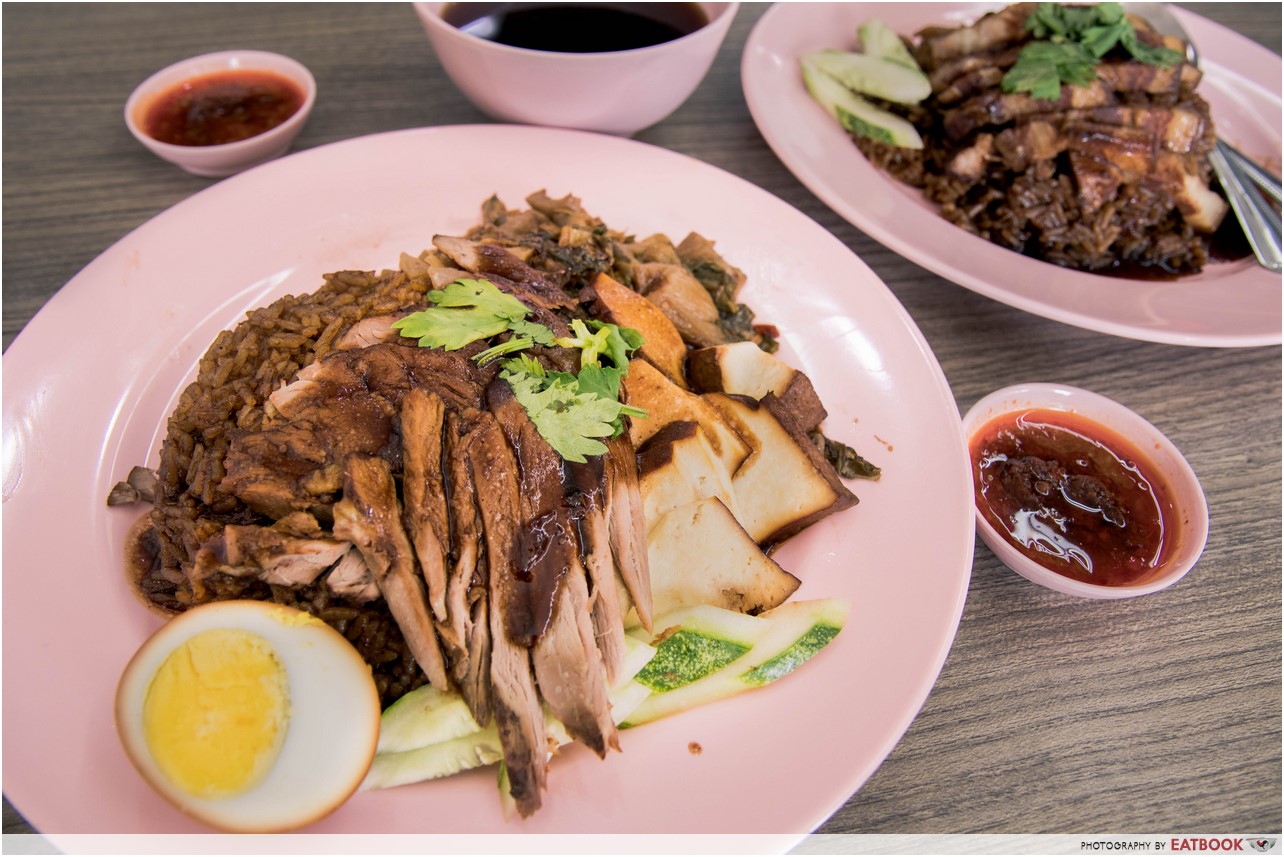 Though chicken rice grabs all the headlines, its cousin dish, duck rice, tends to be more overlooked. That doesn't mean it is inferior, however—many Singaporeans actually prefer duck rice, which has its roots in Teochew cuisine.
Braised duck rice, as it is traditionally prepared, sees slices of braised duck laid atop a mound of yam rice. The combination of the duck's strong flavour and the rice's alluring fragrance makes it a joy to eat. Great places to try this version of the dish include Chuan Kee Boneless Braised Duck and Sean Kee Duck Rice.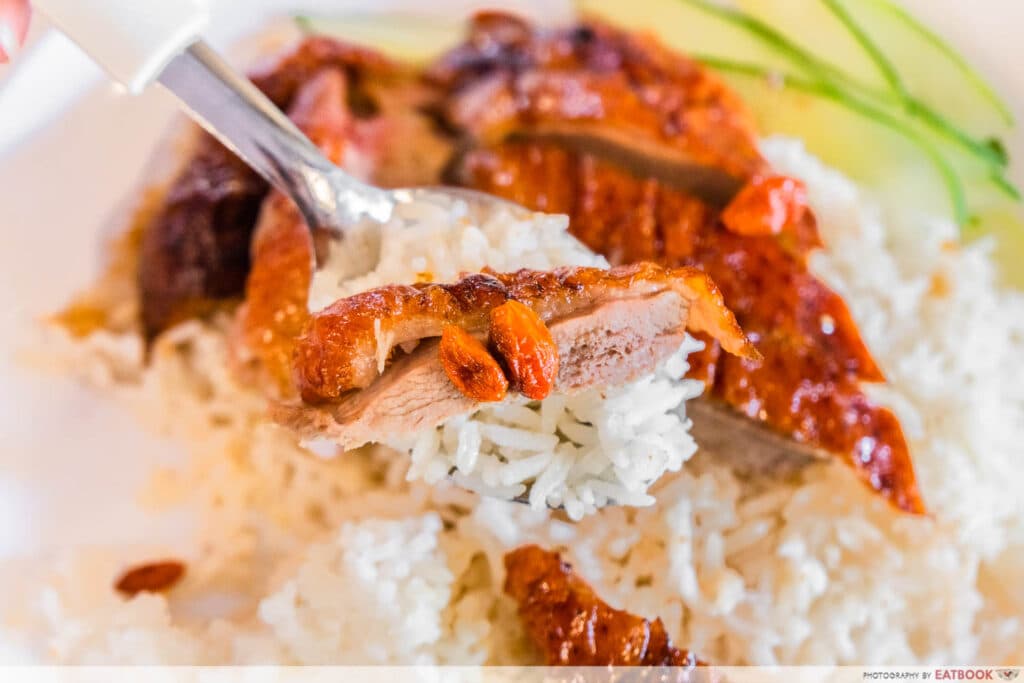 Roast meat stalls also offer a version of the dish with roasted duck and white rice. You can usually order that along with other meats, such as char siew and roast pork belly. This rendition is found at places such as Meng Meng Roasted Duck and 88 Hong Kong Roast Meat Specialist. 
Expected prices: $3.50 – $6
Read our guide to the best duck rice stalls in Singapore.
13 Braised Duck Rice Stalls In Singapore That Your Teochew Or Hokkien Mother Will Love
---
23. Durian*
---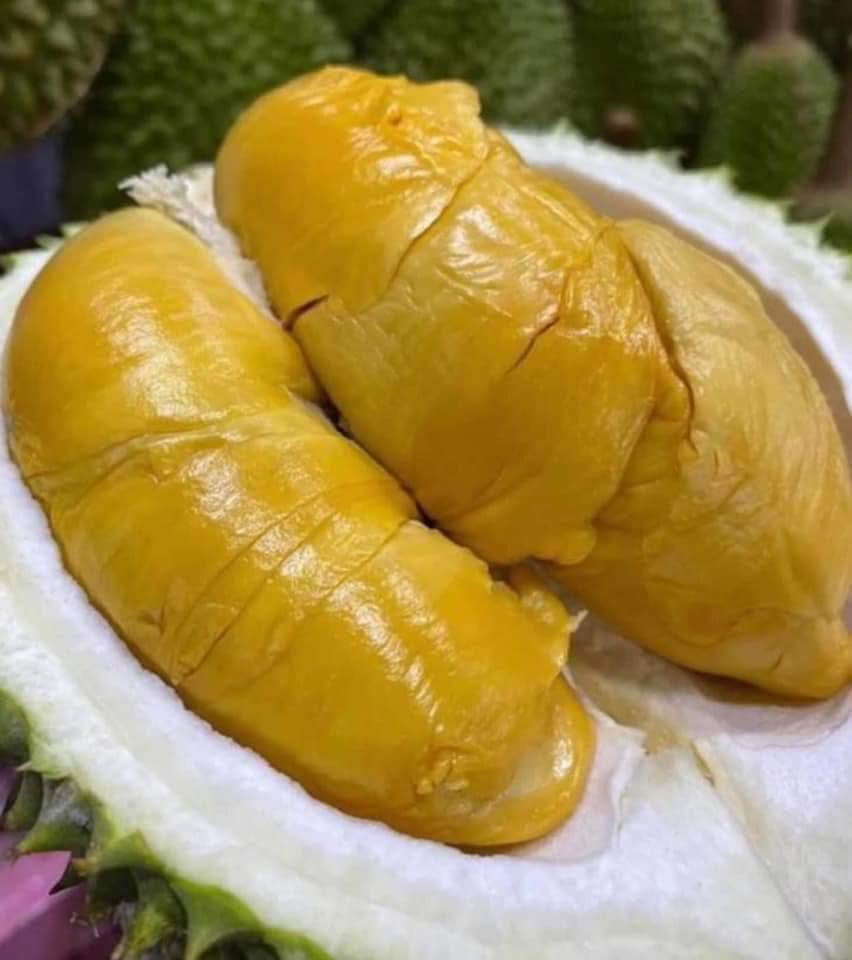 Image credit: Durian Sis Singapore FB
Durian is an acquired taste. While some might find the rich and strong scent of durians aromatic, others might deem it pungent and stinky. Nonetheless, Singapore is still a haven for durian lovers with countless durian stalls scattered across the island.
For some of the best durians in Singapore, you can pay a visit to Ah Seng Durian, which has two locations at Ghim Moh Market and Alexandra. They offer a variety of premium durians, ranging from Mao Shan Wang, Red Prawn, D24 and more. If you prefer durians in your dessert, check out 99 Old Trees. The popular durian supplier has opened a cafe in Outram Park, where they sell Mao Shan Wang durian puffs, swiss rolls, and durian chendol. Alternatively, you can visit Ah Chew Desserts for their classic Durian Sago, which boasts a milky durian puree with sago pearls, topped with a scoop of durian paste.
Expected prices: $5 – $50
Read our guide to the best durian stalls in Singapore.
10 Best Durian Stalls In Singapore, Including 24-Hour Options
---
24. Economy Rice
---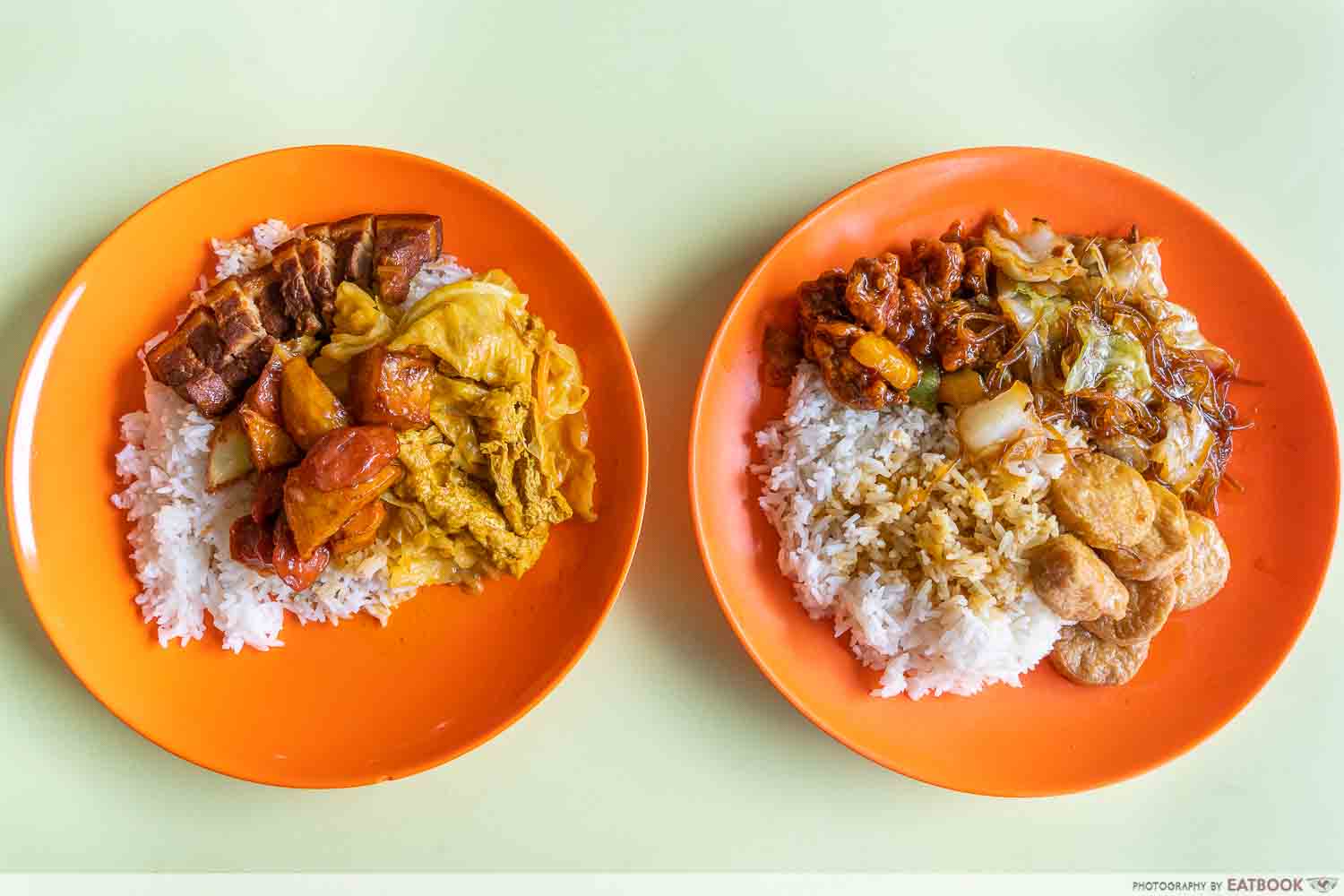 Economy rice is usually one of the cheapest meals you can get at a hawker centre—if you choose wisely. Essentially a plate of white rice topped with selected ingredients, this dish is also referred to as cai png, cai fan, or mixed-vegetable rice. It's similar to the concept of nasi padang or nasi campur, and what most Singaporeans would think of as "home-cooked" food.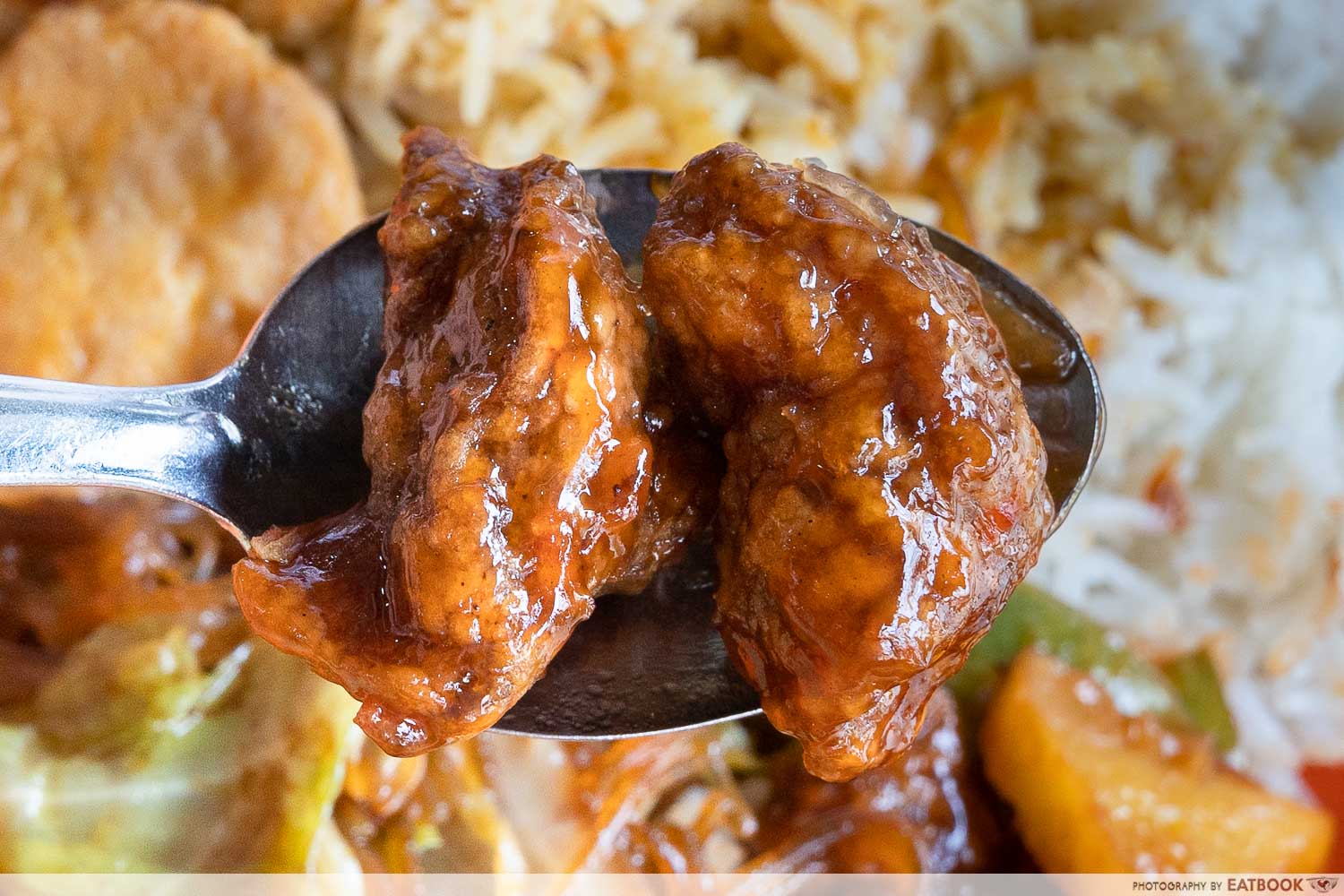 Economy rice stalls allow you to customise your meal by choosing the dishes that go on top of your rice. The ordering process can be daunting, especially if you're unfamiliar with the names of the ingredients. When in doubt, just point to the ingredient you want to order! You're charged based on the type of food you pick, be it vegetables, meat, or premium ingredients such as fish, which typically cost more.
Fu Quan Mixed Vegetables Rice, located in Bendemeer, is one of Singapore's most famous economy rice stalls. A plate of sweet and sour pork, egg tofu, and cabbage with tang hoon will only set you back $3.50. Babas Peranakan is another unique cai png stall with Peranakan-style economy rice in Chinatown. They offer ingredients such as fried batang fish, fried chicken, and sambal goreng. 
Expected prices: $3 – $7
---
25. Fish Head Curry
---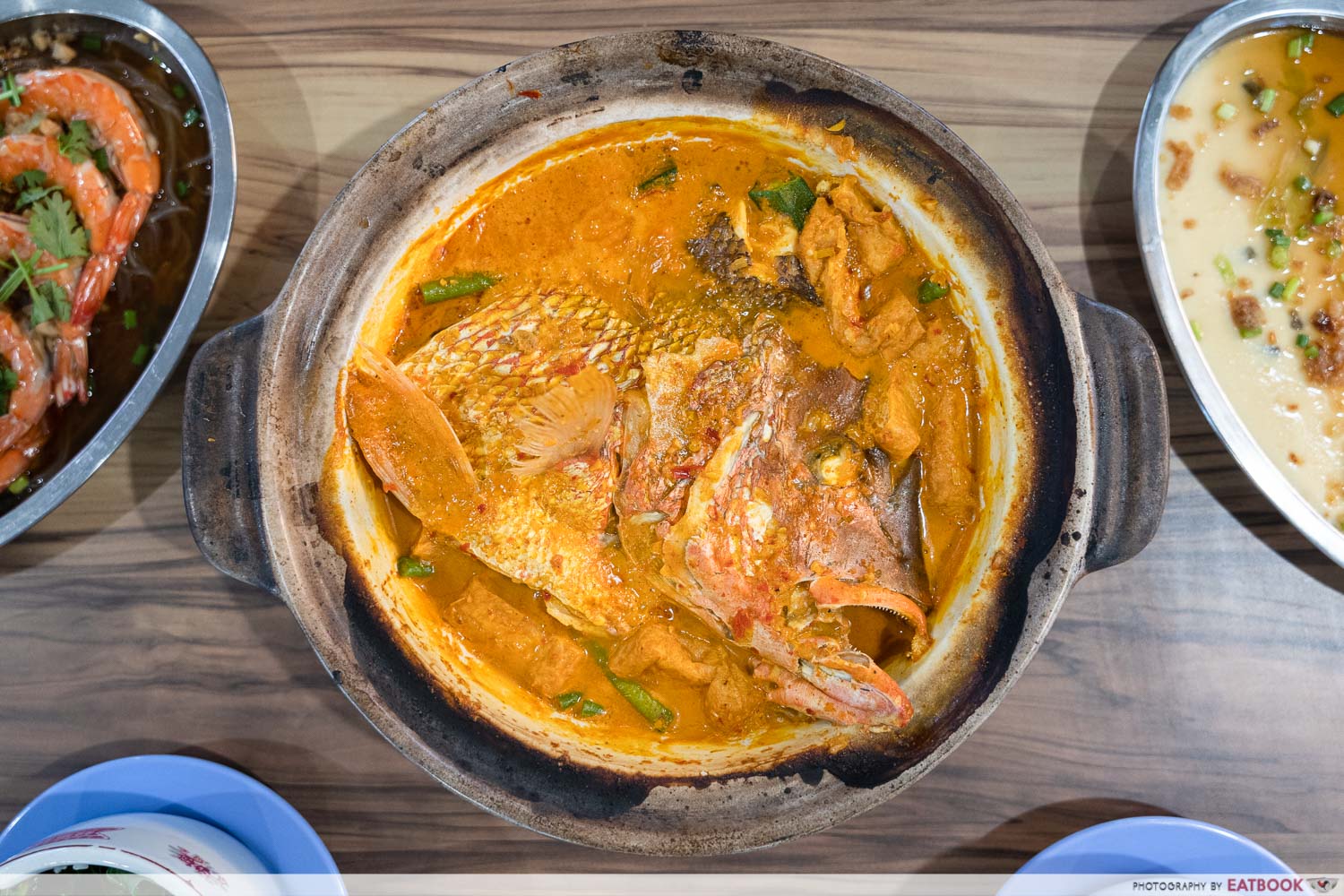 Fish head curry was first invented in Singapore. This spiced, curry dish is an adaptation of the classic South Indian fish curry recipe, where the fish head is added to the broth—originally done so to suit the taste preferences of Chinese locals. Fish head curry is often prepared with other light-tasting greens, such as lady's finger, tau pok and brinjal.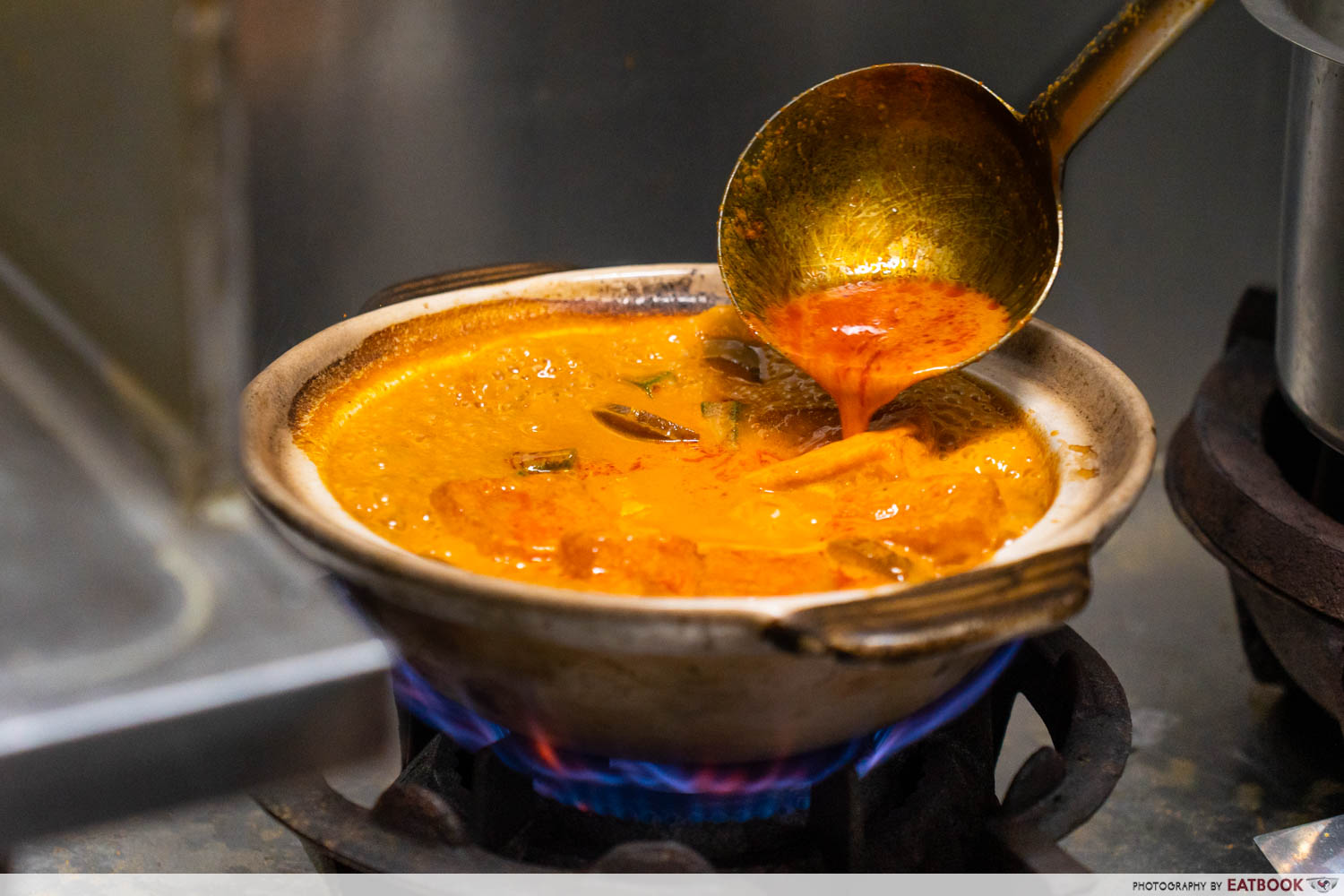 For some of the best fish curry heads in Singapore, check out NaNa Curry, which has earned a Michelin Bib Gourmand recognition for their excellent fish curry head. This homegrown chain can be found at 10 locations islandwide. There's also Ocean Curry Fish Head, which is most famous for their assam curry fish head that's said to boast a natural sweetness. They also sell economical rice, or cai png, where you can get traditional zi char dishes to complement the fish curry head. 
Expected prices: $20 – $30
Read our guide to the best fish head curry in Singapore.
---
26. Fish Soup
---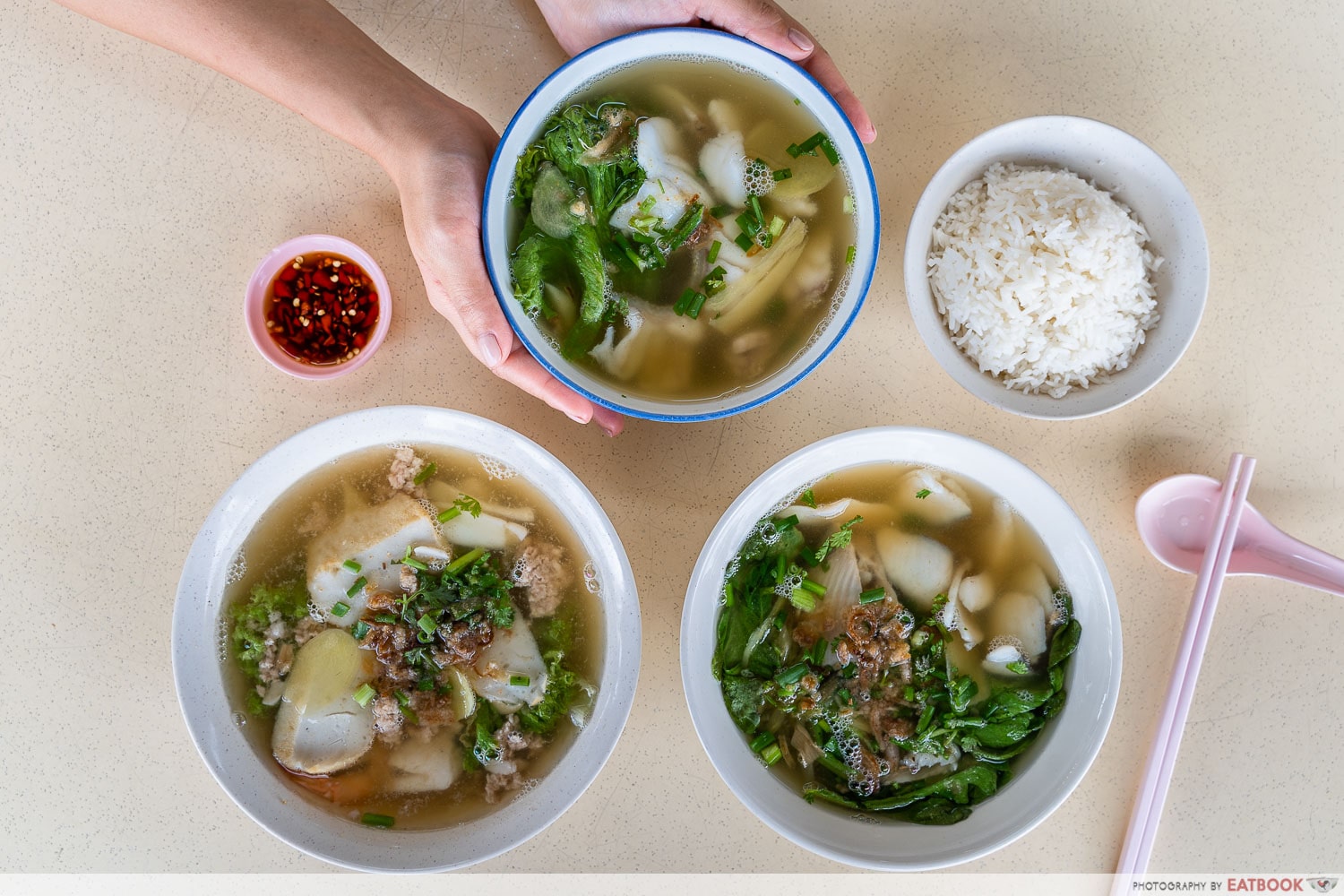 Whether you prefer clear or milky broth, fried or sliced fish, Singaporeans can all agree that a bowl of hot, comforting fish soup is something they can't say no to. Sliced fish soup was introduced to Singapore by the Teochews and is usually a popular mealtime choice. Local stalls often sell clear or milky-looking broth, the latter being prepared in two ways: clear broth is cooked with evaporated milk, or fish and pork bones are boiled down in the Cantonese fashion. There are also options to add rice or noodles to your bowl.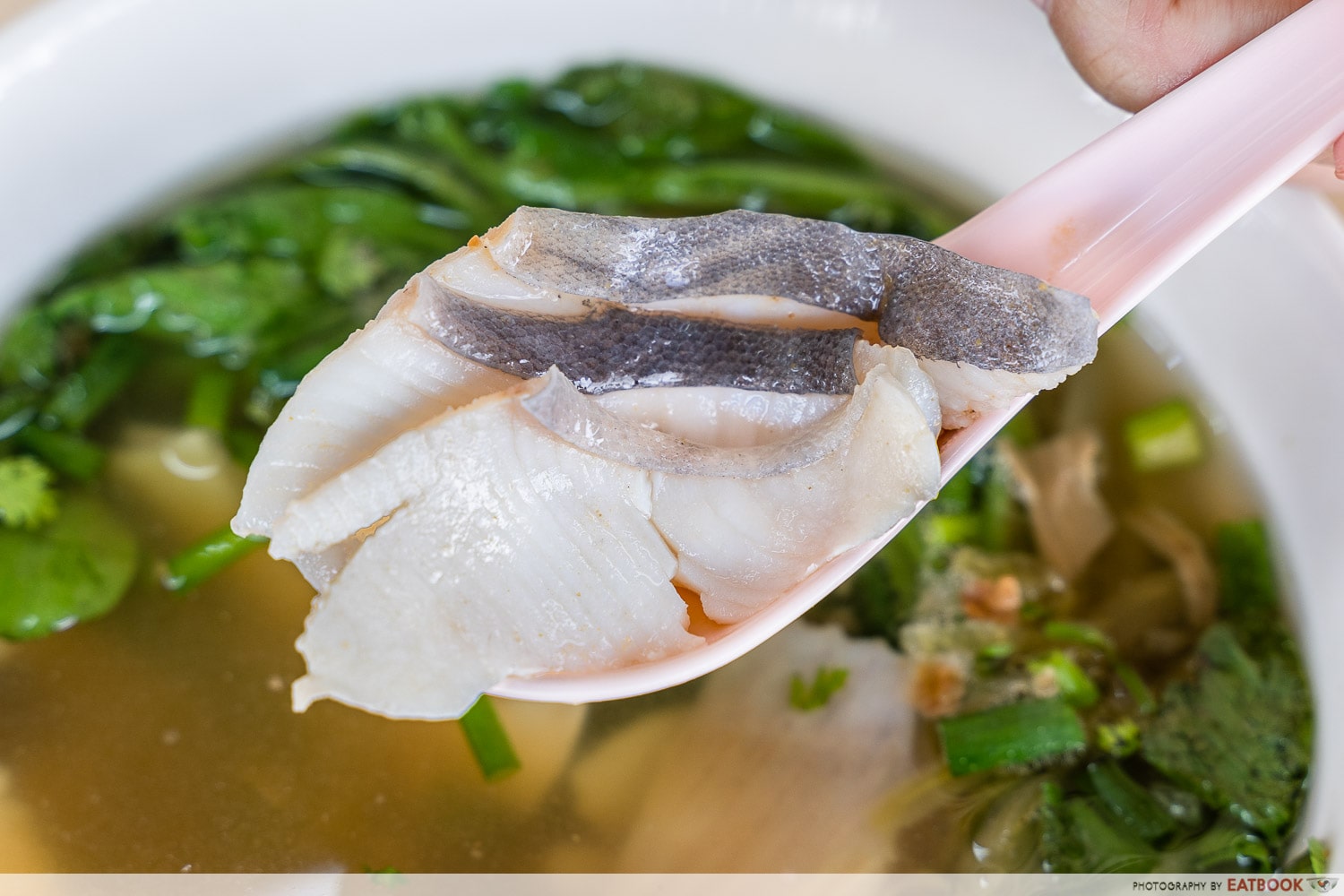 If you're looking for some fish soup stall recommendations: Jin Hua Fish Head Bee Hoon, located at Maxwell Food Centre, sells flavourful fried fish soup, with each fish chunk bursting with flavourful, milky broth. They also have different types of fish you can choose from, including batang, AKA mackerel, grouper, and shengyu. Or you could try First Street Teochew Fish Soup, which is a walking distance from Kovan MRT Station. They're known for their fresh fish and their sweet broth. Enjoy the fish slices with their chilli padi and soya sauce dip. 
Expected prices: $4.50 – $12
Read our guide to the best fish soup stalls in Singapore.
11 Famous Fish Soup Stalls Including Arcade Fish Soup And Blanco Court Fried Fish Noodles
---
27. Fishball Noodles
---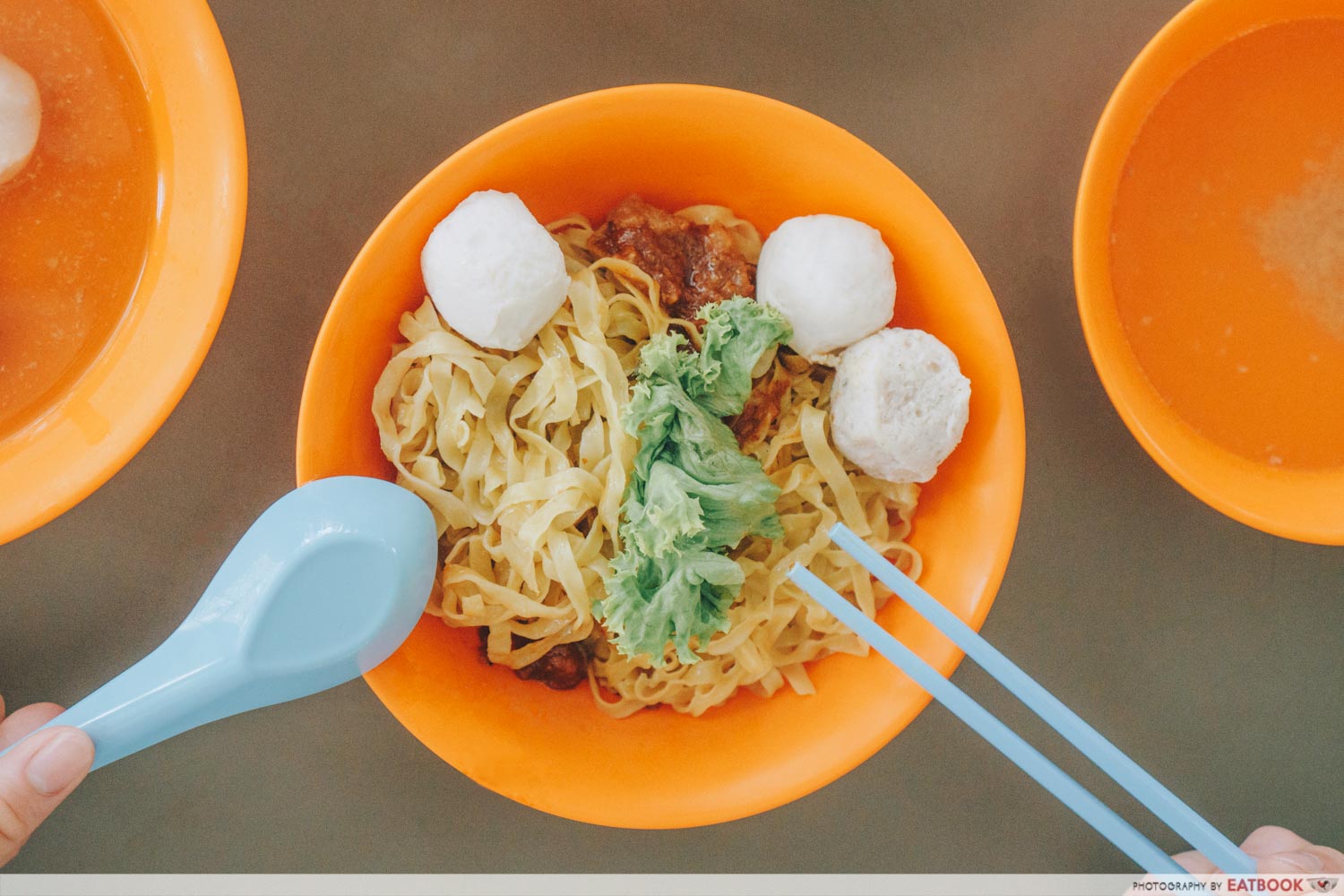 Simple and humble, fishball noodles have established themselves as one of Singapore's favourite noodle dishes for decades. The origin of fishball noodles can be traced back to the early 1900s, when Chinese immigrants brought the recipe to Singapore. Since then, it has become a staple dish that is beloved by locals. Served either dry or with soup, you can also choose your preferred type of noodles, ranging from mee pok, mee kia or kuay teow.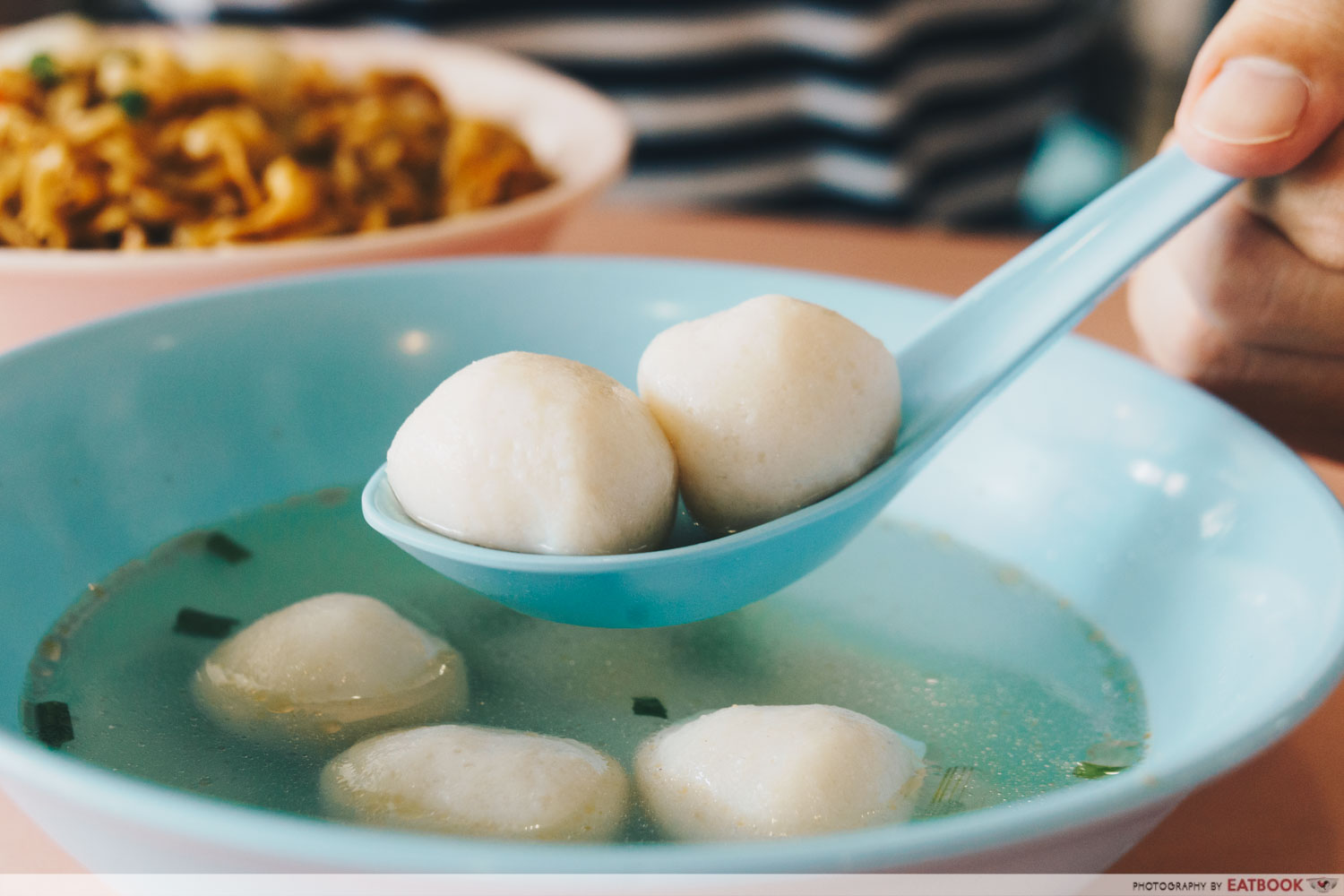 Fishball Story at Bugis Junction is a stall we recommend. They even won a Michelin Bib Gourmand award in 2016 for their traditional fishball noodles. Today, they also offer a variety of noodle dishes, including chee cheong fun, laksa and more! Song Kee Eating House is another place frequently raved about for their fishball noodles, which come with handmade fish dumplings that have a chewy, savoury fish paste wrapper and juicy minced pork within. They can be found at Yio Chu Kang, a short bus ride away from Serangoon MRT Station.
Expected prices: $3 – $6
---
28. Frog Porridge
---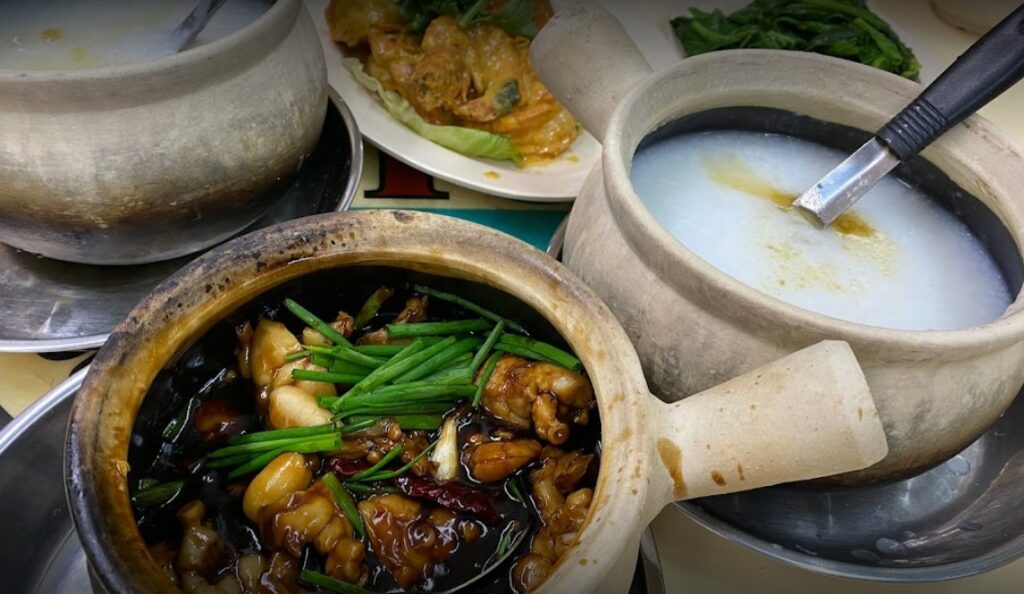 Image credit: @chi_singapore_55
Frog porridge is a distinct, local creation, despite the history of many other Asian countries enjoying frog meat. It is definitely a Singaporean favourite though, as there's various frog porridge stalls scattered across the island. Local stalls usually use American bullfrogs farmed in Jurong Frog Farm—they've been operating since the 1970s. These frogs are said to be large and have tender and meaty thighs. Frog meat is typically cooked in two ways—cooked directly with plain porridge, or simmered with savoury sauces and spices; served separately from a hot bowl of porridge.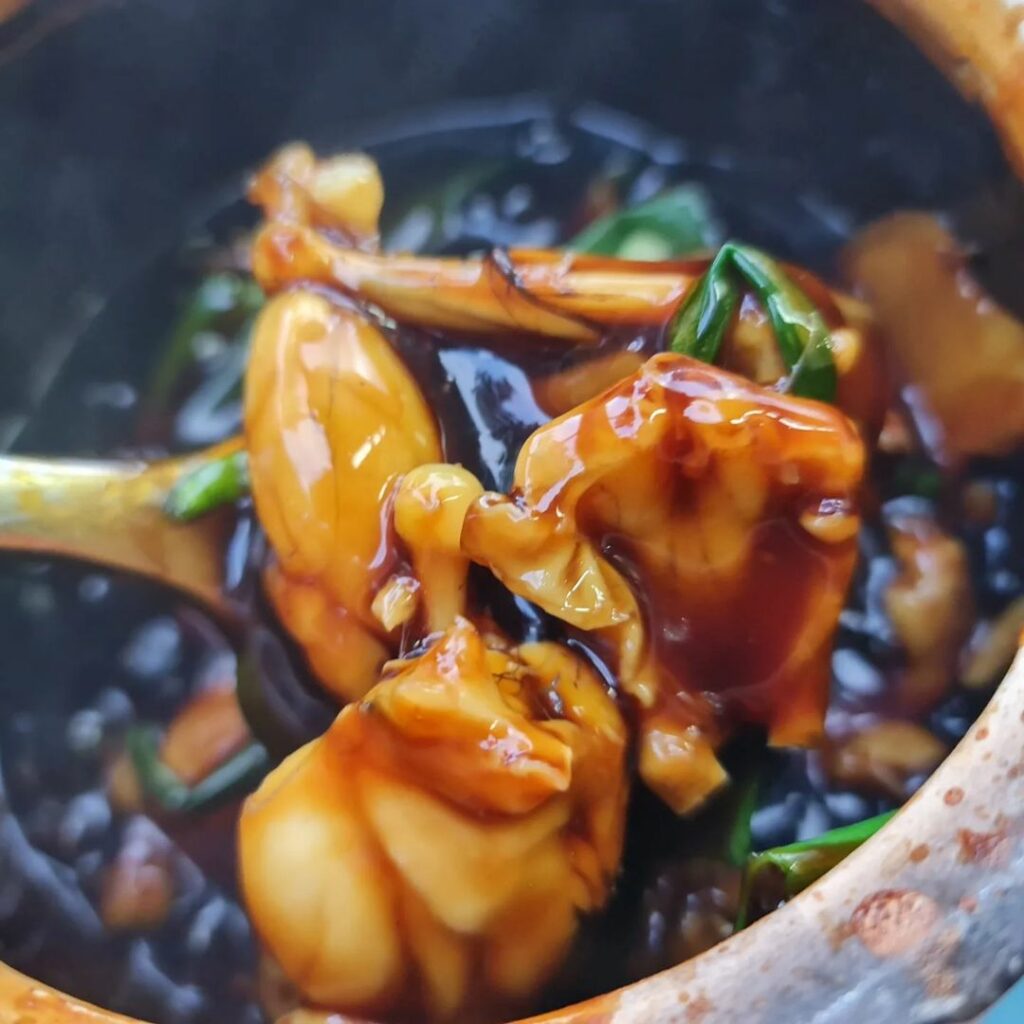 Image credit: @kklim_zhan_fu
If you're looking for frog porridge recommendations, check out the Michelin Bib Gourmand eatery, Eminent Frog Porridge in Geylang. They've been around since 2004, and are known for their tasty variations of frog meat, served with a side of porridge. Their frog dishes are well seasoned with dried chilli, garlic, white pepper and more. Alternatively, you can also go for Hong Chang Frog Porridge and BBQ Fish near Woodleigh MRT Station. Like Eminent Frog Porridge, they also have supper offerings as they're open till 2am. They offer generous portions of both frog's legs, and frog's legs porridge. 
Expected prices: $8 – $19
Read our guide to the best frog porridge in Singapore.
10 Best Frog Leg Porridge In Singapore For Late-Night Suppers And Rainy Days
---
29. Fuzhou Oyster Cake
---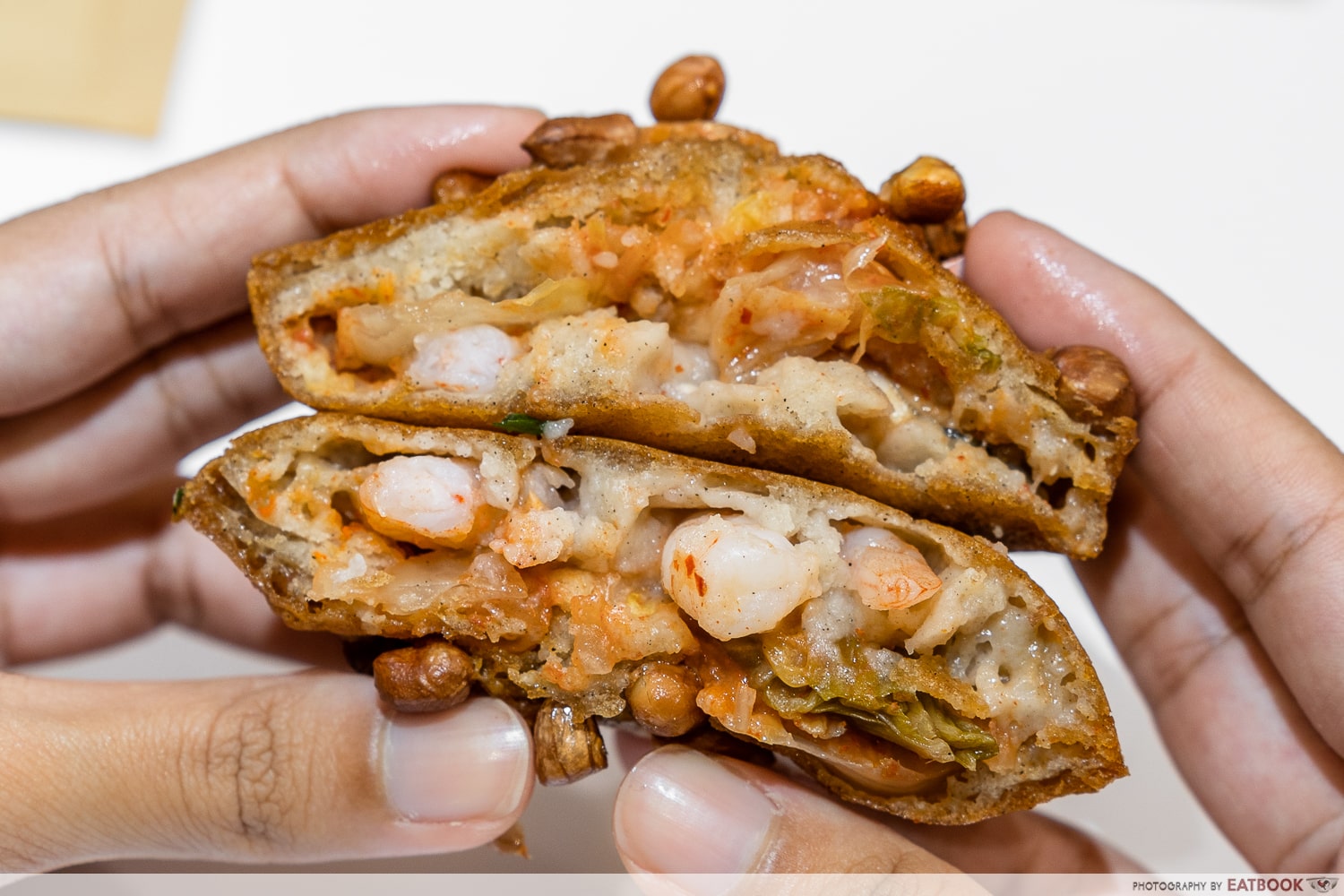 Fuzhou oyster cake is a savoury snack from Fuzhou, China, that has since made its way to Singapore thanks to early immigration. It is made by filling a ladle with rice flour batter, which is then topped with other key ingredients: minced pork, baby oysters, and cilantro. More batter is added before deep-frying it, resulting in a crispy and brown, stuffed treat.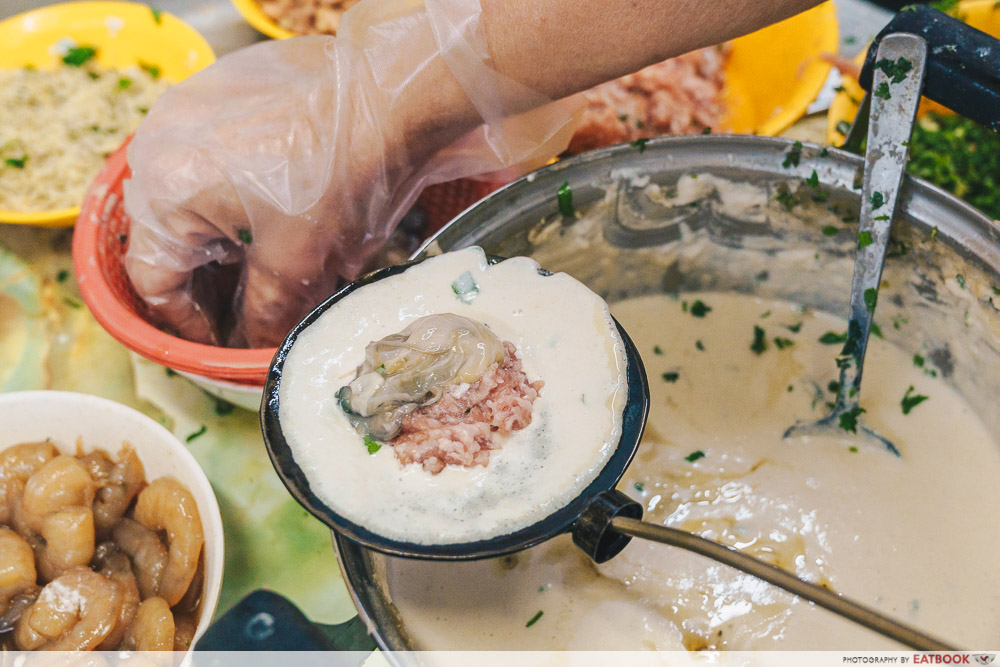 To get your oyster cake fix in Singapore, here are our recommendations. There's the highly raved Fu Zhou Poh Hwa Oyster Cake, located at Berseh Food Centre, which has had a long history of selling their signature item. Their oyster cakes are said to be generously stuffed with flavourful minced meat, juicy oysters, prawns, and Chinese parsley, garnished with ikan bilis and peanuts for that crunch. Another stall to look for is Sixth Floor Oyster Cake, a home-based business that recently opened their physical store on the second level of Northshore Plaza I. They offer a few modern variations of the cake: Original, Kimchi, Scallop, and Meat Only, so there's something for different preferences. 
Expected prices: $2.50 – $4
---
30. Hainanese Curry Rice
---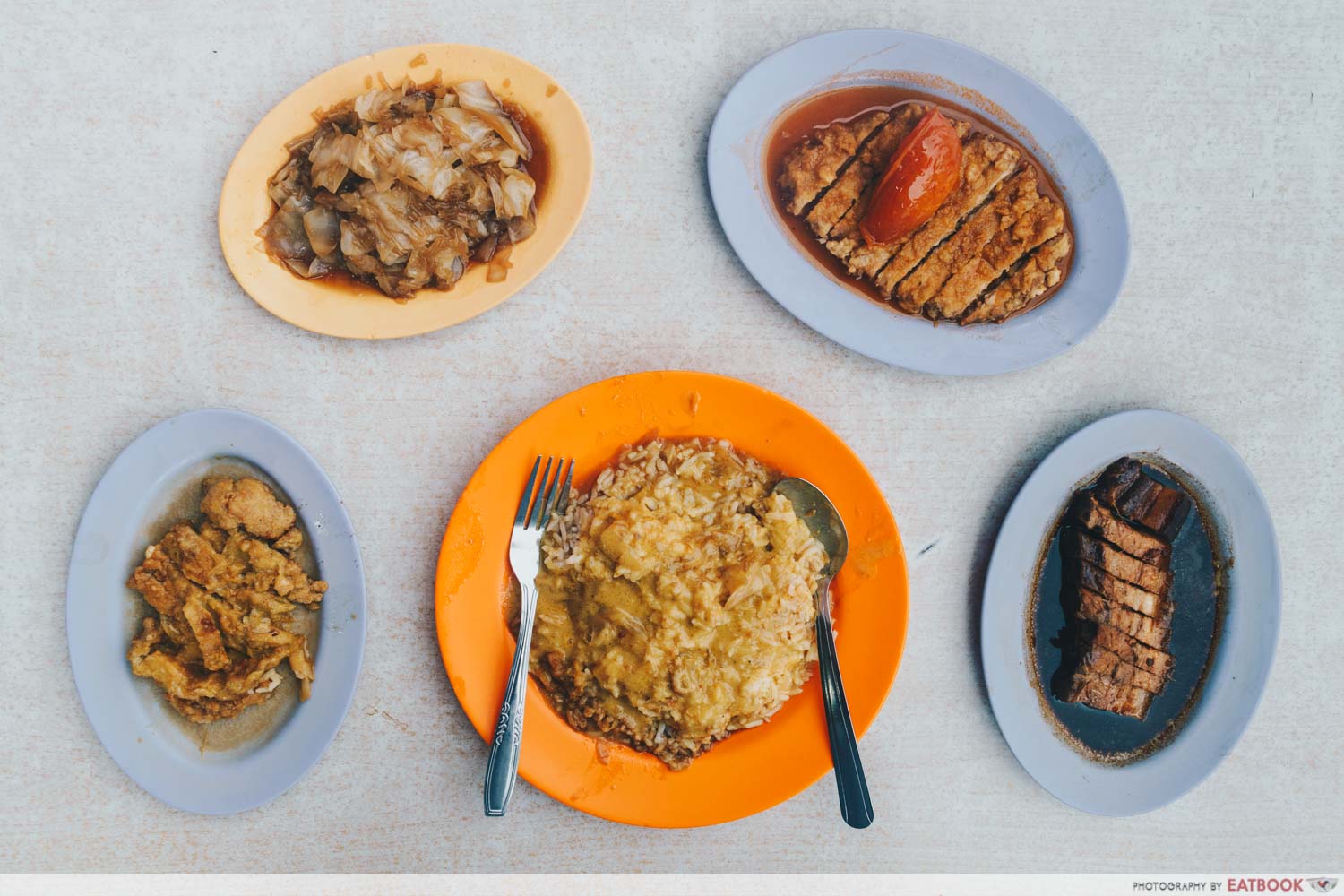 Hainanese curry rice is the definition of ugly delicious. White rice forms the dish's canvas, which is then messily doused with an aromatic and spiced curry gravy—inspired by Nyonya curry. The medley is then topped with chopped deep-fried pork chop, crunchy chap chye, or other meats and veg of your choosing. It is said that this dish was created by the Hainanese immigrants, after the colonial British period.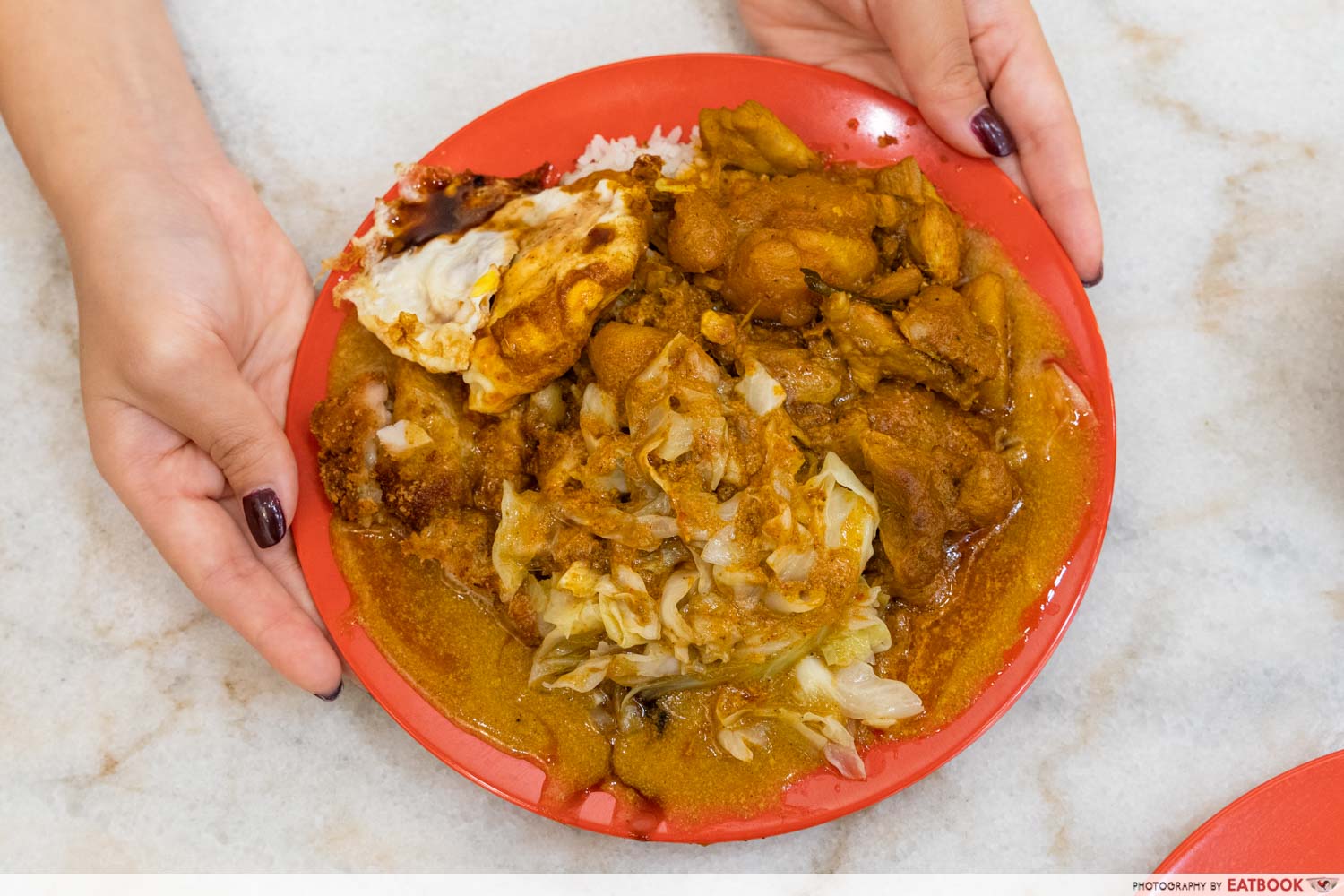 To get a hold of this long-popular dish, try Loo's Hainanese Curry Rice located at Tiong Bahru Market. They've been around since 1946 and continue to attract long queues. Aside from their crispy pork cutlet, they also have other customer favourites including tender braised pork belly, fresh squid, and lemak curry chicken. Another good option in the same area is Beo Crescent Curry Rice that's open as early as 6:30am! They're famous among the Tiong Bahru neighbourhood for their crispy pork, fried till golden-brown, and their flavourful and spicy curry.
Expected prices: $3.50 – $6
Read our guide to the best curry rice stalls in Singapore. 
15 Most Famous Curry Rice Spots In Singapore For Cheap And Shiok Curry Rice
---
31. Hokkien Mee*
---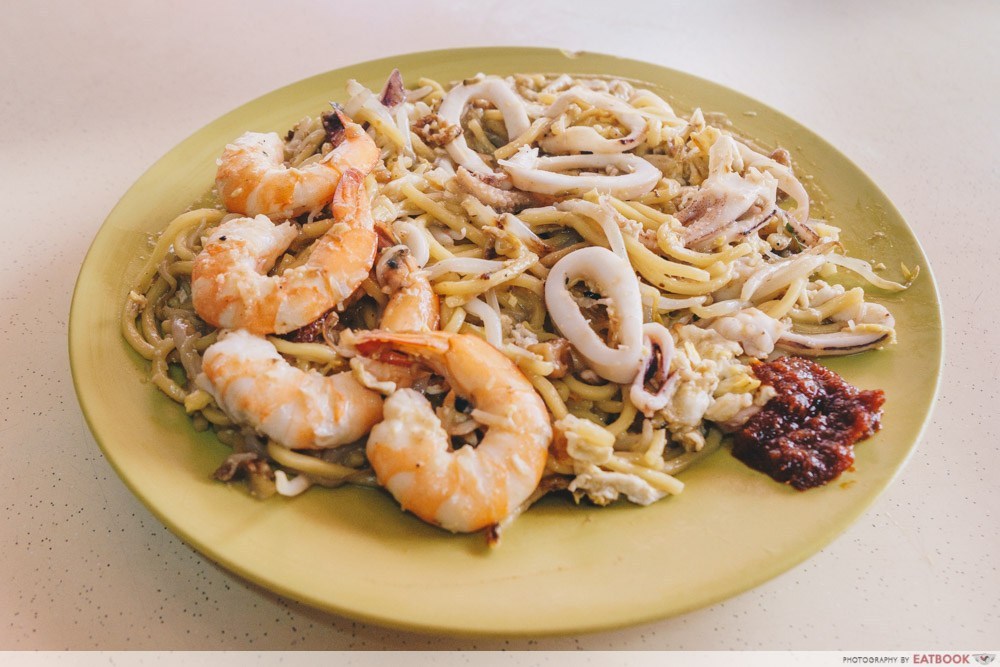 Hokkien mee consists of thick yellow noodles and rice vermicelli, wok-fried in a rich stock comprising prawn heads and pork bones. Served with sambal chilli and lime on the side, the lip-smacking noodle dish is topped with prawns, squid, pork belly strips, and fried pork lard.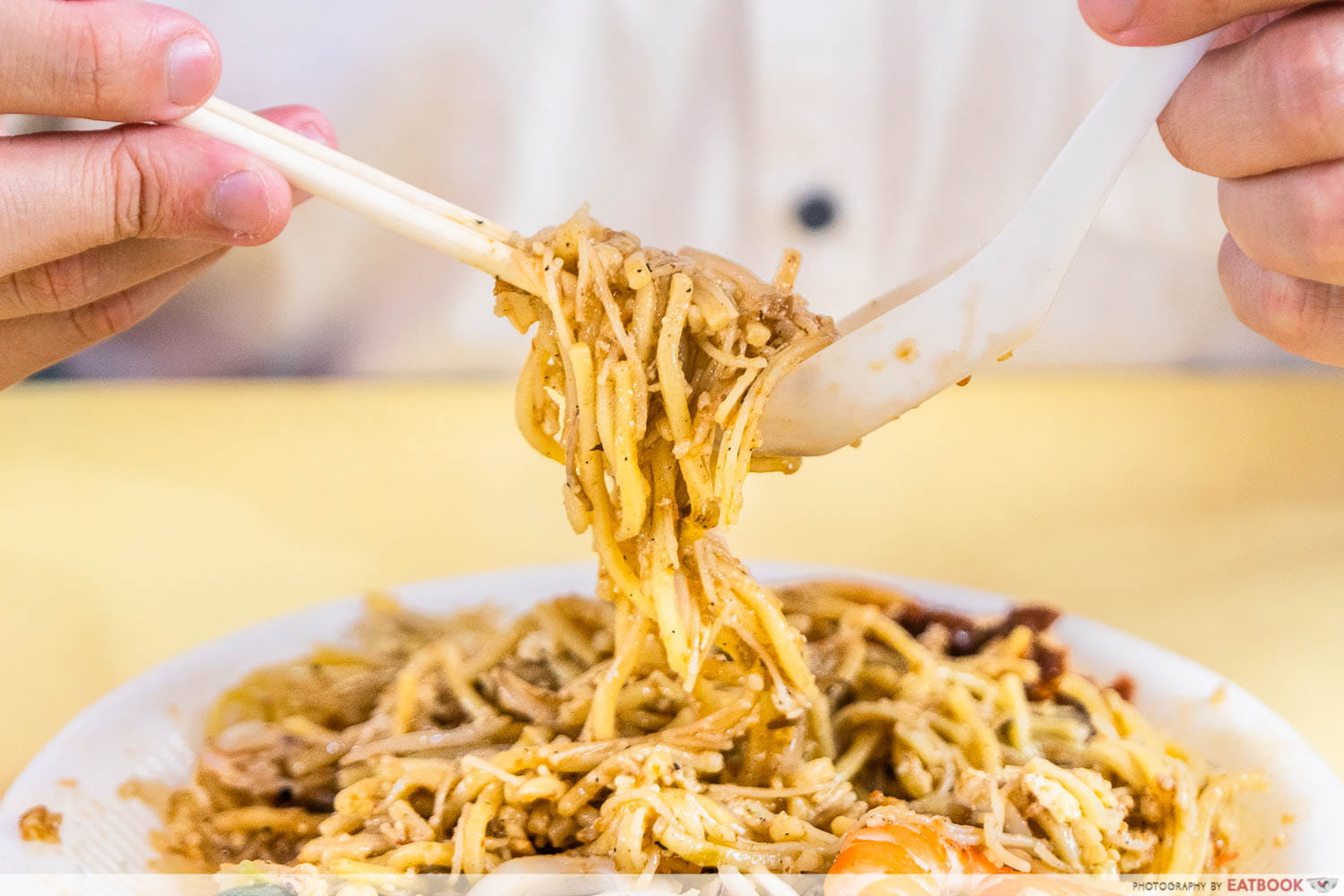 As its name suggests, hokkien mee originates from the Fujian Hokkien province in Southern China. It has since become a classic Singaporean dish that's even earned the nod of the Michelin Guide. One popular stall is Kim Keat Hokkien Mee, lauded for their claypot hokkien mee that's priced from $10. This Toa Payoh stall serves wet-style hokkien mee that's chock-full of ingredients, including prawn, sotong, clam, and pork belly. Geylang Lor 29 Hokkien Mee at East Coast Road is another popular stall selling flavourful hokkien mee, with each plate prepared with a heady prawn stock and served with a yummy house-made chilli.
Expected prices: $5 – $8
Read our guide to the best hokkien mee stalls in Singapore!
12 Hokkien Mee Stalls In Singapore Every Local Foodie Must Try
---
32. Hotpot
---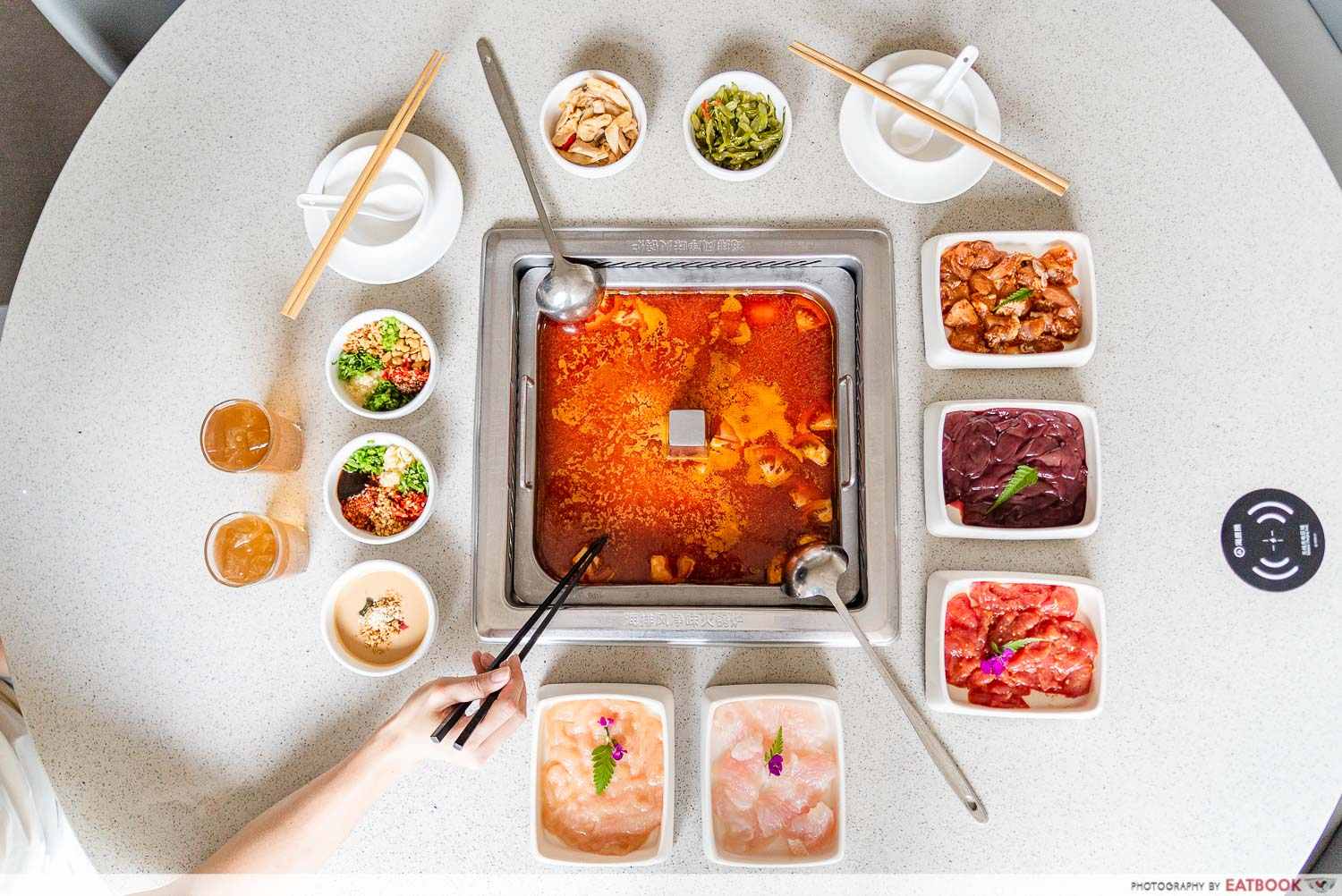 Hotpot AKA steamboat is said to date back to the Zhou dynasty, where the upper class had their own personal pots burning atop hot charcoal. Today, hotpot is a dish best enjoyed with family and friends. It involves cooking raw ingredients in a simmering soup base—typically a chicken stock-based broth or a Sichuan-style spicy soup. You can also opt for rice or noodles on the side, or enjoy the ingredients as is.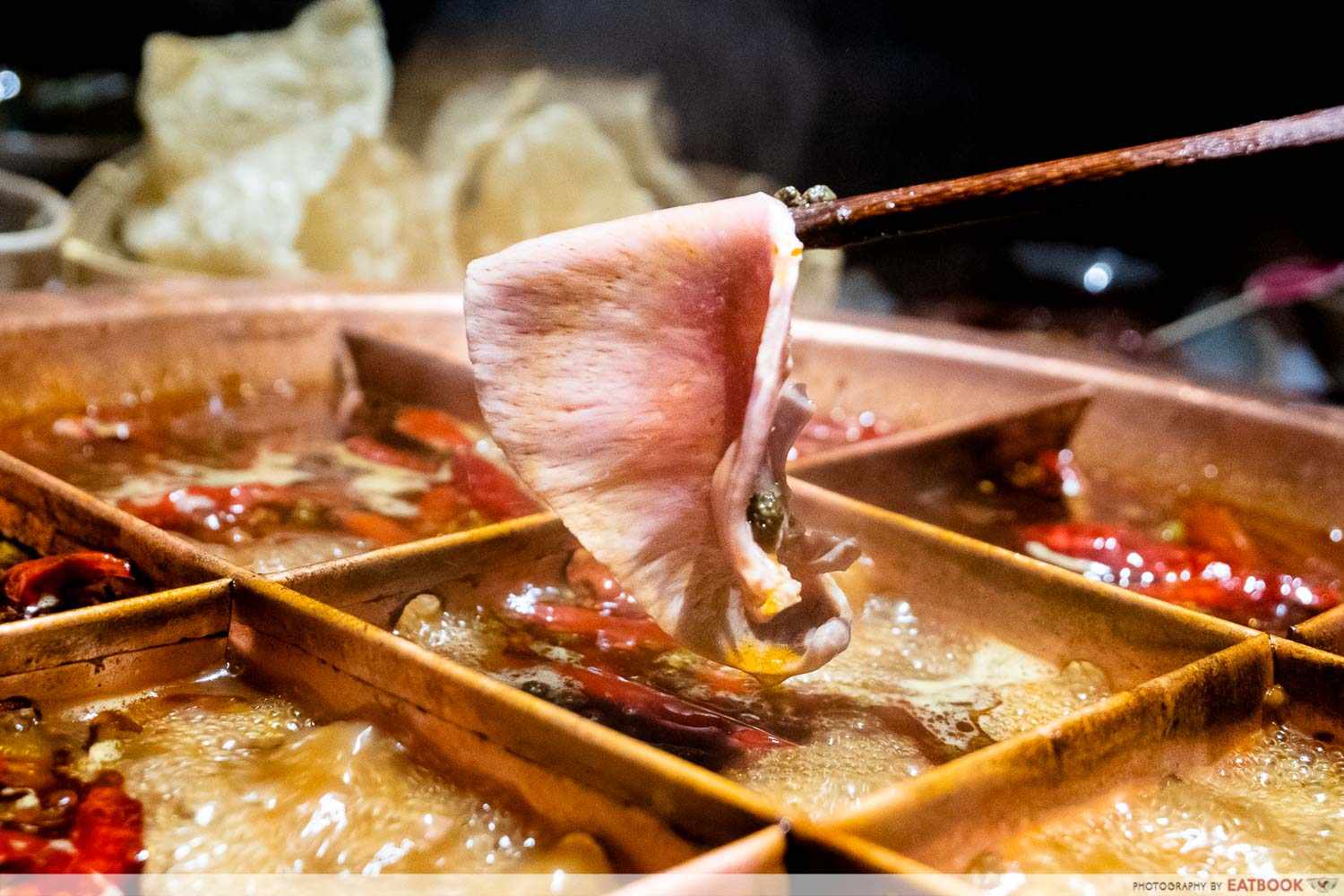 Typical hotpot ingredients include thinly sliced meat, leafy vegetables, mushrooms, sliced potatoes, tofu, and seafood. Once cooked to your liking, you can dip it in a bevvy of sauces such as vinegar, peanut sauce, and sweet chilli sauce.
While hotpot can be prepared and eaten at home, most Singaporeans enjoy going for the full experience by dining at popular restaurants such as Haidilao and Beauty In The Pot. These restaurants offer exceptional service and a wide range of customisable dipping sauces, and are also known to be great birthday party spots.
Expected prices: $20 – $60
Read our list of recommended hotpot restaurants in Singapore!
11 Hotpot Restaurants In Singapore With Home Deliveries And Steamboat Buffets
---
33. Indian Food*
---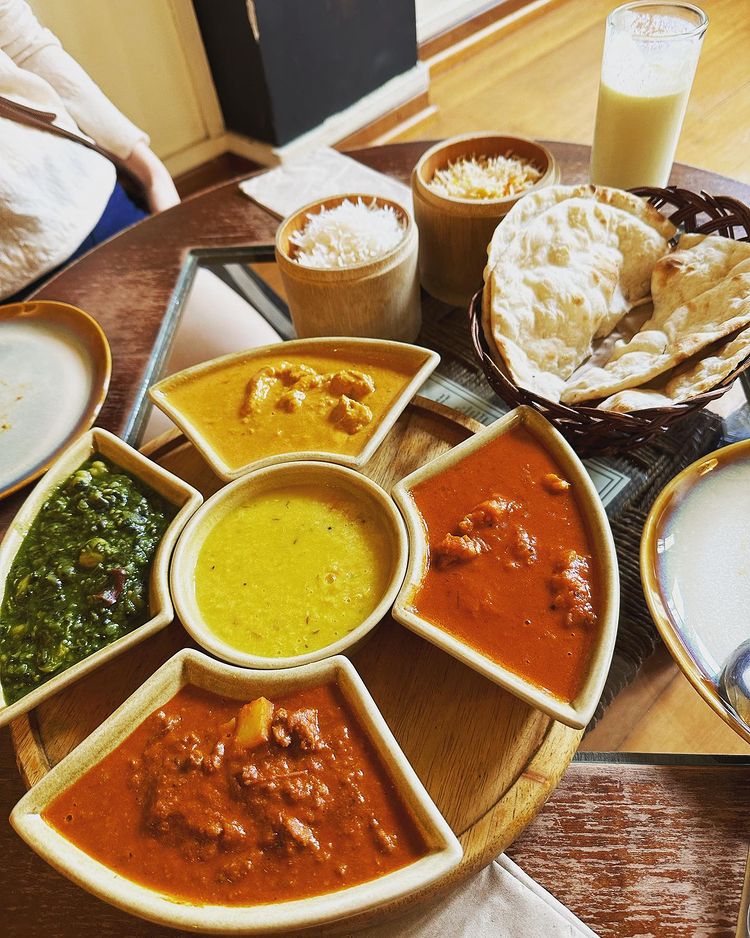 Image credit: @upandora77
It is impossible to distil the wide range of Indian cuisines in Singapore into the umbrella definition that is "Indian food", but if you're on a time crunch, we have a couple to put right at the top of your must-dine list.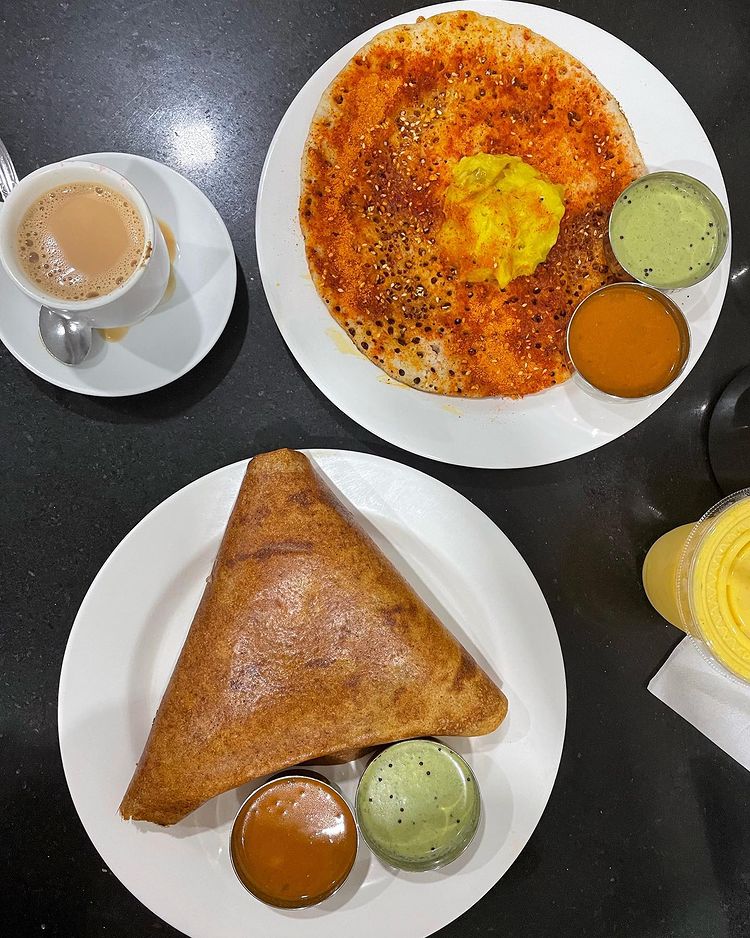 Image credit: @jinntana_chia
Lagnaa Barefoot Dining, a consistent presence on the Michelin Bib Gourmand list, is quite the experience. As its name suggests, you dine barefoot on low tables, so the setting is extremely cosy. The head chef here pulls from the Ayurvedic tradition to create Indian dishes that encompass the cuisine's six core flavours, so we recommend you try their set menus to explore all Lagnaa has to offer. They're vegetarian-friendly too! MTR Singapore is another vegetarian-friendly eatery to dine at. Way more casual than Lagnaa, the restaurant offers South Indian cuisine such as thosai, idli and more, served with delicious chutneys and different curries.
Expected prices: $10 – $50
Read our guide to the best Indian food in Singapore.
12 Best Indian Restaurants In Singapore For Tandoori Chicken, Crab Masala And Vegetarian Platters
---
34. Indian Rojak*
---
Unlike the fruit-and-veg mix tossed in a fermented shrimp paste sauce commonly found at Malay-Chinese rojak stalls, Indian rojak features a colourful selection of chopped up fritters ranging from traditional vadai (fried prawn fritter) to coconut flakes, and even kuchai (chives) dough. Dip your selection into the red sweet and spicy sauce that each stall has their own special recipe for. For many Indian rojak fans, the sauce is what truly determines the best from the rest.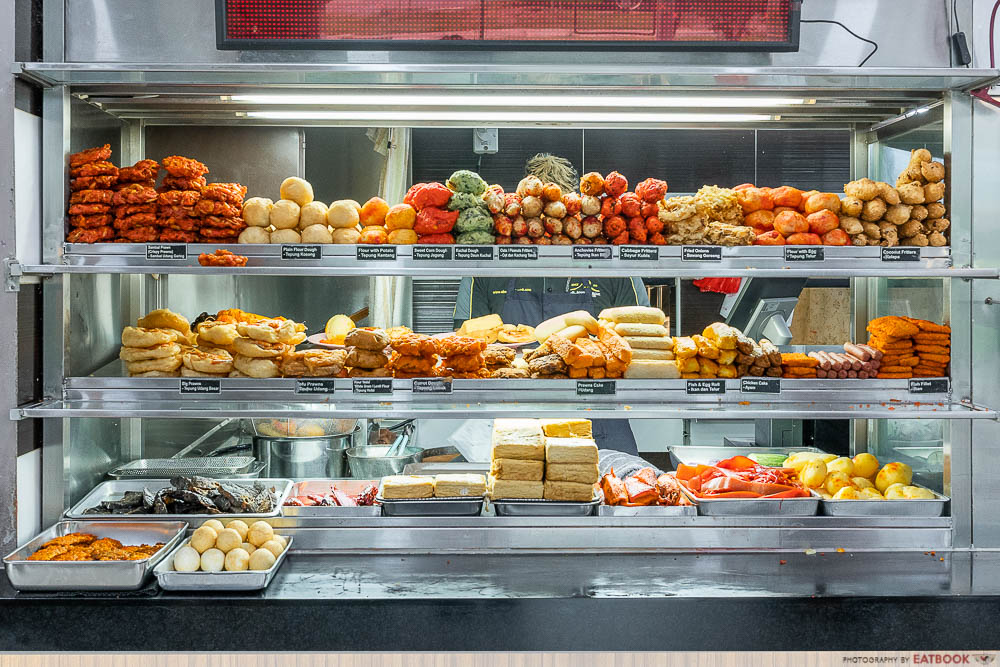 We recommend household name Al-Mahboob Rojak near Tampines MRT Station if you like a nutty sauce and lots of variety in your rojak–they have over 30 ingredients to pick and choose from!
In the west, Ayer Rajah Food Centre alone boasts two stores which have won themselves a loyal following among Singaporeans. Adhus Salam Rojak is known for their fresh coconut fritters and spicier sauce, while Habib's Rojak a few stalls down has been pairing their rich, sweeter sauce with freshly fried to order fritters for the last 30 years. 
It's not unusual for these stalls to run out of popular ingredients as the day goes on, so be sure to go early and beat the crowd to your favourite picks!
Expected prices: From $6
---
35. Kaya Toast*
---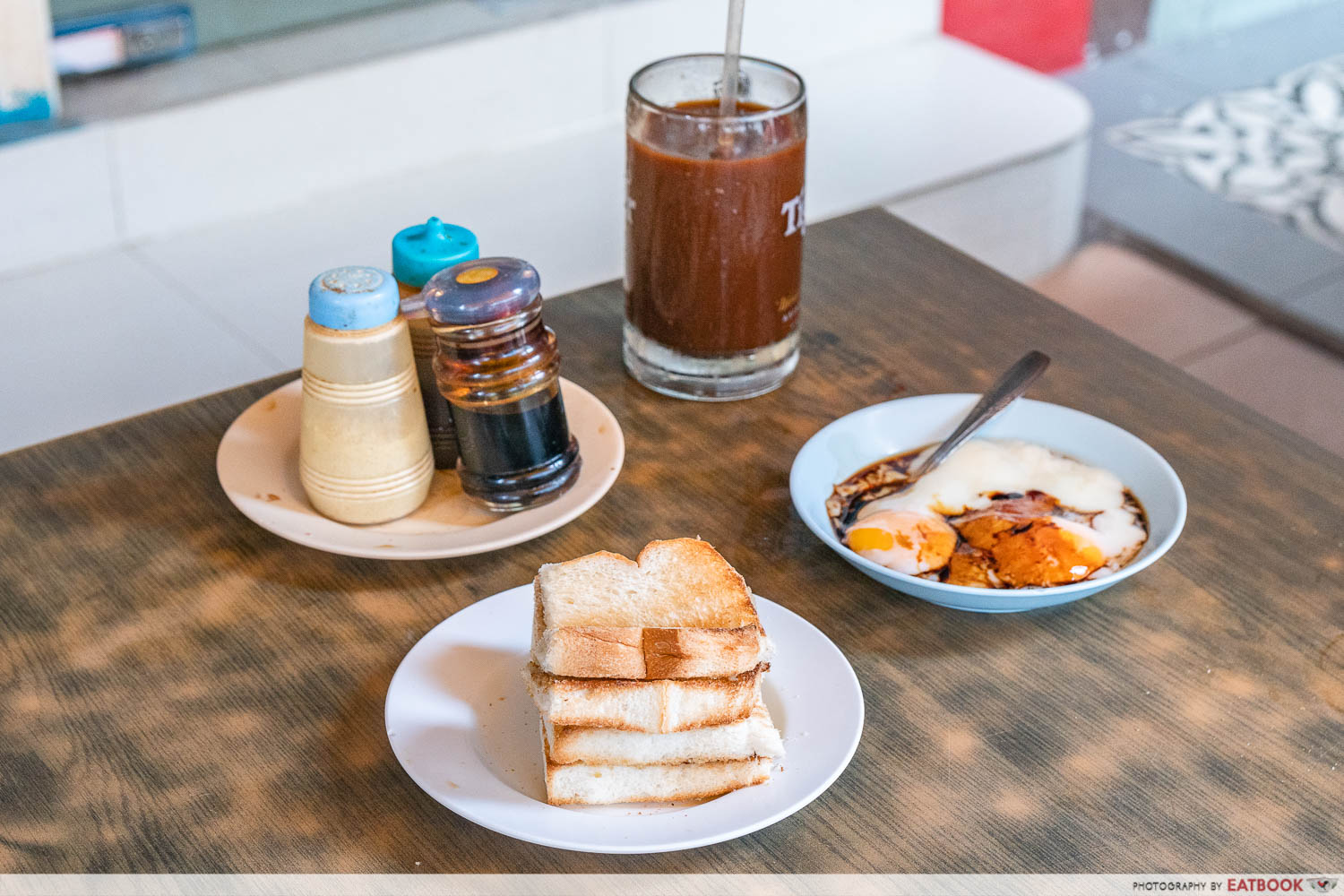 Arguably Singapore's most popular breakfast item and snack, kaya toast sees slivers of butter and a generous slathering of kaya sandwiched between two slices of toast, served alongside soft-boiled eggs and a cup of kopi. Sprinkle a dash of dark soya sauce and white pepper into the eggs, and dip in your toast for maximum satisfaction.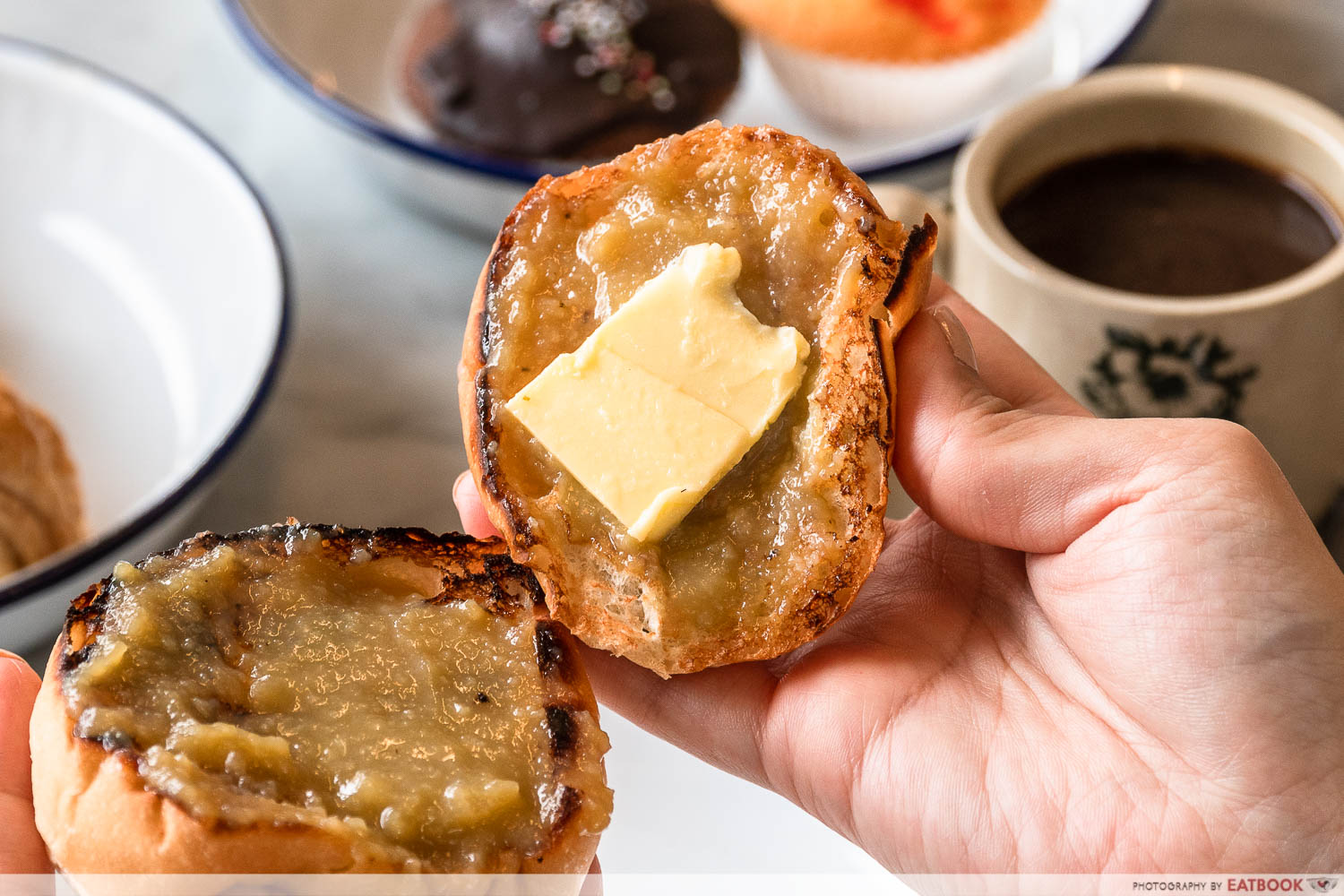 Kaya toast is said to be invented by the Hainanese immigrants in the 19th century, when they first arrived in Singapore to work as chefs on British ships. Many believe that the coconutty spread was inspired by Western-style fruit jams. Over the years, the Hainanese set up coffeeshops across the island, serving up their signature kaya toast and kopi. Today, popular household names in Singapore include Ya Kun Kaya Toast and Killiney Kopitiam. 
For more old-school kaya toast, check out Chin Mee Chin Confectionery, which is known for their nostalgic charcoal-toasted kaya toast buns, or Heap Seng Leong, a traditional coffee shop in Lavender.
Expected prices: $2 – $6
Read our full list of the best kaya toast stalls in Singapore! 
12 Kaya Toast Stalls In Singapore To Get Your Traditional Breakfast Fix
---
36. Kopi*
---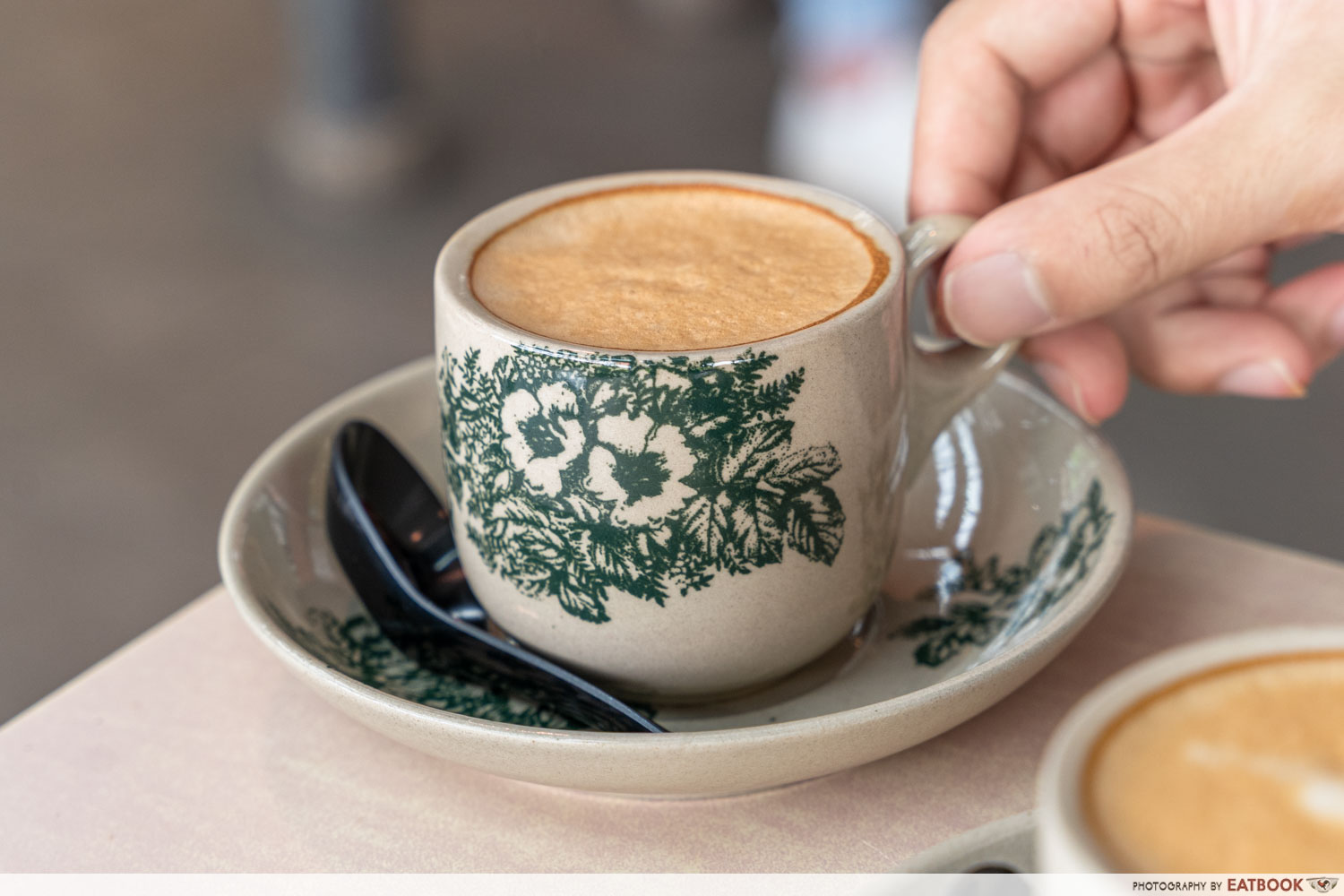 Kopi is an important backbone of Singapore's hawker culture. Also referred to as Nanyang coffee, each cup of kopi is brewed with Robusta beans instead of Arabica beans, the latter of which are commonly used in espresso. For traditional kopi, the coffee beans are roasted with sugar and margarine, resulting in a deep, caramelised fragrance.
Kopi culture in Singapore boomed during the period between the 1920s and 1950s, thanks to the surge of Hainanese-owned coffeeshops. Its vocabulary is largely derived from the Hokkien dialect, largely due to the influx of Hokkien immigrants during colonial times.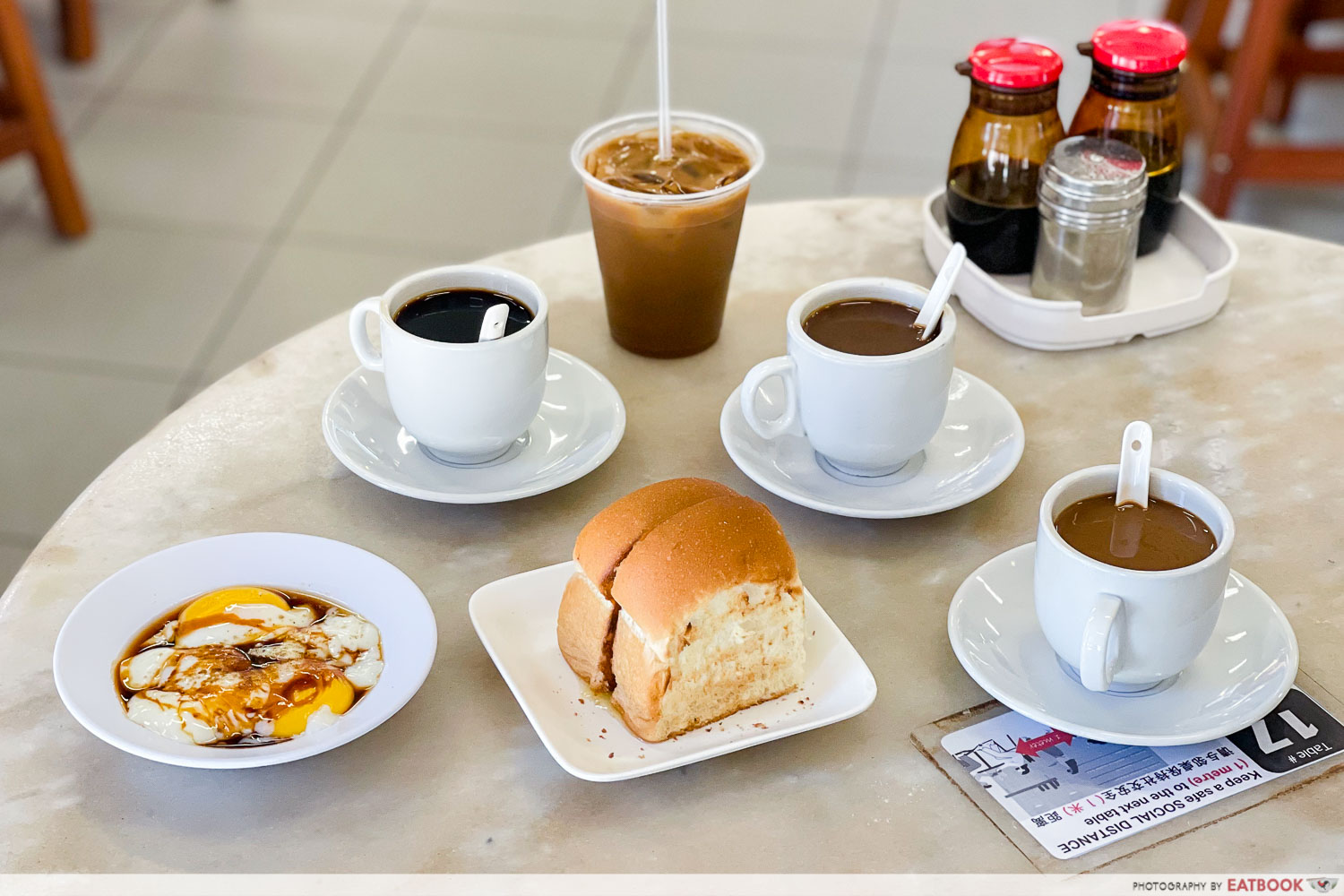 Head to YY Kafei Dian for a solid cup of Hainanese kopi, served alongside runny eggs and toasted kaya butter buns—the quintessential Singaporean breakfast. Their Kopi C, AKA coffee with evaporated milk and sugar, is a sweet brew with buttery notes, while the Kopi O (black coffee with sugar) is robust yet smooth. Another recommended spot is The 1950s Coffee, a Michelin-approved stall with consistently strong and aromatic kopi.
Expected prices: $1 – $2
Read our guide to the best kopi stalls in Singapore! 
10 Best Kopi Stalls in Singapore Ranked, Including One With 58 Years Of History
---
37. Kueh Tutu
---
A traditional dessert with traces of Chinese and Malay history, kueh tutu is a steamed rice cake dessert found in Singapore and Malaysia. It is made by pounding rice finely into flour, before spreading it into a mould and filling it with grated coconut or ground peanut. Placed on top of muslin cloth, it is steamed till it turns into a thin cake. The bite-sized snack is served atop a square of pandan leaf, which imparts a light, pleasant aroma.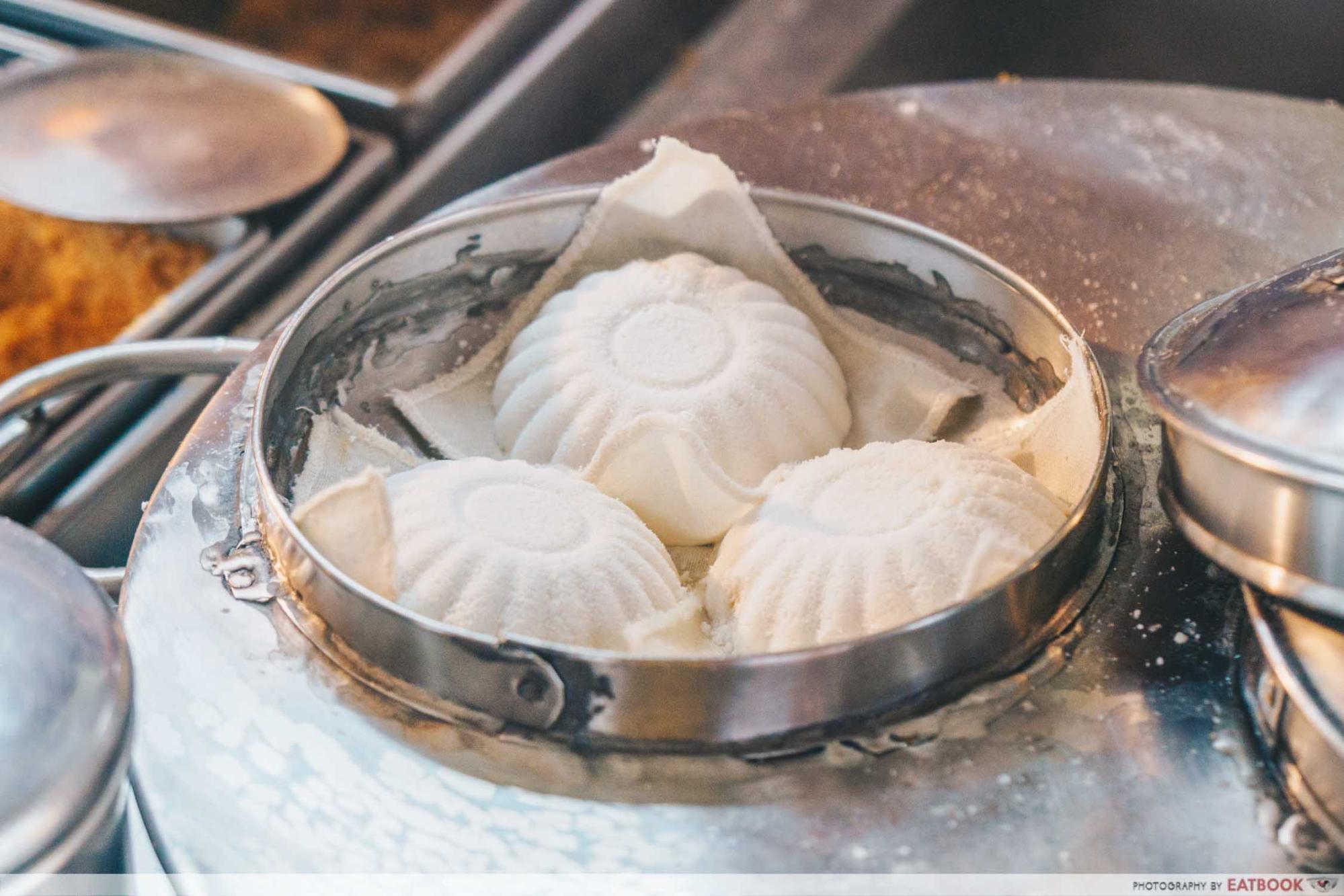 Here are our recommendations for local kueh tutu stalls to visit. A pasar malam favourite, ChubTuTu started operating three years ago with familiar flavours such as peanut, coconut, and red bean (5 for $3). Currently, their standard offerings and daily specials are sold at their pop-up store that regularly changes locations. Bendemeer Tutu Kueh is another stall to visit. The stall owner is 67-years-old and he has more than 50 years of experience. In his preparation, he takes additional steps that make his kueh tutu taste so addictive—he roasts the rice flour, giving it more aroma, and he makes his grated coconut with gula melaka instead of standard red sugar.
Expected prices: $0.50 – $1 per piece
---
38. Kway Chap
---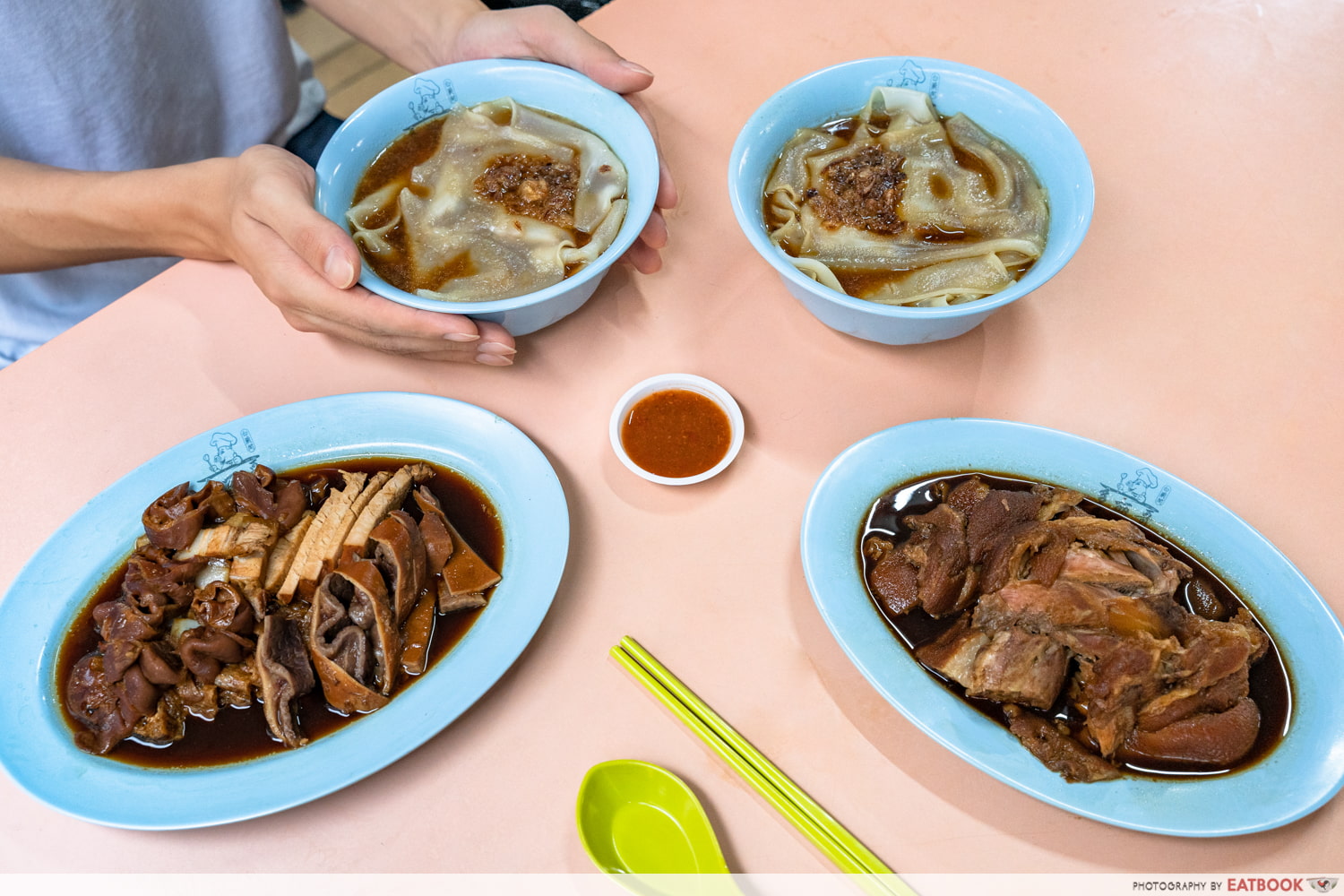 With its array of pig offals and flat rice noodles, kway chap isn't everyone's cup of tea. But those daring enough to give it a shot will be rewarded meat that's full of rich herbal flavour—and if you choose your stall correctly, you'll taste none of the funkiness that can often plague innards.
The kind of meat that you'll get with this classic Teochew dish includes pig's stomach, small and large intestines, ears, pork belly and more. As for the silky rice noodles, AKA kway, its are served in a soup made with fragrant dark soy sauce.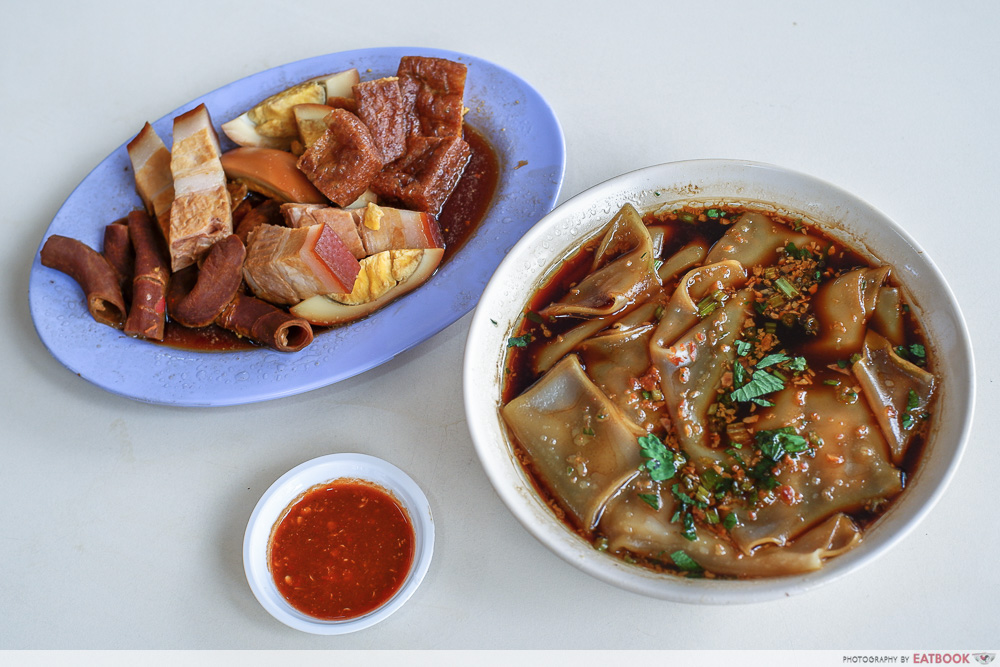 The best stalls to visit for kway chap are To-Ricos Guo Shi, which has well-cleaned offals and a wonderful herbal braising, and Lao San Kway Chap, another stall with thoroughly cleansed innards and a generous amount of meat served on each platter.
Expected prices: $6 – $18
Read our guide to the 17 best kway chap stalls in Singapore.
17 Kway Chap Stalls In Singapore To Try, Including Stalls Open Till 3am
---
39. Laksa*
---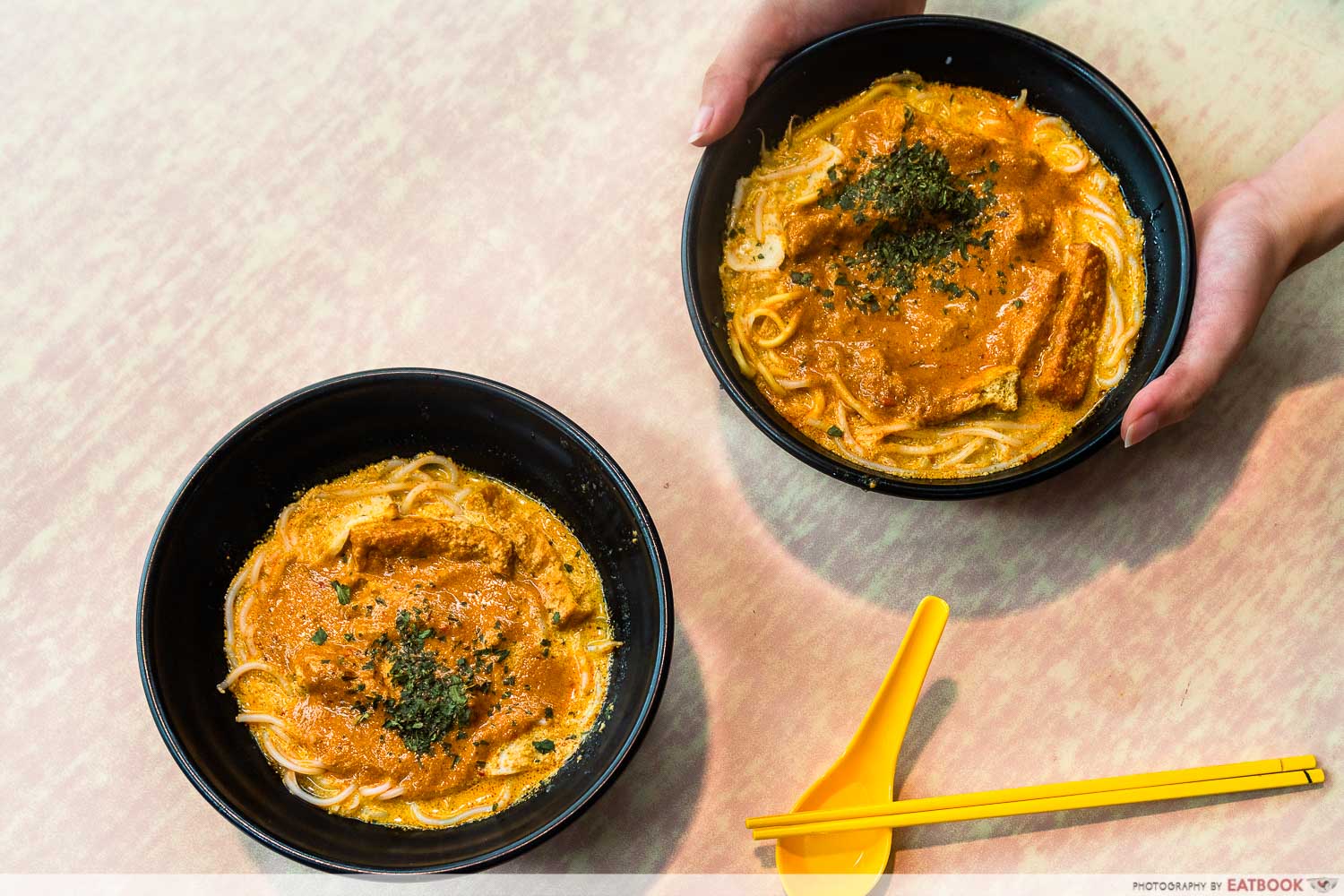 While laska is not unique to this island—regional varieties are aplenty—Singapore laksa stands out with its creamy broth comprising distinct flavours of coconut milk and dried shrimp, alongside toppings of fresh prawns, fishcakes, and blood cockles. Each bowl of lemak goodness is usually served with thick rice noodles, or less commonly, thin bee hoon.
There are various types of laksa in Singapore, but "Katong laksa" is one of the most popular kinds out there—it's inspired by the Peranakans who used to live in the area. It's most often eaten with a spoon as the noodles are cut up, and the broth is said to have a distinct hae bee flavour.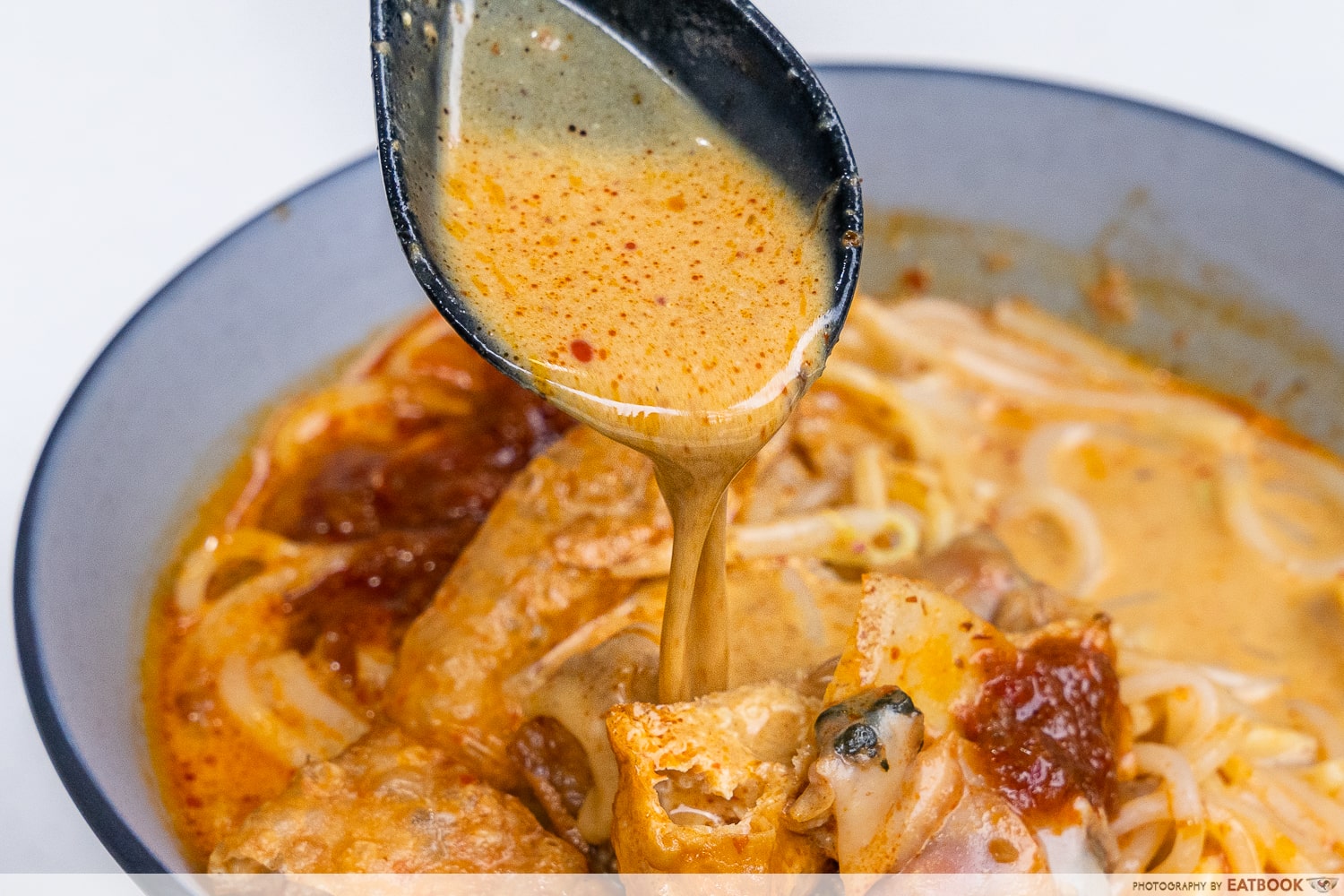 328 Katong Laksa is one of Singapore's most famous laksa stalls, with a world-famous recipe that's even won over Gordon Ramsay. A small bowl is priced at $6.30 while a large bowl costs $8.30. For those who reside in the north, there's also 928 Yishun Laksa, which is known for their notoriously long queues and loved for their creamy, coconutty laksa broth.
Expected prices: $4 – $9
Read our full guide to the best laksa in Singapore! 
15 Best Laksa In Singapore With Lemak Broth, Springy Noodles, And Fresh Prawns
---
40. Lontong
---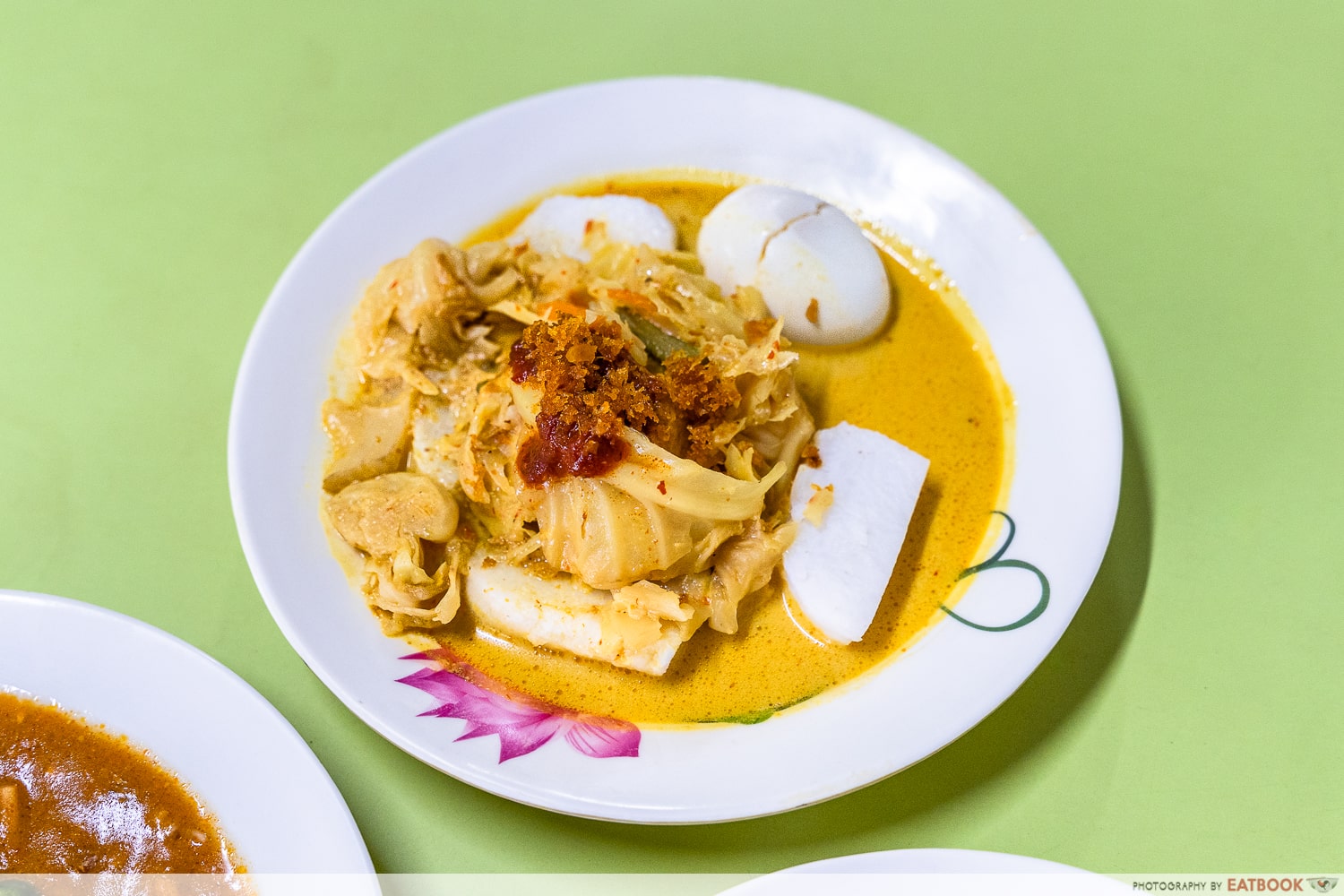 A dish originally from Indonesia, lontong features compact rice cakes cut into bite-sized pieces and served in a coconut vegetable curry. In Singapore, lontong is also referred to as sayur lodeh. Dried shrimp, prawn stock, and fermented prawn paste are often infused into the gravy, though vegetarian alternatives are available too.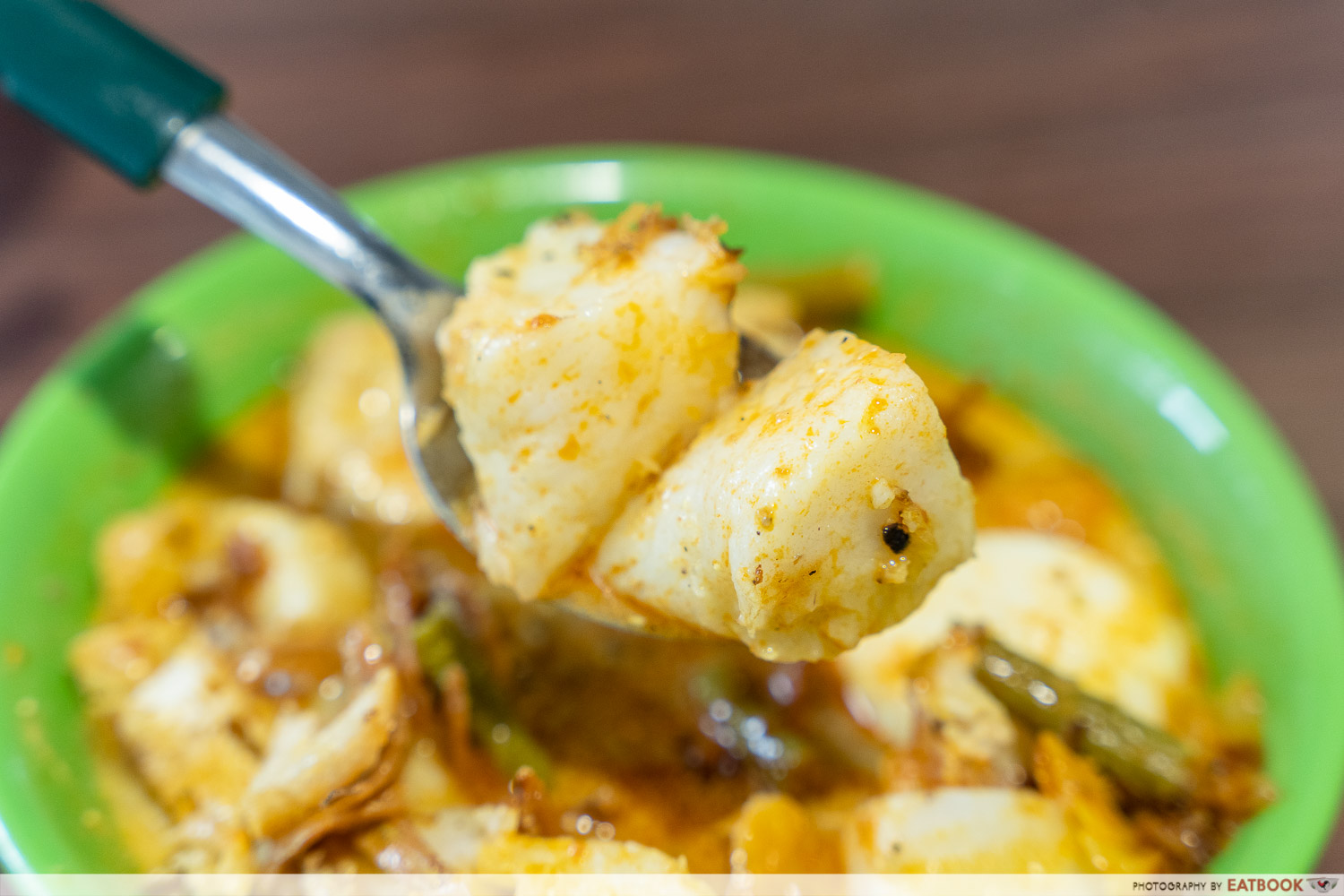 A good lontong dish comes with smooth and slightly firm rice cakes, with vegetables that are soft but not soggy. As for the curry, it should be creamy with a good balance of sweet and spicy flavours. Queenstown Lontong is said to be one of the best lontong stalls in Singapore, offering fragrant bowls of chunky lontong slices, taupok, fried tofu, soft vegetables, and fried coconut flakes. If you're planning to pay them a visit, be sure to visit during non-peak hours to avoid the lines! There's also Al Ehsan, an under-the-radar stall in Pasir Panjang Food Centre that sells lontong at affordable prices.
Expected prices: $2 – $4
---
41. Lor Mee
---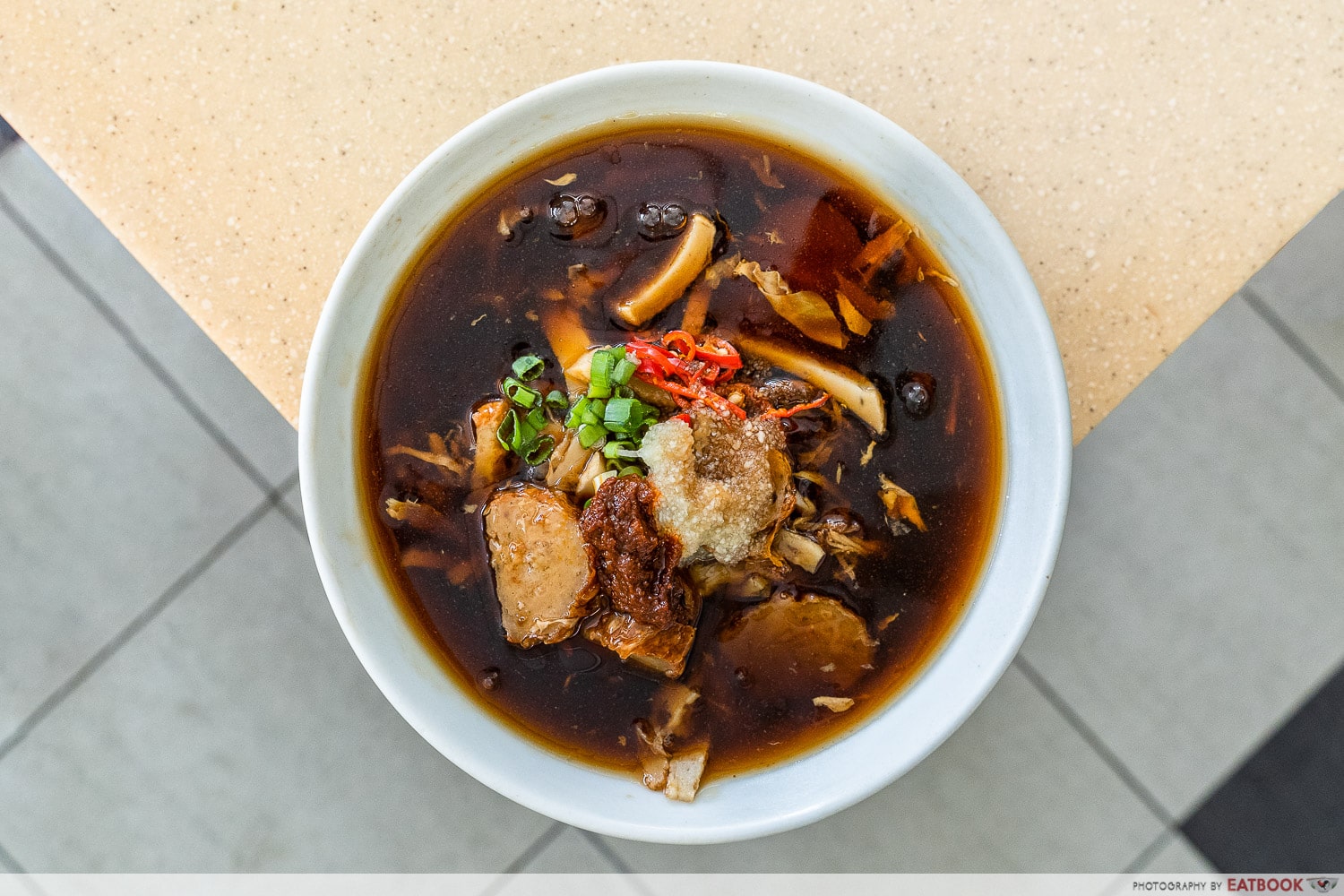 Lor mee is a Hokkien noodle dish, where yellow noodles are served with a dark, starchy gravy, topped with a standard halved boiled egg, and fried offerings such as ngoh hiang and battered fish. Jazz up the dish with the array of condiments available: sliced chilli, soy sauce, minced garlic, sambal, and black vinegar. Stalls in Singapore mostly offer a version more similar to that of Zhangzhou lor mee, which stars a thick spiced broth, though there's also Putien lor mee that has lighter broth, and is topped with seafood instead of fried food.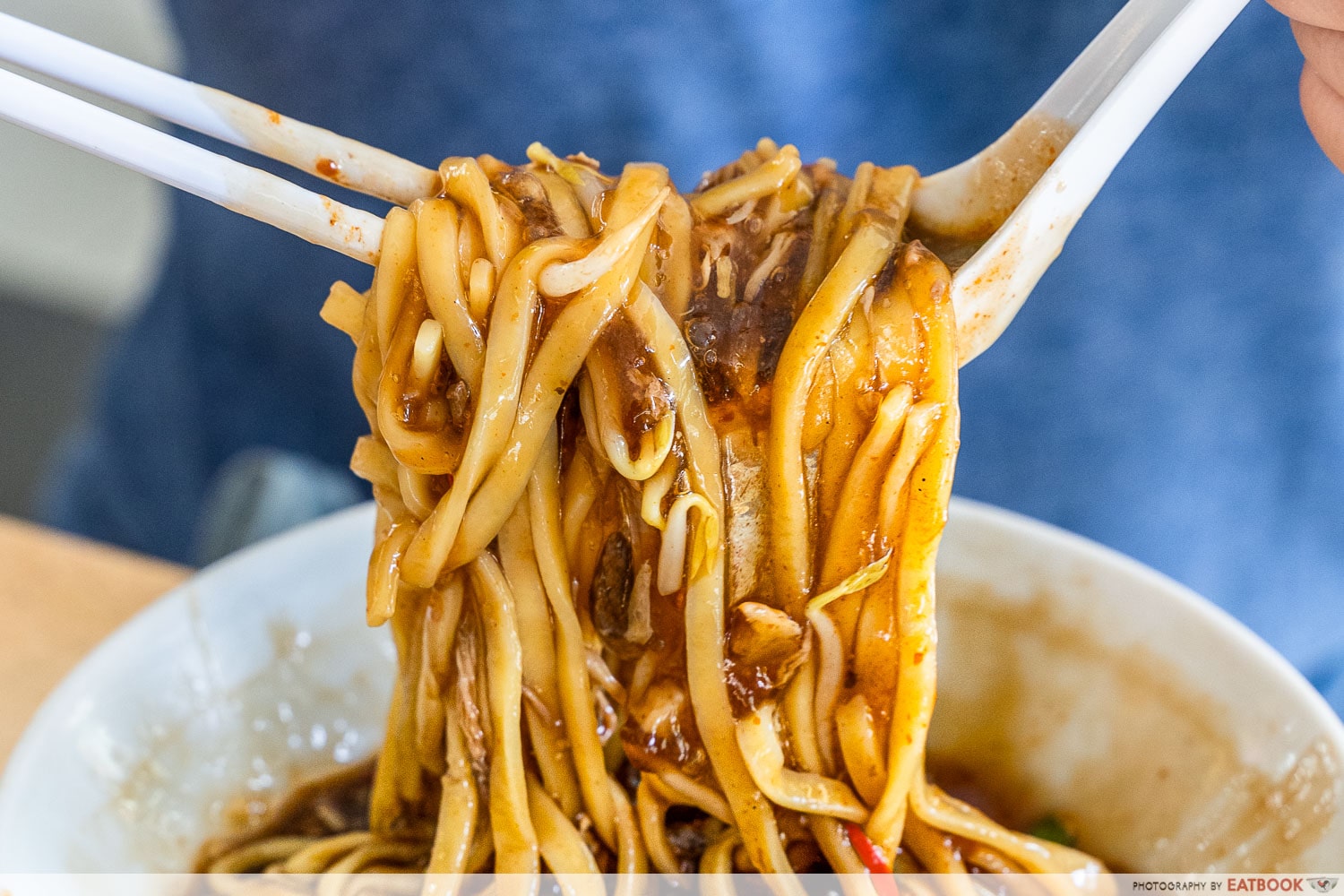 For decent lor mee, you can check out Jue Dai Lor Mee which is located in Hougang. They have various fried toppings to choose from, including yam roll, chicken cutlet, and cod fish at wallet-friendly prices. Open till as late as 9:45pm, you can get lor mee for all three meals! Otherwise, there's also highly praised Xin Mei Xiang Zheng Zong Lor Mee at Old Airport Road Food Centre. Enjoy a bowl filled with generous servings of shredded fish meat at an affordable price. Their gravy is not too starchy either! The queues seem to be manageable after their hiatus, but be sure to head down early as they close at 4pm. 
Expected prices: $3 – $5
Read our guide to the best lor mee stalls in Singapore. 
---
42. Mee Rebus*
---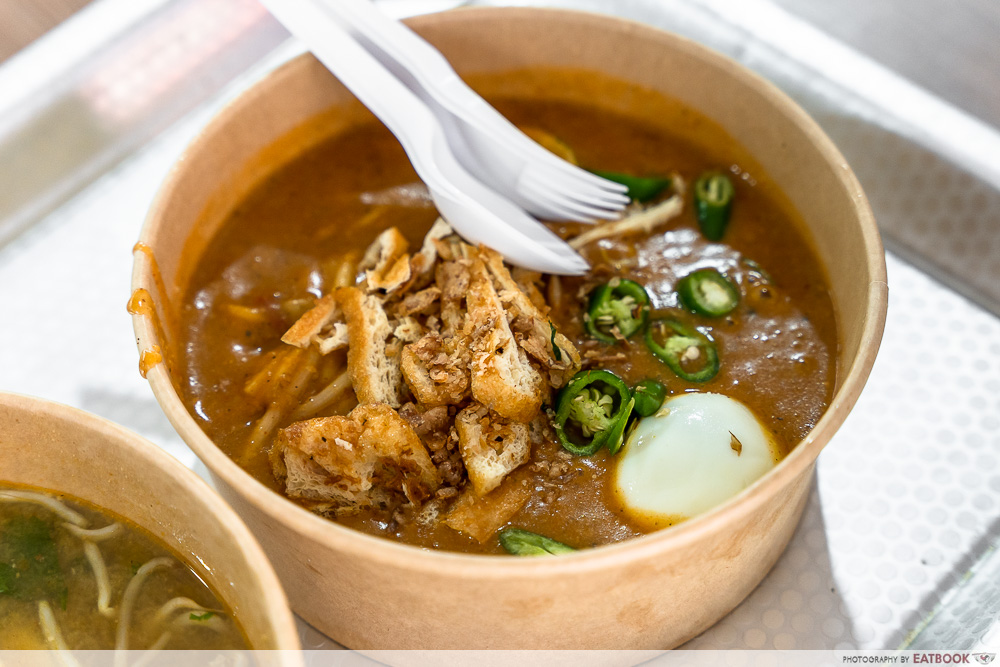 Mee rebus, directly translated to "blanched noodles" in Malay, is a breakfast staple that has its roots in Javanese cooking. While there are several other possible cultural influences in the invention of this dish, it essentially comprises yellow egg noodles dressed in a thick and viscous gravy. Made from a blend of dried shrimp, flour, shallots, lemongrass, ginger, herbs, and spices, the sweet-savoury gravy is slightly spicy too. 
Traditionally, however, the gravy is thickened with mashed sweet potatoes, with ground peanuts being added for a touch of nuttiness.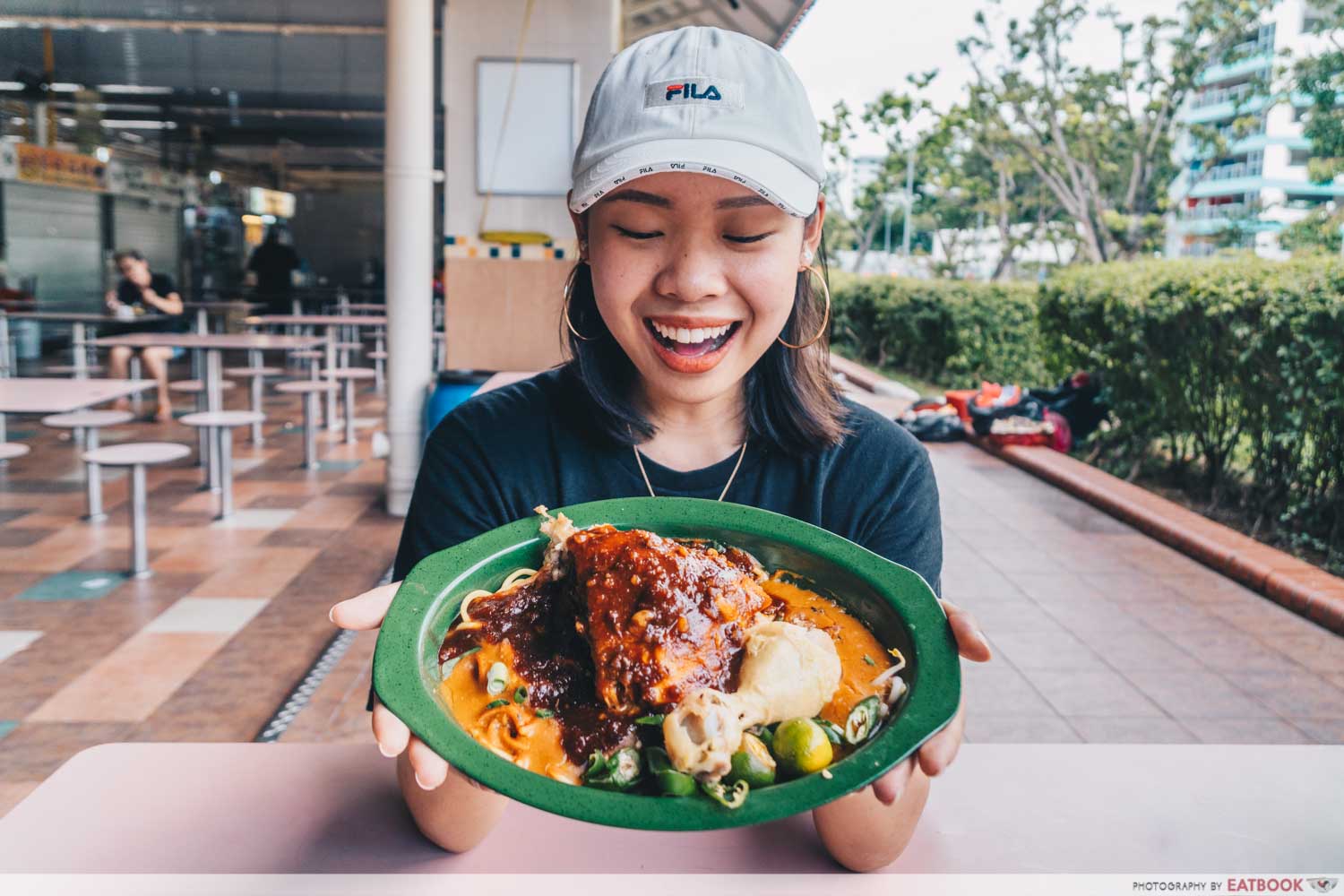 We recommend checking out Rahim Muslim Food, a hawker stall that's been around since 1957. The stall has been around for three generations, with its signature Extra Special Mee Rebus featuring a unique twist: it's laden with crunchy satay peanut sauce.
You'll also want to check out Yunos N Family, another long-standing mee rebus stall in the heartlands of Ang Mo Kio, operating since 1965. Their mee rebus might look simple, made with only the classic ingredients, but don't be fooled as it is incredibly flavourful, boasting an intense sweet-savoury, spicy and nutty flavour. 
Expected prices: $3 – $6.50
Read our guide to the best mee rebus in Singapore. 
---
43. Mee Siam
---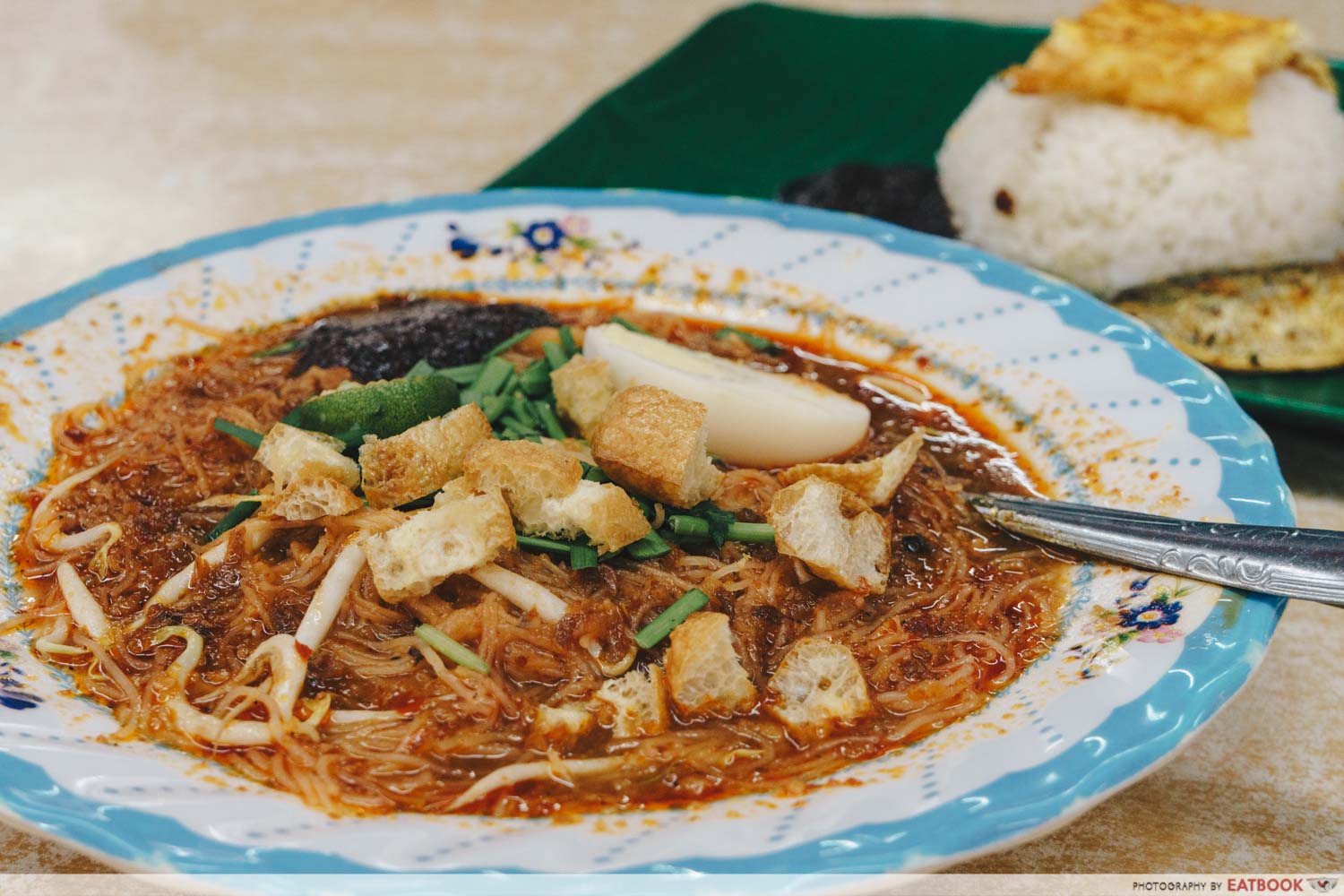 Mee siam—a plateful of bee hoon drenched in sweet and tangy gravy—is said to have traces of Thai, Malay, and Peranakan history. In Singapore, there are varied sweet, sour, and spicy flavours found in Chinese, Malay, Indian, and Peranakan versions of the dish. While the gravy is usually made with ingredients such as tamarind, belacan, and soya bean paste, there are different local interpretations.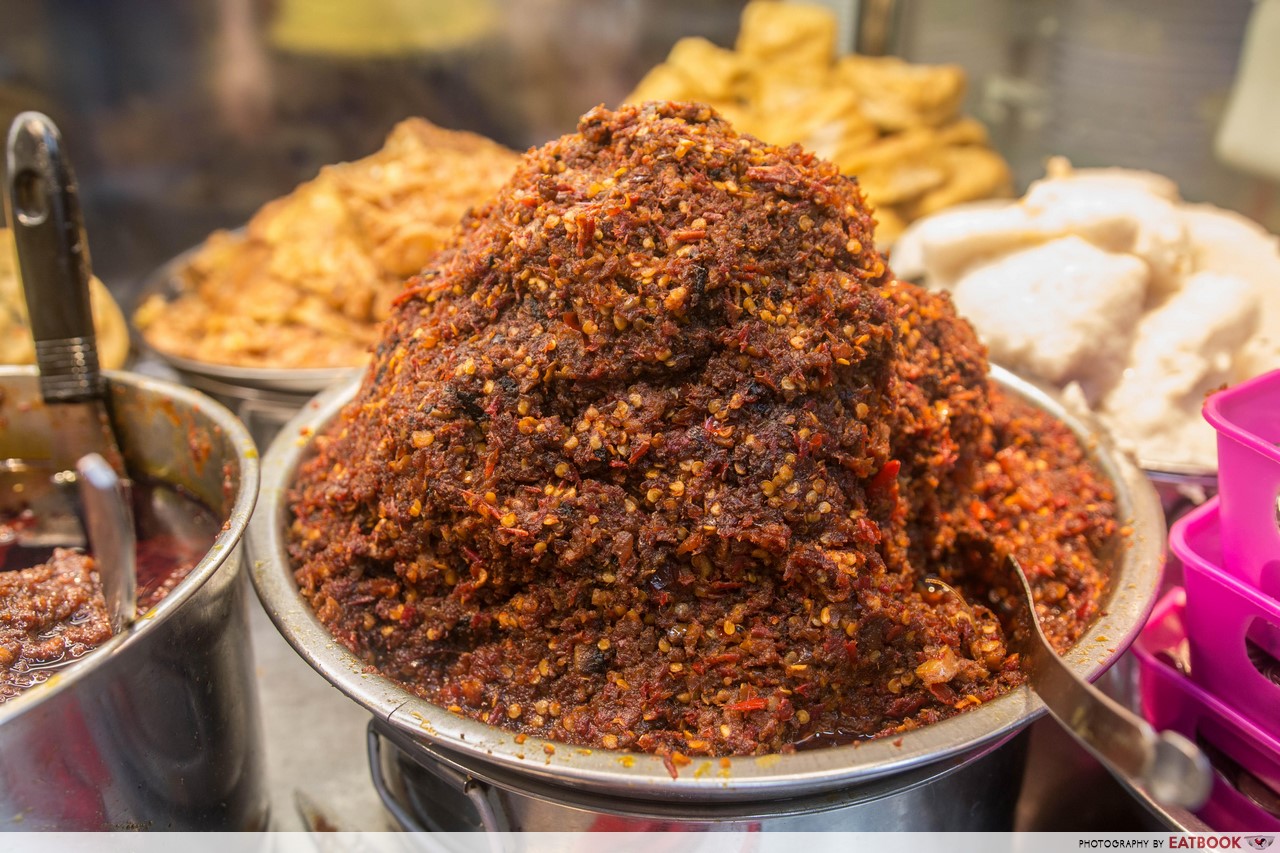 For mee siam recommendations, The Royals Cafe has pricer-than-usual mee siam but each bowl has lemak gravy because it's been simmered with different spices for hours. There are also toppings including tau pok, prawns, and sliced hard-boiled eggs. They have three outlets across Singapore, located in Bishan, Siglap and NUS. Alternatively, go for Jia Xiang Mee Siam located in Redhill. They have been around for 50 years, and sell mee siam with a gravy that's spicy and rich. For the full experience, enjoy the dish with their belacan chilli.
Expected prices: $2.50 – $3.50
Read our guide to the best mee siam in Singapore.
8 Mee Siam Stalls In Singapore To Try, Including $3 Mee Siam And A 40-Year-Old Recipe
---
44. Min Jiang Kueh*
---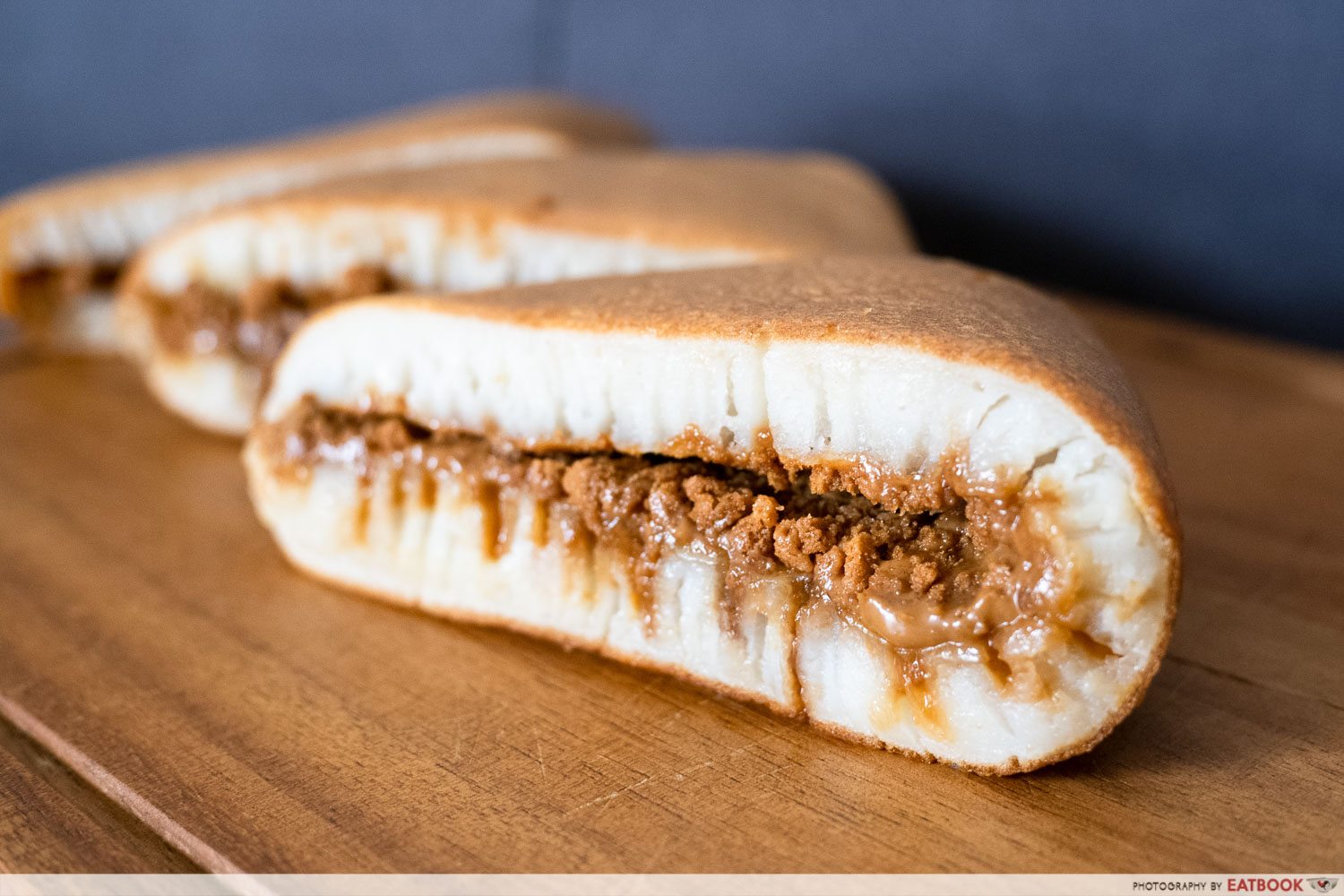 Min jiang kueh are not regular pancakes—they're thick, traditional pancakes filled with a mix of crushed peanuts and sugar, folded over and cut into bite-sized pieces. Originally consumed by Qing dynasty soldiers as combat rations, min jiang kueh now see multiple variations, including apam balik, martabak manis, and terang bulan.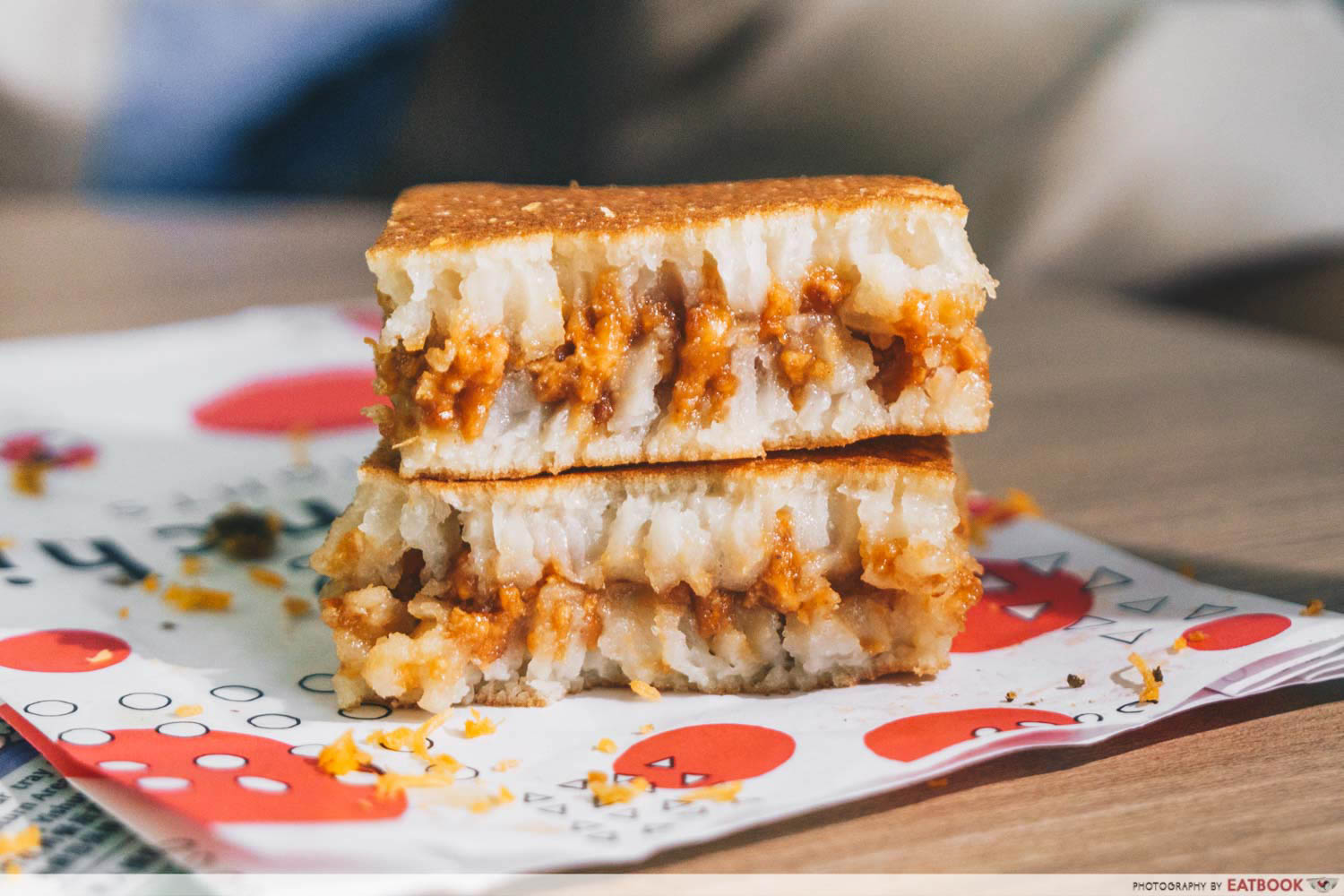 The pancake's texture varies depending on the type and amount of batter used—some feature a light and fluffy batter while others have thinner, crispier shells. Nowadays, more creative variations of this addictive snack have emerged, such as taro-filled pancakes from Bu Bu Gao Sheng Pancake. There's also Munchi Pancakes, a popular min jiang kueh brand with outlets in Lau Pa Sat and Old Airport Road Food Centre. They're known for offering pancakes with trendy fillings such as black sesame and matcha. 
Expected prices: $1 – $2
Read our full list of the best min jiang kueh in Singapore! 
10 Min Jiang Kueh Stalls To Check Out For Black Sesame MJK, Taro Pancake And More
---
45. Nasi Lemak*
---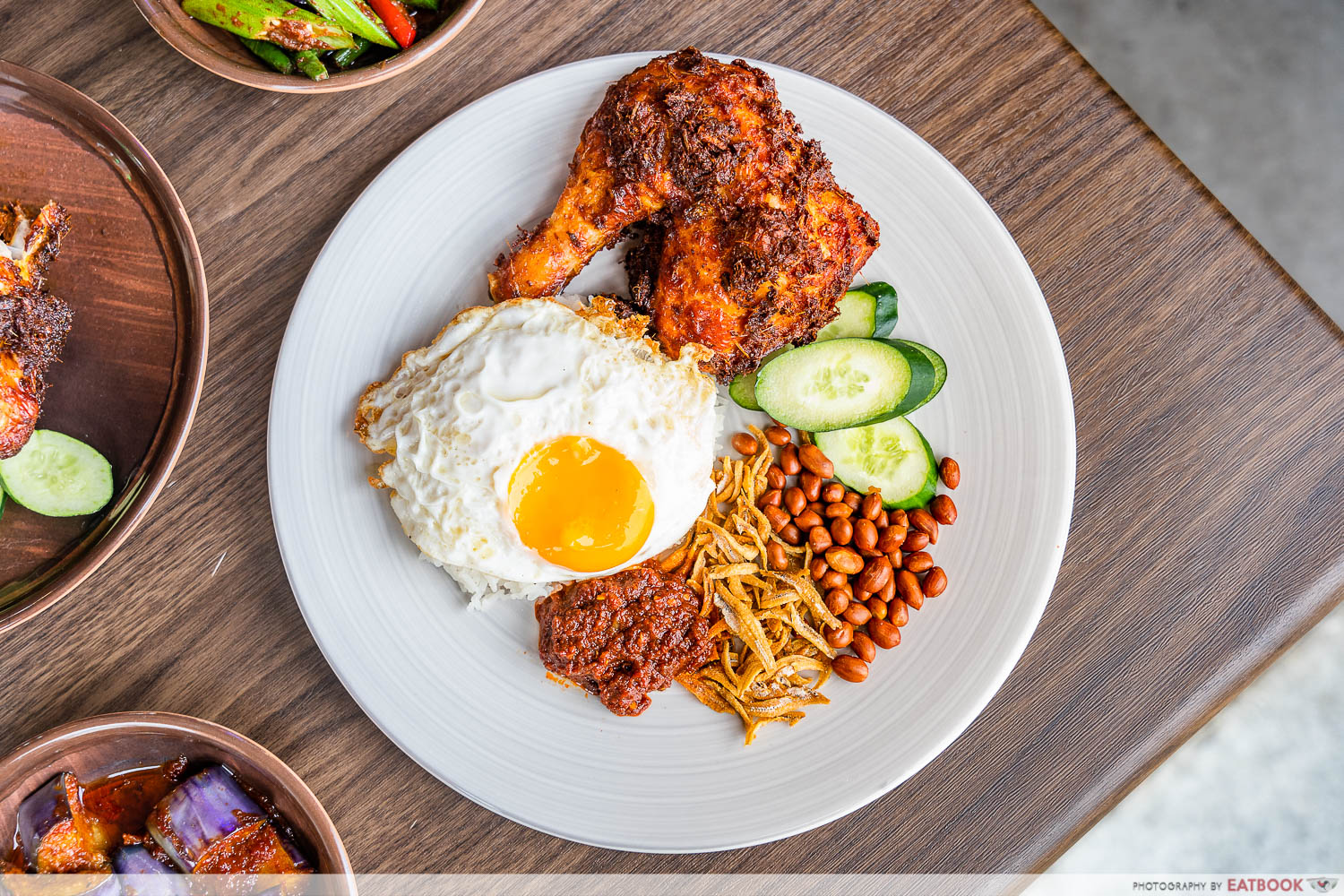 If you directly translate the word "nasi lemak" from Malay to English, you'll get "fat rice", which possibly refers to the rich coconut cream that makes this rice dish so sinfully delicious. Nasi lemak, which has Malay origins, is commonly served with deep-fried fish or chicken wings, roasted peanuts, egg, fried ikan bilis AKA anchovies, and cucumber slices, along with sambal chilli. But what really sets nasi lemak apart from other regular rice dishes is the nasi, which is cooked in coconut milk and pandan leaves for that familiar aroma.
Don't forget to add on a dollop of sambal, made from a combination of dried chilis, shrimp paste, garlic, and shallots for a kick of spice!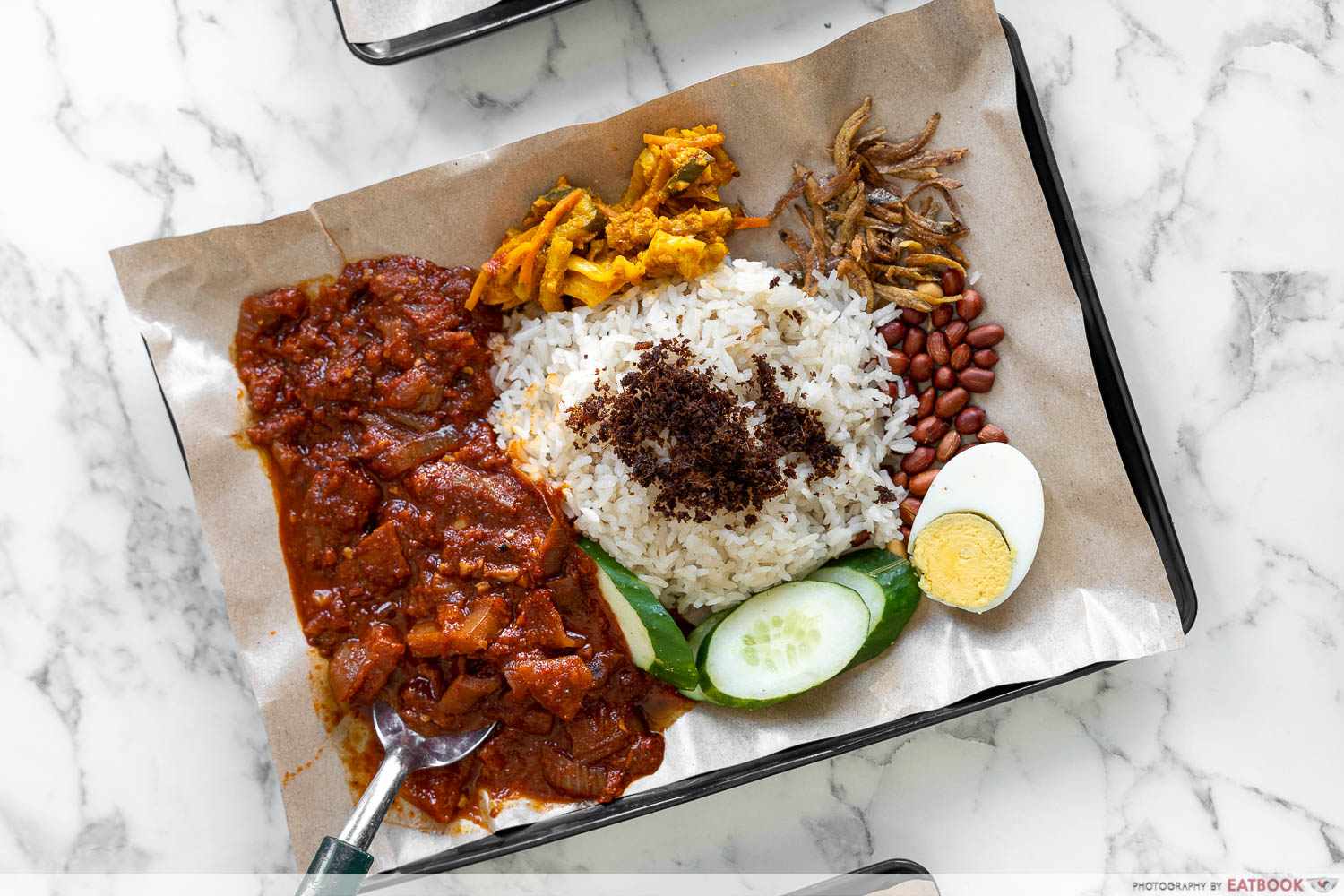 Uptown Nasi Lemak sells delicious plates of Malaysian-inspired nasi lemak at Telok Ayer, with popular items being the Nasi Lemak w/ Ayam Goreng Berempah and Nasi Lemak w/ Rendang Beef. If you're food hunting in Joo Chiat, check out Dickson Nasi Lemak, which is known for their signature sambal that's made from 18 different ingredients, including wet and dry shrimp paste, onions, and anchovies. Their chef used to work at the popular Village Park Restaurant in KL, also known for their nasi lemak, for over 20 years.
Expected prices: $2 – $10
Check out our guide to the best nasi lemak stalls in Singapore!
22 Nasi Lemak In Singapore With Good Sambal, Crispy Fried Chicken And Coconutty Rice
---
46. Nasi Padang*
---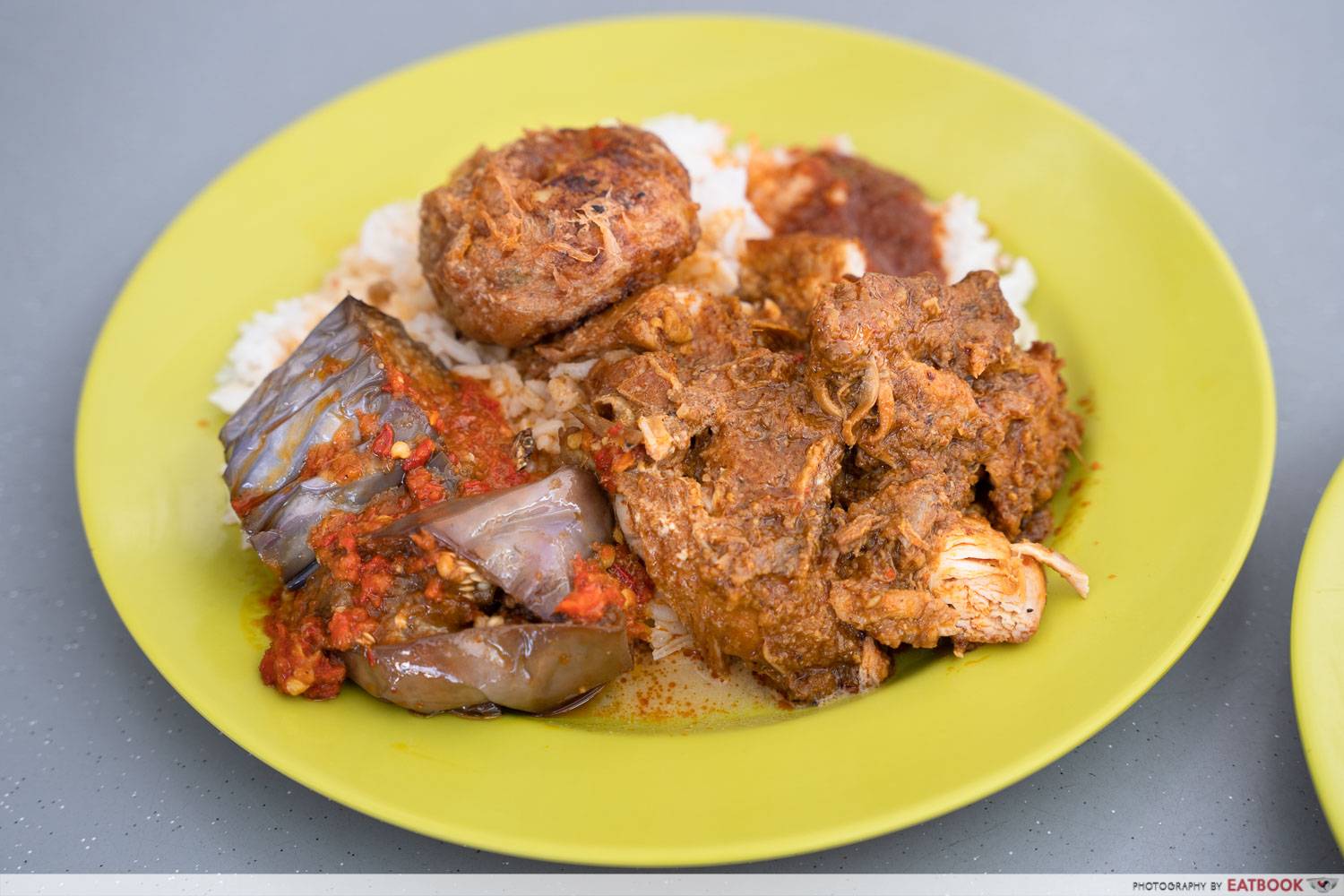 Nasi padang, otherwise known as mixed rice, refers to steamed rice that's served with a myriad of dishes. Part of the dish's name, 'padang', is derived from its roots in Padang, the West Sumatra province of Indonesia. While you might find that nasi padang is a staple for the majority of Minangkabau people, it's also a common meal enjoyed by the Malay community in Singapore and plenty others. Here, it's typically served at a stall or restaurant with various dishes on display, allowing diners to choose what they'd like. 
Che' Rose Nasi Padang is one such stall to check out, proclaiming to have "probably the best rendang in Singapore." Despite its unassuming appearance, this hawker stall traces its heritage back to 60 years ago, where it was connected to a nasi padang empire.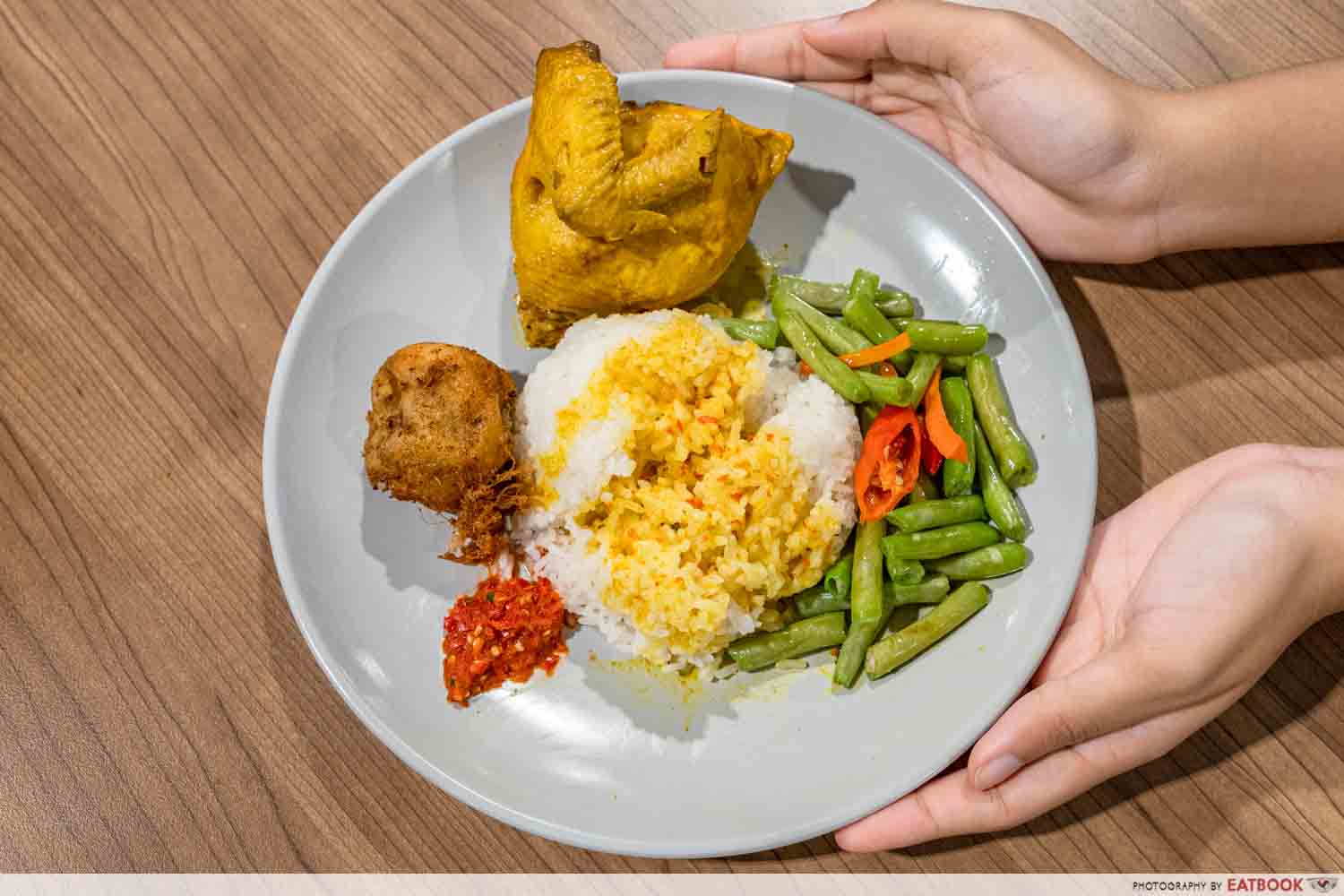 One of the most well-known places to get nasi padang in Singapore has to be Michelin Bib Gourmand-approved Hjh Maimunah Restaurant. Their flagship outlet in Arab Street draws long queues daily, with their most popular dishes being the ayam lemak cili padi, AKA chicken cooked in spicy coconut gravy, and beef rendang—it uses a 30-year-old recipe and is cooked in a flavourful spice paste till fork-tender. 
Expected prices: $7 – $15
Read our guide to the best nasi padang spots in Singapore. 
10 Best Nasi Padang In Singapore, Including Michelin-Approved And Late-Night Supper Stalls
---
47. Ngoh Hiang
---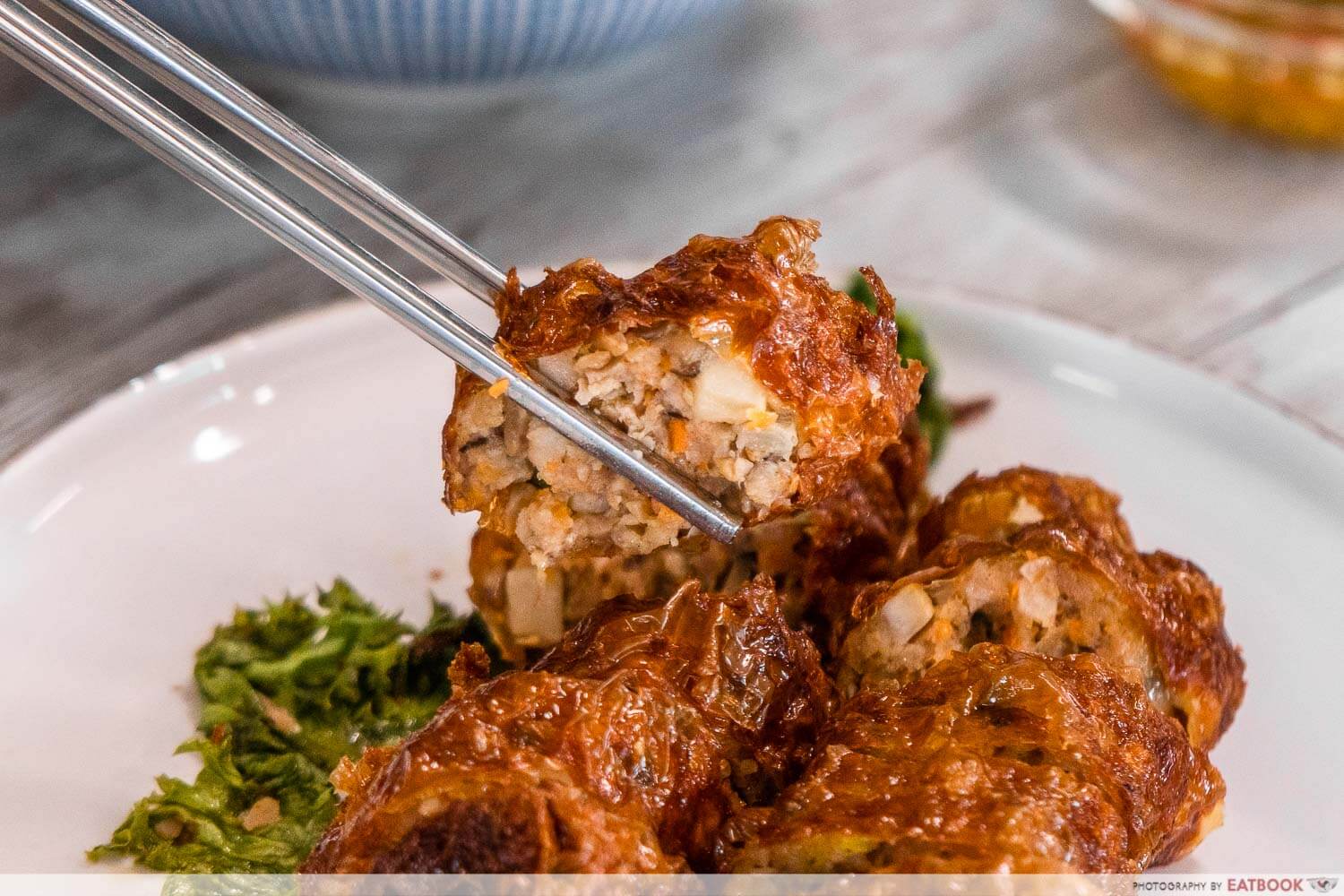 Ngoh hiang originated from Southern China and has since influenced similar recipes from other Southeast Asian countries. In Singapore, you can find these being sold in fritter stalls in hawker centres, seen with other fried treats such as fish cake and sausages. Ngoh hiang typically stars a minced meat filling, which is wrapped with beancurd skin, and deep-fried till the roll has a golden-brown, crisp texture. There are two styles commonly found: Hokkien ngoh hiang, which sees more generous stuffings of minced meat, shrimp, and diced water chestnut, and Teochew ngoh hiang, made with paste-like meat filling and yam.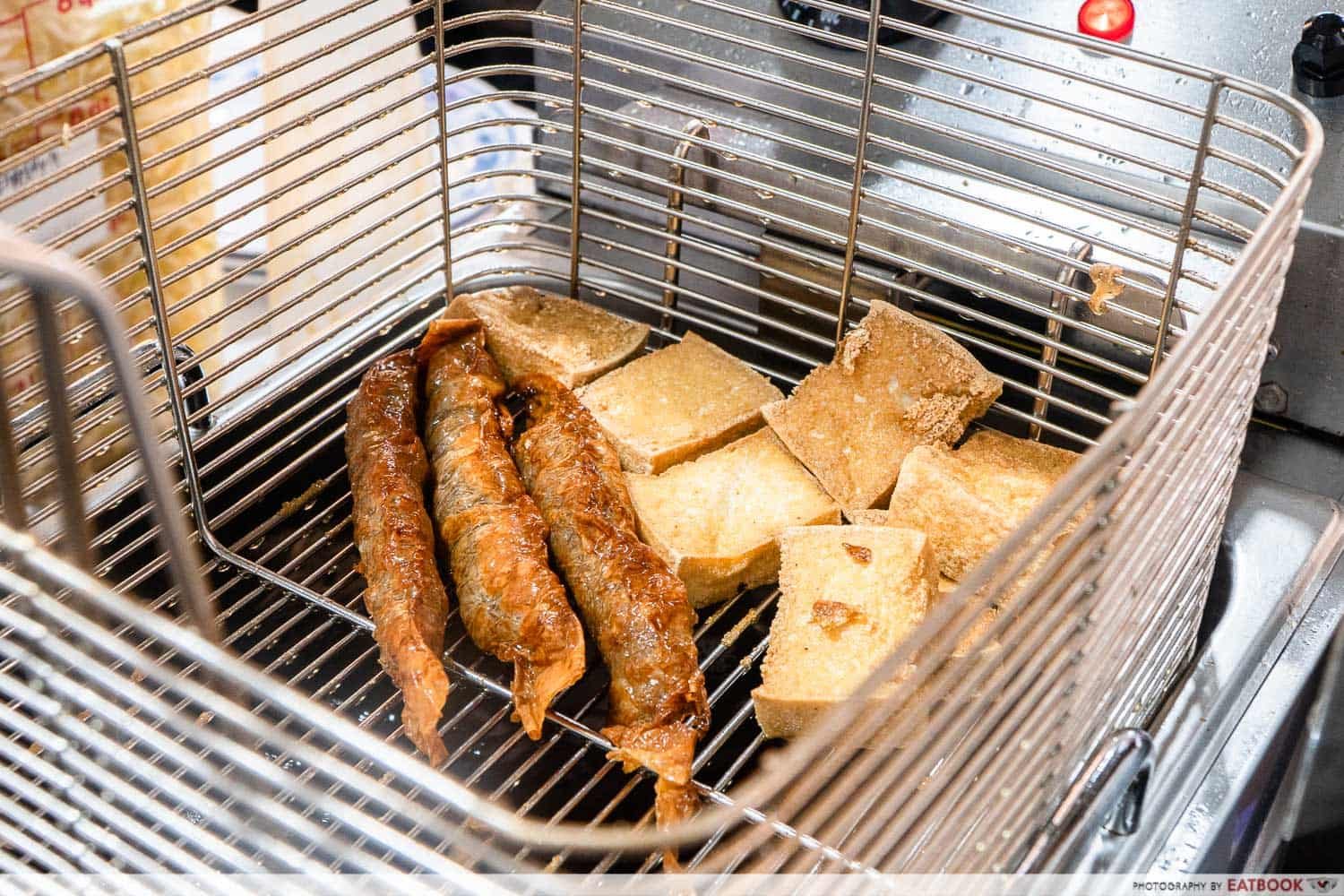 If you're looking for ngoh hiang offerings, Lao Zhong Zhong Eating House is a four-minute walk from Potong Pasir MRT Station, and has highly raved, crispy ngoh hiang. Try their dips: chilli that's said to have a spicy kick, and the standard sweet sauce. Alternatively, Hup Kee Wu Xiang Guan Chang at Maxwell Food Centre has more than 90 years of history, serving handmade ngoh hiang and other fritters. Their ngoh hiang is fried twice to get a shatteringly crisp skin. 
Expected prices: $1 – $1.50
---
48. Nyonya and Malay Kueh*
---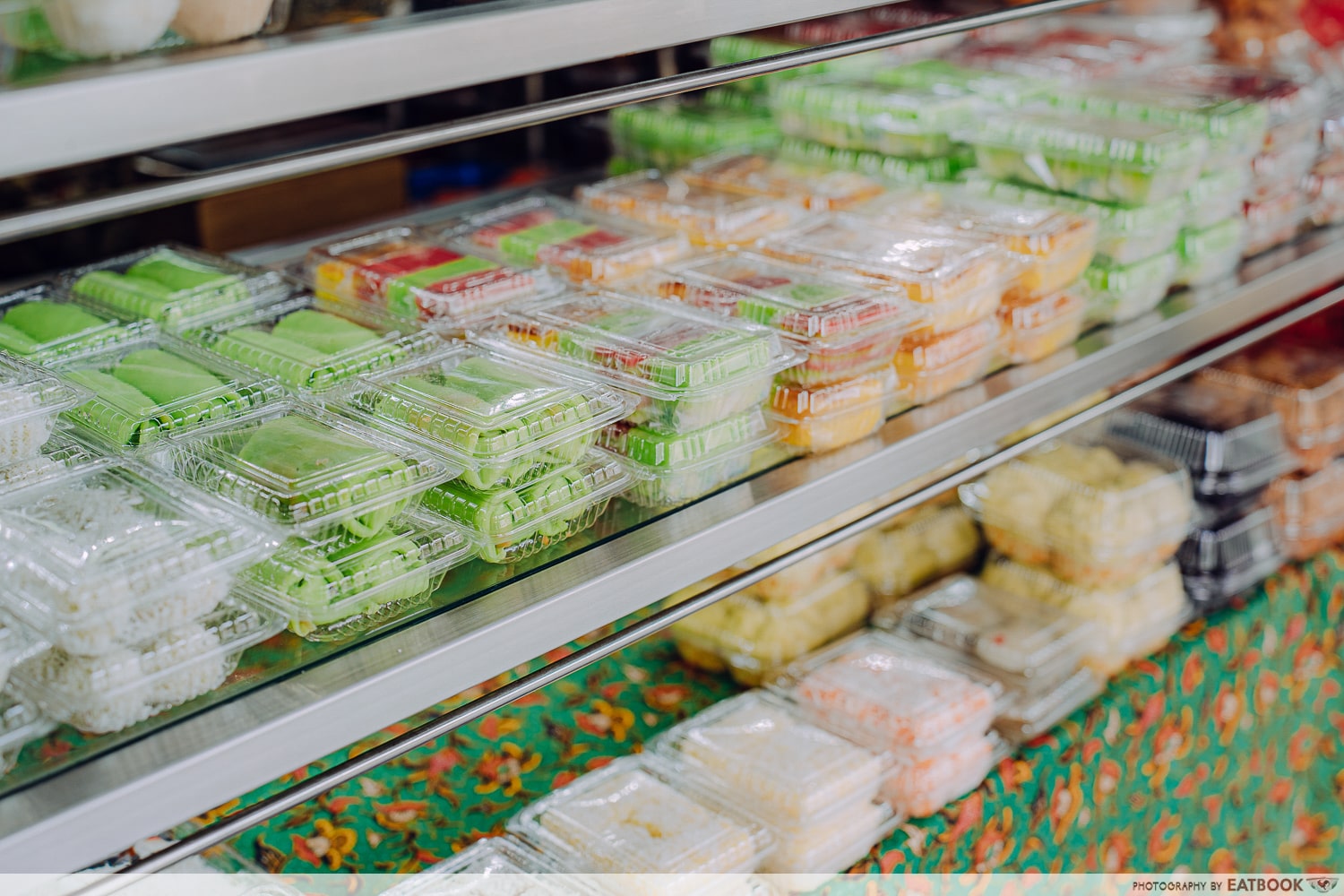 Nyonya and Malay Kueh are traditional snacks typically made from rice flour, coconut, and gula melaka. Coming in all colours of the rainbow, they can be baked or steamed, sweet or savoury, large or small—there are over 100 varieties of kueh! From the recognisable red tortoiseshell pattern of ang ku kueh to nameless kueh passed down as treasured family recipes, all versions of the snack are culturally important, and more importantly, very tasty. Just look at the shortlist for Singapore's next UNESCO nomination for proof: kueh making is one of the ten nominees.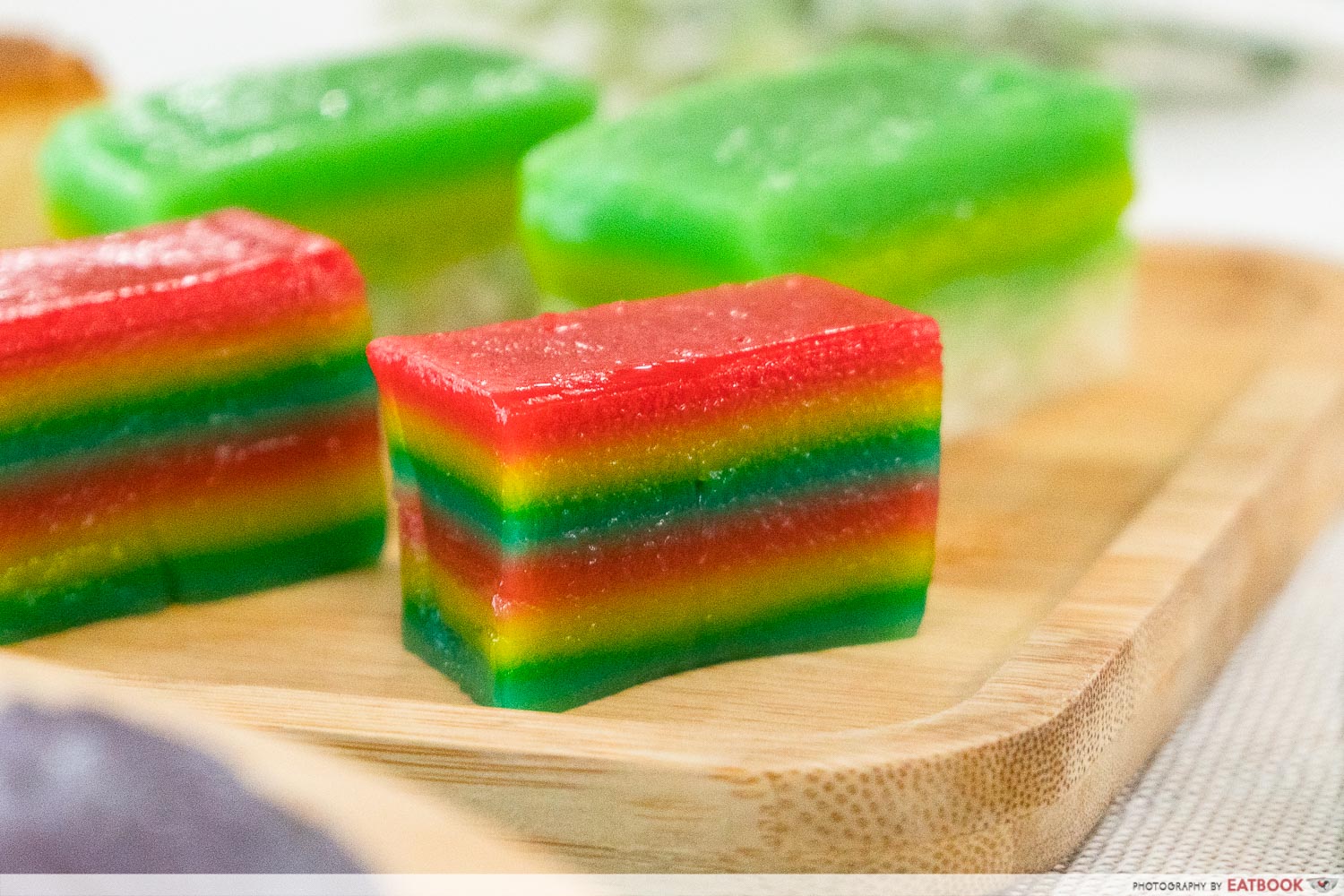 For a taste of traditional hand-made Nyonya kueh, go to Lek Lim Nonya Cake Confectionary, a family business that's been making beautiful kueh since 1968. The chewy, bright skin and fragrant peanut filling of their famous ang ku kueh draws customers from all over the country to their shop in Bedok, along with other treats like their Nyonya-style kueh lapis with buttery, rainbow-coloured layers. 
If you live in the west and a trip to Bedok sounds way too far, check out Mohd Zaid, an underrated stall in ABC Brickworks Food Centre with fresh kueh made daily! For just $0.60 apiece, you can get classic treats such as ondeh ondeh, kueh lapis, and even keria gula melaka, which are sweet potato doughnuts glazed with a sticky gula melaka syrup. 
Expected prices: $0.60 – $2.30
Read our guide to the best Nyonya and Malay kueh in Singapore.
12 Nyonya Kueh Stores Serving Traditional Handmade Treats Your Grandmother Will Love
---
49. Old-School Bakeries
---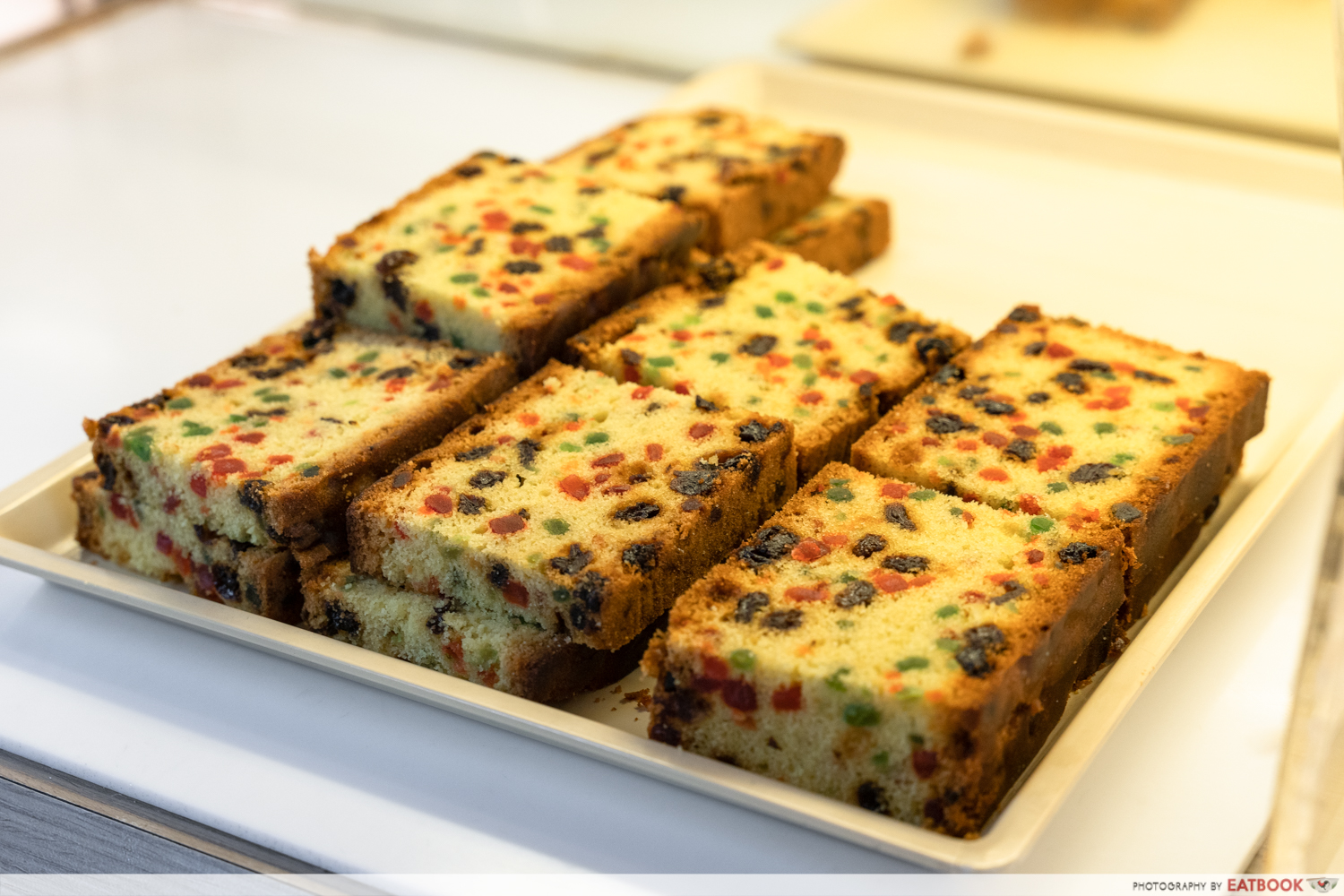 We're all guilty of loving fanciful, Instagram-worthy confectioneries that sometimes look better than they taste. But before these swanky modern cakes and bakes came on the scene, there were the old-school bakeries, as they're now known, whose creations made up the stuff of our, and our parents', childhoods. Where simplicity is key and nostalgia the flavour of the day, these traditional bakeries and their craft, after decades in the business, are now a dying art.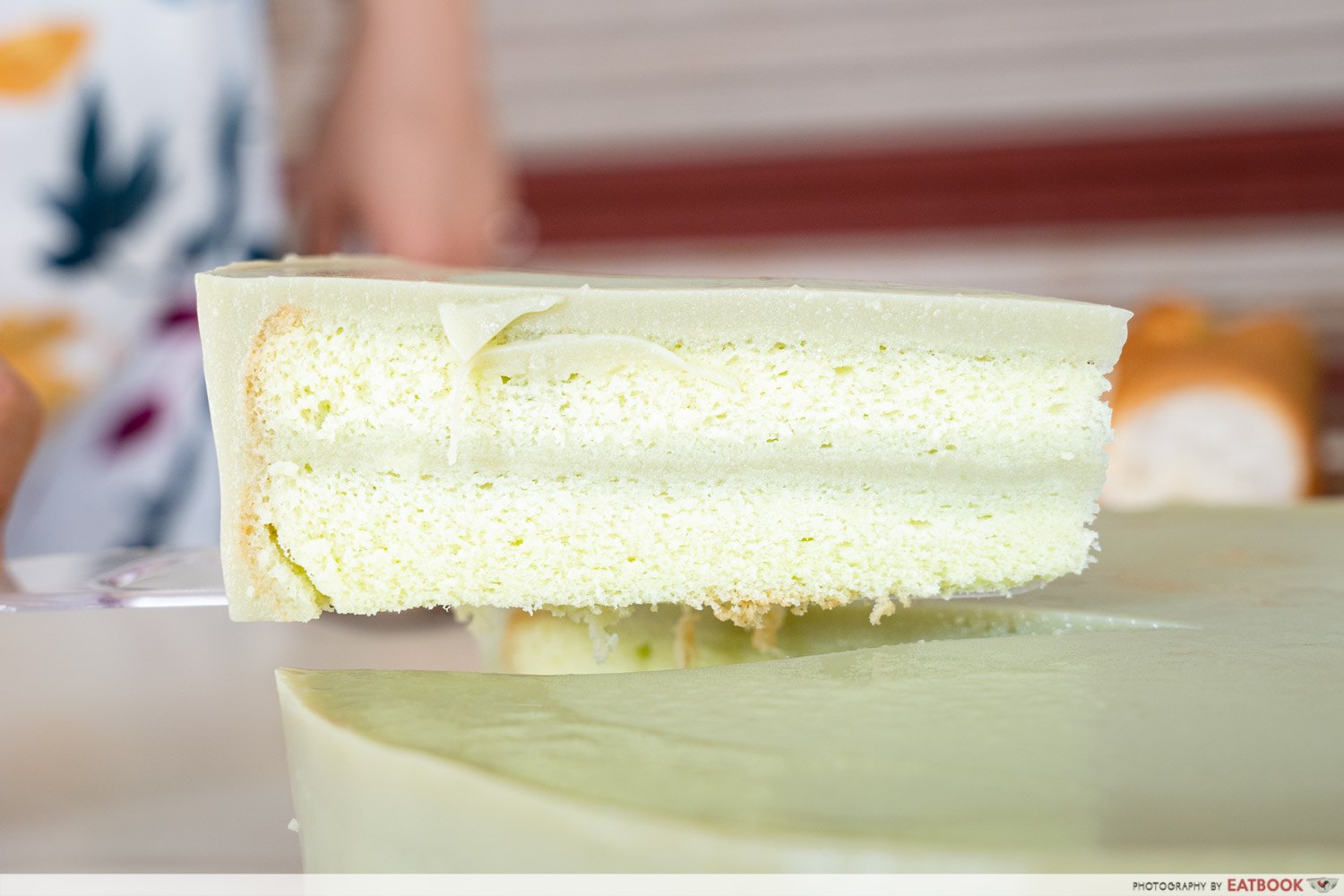 Uncle Lee Confectionery is a traditional bakery to bookmark, with a history dating back close to 40 years. Come for their Kaya Cake ($28), with layers of fluffy pandan sponge and house-made kaya custard. Off the beaten path is Big Bakery, a three-decade-old institution run by just a husband-and-wife team, most famous for their handcrafted apple pies and old-school bakes. Then, there's Balmoral Bakery, established in 1965, whose $1.50 custard tarts are a true blast from the past. For fluffy, freshly baked old-school buns, there's no better place than Serangoon Gardens Bakery & Confectionery to check out. 
Expected prices: $1 – $30
Check out our guide to old-school bakeries in Singapore.
16 Traditional Bakeries In Singapore For Old-School Banana Pie, Orh Nee Tarts And More
---
50. Oyster Omelette*
---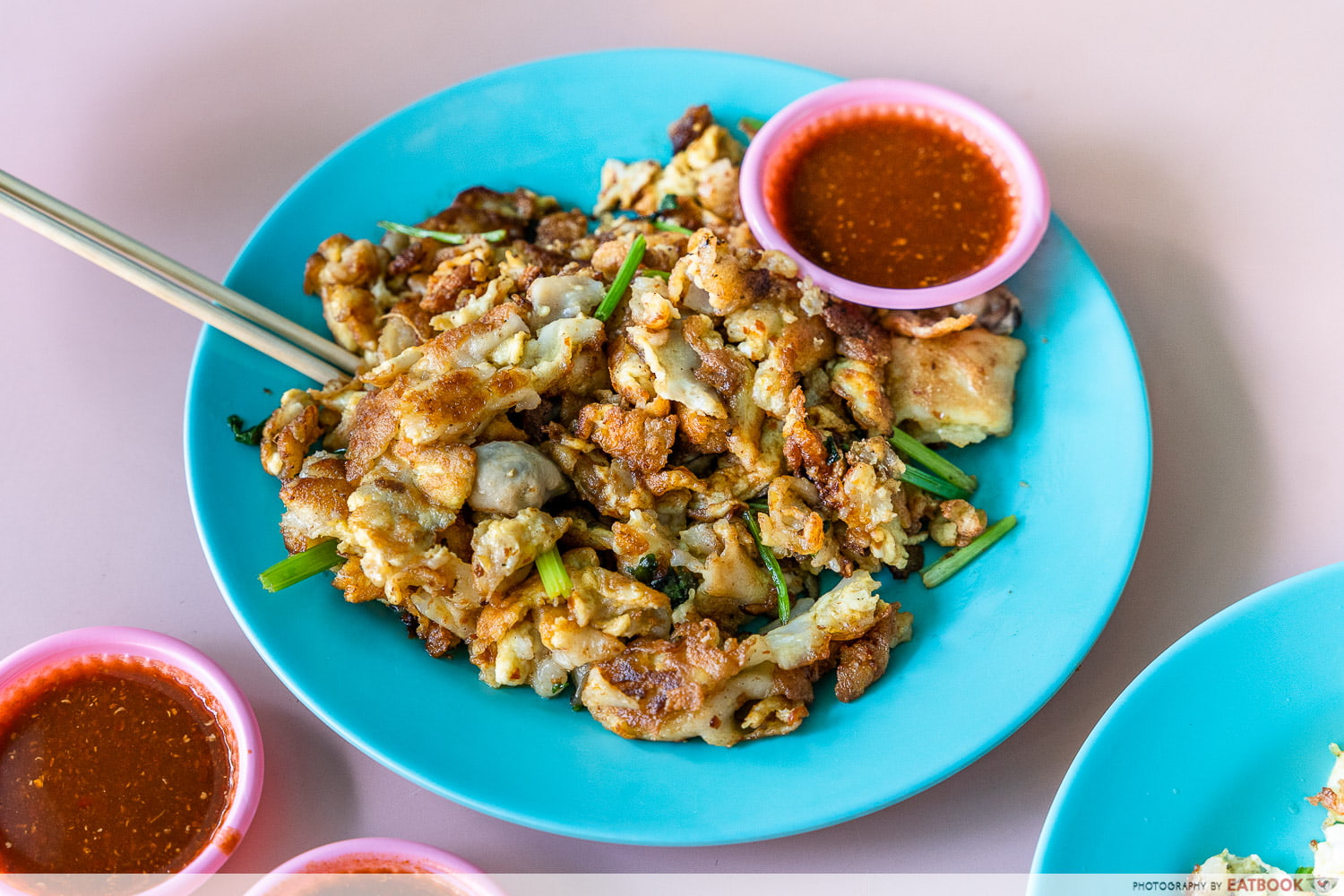 Oyster omelette AKA orh luak is a southern Chinese dish made from oysters, eggs, oil, and potato starch. According to legend, oyster omelettes were created when 17th-century Dutch invaders sabotaged Taiwan's rice supply. To save his troops from famine, a Chinese general fried oysters in sweet potato starch, creating a dish that would become a favourite among the Teochew and Hokkien communities.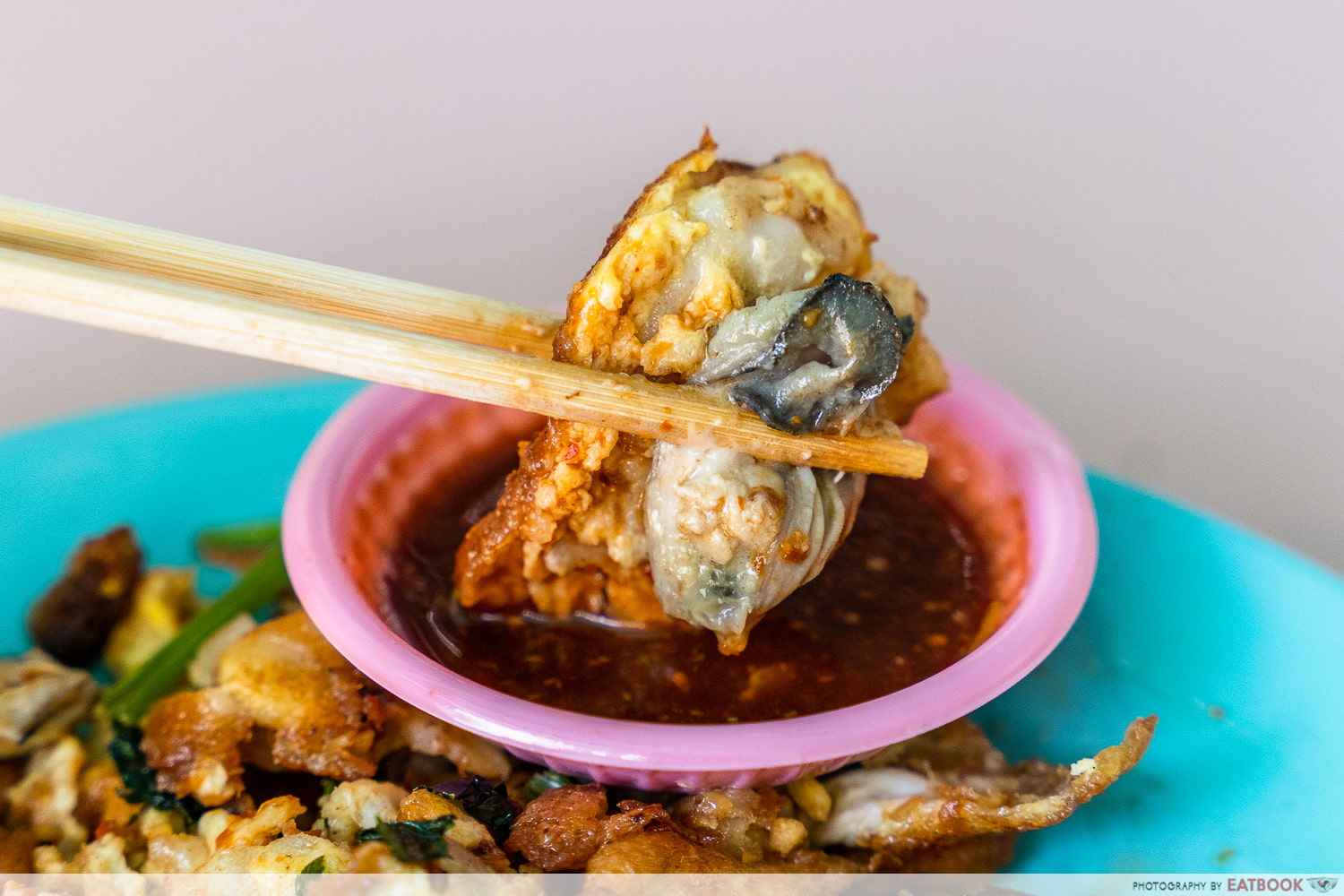 A good oyster omelette has a starchy batter that is chewy, with crispy edges and noticeable wok hei. The oysters should also be fresh, sweet and juicy, complementing the savoury batter. If you don't mind some spice in your life, add chilli to your order as most stalls will make their own sambal chilli to go with their orh luak. Try Huat Heng Fried Oyster for a Michelin-approved oyster omelette that is just the right amount of sweet, spicy, and savoury. Otherwise, Hup Kee Fried Oyster in Newton Food Centre is arguably the most famous orh luak stall in Singapore, featured in Crazy Rich Asians and has a rich history dating back to 1966. Remember to add their chilli sauce, which is infused with calamansi juice for a tangy, spicy kick.  
Expected prices: $4-12
Read our guide to the best oyster omelette stalls in Singapore. 
11 Oyster Omelettes In Singapore From $4 For Your Orh Luak Fix
---
51. Pandan Cake*
---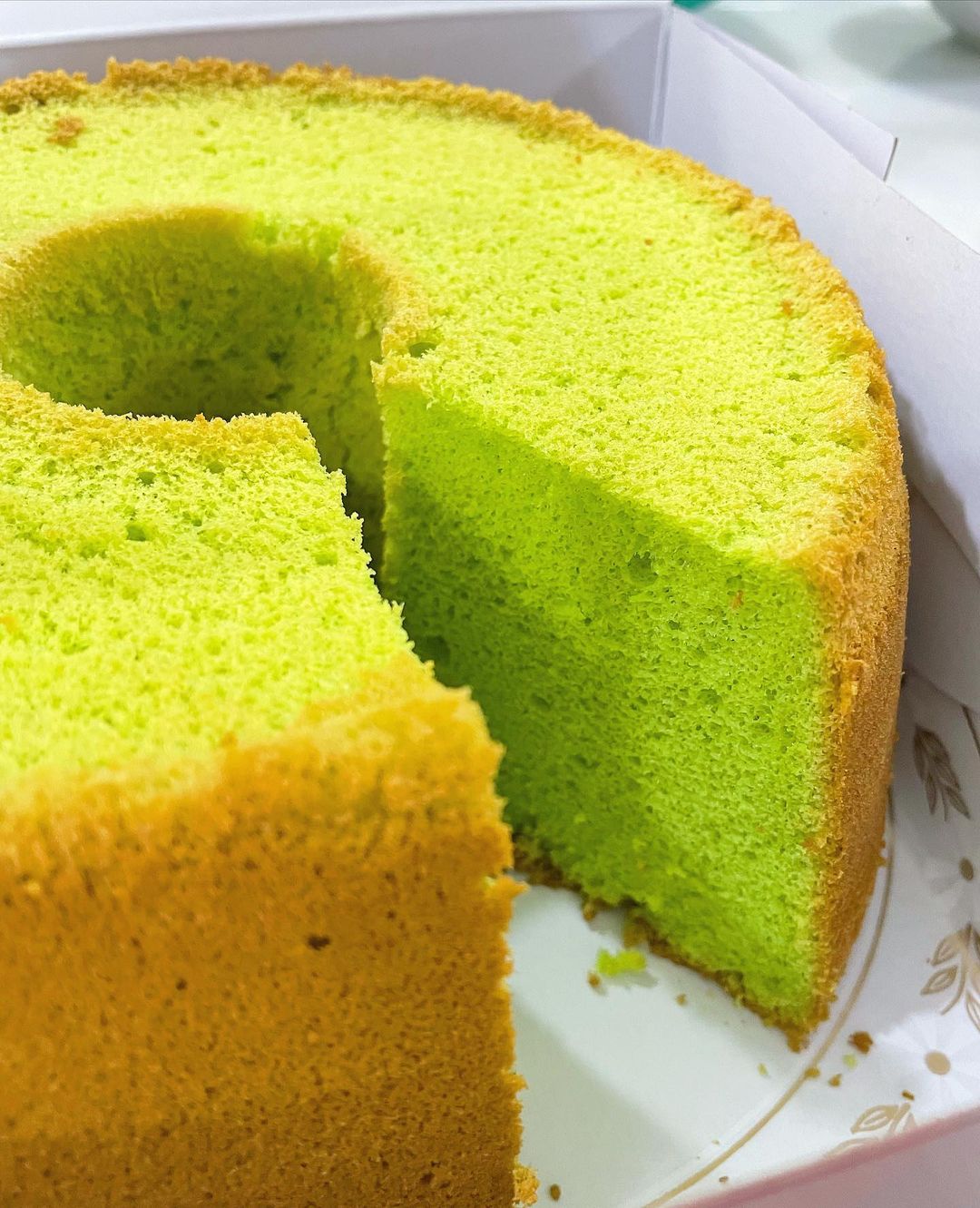 Image credit: @ieatkaya
Reportedly named as Singapore and Malaysia's national cake by CNN in 2017, and included in their list of top 17 cakes in the world, pandan chiffon cake was first introduced to Southeast Asia during the colonial era, in Indonesia. It's said that local Indonesians had adapted the baking techniques and skills from the Dutch colonials, and later incorporated local aromatics and sweeteners (including pandan) to create their delicious bakes. 
While there are different kinds of pandan cake, the one we're most familiar with is the pandan chiffon cake, and one place that'll always be mentioned is Singaporean bakery chain Bengawan Solo. It's also said to be one of the OG pandan chiffon cake sellers too. Their pandan chiffon cakes are made fresh daily, with fresh pandan juice from whole pandan leaves and fresh cold-pressed coconut milk.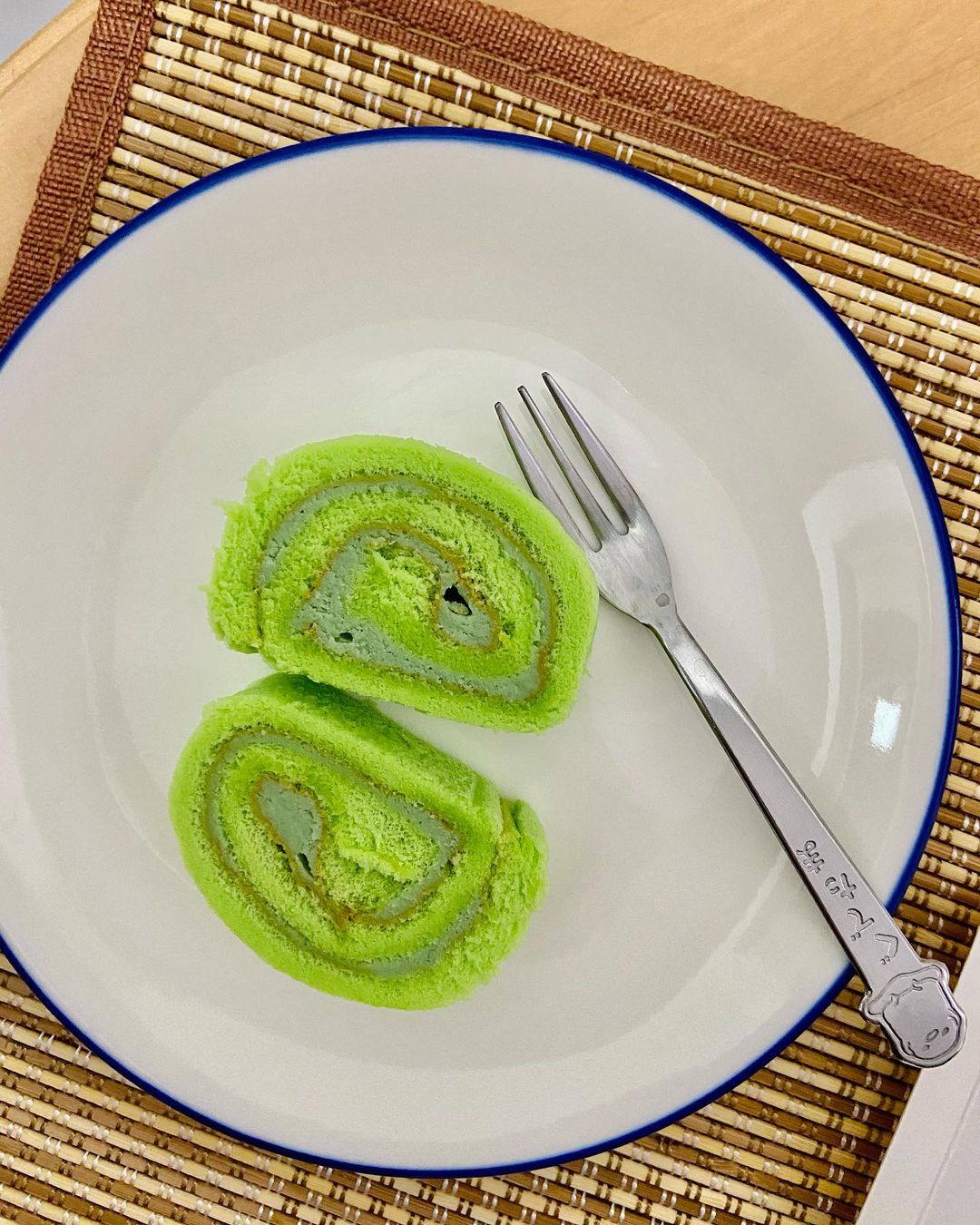 Image credit: @ricetwomeetyou
Rich And Good Cake Shop's pandan kaya swiss rolls are also well-loved among Singaporeans. To ensure that their cakes are of the freshest and highest quality, they use only premium ingredients and bake their cakes in small batches. Here, the pandan sponge cake is moist, light, and soft, complementing the smooth and coconutty pandan-infused kaya filling within. 
Expected prices: $12 – $20
Read our guide to the best pandan cake in Singapore. 
---
52. Peranakan Food*
---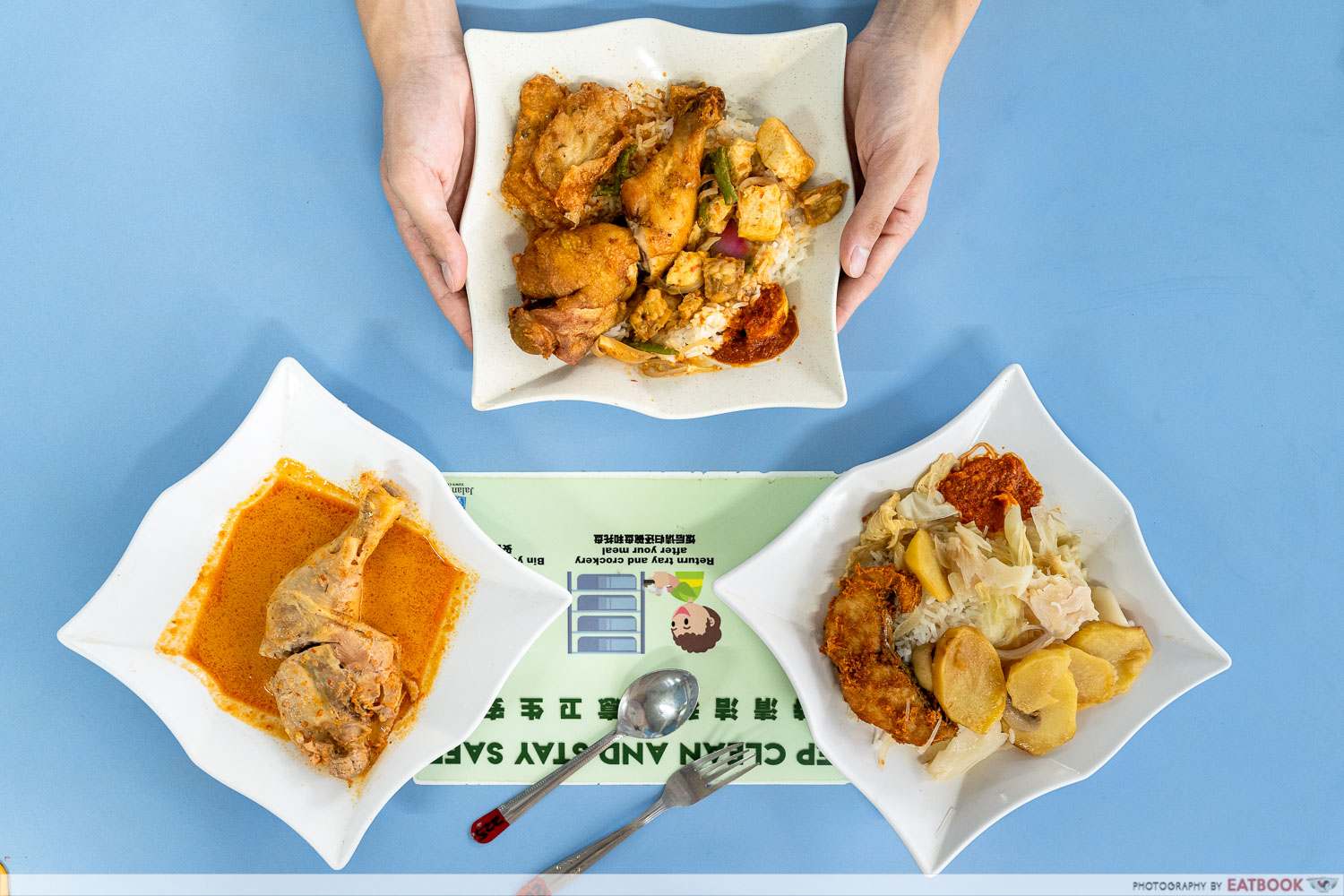 Peranakan food isn't just any simple fusion of Chinese and Malay cooking. The aromatic and spice-heavy cuisine of Straits-born Chinese are the result of over 600 years of recipes,  developed and passed down through generations as zealously guarded family recipes. These days, many Peranakans have decided to open up stalls selling a range of homely Peranakan foods to indulge the little Nyonya in all of us.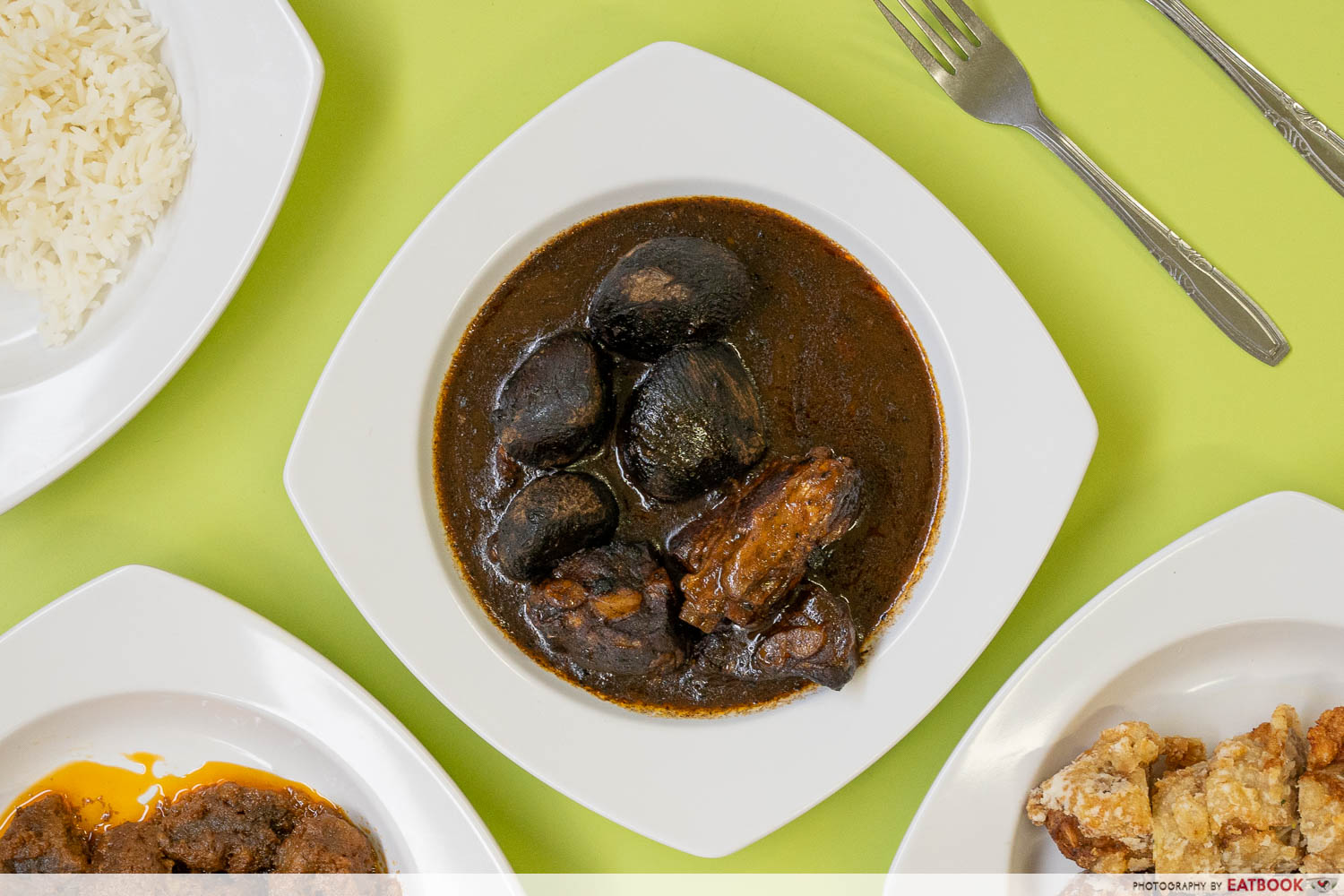 When Singaporeans think of Peranakan cuisine, sophisticated fine-dining eateries like Candlenut in Dempsey Road come to mind, whose one Michelin star earned it the distinction of being the world's first Michelin-starred Peranakan restaurant. Their omakase-style menu (or, ahmakase) features over a hundred Peranakan dishes like traditional ayam buah keluak, a favourite of late Prime Minister Lee Kuan Yew. 
For Peranakan food that is kinder to your wallet, seek out hawker stalls like Babas Peranakan, which sells Peranakan style cai png at Chinatown Food Complex. Go for their fried chicken leg AKA inche kabin, done Peranakan-style with a crispy batter seasoned with fragrant spices.
Expected Prices: $5 – $30
Read our guide to the best peranakan food in Singapore.
10 Peranakan Food Places In Singapore To Enjoy Nyonya Cuisine, Including Restaurants And Kueh Stalls
---
53. Pig's Organ Soup
---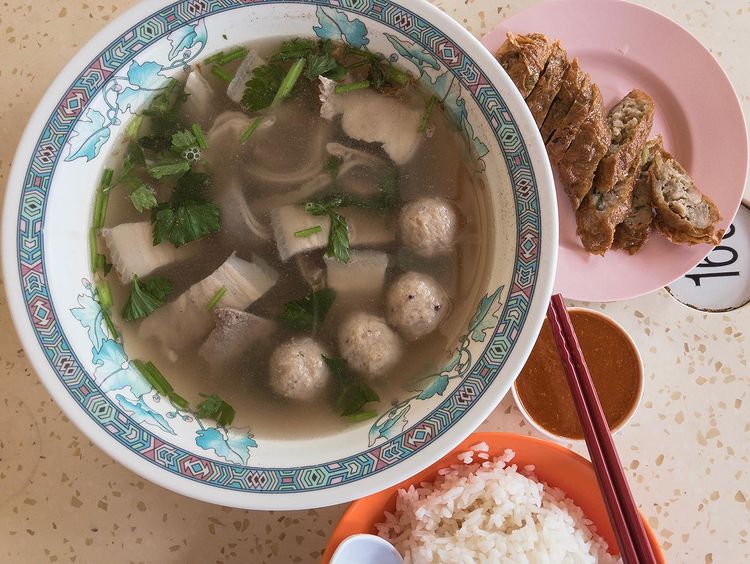 Image credit: @poppycock
While kway chap also includes offals, pig's organ soup doesn't have the rich braising sauce that can mask organs' funky taste—they are presented in a light, clean broth. But if you visit a good pig's organ soup stall, you'll be able to enjoy the exquisite taste and texture of offals without any unpleasant smells.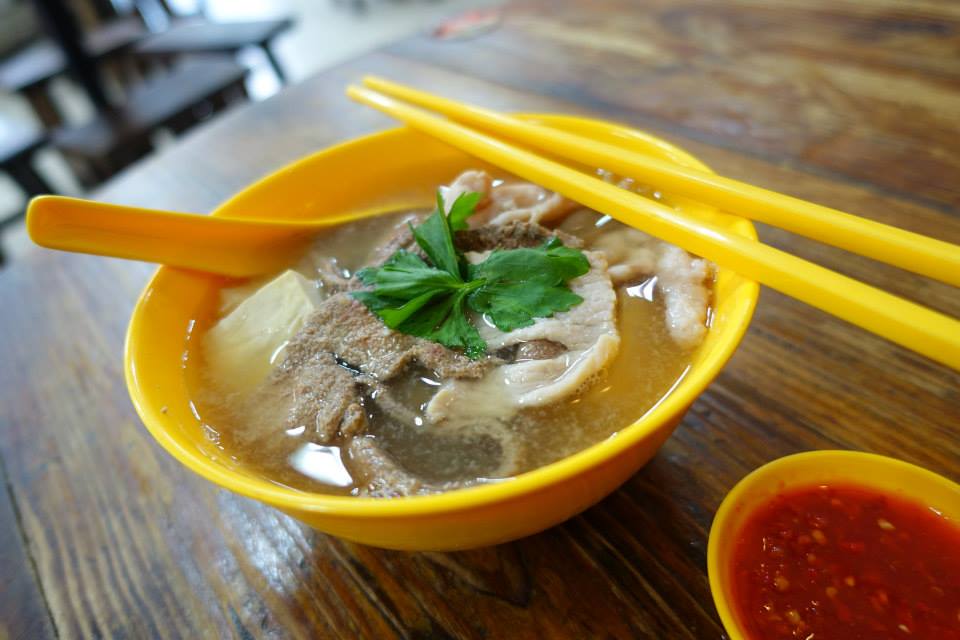 Image credit: Authentic Mun Chee Kee King of Pig's Organ Soup
Usually eaten with rice, this Teochew dish isn't the most commonly found in Singapore, but it's worth making a trip to a great pig's organ soup stall at least once. The best of these include Authentic Mun Chee Kee King of Pig's Organ Soup and Cheng Mun Chee Kee Pig Organ Soup—they both sprung from the same family, and both offer the dish with well-cleaned offals and a savoury soup.
Expected prices: $4 – $8
Read our guide to the best pig's organ soup stalls in Singapore.
11 Pig's Organ Soup Stalls In Singapore For Comforting Broth, Including A Stall Open Since 1950s
---
54. Popiah
---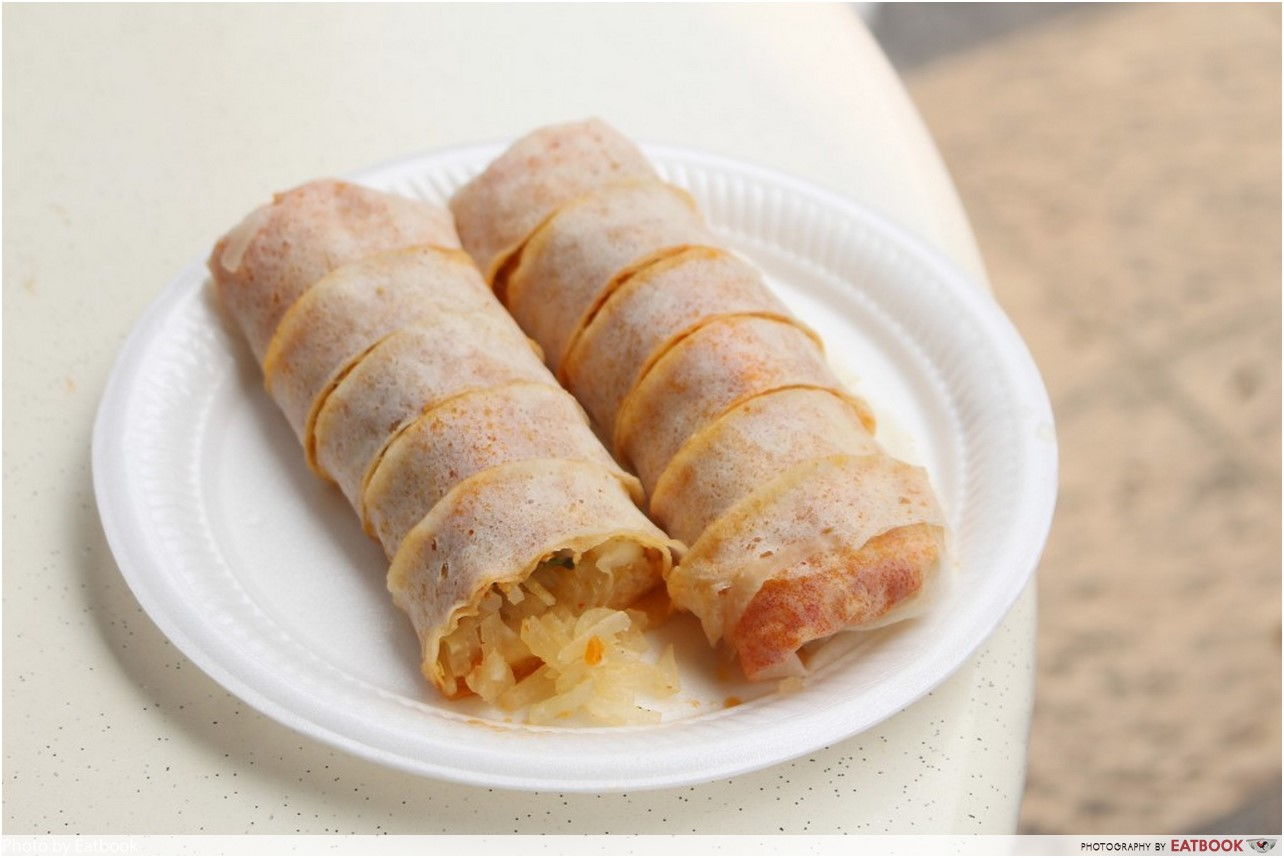 Popiah is a popular spring roll with Southern Chinese origins. Its name is a Teochew word that refers to the thin, delicate skin used to tightly wrap up its filling and sweet, sticky sauce. While shredded radishes, shrimps, and peanuts are common ingredients one finds in the middle of a popiah roll, there are no standard fillings across the board. At home, popiah is made and eaten together with family. Ingredients are traditionally laid out on a table for each family member to customise their popiah roll to their liking.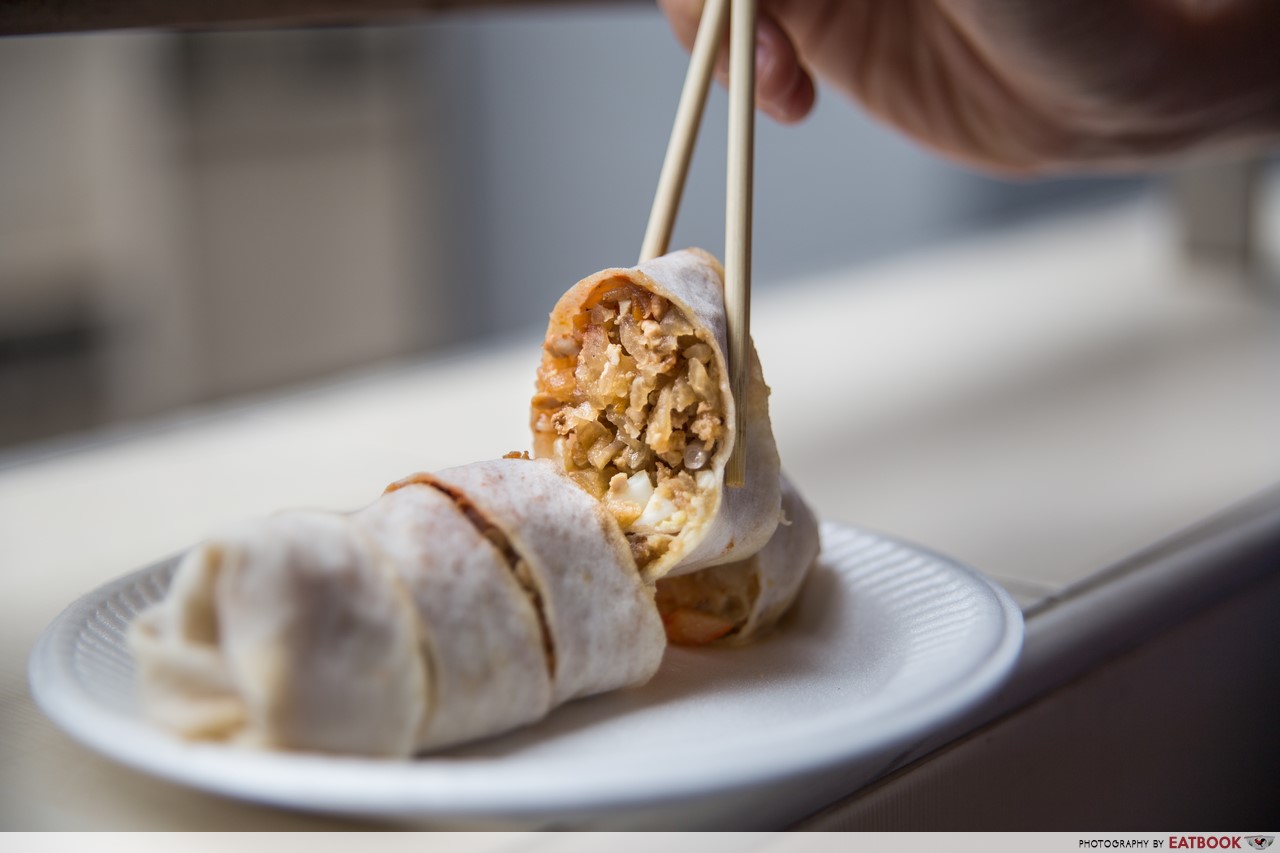 There are many stalls in Singapore known for their popiah. One stall, Ann Chin Popiah, is on the Michelin Guide! Their handmade popiah is on the sweeter side, with freshly prepared ingredients and house-made sauces expertly wrapped and cut into bite-sized pieces for your enjoyment. 
Another stall renowned for their popiah skin is Kway Guan Huat Joo Chiat Popiah, a halal popiah stall that has been around since 1938. Their popiah skin is made by hand and a wooden pole, and uses a recipe passed down from their ancestors in Fujian. 
Expected prices: $2 – $4
Read our guide to the best popiah stalls in Singapore.
10 Popiah Places To Check Out For A #WorthTheCalories Popiah Fix
---
55. Prata*
---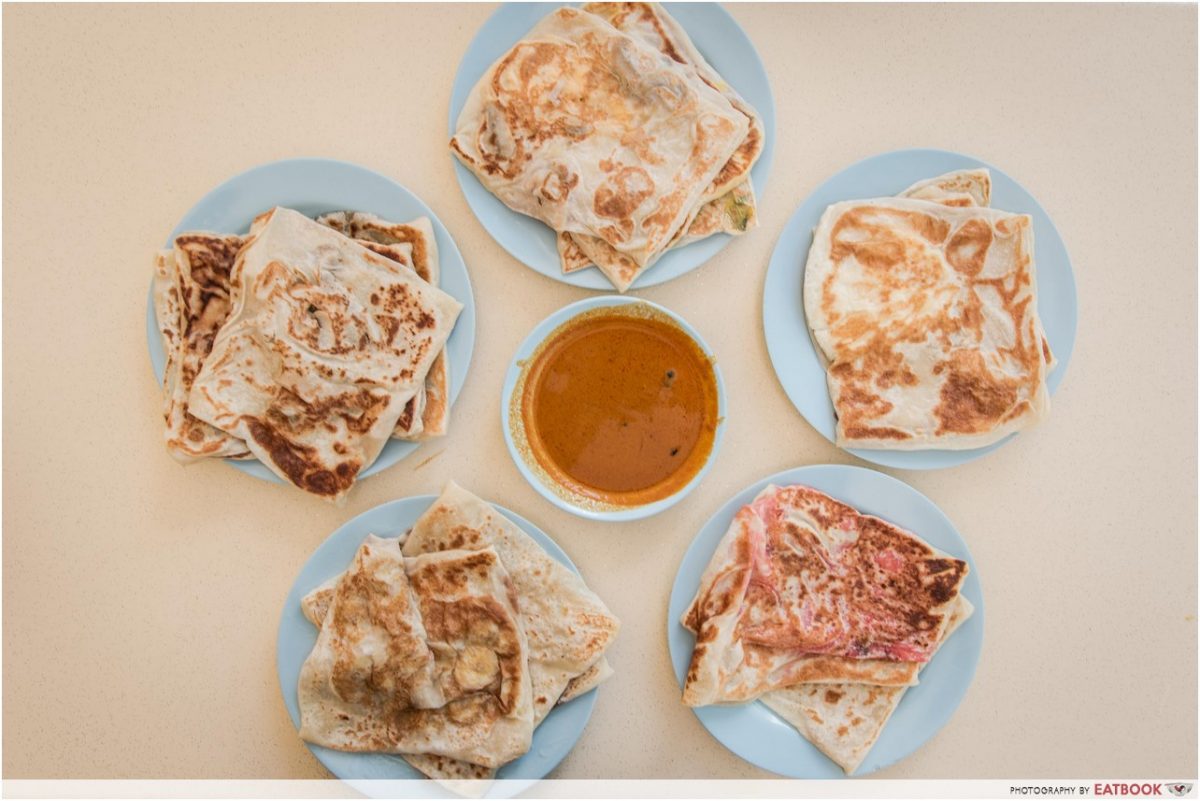 This tasty South-Indian flatbread makes for a satisfying meal at any hour of the day, but digging into it in the wee hours of the night just hits different. As most prata stalls open till late, with some even operating for 24 hours daily, this beloved treat has become synonymous with supper time among many Singaporeans.
The most common types of prata are plain prata and egg prata, though other variations such as cheese prata and chocolate prata have been created for variety. A standard order usually comes with fish or mutton curry served on the side, so you can drizzle it over the prata or simply dig in using your fingers!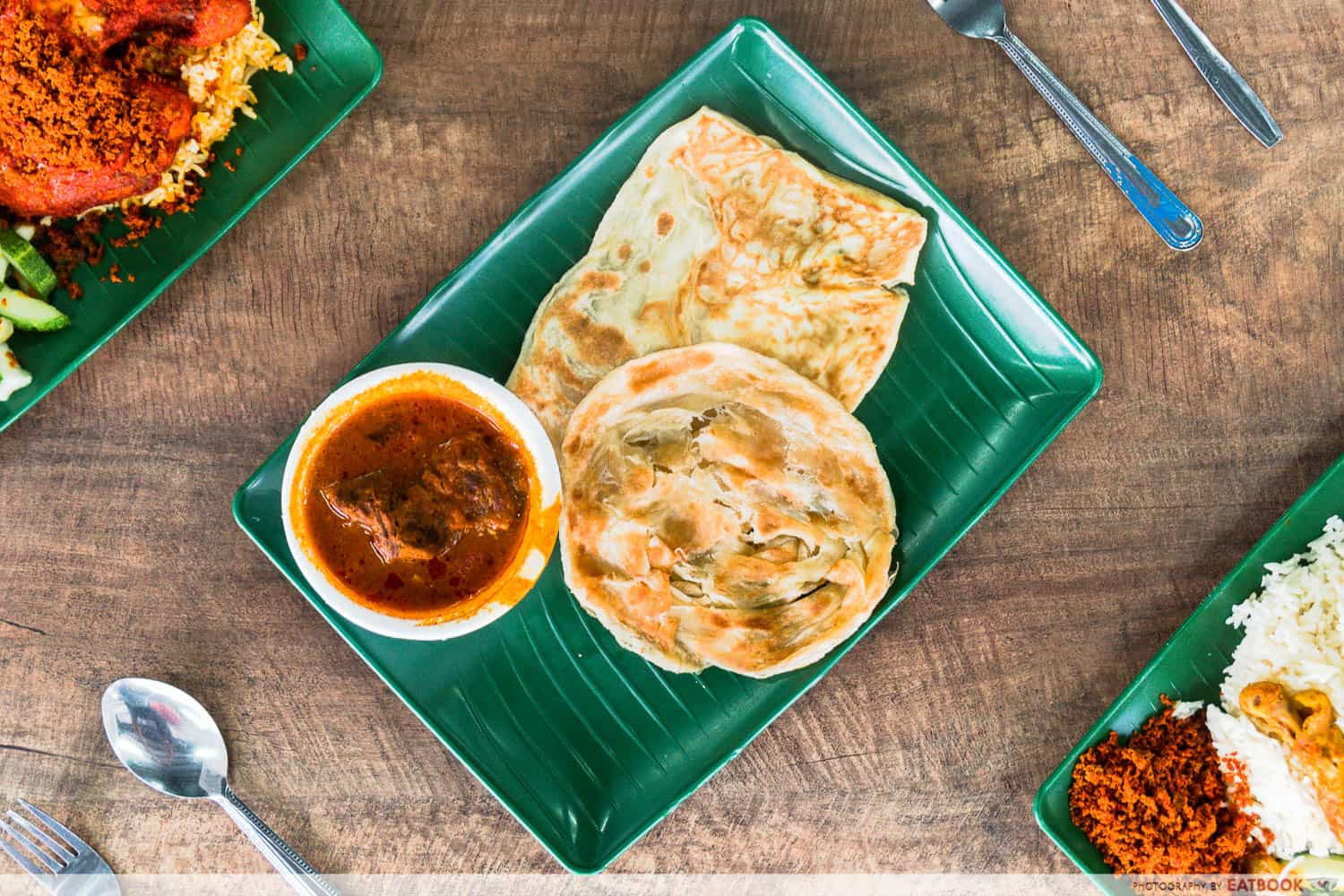 For a unique form of prata, check out Midas, a humble hawker stall in Chinatown selling savoury and buttery Golden Baked Roti Prata.Here, the prata is baked instead of pan-fried, resulting in a light and airy texture. Otherwise, try Enaq, a casual eatery in Jurong East known for their delicious Plaster Prata, which sees an egg cooked and served on top of the prata itself.
Expected prices: $1 – $3
Read our guide to the best prata places in Singapore!
17 Best Prata Places in Singapore Worth Sacrificing Your Diet For
---
56. Prawn Noodles*
---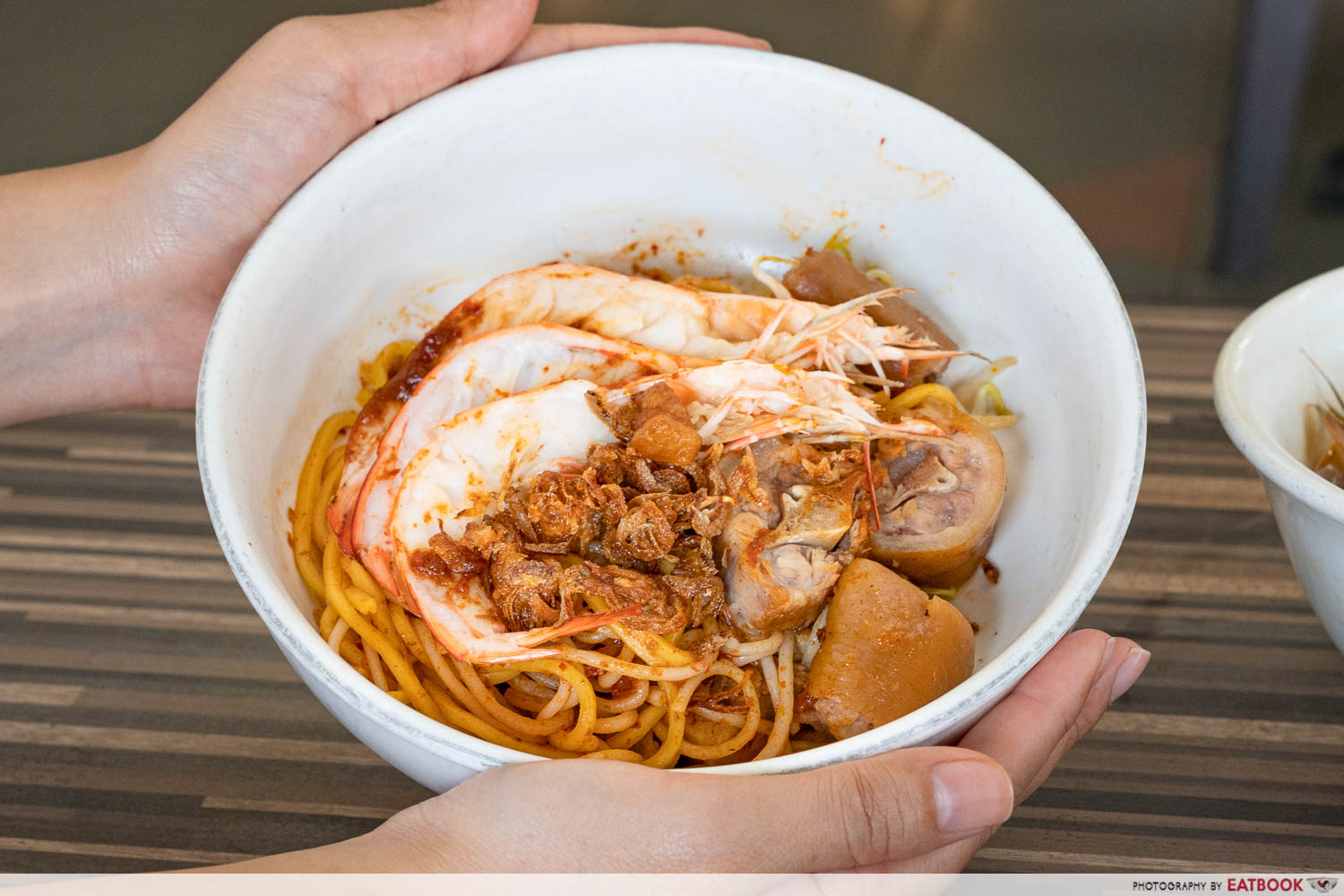 Good prawn noodles, AKA hae mee, should have an incredibly rich and robust broth that is marked by the sweetness of, you guessed it, prawn. 
This delicious stock is prepared by boiling pork bones together with prawn heads, shells, and even tails. It is then poured into a bowl of yellow noodles, before prawns and other ingredients—such as pork ribs—are added to the mix. These elements vary depending on the stall and what you choose to order, but one constant remains: the robust soup.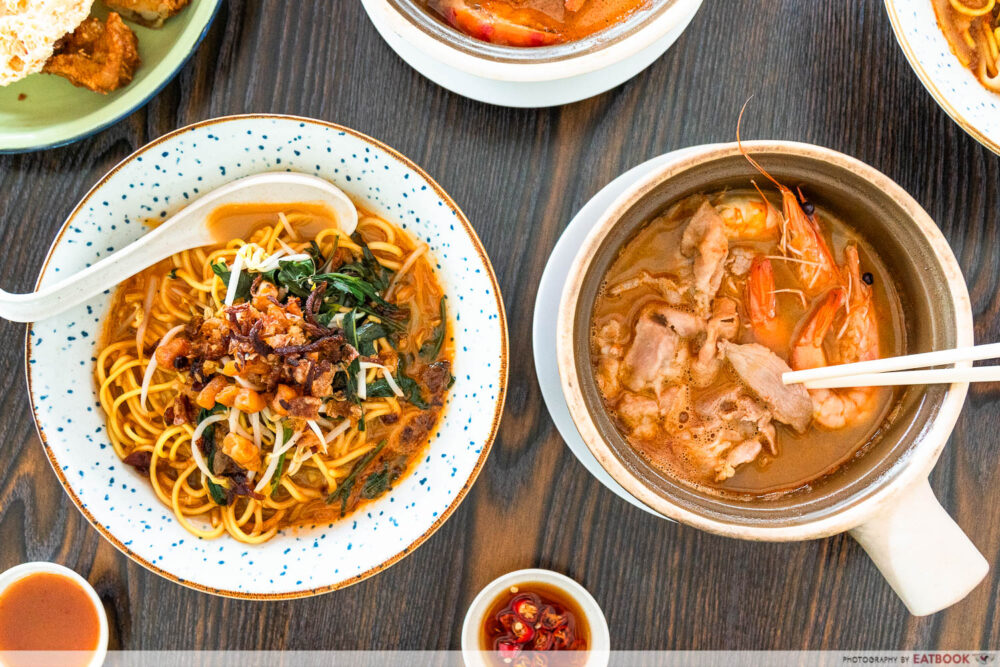 Classic hae mee places include Beach Road Prawn Noodle House, which is known for its chunky prawns and umami soup. But such is the versatile nature of prawn noodles that there are several modern interpretations of the dish that are worth checking out. There's One Prawn & Co, which serves hae mee in a claypot along with other novel ingredients such as shabu shabu pork slices. 
Expected prices: $4 – $15
Read our guide to the best prawn mee stalls in Singapore.
23 Prawn Mee And Seafood Soup Stalls In Singapore For XXL Hae Mee, Lobster Noodles And More
---
57. Putu Piring*
---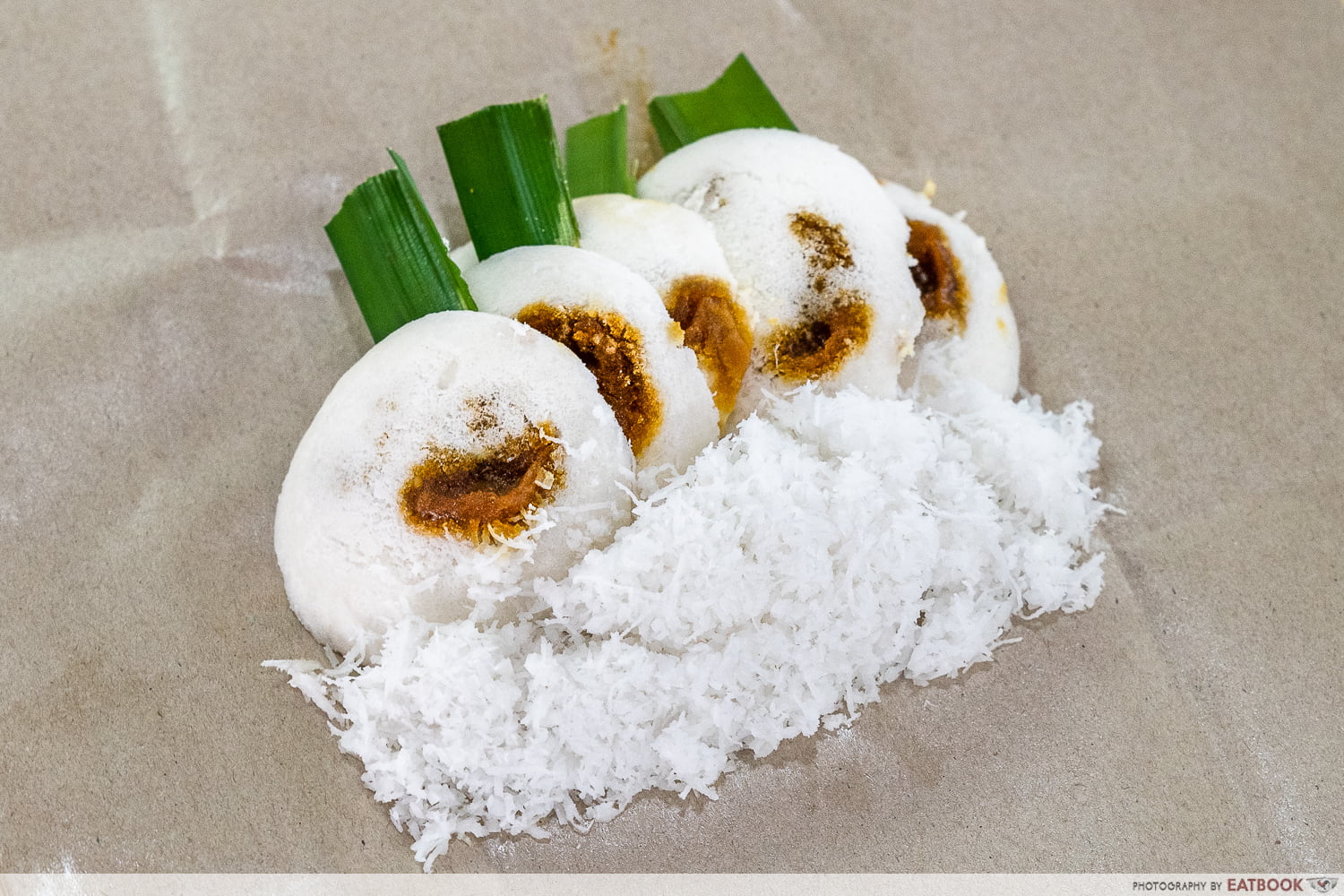 Putu piring is a classic Malay dessert made from steamed fine rice flour, gula melaka, and served alongside grated coconut. Although it is one of the more well known kueh on the world stage, it is often mistaken for kueh tutu, a white, flower-shaped Chinese kueh filled with coconut flakes or ground peanuts.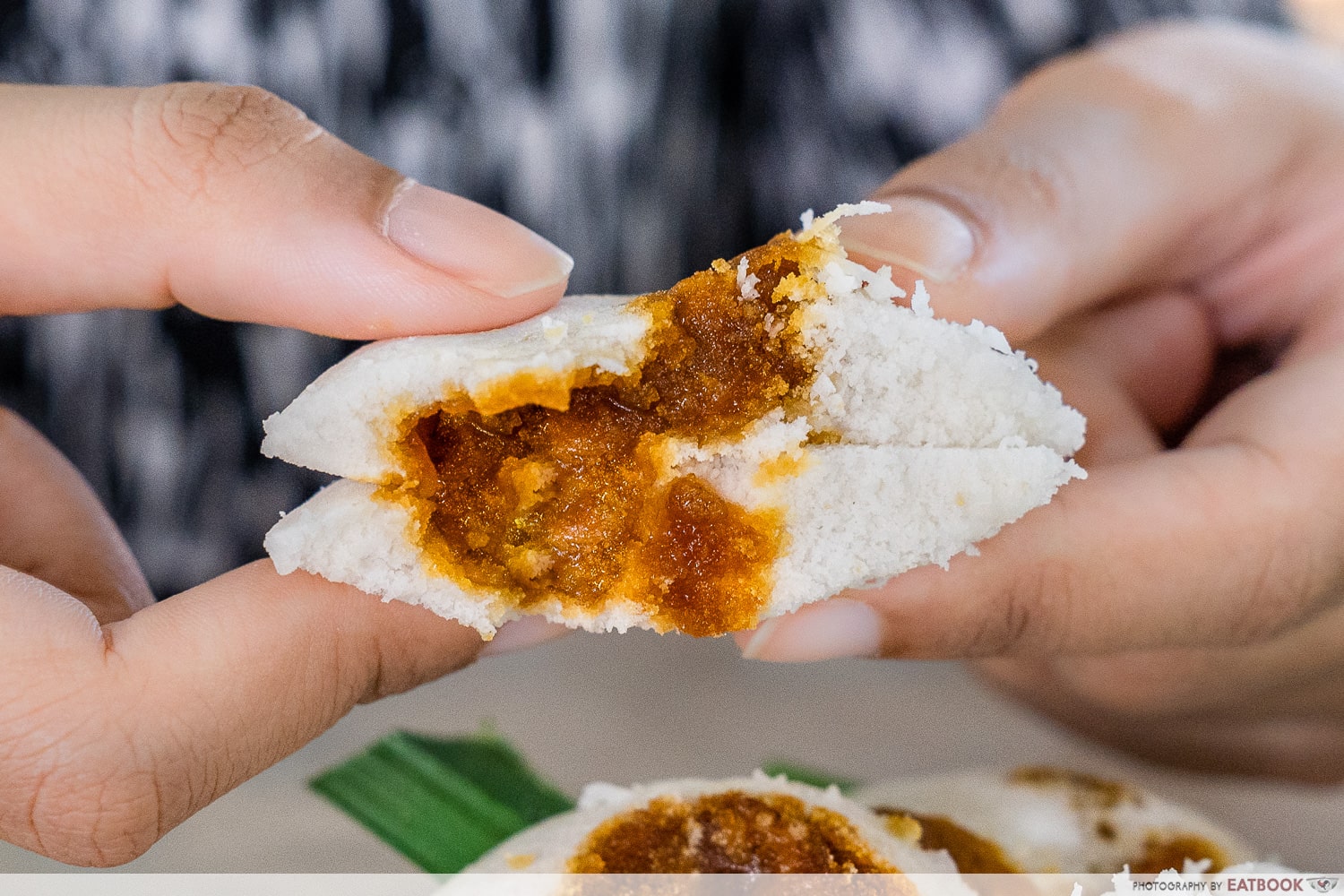 In Singapore, Haig Road Putu Piring is the stall to go for a taste of this sweet, fluffy snack. Featured on Netflix's Street Food Asia, the stall uses a recipe that's been passed down over five generations! Today, the stall has over seven outlets island-wide, selling putu piring with a range of fillings such as durian, chocolate, and peanut. Their traditional putu piring remains a bestseller, with a soft and thin exterior that hides the thick gooey sweetness of the gula melaka filling within. 
Expected prices: $0.50 – $1 apiece
---
58. Ramly Burger
---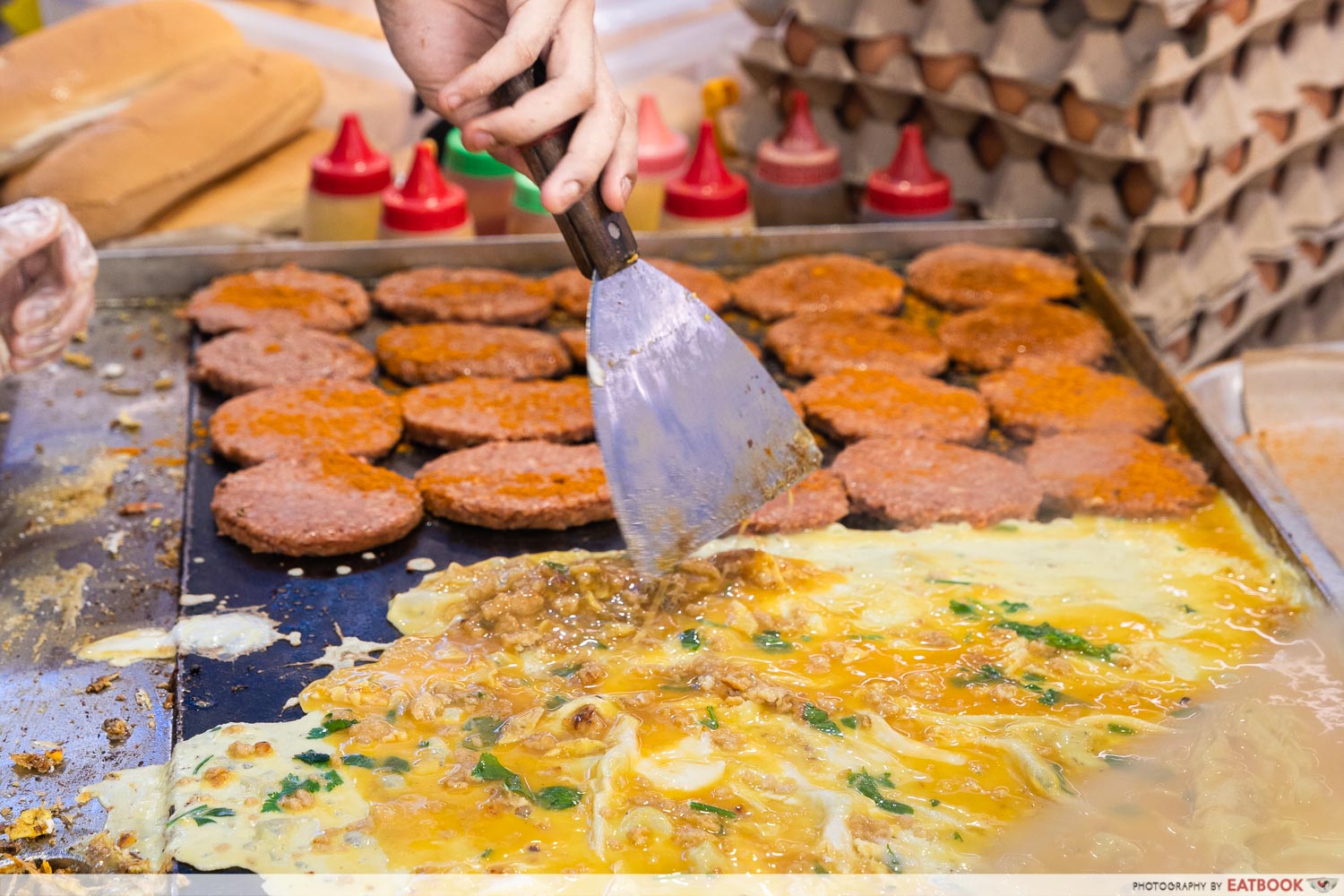 We give Malaysia all the credit for inventing the Ramly burger, but this street food icon also has a firm presence in Singapore that makes it a must-try when exploring the city. The messy, wonderfully greasy burger combines a frozen meat patty folded into an omelette, layered with cheese, margarine, and a variety of sauces, including ketchup, chilli, and Maggi sauces.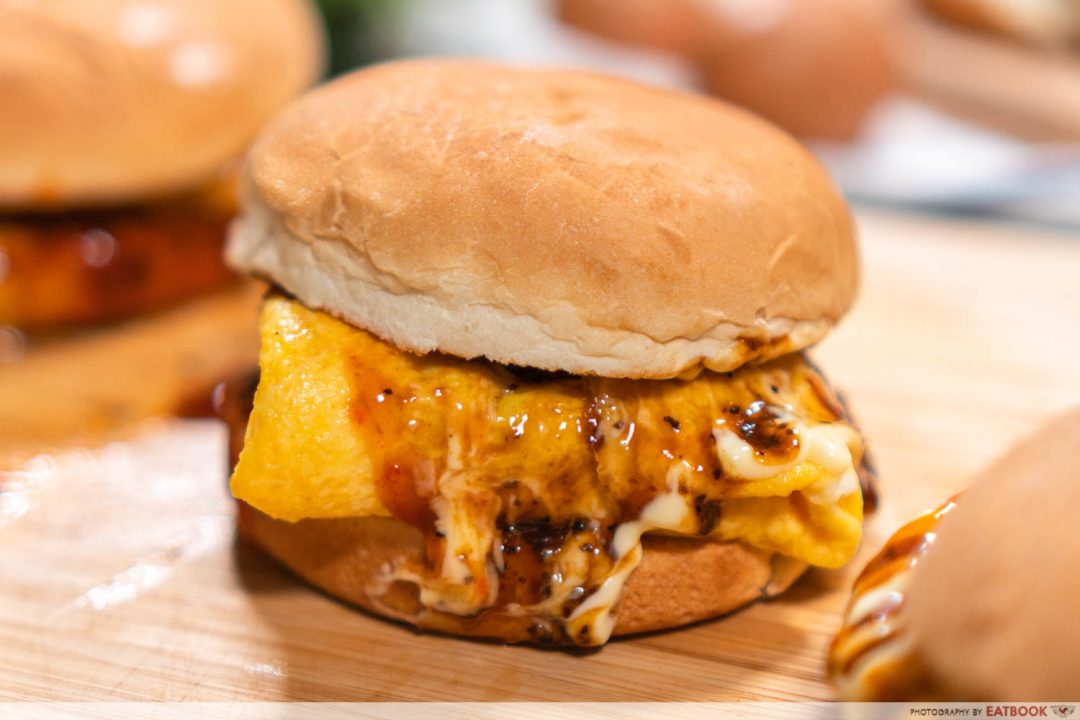 While the best place to enjoy a Ramly burger is, without a doubt, at a night market, AKA pasar malam, there are a couple of local eateries that sell the dish out of permanent stalls too, mostly located in the East. This includes Ministry of Burgers in Pasir Ris, and Burock in Bedok.
Expected prices: $4 – $8
Read our guide to the best Ramly burgers in Singapore.
6 Ramly Burger Stalls In Singapore To Get Your Fix Of This OG Pasar Malam Snack
---
59. Roast Meat Rice*
---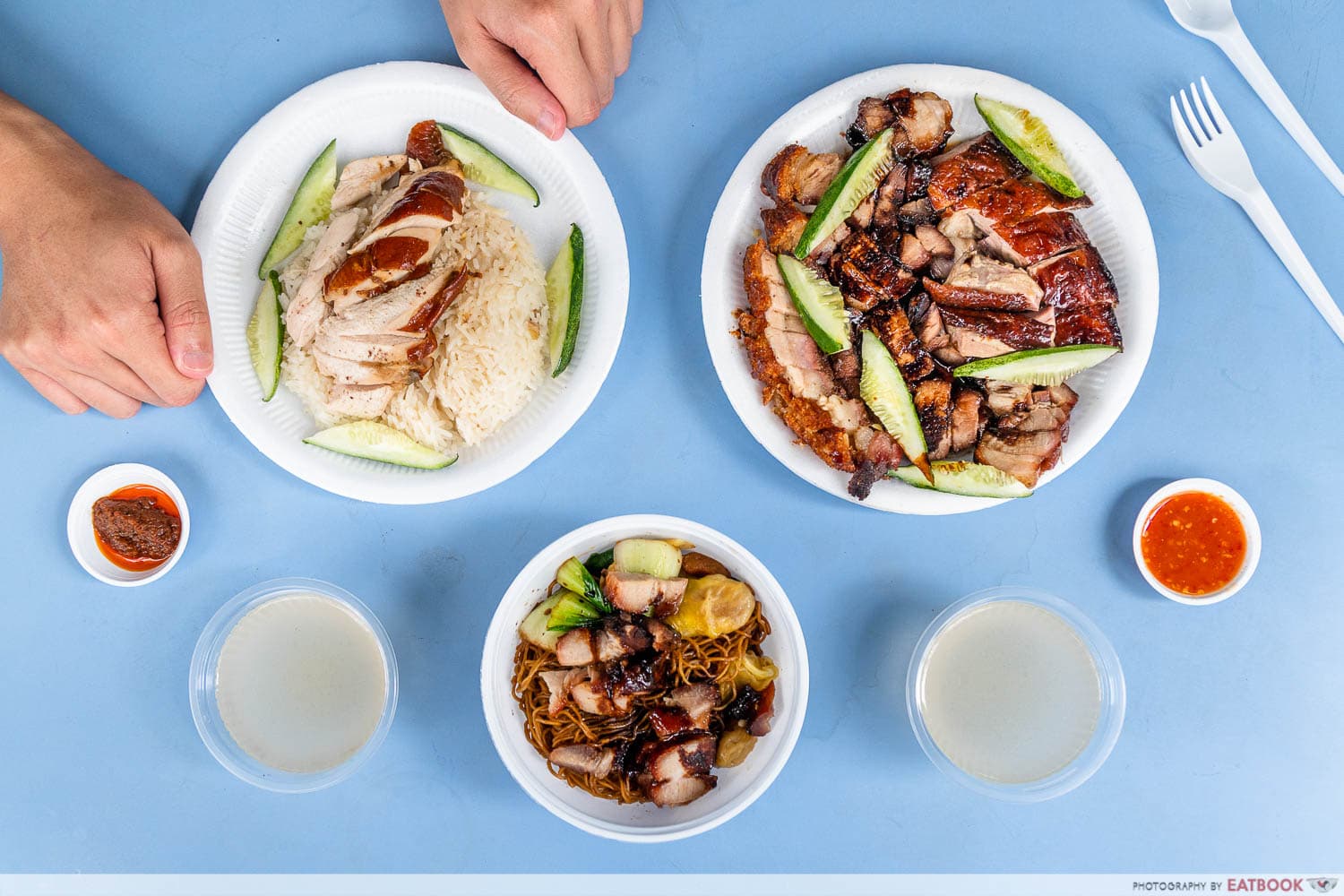 Roast meat rice stalls are increasingly common in Singapore. Many locals flock to hawker centres or roast meat specialist stores regularly to have their share of this Cantonese delight. Crispy roasted pork belly, char siew, soy-roasted chicken, and roasted duck are some of the roast meats well-loved by locals. Typically, stalls allow you to mix and match your preferred cuts of meat, and pair them with a hearty bowl of rice or noodles.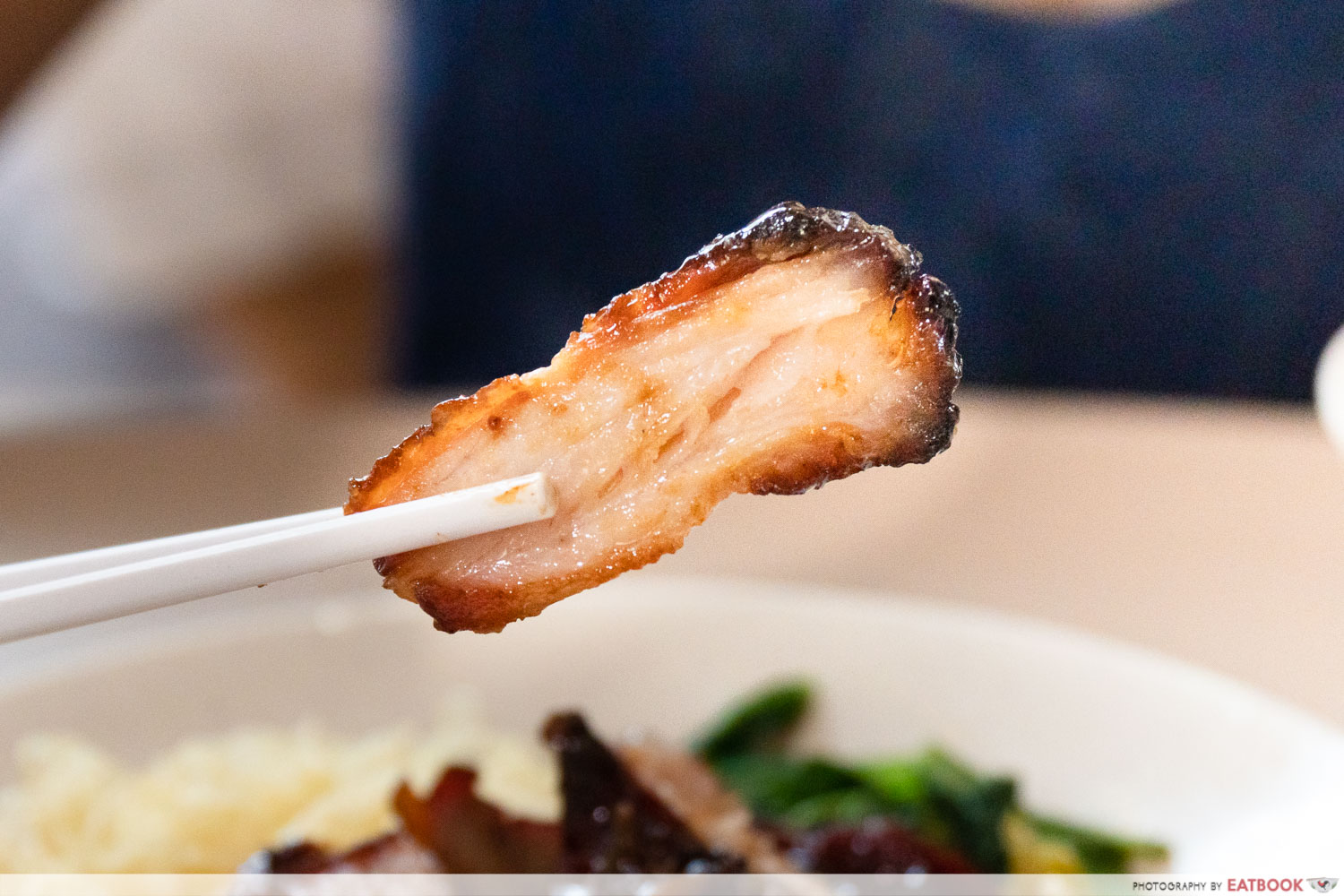 For some of the best roast meat to try in Singapore, check out 88 Hong Kong Roast Meat Specialist, which has two outlets: one located at Lavender and another at Tyrwhitt Road. There, you can get generous portions of charcoal-roasted meat, boasting a charred, smoky flavour for added intensity. Fu Shi Traditional Roasted in Marsiling Mall Hawker Centre is also famous for their roast char siew, sio bak, and duck meat, which they have been serving for more than 15 years. Expect long queues for their signature meat items, but stand in line patiently, and you'll be rewarded with quality, fragrant roasted delights.
Expected prices: $4 – $8
Read our guide to the best roast meat rice in Singapore.
17 Roast Meat Stalls In Singapore For Char Siew Shao Rou Fan
---
60. Rojak*
---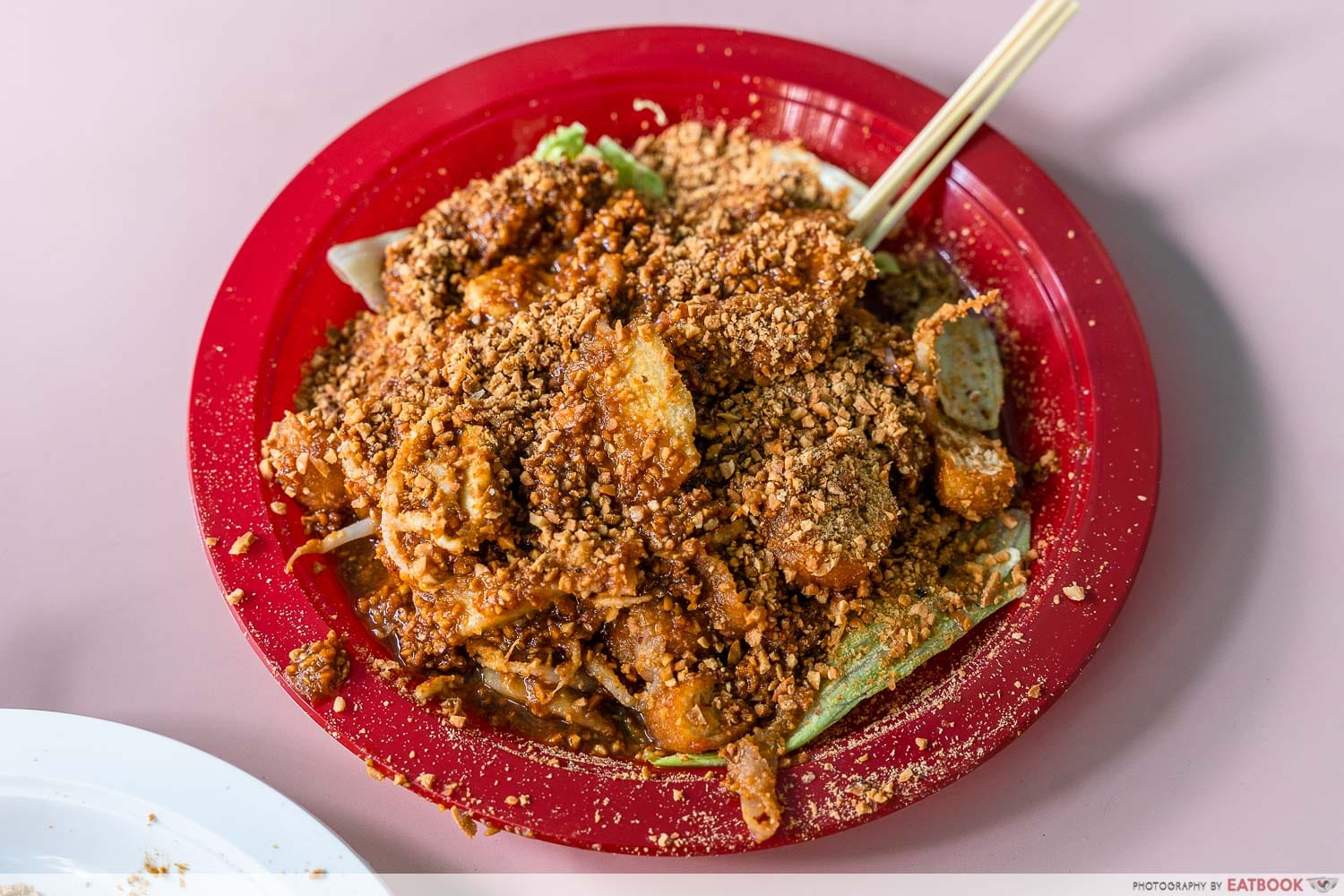 Rojak is a fruit salad of Javanese origins that's over 1000 years old! Made from sliced fruits, vegetables, and fried dough fritters, the mixture is doused in a sticky black sauce and showered generously with chopped peanuts all in one large, clay bowl. The rojak sauce is made from prawn paste AKA hae ko, sugar, lime, and chilli, and gives rojak its unique sweet, sour, and spicy taste. This dish's eclectic makeup is also used as a metaphor for the multicultural nature of Singaporean society.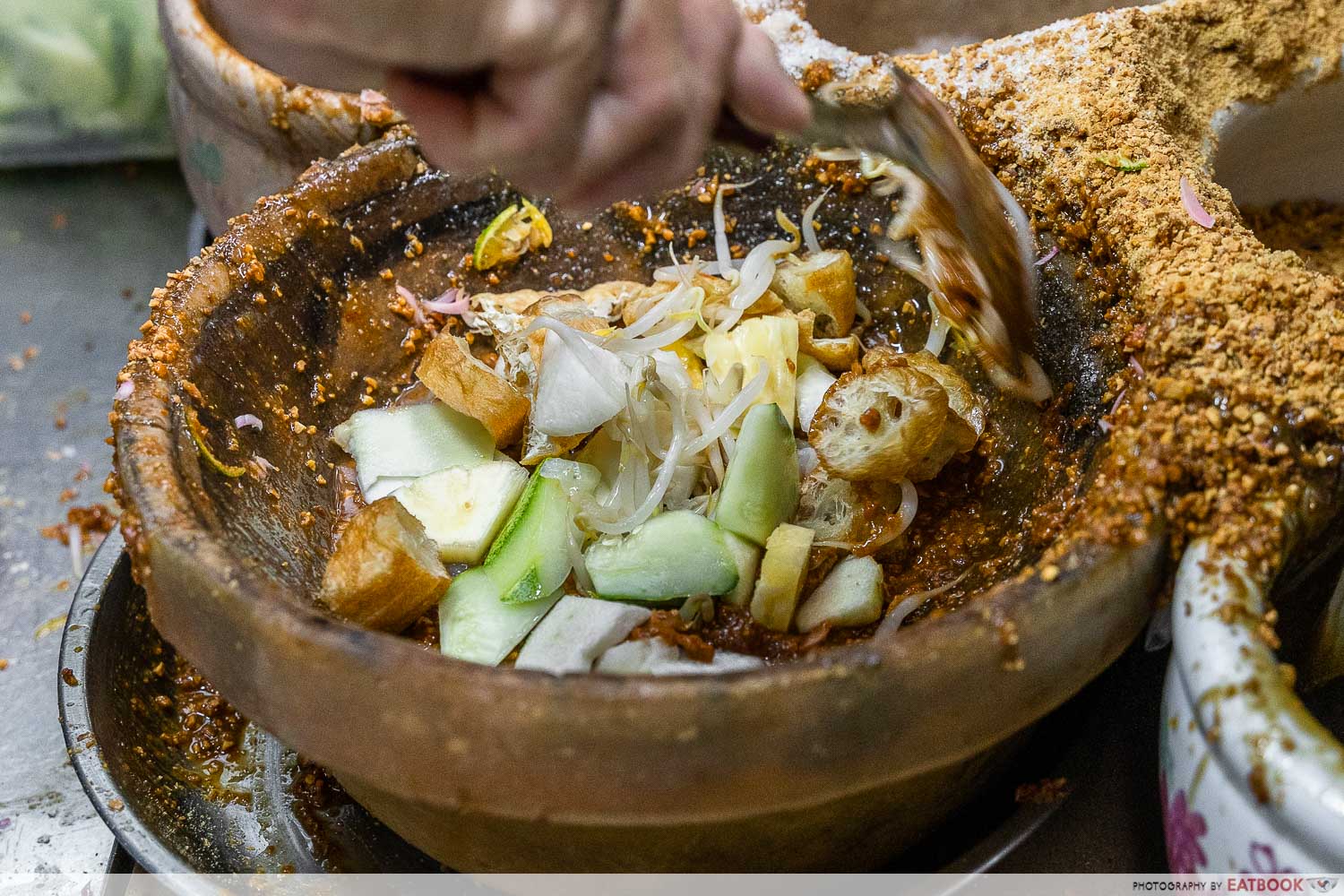 You can find rojak in just about every hawker centre in Singapore, but if you want the very best, we recommend stalls such as Lau Hong Ser Rojak, an old-school stall where the hawker has been char-grilling his rojak for nearly 50 years! Every ingredient used is painstakingly hand-made or sourced to create rojak that is rich, robust, and bursting with umami flavour. 
Balestier Road Hoover Rojak is another legendary stall that is on the Michelin Bib Gourmand list. A second-generation stall in Whampoa Makan Place, the stall dates all the way back to 1961, back when it was just a simple pushcart operation by the side of the road. Their version of rojak includes jellyfish, which adds a slight savoury bite to balance out the highly jelak dish.
Expected prices: $3 – $5
Read our guide to the best rojak stalls in Singapore.
11 Rojak In Singapore To Try, Including 40 Year-Old Recipes And Michelin-Approved Stalls
---
61. Roti John*
---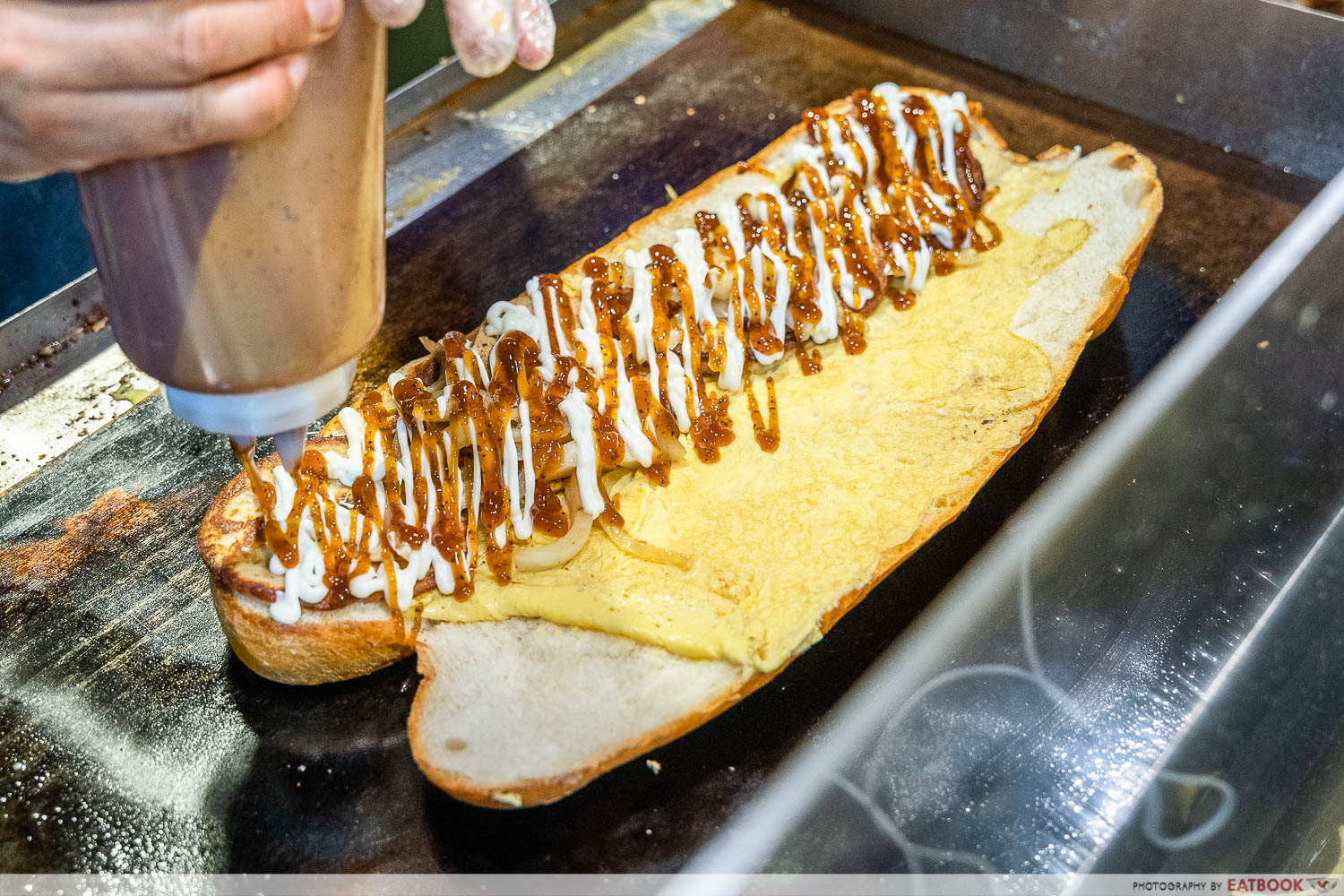 Legend has it that in the 1960s, an Englishman visited a Malay hawker and requested for a hamburger. Because the burger wasn't available, the hawker improvised. Using the baguettes, minced mutton, onions, and eggs he had on hand, the hawker created an interpretation of the burger he then dubbed roti john—John being the colloquialism used in the past to refer to the British colonials.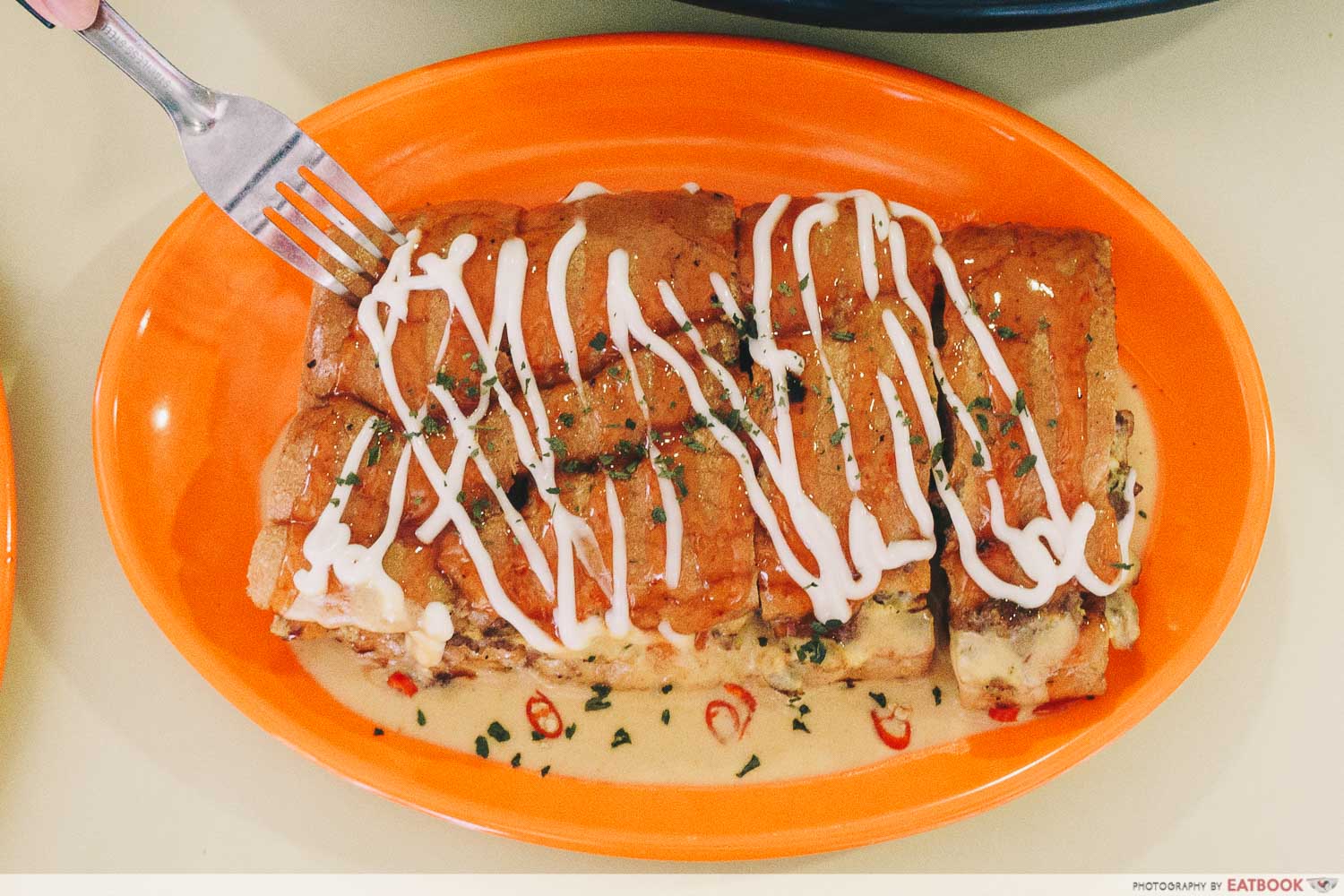 Nowadays, you can find roti john at most prata stalls in hawker centres. They're also frequently sold at Indian-Muslim eating houses, such as RK Eating House, a 24/7 eatery in Serangoon Gardens famed for their extensive prata menu and sloppy, saucy roti john. Brostern is another must-try if you're in Hougang. The relatively new hawker stall offers modern takes on the roti john, jazzed up with salted egg yolk sauce, sambal and more.
Expected prices: $5 – $8
---
62. Satay*
---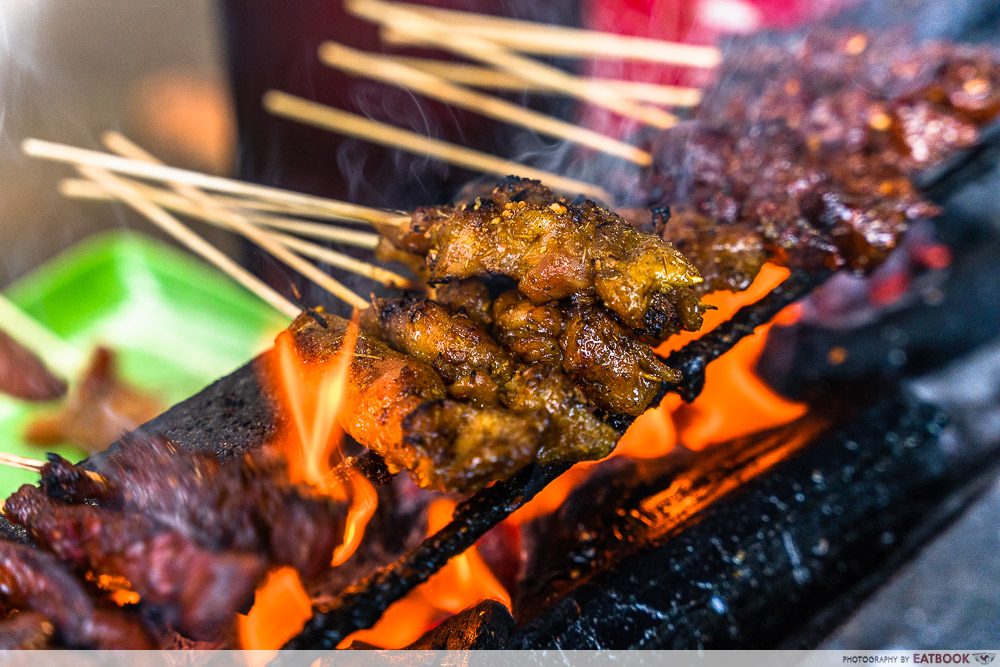 In Turkey, they have shish kebab; in Japan, they have yakitori; in Singapore, we have satay. These grilled skewers made out of chicken, mutton, beef and more are a national favourite—you'll find people eating them anywhere from hawker stalls to buffets.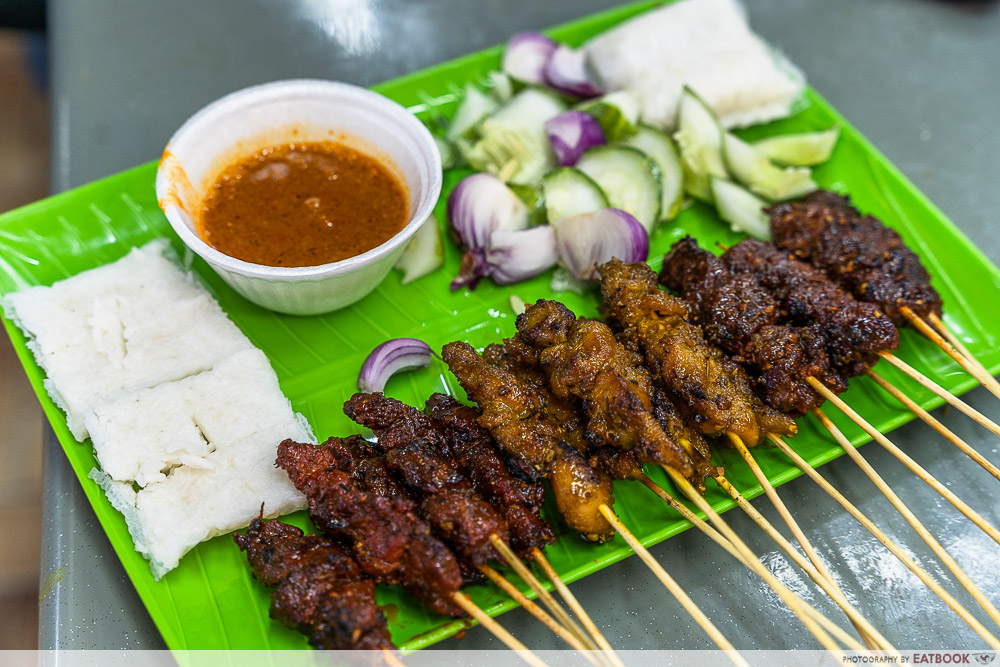 Historically, the humble satay has been sold in a variety of ways. It started out as something roaming street hawkers would peddle, before finding a home at the Satay Club, an open-air food centre that exclusively sold satay, in the late 1940s. Though the Satay Club has long been demolished, the spirit of the dish lives on in hawker centres, eateries, and even online catering services.
Satay is best had with its savoury peanut sauce dip and ketupat, AKA wrapped rice cakes. For a taste of this dish, there's Chomp Chomp Satay, which is said to offer wonderfully smoky skewered meat, and Kwong Satay, where you can try the signature pork belly satay—fans say it is considerably juicier than your average pork satay!
Expected prices: $0.50 – $1 per stick
Find out more about the historical Satay Club, or check out these satay delivery options for your grilled skewer fix. 
Original Alhambra Satay: The Last Survivor Of Singapore's Historical Satay Club
---
63. Satay Bee Hoon
---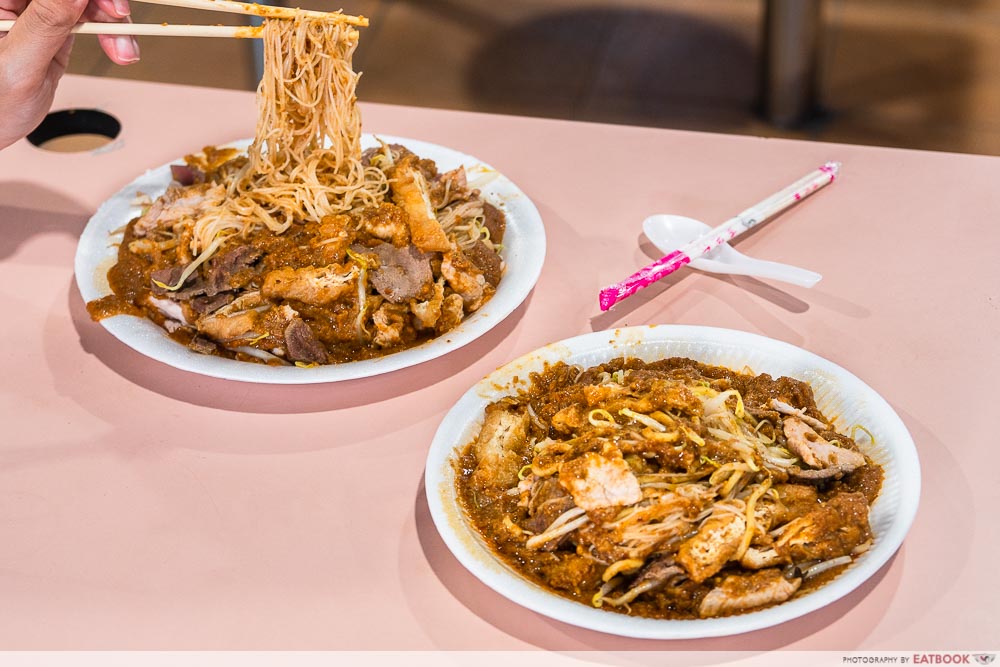 Unlike satay or bee hoon, satay bee hoon is a rare sight in Singapore these days as the complex and time-consuming cooking process means people aren't willing to learn the trade anymore. The deceptively simple dish features blanched bee hoon mixed with lean pork, tau pok, cuttlefish, kang kong, beansprouts, and prawns in a rich satay sauce. For the stalls that are still around, the secret to success is in the sauce: crushed peanuts and a complex blend of herbs and spices are cooked for hours into a thick, aromatic gravy that cannot be too sweet, too spicy or too overpowering.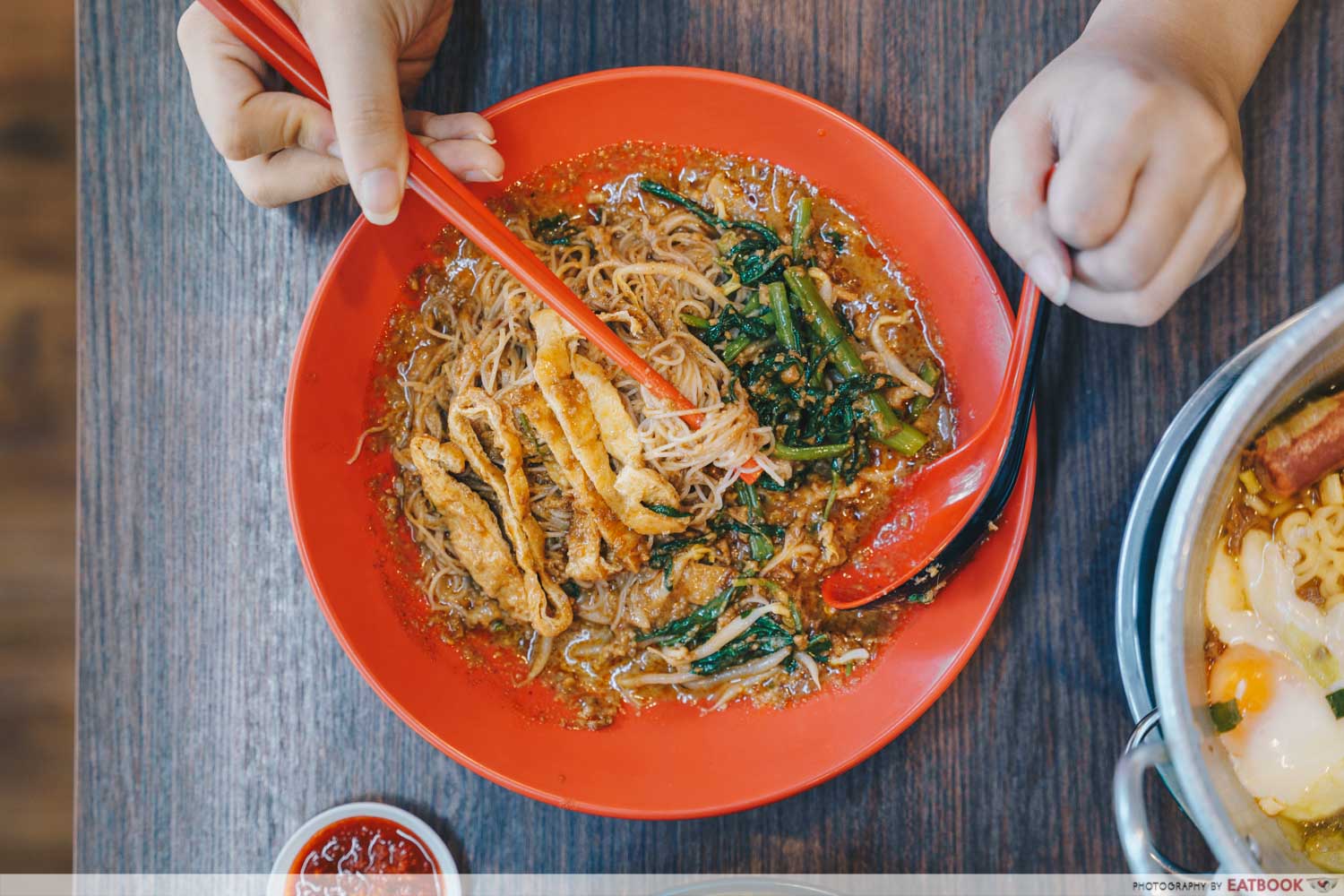 The best stalls all make their sauce from scratch. In Bedok, Shi Wei Da has been serving Michelin-approved satay bee hoon for the last 25 years. The hawker's commitment to making everything from scratch has him roasting, peeling, and grinding down peanuts on his off days to create the nutty gravy that is poured generously over smooth bee hoon, tau pok, and pork liver. 
For a piece of hawker history, Sin Chew Satay Bee Hoon is a third-generation hawker stall that's been in Bukit Timah since 1956. The hawkers are constantly improving upon their recipe by taking into account their customer's opinions, creating a well-balanced, fragrant gravy over time that reflects the important relationship between hawker and patron. These days, the stall only opens a few days a week, so be sure to check their opening hours before going down. 
Expected prices: $3-6
---
64. Soup Kambing*
---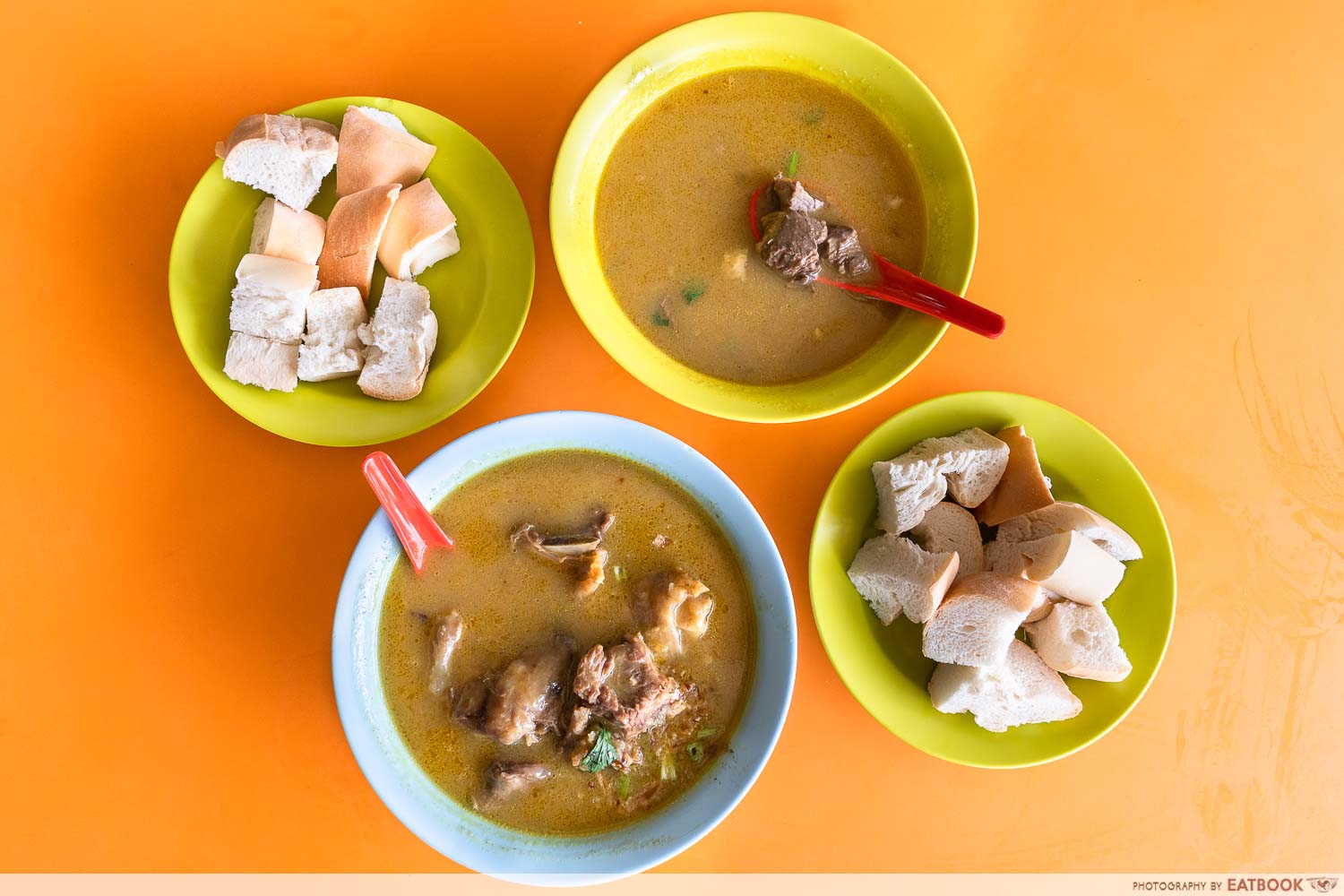 Soup kambing, or sup kambing, is an Indian Muslim dish of rich mutton stew cooked with spices including cumin and star anise, and accompanied by a side of bread for dipping. The hearty broth is said to be super popular in the 1950s and 1960s, among footballers who frequented the stalls along Northumberland Road after a hard day of training at the nearby Farrer Park Sports Complex. Goat meat used to be the default meat for this dish, though more recent iterations star imported mutton instead.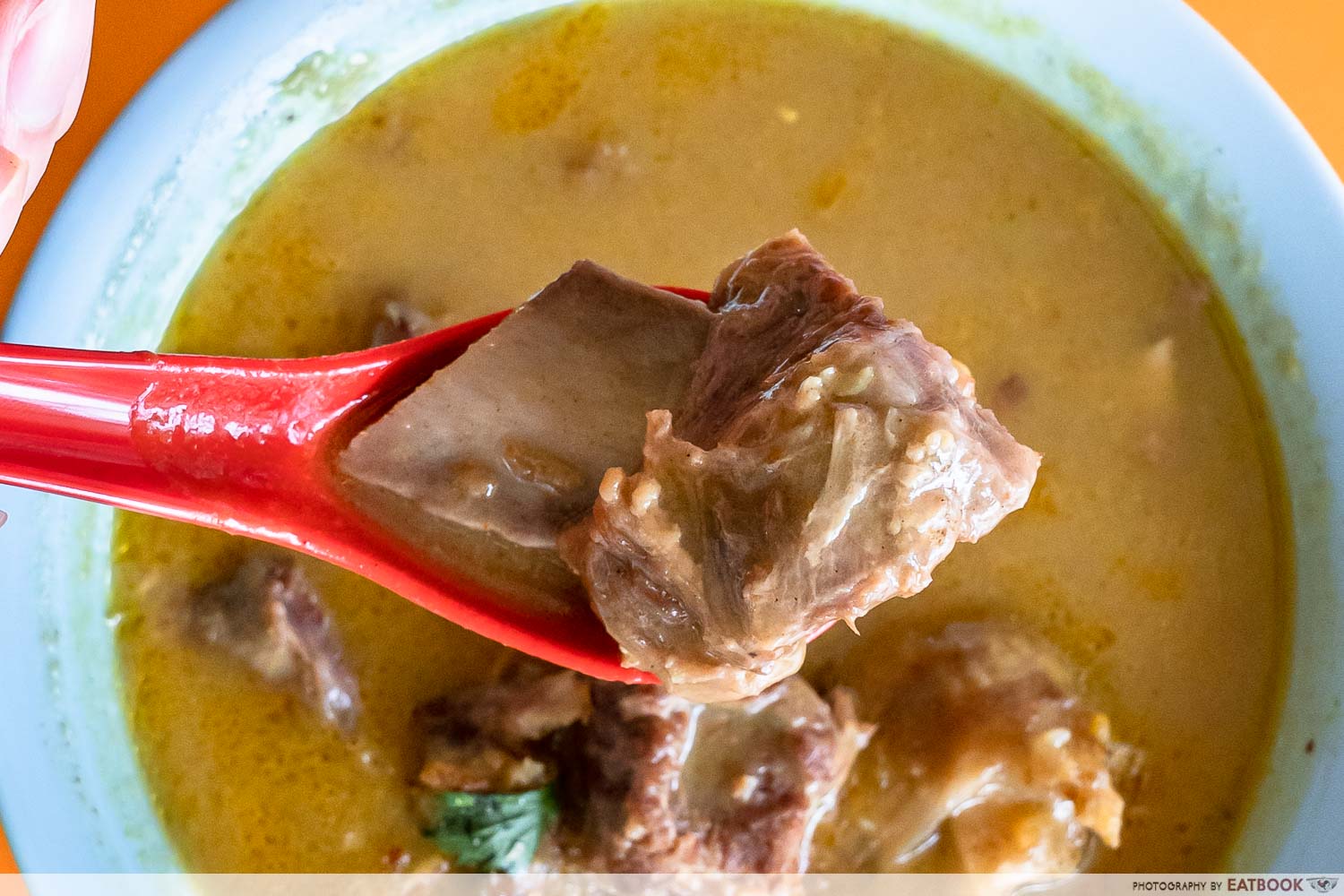 Haji M. Abdul Rajak is a stalwart in the scene, having been around for 70 years and counting. Prices start from $6.50 for a basic bowl, and varies depending on your preferred cut of mutton, which includes unique options such as tongue and brain. The soup here said to be extra fragrant and flavourful thanks to the secret mix of spices, while the mutton cubes are tender and not too gamey. Alternatively, head to Iqbal Soup Kambing at Geylang Serai Market and Food Centre. This popular stall also sells Soup Kambing with Mee, which comprises stir-fried noodles with a side of mutton soup. 
Expected prices: $5 – $10
Read our guide to where to get soup kambing in Singapore!
5 Mutton Soup Stalls For Soup Kambing In Singapore, Including A Stall Open Since 1955
---
65. Teochew Kueh
---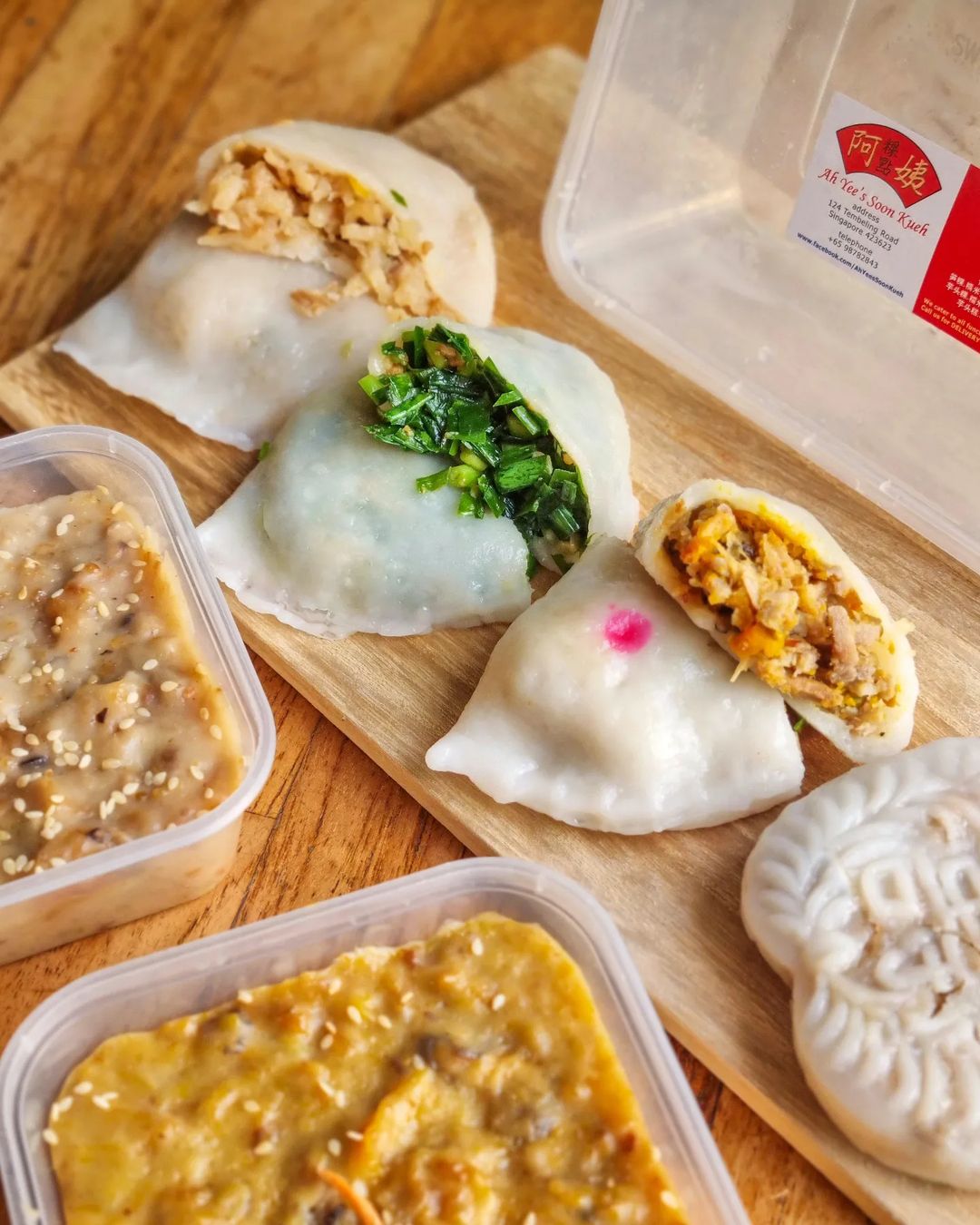 Image credit: @piggweee
Like much of the food in Singapore, kueh is an imported heritage that early immigrants brought here with them. The word kueh, in fact, is derived from the Teochew or Hokkien pronunciation of the word 粿. Teochew kueh, in particular, can be attributed to the 19th-century settlers from Chaoshan in Southern China, where kueh, both savoury and sweet, was a staple food that's deeply enmeshed in their culture.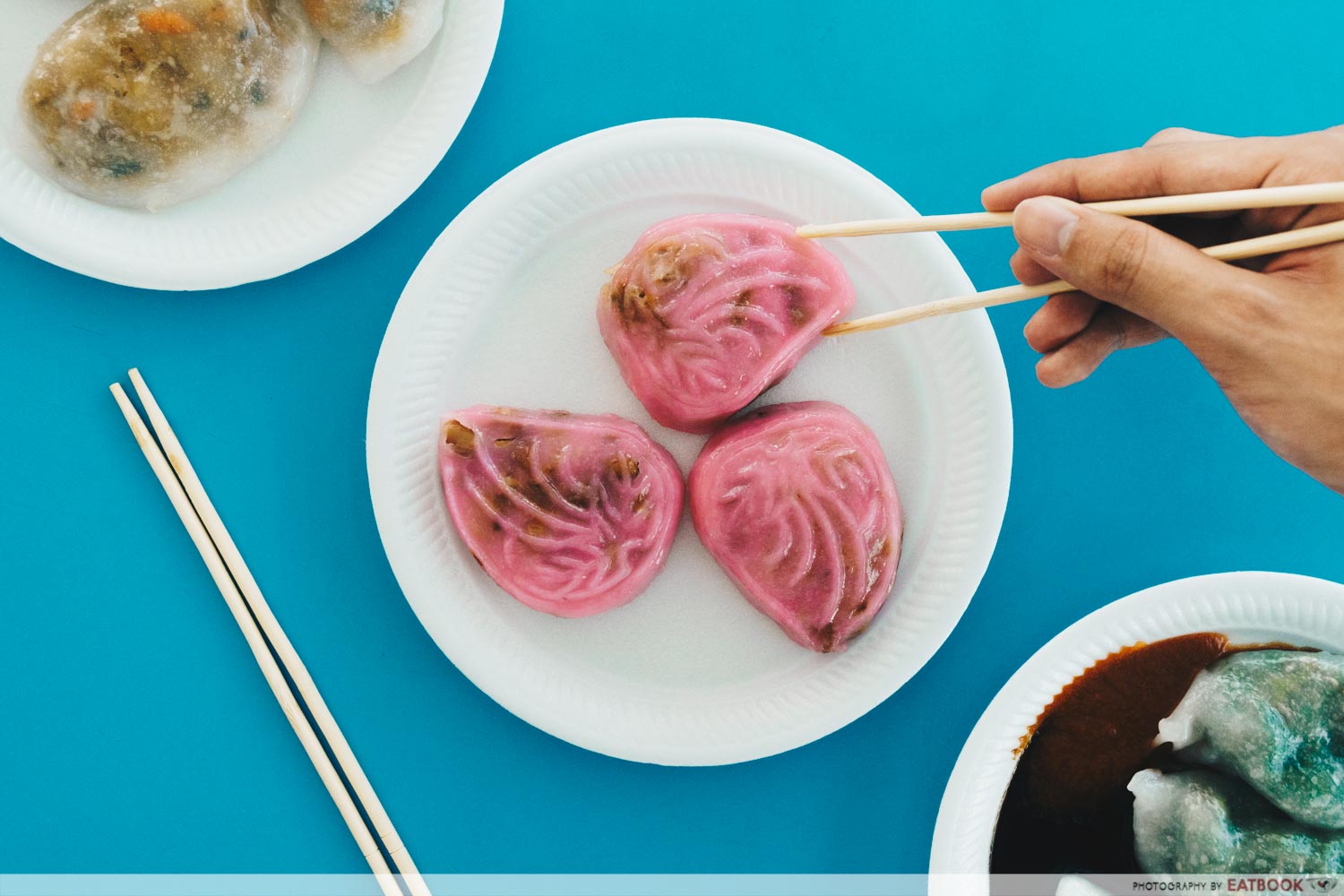 If you're looking for Teochew kueh, here are our recommendations. Yong's Teochew Kueh is one of the original and biggest names for soon kueh, peng kueh━glutinous rice-filled kueh━and more. There are also heritage stalls Ah Yee's Soon Kueh and Fatt Soon Kueh, where the kueh are handmade daily to specific recipes. For a modern take, head to One Kueh At A Time to get your hands on their beetroot-dyed kueh skins and bak kwa-filled soon kueh. For sweet and savoury ang ku kueh, pin Poh Cheu Kitchen or Ji Xiang Ang Ku Kueh on your map!
Expected prices: $1 – $9
Check out our guide to the best soon kueh in Singapore. 
---
66. Teochew Porridge
---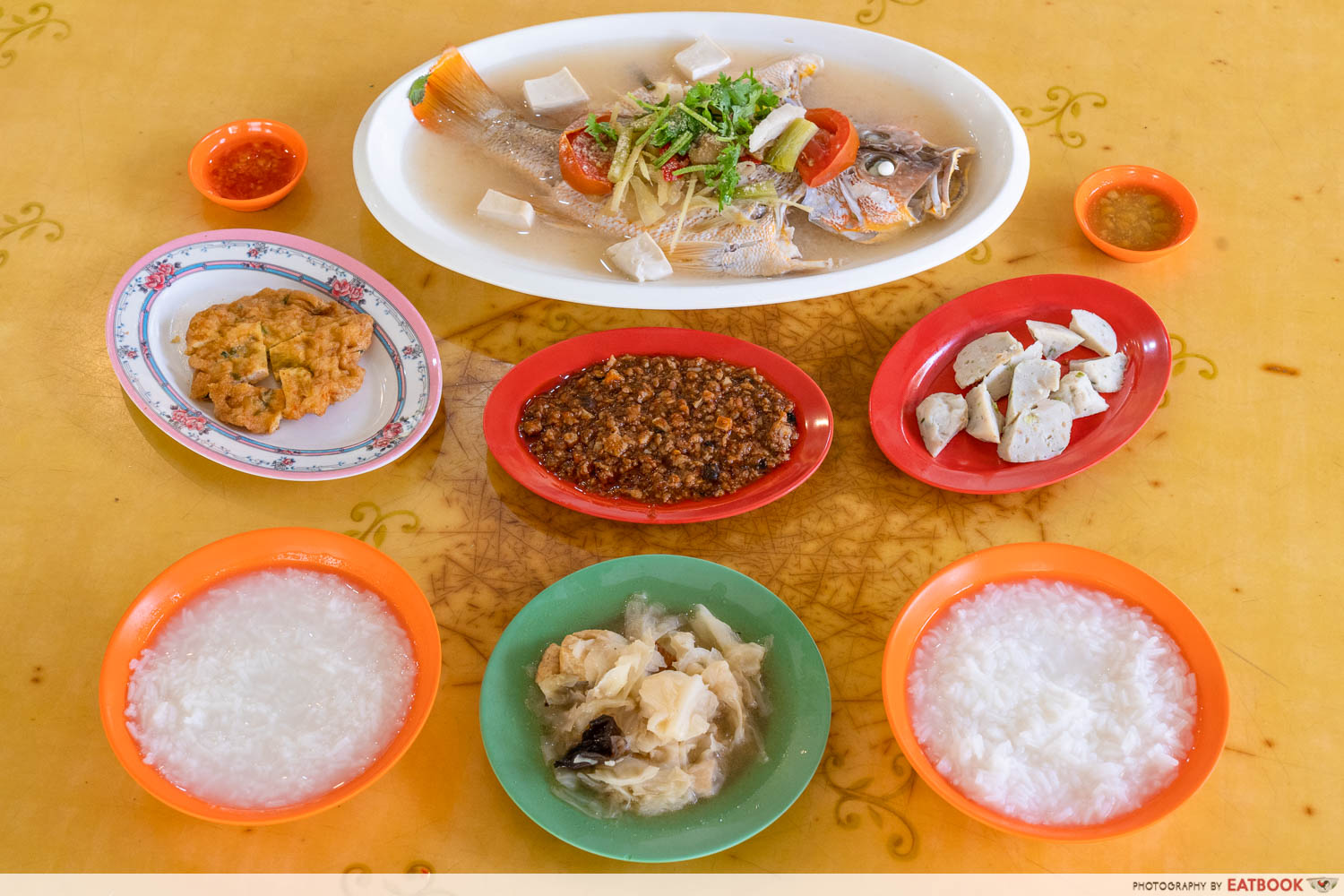 There are many Singaporeans who think of Teochew porridge as the more bland alternative to congee. But to think that is to miss the point of Teochew porridge—its watery, flavourless nature makes it the perfect accompaniment for the other more flavourful dishes.
While these dishes can vary from stall to stall, minced meat, omelette and fishcake are some of the commonly found ones at Teochew porridge stalls. What you'll notice is that these dishes tend to be on the saltier, more savoury side of things. You're meant to balance it out with a spoonful of bland yet comforting porridge.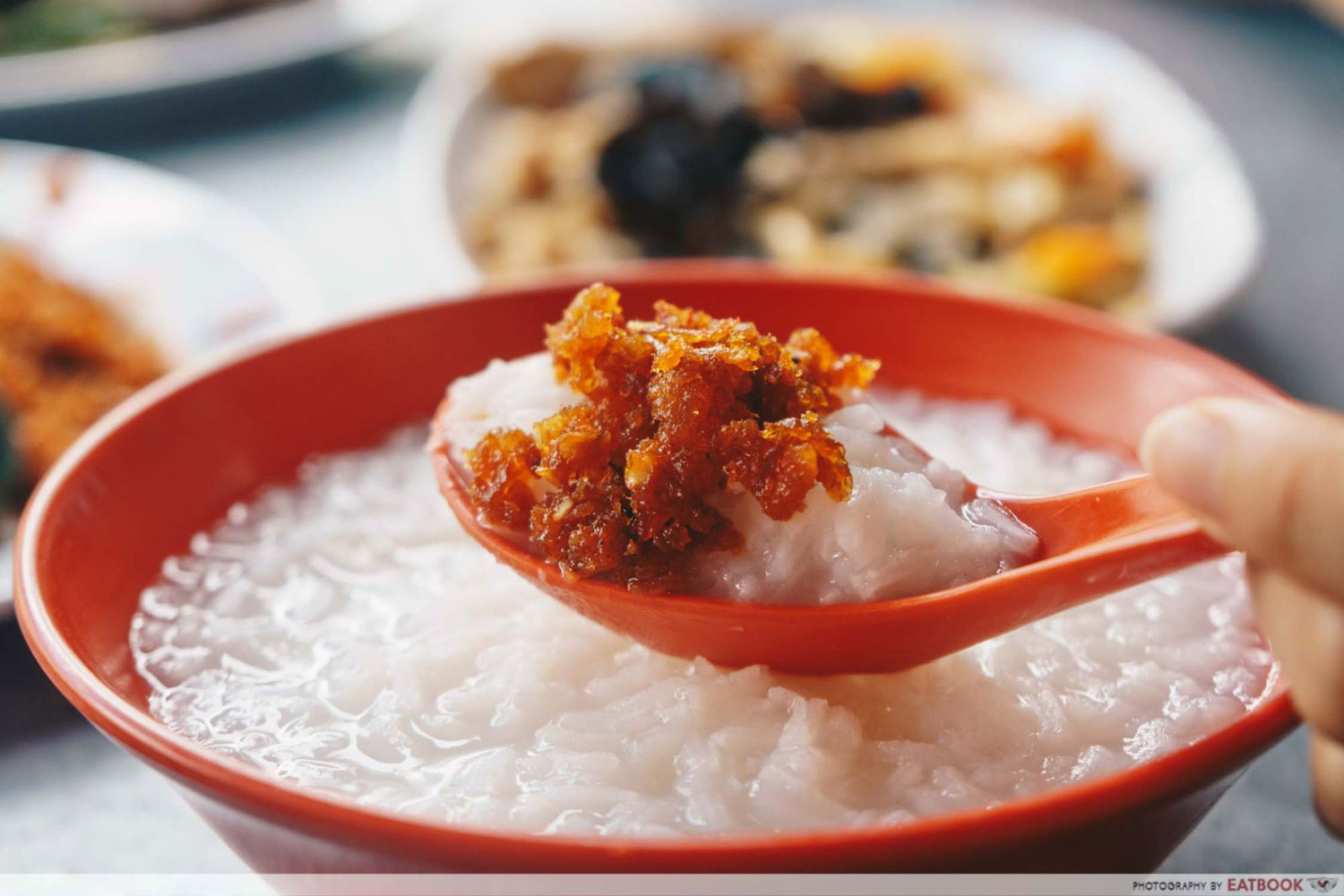 Popular Teochew porridge stalls to check out include Heng Long Teochew Porridge, which is notable for dishes such as chilli lala and braised pork belly, and Choon Seng Teochew Porridge, one of the oldest stalls of its kind around with dishes including prawn omelette and fermented black bean sauce minced pork.
Expected prices: $6 – $15
Read our guide to the best Teochew Porridge stalls in Singapore.
13 Teochew Porridge Spots In Singapore For Affordable Feasts
---
67. Thosai
---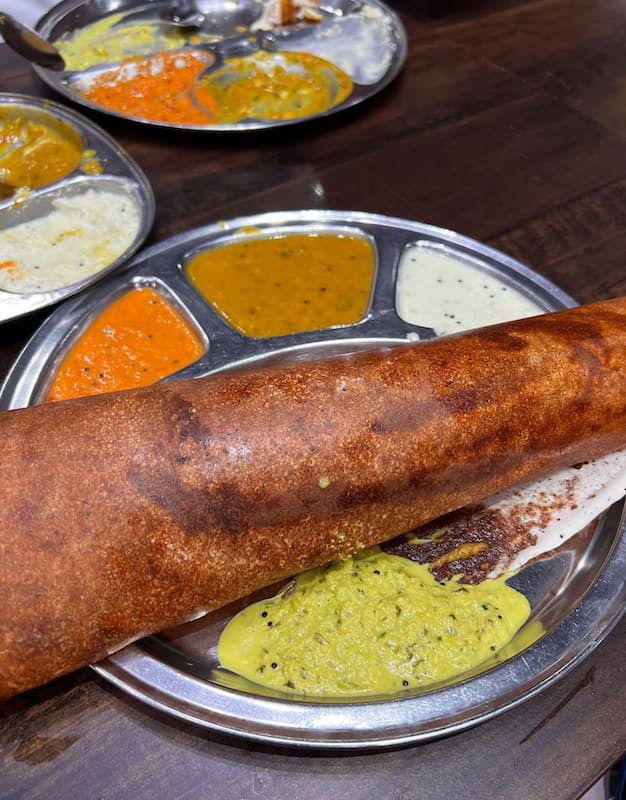 Image credit: @vaibhavbodas
Curries, prata, and briyani is not all that Singaporean-Indian cuisine has to offer. Thosai (also spelled as dosa) is also one of the most common foods enjoyed by many at almost any meal time of the day, with plenty of variations to choose from. Originating from South India, this savoury pancake is made from a batter consisting of fermented pulses and rice flour. While there are different ways to enjoy it, it's usually served with chutney and sambar for an extra flavourful kick.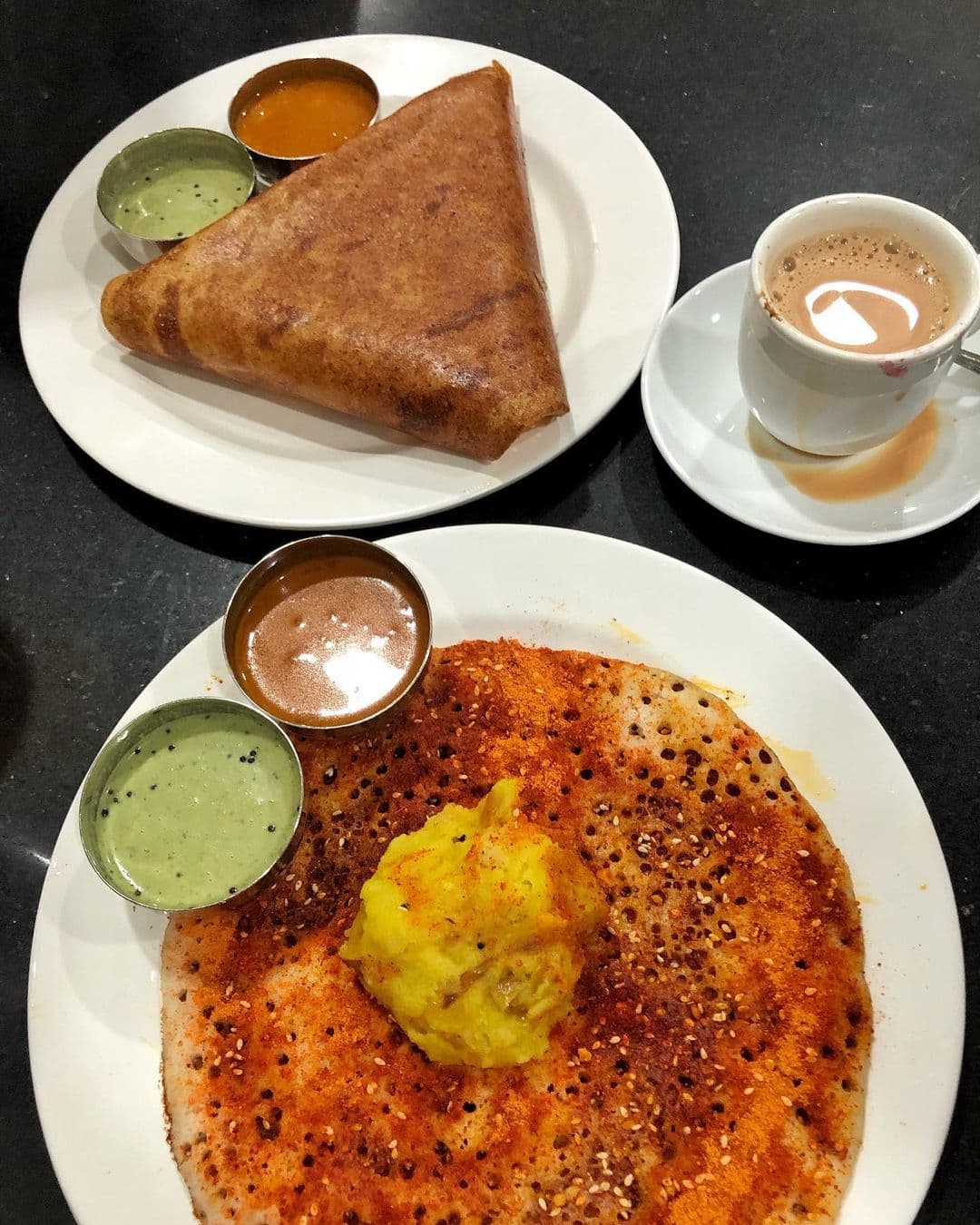 Image credit: @jintana_chia
We recommend heading down to MTR Singapore, a long-standing South Indian restaurant in Singapore that is rated as one of the best places to get South Indian food. They've got over three thousand Google reviews, including a highly recommended selection of dosa. Diners recommend their Pudi Masala Dosa, which sees spicy chutney powder and a dollop of masala-infused potatoes on top of a ghee-smeared pancake.
Komala Vilas is another legendary Indian restaurant in Singapore which has been around since 1947.Their menu is priced affordably too, with notable mentions including the Bhattura and Dosai Meal—it comes with different kinds of chutney, vegetables, and sambar, so you'll be guaranteed a filling and hearty meal. 
Expected prices: $7 – $10
---
68. Thunder Tea Rice
---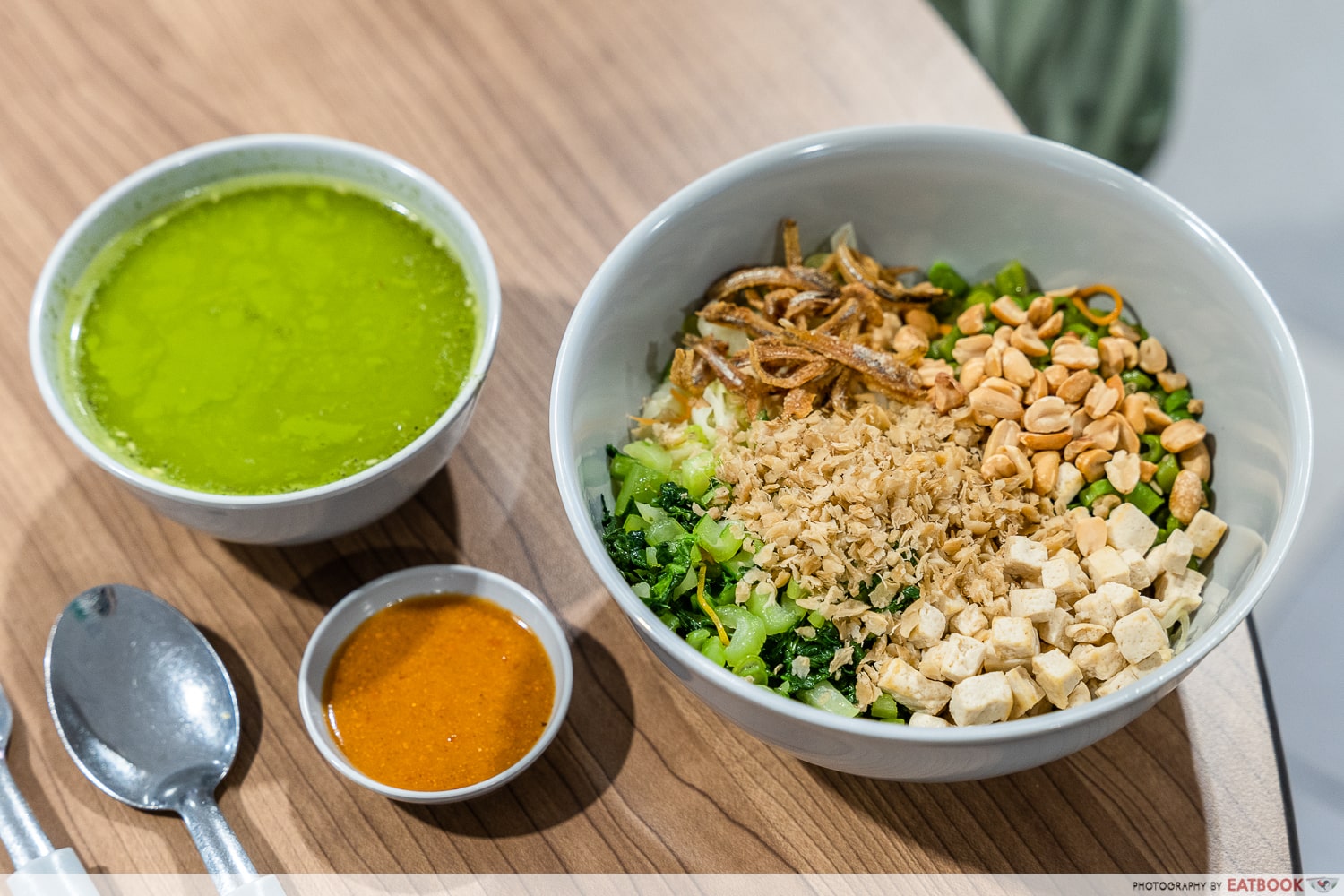 For a healthy yet filling meal, try thunder tea rice AKA lei cha fan. This classic Hakka dish comprises a bowl of brown or white rice topped with a medley of stir-fried veggies, tofu, and assorted condiments such as peanuts and preserved radish. It's served with a green tea-based soup that requires a tedious amount of work and preparation. Contrary to popular belief, "lei" refers to "pounded" in Mandarin, instead of "thunder". Traditionally, mint, mugwort and other herbs are grounded by hand with a mortar and pestle. After which, hot water is poured over the powder mix to create a thin soup.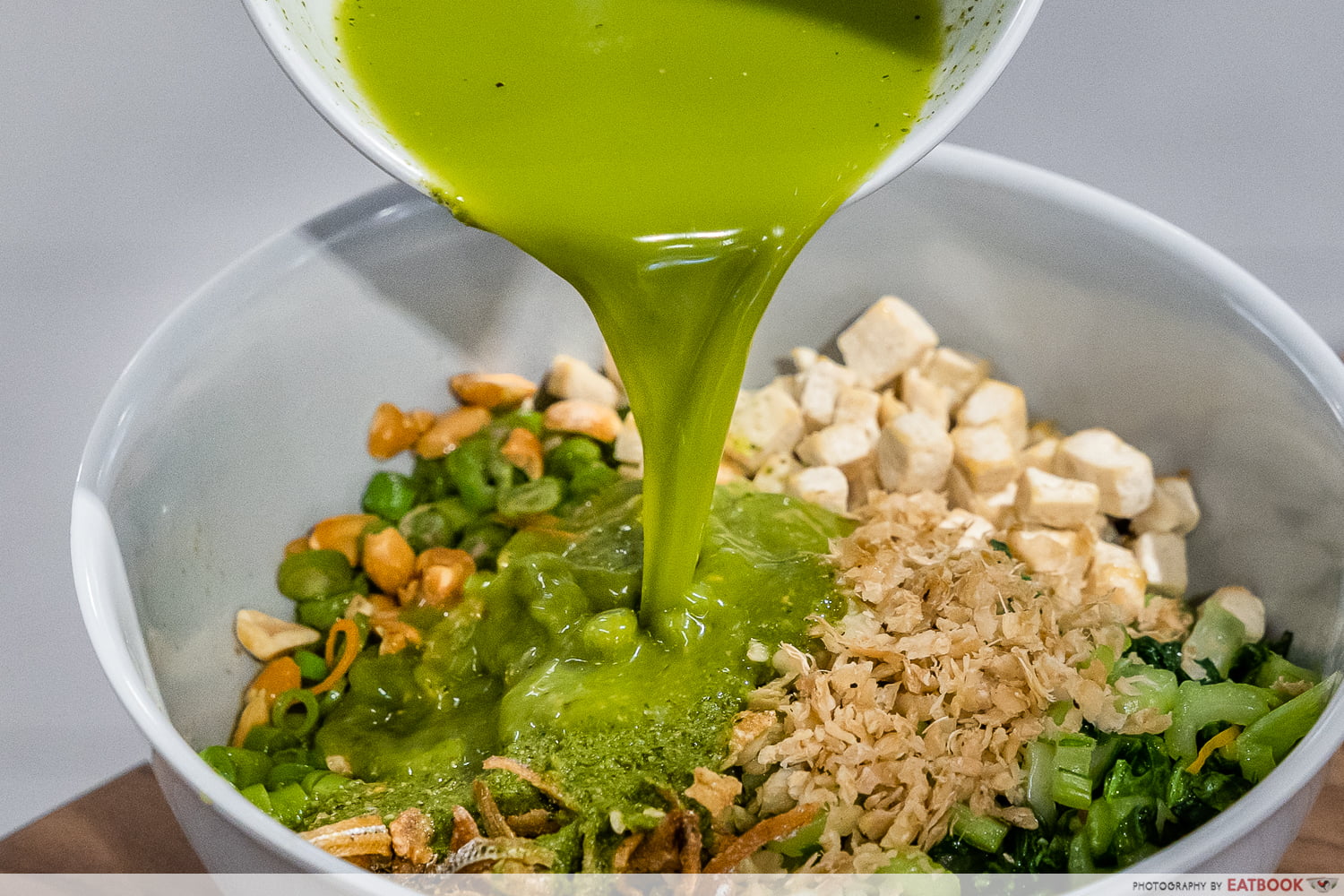 One popular stall for thunder tea rice is Living Wholesome Vegetarian, which has two outlets: Bukit Timah and Middle Road. This vegetarian-friendly stall is known for their healthy and delicious lei cha fan or bee hoon, priced from $5. All the ingredients are organic, while the broth is said to be herbal with a discernible mint and basil fragrance. There's also Thunder Tree, another vegetarian eatery that incorporates organic ingredients in its lei cha. Prices start at $6.80 for a serving.
Expected prices: $5 – $10
Read our guide to the best thunder tea rice in Singapore! 
8 Thunder Tea Rice Stalls For Healthy Lei Cha, Including A 100-Year-Old Recipe
---
69. Traditional Desserts
---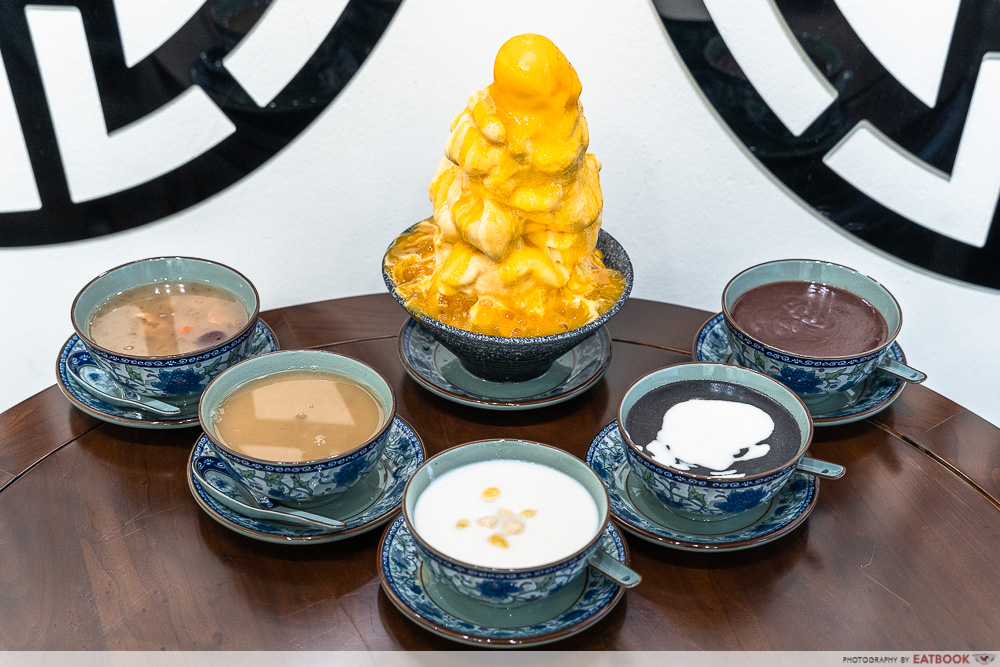 "Traditional desserts" refer to a category of sweet treats inspired by various Asian cultures, ranging from Taiwanese to Chinese, Malay to Thai. All of these are prepared from recipes that date back decades, if not centuries. These stalls offer an extensive array of both hot and cold desserts. Given Singapore's hot and humid climate, cold desserts are generally the popular pick. Nevertheless, hot desserts can be quite comforting, especially on cool evenings or rainy days.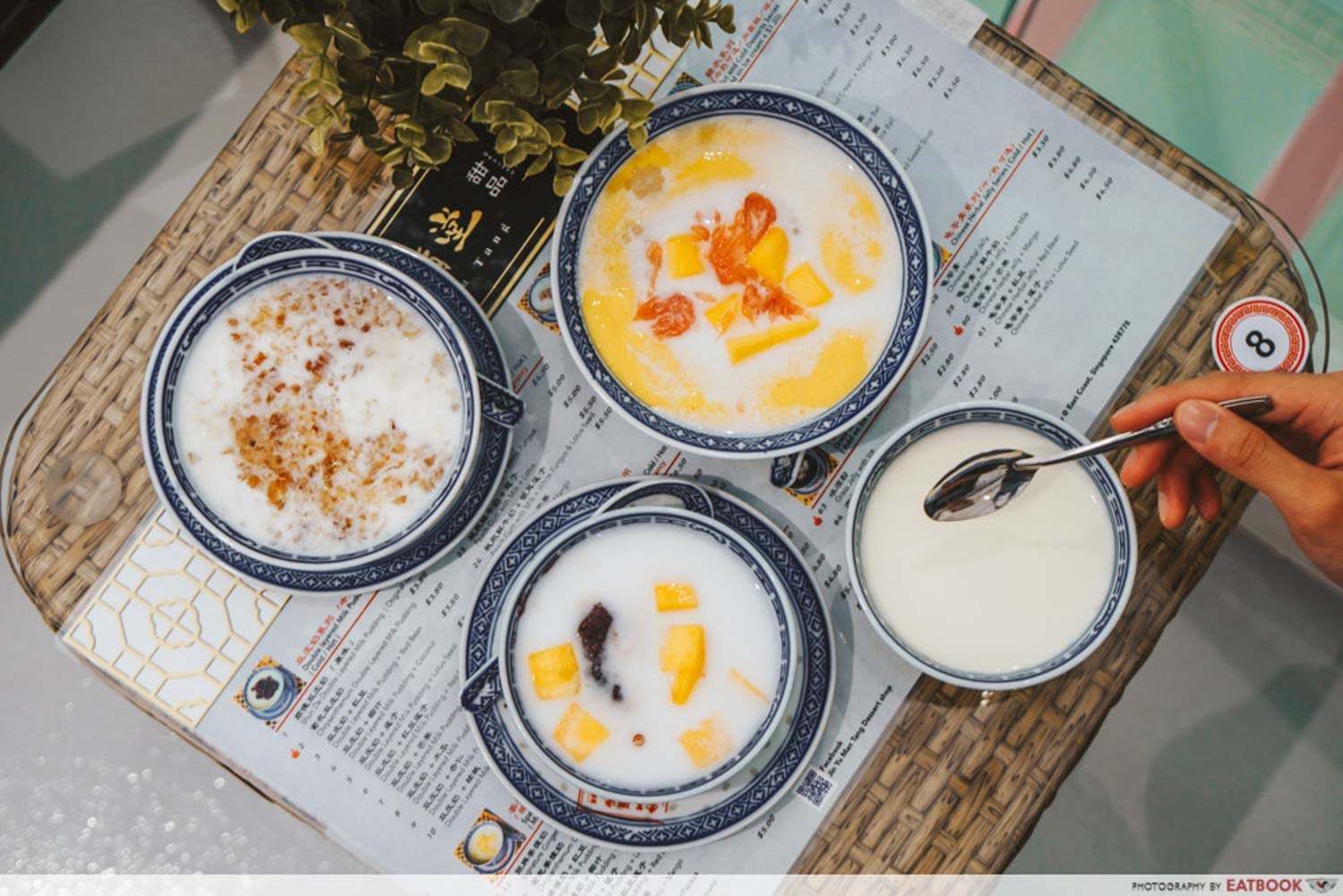 If you're looking for some of the best traditional desserts to try in Singapore, visit 115 Tang Shui at Chinatown Complex Food Centre. The stall has been serving traditional hot desserts such as sesame paste and chng tng for over 50 years. Ah Chew Desserts is another popular traditional dessert cafe, where you can get both hot and cold desserts at affordable prices. They have two outlets: one at Bugis and another at Novena. You can even get locally inspired desserts there, such as Durian Mango Sago with White Pomelo. Alternatively, for a more hipster-like cafe, visit Jin Yu Man Tang Dessert at Katong, where they offer Hong Kong-style milk pudding, peach gum and more.
Expected prices: $1.50 – $7
Read our guide to the best traditional desserts in Singapore.
---
70. Vadai
---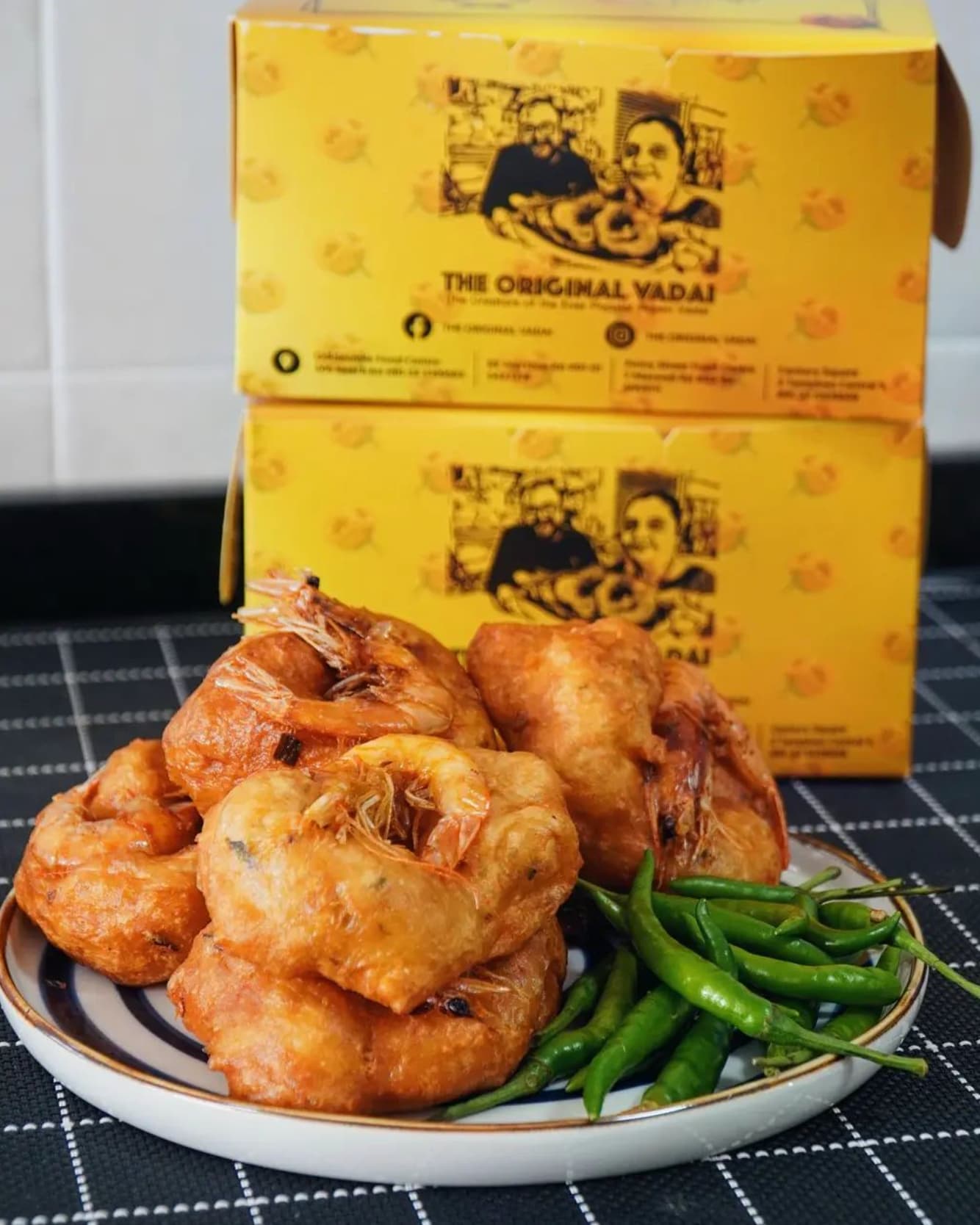 Image credit: The Original Vadai 
Vadai, AKA vada, vade, and bada, is a savoury deep-fried South Indian snack that's commonly found at pasar malams AKA night markets in Singapore. 
While there are different variations of this snack, the ones we're used to in Singapore are typically made from a batter consisting of soaked or fermented legumes and pulses. It's further enhanced with spices and other ingredients such as onions, green chilli, cumin seeds, and even a full-sized prawn on top before being fried till golden and crispy.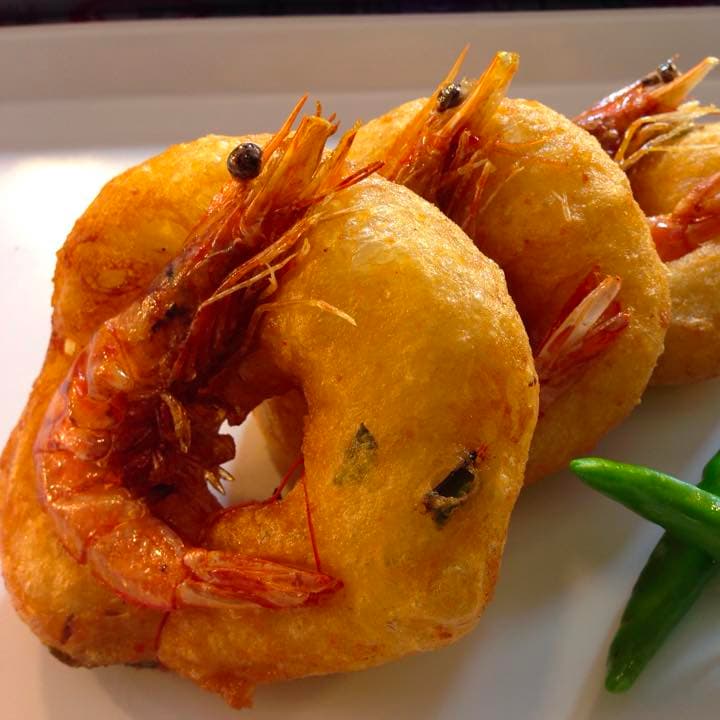 Image credit: @ashleyoms
Formerly a family-run pasar malam business that mainly operated during the yearly Geylang Serai Ramadan bazaar, The Original Vadai has expanded with several outlets located across the city. They've been around since the early 2000s, with their prawn vadai being sold like hotcakes. 
Gina's Vadai is another popular place for delicious vadai. They're said to be one of the oldest vadai stalls in Singapore, with the business operating for almost 40 years. Located in Dunman Food Centre, her vadai comes highly recommended for its fluffy and light texture complemented by its crispy exterior. 
Expected prices: $1.20 – $3
---
71. Western Food*
---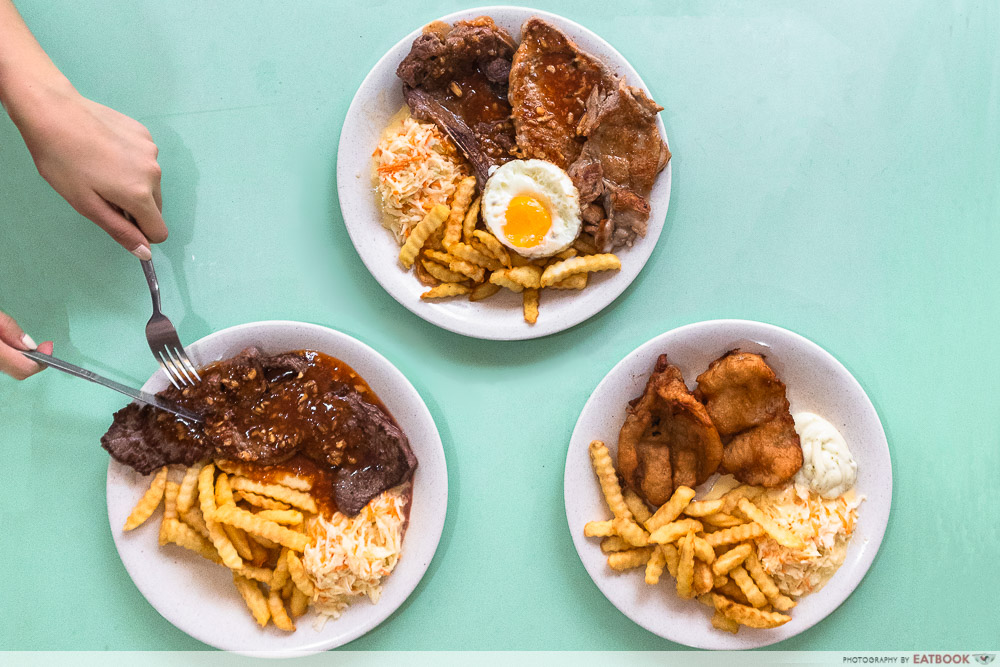 While globalisation has brought a multitude of Western restaurants to Singapore, few beat the value and comfort of the 'old-school' Hainanese Western food often found in hawker centres. These homely stalls often sell generous portions of Western dishes—think steak, grilled chicken, fish and chips, and even pasta. These dishes often come with sides—baked beans, coleslaw, and fried buns—that nod to the English influence that Hainanese Western food carries. Hainanese-style Western fare is deeply rooted in Singapore's colonial roots, where Hainanese cooks and housekeepers reinvented British recipes to please their English employers.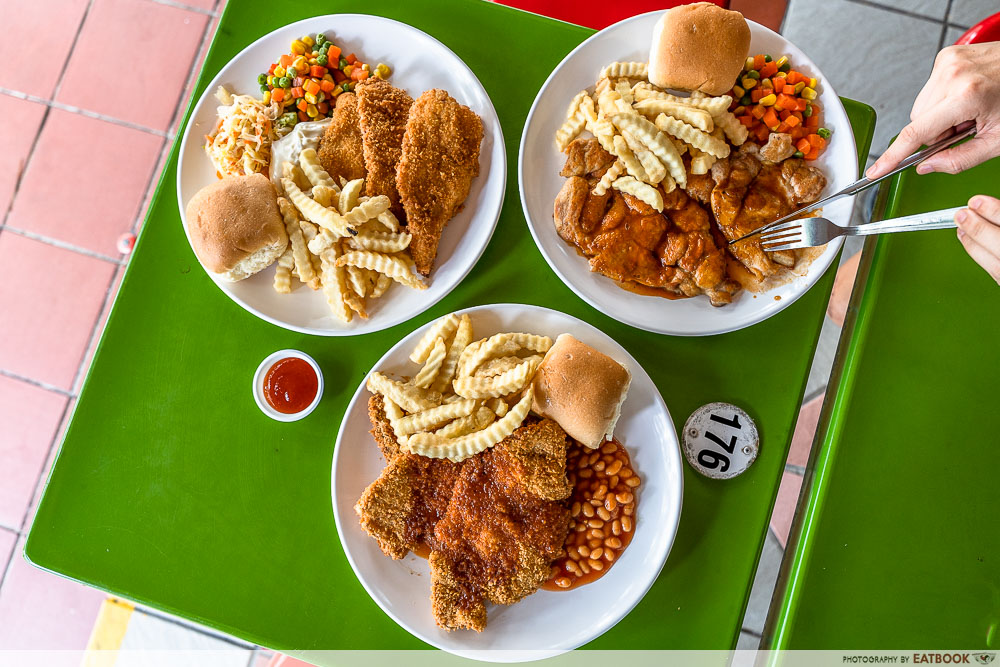 For a taste of old-school Western food in Singapore, drop by Western Barbeque at Old Airport Road Food Centre. Here, you can get classic dishes such as Chicken Chop, Lamb Chop and Sirloin Steak at affordable prices! Alternatively, visit Ye Lai Xiang Tasty Barbeque, a highly raved Hainanese-style Western food stall at Maxwell Food Centre with giant platters of western food for you to indulge in.
Expected prices: $5 – $30
Read our guide to the best western food in Singapore.
13 Old-School Western Food Stalls In Singapore For XXL Chicken Cutlet And Fish And Chips From $6
---
72. White Bee Hoon
---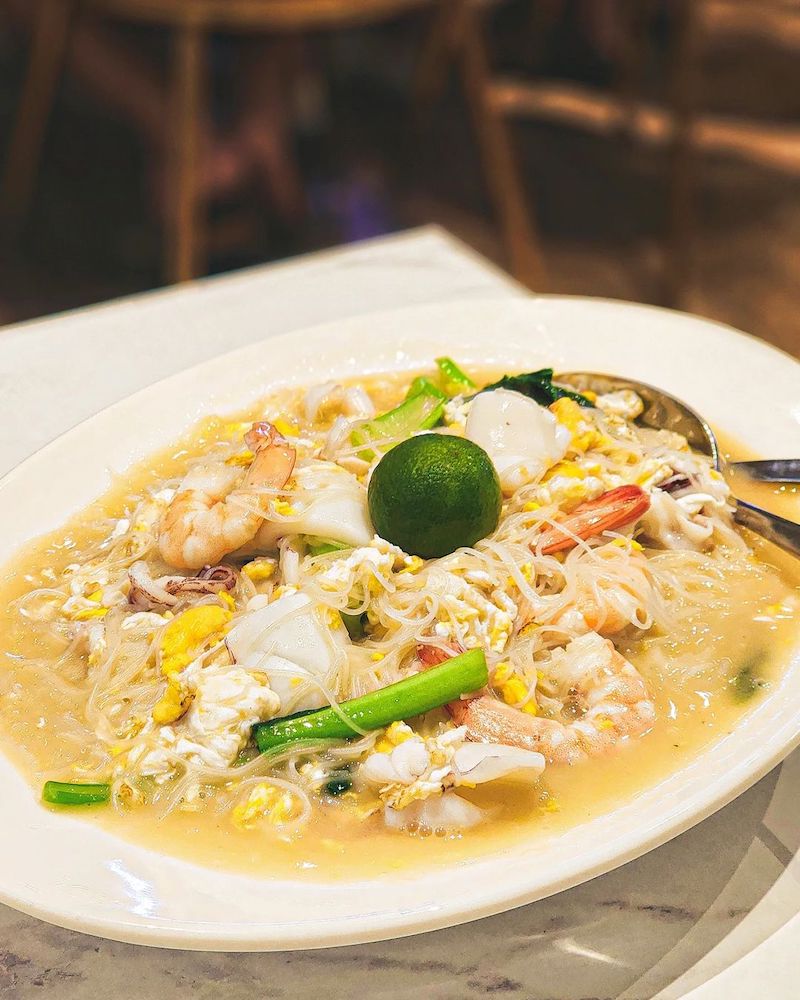 Image credit: @harloitsmee
Unlike many of the imported dishes on this list, white bee hoon is Singaporean through and through. The very first iteration of white bee hoon was created by Mr Tay King Huak back in 2000 at a small hawker stall in Sembawang, when he thought to come up with a bee hoon dish unlike the usual dark version at other zi char eateries. The rest, as they say, is history. Today, White Restaurant – The Original Sembawang White Beehoon is run by Mr Tay's son and son-in-law, and you'll find copies of his dish at both hawker and zi char spots everywhere.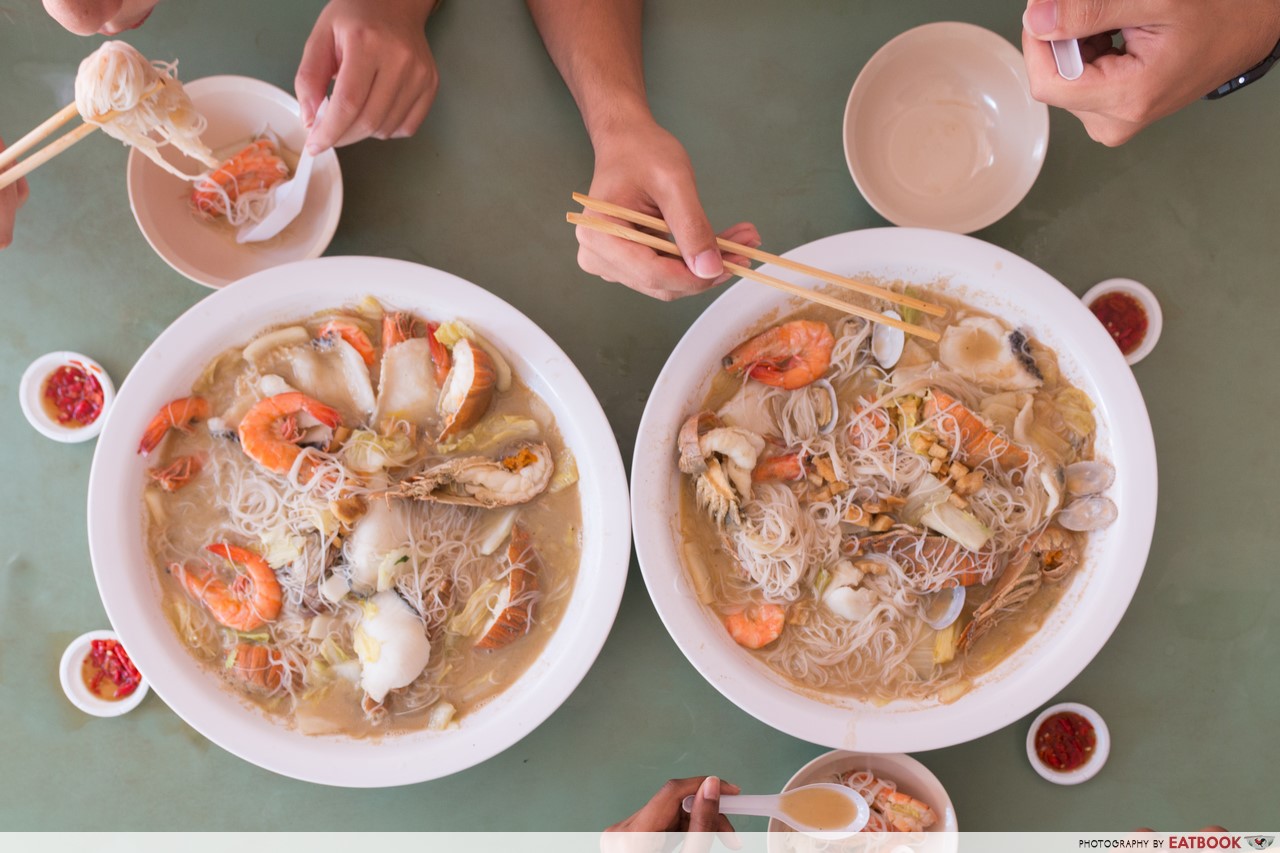 You'll find White Restaurant at nine locations across the island, including the very first shop they had at Jalan Tampang. Otherwise, Woon Woon Pek Beehoon at Changi Village is another option to consider━their white bee hoon comes in massive platters that are good for as many as seven diners! Chun Kee Seafood White Bee Hoon, located near Bugis, serves not just their own take on white bee hoon, but also a red version that's fried with house-made sambal for a fiery kick. 
Expected price: $5 – $70
Read our guide to white bee hoon spots in Singapore.
9 Seafood White Bee Hoon Spots From $4.50 For When Sembawang Is Too Far Away
---
73. Wonton Noodles*
---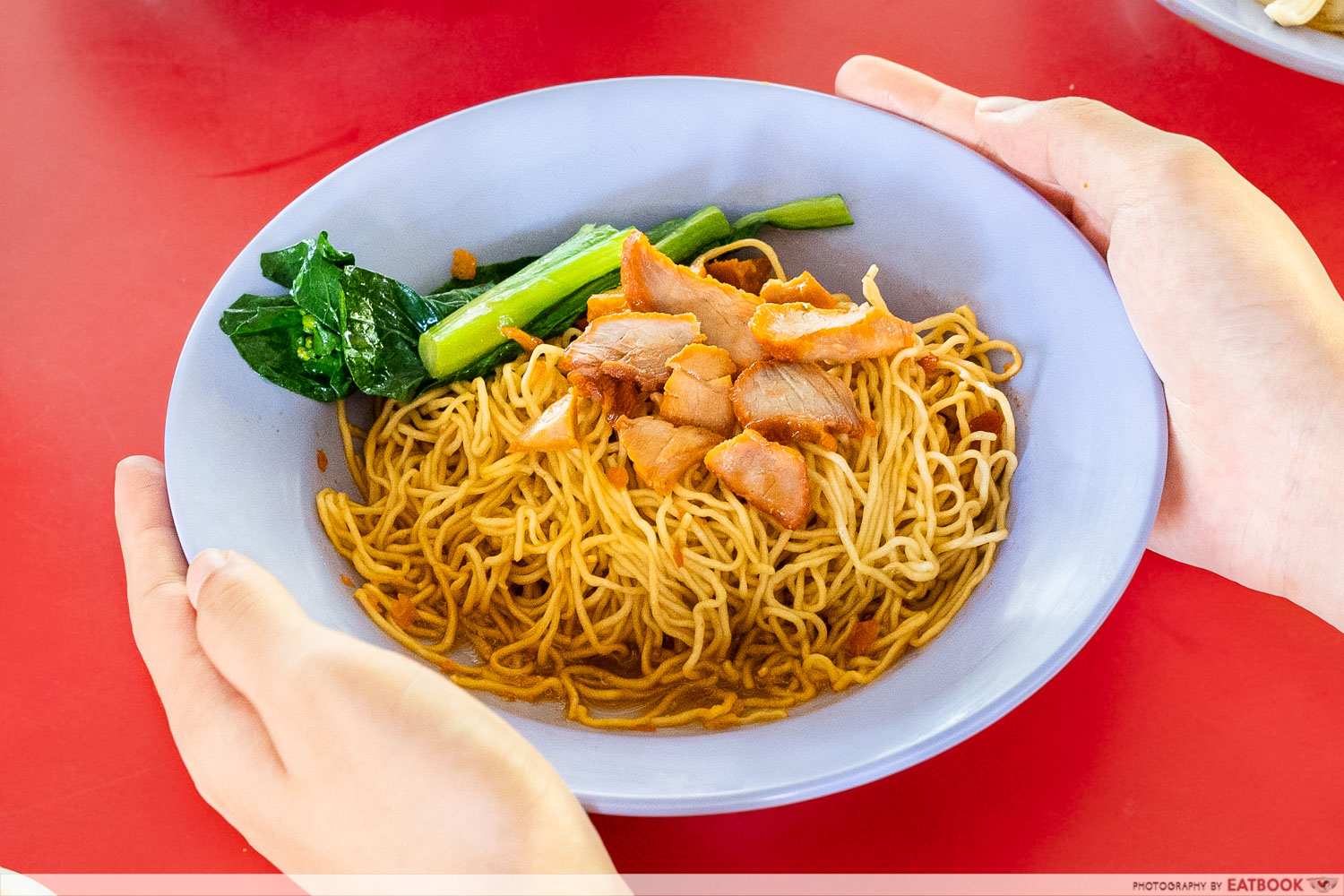 There are mainly three types of wonton mee you can get in Singapore: the local variety that's tossed in chilli ketchup; the dark soy sauce-laden Malaysian style; and the original Hong Kong version, which is served in soup and uses a thinner kind of noodles.
The former two are more commonly found in Singapore. Despite the endless arguments about which is better, they both share many similarities. They are often served dry, along with char siew and vegetables. A bowl of shrimp dumplings, AKA wonton, and soup completes the dish.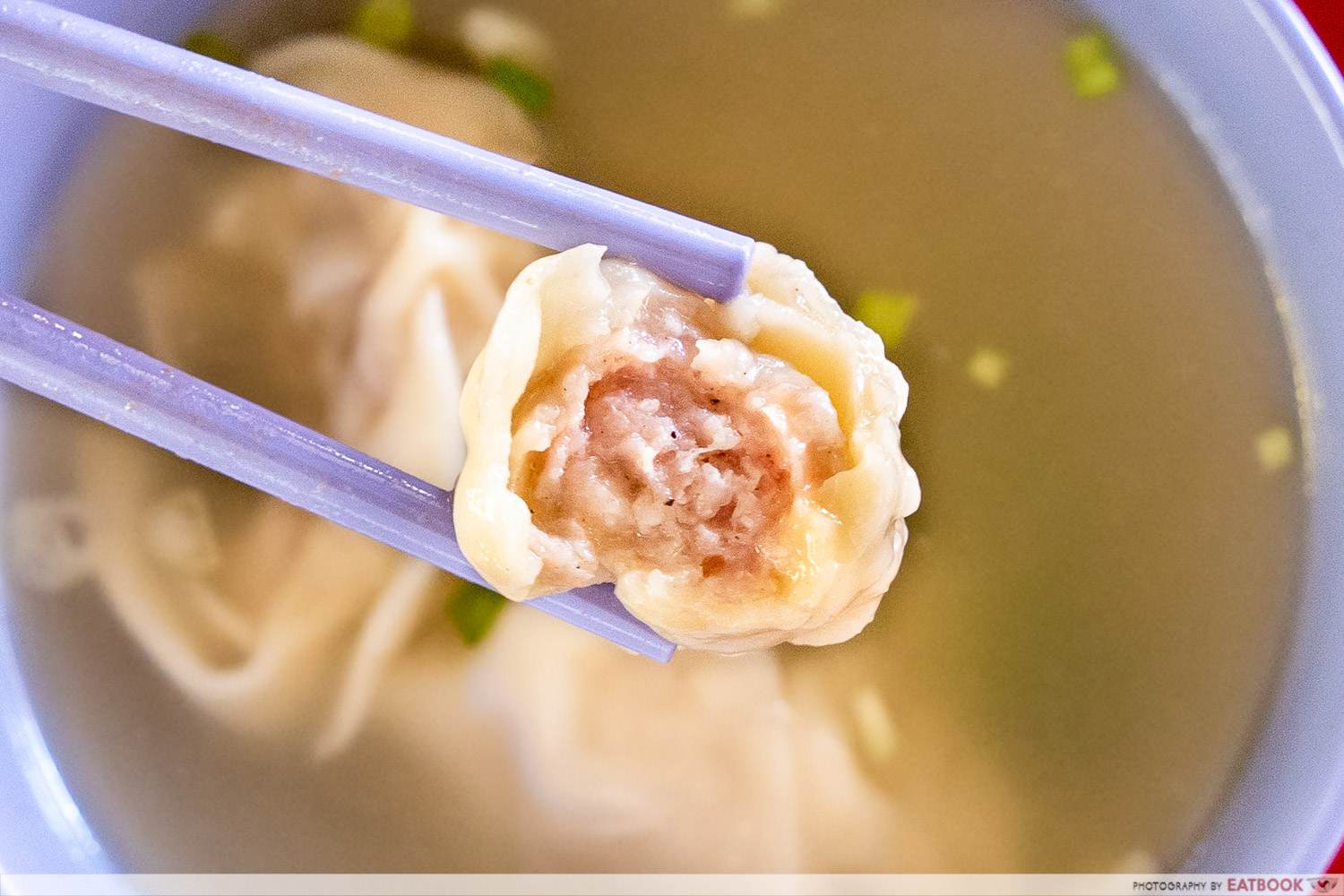 Must-try stalls include Ji Ji Wanton Noodle Specialist, a Michelin-recommended stall that opened in 1965, and Koung's Wan Tan Noodles, known for its house-made chilli and six-hour-roasted char siew. 
Expected prices: $3.50 – $7
Read our guide to the best wonton mee stalls in Singapore.
20 Best Wonton Mee In Singapore, Including XXL, Thai And Truffle Wanton Mee
---
74. Yong Tau Foo
---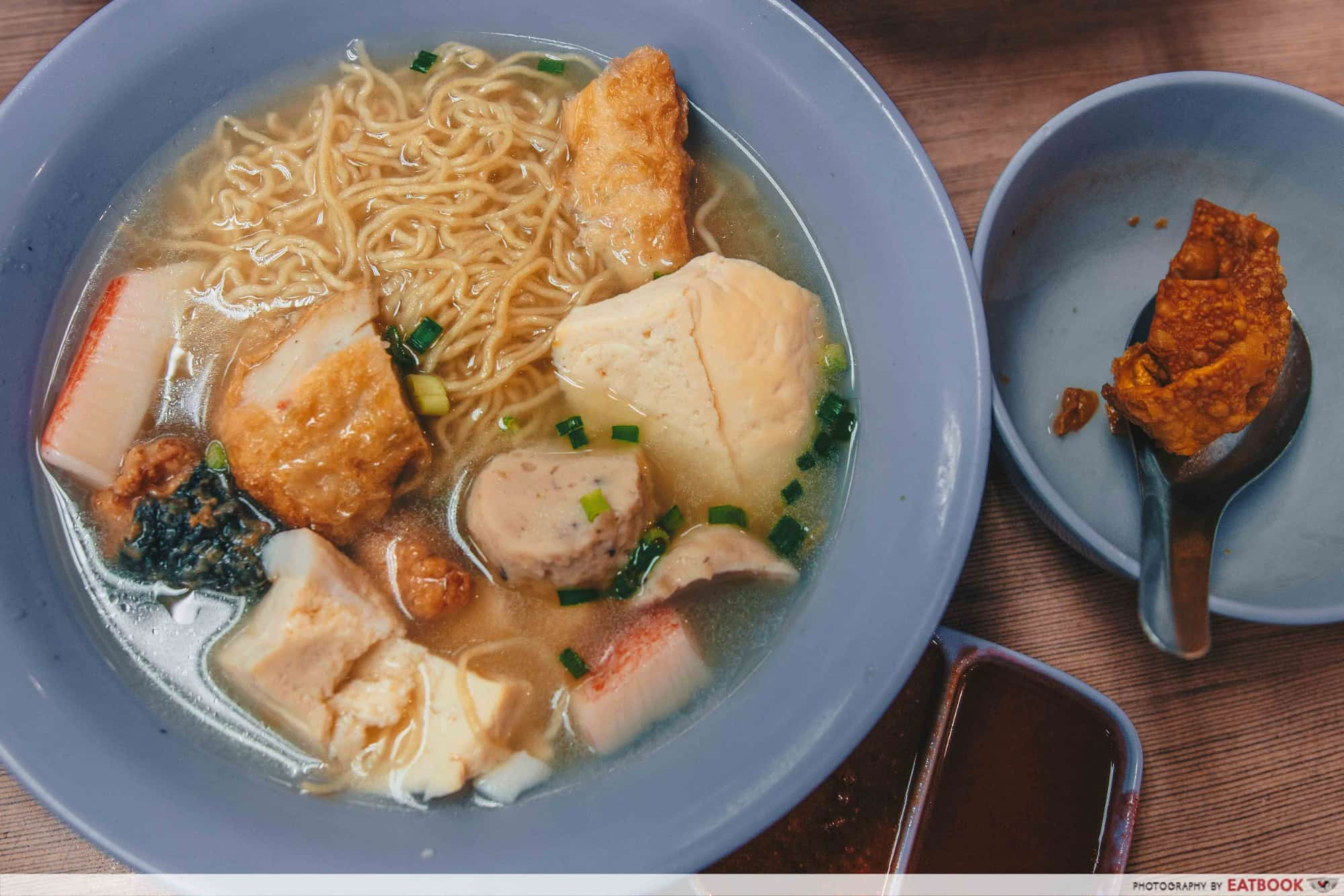 Yong tau foo is a popular Hakka Chinese dish that you'll find in most food courts and hawker centres across the island. There are many variations across the region, but here in Singapore, the most common iteration consists of fresh tofu and veggies stuffed with meat or fish paste, deep-fried or boiled upon order. The customisable dish is either served in soup or dry with sweet sauce and chilli, and paired with noodles or rice. Originally from China, yong tau foo has since been adapted to cater to the local palate. For example, there's the option of enjoying the dish in laksa soup or curry gravy these days.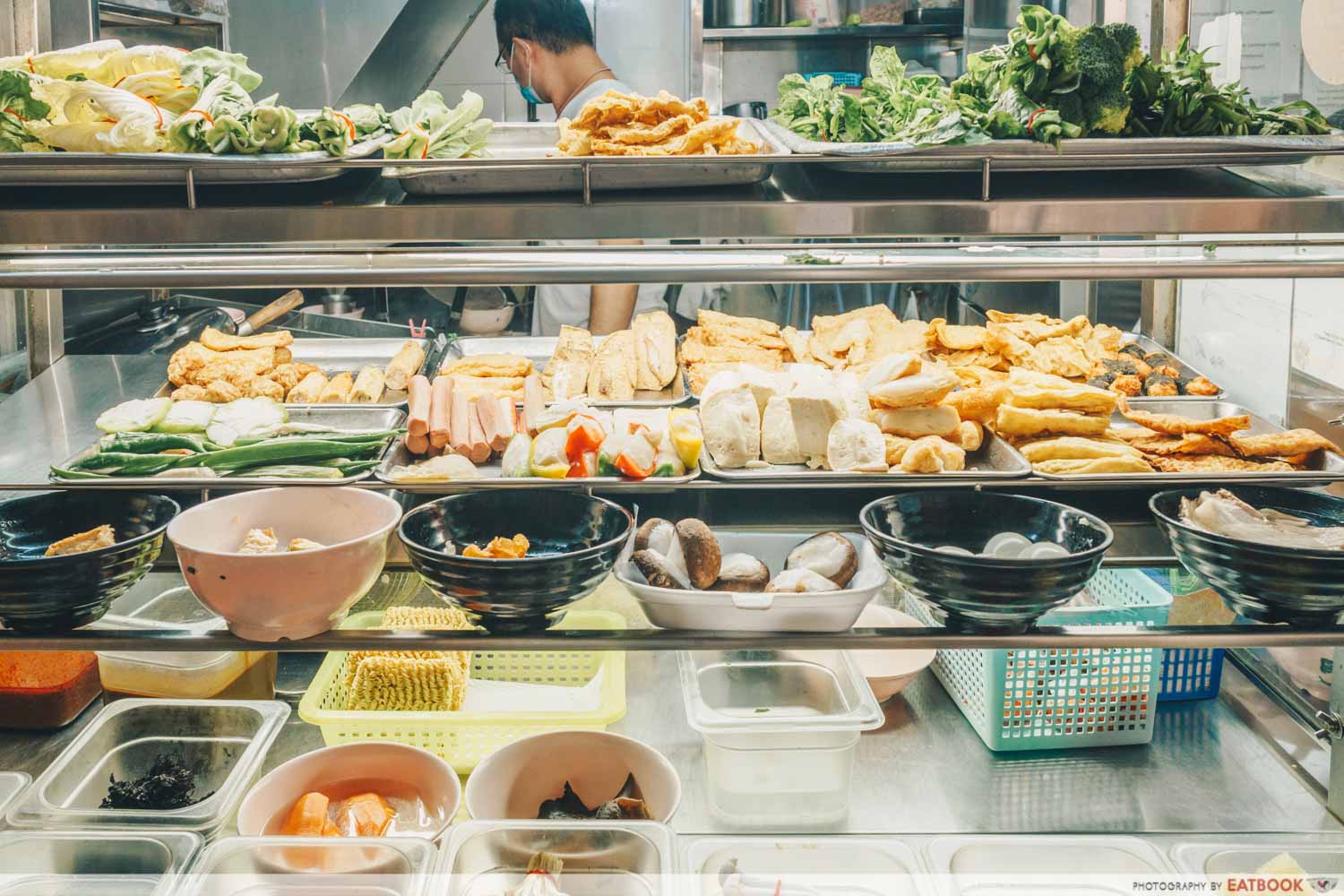 Out of the plethora of stalls all around Singapore, we recommend 922 Beng Cheng Hakka Ampang Yong Tau Fu that's been around since 2006. They open as early as 7:30am, selling their popular Hakka-style yong tau foo. They select ingredients for you based on the number of diners, but it's said that you can also choose your own ingredients if you inform them in advance. Alternatively, Bai Nian Niang Dou Fu is another crowd favourite despite their pricier offerings. The items here are handmade fresh daily, including their signature prawn paste and mixed meat paste. You can even request more bee hoon, at no extra cost! 
Expected prices: $3.50 – $7
Read our guide to the best yong tau foo stalls in Singapore. 
9 Yong Tau Foo Stalls In Singapore Including Laksa, Hakka, And Chee Cheong Fun Versions
---
75. Zi Char*
---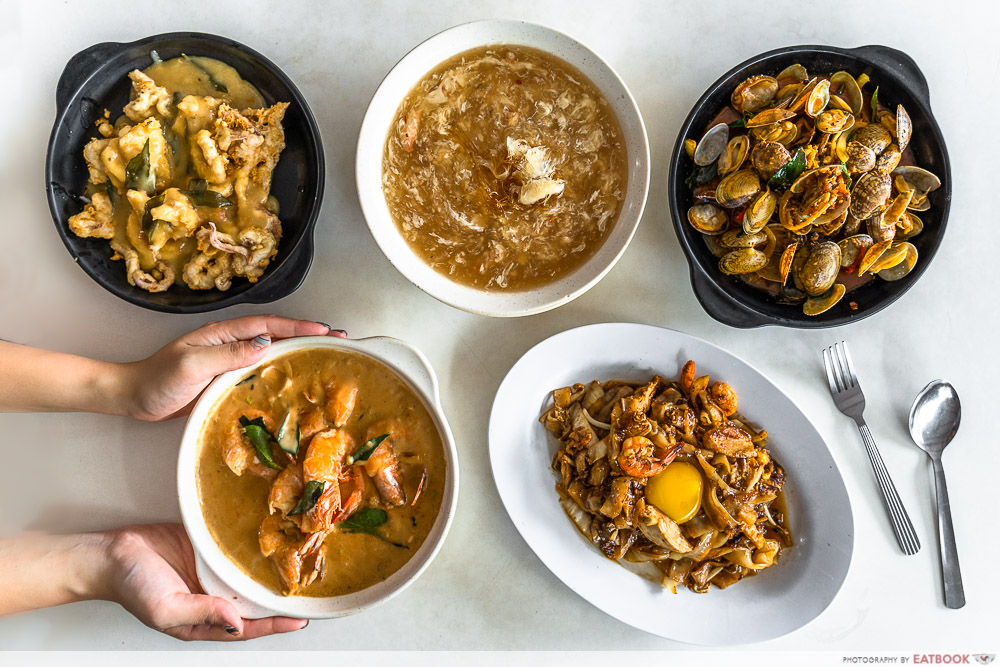 Zi char, a romanisation of 煮炒 (zhǔ chǎo), directly translates to cook-fry. Its name nods to stir- or wok-frying, the cooking method that underlines the way dishes are prepared at such stalls. Zi char dishes in Singapore are adapted from various cuisines, such as Teochew, Hokkien, and even Peranakan. The range of dishes offered at zi char stalls is remarkably extensive, ranging from meat to vegetables, seafood to carbs and many more. Zi char can be found at local kopitiams, often more affordably priced, or at long-established restaurants that have served generations of customers.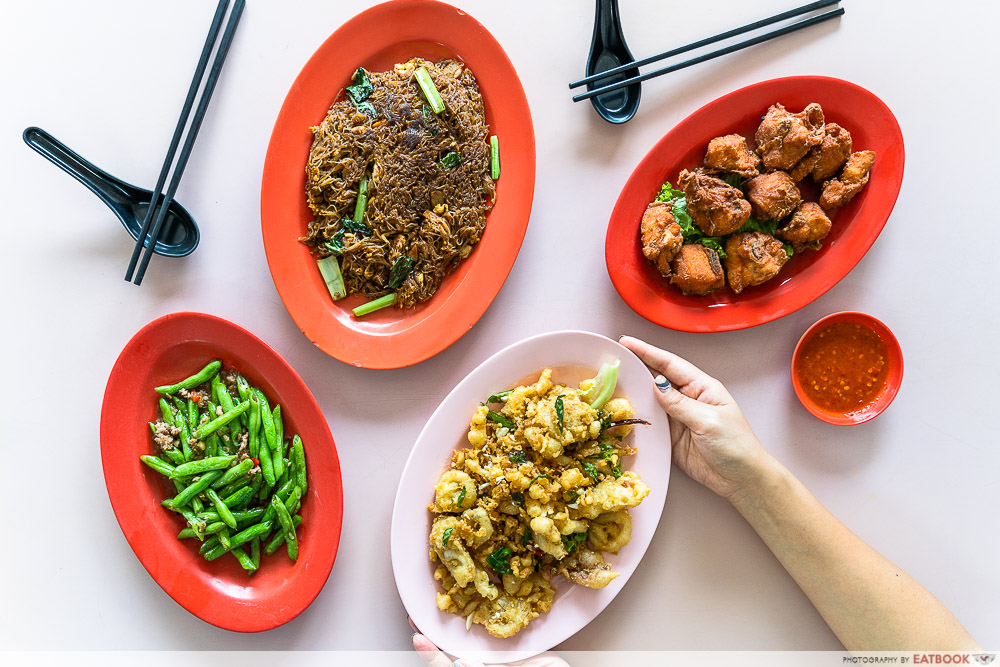 If you're keen on trying some of the best zi char in Singapore, check out Keng Eng Kee Seafood, a legendary zi char restaurant located in Bukit Merah and SAFRA Tampines. The eatery has earned a Michelin Plate, and a nod of approval from the late American chef Anthony Bourdain. Must-try dishes include their Signature Chilli Crab, Signature Moonlight Hor Fun and Coffee Pork Ribs. Another zi char restaurant that has earned a Michelin Bib Gourmand award is Kok Sen Restaurant near Outram Park, which is famous for their Big Prawns Hor Fun, Claypot Yong Tau Foo and Prawn Paste Chicken. 
Expected prices: $15 – $80
Read our guide to the best zi char in Singapore.
These Are The Best Zi Char Places In Singapore, According To Google Ratings
---
Must-eat food in Singapore
---
Here are all the best Singapore dishes to eat when you're here for a holiday, or just looking to broaden your foodie horizons beyond your usual stalls. If you've got a stall we should put on our radar, send your recommendations to us at hello@eatbook.sg.
The post The Ultimate Singapore Food Guide: 75 Truly Local Dishes You Must Try appeared first on EatBook.sg - Local Singapore Food Guide And Review Site.