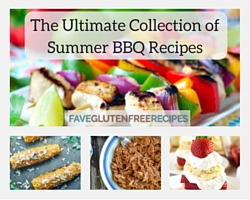 The summer months are often filled with BBQs and potlucks with family and friends. Sometimes, however, these events can be difficult for someone that has dietary restrictions. We have the best solution: throw your own gluten free BBQ! Many of the recipes featured in this collection are naturally gluten free or require very few substitutions. Your friends and family will be amazed at just how delicious gluten free food can be—including dessert! These recipes are seriously delicious and perfect for BBQs and parties.
The Ultimate Collection of Summer BBQ Recipes

Main Dishes
Whether you feel like serving chicken, beef, pork, or vegetarian options, these recipes have got you covered! Pick one main dish to stick with or mix and match to give your guests options. Either way, you're bound to have a backyard full of people with happy bellies.
Grilled Steak with Brandy Peppercorn Sauce
Easy Slow Cooker BBQ Pulled Pork
Mexican Carrot Dogs with Chunky Salsa Verde

Side Dishes
What's a BBQ without delicious side dishes? Serve up these sides with the main dishes of your choosing and your guests' taste buds will be in heaven.

Desserts
Top off your gluten free BBQ with these easy and healthy dessert recipes. Whether you want to use seasonal fruit, want a no-bake dessert, or both, these recipes have it all.
5-Ingredient Salted Caramel Cookie Cups

BONUS!
You can't have a BBQ without delicious BBQ flavor! These sauces and spices will make your food taste just that much better. Slather these sauces on meat while it's on the grill or serve them on the side for maximum BBQ flavor all around.
Sweet and Smoky Chicken and Rib Rub
Well, there you have it: all of the ingredients you need to throw the perfect gluten free summer BBQ! For even more tips on how to throw a gluten free party, check out the how-to guide here. These delicious recipes are bound to be a hit with all of your guests!
What is your favorite summer BBQ recipe? Tell us in the comments below!