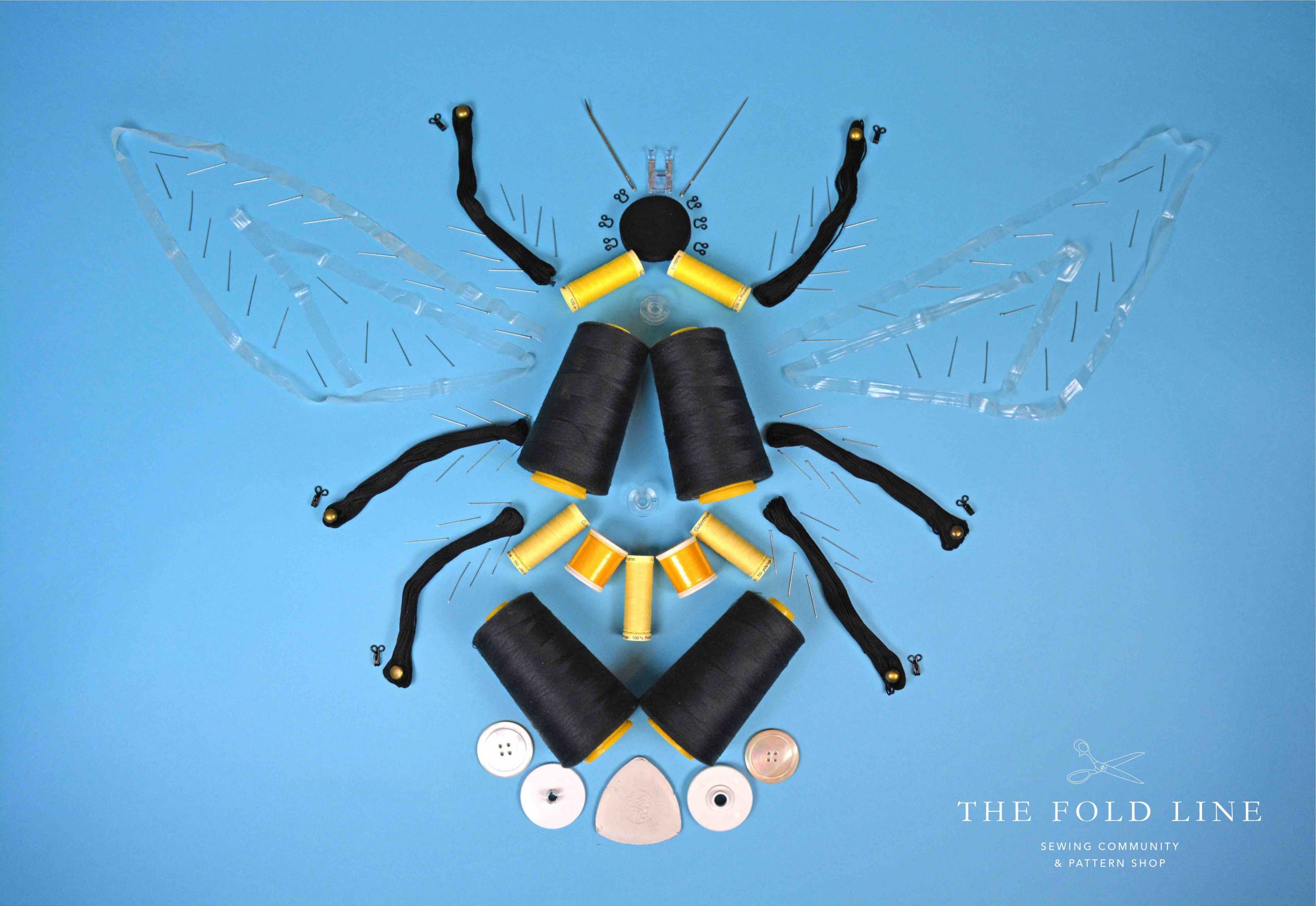 Here we go, it's week two of the Sewing Bee!
We are so excited to have the Sewing Bee to look forward to each week on BBC 1, just what we all need right now. We have searched high and low to bring you the best selection of sewing patterns from independent designers and commercial pattern houses. These are all inspired by the the second episode of the Great British Sewing bee series 6. If you haven't already seen our ultimate guide to the Sewing Bee page do take a look, we've got loads of exciting Sewing Bee goodness including a review of the book that accompanies the series!
In this second episode there are eleven contestants remaining, after we sadly said goodbye to Angillia in week one. The sewing bee theme for week two is holidays! The challenges included making a pair of Palazzo pants, transforming towels into beach cover-ups and making a made-to-measure relaxed men's beach shirt for a model. Take a look at our sewing pattern suggestions below, we've tried to find the exact patterns used but where we haven't been able to figure it out we have plenty of suggestions so that you can recreate these looks at home for your handmade wardrobe. Kate also talks through her favourite pattern options from the episode on YouTube in our special mid-week sewing bee vlog.
We've also included some sewing tips and tricks from bloggers and pattern designers in the sewing community to help you with any of the techniques used by the contestants in the TV show. If you want to chat about the episode and the challenges then do join us each week in our Facebook group event.
Sewing Bee: Pattern Picks
Challenge 1: Sew a holiday pair of palazzo pants
The first challenge of week two of the sewing bee is to sew a pair of holiday palazzo pants. These trousers became fashionable in the 1960s and 70s and have a loose cut with wide flared legs. Made fashionable by high end designers such as Donna Karen and Giorgio Armani, they formed part of power suit collections for women. The design of these pants are inspired by the trousers of the 1930s and 40s, as worn by actresses such as Greta Garbo. The pattern that featured in this challenge was a pair of trousers with invisible back seam zipper, in seam pockets and finished with a waistband. We have a few pattern suggestions below for you to make your own palazzo pants.
How To Do Fashion – No. 7 Vanløse Trousers and Top
This gorgeous 1930s-inspired set includes trousers and a top that can be worn together or as separate pieces. The high-waisted, wide-legged trousers have darts at the back. The waist is finished with a facing and closed with a zipper in the side seam. The pattern also comes with a blouse that has a cowl neckline, pleats on the shoulder, an empire cut on the front and a slit in the back. Make using light to medium weight woven fabric such as cotton, silk, wool, viscose, cupro or linen.
Sizing: EU 34 – 48 (approx. UK 6/8 – 20/22). Available in the shop: Yes, PDF and copy shop options.
Nina Lee – Portobello Trousers 
Simple, elegant and oh-so-flattering, the high-waisted Portobello Trousers are a cinch to make and work in a variety of fabrics for year-round comfort. Make them in a lightweight wool and you're work-ready in the winter; linens and rayons will keep you cool and effortlessly chic in the summer. The wide-legged silhouette is bang on trend and can be made to evoke the glamour of the '40s starlet or the relaxed vibe of a '70s bohemian. The trousers are constructed with front pleats and back darts, and a centre-back concealed zip (avoiding any tricky fly construction!), along with the all-important in-seam pockets. Make in light- to medium-weight wovens, ideally with some drape, such as crepe, linen, chambray, rayon, lightweight wool, cotton lawn, velvet.
Sizing: UK 6 – 20. Available in the shop: Yes, PDF and Paper options.
Itch to Stitch – Samara Trousers
The Samara Pants are not just on trend, these wide-leg, breezy pants also offer you ultra comfort with an understated elegant look. The Samara pants are high-waisted and provide an elongated effect. The side invisible zipper is discrete, so it does not interrupt the overall clean look. Though the Samara is designed to be long with a maxi skirt feel, you are welcome to hem them at floor length, ankle length, three-quarter length, knee length, or any length you wish. Make with lightweight, opaque woven fabric with good drape. Rayon challis, rayon twill, crepe, Tencel twill and charmeuse are great choices.
Sizing: 00 – 20 (approx. UK 8 – 22). Available in the shop: Yes, PDF and copy shop options.
Cashmerette – Calder trousers and shorts
The Calder Trousers and Shorts are wide-legged woven trousers feature a flat front, elasticated back waistband, faced in-seam pockets, and three length options: mid-calf, full, and shorts. Choose between a dartless apple fit and a darted back pear fit for ideal bum shaping. The Calder is sure to have you loving wearing pants again! Make in light- to mid-weight woven fabrics with drape, such as rayon or polyester twill, tencel, linen, or chambray.
Sizing: US 12 – 32 with Apple and Pear pelvis fit. (approx. UK 14 – 34). Available in the shop: Paper pattern coming soon (delivery delays to UK from USA).
Closet Case Files – Jenny trousers and overalls
Inspired by vintage workwear, Jenny is a modern interpretation of classic wide leg trousers with an ultra-high rise, sleek, functional details and a comfortable all-day-long fit. This pattern also comes with an overalls option. Optional details abound: mix and match the curved slash front pockets, faux fly front, single or double zipper waistband and rounded back patch pockets. To personalise even further, go all out with high contrast topstitching, or take a more minimalist approach for a clean, elegant finish. Make using bottom-weight woven fabrics such as denim, twill, canvas, gabardine, medium weight linen, jacquard and brocade.
Sizing: 0 – 20 (approx. UK 6 – 20). Available in the shop: Yes, paper pattern.
Helen's Closet – Winslow Culottes
The Winslow Culottes are wide-legged pants designed for ultimate comfort and style. This pattern can be made at any length, from shorts to full-length palazzo pants! The design features inseam pockets, an invisible zipper, a waistband, and inverted box pleats. Make midi-length culottes in Tencel twill for a chic, modern look, shorts in cotton lawn for active adventures, or pants in rayon challis for luxurious weekend wear.
Sizing: 0 – 30 (approx. UK 6 – 30). Available in the shop: Yes, PDF and copy shop options.
Victory Patterns – Esther Pants
Esther is a loose fitting, wide-leg pant with a twist. The front features two angled overlapping pleats and centre seams along the legs. Front slash pockets follow the angles of the pleats. This style sits at the natural waist with a straight waistband and closes with an invisible zipper and button at the centre back. Esther can be sewn full-length or cropped just below mid-calf. An optional sash can be added to either style. Make with mid-weight fabric with high drape, such as crepe, soft linen, silk, Tencel, and rayon blends.
Sizing: 0 – 16 (approx. UK 6 – 18). Available in the shop: Yes, PDF and copy shop options.
Deer and Doe – Narcisse Pants
Narcisse are high-waisted wide-leg pants with decorative side stripes, inseam front pockets, and single-welt pockets in the back. Make in lightweight twill, denim, chambray or linen.
Sizing: EU 34 – 46 (approx. UK 6 – 14/16). Available in the shop: Yes, paper.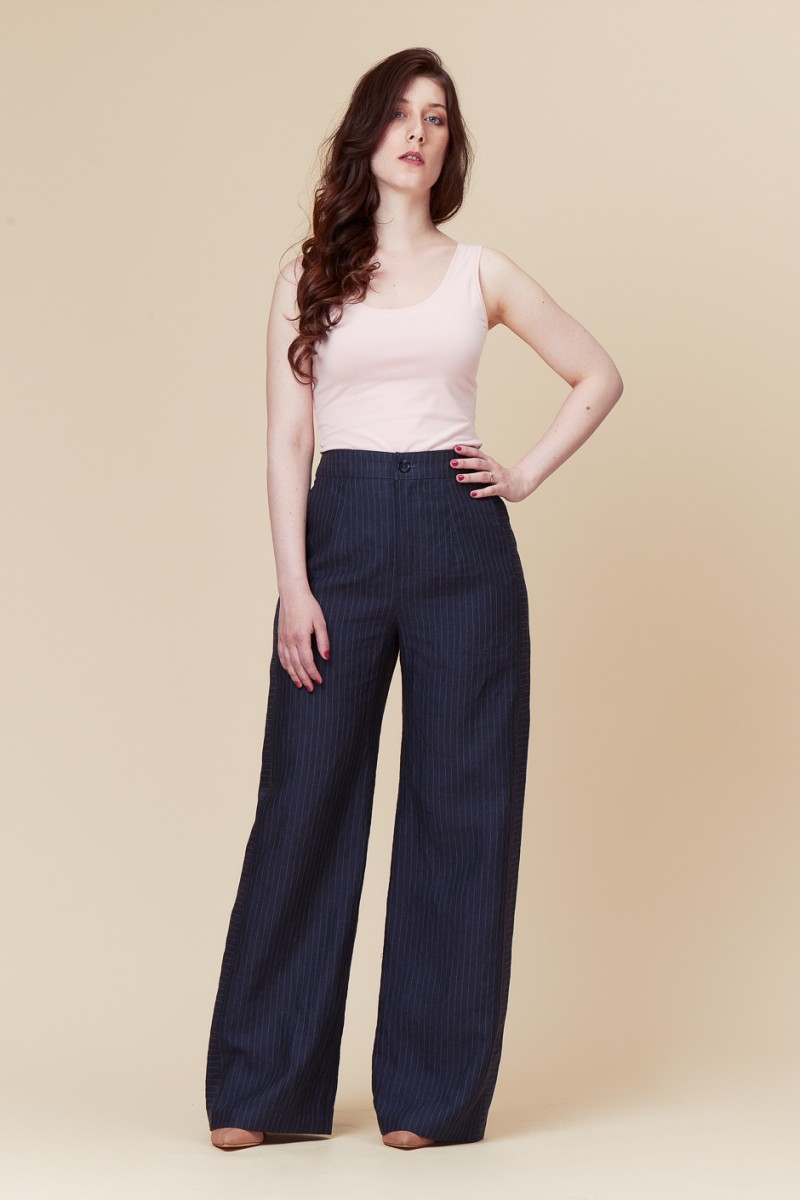 ---
Challenge 2: Transforming towels into beach cover-ups
In the upcycling challenge contestants had to use towels to create a beach cover-up. Specific patterns weren't used for these tasks as contestants had to create a garment from an existing one in a fixed time so it's a bit tricky for us to make sewing pattern suggestions based on these design ideas.
---
Challenge 3: Made-to-measure men's relaxed beach shirt
In the final challenge of week two, all the contestants had to make a relaxed fit men's beach shirt. The style of the shirt could be interpreted however the contestants liked, so the garments produced ranged from the relaxed with patched pockets and contrasting collar to full on tropical soft collared shirts with pintucks. Relaxed men's shirts became popular during the mid-twentieth century when they took on a tropical and tourist look for people traveling or wanting to holiday in warmer countries abroad. The prints were kitschy in design and included classic palm prints, beach cruiser illustrations and were paired with sandals. For each contestant we have tried to find the pattern they used in the BBC1 TV show and also have some other suggestions of similar patterns you could use to make your own version.
Matt's 'Ode to Frida' holiday shirt
Features: Centre back inverted pleat and Frida Kahlo print.
Pattern: Kwik Sew K3484.
Sizing: S – XXL. Available in the shop: No, available directly from Sew Direct.
Fiona's '1950s style' and Ali's 'Festival' holiday shirts
Features: Fiona – contrast collar and cuffs with two pattern matching pockets. Ali – raglan sleeves with baby blue buttons
Pattern: Vintage Simplicity S8659. This Simplicity 1950s vintage Men's beach set includes a shirt and swim shorts. Shirt has short raglan sleeves which turn back to form cuffs. Pockets with contrasting bands are featured at the front. The swim shorts have a pocket with a pointed button-flap at right front; elastic and drawstring form the waistline.
Sizing: XS – XL. Available in the shop: No longer in print, try reselling websites such as Etsy and Ebay.
Therese's 'Parrot Fashion' and Hazel's 'African Wax print' holiday shirts
Features: Therese – parrot print cotton with back box pleat. Hazel – contrast topstitch and blue pocket and collar.
Pattern: New Look 6197. Misses' and men's New Look pattern button front shirts has convertible collar, back yoke with forward shoulder seam and optional front patch pockets. Men's style has short sleeves & side slits; misses' more fitted style has shirttail hem and can be made with or without short sleeves and can be worn tucked in or out or tied in front.
Sizing: XS – XL. Available in the shop: No, available directly from Sew Direct.
Peter's 'Contemporary' holiday shirt
Features: relaxed camp collar with rolled up super-sized sleeves.
Pattern: Colette Negroni. For men that like a classic, slightly retro shirt with a more modern cut, this shirt pattern is just the thing. This shirt can be made in a variety of fabrics, such as crisp shirting, warm flannel for winter, or cool rayon for summer.
Sizing: XS – 2XL. Available in the shop: No, available directly from the designer as a PDF.
Liz's 'Koi Carp' holiday shirt
Features: Loose 90s fit with Koi Carp print cotton fabric
Pattern: McCalls 6932. These shirts have a collar, back pleated into self-lined yoke with forward shoulder seams, and narrow hem. A: Sleeveless, bias armhole facings, back longer than front (wrong side shows). B: Stitched hem on short sleeves. A, B, C: Pockets with mock bands. D: Shaped hemline. C, D: Two-piece effect long sleeves with pleats, seam opening and button cuffs.
Sizing: S – XXXL. Available in the shop: Yes, paper.
Mark's 'Tropical' holiday shirt
Features: Two pattern matched pockets.
Pattern: Simplicity 8180. Get these essential pieces for boys and men including short or long sleeve collared shirt with chest pocket, boxer shorts with elastic waist and tie. This pattern is great for coordinating or matching outfits.
Sizing: . Available in the shop: No, available directly from Sew Direct.
Clare's 'Peruvian' holiday shirt and Alex's 'Chest Appeal' holiday shirt
Features: Clare – Llama print with pink buttons; Alex – Made from viscose jersey.
Pattern: A similar pattern would be the McCalls M6613, which is available for men and women. These shirts have a pointed collar, collar and front bands, self-lined yoke, forward shoulder seams and narrow hem. A: Stitched hem on short sleeves. B: Pleated chest pockets with flap and opening for pen or pencil. C: Bias front band and pockets, snap closings. B, C, D: Long, two-piece sleeves with pleats, button cuffs (seam opening). B, C: Rolled sleeves (wrong side shows).
Sizing: XM (S-M-L), XN (XL-XXL-XXXL). Available in the shop: Yes, paper pattern.
Nicole's 'Shirt-Jac' holiday shirt
Features: Tropical print shirt with pin tucks.
Pattern: We're not sure which pattern this was, perhaps Nicole hacked it and added her own pin tucks? If you've worked it out please let us know!
---
Sewing Bee: Tutorials and top tips
Here are tutorials from indie designers and bloggers to help you get to grips with the techniques used to make the patterns in the show. Each week there are some tricky skills that the sewing bee contestants have to tackle, so it's a great opportunity to give these a go for yourself and build on your sewing knowledge.
Fitting trousers and pants
Heather at Closet Case Files shares a free trousers/pants fitting e-book (just enter your email address for access)
Inserting an invisible zipper
Nina Lee shares a tutorial and her top tips for inserting an invisible zipper.
Fabric pattern matching
The team at Seamwork share three methods for pattern matching your makes.
Getting the perfect shirt collar
The team at Seamwork share a tutorial on creating the perfect point on your shirt collar.
Buttonholes
Tilly and the Buttons share their top tips on creating the perfect buttonhole.
The post The Great British Sewing Bee 2020 – Series 6 Episode 2 – Sewing Patterns appeared first on The Foldline.