If you are planning a warm-weather trip soon, there is a lot to consider while packing your suitcase. Often, we leave behind clothing that would have worked better than what we brought! A little consideration can help prevent wardrobe mishaps. Use this beach vacation packing list and some helpful suggestions to prepare yourself for a warm-weather getaway.
Research Your Destination
I would recommend checking the average temperatures, especially if it is somewhere you have never been before. Tropical getaways are warm most of the time, but paradise islands do have tropical showers. Hotels usually have detailed and informative websites with plenty of pictures. Researching your destination before you arrive can give you an idea of the dress code around the resort or in the dining rooms.
If you are traveling by plane, make sure to know the weight limit for checked baggage. The airline will indicate this on their website, and they are all very strict about baggage weight limits.
Layer, Layer, Layer!
Choose your outfits with a top layer for warmth. You'll want clothing that can easily be removed when you no longer need it. Once the sun goes down, you may find yourself wanting to throw on that extra layer.
Start Early
Lastly, give yourself plenty of time to choose items from your beach vacation packing list. Do not wait until a day or two beforehand because that is when you're thinking of way too many other things you need to do before you leave! If you're coming from the cold, you're not going to be wearing the clothes you pack. So lay out your outfits ahead of time when you're not rushed. Then place your clothes in your suitcase the night before so they won't wrinkle.
What to Pack for a Warm Weather Vacation
First things first – Get a great suitcase
A great pair of jeans
You can wear lighter-colored denim jeans with frilly blouses, and add a jacket or blazer if the night air is cool.
A denim dress or skirt
If you're looking for something new and on-trend, I highly recommend a denim dress or a long denim skirt. You can either dress these up or down with the right accessories.
White button-down shirts
These are another spring/summer classic, and they look great with a pair of linen pants or over a bathing suit as a cover-up.
A lightweight jacket or a large scarf
For cooler days and evenings, these are great layering pieces.
Gym Shoes
A pair of comfortable, trendy gym shoes are great for sightseeing or hitting the resort's gym. You can always wear them on the plane to save packing room.
Evening Wear
Most resort destinations have a more casual atmosphere for dining. However, you still may want to make your evenings special and feel fancy. You can wear a cocktail dress with flat sandals, or a long pleated skirt with a cotton t-shirt.
Swimsuits
If you're going to a tropical locale, then, of course, you will need swimsuits!
Beach Wear
Hats for the beach, cover-ups, and don't forget a beach bag and sunscreen. Your bag could even double as your carry-on when flying!
Casual Touring Clothes
Don't forget Bermuda shorts or breezy sundresses for afternoon shopping or touring.
No matter how well we prepare, unexpected changes in the weather are inevitable, and that, ladies, is why we all own at least one souvenir sweatshirt. Be as best prepared as possible with this beach vacation packing list, and have safe travels!
Read Next:
Beautiful Blouses for the Spring and Summer
How to Choose the Best Shorts for Older Legs
Here's What to Pack in Your Carry-On This Weekend
18 Beautiful Sundresses For Women Over 50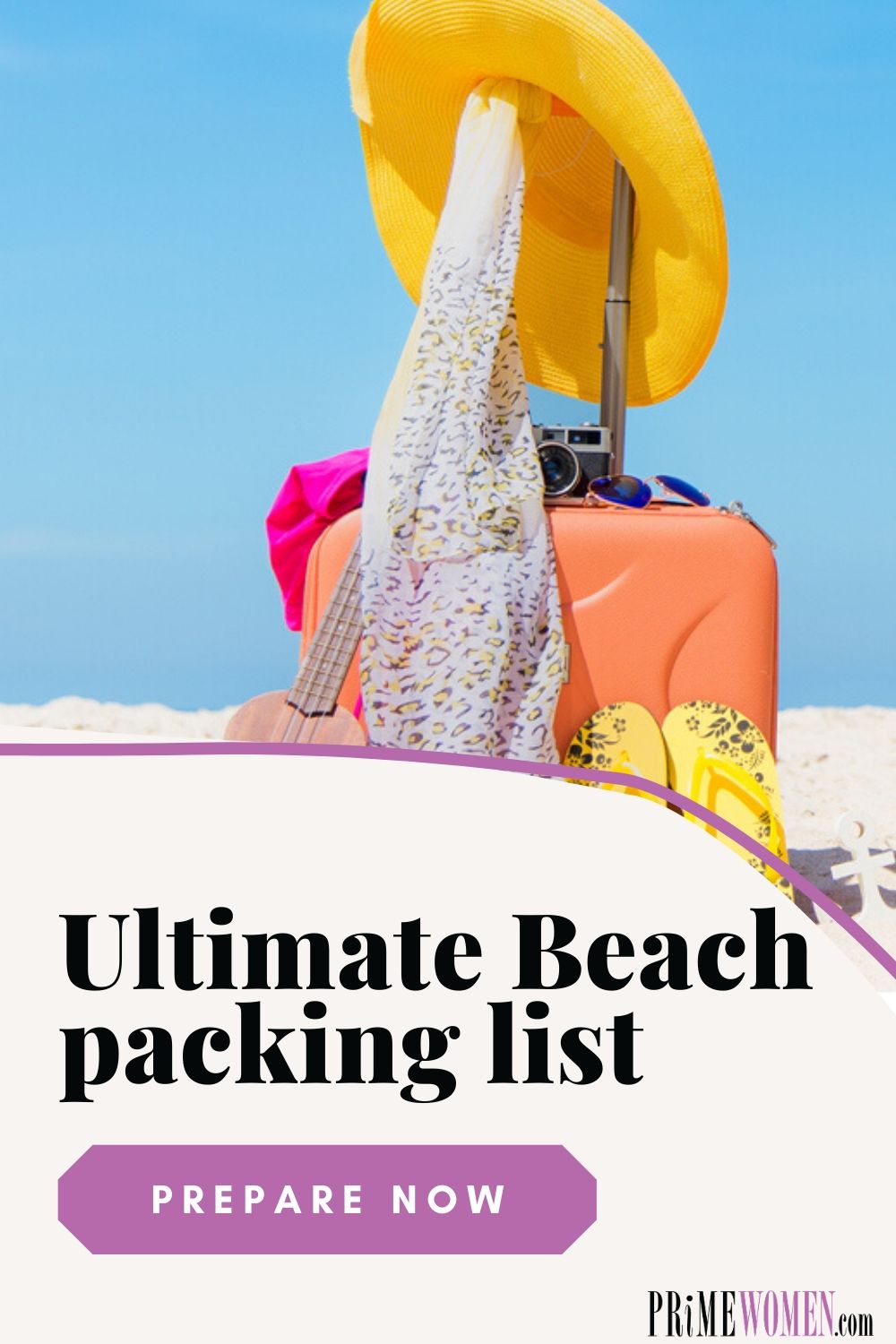 The post The Definitive Beach Vacation Packing List appeared first on Prime Women | An Online Magazine.