Choosing where to eat has long been a hallmark of planning a Disney vacation. However, as pandemic concerns persist, some guests looking to visit the most magical place on Earth as safely as possible are opting to limit their dining plans to outdoor settings.
Many of Walt Disney World's most popular and heavily themed restaurants and dining experiences don't have an alfresco option, so even Disney World regulars are finding themselves in new territory with old favorites temporarily off their must-do lists.
When it comes to table-service dining at Disney World, outdoor seating can be tougher to come by, especially inside the theme parks. Quick-service restaurants will be your most reliable means to keeping your meals outside, but there are some great spots to enjoy table-service meals outdoors during your Disney World trip.
We've rounded up the very best spots at Walt Disney World to dine outside, prioritizing table service, but offering some reliable quick-service options where table service is scarce.
For more TPG news delivered each morning to your inbox, sign up for TPG daily newsletter.
Things to know about outdoor dining at Disney
The most important thing to keep in mind when planning for outdoor dining at Disney World is to expect the unexpected and have a backup plan. Central Florida weather is highly unpredictable. From winter cold snaps to extreme summer heat and thunderstorms, Mother Nature can sometimes derail your outdoor dining plans, reducing or even closing outdoor seating areas.
The good news — if you've booked a table-service reservation and the restaurant is unable to seat you outdoors, they will waive the same-day cancellation penalty if you explain why you need to cancel at the host stand.
With limited outdoor table-service options across Disney, our recommendations lean heavily on "lounges," which typically serve shareable small plates and great cocktails but may not offer a traditional kids menu.
Some of the most atmospheric spots to eat at Walt Disney World are lounges, but they do require you to get a bit creative with your meal — especially if you're used to a traditional three-course experience on vacation. But, with an open mind and an empty stomach, you just might discover some new favorites on our list of the best restaurants for outdoor dining at Walt Disney World.
Best outdoor dining at the Magic Kingdom
Magic Kingdom is the lightest of Walt Disney World's four theme parks on solid outdoor dining options when it comes to both food quality and atmosphere. We wouldn't choose any of the options on this Magic Kingdom list over others outside the gates, so consider hopping to another park or nearby resort if none of these picks strike your fancy.
Table service
Tony's Town Square Restaurant
For outdoor table-service dining at Magic Kingdom, Tony's Town Square Restaurant is your only option, and it's not always available. The "Lady and the Tramp"-themed spot serves Italian-American classics such as spaghetti and meatballs, Tony's pizza pie and fettuccine alfredo. While the food tends to receive below-average reviews from diners, the outdoor patio is a lovely spot overlooking Magic Kingdom's Town Square area of Main Street, U.S.A.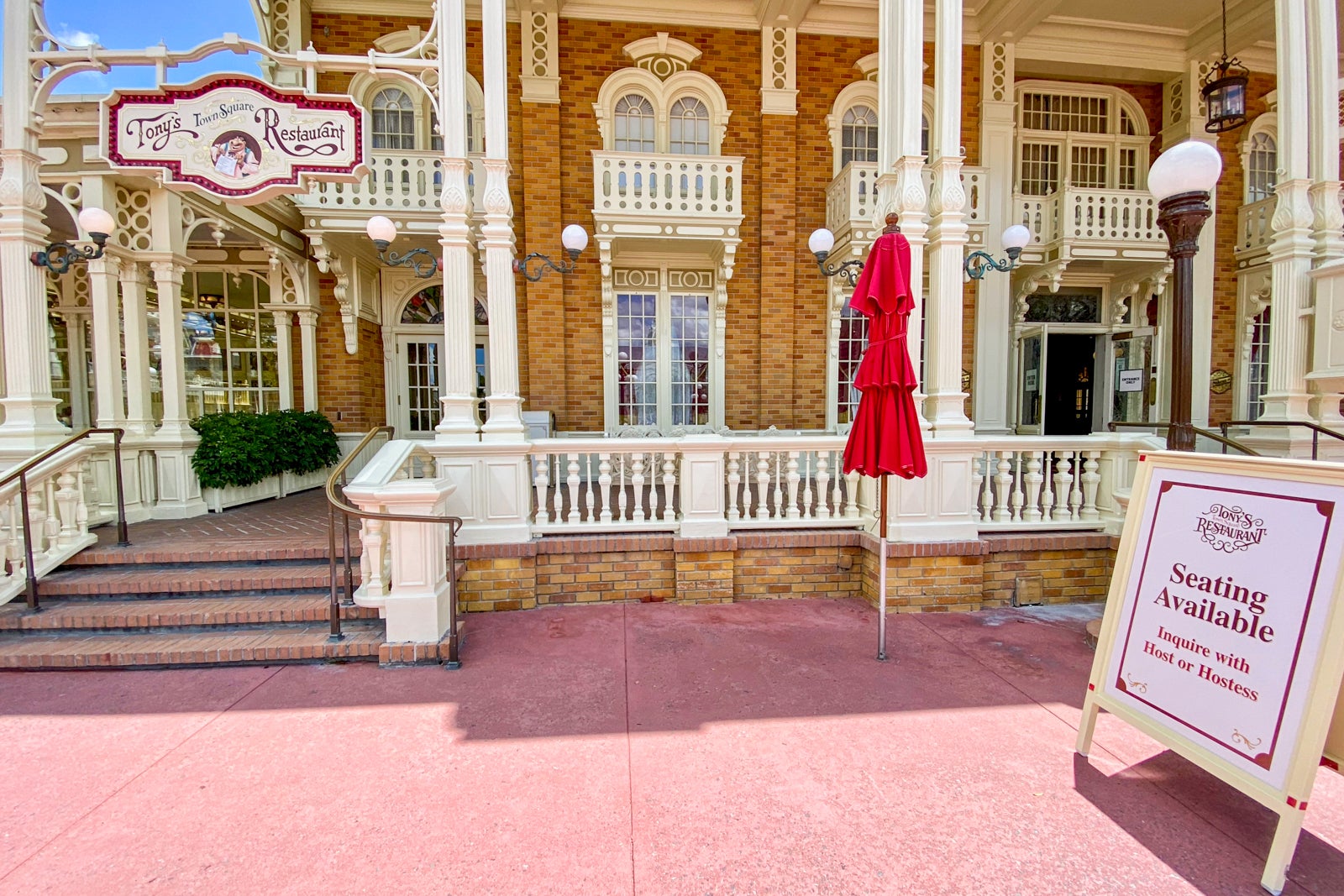 Seating on the patio is only available when the weather and staffing levels permit, so swing by the restaurant when they open to find out if they'll be seating outside during your reservation. If they're not, cancel in person at the desk (be sure to explain why and they'll waive your penalty fee) and default to your backup plan.
Quick service
Casey's Corner
There's nothing fancy about dining at Casey's Corner, but it's hard to strike out with corn dog nuggets, castle views and even some live entertainment from the Casey's Corner pianist. There's a hot dog for every taste and appetite, from Walt's chili-cheese all-beef foot-long hot dog (say that five times fast) to the plant-based loaded slaw dog.
Be sure to keep an eye on mobile order return times — this spot can get very popular at peak times of day — then grab a seat under one of the bright red-and-white umbrellas for a home-run meal.
Pecos Bill Tall Tale Inn & Cafe
Tex-Mex standards like fajitas, nachos, rice bowls and burgers are on the menu at this Frontierland outpost, one of Magic Kingdom's best-rated quick-service spots. Pecos Bill's large outdoor seating area fills up quickly, as do mobile order return times, so don't wait until your crew is famished to place an order.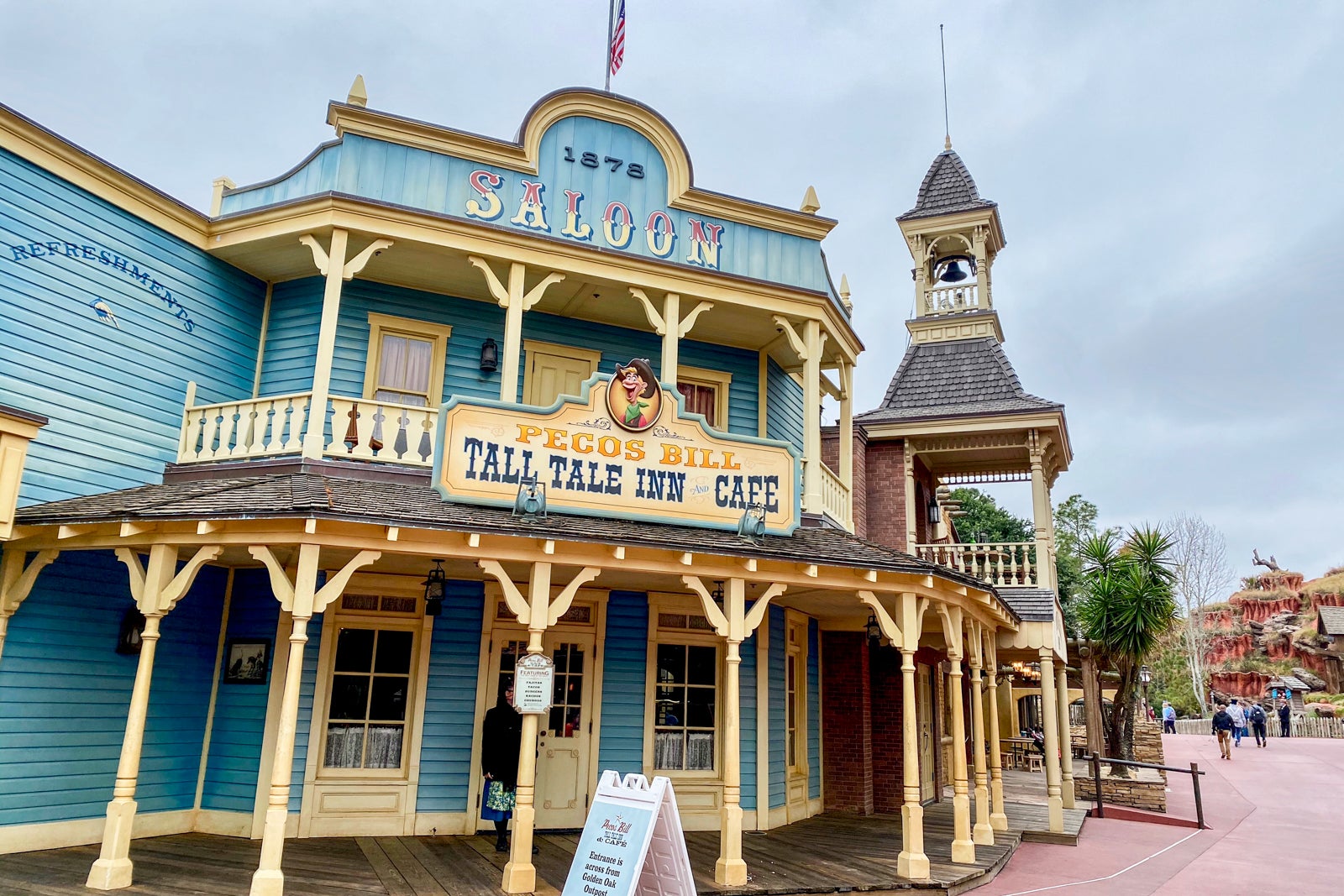 Cosmic Ray's Starlight Café
You won't get more theme-park basic than the menu at Cosmic Ray's, but sometimes that's just what the doctor ordered — especially for picky eaters. Burgers, hot dogs and chicken strips are served at this futuristic Tomorrowland spot where it's typically a breeze to get a fully shaded outdoor table.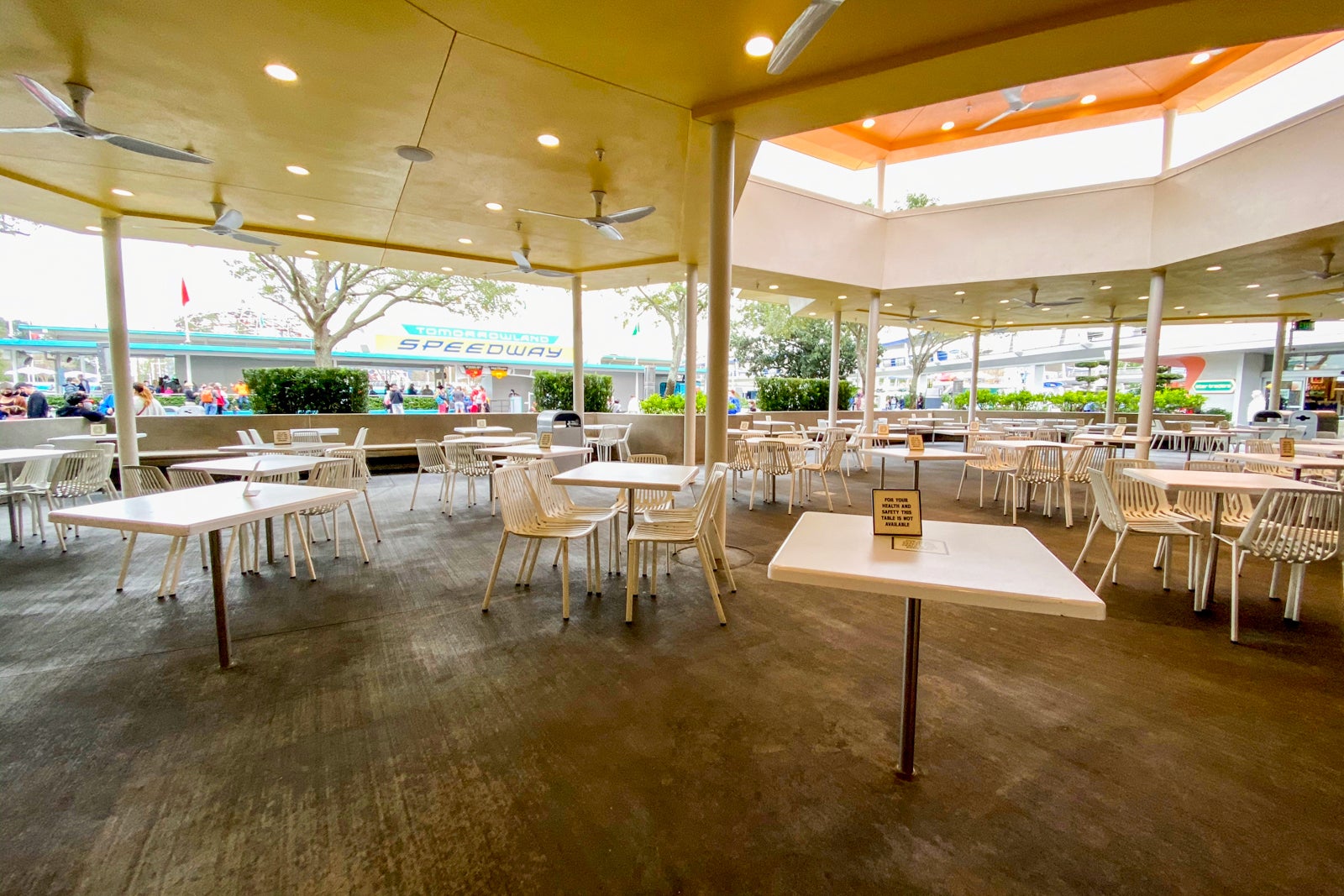 Best outdoor dining at Disney's Hollywood Studios
Like Magic Kingdom, Disney's Hollywood Studios is light on the outdoor table service, but this is one park where quick-service belongs on your must-do list. In my book, the best food at Hollywood Studios comes from a galaxy far, far away in the park's newest land, Star Wars: Galaxy's Edge, and there are a couple of other solid options — enough to keep you eating well outdoors all day.
Table service
The Hollywood Brown Derby Lounge
The only outdoor table-service option at Disney's Hollywood Studios also happens to be the lounge portion of our pick for best table-service meal in the park: The Hollywood Brown Derby, inspired by the famed Tinseltown icon.
Join the walk-up list for a table outside at The Hollywood Brown Derby Lounge, where you can sip classic cocktails like an Old Fashioned, Paloma or Hollywood Manhattan, and nibble lounge entrees like Brown Derby's famous cobb salad, shrimp cocktail and BLT sliders. Feeling extra hungry? The full restaurant menu is also available to order from the outdoor lounge tables.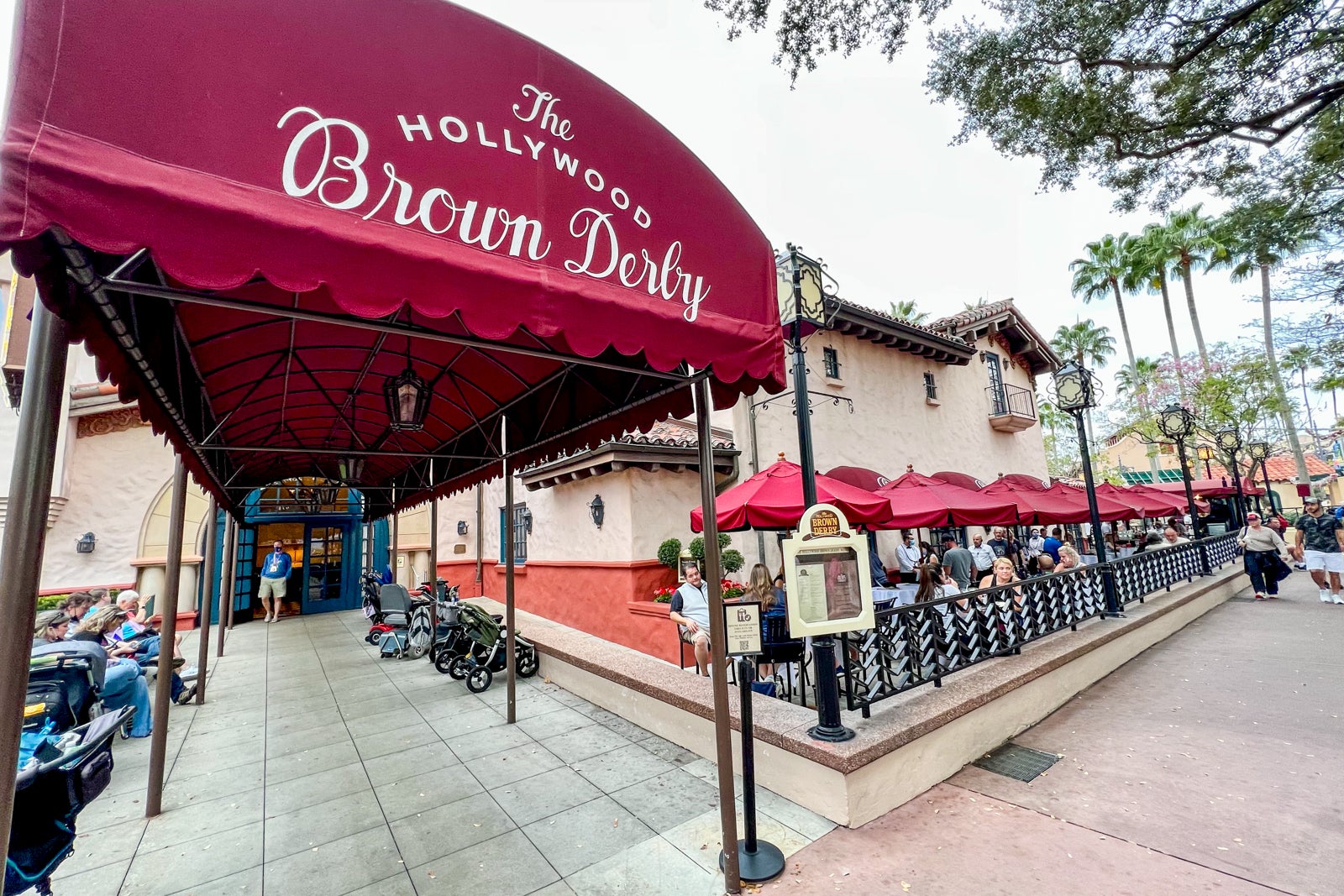 Quick service
Woody's Lunch Box
It's no surprise that kid-friendly comfort food rules the menu at Woody's Lunch Box in Toy Story Land.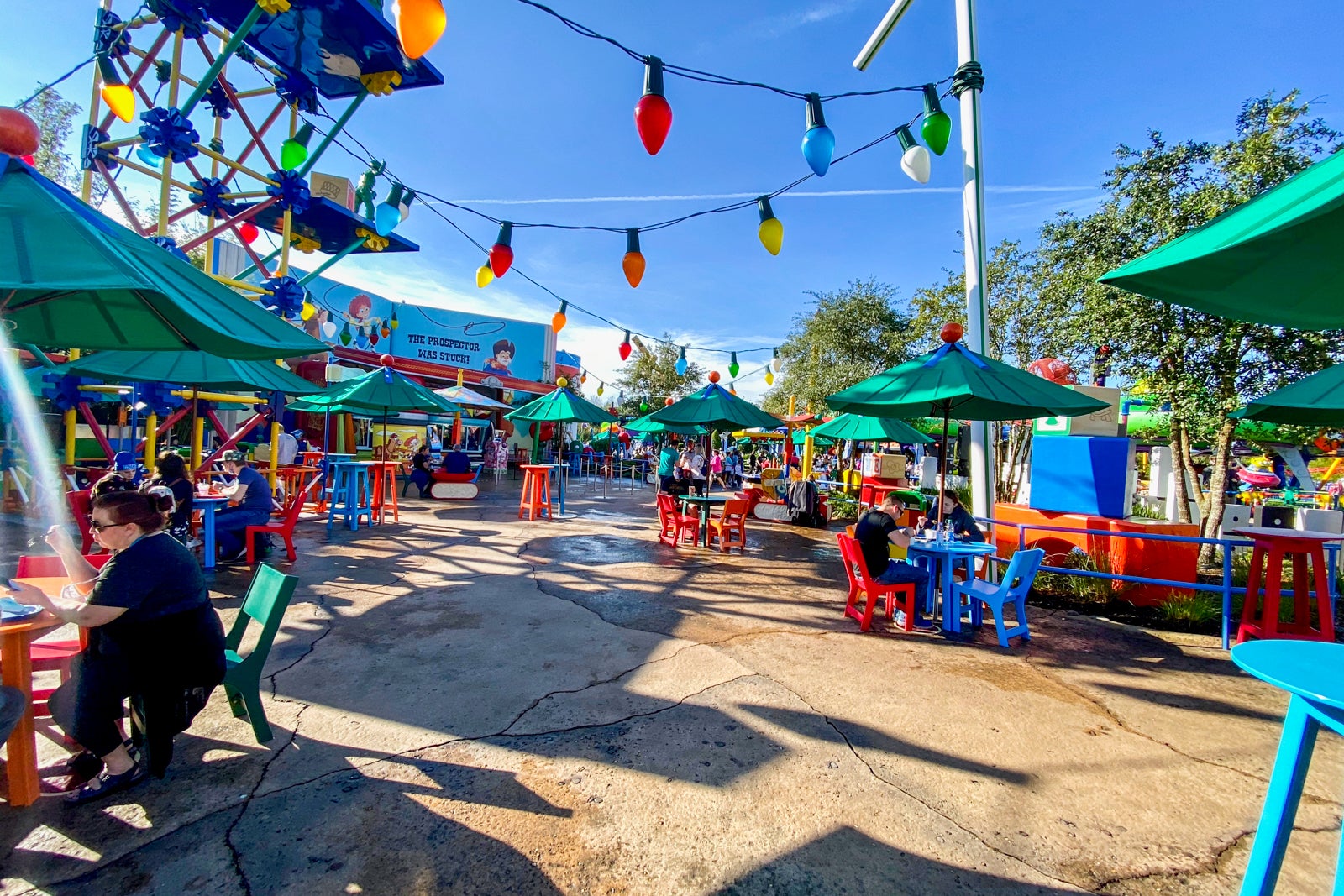 Serving breakfast, lunch and dinner, families flock to this colorful, all-outdoor space for its own takes on the classics. Everyone has their favorite, but you can't go wrong with the BBQ brisket melt, grilled three-cheese sandwich served with a cup of tomato soup for dipping or the "Totchos," an over-the-top tater-tots-meet-nachos concoction topped with chili, cheese, queso, corn chips, sour cream, tomatoes and green onions.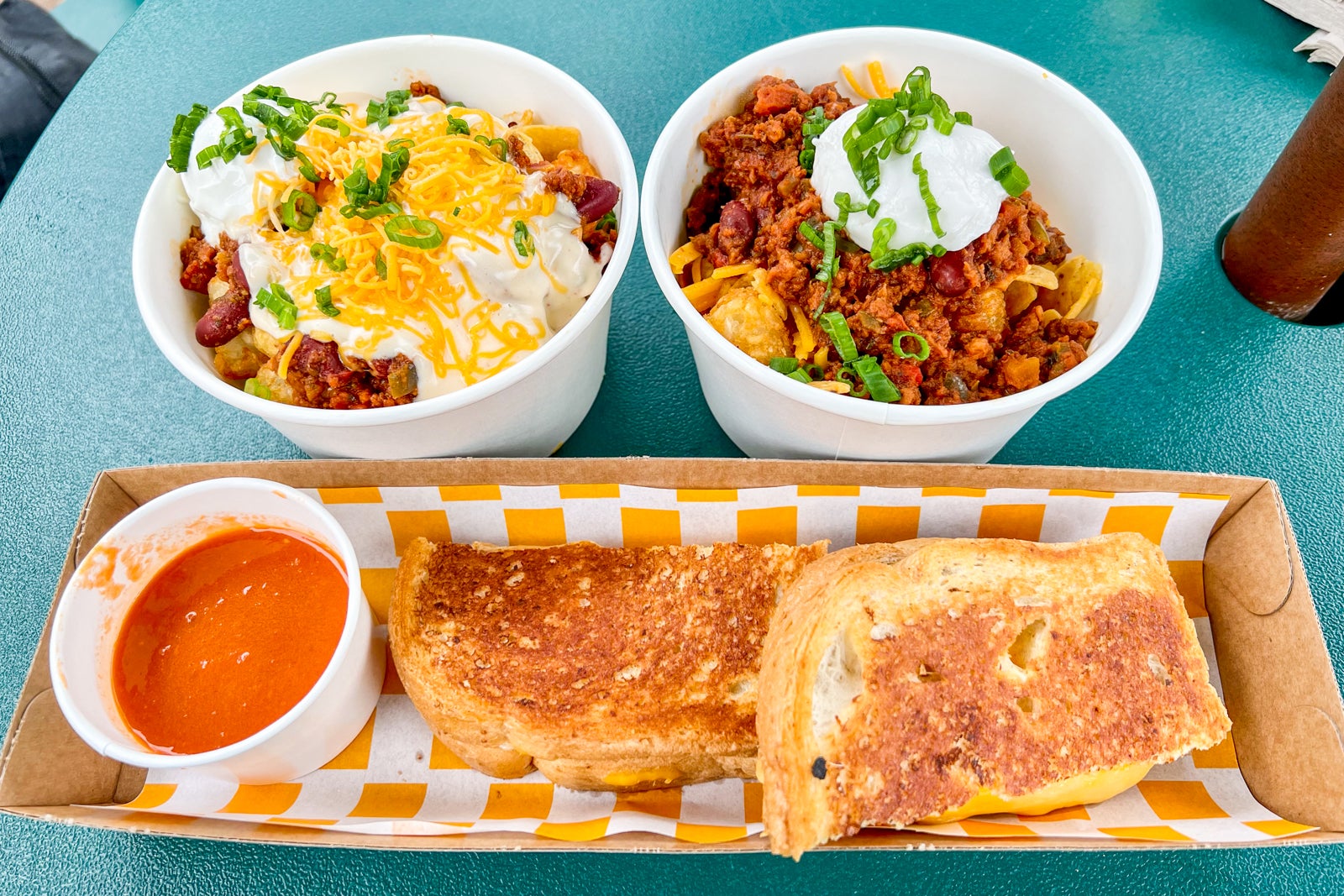 Daily lunch box tarts (think delicious homemade Pop-Tarts) and breakfast bowls are great to mobile order and grab for a quick bite after rope dropping Slinky Dog Dash or nearby Mickey & Minnie's Runaway Railway.
Docking Bay 7 Food & Cargo
If you want more than the basics out of your theme park menu, then the Force is strong with the menu at the main quick-service location in Star Wars: Galaxy's Edge. Just look for the food freighter docked on the rooftop of this hangar-bay-turned-restaurant where Chef Strono "Cookie" Tuggs serves some of the best quick-service fare at Walt Disney World.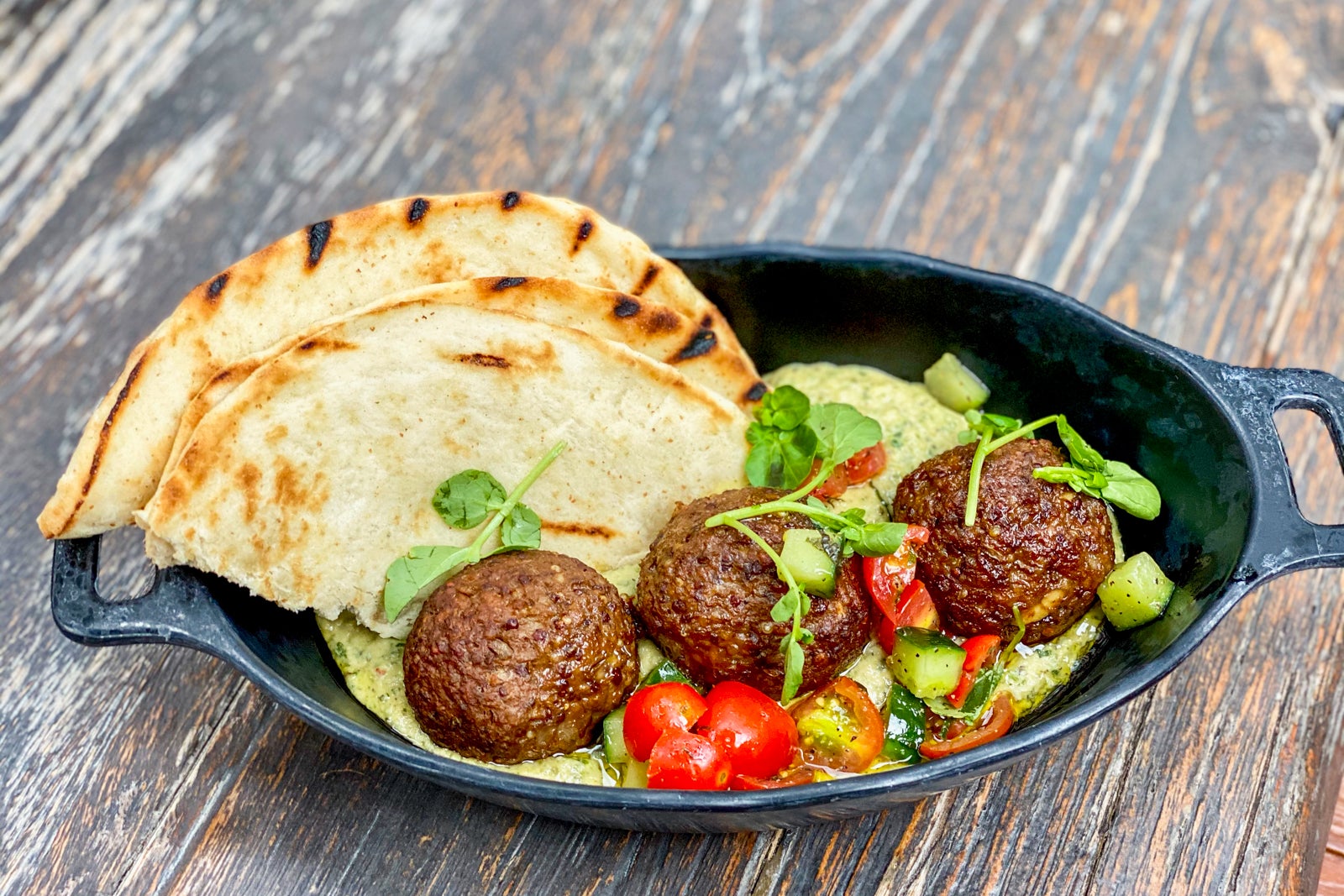 Dishes like the fried Endorian chicken Tip Yip, smoked Kaadu pork ribs and plant-based Felucian kefta and hummus garden spread may sound — and look — otherworldly, but they're crowd-pleasers even for less adventurous palates.
The seating area feels peaceful despite being steps from the hustle and bustle of Black Spire Outpost's Marketplace and the Millennium Falcon.
Ronto Roasters
Also in Star Wars: Galaxy's Edge, Ronto Roasters is like an out-of-this-world shawarma stand.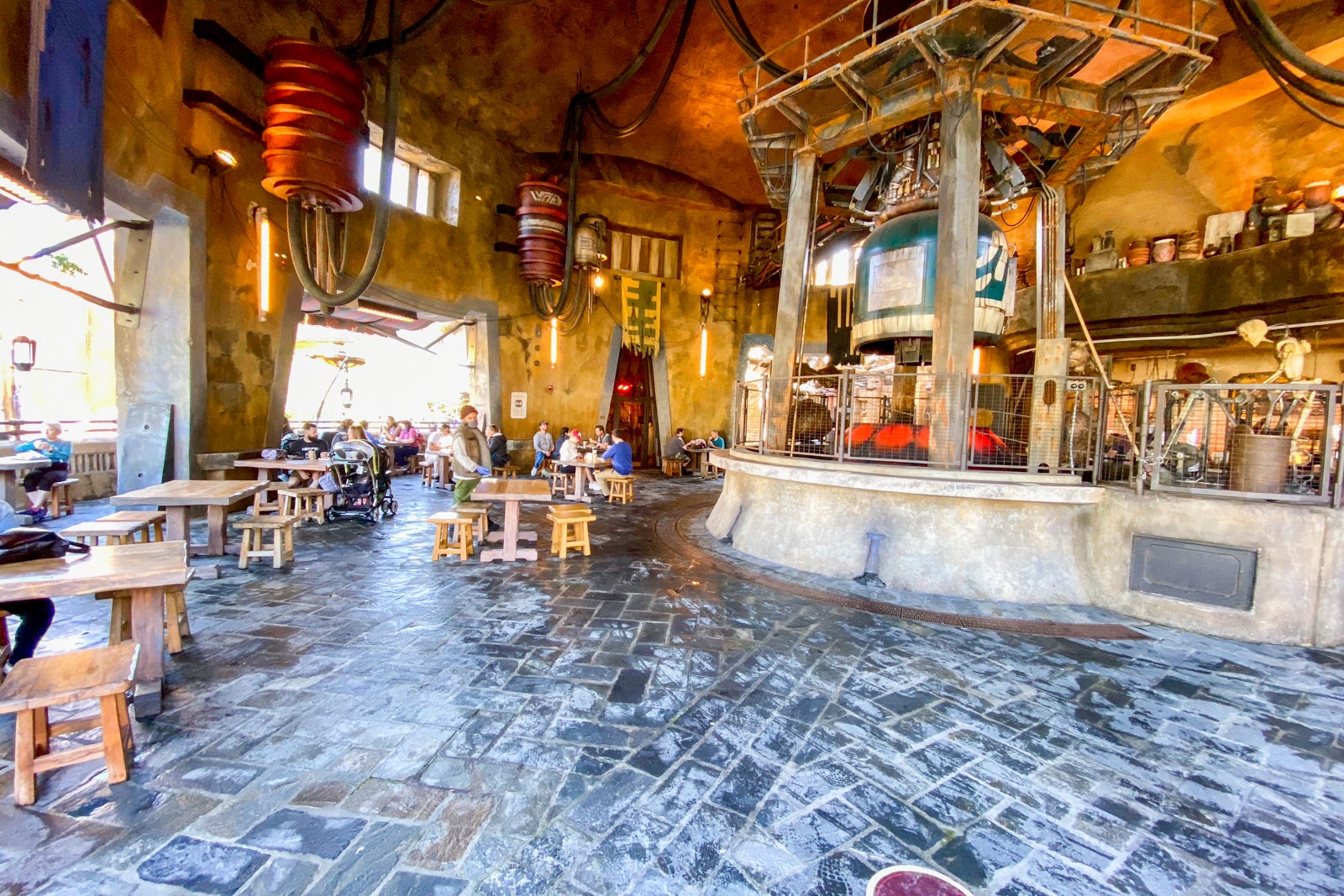 A pitmaster droid turns the spit roasting a side of "ronto," an animal native to Tatooine, but it's pork on the menu in the classic Ronto wrap — roasted pork, grilled pork sausage, peppercorn sauce, and tangy slaw wrapped in pita bread. (This is actually TPG travel editor Madison Blancaflor's favorite in-park meal at Disney World.)
For vegans and vegetarians, grilled zucchini and smoky chickpea-onion slaw fill the plant-based Zuchii Wrap. This is also one of the best spots in the park for breakfast. Bright Suns, as the locals say.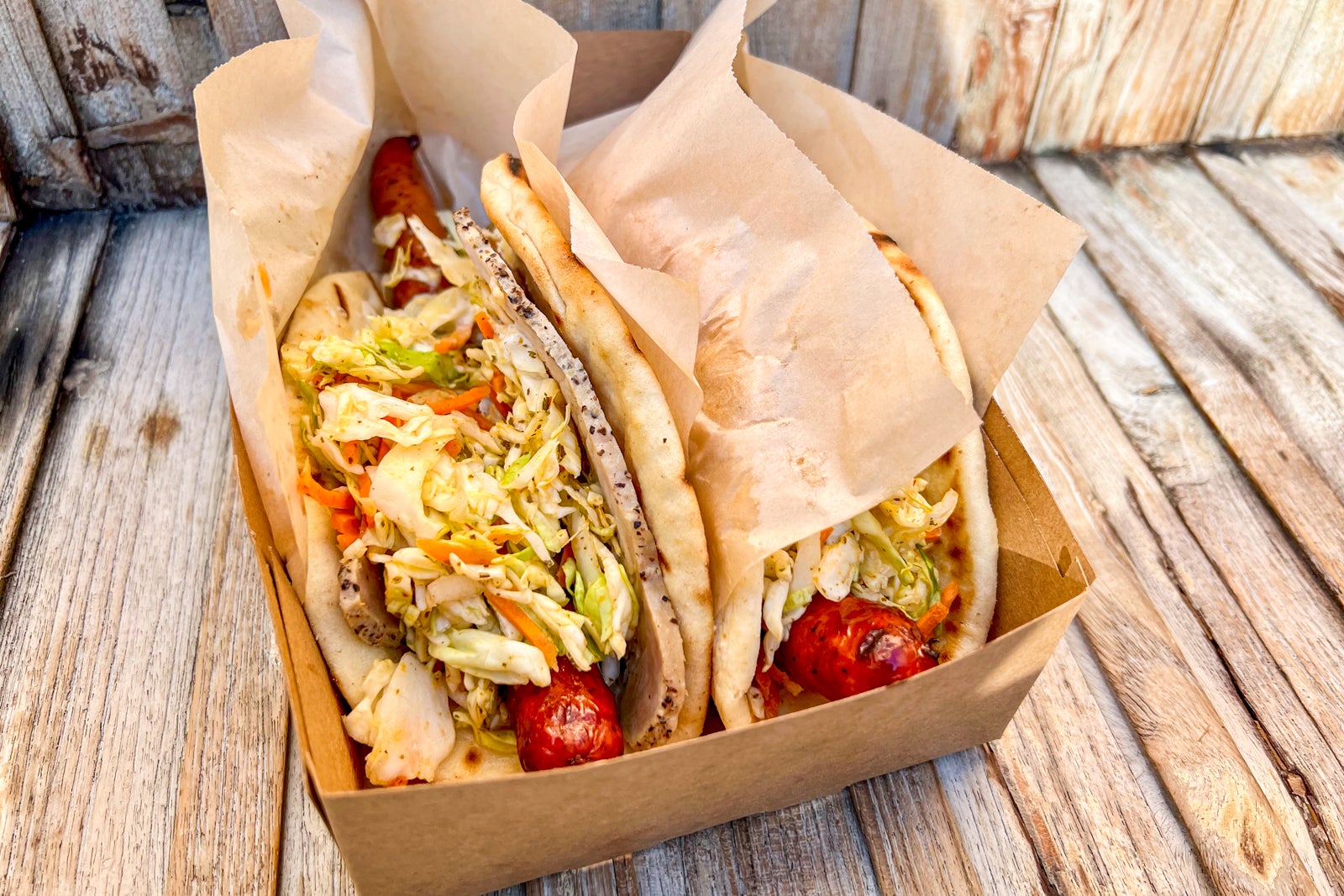 Tables here are all outdoors and fill up quickly, but there's always a standing bar to belly up to as a last resort.
BaseLine Tap House
Closer to a traditional bar than any other spot on this list, BaseLine Tap House still deserves to make the cut for a wonderful outdoor seating area (with a great soundtrack), excellent — though limited — menu items and an enticing lineup of California wines and brews on tap.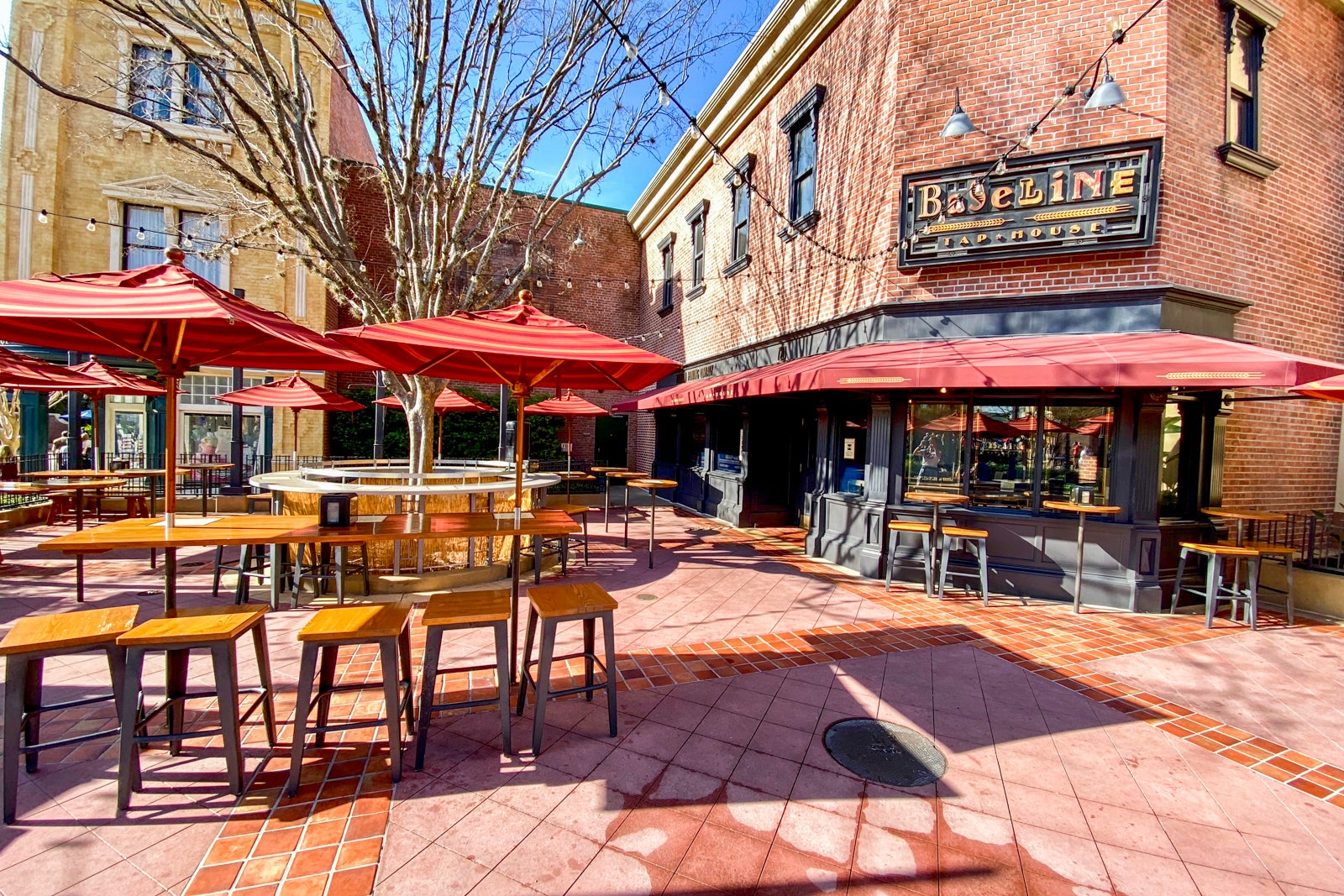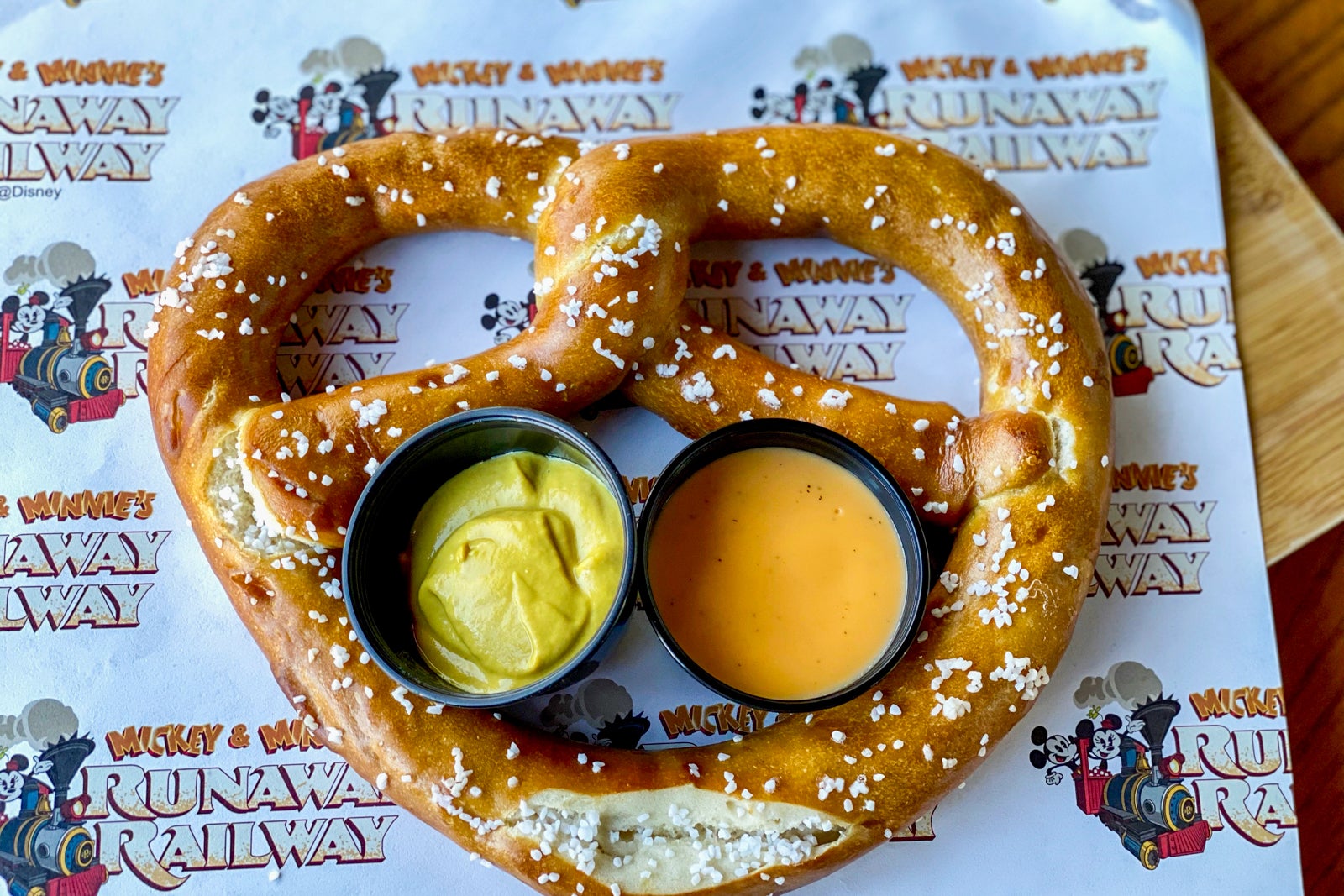 BaseLine is a great snack stop, but adults could easily make a meal out of the California cheese and charcuterie, the coffee-rubbed rib-eye steak puff and the giant Bavarian pretzel with beer-cheese fondue and spicy mustard. This menu will keep hungry kiddos happy, too.
Best outdoor dining at Disney's Animal Kingdom
What Disney's Animal Kingdom lacks in outdoor table-service options it makes up for with consistently awesome quick-service food throughout the park, and some idyllic dining spots to boot.
Table service
Nomad Lounge
None of the table-service restaurants at Disney's Animal Kingdom offer outdoor seating, but Nomad Lounge, the more casual offshoot of Tiffins Restaurant next door, might just be the park's best-kept secret. Join the walk-up list (no reservations here) and select an outdoor table for seating on the lounge's wraparound terrace overlooking the Discovery River.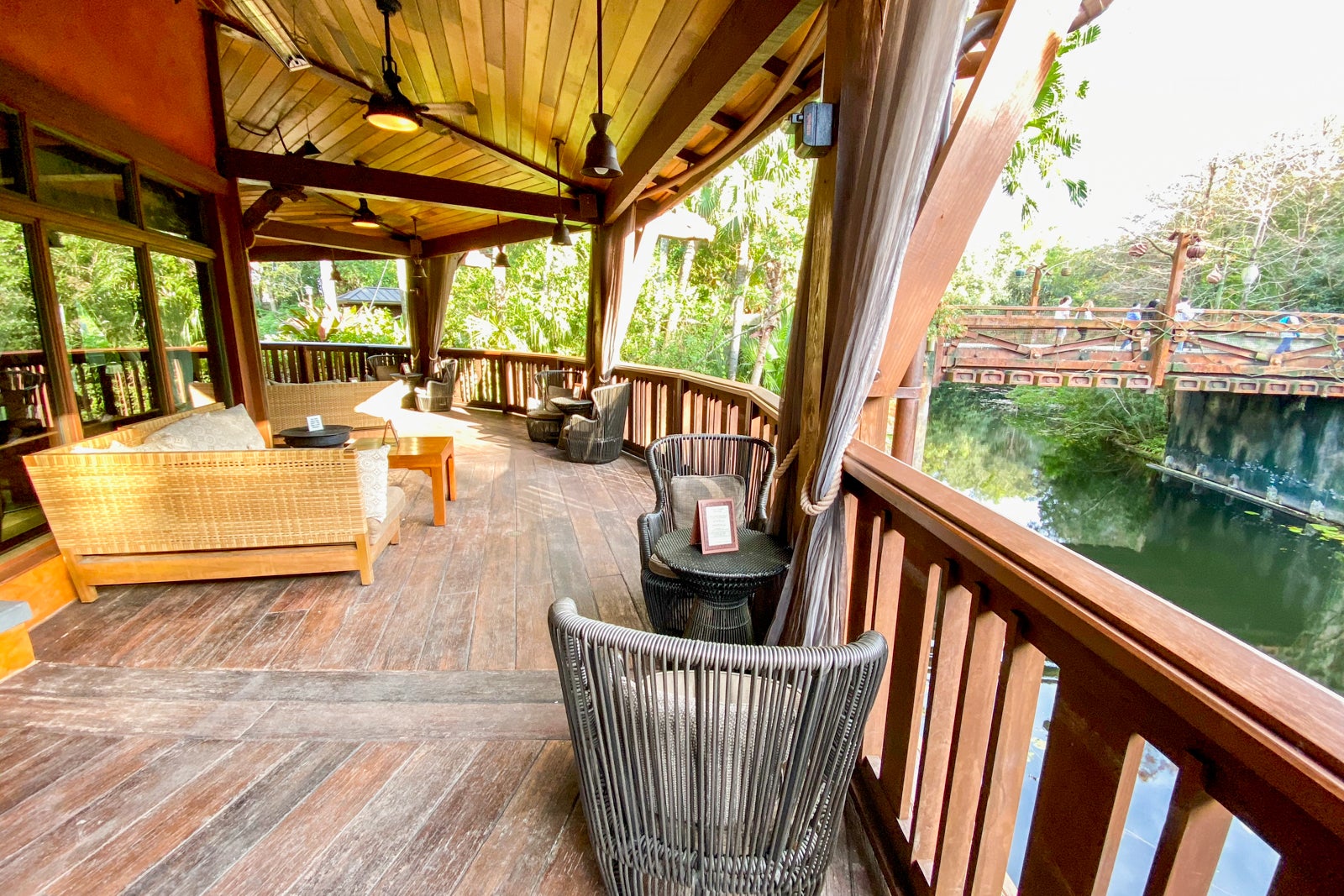 Drinks here have a cult following. Try the Hightower Rocks, made with tequila, watermelon, sweet-and-sour and lime juice, or the Kungaloosh Spiced Excursion Ale Draft, an African-inspired amber ale brewed exclusively for Walt Disney World.
Relax on the comfy wicker couches as you watch the passing character flotillas and refuel with small plates like the Togarashi-spiced tuna nomad bowl, Impossible sliders with chipotle aioli and yucca fries and churros served with vanilla crema and chili-strawberry.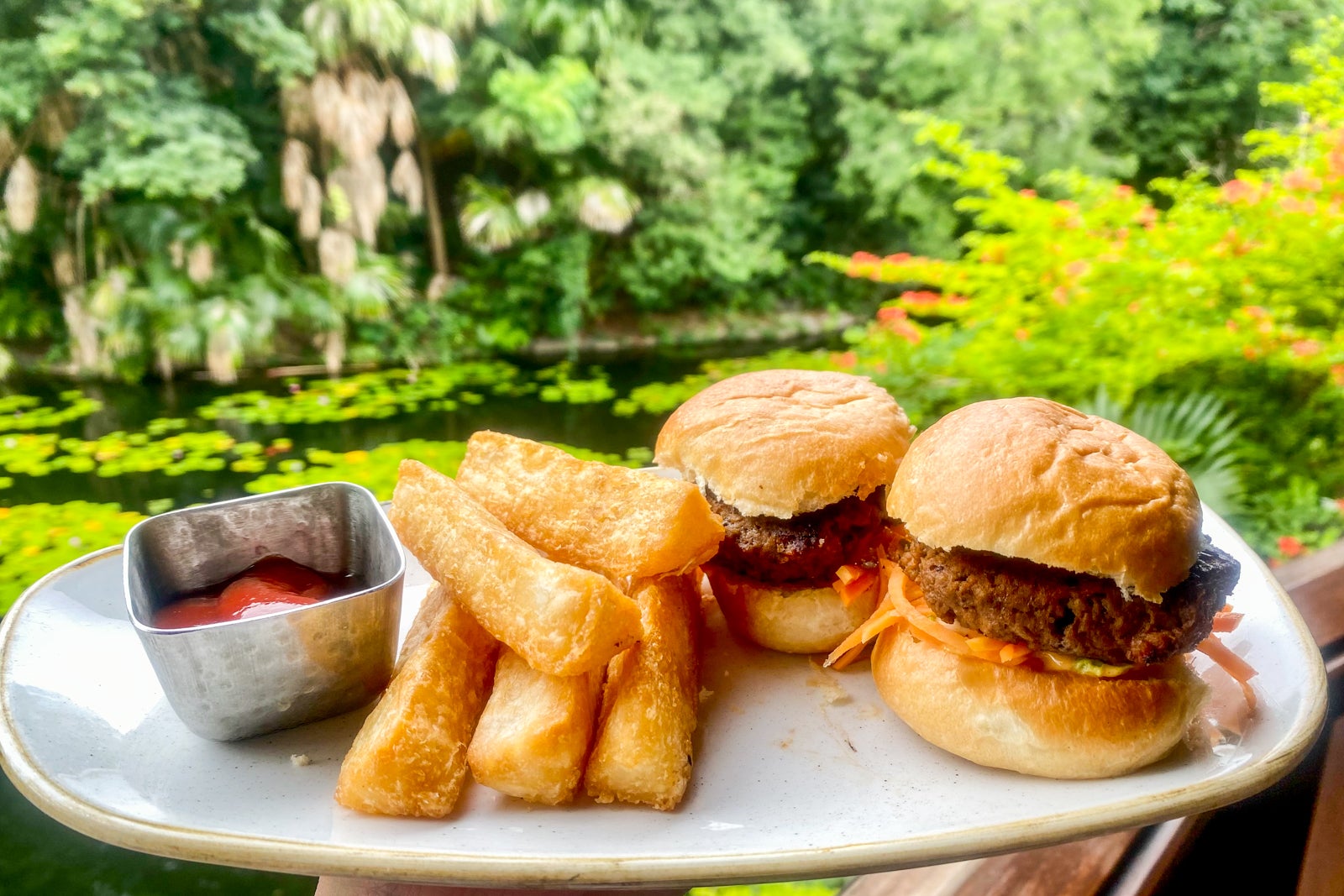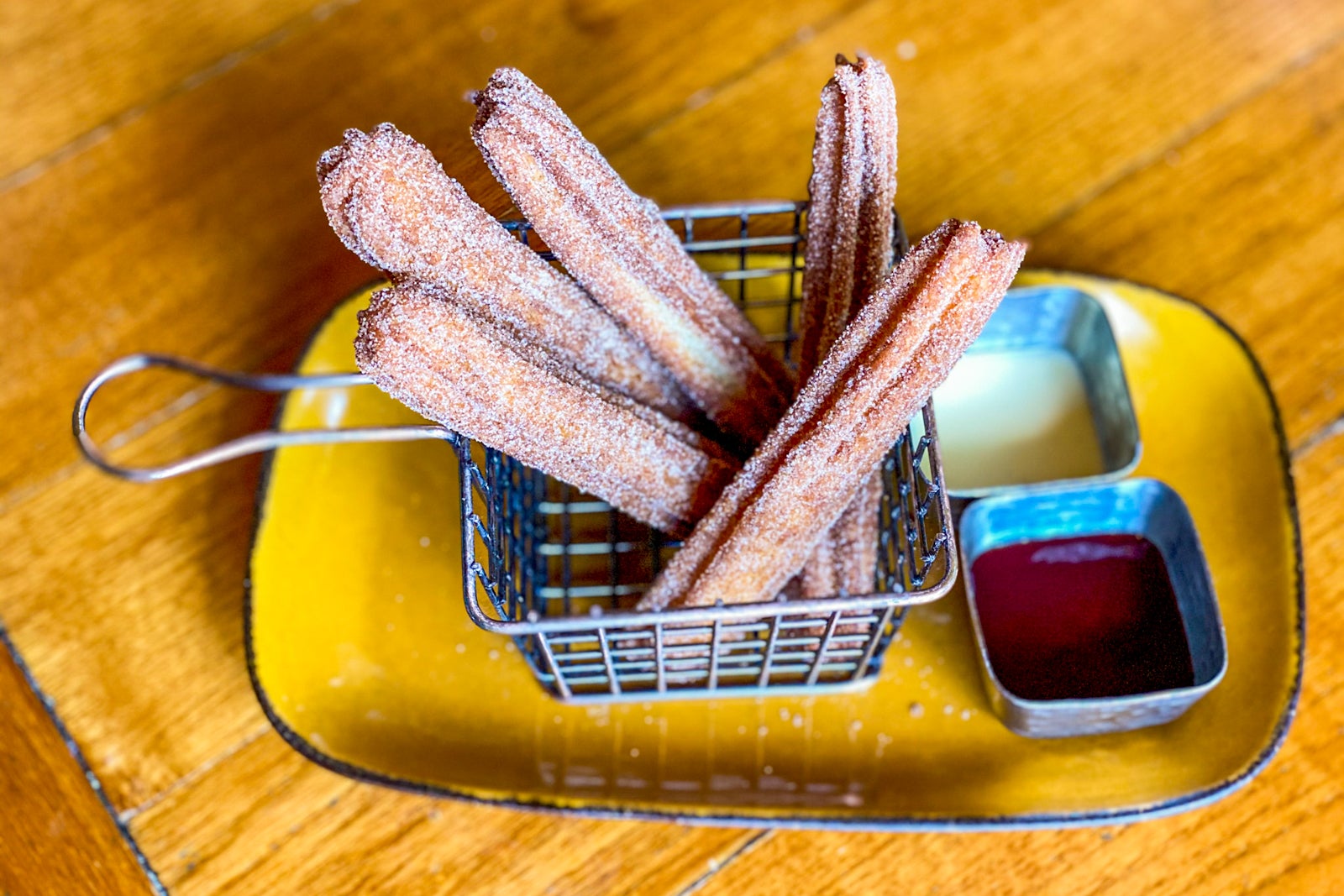 Quick service
Flame Tree Barbecue
Barbecue lovers should follow their noses (after mobile ordering, of course) straight to this outdoor spot serving up smokehouse specialties like pulled pork, St. Louis ribs and slow-smoked chicken. Even the plant-based option, the Hot Link Smokehouse Sandwich, is a crowd-pleaser, topped with slaw, crispy onions and mustard barbecue sauce and served on a pillowy housemade roll.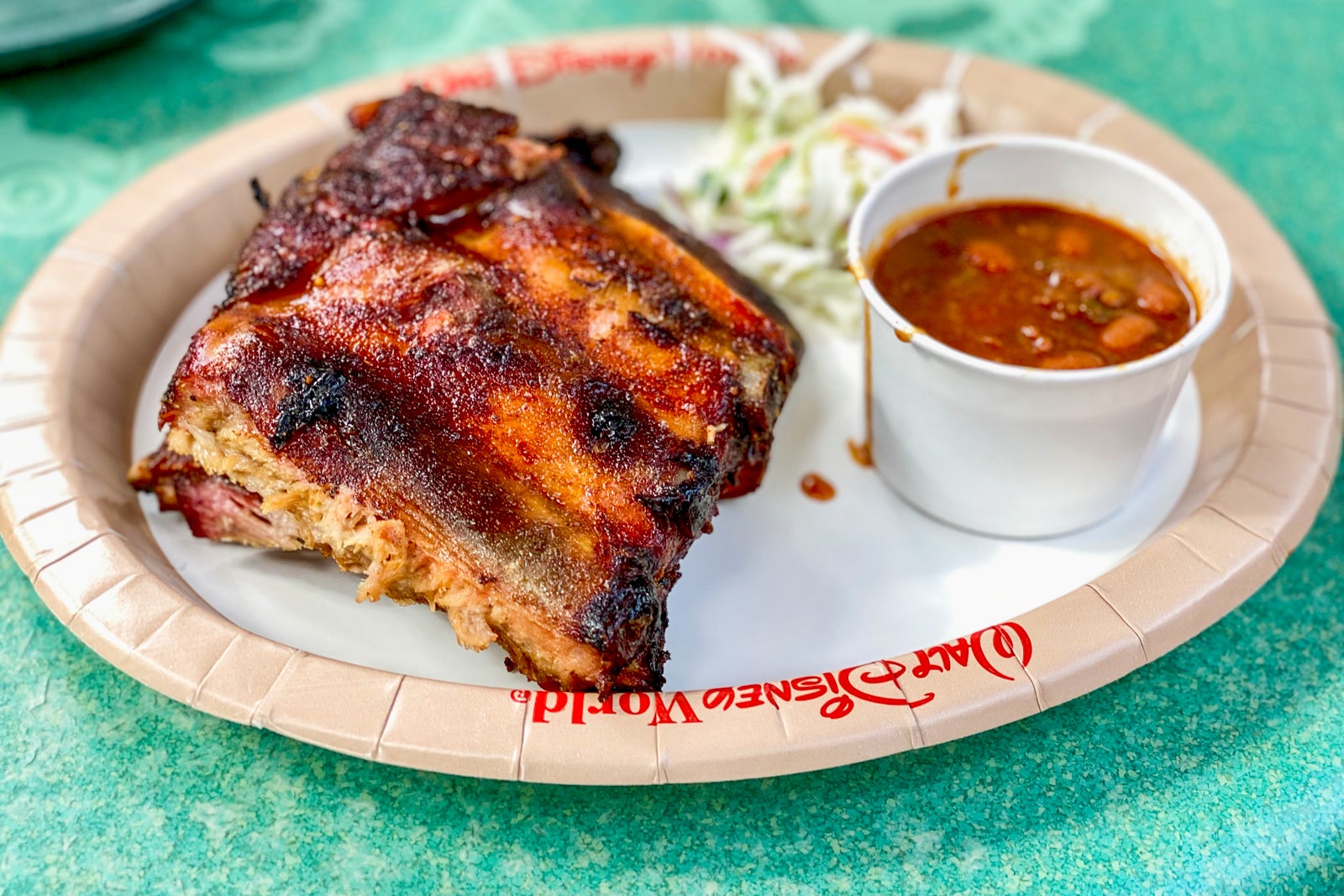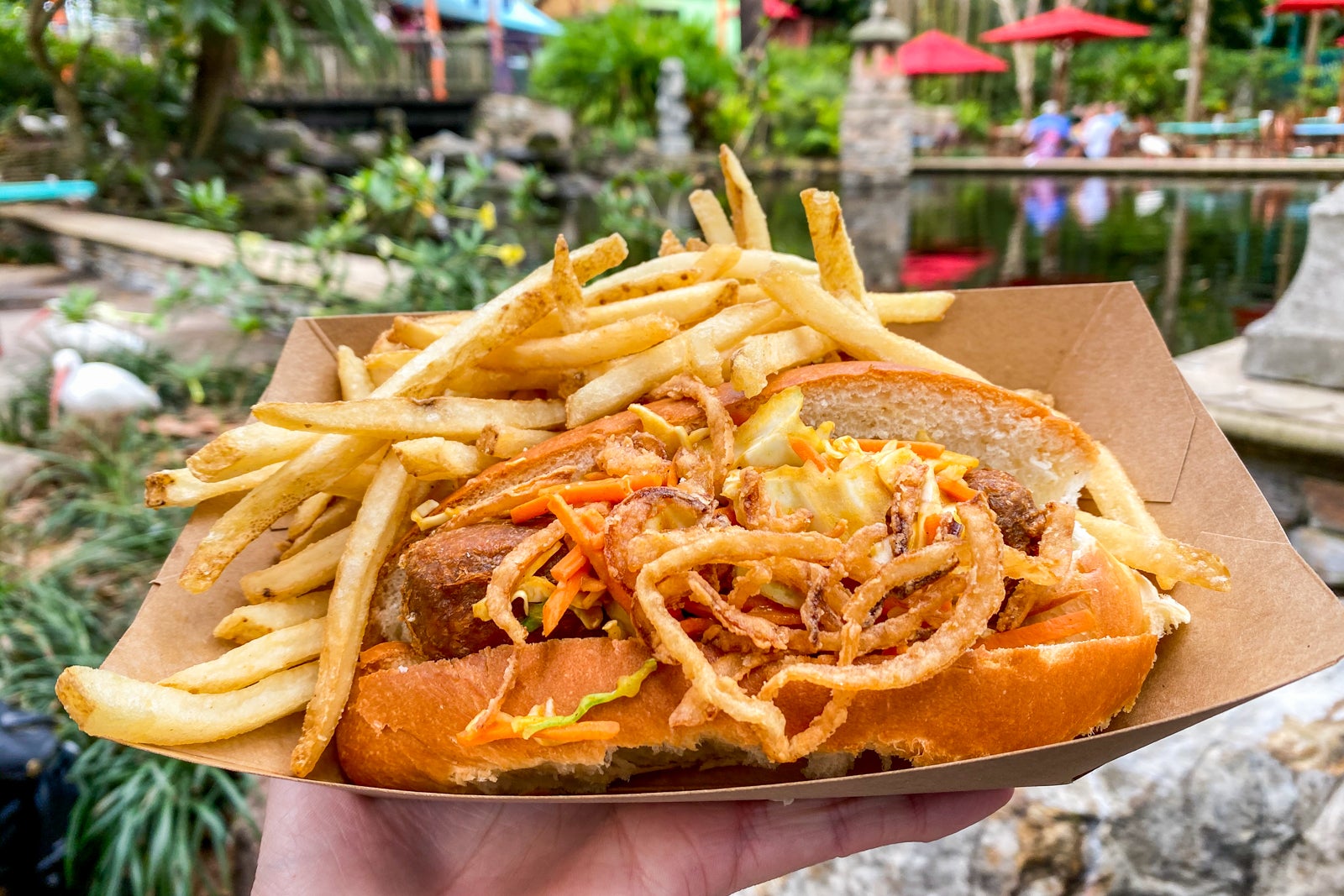 If the food weren't enough of a draw, Flame Tree boasts one of the most idyllic seating areas at any of the theme parks.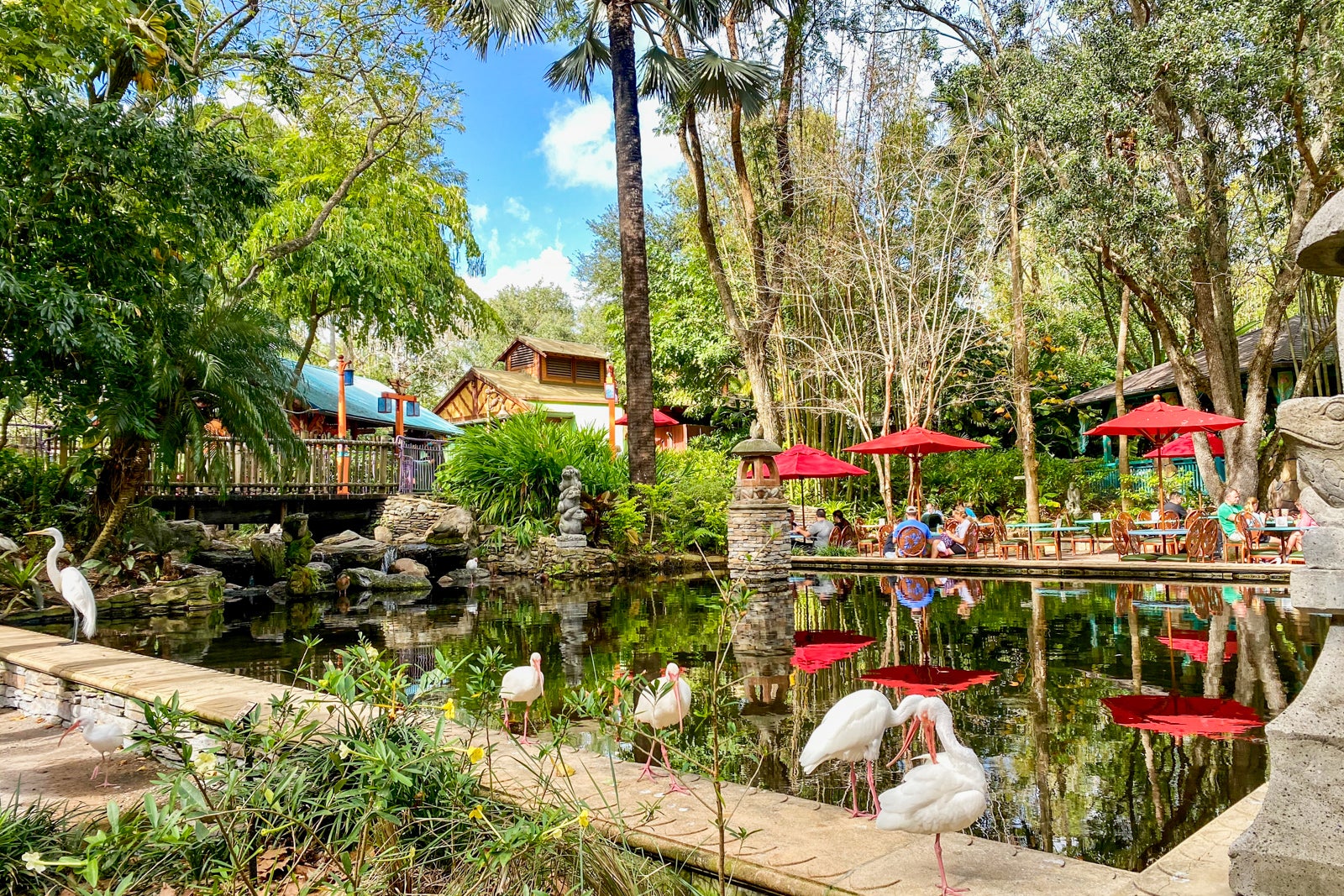 Sit alongside the tranquil pond or make your way down to the waterfront, where — if you time it right — you'll get a front-row seat for a showing of Disney KiteTails, the park's new can't-miss daytime show that launched in conjunction with Walt Disney World's 50th-anniversary celebration.
Satu'li Canteen
Satu'li Canteen is consistently ranked among the best quick-service restaurants at Walt Disney World — and for good reason. This spot located in Animal Kingdom's Pandora — the world of "Avatar" — is the perfect antidote after too many theme park meals of the fried, fast-food variety.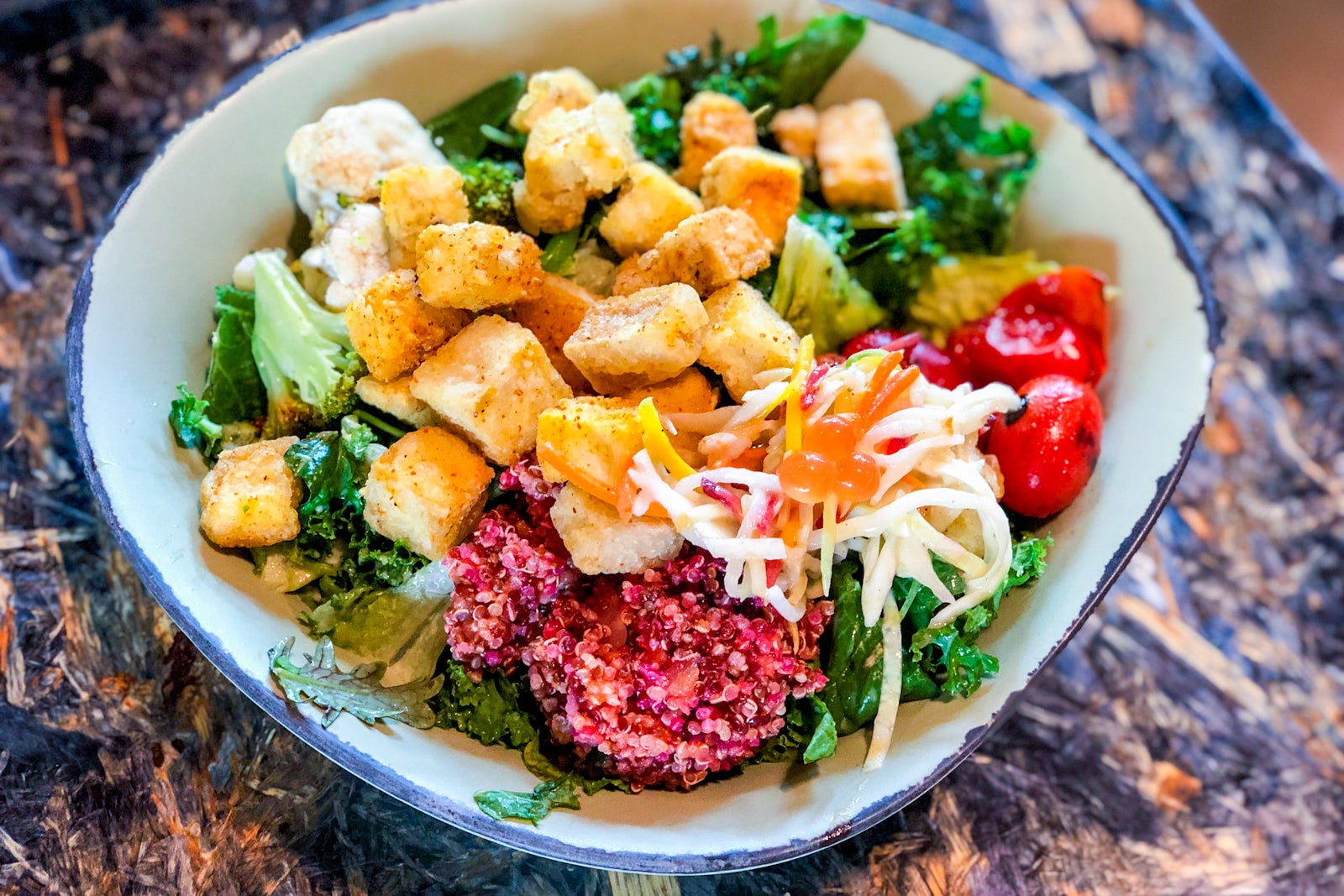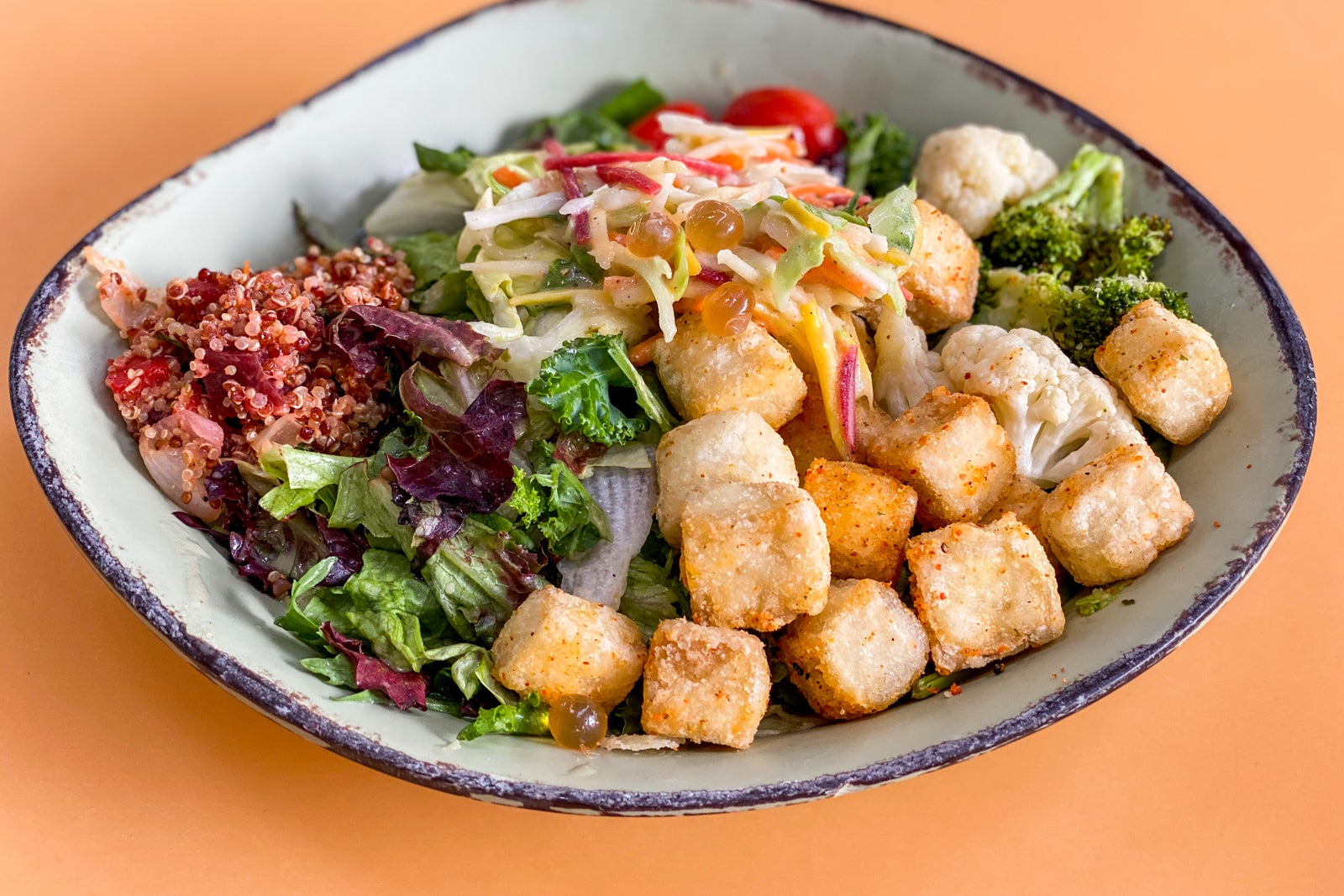 Fresh, customizable bowls come with a choice of protein atop a hearty salad, noodles, rice and beans or red and sweet potato hash. Then top off your meal with a bright, crunchy slaw and choice of sauce.
If bowls aren't your thing, the steamed cheeseburger pods have a cult following too. Wash it all down with a bright green Hawkes' Grog Ale and a fan-favorite Blueberry Cream Cheese Mousse for dessert.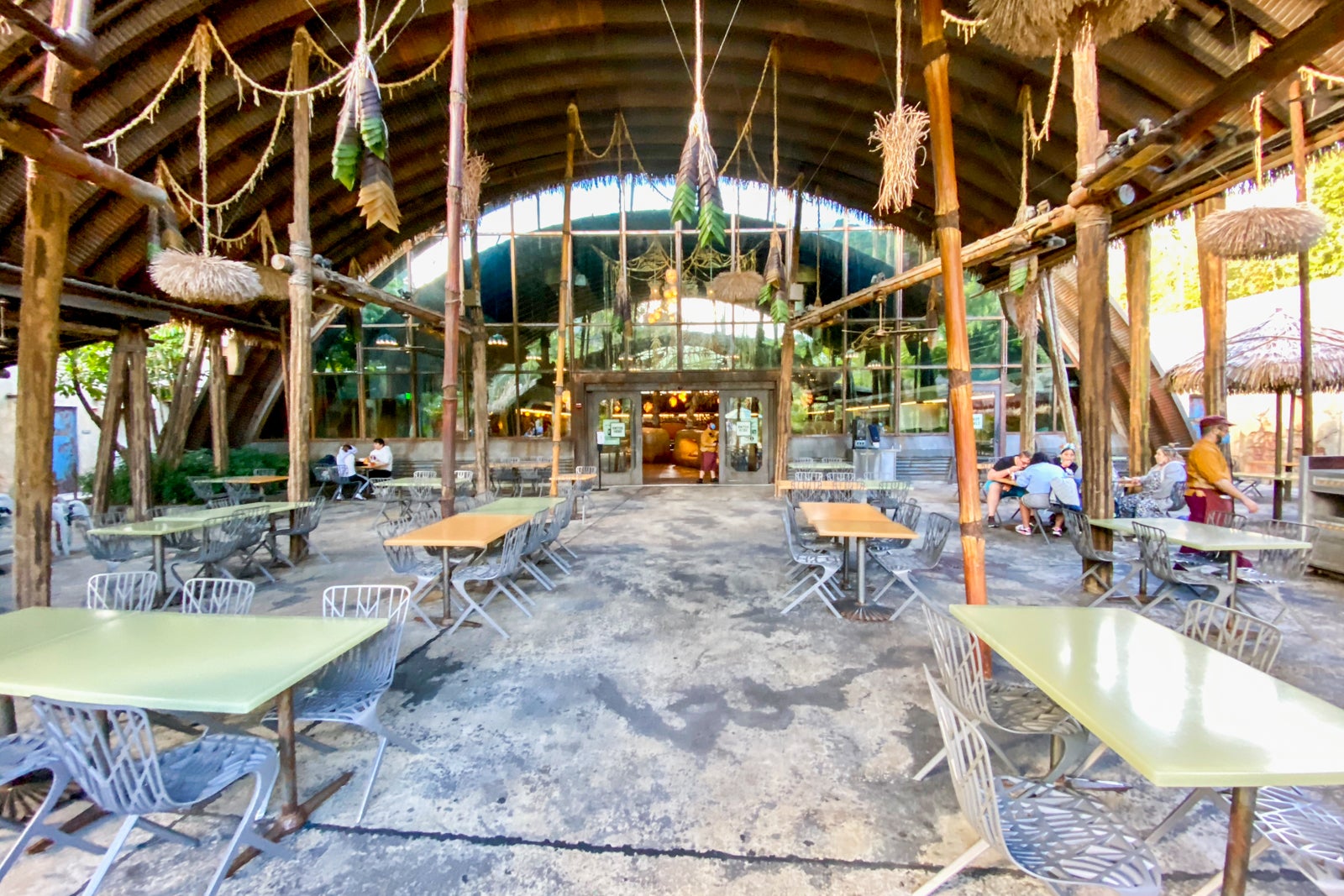 The sprawling outdoor seating area is a perfect spot for taking in the sights and sounds of Pandora. Despite how popular Satu'li is, it's usually easy to find a seat. We love mobile ordering Satu'li and timing it for pickup after a ride on Avatar: Flight of Passage, which exits right at the entrance to the restaurant.
Best outdoor dining at Epcot
What the other parks lack in outdoor dining options, Epcot makes up for in spades. Several table-service restaurants, countless quick-service spots and rotating festivals all year make outdoor dining much easy to switch up here than at the other parks.
Table service
Rose & Crown Dining Room
This cozy pub in the U.K. pavilion includes plenty of outdoor, waterfront seating overlooking World Showcase Lagoon. Just make sure you confirm your outdoor seating preference when you check-in for your reservation. A jolly good menu of British classics including top-notch fish and chips, bangers and mash and shepherd's pie are best enjoyed with a proper pint or nip of scotch whisky and some sticky toffee pudding for dessert.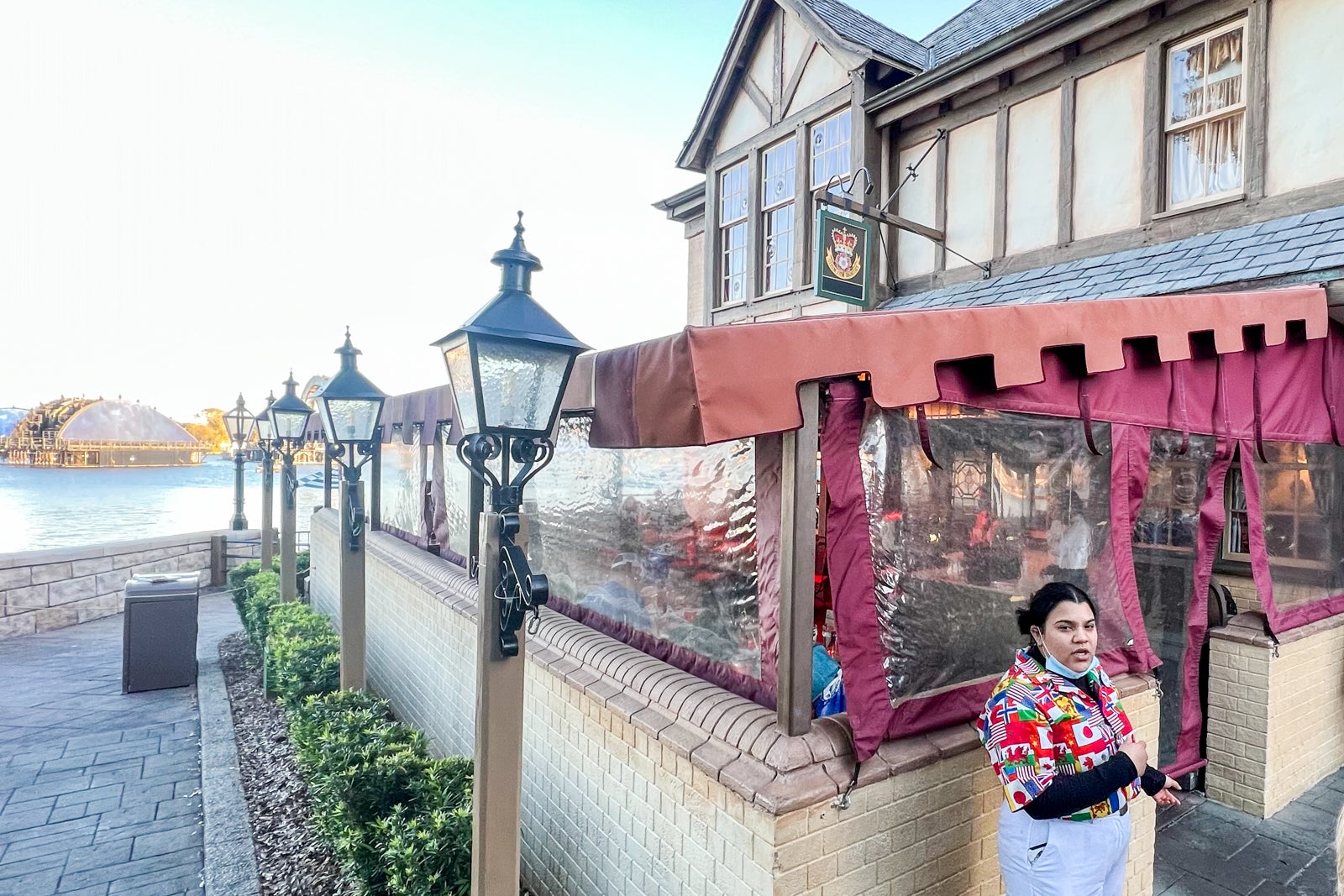 For dinner and a show, you can book a Rose & Crown Fireworks Dining Package ($89 per adult and $39 per child), which will get you a prix fixe meal on the patio during Harmonious, Epcot's new nighttime spectacular.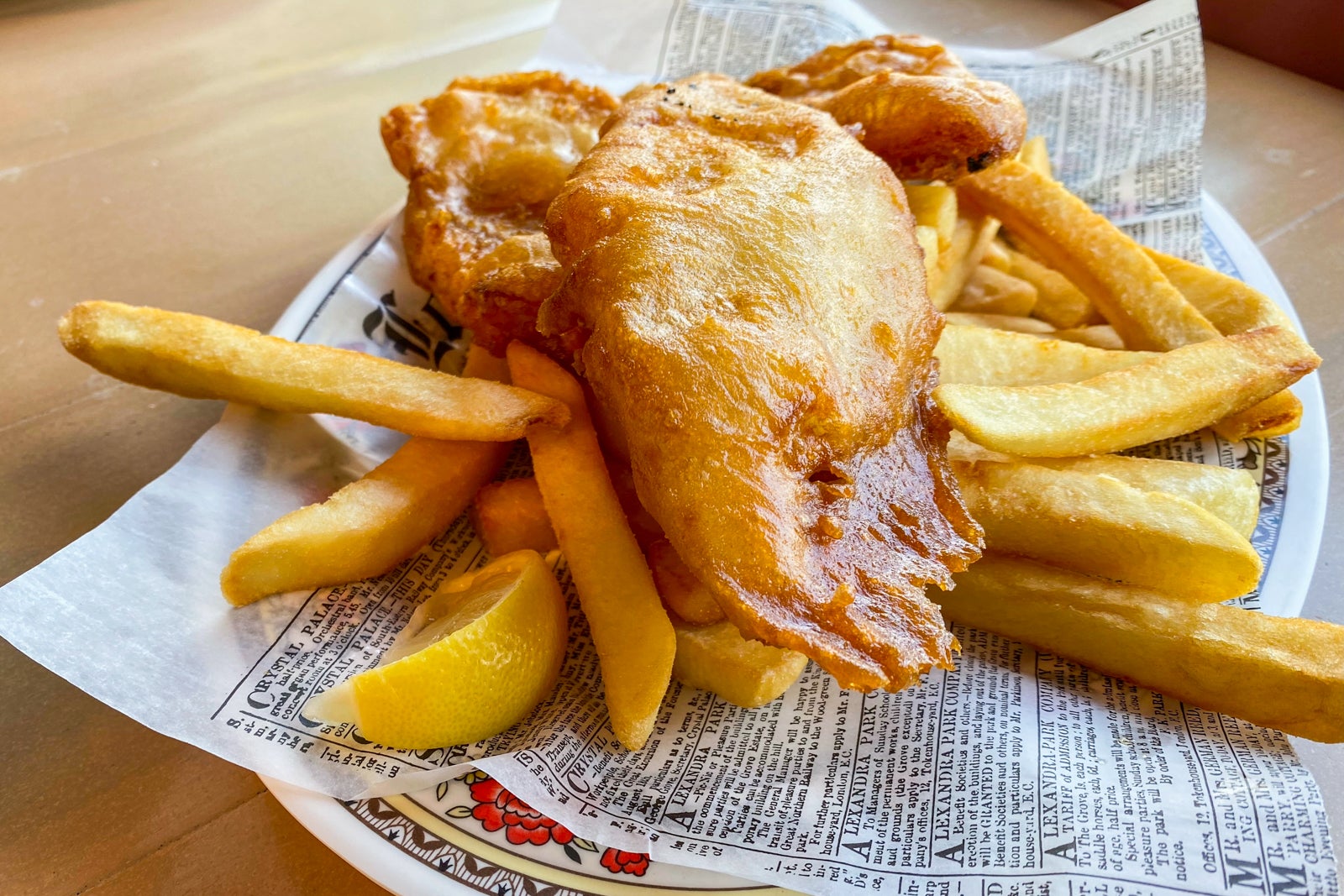 Spice Road Table
Technically a lounge, Spice Road Table in the Morocco pavilion is walk-up only, but it's almost always easy to snag a table.
The open-air, colorfully tiled waterfront space is gorgeous. Service is excellent, and the small plates are consistently delicious. Menu standouts include the vegetarian Tiropitakia, cheese-filled phyllo topped with cucumber-tomato relish, plant-based pomegranate-chili crispy cauliflower, spiced chicken and fried calamari. Don't be deterred by all the "spice" in the descriptions. Spice is used more to denote rich flavors than heat — most dishes are extremely mild.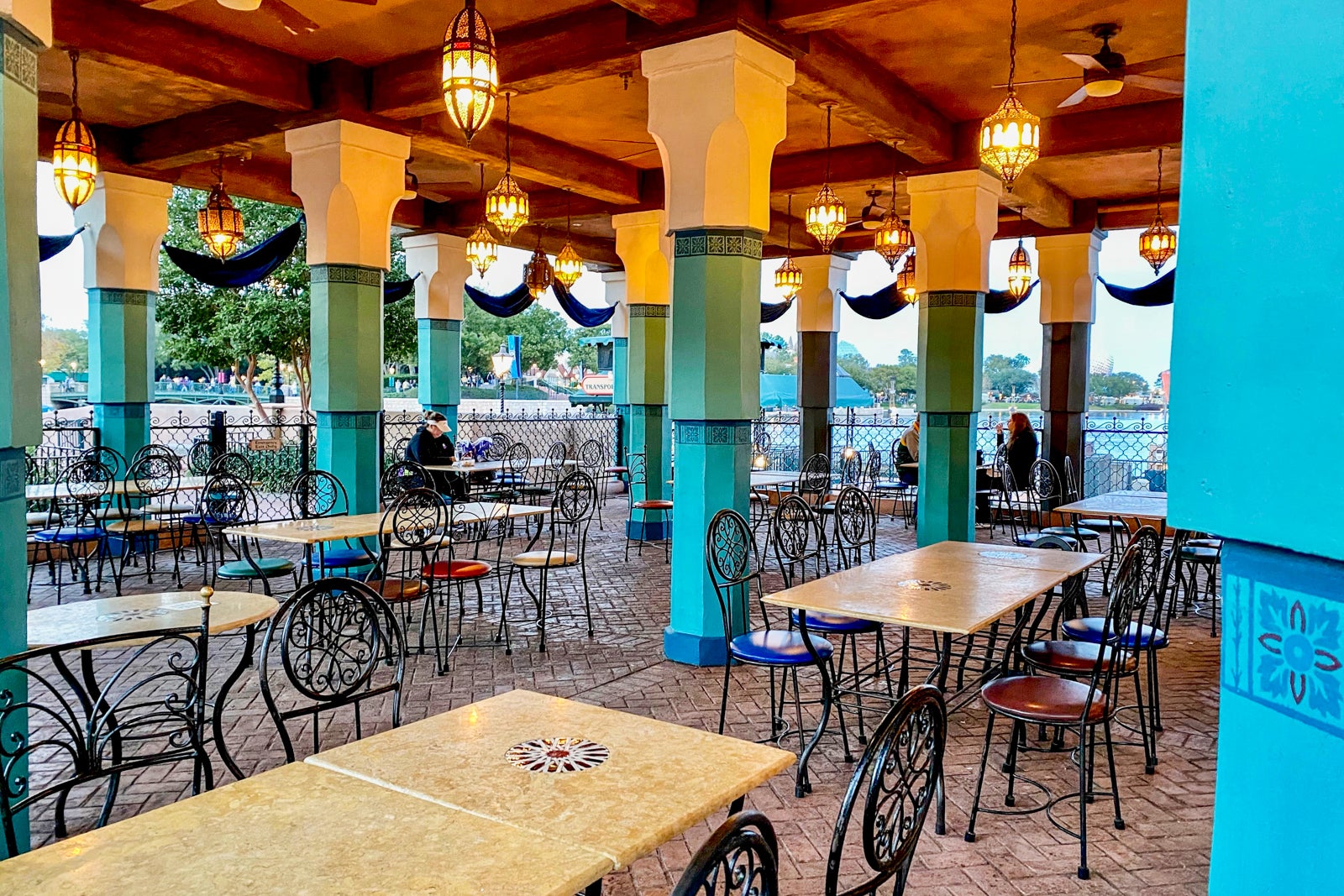 Spice Road Table also offers a Fireworks Dining Package during Harmonious for $72/adult and $31/child for a prix fixe meal.
Via Napoli Ristorante e Pizzeria
Serving easily the best pizza at Walt Disney World, Via Napoli in Epcot's Italy pavilion churns out authentic Neapolitan pies flash-fired in wood-burning ovens named after Italy's three active volcanoes.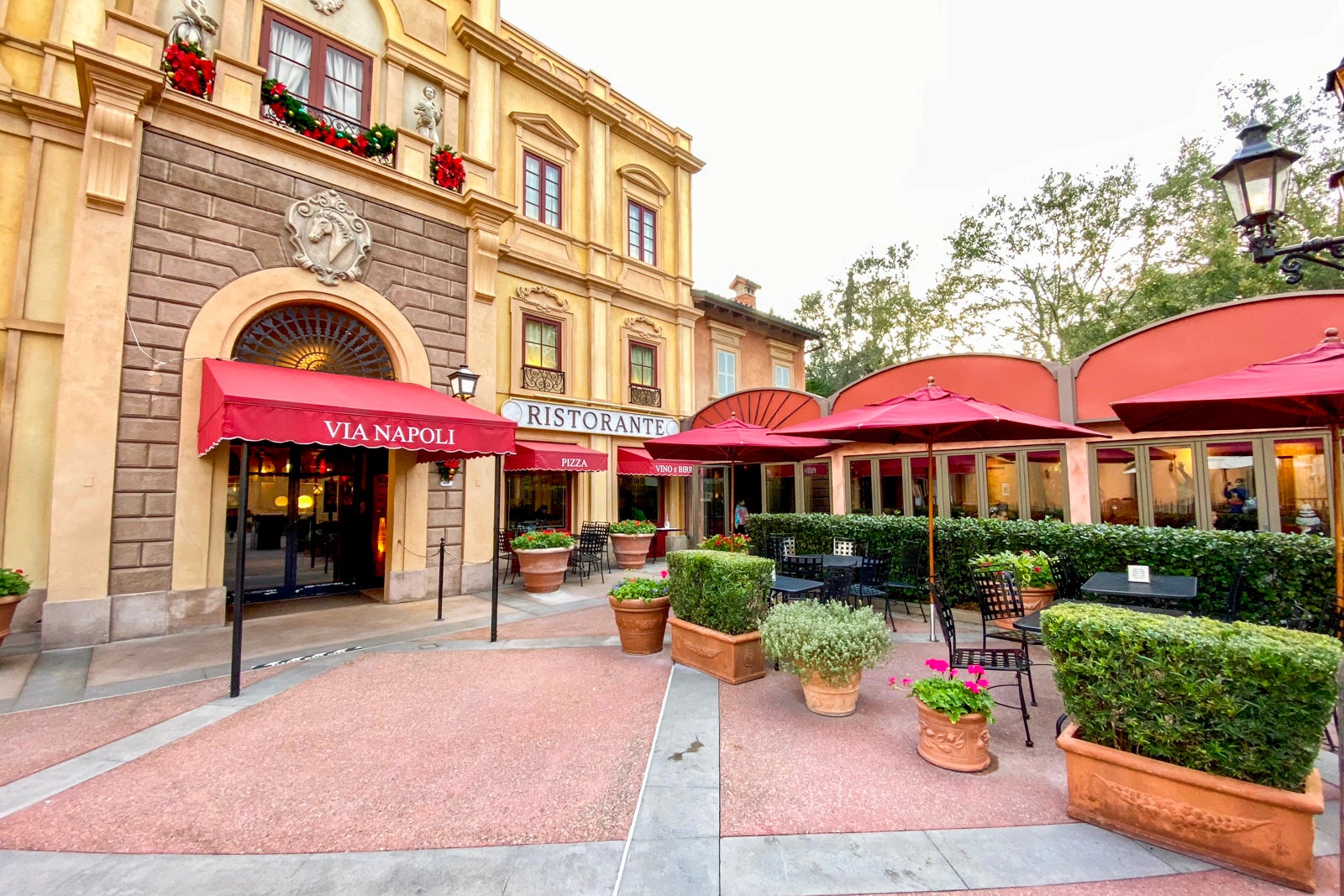 The food here is excellent, but before you get too excited, know that the outdoor seating is limited and very intermittent, so it's definitely not a spot to count on for outdoor dining. As with other table-service restaurants that don't guarantee outdoor seating, you're safe to make a reservation and put in your request to be outside. If they can't accommodate you, you should be able to cancel without penalty in person.
Tutto Italia Ristorante
Like Via Napoli next door, Tutto Italia doesn't consistently seat on the patio. When it does, it's a solid spot for Italian classics like lasagne alla bolognese, chicken parmigiana and cannoli and panna cotta for dessert.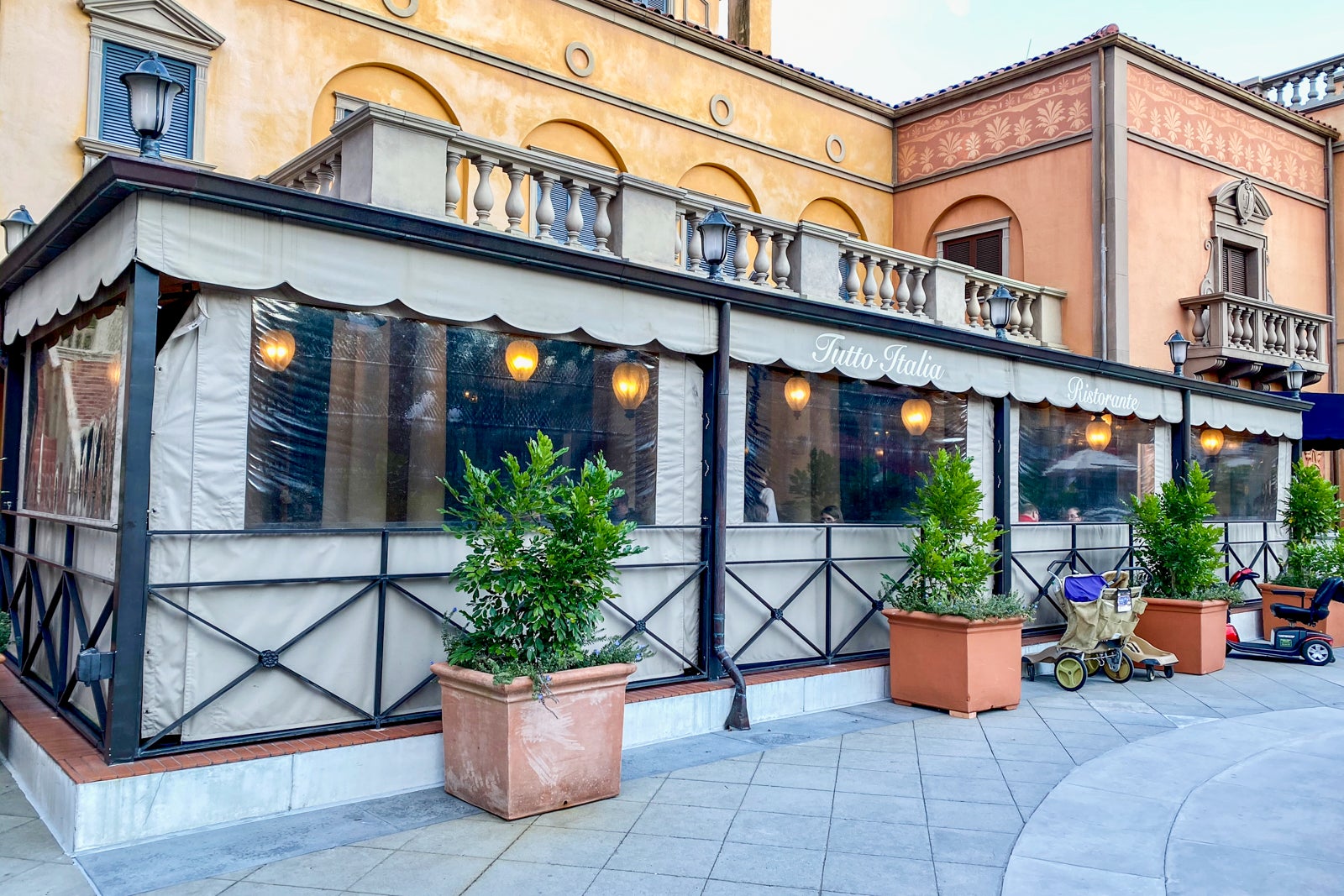 Quick service
La Cantina de San Angel
The Mexico pavilion has two dependable table-service restaurants but neither offers outdoor seating.
Luckily, La Cantina de San Angel hits the mark nearly as well as its pricier table-service neighbors. Chow down on delicious tacos de pollo, barbacoa or pescado, empanadas con queso and nachos.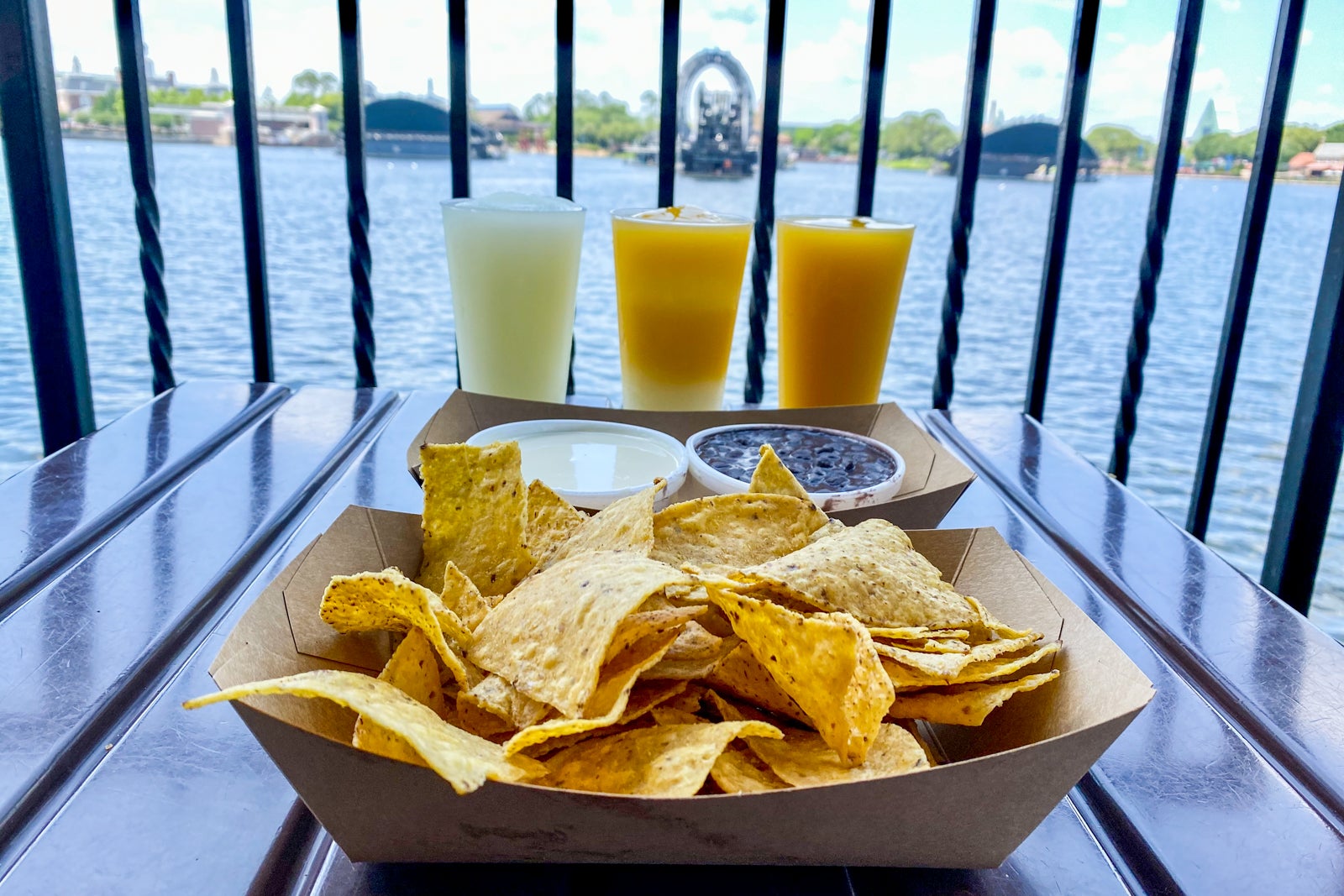 The shaded waterfront seating area also makes this a great spot to kick back for a mid-day snack. Cool off with a frozen mango or lime margarita and some guacamole with totopos (we highly recommend a side of their excellent white nacho cheese to complement any chips order).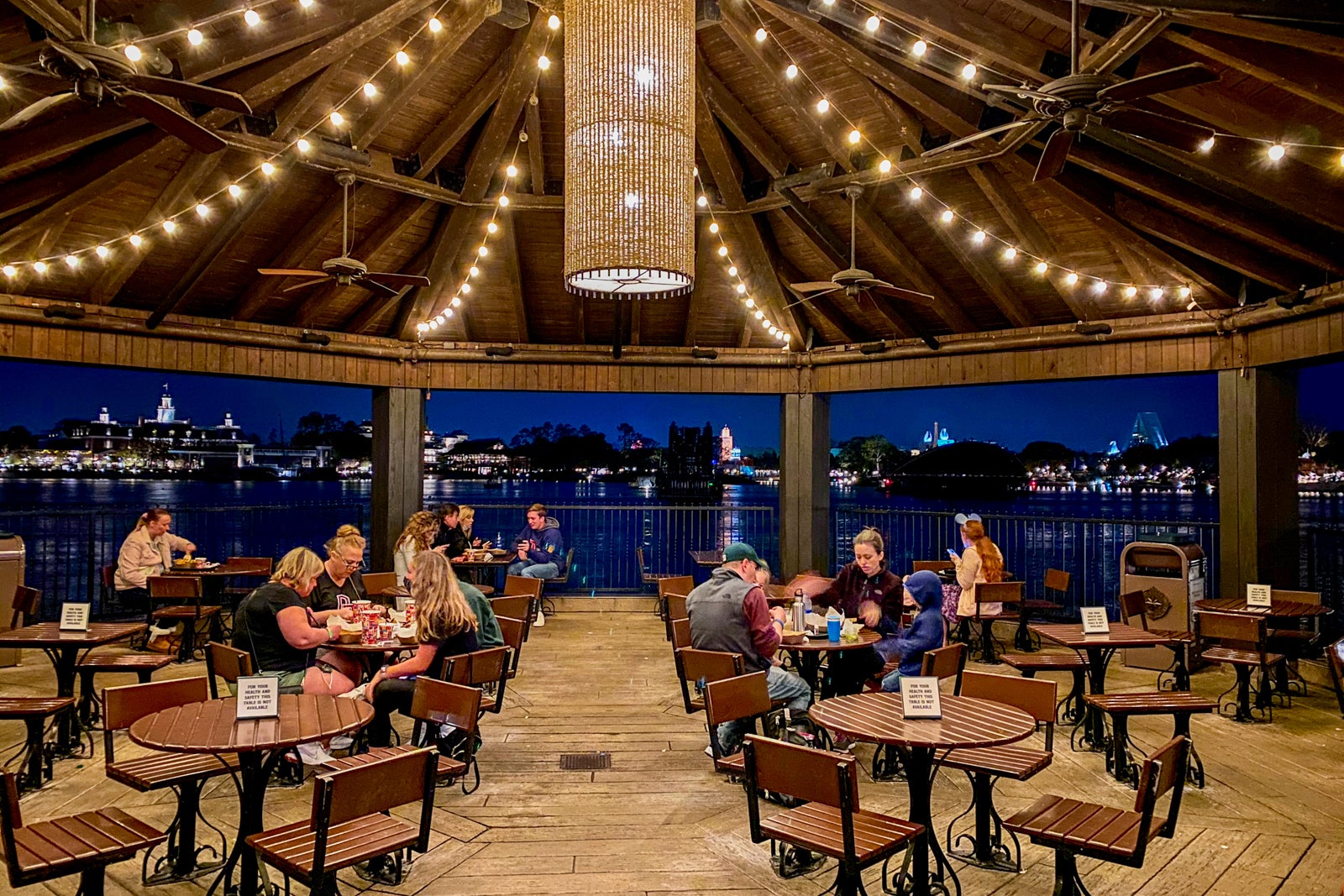 Regal Eagle Smokehouse: Craft Drafts & Barbecue
Opened Feb. 19, 2020, this barbecue haven brought a welcome update to quick service in Epcot's The American Adventure pavilion. Regal Eagle Smokehouse is a meat-lover's paradise, with a menu inspired by some of America's most famous barbecue regions and traditions.
Choose from flavorful entrees like Memphis dry-rub pork ribs, sliced Texas beef brisket sandwich, Kansas City smoked half-chicken and North Carolina chopped smoked pork butt platter, complemented by classic sides like creamy coleslaw, macaroni and cheese and baked beans with burnt ends. Even the vegan option includes double "meat:" The BBQ jackfruit burger is a plant-based burger topped with BBQ jackfruit, lettuce and plant-based mayonnaise and served on garlic toast.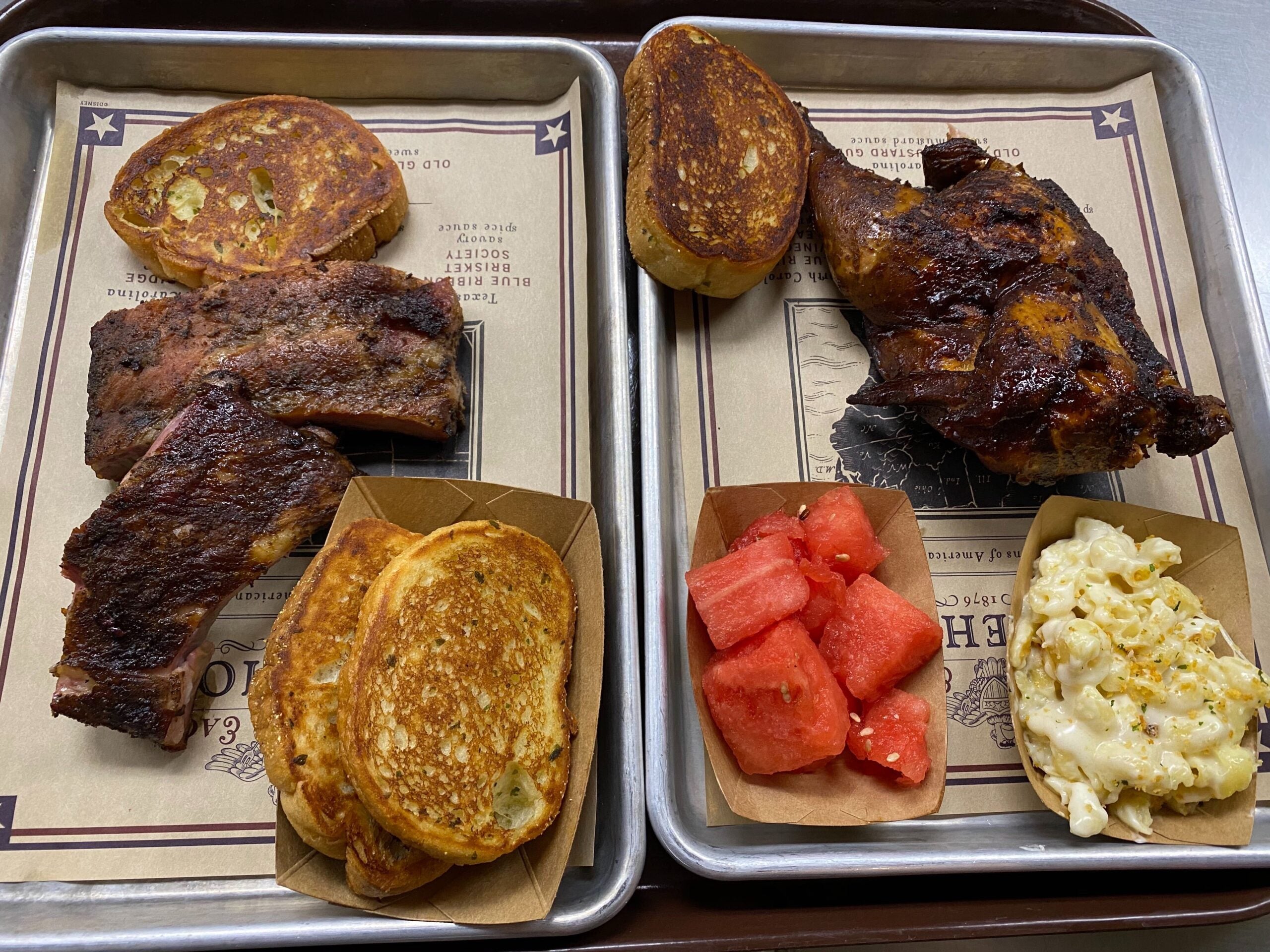 Mobile order your meal, pick up an inventive cocktail or craft brew from the excellent outdoor bar and grab a seat in the expansive alfresco seating area. If you time it right, you'll even be able to enjoy the musical entertainment coming from the America Gardens Theatre. Just consult the My Disney Experience app for showtimes.
Katsura Grill
Steps from World Showcase's main thoroughfare is a tranquil escape that feels miles from the hustle and bustle of the park. Tucked away in a secluded, elevated spot among the Japan pavilion's koi ponds and trickling waterfalls, Katsura Grill serves sushi, ramen, udon and teriyaki. This is a great spot to bring overstimulated kiddos who need some quiet time (plus, they'll love looking at the fish).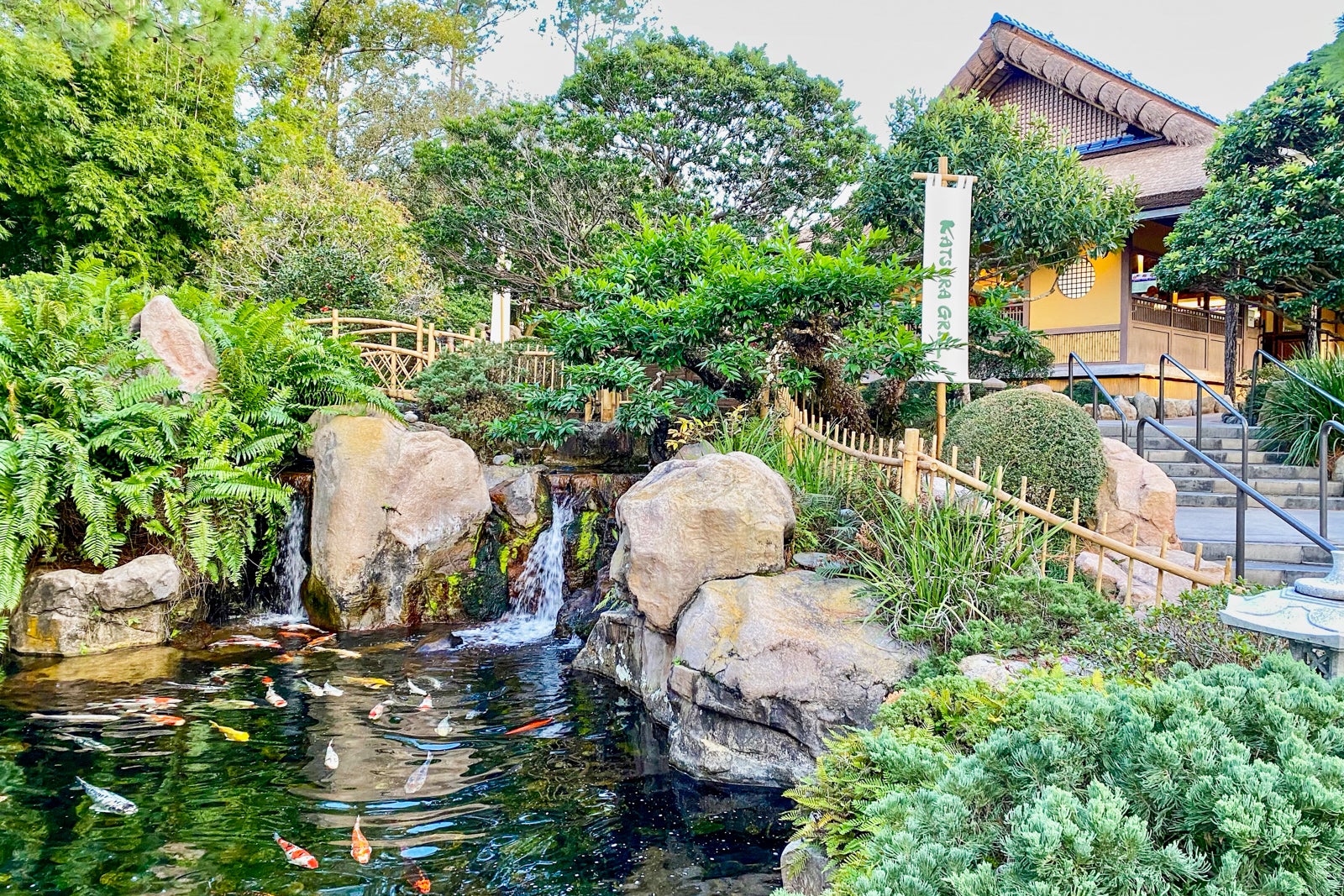 Yorkshire County Fish Shop
Save some money on the same delicious fish and chips served at Rose & Crown by getting them to go at the Yorkshire County Fish Shop's quick-service stand. Pick up a basket of crispy, beer-battered hake and thick-cut chips and a cold draft Harp Lager or Bass Ale and enjoy an authentic British meal at one of the U.K. pavilion's many waterfront tables overlooking World Showcase Lagoon.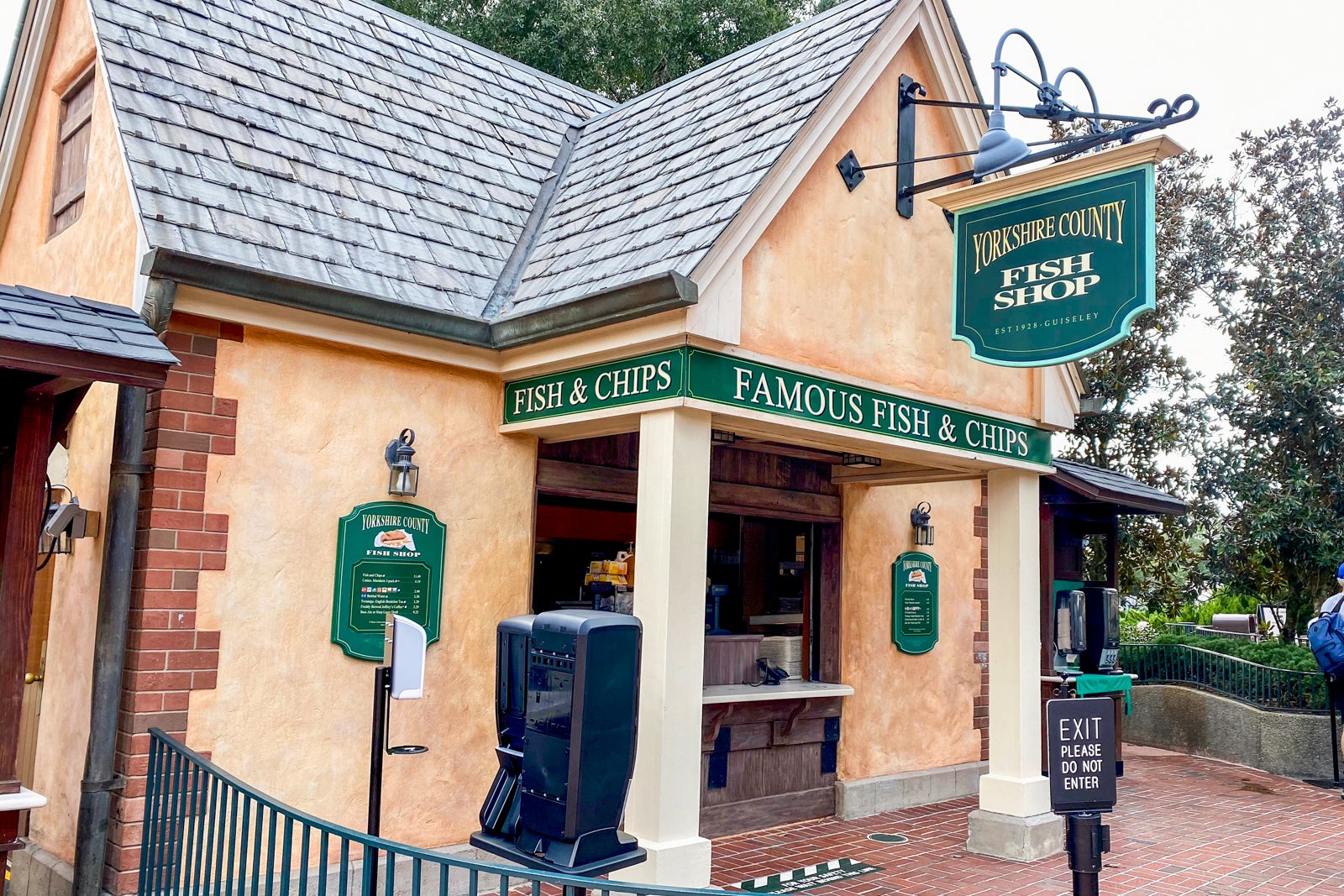 Best outdoor restaurants at Walt Disney World Resorts
Walt Disney World's numerous hotels all feature outdoor seating areas in conjunction with their quick-service dining locations. Some of Walt Disney World's most popular table-service restaurants, including the brand-new Steakhouse 71 at Disney's Contemporary Resort and Sanaa at Disney's Animal Kingdom, also now offer a "To Go" service, enabling you to Mobile Order and enjoy your meal outdoors or back in your room.
If you want to visit a resort dining location, be aware that you'll need a dining or hotel reservation in order to park. Rideshares are sometimes waved through but technically require a reservation for dropoff. To visit a resort without a reservation, use Disney transportation.
Related: Reasons to stay at a Walt Disney World Resort property 
Geyser Point Bar & Grill, Disney's Wilderness Lodge
An idyllic spot to escape to by boat during a break from a busy day at Magic Kingdom, Geyser Point Bar & Grill is housed in a rustic, open-air structure on the shore of Bay Lake in the shadow of the spectacular Disney's Wilderness Lodge.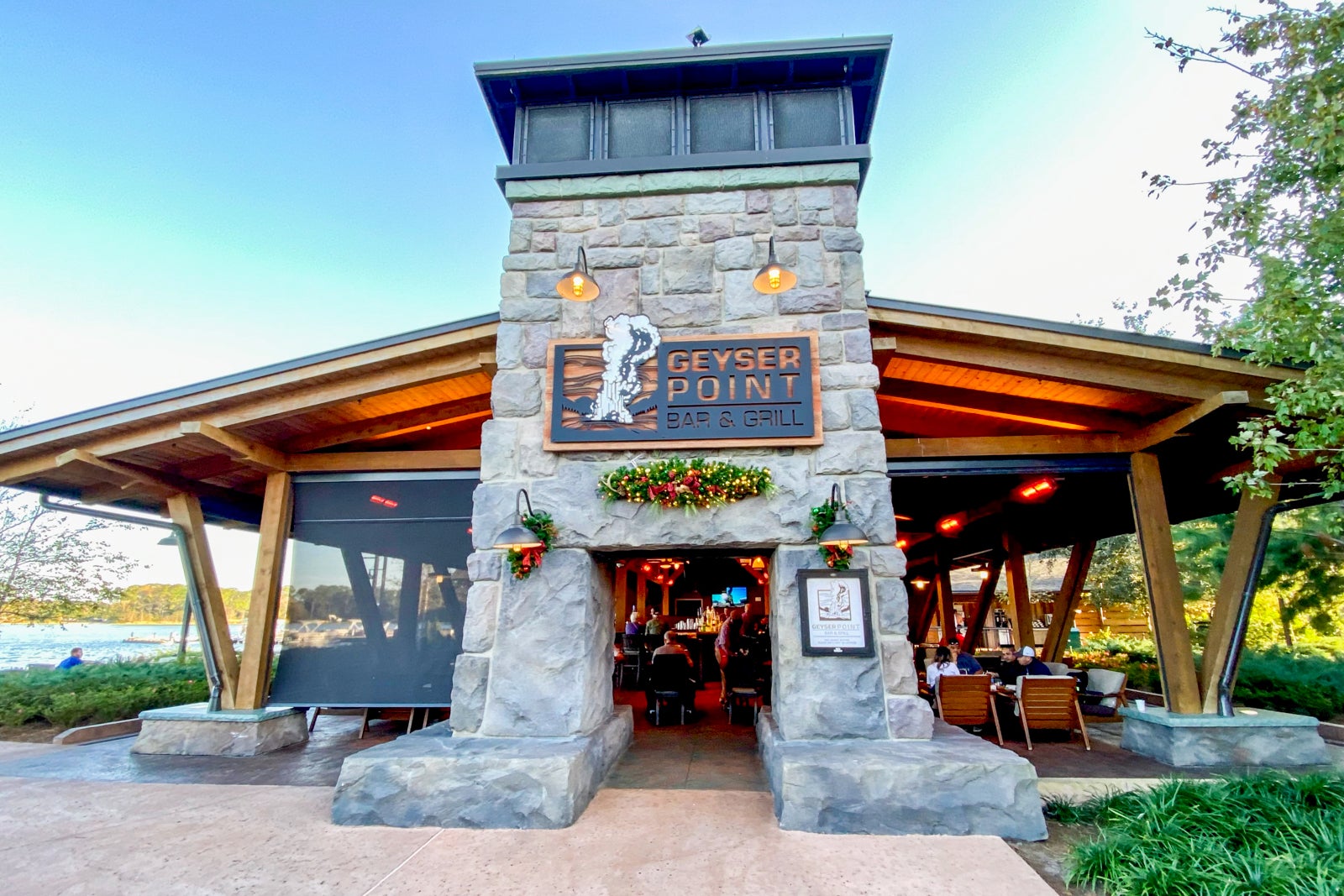 Technically categorized as a lounge, the restaurant doesn't take reservations, but you can join the walk-up list as soon as you're close. Small plates including cheese and charcuterie and cheese barbecue brisket join larger entrees such as the bison cheeseburger (a fan favorite), roasted salmon, and grilled portobello salad. The food is complemented by a wide range of specialty cocktails, local and craft beers and some very popular seasonal cocktail flights.
Trattoria al Forno, Disney's BoardWalk
Just steps from Epcot's International Gateway entrance and the Disney Skyliner station, Trattoria al Forno on Disney's BoardWalk has a handful of outdoor tables that you can request upon check-in. A new chef and updated menu earlier this year have elevated the restaurant's previously mediocre Italian fare to a place among the best at Walt Disney World.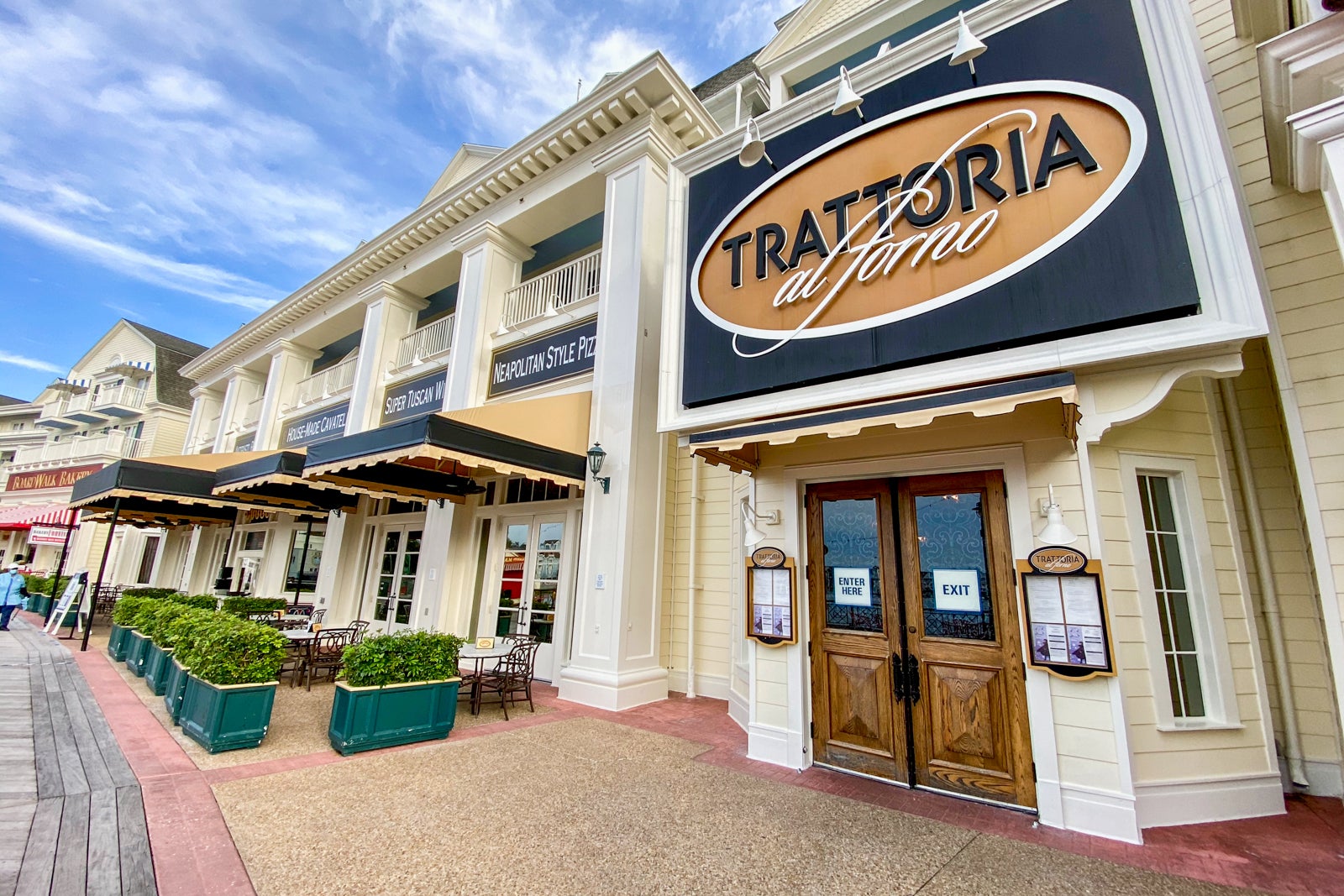 Menu standouts at dinner include the shrimp pappardelle, veal osso bucco, and plant-based rigatoni bolognese that even carnivores agree is perfection. The equally popular breakfast menu, ideal for a leisurely meal before heading into Epcot, puts an Italian spin on the classics with highlights like tiramisu-style french toast and caprese omelet.
Take in the boardwalk's great atmosphere at an outdoor table. If you can't snag a reservation, you can also order Trattoria al Forno to go and enjoy it at one of the many tables on the boardwalk.
AbracadaBar, Disney's BoardWalk
A perfect spot for people watching along the Atlantic City-inspired boardwalk, AbracadaBar is a magician-themed lounge serving a very limited but delicious menu of small plates whipped up in the Trattoria al Forno kitchen next door. Choose from the Abra Fries, margarita pizza or salumi, or grab something from the nearby BoardWalk Pizza Window or Boardwalk Bakery to eat while sipping one of AbracadaBar's craft cocktails.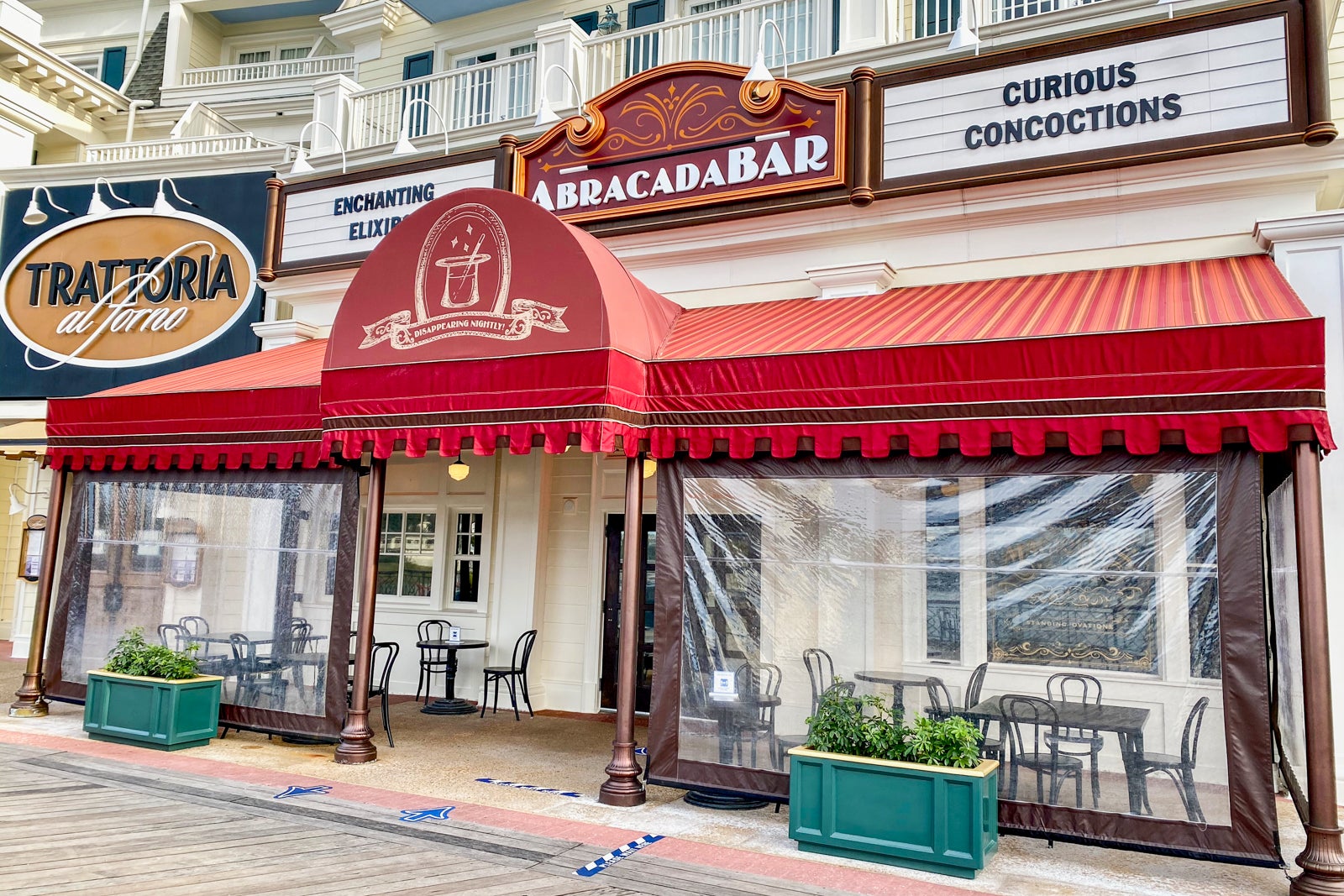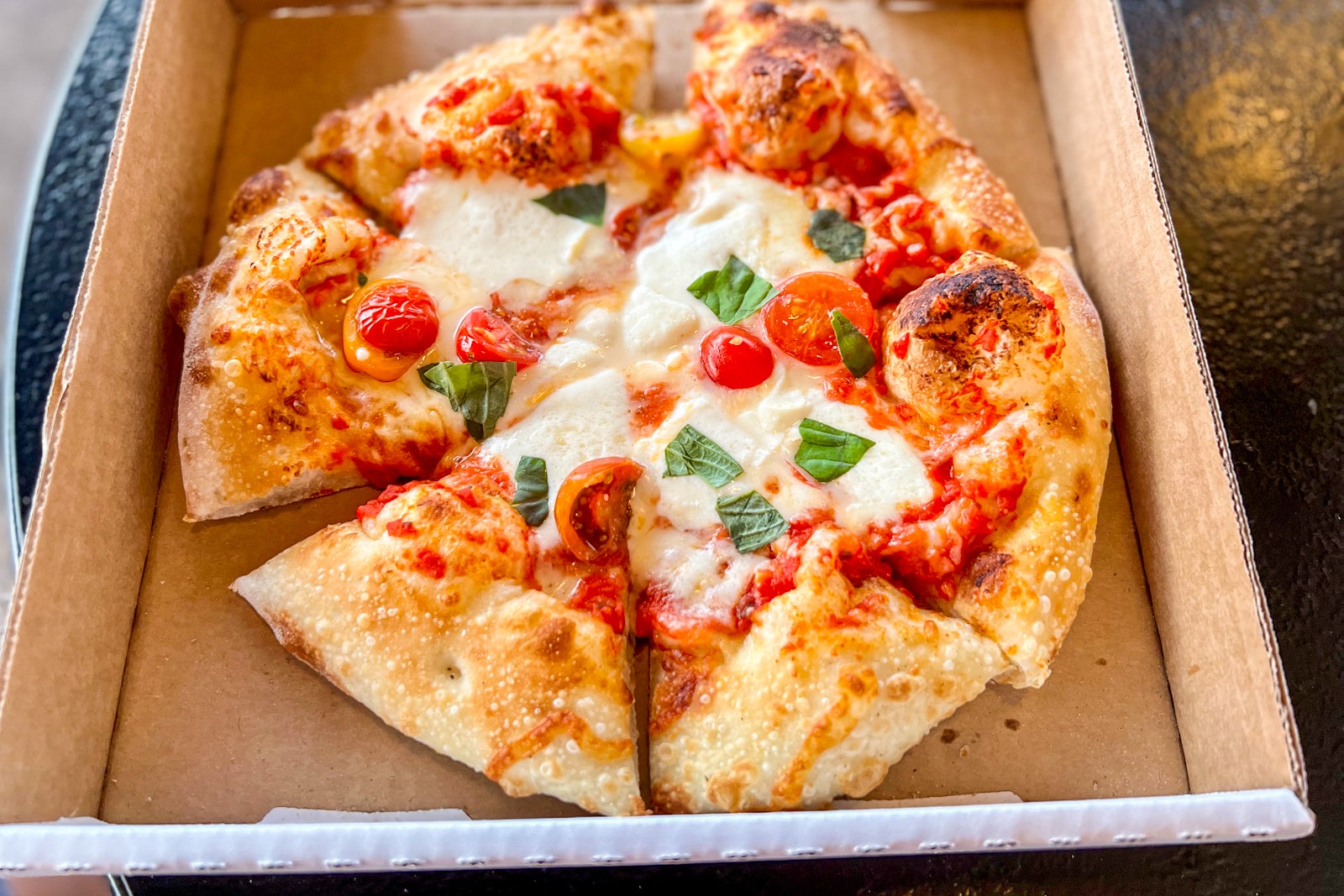 Dahlia Lounge, Disney's Coronado Springs Resort
For an outdoor spot with breathtaking views and great food where you don't even need a reservation, head to Dahlia Lounge in the new-ish Gran Destino Tower at Disney's Coronado Springs Resort. This hidden gem serves a Spanish tapas-style menu of small plates, specialty cocktails and a wonderful selection of Spanish wines and cavas.
You could make a meal of shareable plates like the Spanish Charcuterie, Ham and Cheese Bocadillo, Crispy Artichokes, and Tortilla Espanola. Or, you could grab a drink and take in the sweeping views before heading over to nearby Three Bridges Bar & Grill for dinner alfresco.
Olivia's Cafe, Old Key West
Lush, tropical landscaping, colorful buildings, and a great soundtrack keep a nonstop vacation vibe going at Disney's Old Key West Resort. The original Disney Vacation Club Resort, Old Key West is also home to one of Walt Disney World's hidden gem restaurants — Olivia's Café.
The restaurant serves island seafood dishes you'd expect from Key West such as crab cake and conch fritters, but Olivia's is perhaps most famous for two Southern specialties: Olivia's famous grits at breakfast (one of the best on property) and southernmost fried chicken at lunch and dinner. Request an outdoor table in the sizeable outdoor seating area — and don't even think about leaving without having a Key lime tart for dessert.
Trader Sam's Tiki Terrace and Capt. Cook's, Disney's Polynesian Village Resort
Trader Sam's Grog Grotto is one of the most heavily themed, immersive dining spots at Disney, and eating or drinking inside the famed tiki bar is a must when you're comfortable being indoors. However, Trader Sam's Tiki Terrace, the outdoor patio offshoot of the tropical watering hole, is worth a visit in its own right.
A trickling waterfall, lovely views of Seven Seas Lagoon with Cinderella Castle in the distance and (if you get your timing right) a live ukulele player or a showing of Disney Enchantment from Magic Kingdom make for a memorable evening on the terrace.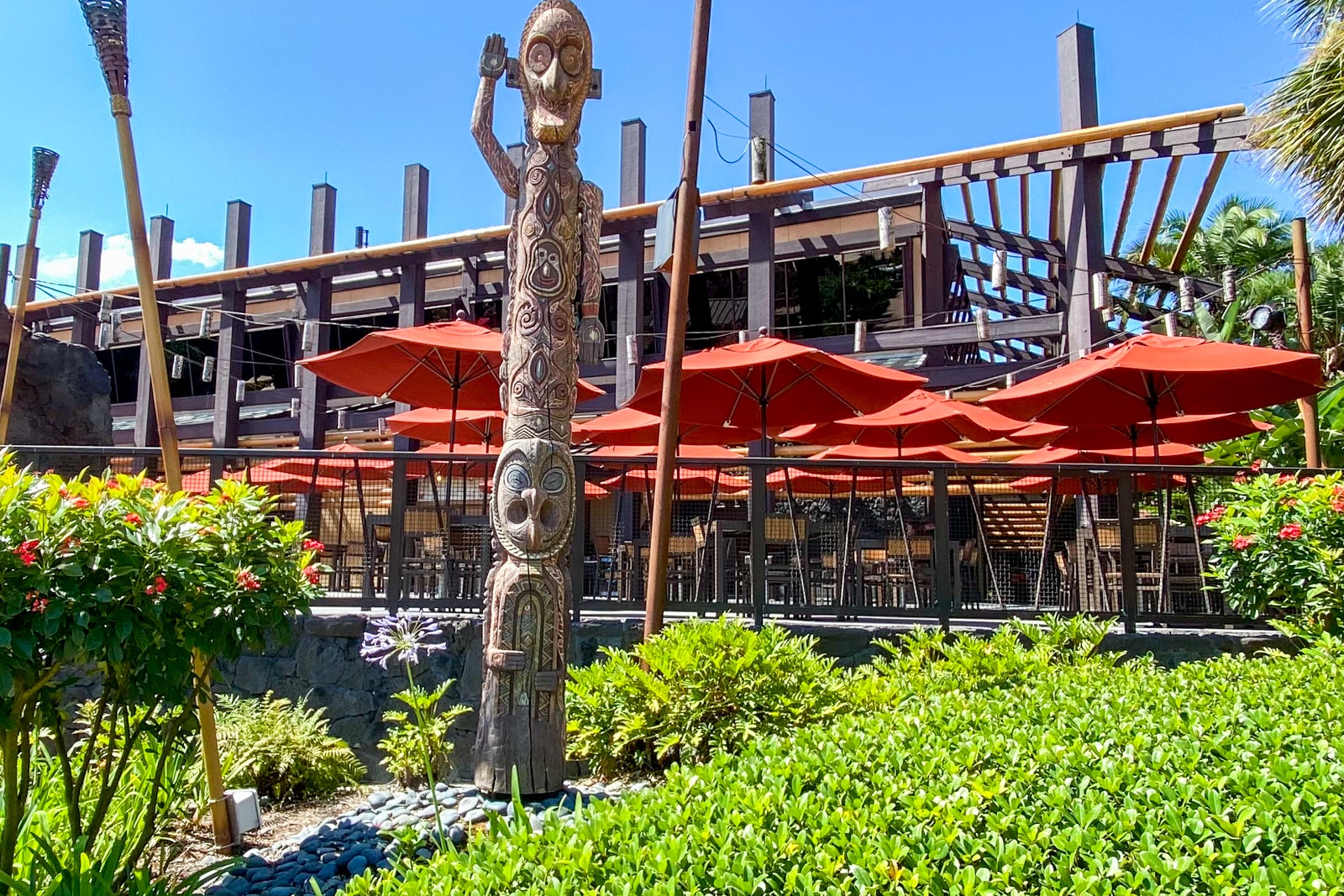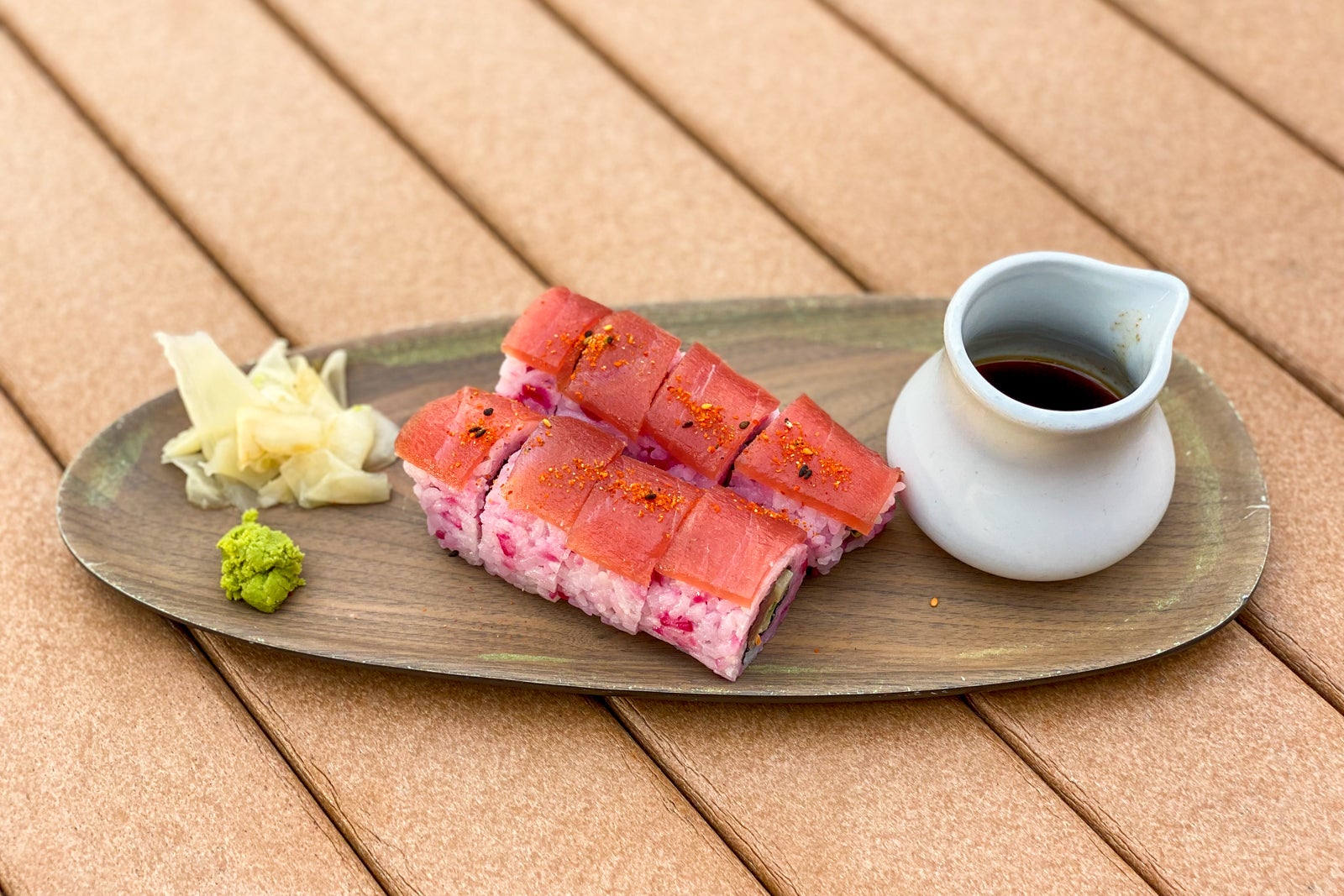 Order the tiki drinks Trader Sam's is known for — from the Polynesian Pearl and the Tiki Tiki Tiki Tiki Tiki Rum to the Zombie and HippopatoMai-Tai, plus small plates like sushi, dumplings, flatbread and lettuce cups.
For a broader menu, Capt. Cook's, the quick-service location next door, shares the patio and serves kid-friendly classics such as chicken fingers, mac and cheese and burgers, plus Polynesian dishes such as the Aloha pork sandwich, pan-Asian noodles and begetables, and Thai coconut meatballs. Disney's Polynesian Village Resort is just a boat ride away from Magic Kingdom or a quick walk from the Ticket and Transportation Center.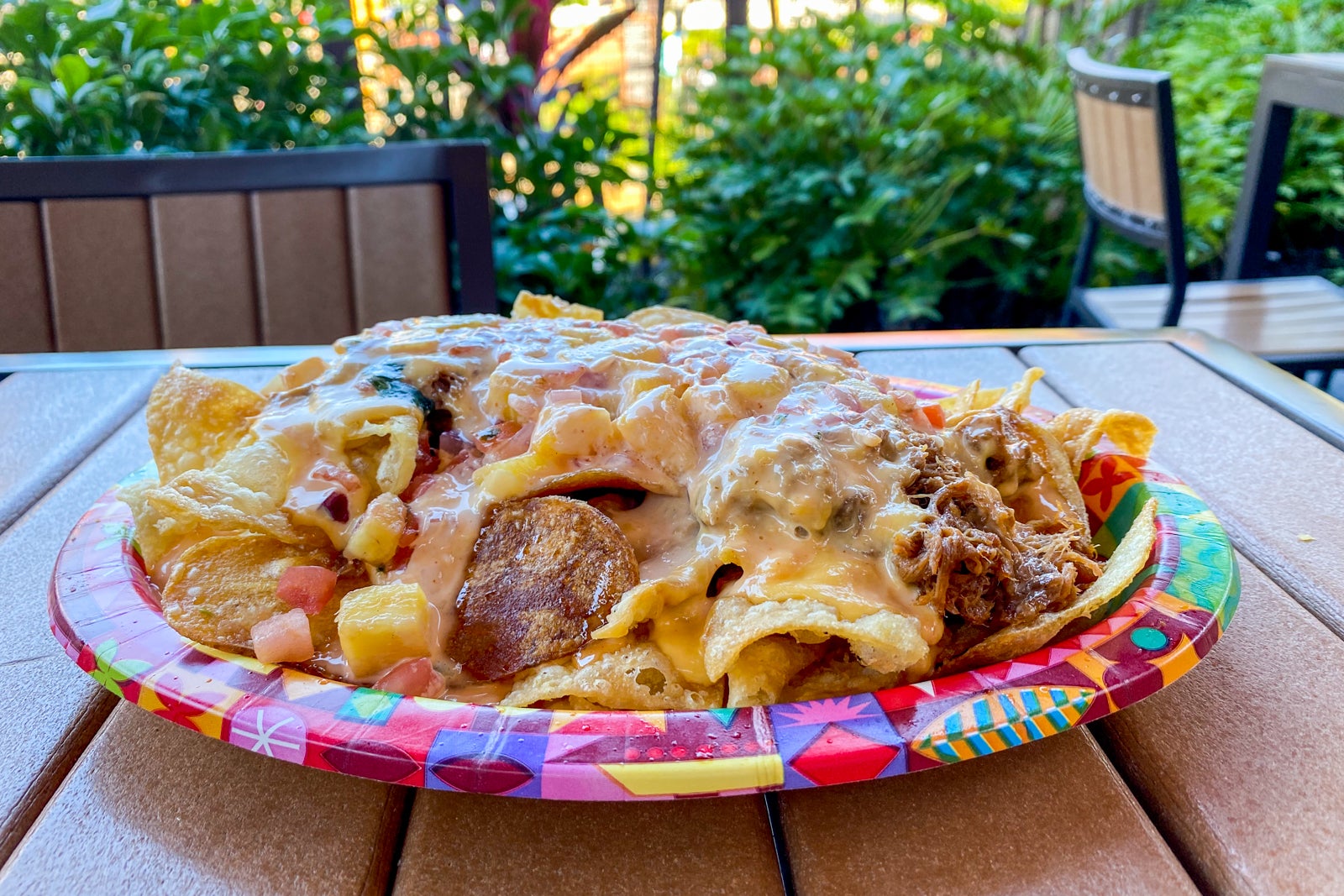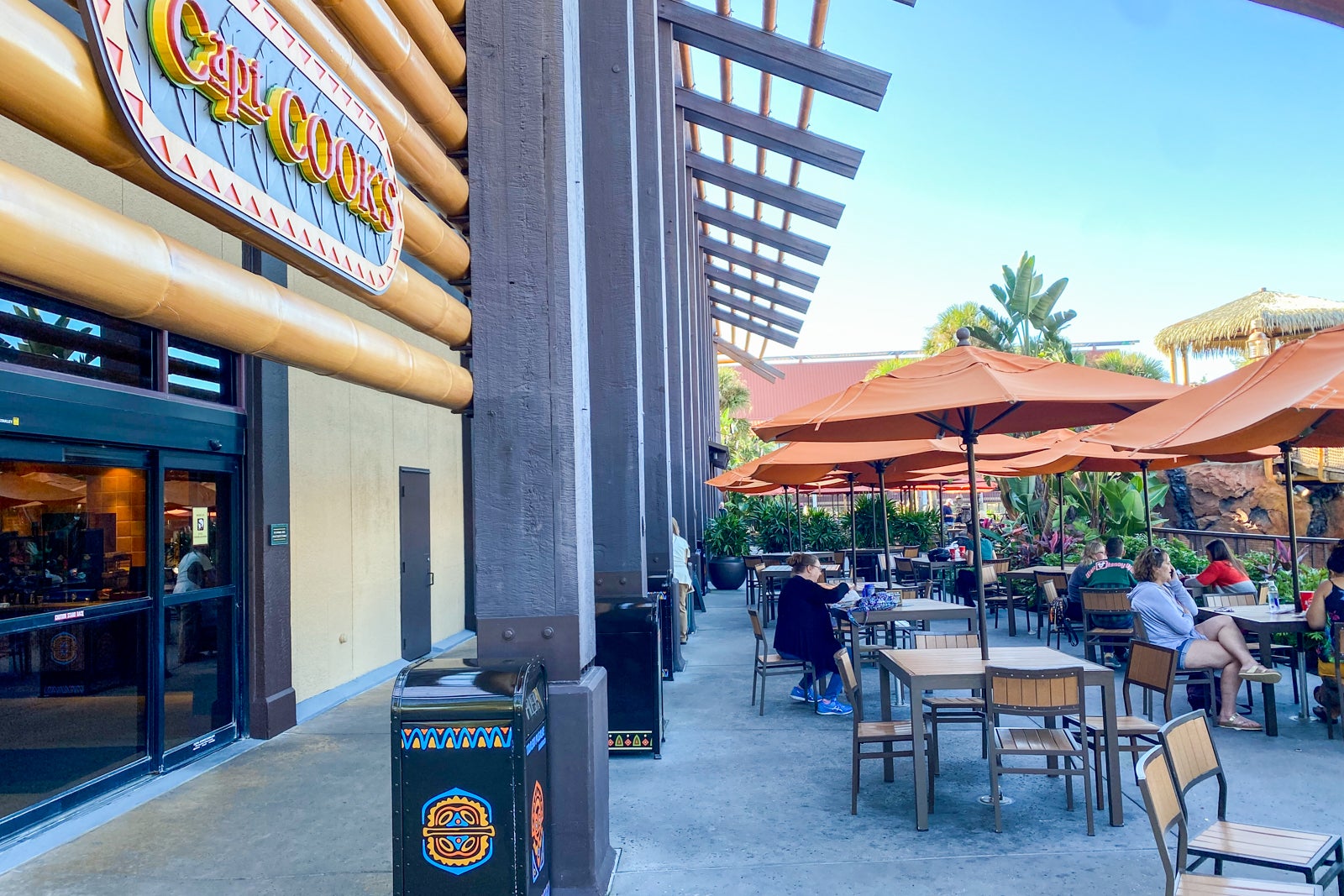 Grand Floridian Café and Gasparilla Island Grill, Disney's Grand Floridian Resort & Spa
Just a quick boat ride or 10-minute stroll down the walkway from Magic Kingdom, Grand Floridian Café is a nod to the Victorian tea room, serving breakfast, lunch and dinner. Breakfast and lunch menus overlap with savory favorites. Try the lobster thermidor burger and fresh salads, or breakfast classics such as steak and eggs and buttermilk fried chicken and waffles. All are available throughout the morning and afternoon. Outdoor seating can be requested at check-in, but it's seasonal and typically only offered at breakfast or lunch.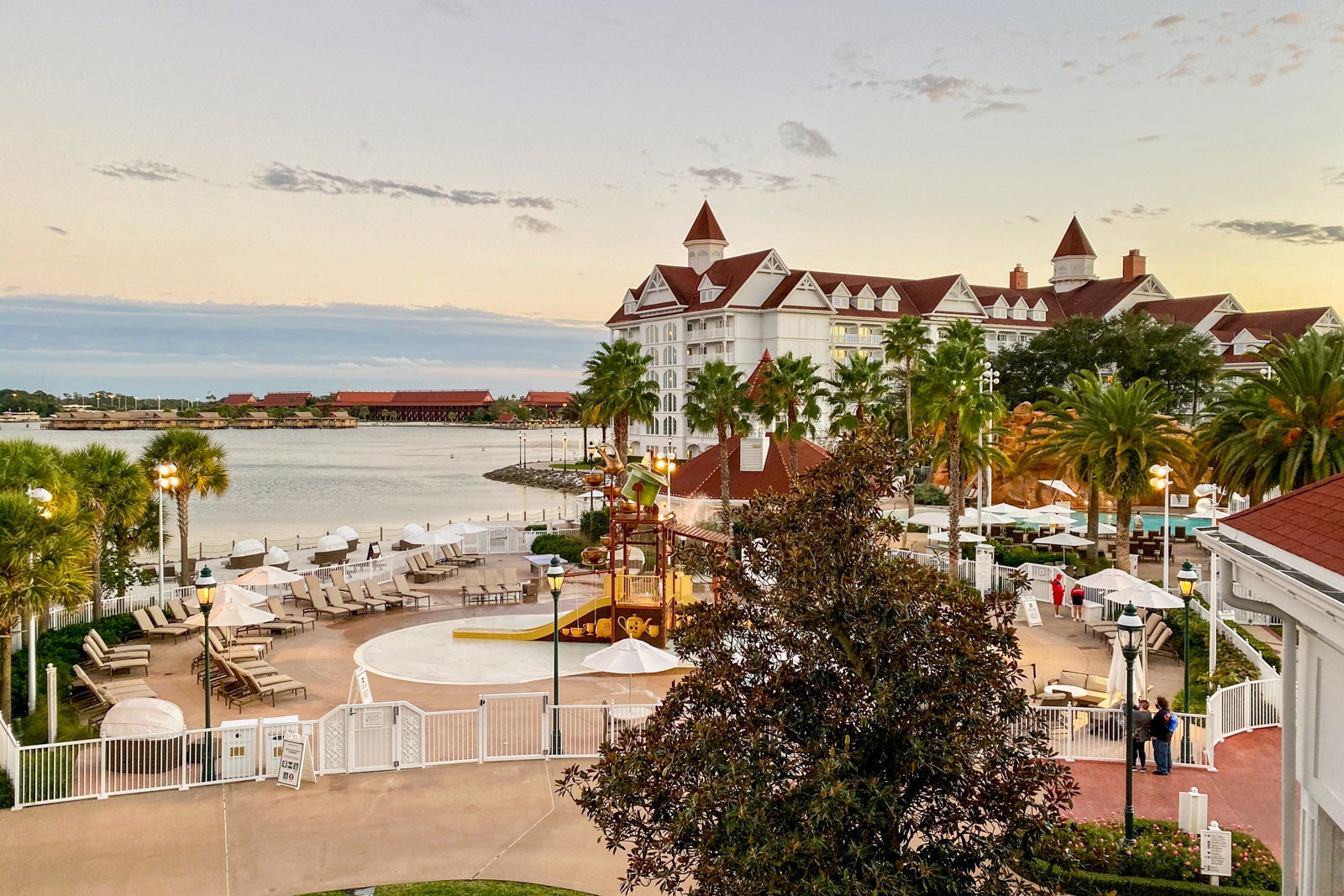 If Grand Floridian Café isn't seating outside during your visit, Gasparilla Island Grill is your best bet. The quick-service location around the corner has plenty of outdoor seating with views of Seven Seas Lagoon and Cinderella Castle and serves a variety of burgers, hot and cold sandwiches, pizzas and salads.
Enchanted Rose, Disney's Grand Floridian Resort & Spa
Another lounge for the win. This upscale, "Beauty and the Beast"-themed escape is dressed to the nines in elegant, subtle nods to the film. Be sure to take a peek at the stunning main bar and cozy library before grabbing a spot on Enchanted Rose's heated patio.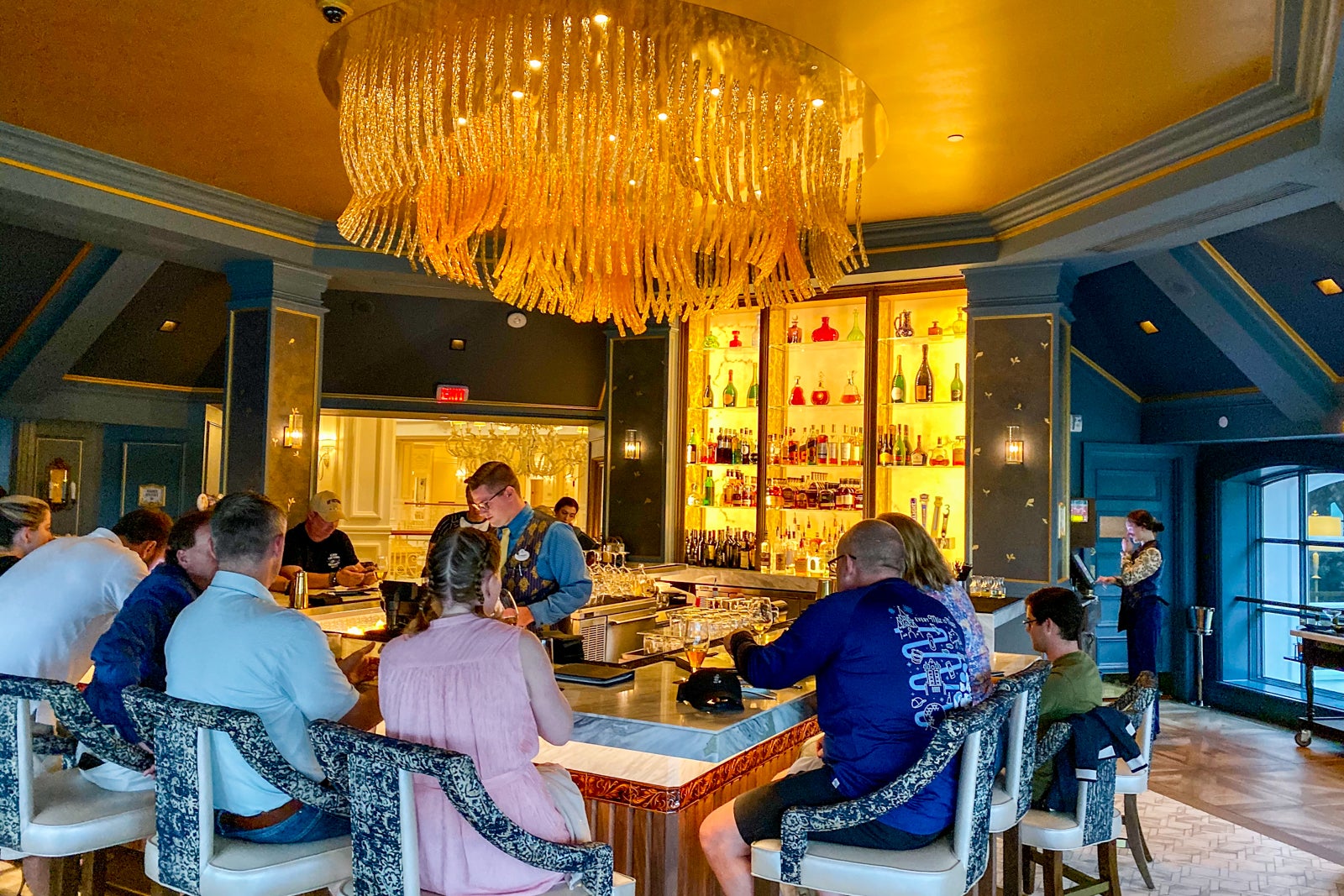 Sip signature cocktails like the Lavender Fog, Floral Bitter Beauty and rotating seasonal old fashioned. Then share small plates like flatbreads truffle fries and crab macaroni and cheese.
Bar Riva, Disney's Riviera Resort
With just one outdoor table-service choice at Disney's Hollywood Studios, a quick trip on the Disney Skyliner over to Disney's newest hotel, Disney's Riviera Resort, adds another fun option. Technically the resort's pool bar, Bar Riva is a beautiful open-air space, tiled in serene shades of blue with lots of nods to the Italian and French Riviera.
Bar Riva is walk-up only but offers a table-service service lounge menu of Mediterranean-inspired dishes such as tuna Niçoise and Greek salads, baked brie in puff pastry and grilled vegetable skewers. If the tables are full and you don't want to wait, quick-service Primo Piatto next door is a reliable backup. Mobile order it to go and find a spot outside.
Disney Springs
You'll be spoilt for choice when it comes to outdoor dining options at Disney Springs. With far too many strong contenders to list comprehensively, the following are a few of our favorites (honorable mentions include Raglan Road and The Polite Pig), all of which offer outdoor seating — just note your preference at check-in.
Wine Bar George
George Miliotis' Disney Springs wine bar is known for its delicious small plates and expertly curated wine list. Make a meal of shareable like the saganaki on fire, crispy mac and cheese bites and grilled romaine, cheese and charcuterie boards. Or, save room for the entrees and family-style plates of skirt steak or grilled whole Greek sea bass.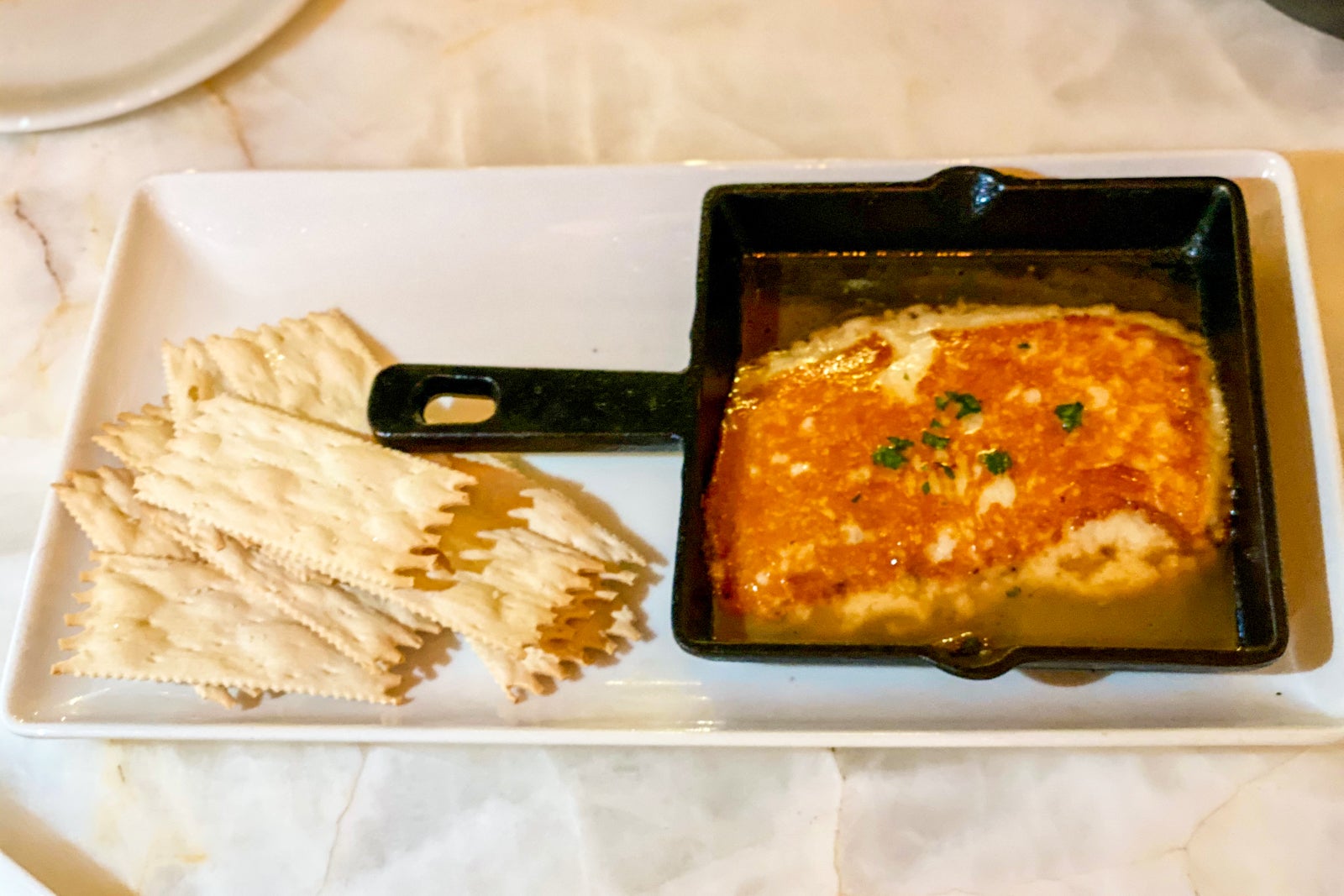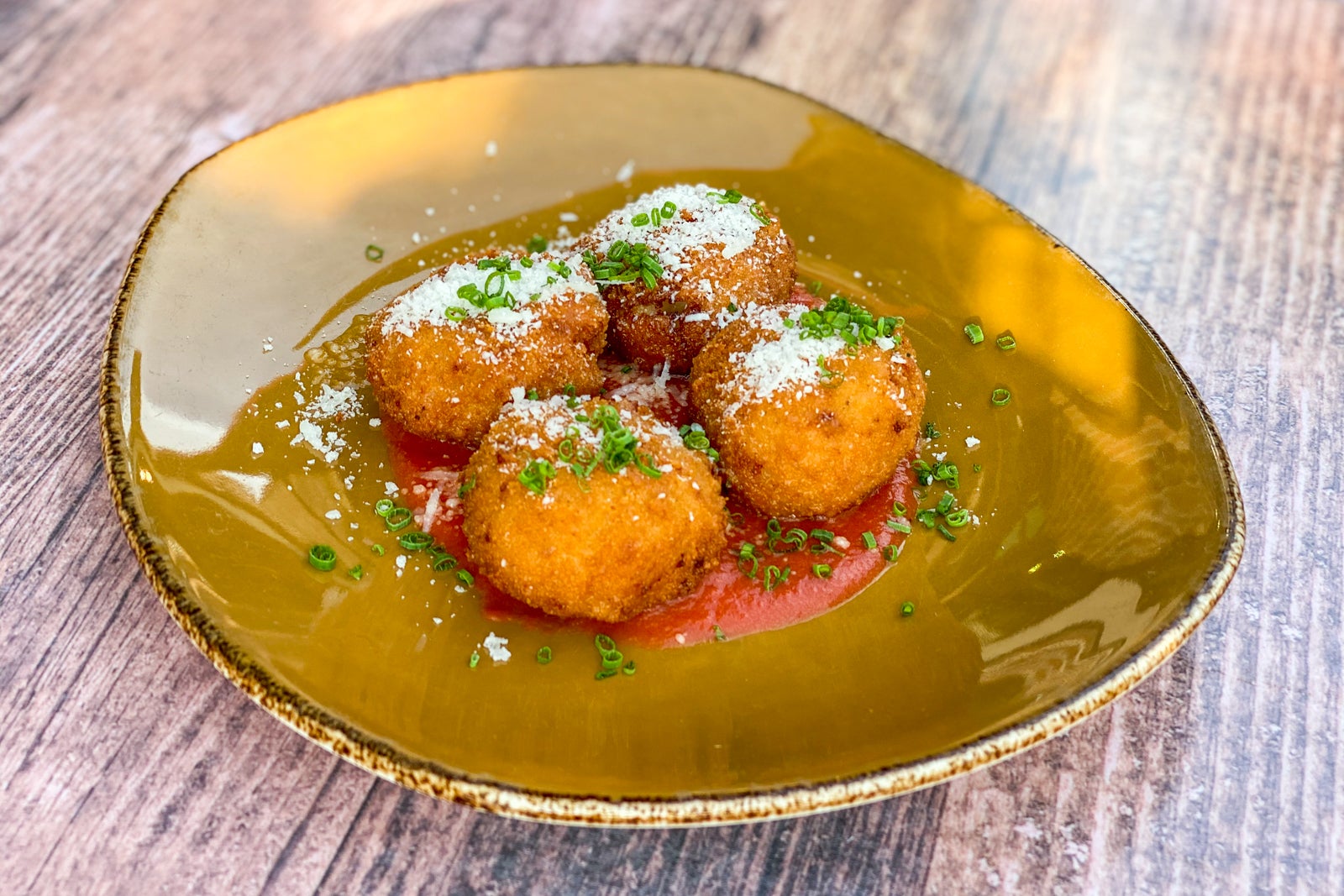 Jock Lindsey's Hangar Bar
If you're a sucker for Disney-theming, Jock Lindsey's Hangar Bar is your best bet at Disney Springs. Disney-owned and operated, the Indiana Jones-themed airplane-hangar-turned-watering hole is packed with Easter eggs from the films, the Disney Springs' Adventurers Club past and S.E.A. lore.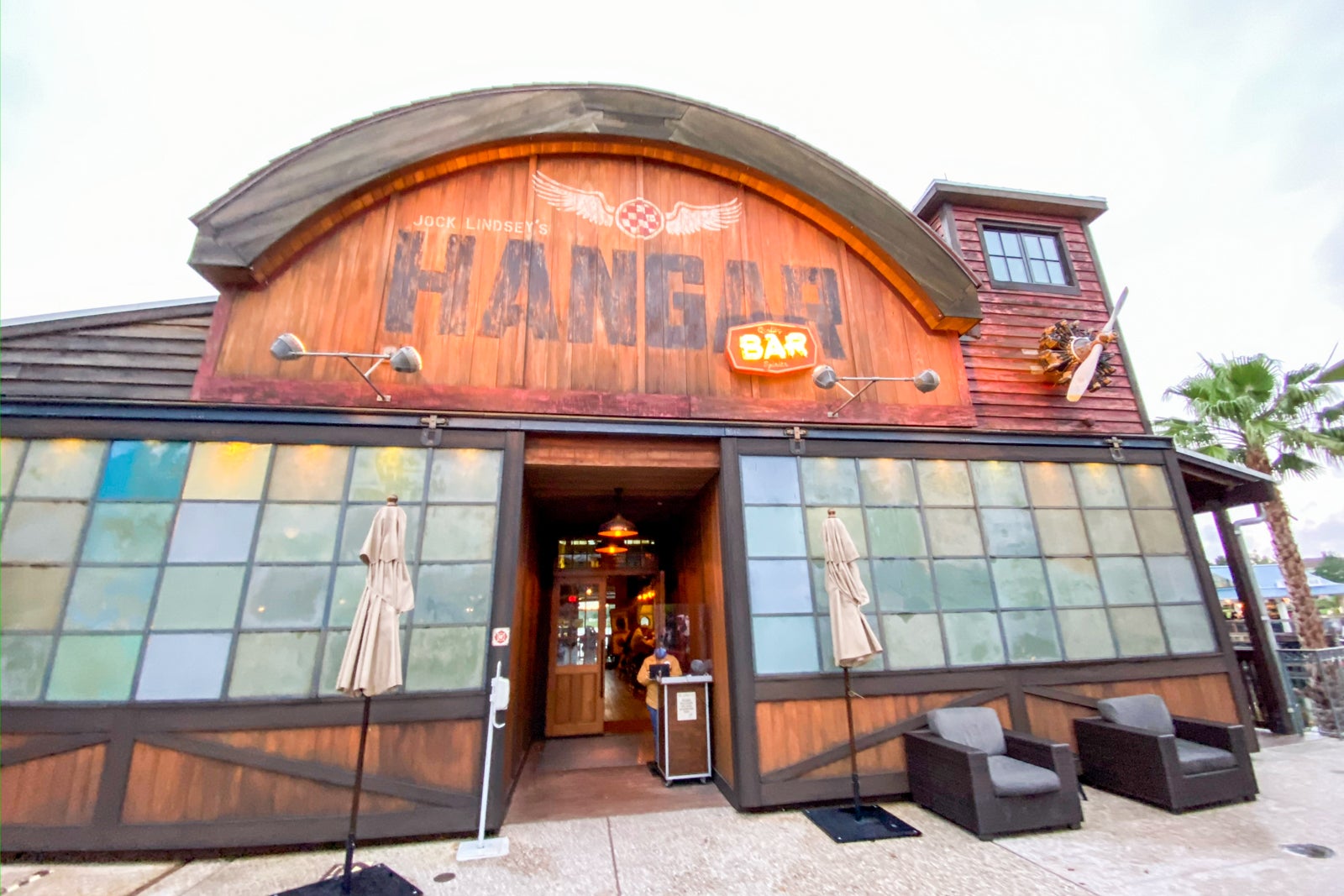 Take in the details before sitting at a table on the waterfront terrace and ordering from a heavily themed menu of shareables such as the loaded pretzel, Fountain of Youth chicken wings and Doctor Astorga's queso fundido, plus a selection of flatbreads and tacos. An equally creative cocktail menu keeps regulars coming back again and again.
The Boathouse
Waterfront outdoor dining plays right into the charming maritime theming at The Boathouse, which does surf and turf better than any other spot at Walt Disney World. Start with oysters on the falf shell from the raw bar, peel and eat shrimp or main lobster bisque followed by a Maine style lobster roll or award-winning burger. Or, go all out with a Gibsons heritage steak and Maine lobster tail add-on.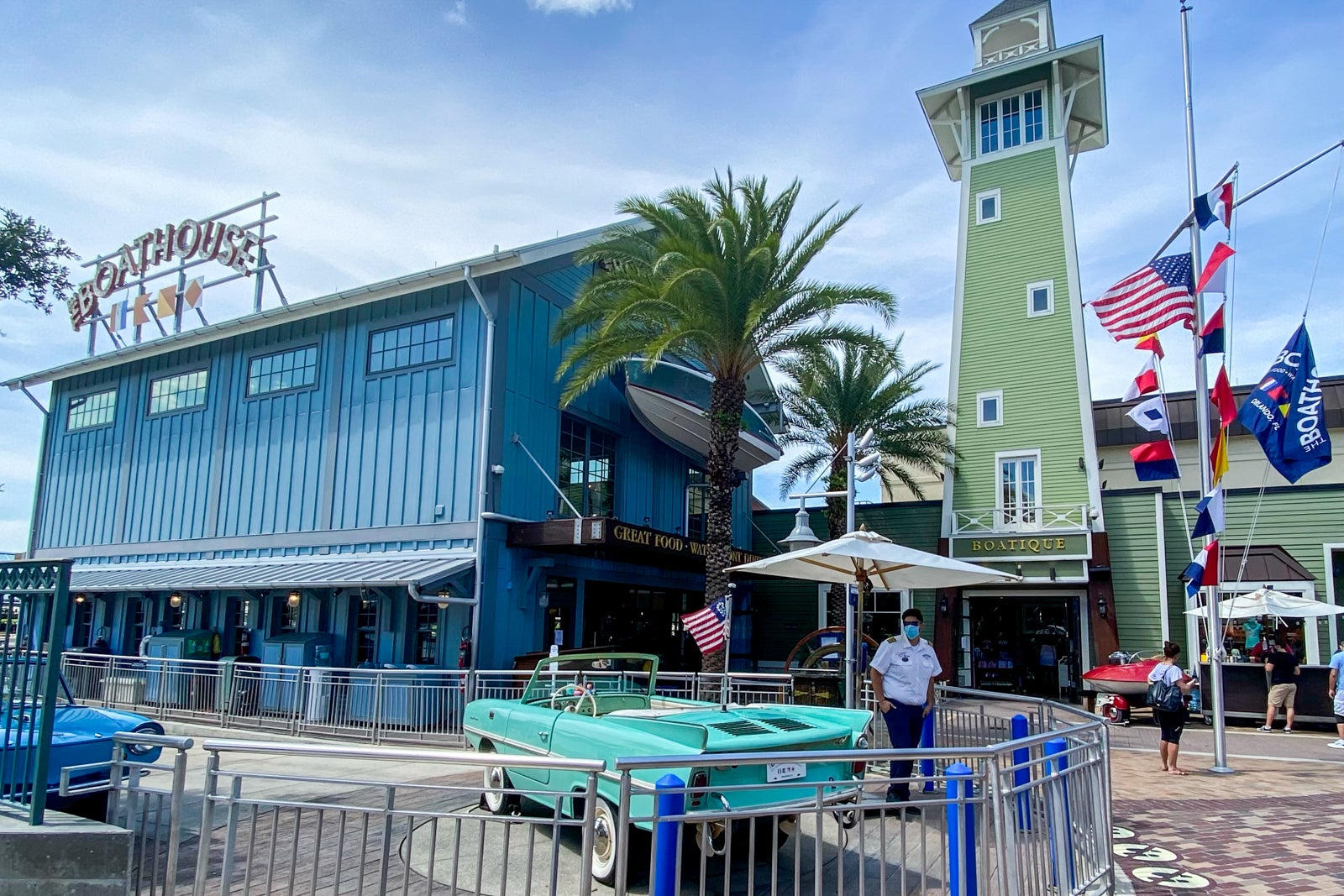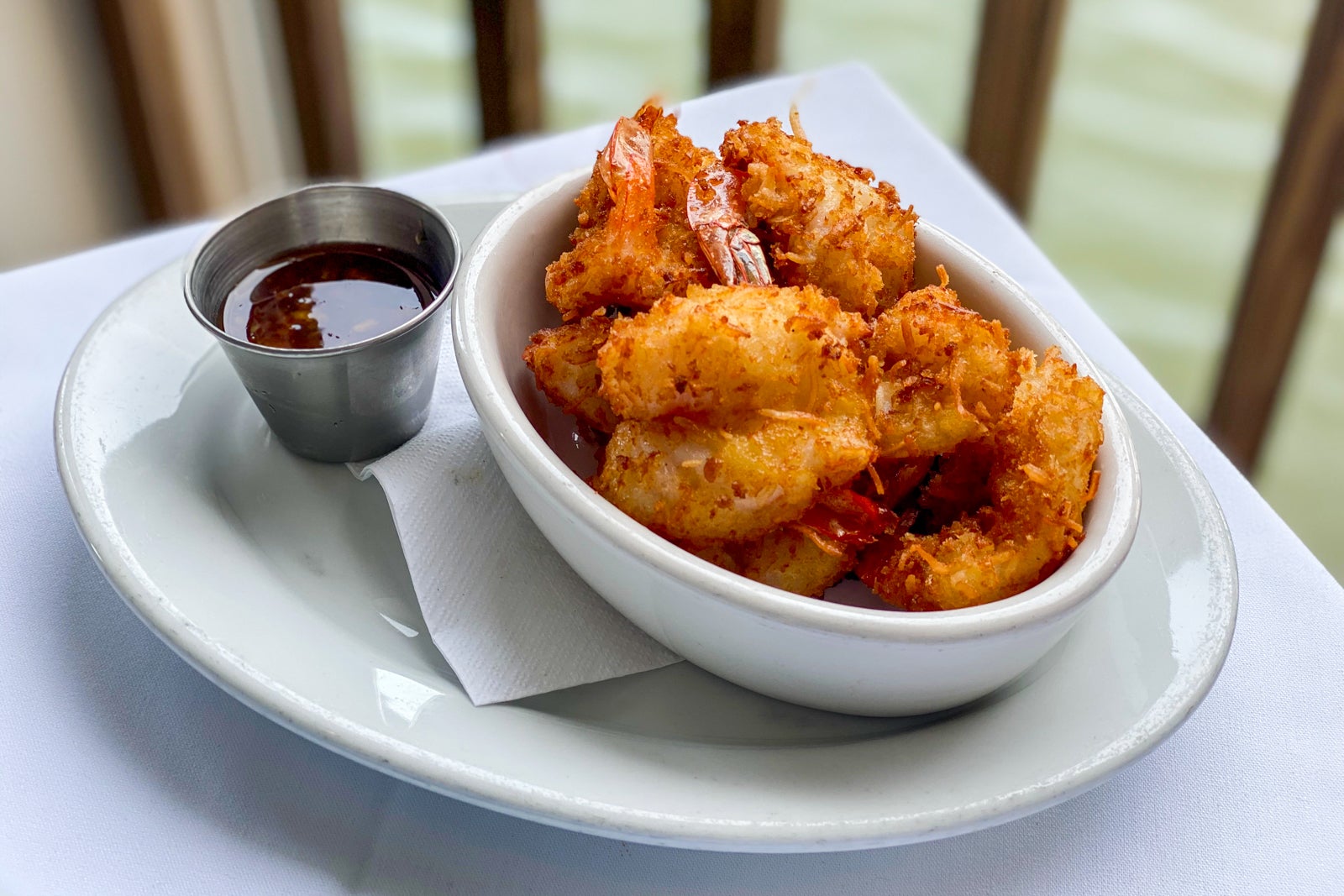 Chef Art Smith's Homecomin'
From José Andrés' Jaleo and Rick Bayless' Frontera Cocina to Masaharu Morimoto's Morimoto Asia, Disney Springs restaurants bring the chef star power.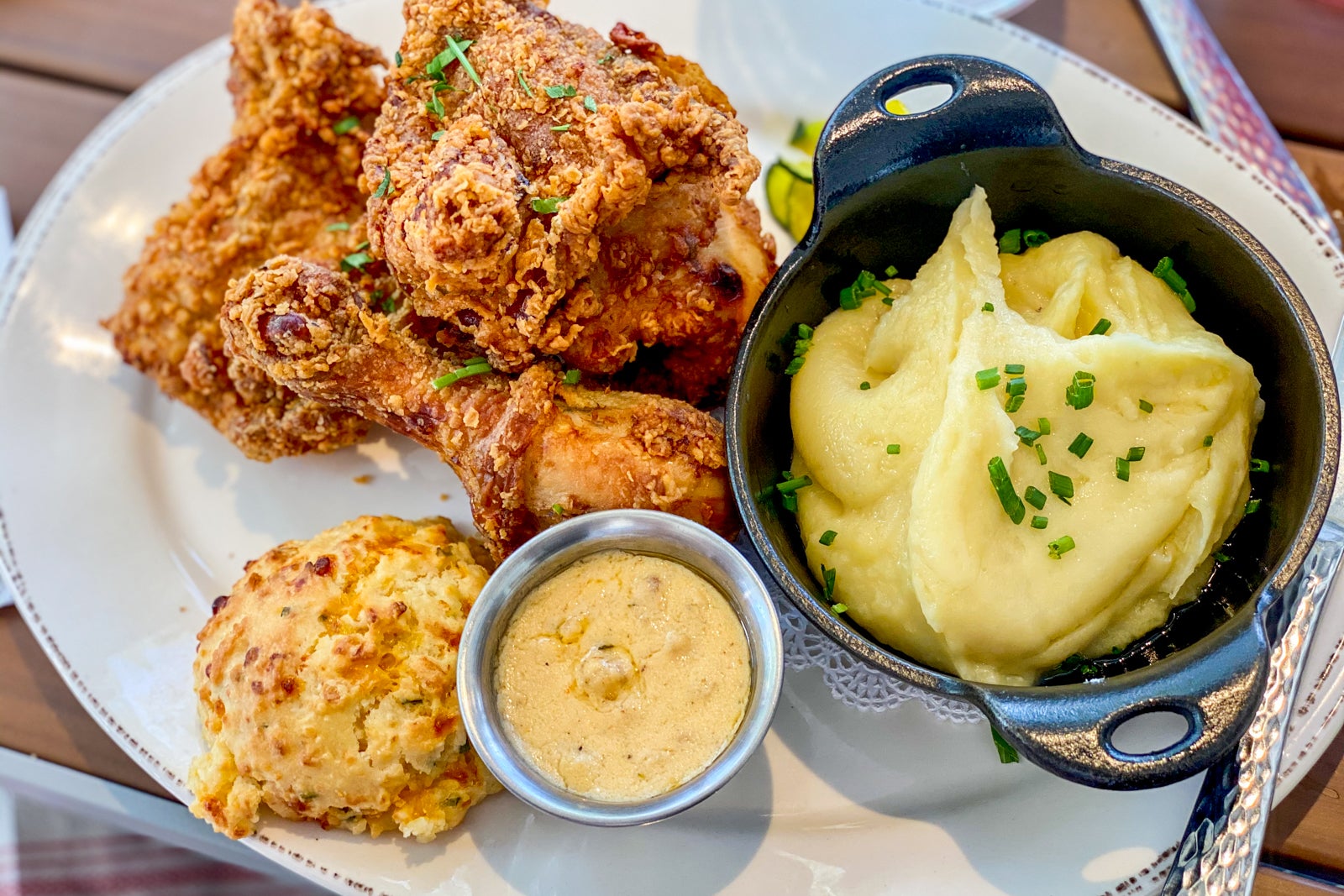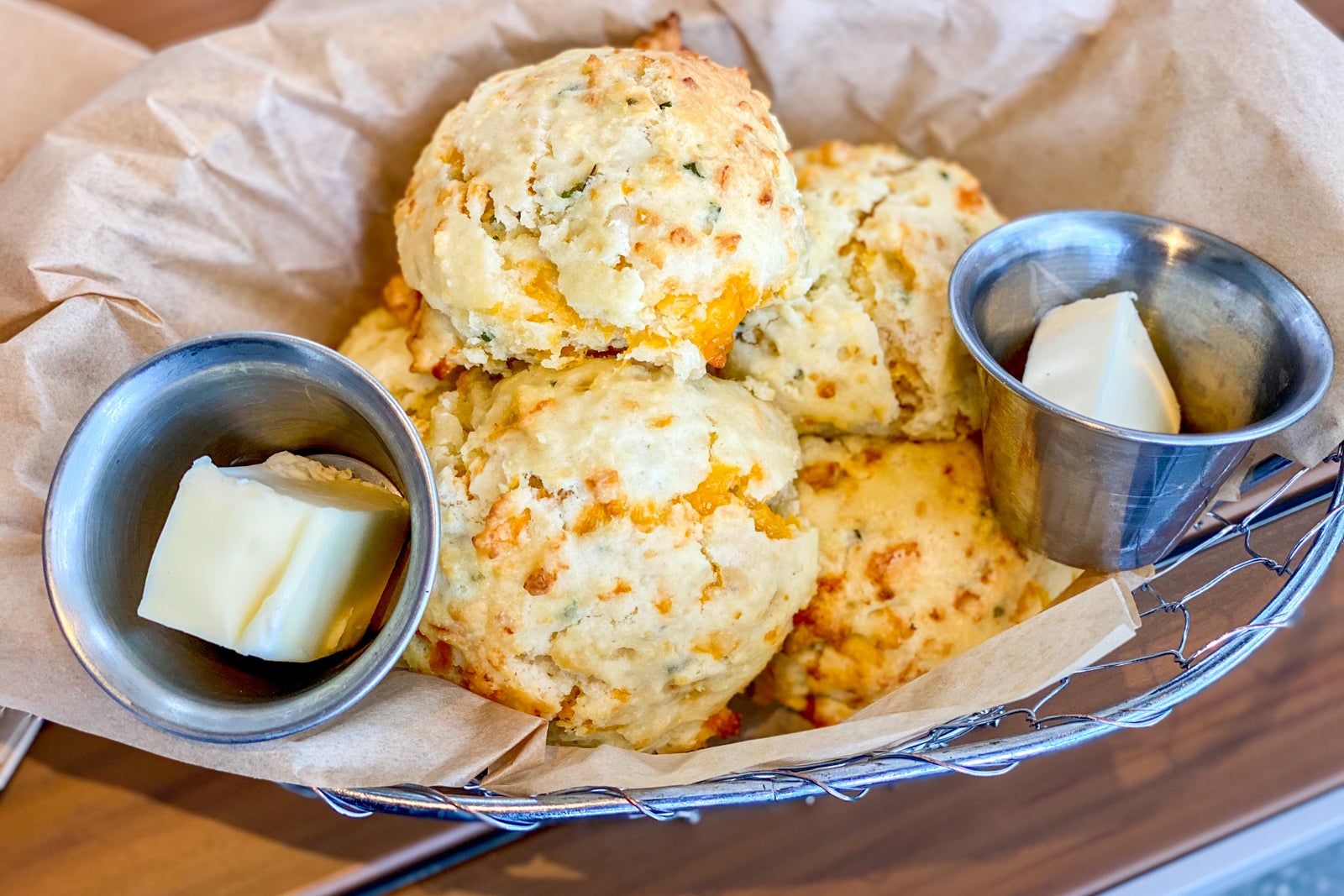 Helmed by another culinary celebrity, Chef Art Smith's Homecomin' is a farm-to-fork celebration of Florida ingredients that come together as craveable Southern comfort food such as Art's famous fried chicken served with transcendent cheddar drop biscuits, country fried steak and fried catfish. For brunch lovers, the Southern-style Rise 'n Shine Brunch is a must-do.