Clothing is a main character in many fairy tales, from red hoods to glass slippers to countless plots featuring disguises and transformations, and Angela Carter continued this tradition in her 1979 short story anthology The Bloody Chamber. All the stories in the anthology share themes and tropes with various fairy tales, and the title story takes many of its cues from the classic 17th century tale, Bluebeard. The tale, with its legacy of gaslighting husbands and curious wives, is less associated with dress than Cinderella or Little Red Riding Hood, but in Carters retelling, the wardrobe of the young heroine plays an integral role.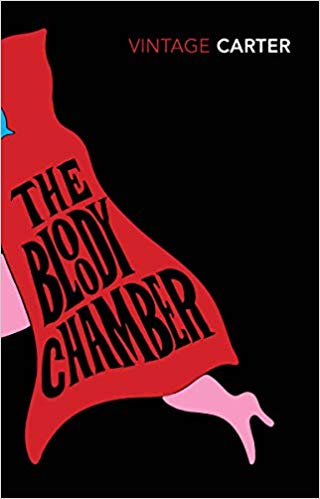 Angela Carter's "The Bloody Chamber," published in 1990.
Carters tale begins with a metamorphosis, as a nameless teenage bride is given a Pygmalion-style makeover by her wealthy new husband; "I had on a Poiret dress. He had prevailed upon my reluctant mother to let him buy my trousseau; what would I have gone to him in, otherwise? Twice-darned underwear, faded gingham, serge skirts, hand-me-downs." Carter conveys that the protagonist has been plucked from a humble background and groomed into a suitable wife for the sinister Marquis. The frock, which her husband favors throughout the story, is described as "a sinuous shift of white muslin tied with a silk string under the breasts," highlighting both the heroines virginal youthfulness and her role as a bride. As much as a rags-to-riches evolution, she is also transformed from a daughter into a wife. Its worth noting that Carter chooses to namecheck a designer like Poiret (she also mentions Worth) as it situates the story in a particular timeframepresumably early twentieth centurywhere most fairy tales exist outside any specific moment in history. This grounds the garments in reality even as the clothing and jewelry are highly symbolic. The wedding ring, "a fire opal the size of a pigeon's egg set in a complicated circle of dark antique gold" hints at the horrors ahead when the heroines nurse observes that "opals are bad luck."
Most significant is a ruby necklace given by the husband to the bride as a wedding gift; "A choker of rubies, two inches wide, like an extraordinarily precious slit throat." Explaining the heirlooms lineage, Carter writes, "After the Terror, in the early days of the Directory, the aristos who'd escaped the guillotine had an ironic fad of tying a red ribbon round their necks at just the point where the blade would have sliced it through, a red ribbon like the memory of a wound. And his grandmother, taken with the notion, had her ribbon made up in rubies; such a gesture of luxurious defiance!" This dazzlingly macabre piece of jewelry and its supposed heritage is based on a factual trend among aristocratic women in post-Revolution Paris; it makes an appearance in Caroline Webers study of Marie Antoinettes wardrobe ("thin red ribbons around their necks as reminders of what they might soon suffer"), and in John Gallianos Revolution-themed S/S 2006 Dior Couture catwalk show, this time in the form of blood spattered pearls.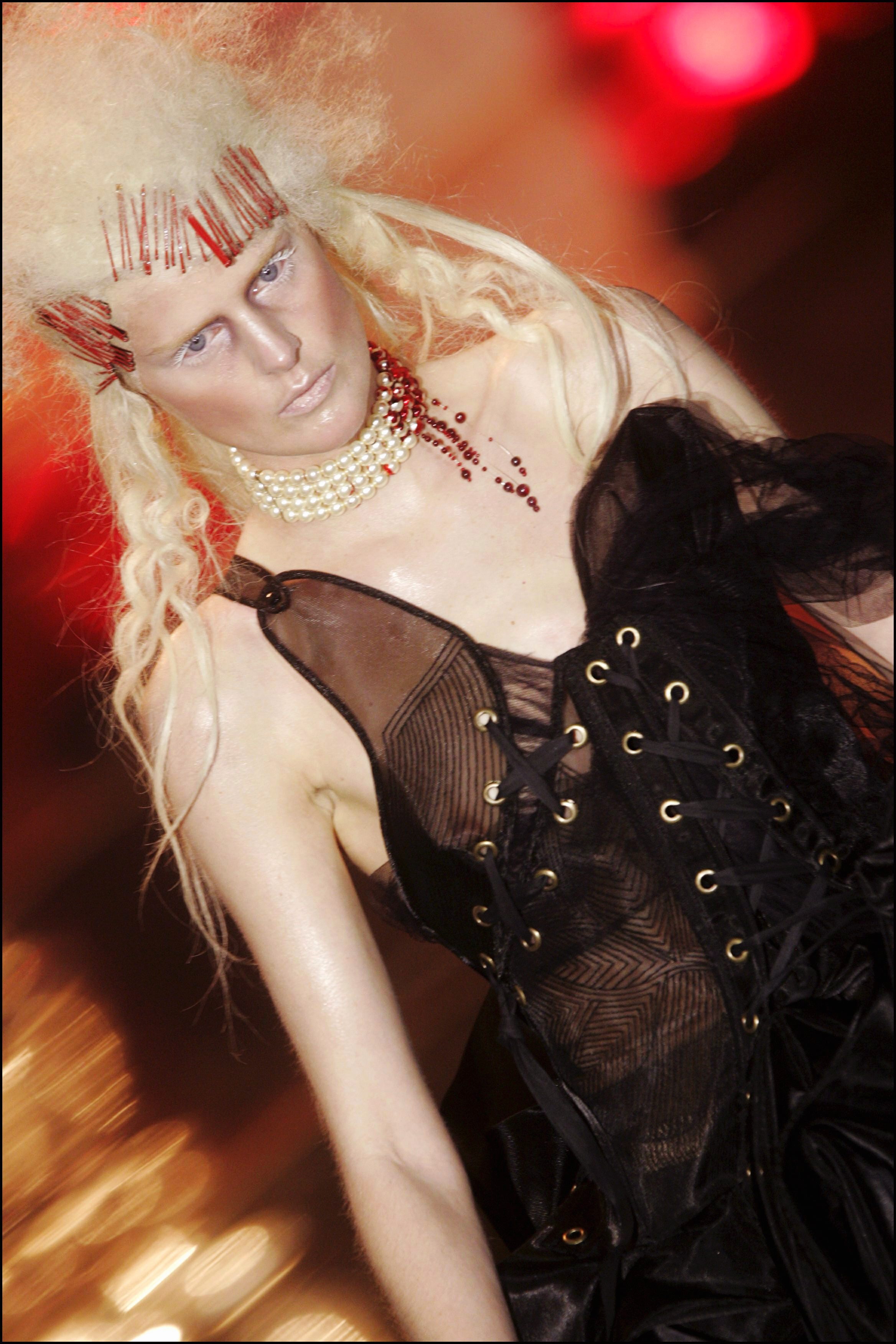 A detail from John Galliano's Spring 2006 couture collection for Christian Dior. Photo: Pool BASSIGNAC/BENAINOUS/Gamma-Rapho via Getty Images
The ruby choker acts as a harbinger of doom throughout the story. The Marquis cautions the heroine against removing it even as it causes her discomfort, quoting from Charles Baudelaires 1857 poem Les Bijoux on their wedding night; "Of her apparel she retains/Only her sonorous jewelry." It foreshadows the bloodstained key which reveals her disobedience and leads to her downfall, a Lady Macbeth-like blemish that cannot be removed. When her husband learns that she has discovered the grisly fate of his previous wives, he orders her to wear "the necklace that prefigures your end" which is laying on the dressing table "coiled like a snake about to strike."
Through the gory opulence of the necklace, Carter also alludes to the moralistic tendency of fairy tales, particularly the evils of vanity and materialism; drawing her ermine and sable furs around her shoulders, the heroine confides, "I swear to you, I had never been vain until I met him." Their marriage bedroom is lined with mirrors reflecting back "the young bride who had become that multitude of girls I saw in the mirrors, identical in their chic navy blue tailor-mades." The Marquis moulds the image of his wife through her lavish wardrobe, a control he wields even after her death; in the eponymous bloody chamber where the protagonist stumbles upon the bodies of her predecessors, one former wifes corpse is "crowned with a wreath of white roses, and a veil of lace, the final image of his bride."
The ambiguity around the protagonists feelings towards her new husband and the lifestyle he can provide ("I longed for him. And he disgusted me") suggests the difficult dynamics intrinsic to both material gain and marriage. Even as he threatens her with death, she describes her husbands "London-tailored trousers and the shirt from Turnbull and Asser,", the picture of luxurious masculinity. We breathe a sigh of relief when the Marquis leaves the heroine to explore his house alone and she changes back into her old clothes; "I pulled on my old serge skirt and flannel blouse, costume of a student, in which I felt far more at ease with myself than in any of my fine new clothes."