It's that time of the week again where were bring you the Sew Reporter. It's been a big week of pattern releases with the latest drop of Fibre Mood patterns, the perfect choice if you want to make the last of the summer sun here in the UK. We have plenty of other indie releases that are great for getting cracking on with your Autumn handmade wardrobe too!  As always we have lots of inspiring things to read, watch and listen to while you sew.
---
Kathy has squeezed in a last summer project, the Ashton Top from Helen's Closet. It's a simple sleeveless patterns that's quick to make and if you aren't a fan of bias binding there is a facing to finish the neckline and armholes.
These are fantastic twinning dungarees are sewn by Geri In Stitches for herself and and her daughter! The patterns used are Nola Dungarees (left, Fibre Mood, Issue 12) and Otis Overalls (right, Sew Liberated). Can you guess the name of the fabric, 'pandalicious' no less!
This vibrant summer dress by Emily Self Assembly Required is a hack of the Rhea Dress from Tammy Handmade with cross over straps. It's made in a gorgeous floral satin and Emily's second version of this dress.
Charlie reviewed the New Look 6446 playsuit this week and it is the third version they have made and one of their favourite items of clothing. As you can see it was a fantastic outfit to wear to Drag Fest!
Oretsina reviewed the Men's All Day Shirt from Liesl and Co this week and has plenty of tips on how to sew up this garment. It's a similar make to the women's Classic Shirt by Liesl and Co except for the shirttail, pockets, and an option for collar stays. This casual version in 6-ounce Robert Kaufman chambray flannel is perfectly sewn.
The Anthea Blouse by Anna Allen is one of the favourite patterns by Fold Line team member Louise, she has made seven! In this version Manju (Sew Manju blog) combined two different eyelet fabrics to make this breezy summer version of the top. Plus don't forget there is a dress version too!
This stunning gown was drafted and handmade by Robyn of Styles In Seams for the aso ebi at a Nigerian wedding. The fit, style and glamour of this outfit is amazing and she should be so proud. Can you guess how many pieces there were in total… no less than 98!!! Gasp!
---

It's a bumper week this week of new patterns from Fibre Mood and other indie designers too! Do you already have a specific design in mind? Or do you need some help finding the perfect pattern for your fabric? You can search all the patterns in our database using our newly updated sewing-specific search tool.
First up, we are excited to tell you that Fibre Mood magazine edition 16 is here! This latest edition has 12 patterns and 31 style variations for elegant, trendy and comfortable items for autumn! This edition has designs for dresses, tops, trousers, a skirt, jacket and bodywarmer for women, as well as a dress and bodywarmer for children.
We have also added the PDF patterns from edition 15 to the online shop. Here is a selection of our favourite picks.
---

One of your favourite vlog series is back with fashion ideas for Autumn 2021. Sew The Trends is so fun to put together and we love matching sewing patterns with the latest high street styles so that you can create a handmade version yourself. In this edition Kate talks through pattern options for the latest trends including shackets, oversized outerwear and high waisted trousers.
---

If you're on the hunt for something great to listen to this weekend then look no further!
On the latest episode of the Sew Organised Style podcast, host Maria is chatting to Andie AKA @Sewprettyinpink (who gave one of our fab Sewing Weekender maker talks) about developing @Chronicallysewn and the current #slowprojectchallenge. Chronically Sewn is an inclusive space for chronically ill (mental/physical) sewists and you can read on to find out a little more about the Slow Project challenge!
If you haven't discovered the podcast yet, it's worth having a listen to the wide variety of guests, all chatting about sewing and the sewing community.
---
Stitch Advent Calendar by Charlotte Emma Patterns. Each day of the calendar will feature either a festive accessory or decoration sewing pattern designed by Charlotte Emma Patterns, or a discount code or digital content from an independent sewing-based businesses. #StitchAdvent Calendar pre-orders are open now (£12.99), with the PDF digital advent calendar sent to purchasers via email in late November, ready for 01st December.
---

Join Aja Barber and Sophie Slater at this online event, celebrating Barber's debut book, CONSUMED: The need for collective change; colonialism, climate change & consumerism. Online Thursday 23rd September 2021, hosted by the Fashion and Textile Museum.
---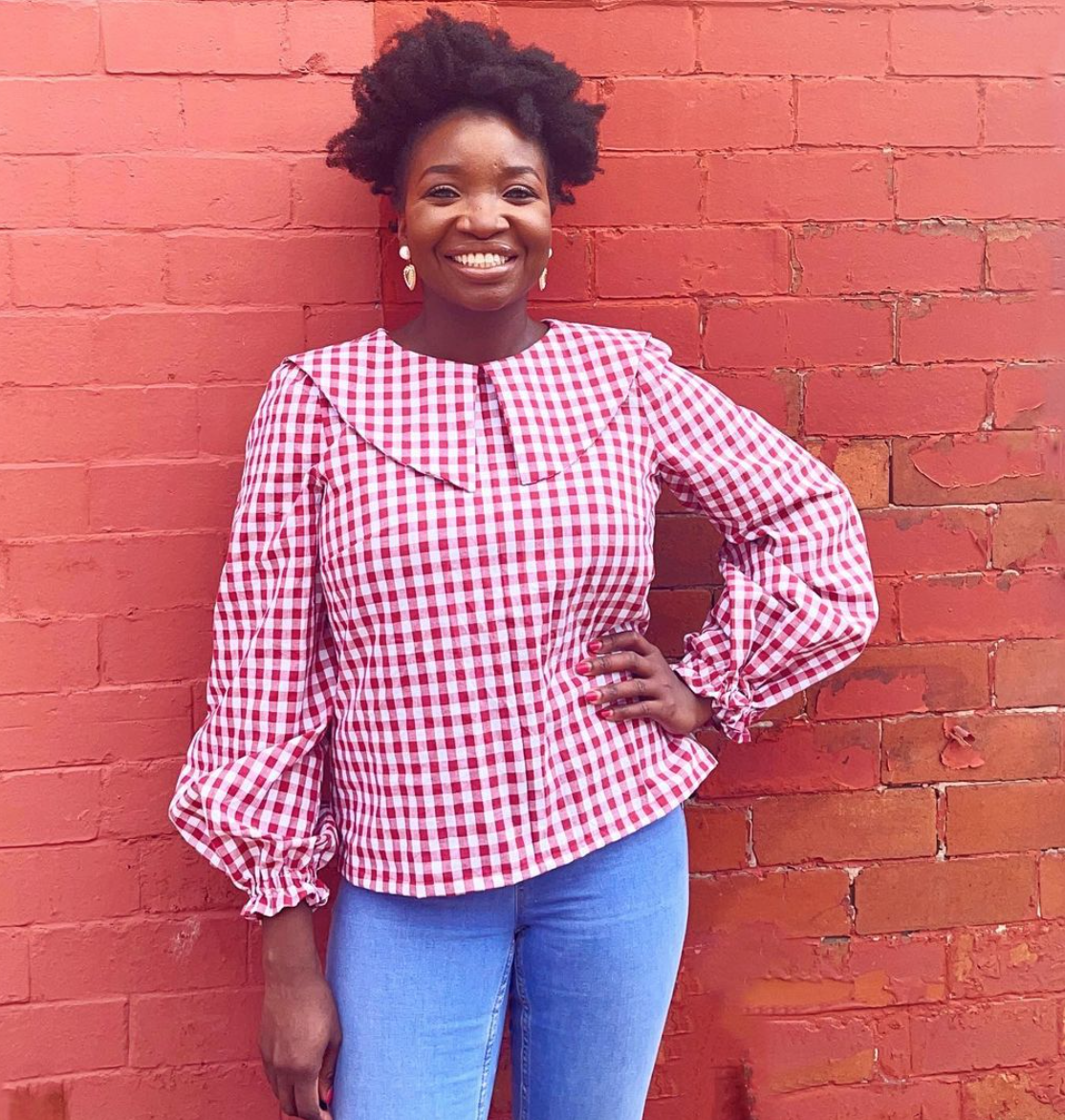 This week we were inspired by sewing blogger Esther of Nine to Stitch and her fabulous Bakerloo Blouse by Nina Lee. What's not to like? Oversized collar? Gingham? Gathered sleeves? Tick, tick, tick! Follow Esther's creative adventures at @ninetostitch
---

Mari-Leen is the founder of Pattern Sewciety and she strives to create on trend patterns inspired by the fashion industry. She trained at the London College of Fashion and also designs fabrics. Born and raised in Cape Town, she now lives in Namibia with her family. Check out her pattern collection of dresses here.
---
Come and join our sewing Facebook group where we are chatting about sewing plans, new patterns and helping each other out with projects.
The post Sew Reporter – 19th September appeared first on The Foldline.