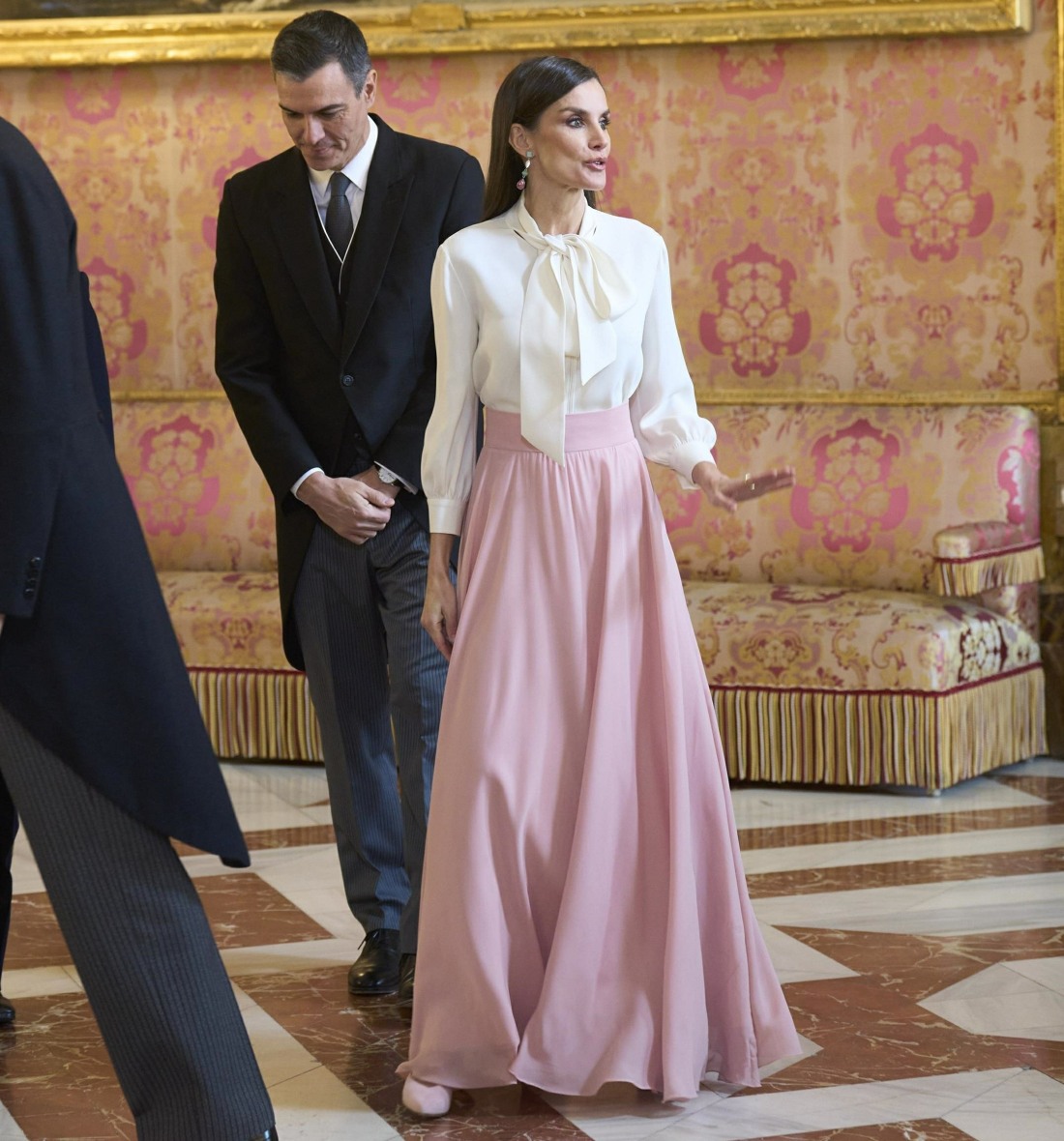 Here are photos of Spain's King Felipe and Queen Letizia on Wednesday, at one of their palaces. They were hosting a reception for diplomats and there seemed to be a dress code. It's been a minute since I've covered Letizia's style, so let's get into it! Letizia wore this pink Carolina Herrera ensemble which… I'm not crazy about. I think Letizia's style strength is that looks great in very modern silhouettes, in professional-looking separates, pencil skirts and leather jackets. Seeing her in a billowy full skirt and a pussy-bow blouse… it looks off-kilter to me. It looks so dated! I honestly think the skirt looks really poor-quality too.
I also wanted to mention this interesting little update on a situation involving Letizia from 2018. In that year, there was an incident in church involving Letizia, her two daughters and her mother-in-law Queen Sofia. Sofia was acting possessive and grabby with her granddaughters and Letizia stepped in, and there seemed to be some kind of confrontation between the two women, with Felipe physically getting in between them. The videos of the incident went viral and it was honestly a huge moment for Spanish royal gossip. So much so that Princess Marie-Chantal of Greece commented on Twitter, at the time, "No grandmother deserves that type of treatment! Wow she's shown her true colors!" So… when King Constantine passed away a few weeks ago, Marie Chantal and Letizia both attended the funeral in Greece. They were seen going out to dinner and looking friendly. My guess? Marie Chantal ate sh-t and apologized, and Letizia accepted her apology.
PS… Letizia is totally wearing a Kate-esque Bump-It Wiglet.