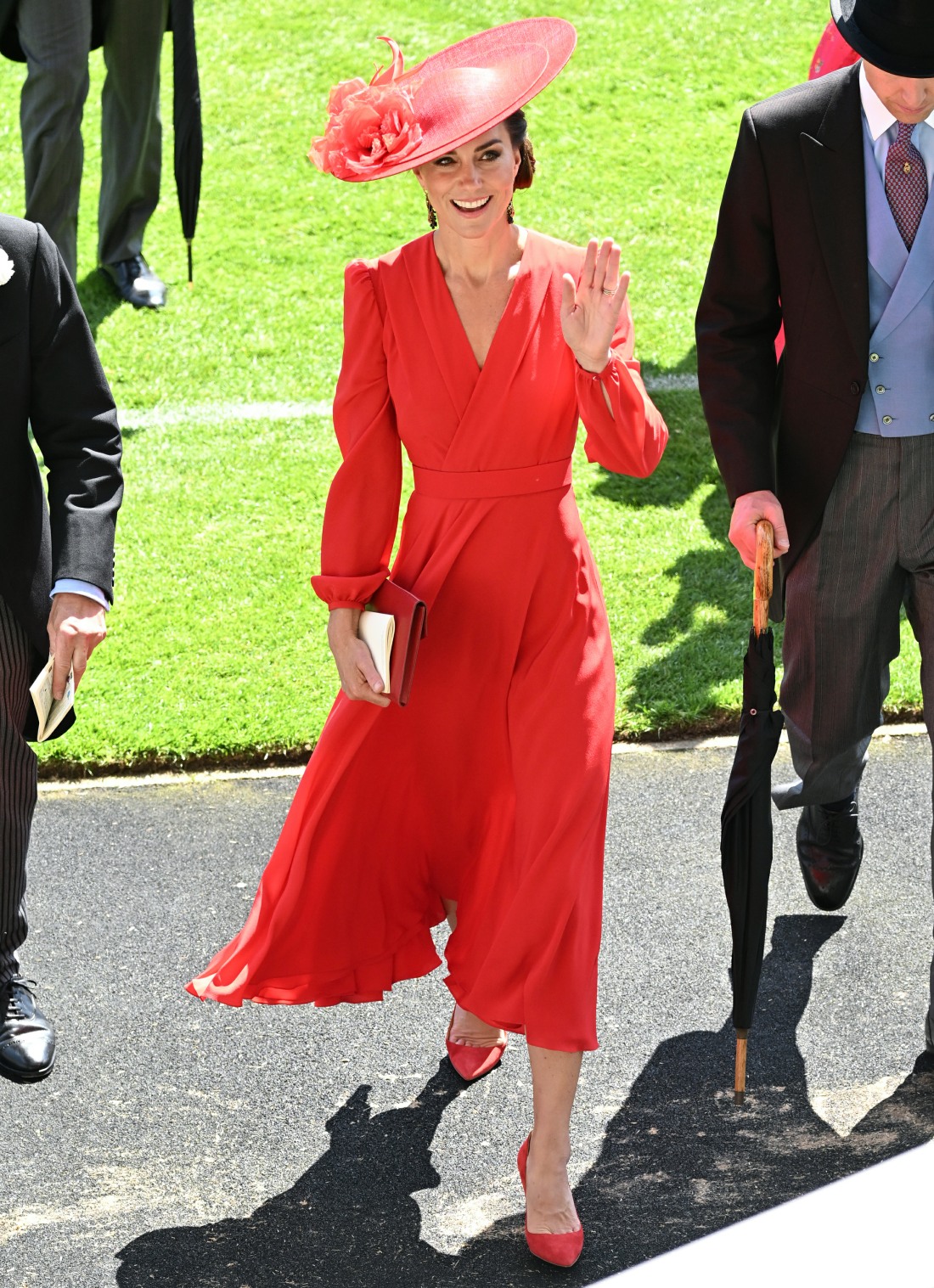 Here are more photos of the Prince and Princess of Wales at Royal Ascot on Friday. As I said, this tomato-red McQueen dress was one of Kate's best looks in months, although on further inspection, she definitely looks better from the waist up. Once you get the head-to-toe look at the whole ensemble, you can see that the silhouette is extremely typical for Kate: the baggy V-neck, the puffy shoulder detail, the length of the skirt. Yes, she looks good in red (that's always been true) but overall, this wasn't some bold new style adventure. I still like the earrings too, although I agree with the commenters who said that maybe they were wrong with this dress.
The Daily Mail had a hilariously stupid column about how it's "sexist" to compare Kate to her late mother-in-law, especially when it comes to style. What goes left unsaid is that Kate has spent years and millions of pounds actively trying to copykeen Diana's old ensembles from the 1980s and 1990s, only Kate always gets it wrong because she lacks Diana's inherent style eye, her panache, her humor, her charisma. When Kate tries desperately to copy Diana's style (or any woman's style), Kate ends up looking like what she is: a charisma-vacuum with no real personality. She also looks creepy as hell.
Speaking of, this clip has been making the rounds, and there were even some photographers who captured the moment – Kate once again trying to touch her husband and William looking like he wanted to wither away and die. Kate also keeps trying to touch William's ass, which is just… a very weird thing to try to do publicly to the husband who cannot stand you.
& Awkward moment today at #RoyalAscot2023
He's being awful to her lately #Princeofpegging.

Transactional…the Melania & Trump of the UK pic.twitter.com/83iSeTnzkt

— Sussex2020 (@sussex2020) June 23, 2023