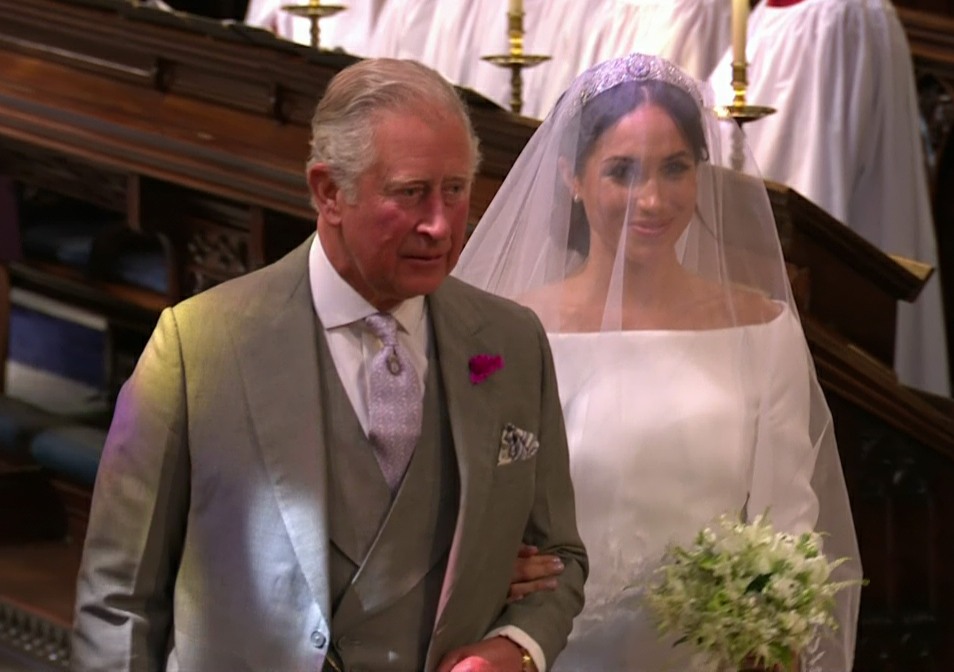 I remember reading and writing about the gossip, circa 2017-18, that then-Prince Charles was actually a big fan of Meghan Markle. He thought she was intelligent and tough. I also remember the gossip that Meghan liked Charles a lot, and that she encouraged Harry to have a better relationship with Charles. In all of their interviews, Harry and Meghan are usually asked about when Meghan first met QEII and all of that, but I've always been curious about how and when Harry first introduced Meghan to his father. As it turns out, Harry detailed the meeting in his memoir, Spare:
Harry, 38, detailed the moment Meghan, 41, was introduced to Charles, 74, at Clarence House in his upcoming memoir, Spare, explaining how he helped his wife prepare in the fashion and beauty department. "Meg looked beautiful," the Duke of Sussex wrote, sharing that the California native was all dolled up in a "full skirt, patterned with flowers."

For her glam, Meghan wore her signature brunette tresses cascading over her shoulders, per Harry's suggestion as "Pa likes it when women wear their hair down." The BetterUp CIO noted that his grandmother, Queen Elizabeth II, also preferred the loose 'do and often commented on "[Princess] Kate's beautiful mane."

Meghan wore "little" makeup because Charles "didn't approve of women who wore a lot."

Harry also prepped Meghan on proper greeting protocol. "Meg and I had rehearsed this moment several times. For Pa, curtsy. Say, 'your royal highness' or 'sir,'" Harry wrote in his book. He advised the California native to give the king a kiss if he "leans in" and a handshake if he doesn't. As for Charles' wife, Queen Consort Camilla, Harry said a curtsy wasn't "necessary," which shocked Meghan.

"'You sure?'" the U.K. native said Meghan asked. "I didn't think it appropriate," Harry wrote. After the initial hellos, The Sussexes enjoyed a pleasant evening with Charles and Camilla, 75, which included chatter about their love for dogs. Harry added: "Meg talked about her two 'fur babies,' Bogart and Guy, both of whom were rescues."

The relationship soured quickly though. Months later, the Duke of Sussex claims a jealous Charles told him there wasn't "enough money" for Markle to be part of the royal family. "Pa might have dreaded the rising cost of maintaining us, but what he really couldn't stomach was someone new dominating the monarchy, grabbing the limelight, someone shiny and new coming in and overshadowing him," the royal said. He added that his father had "lived through that before" while married to the late Princess Diana.
I've already seen some people suggest that Harry was being creepy when he told Meghan to style herself a certain way to please Charles, but I found it kind of sweet and interesting? Like, this book is really showing us that Harry has paid attention to the details his entire life. Harry knows his father's preferences when it comes to women's styles, and it doesn't sound like Harry "demanded" that Meghan look a certain way. Meghan has always given off "eager people-pleaser" energy, she probably loved the styling notes and it sounds like she took Harry's advice and made an effort to go very feminine but not too dolled-up and sultry. The truth is, a lot of parents have strong opinions of how their son's girlfriends should look and carry themselves. As I said, I bet Meghan loved that Harry gave her a cheat sheet.
Now, it's fascinating that Harry gave Meghan specific instructions on how to address Charles and how to curtsy, but Harry was like "do whatever, you don't have to curtsy" about Camilla. Harry was like: please disrespect my stepmother, IDGAF.