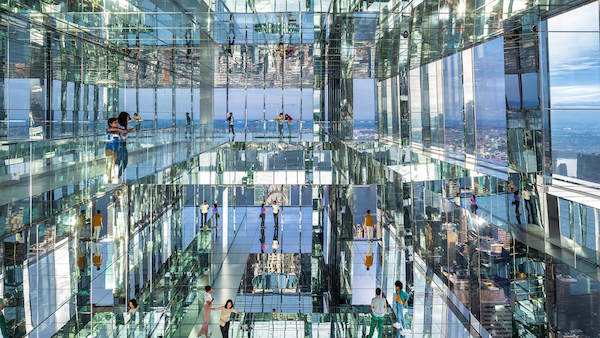 Image via Summit One Vanderbilt
Summit One Vanderbilt, the all-new 59-story skyscraper in Manhattan, opened to the public on Thursday, and it's already—for the lack of a better word—reflecting some glaring concerns. Apart from introducing trippy new perspectives of the New York City skyline, the observatory, located 1,000 feet up, runs the risk of exposing visitors' underwear at various angles.
The building is home to an
all-around mirrored room
called Transcendence, one part of an immersive Air experience envisioned by Kenzo Digital. The attraction takes up two stories—comprising Transcendence 1 and Transcendence 2—stretching into an illusion of endlessness.
"One of the things that makes Air so novel and compelling is that we use space in a totally different way… Every time you turn a corner, the story continually evolves," Kenzo told
Travel + Leisure
. "It's a fully transformative experience meant to be very primal and reconnect to your sensorial world."
View this post on Instagram
Other skyscrapers are reflected in these mirrors, but so are what's hidden under skirts and dresses, apparently. According to the
New York Post
, during focus group sessions with visitors who got an advanced peek at the attraction, people brought up concerns of upskirting.
To prevent unwanted Marilyn Monroe moments, the management introduced a
dress code
of pants, shorts, and tights in its website, though this isn't strictly enforced. "Guests who are concerned about unwanted exposure as a result of the mirrored floors and ceilings are responsible for dressing in a manner to avoid such exposure," Summit One Vanderbilt disclaimed.
For the most part, visitors who entered the attraction on day one heeded these guidelines, the Post reported. There were some who didn't—unintentionally and intentionally.
One 66-year-old who was wearing an ankle-skimming dress wasn't bothered by this risk of exposure when the news outlet pointed it out to her. Neither was a 30-year-old woman who hadn't heard of the dress code.
On the other hand, one tourist went in with a skirt despite being aware of the recommendation. "I think a skirt looks much better in photos," she said. The Mexican traveler visited the attraction to celebrate her 32nd birthday and take some Instagram-worthy pictures.
For those who might be a little embarrassed about having their undies seen in the reflections, Summit One Vanderbilt now offers a free pair of black shorts upon request. There's also a non-reflective privacy path that guests can walk on if they're uncomfortable with appearing in the mirrors.
[via
New York Post
, cover image via
Summit One Vanderbilt
]