OH BOY I HAVE A GOOD ONE FOR YALL TODAY!!!! The November Amazon Fashion Haul is always about Holiday outfits and Im pretty confident that I did well on this one! Sequins, skirts, satinsoh myand all at prices that will make you do a double take! I ordered a ton of Holiday outfit options for you guys all on Amazon and these are the ones that made the cuthope that you guys enjoy!
November/December Amazon Fashion Haul: Holiday Edition
This sweater is probably one of my top finds as of late!! Im obsessed with the look and it absolutely rivals the much much more expensive designer version. The Amazon find comes in a slew of colors and is under $30. I got the purple (reads more like pink) and the blue. Both are stunning and look great with jeans and sneakers or dressed up with a fun skirt.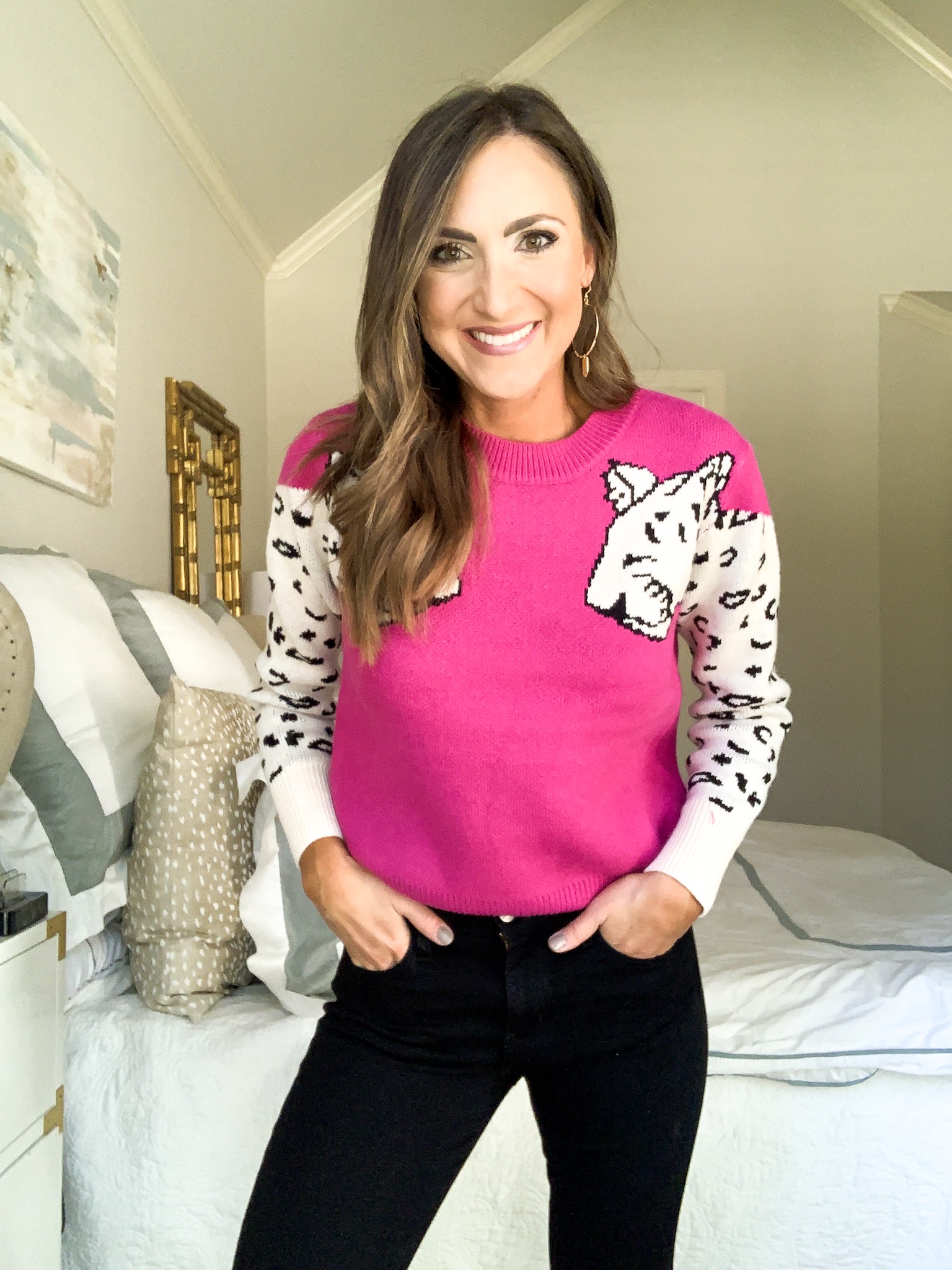 Leopard Knit Sweater $27.99 (wearing a small / color purple, but reads more like pink) | Also HERE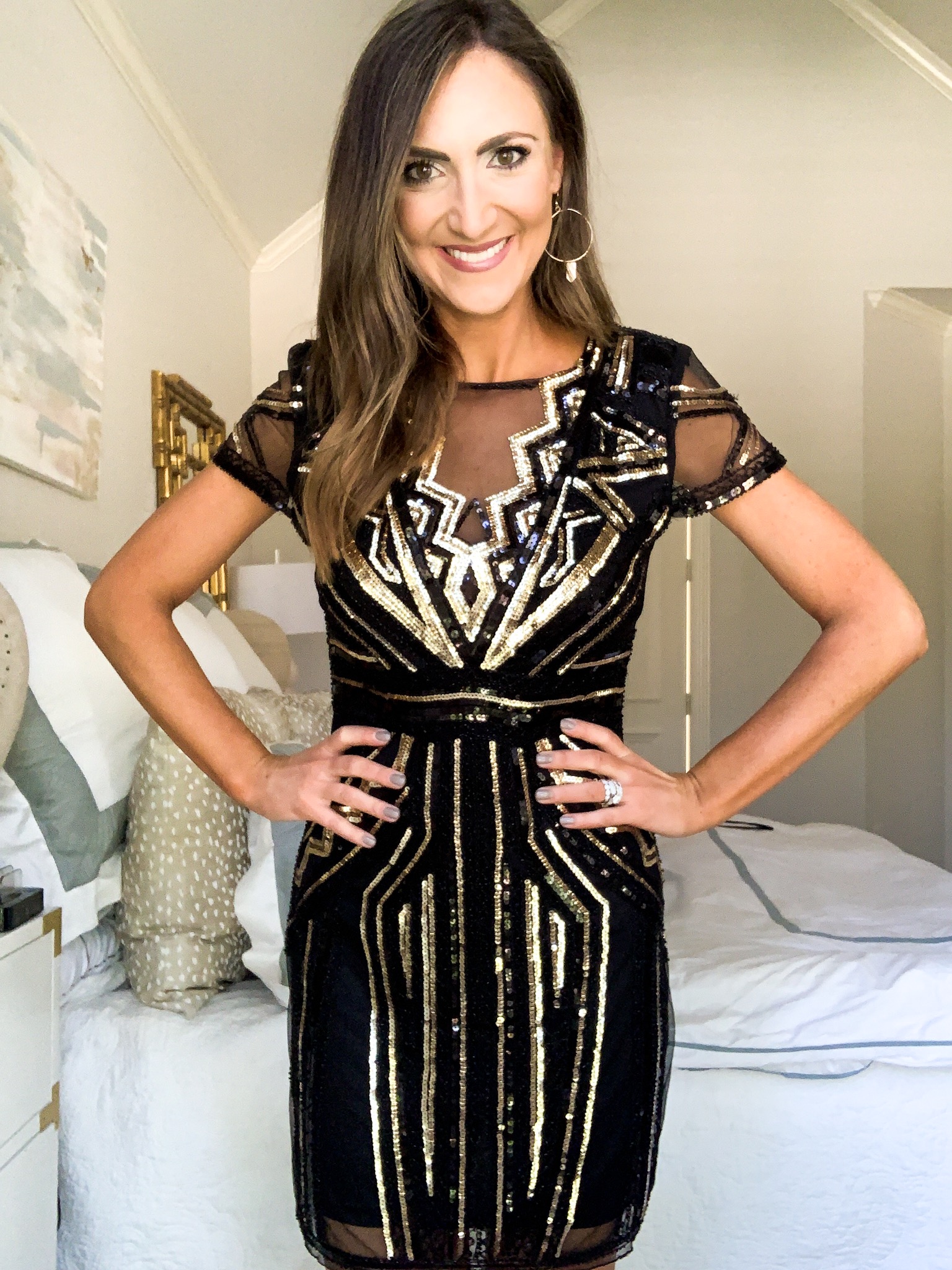 This dress was one of my TOP sellers all year on Amazon. You guys went CRAZY over it last November and so many of you have loved and worn it to your special occasions. It fits so so well and comes in a ton of color combinations. Its the perfect cocktail dress for something special. See all colors HERE.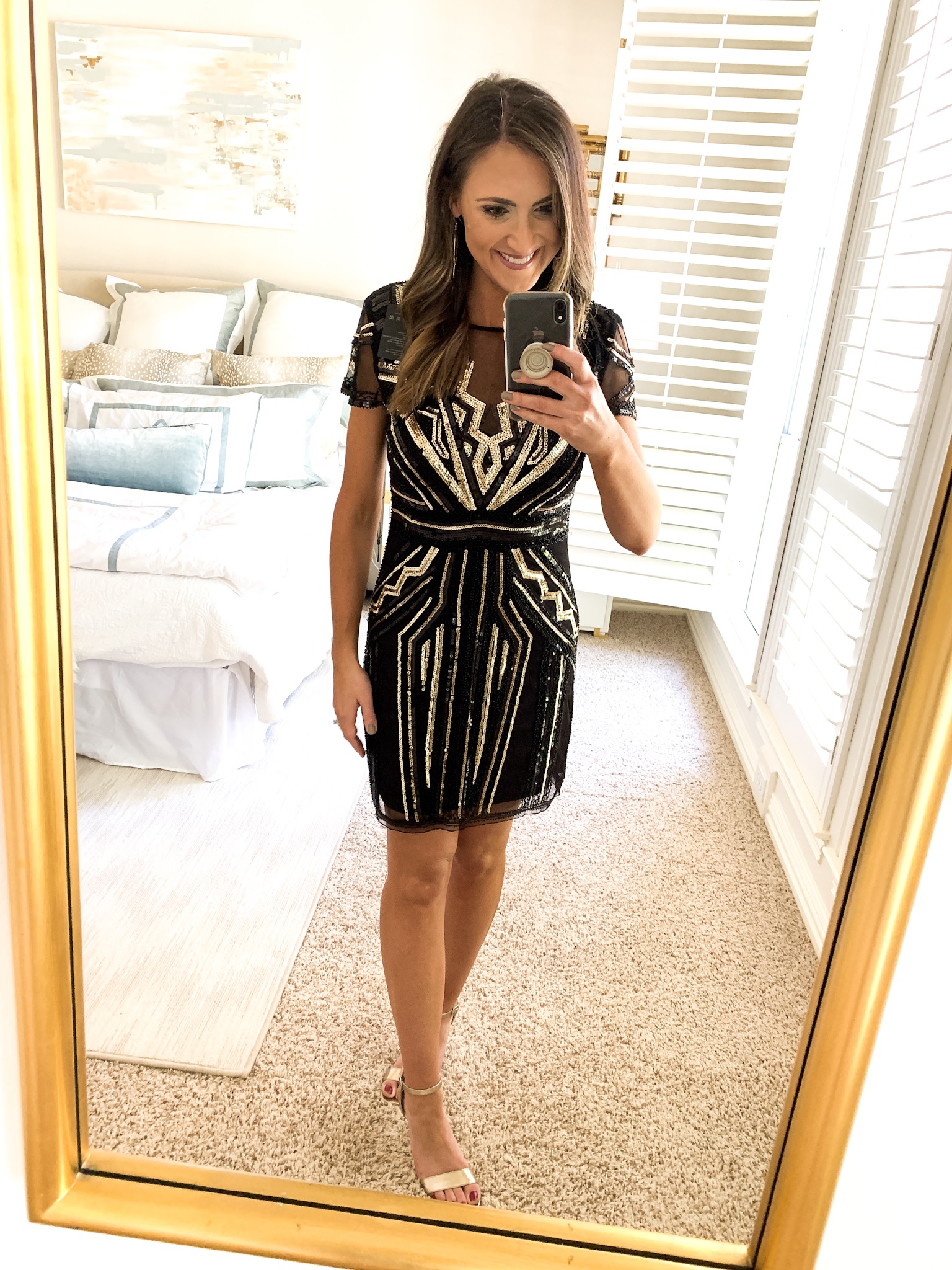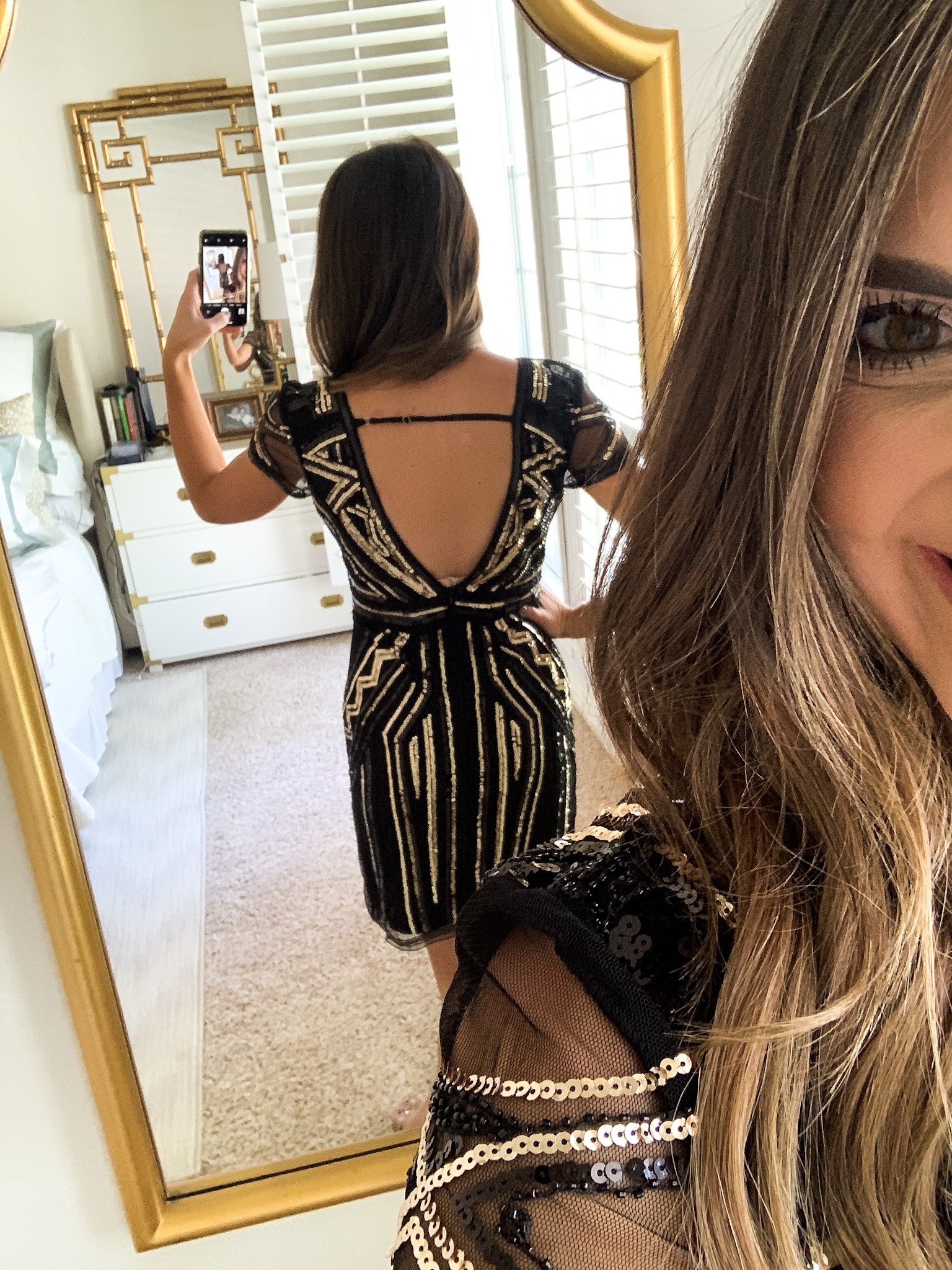 Sequin Cocktail Dress $39.99 (wearing a small / color: Gold Glam)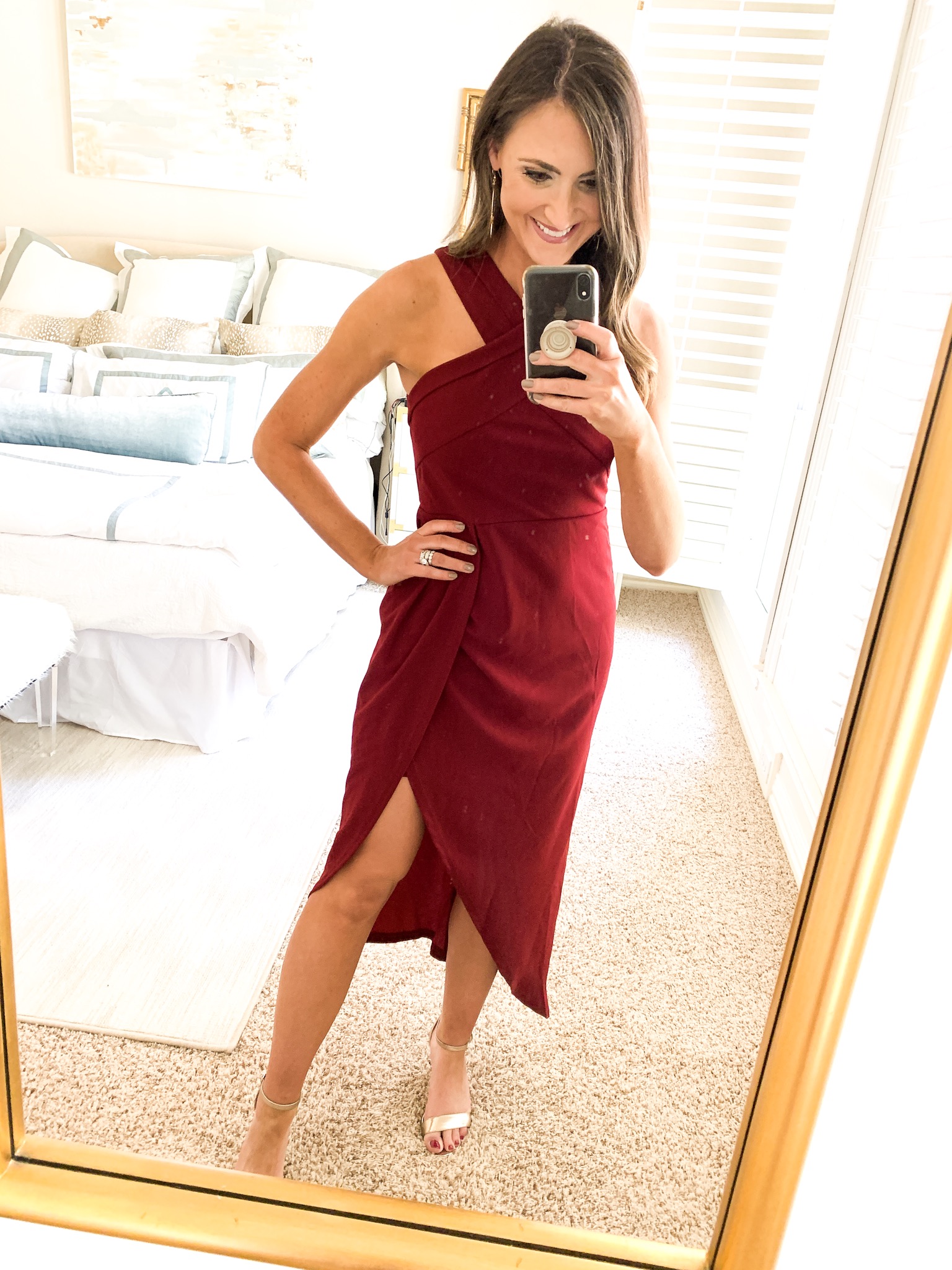 This cocktail dress was a new find for me and I really liked the look of it The halter bodice is a snug, shoulder-flattering fit. The bottom half fits like a tulip with a shorter dress underneath. The slit is definitely higher than normal for me, but its not noticeable until you walk. Its an understated sexy dress thats absolutely perfect for so many occasions. It comes in a ton of colors toosee them all HERE.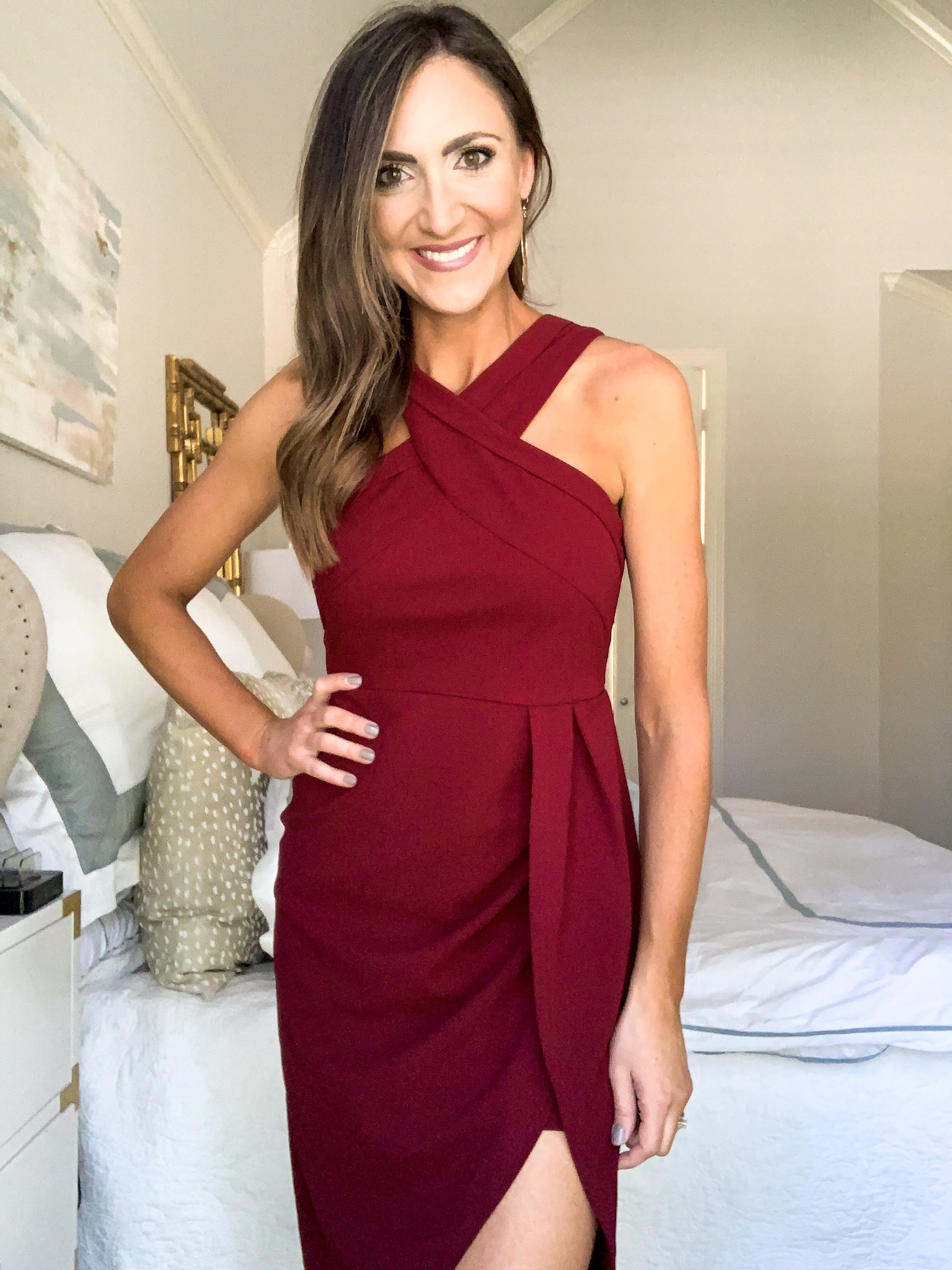 Maroon Halter Dress $31.99 (wearing a small / comes in a ton of colors / wearing: burgundy)
This black jumpsuit is a total WOW piece. I felt like it was a little too short on my 59 frame, but am showing it anyway because I know that so many of you could rock it. I think it would be best for gals under 55. The top lace part is insanely beautiful and while the lace is backed by opaque black in the front, its completely open in the back, which is the most beautiful detail. The bottom half is a thick, spandex-like material thats definitely figure hugging, but also flattering. This jumpsuit is a fun way to mix up cocktail attire, too!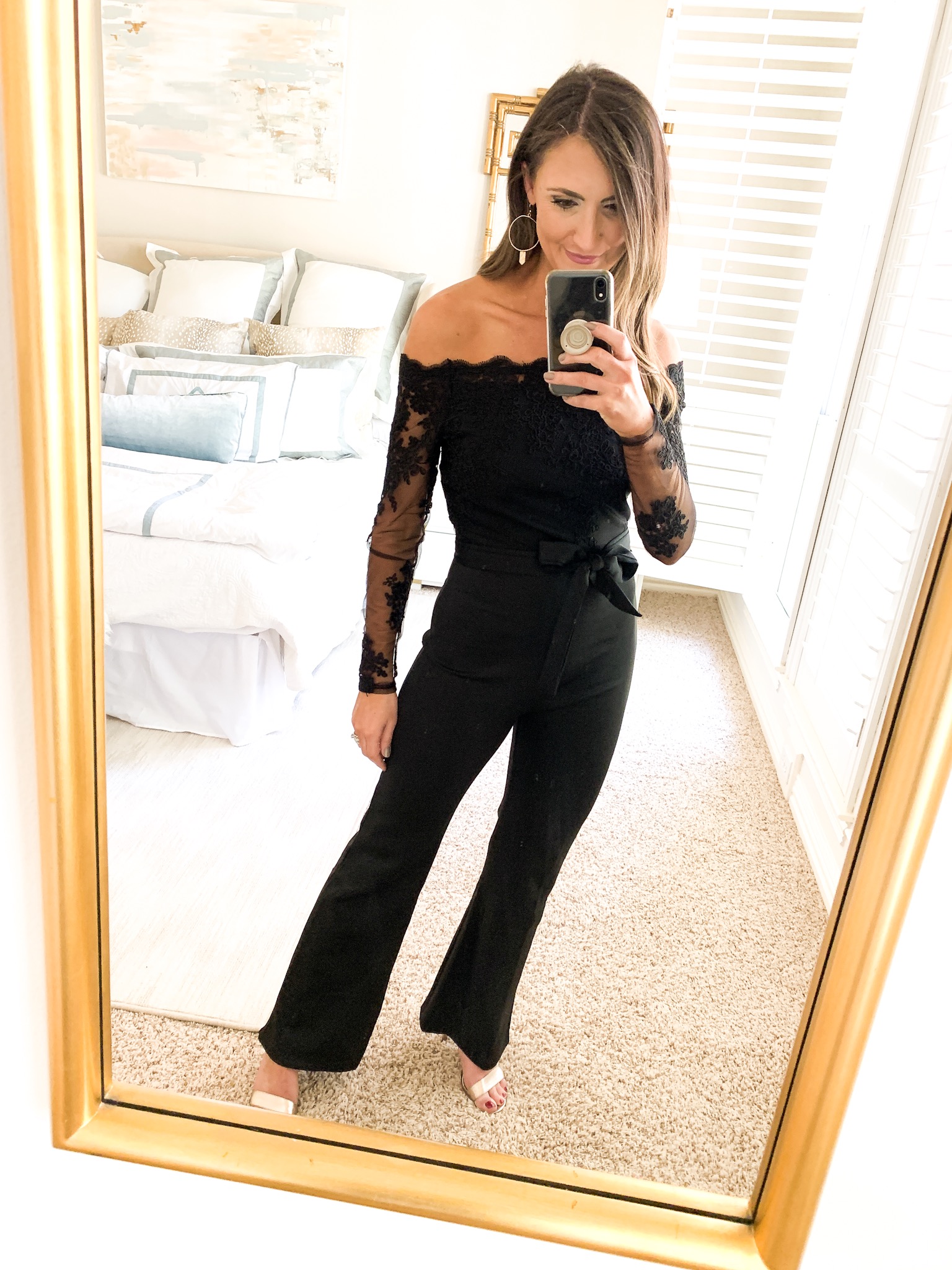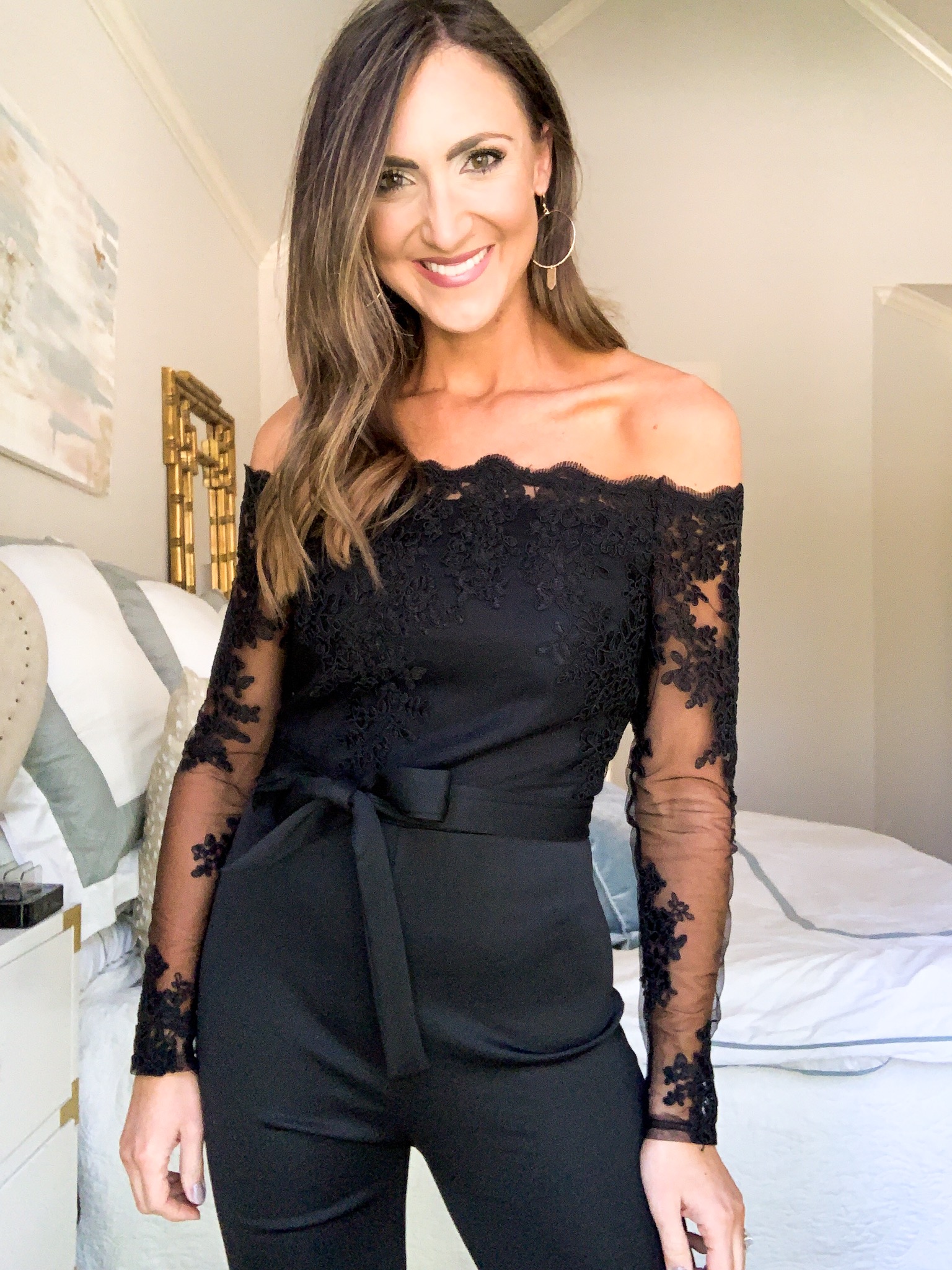 Black Lace Jumpsuit $29.99 (wearing a small)
If you need a formal dress to really step up your game, this full sequin gown REALLY takes it to the next level for $56.99!!!! I had very very low expectations upon ordering this one that it would be any good and Im happy to report that I was 100% wrong!! Its head to toe sequins, beautifully draped fabric, an easy to wear silhouette (ahem- bra friendly!) and even has a full zipper up the back for the best fit. The only thing to note, is that the sequins on mine were more of a shiny gold rather than a matte gold as pictured. It also comes in beautiful colors like black, navy and rose gold. Dare I say it would also make the most amazing formal bridesmaids gown?!?! See all of the colors HERE.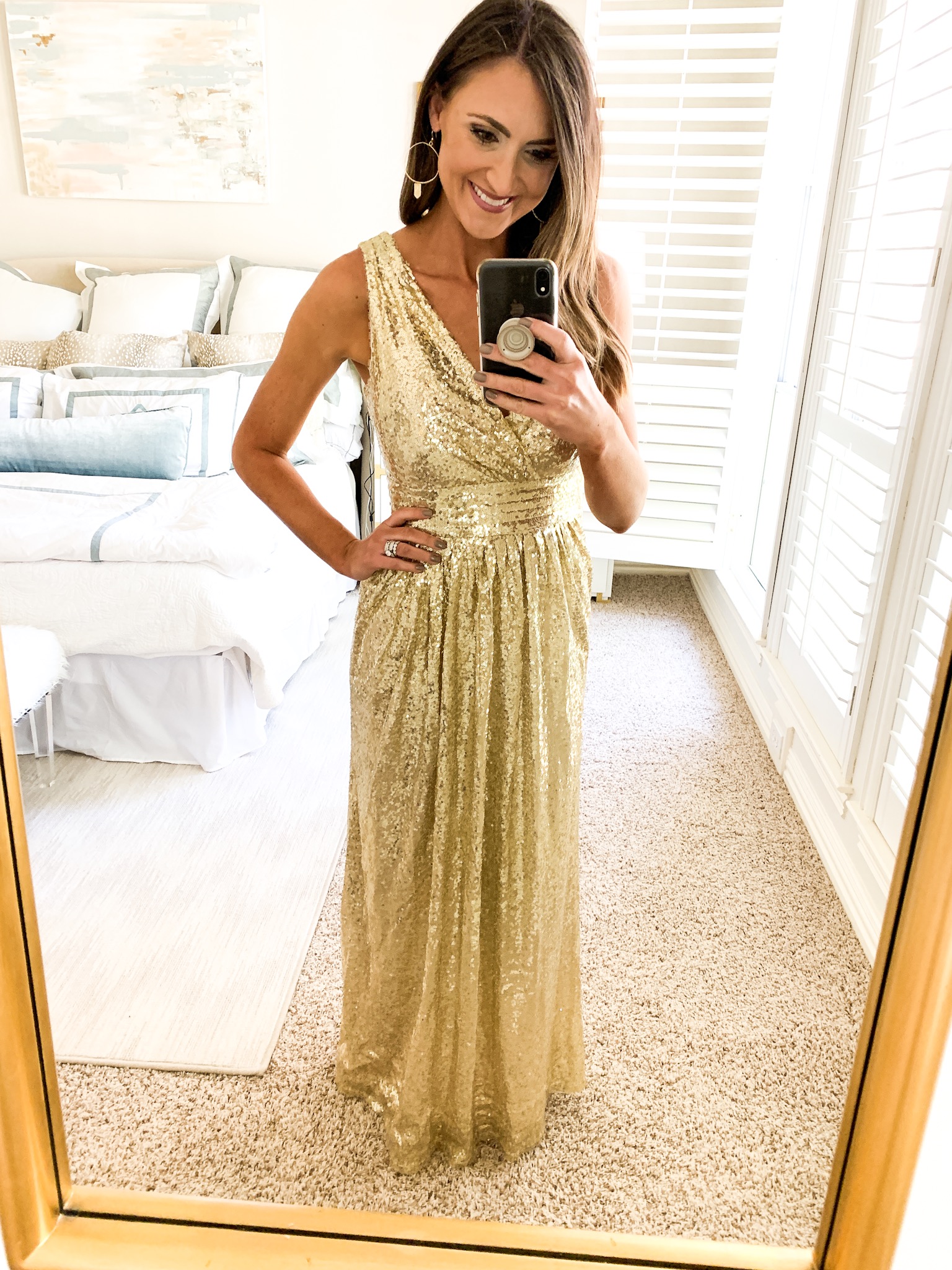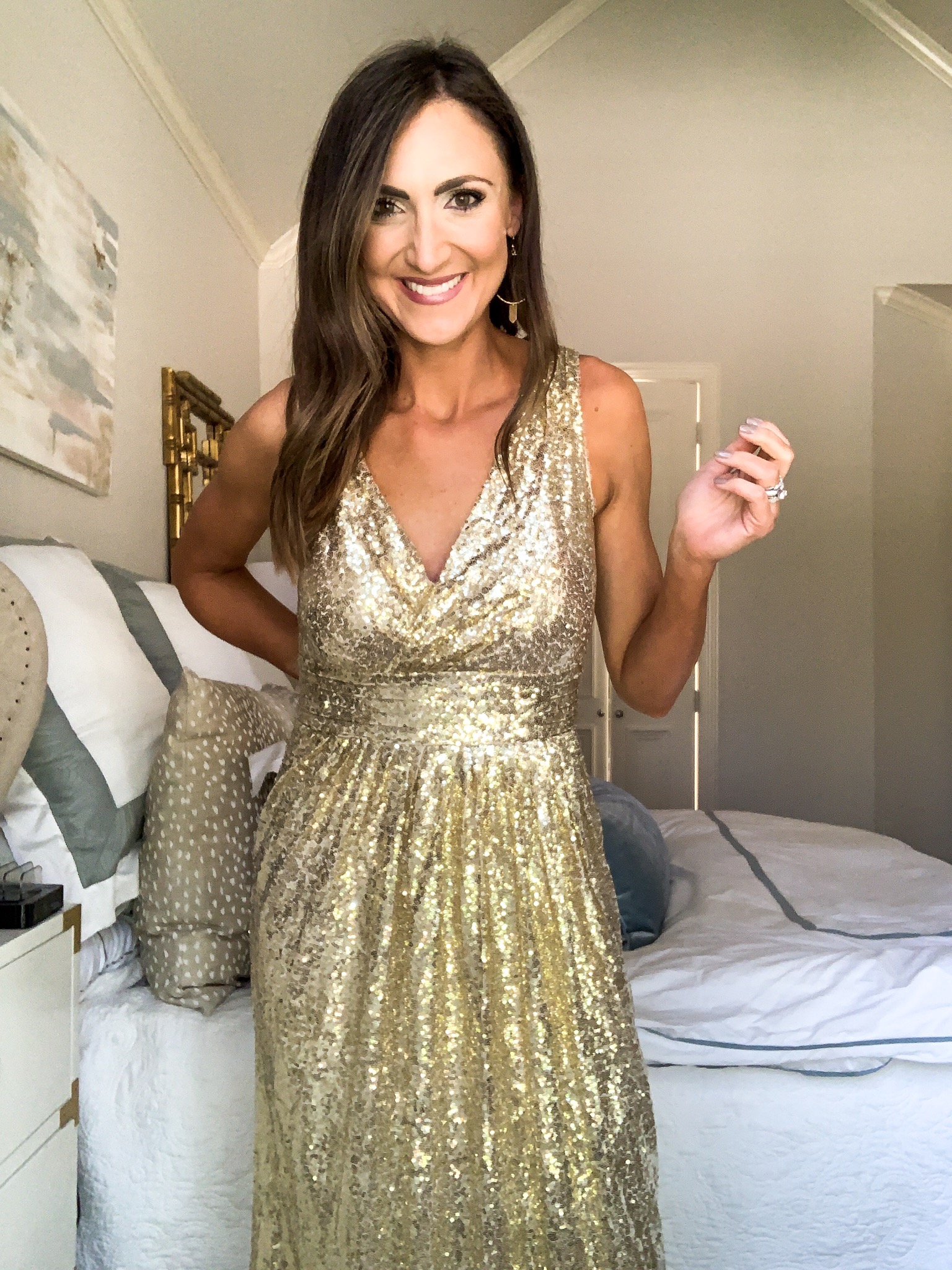 Gold Sequin Ball Gown $56.99 (wearing a size 6 in color GOLD / comes in multiple colors)
If you watched my try-on of this dress, you know that I almost lost my life trying to get into it (it takes body con to the next level), but once I got it onI loved the look so much that I couldnt help but share. I will preface by saying that you should size up at least one, if not two sizes in this one and, even doing so, Im confident youd still get the same look. I feel like I should have worn the large in order to be able to comfortably get in and out of it. All of that being said its a SHOWSTOPPER. The body con silhouette with the one shoulder cape is elegant and sexy all in one and its a beautiful overall look. I would wear it with my hair pulled back and statement earrings like THESE.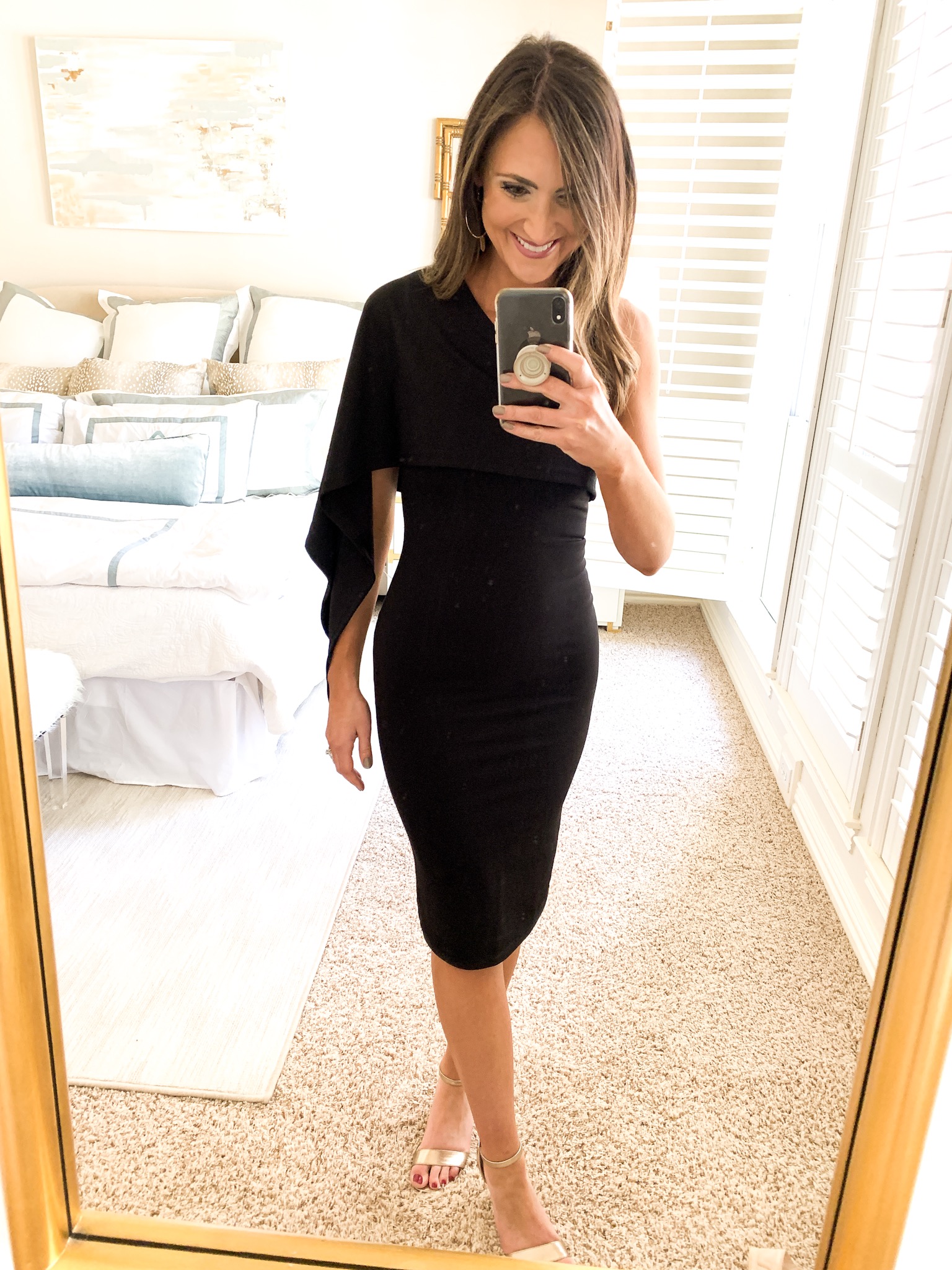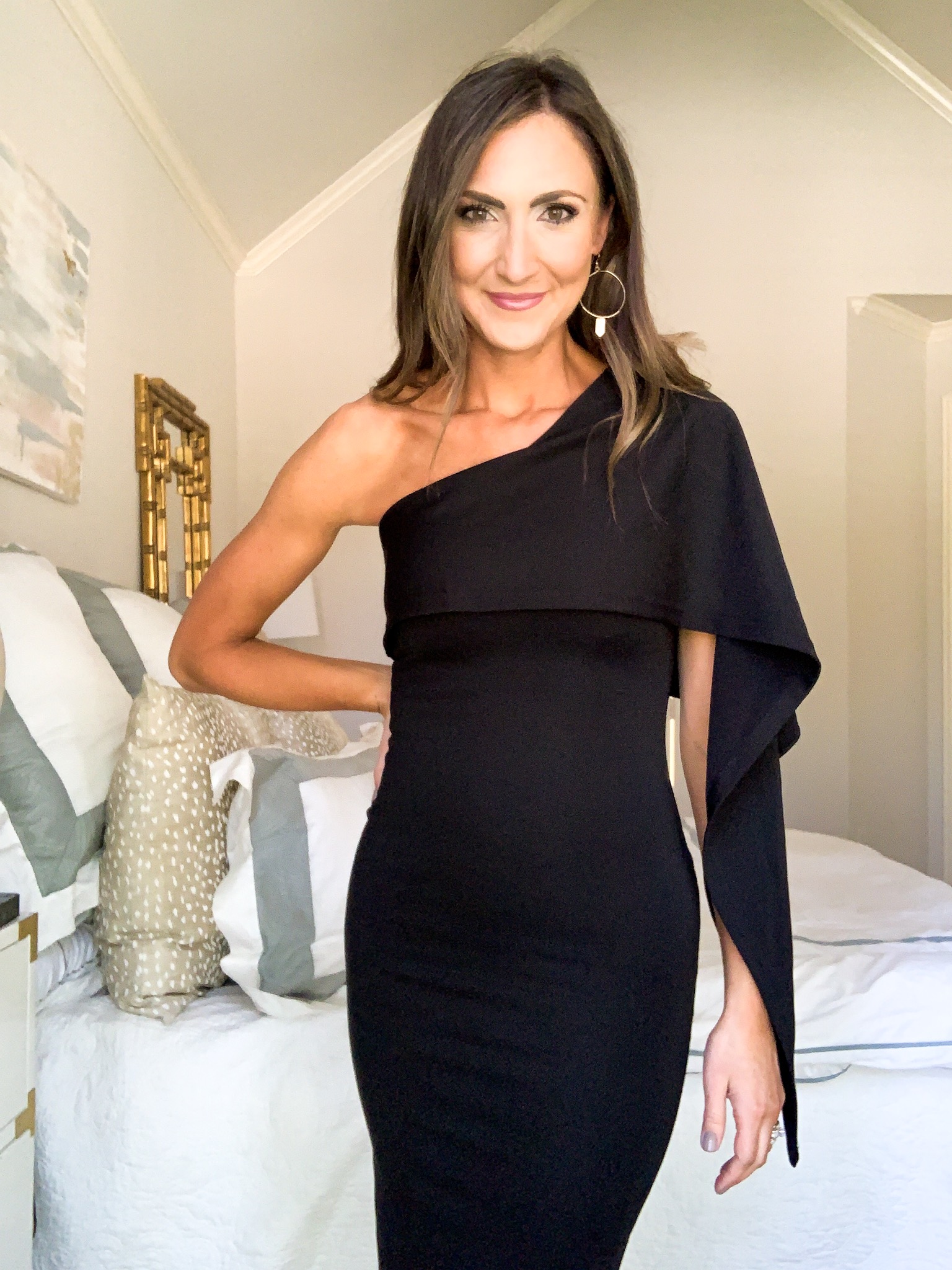 One Shoulder Cape Dress $22.99 (comes in a ton of colors, wearing a small)
This halter hi-low gown was so so pretty on. The high neck and muscle cut shoulder bodice was uber flattering and then it beautifully flows into a ruffled hi-low silhouette. I give the fabric a 6/10 only because its a little thin, which is why I think I would only buy black in this dress. Otherwise, noone would ever ever be able to tell it was from Amazon!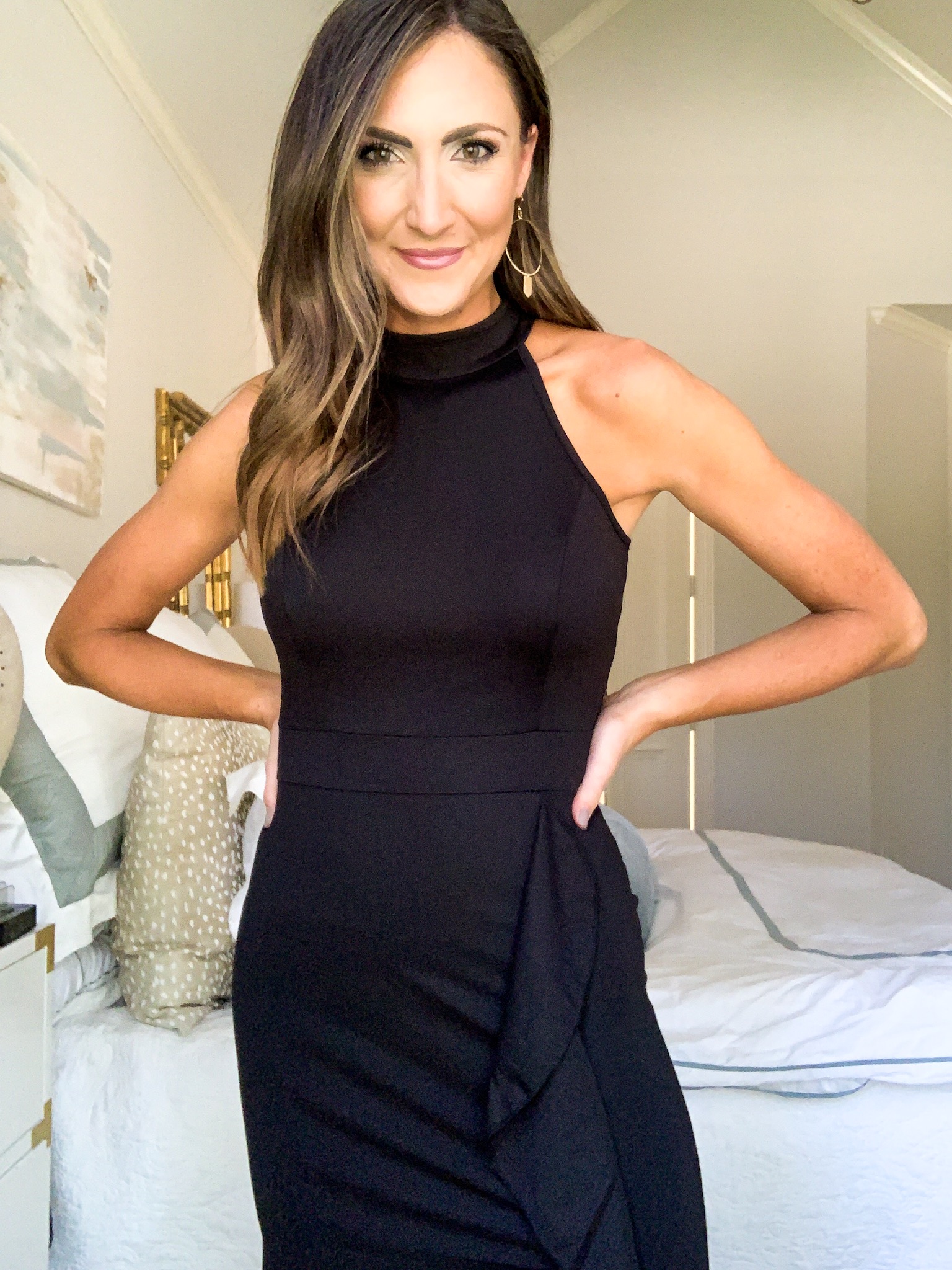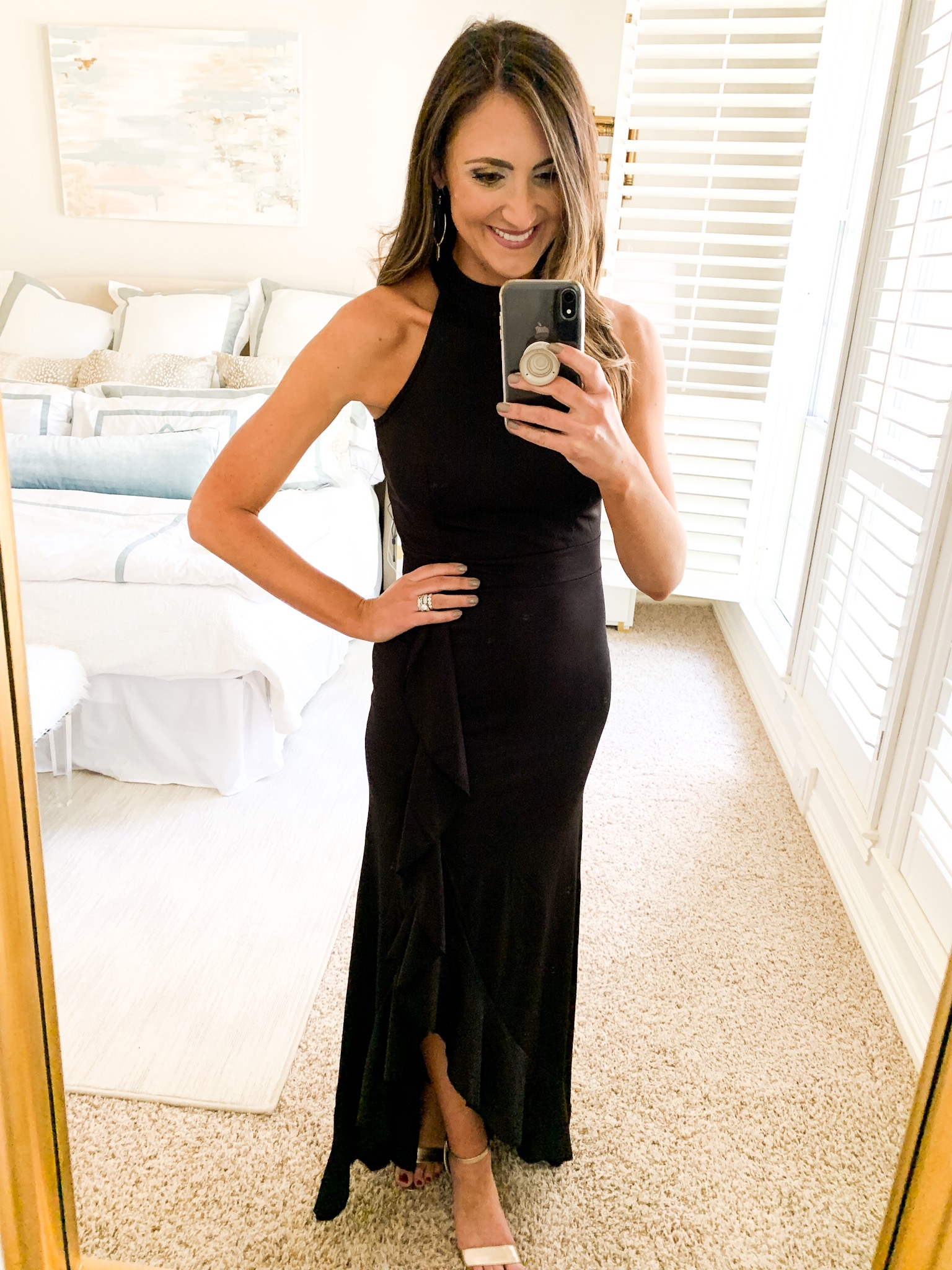 High Neck Halter Cocktail Dress $39.99 (wearing a small/ lots of colors)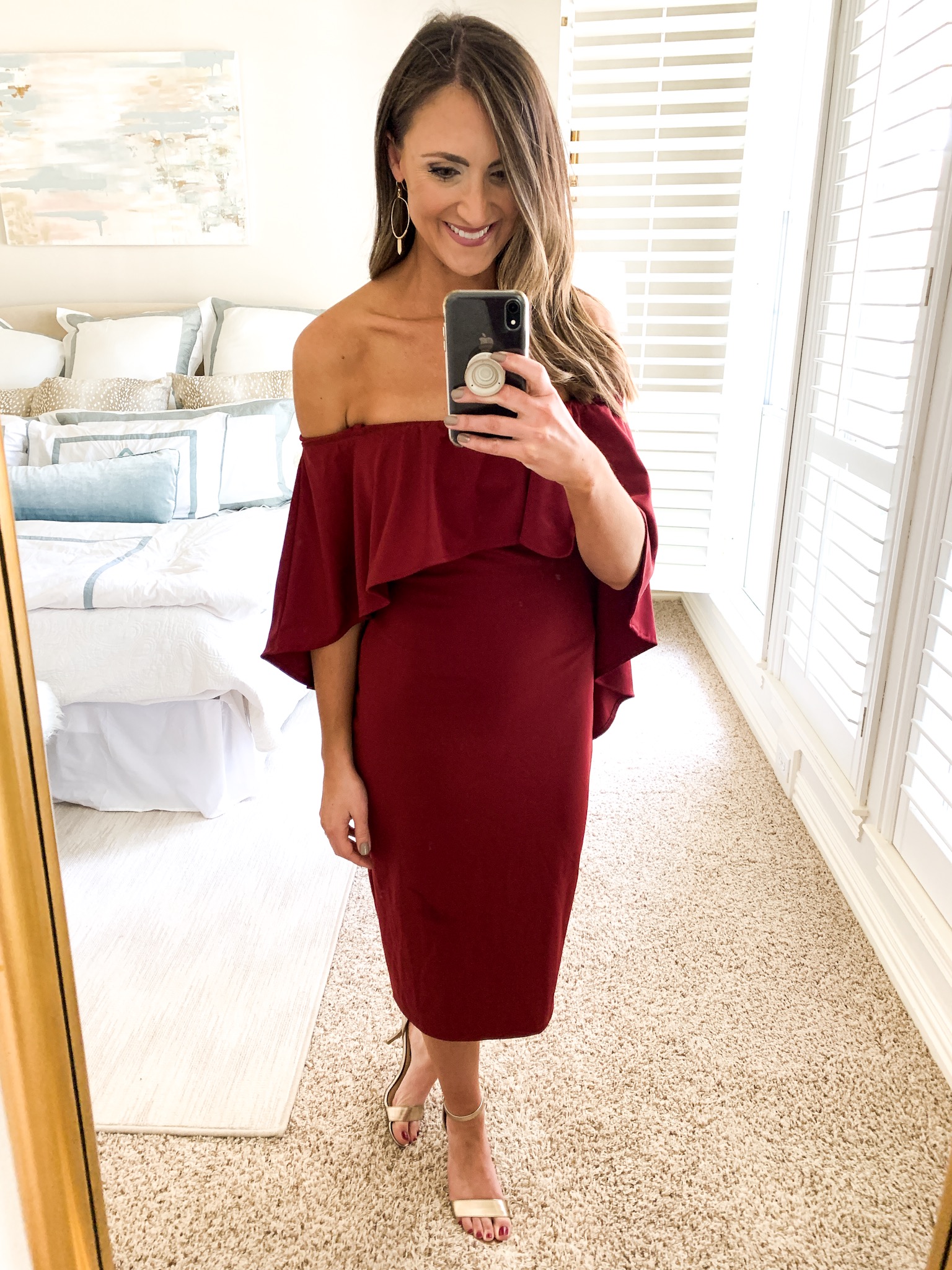 This cape dress has been a SYS Amazon favorite for 2 years in a row!!! I show it every year because its honestly THAT good for the $26.99 price tag! Its a snug fit throughout the bodice, but the oversized cape offsets it for an elegant look thats hard to beat for the price. Comes in multiple colors HERE.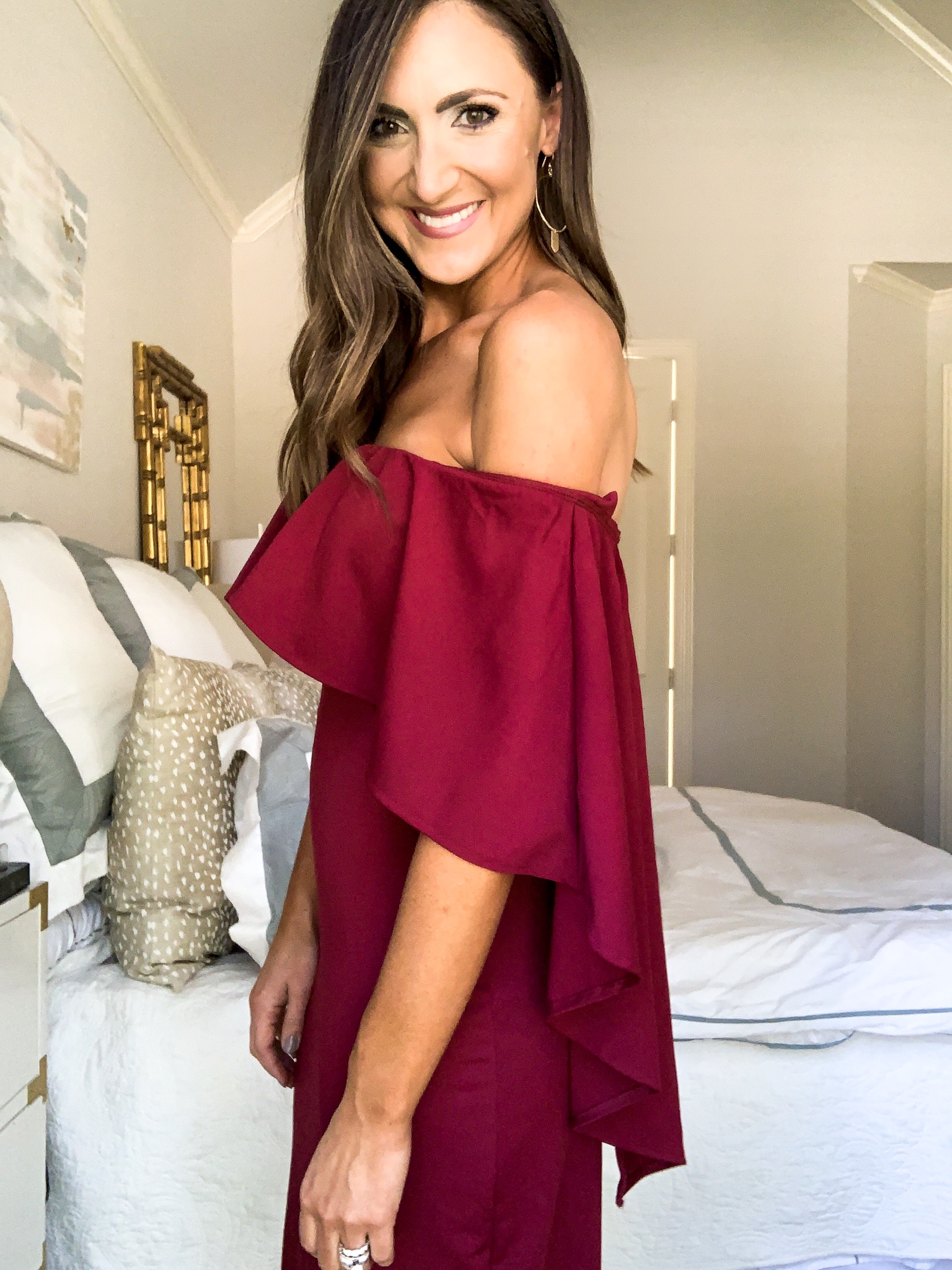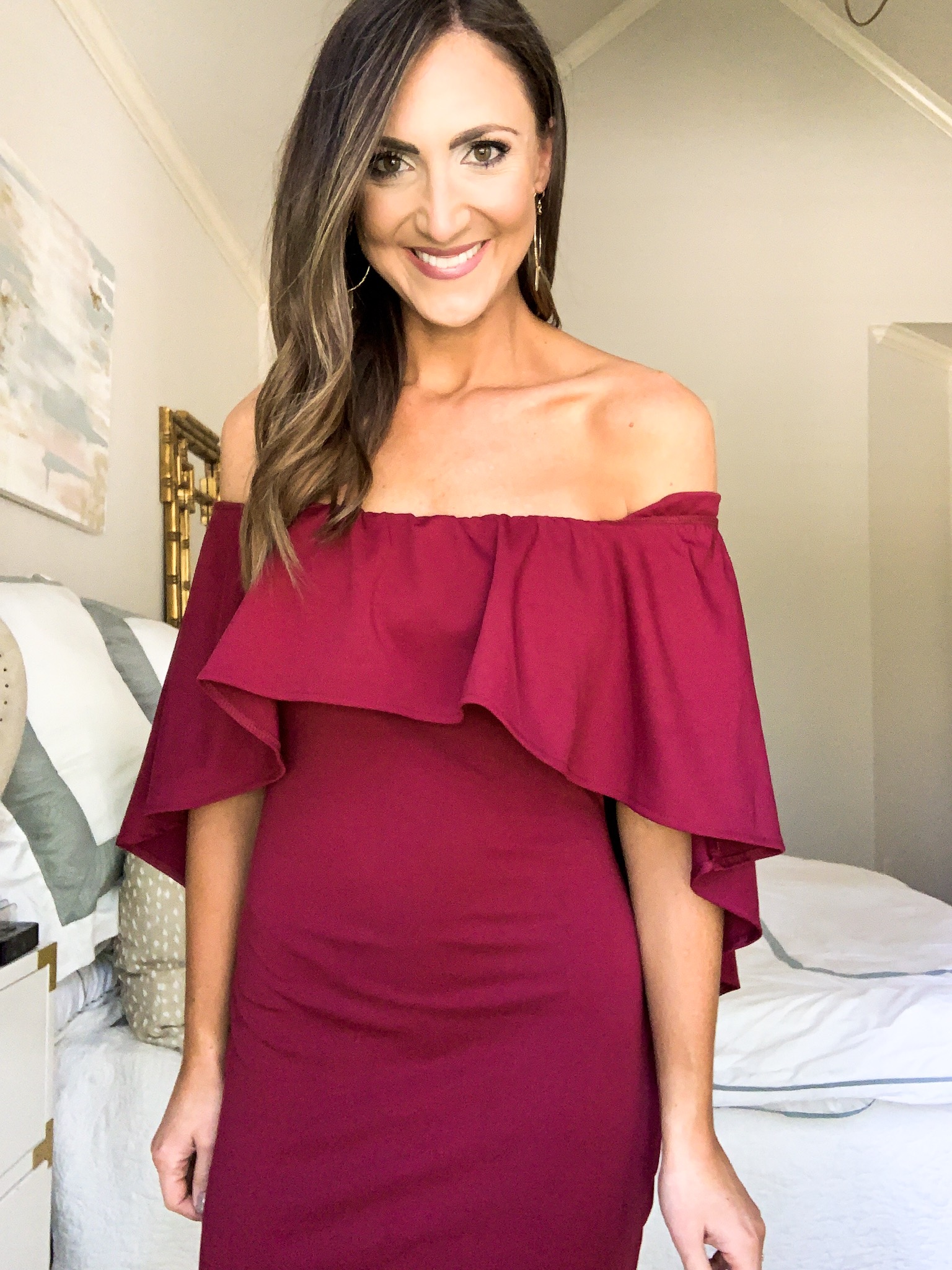 Batwing Cape Dress $26.99 ( wearing a M, but would prefer the S / comes in mutilple colors)
This outfit combination is one of my absolute favorite Amazon finds in history. It looks like a million bucks, but costs less than $60 and the quality is outstanding! The skirt fits very high on the waist (size up if you carry weight in the mid section as the small was snug on me), and drapes into the prettiest hi-low silhouette. You could pair it to back to so many tops and the fabric would lead people to think that you paid $100++ for it.
The one shoulder ruffle top is great for high waisted skirts or jeans and fits just right, giving a little detail without being too much. An awesome value for under $20!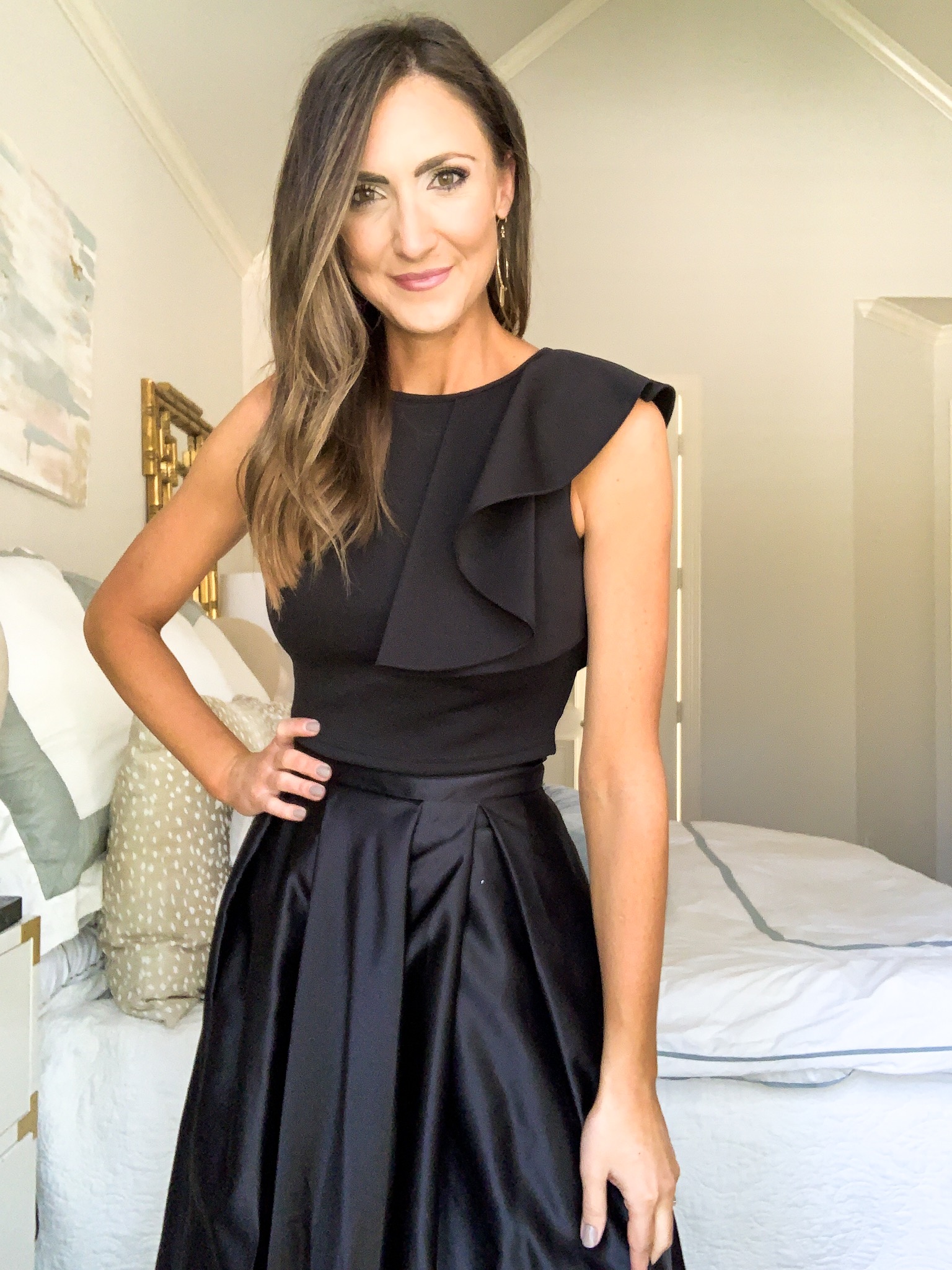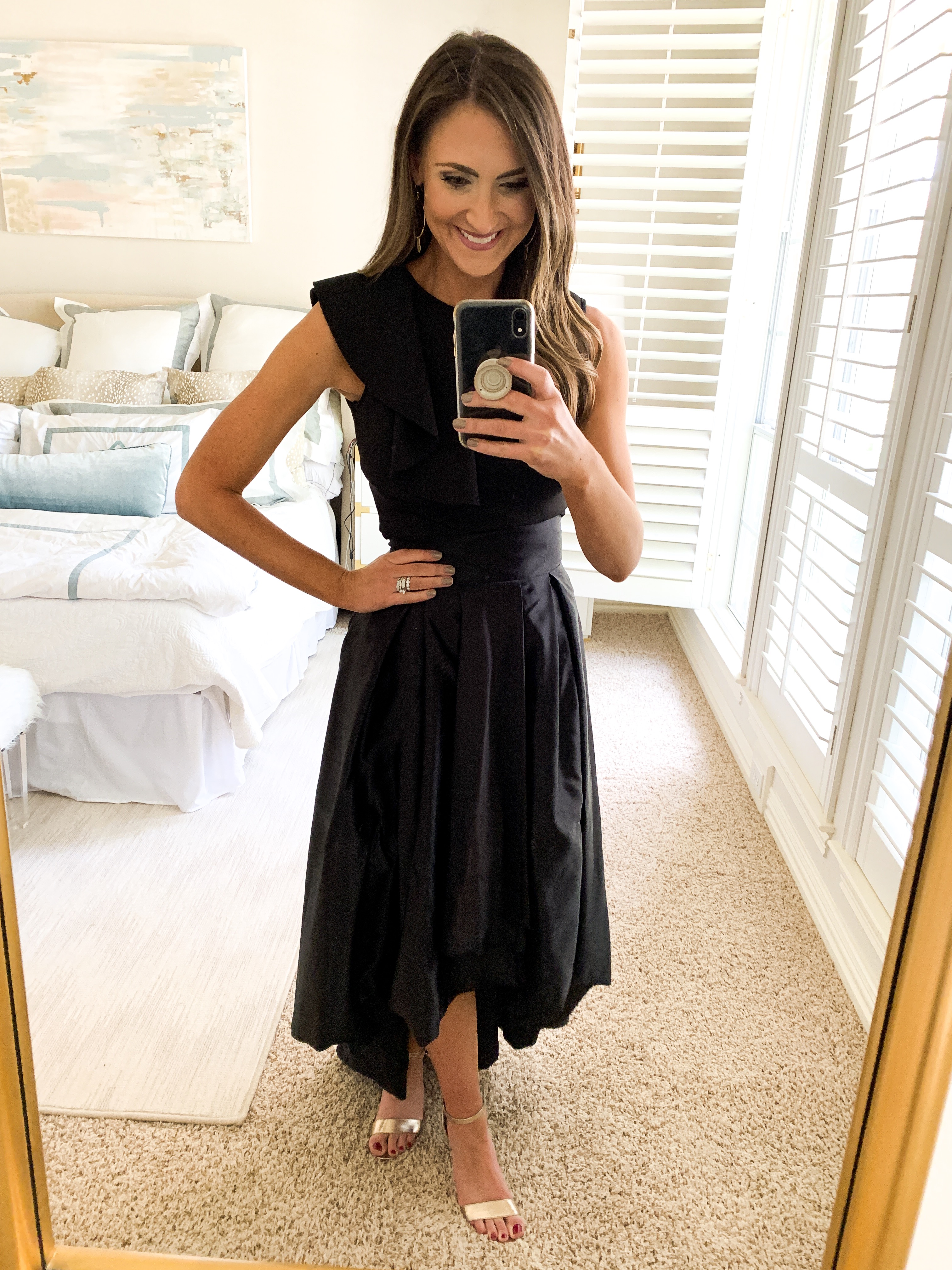 Ruffle Crop Top $19.99 (wearing a small) | Black High Low Cocktail Skirt $38
I found two bodysuits that were worth sharing, but this off the shoulder one is NEXT LEVEL! Its the softest fabric, most flattering fit, and is actually comfortable to wearis ya know what I mean! I love it paired with this gold pleated midi skirt for a Holiday outfit worth showing off!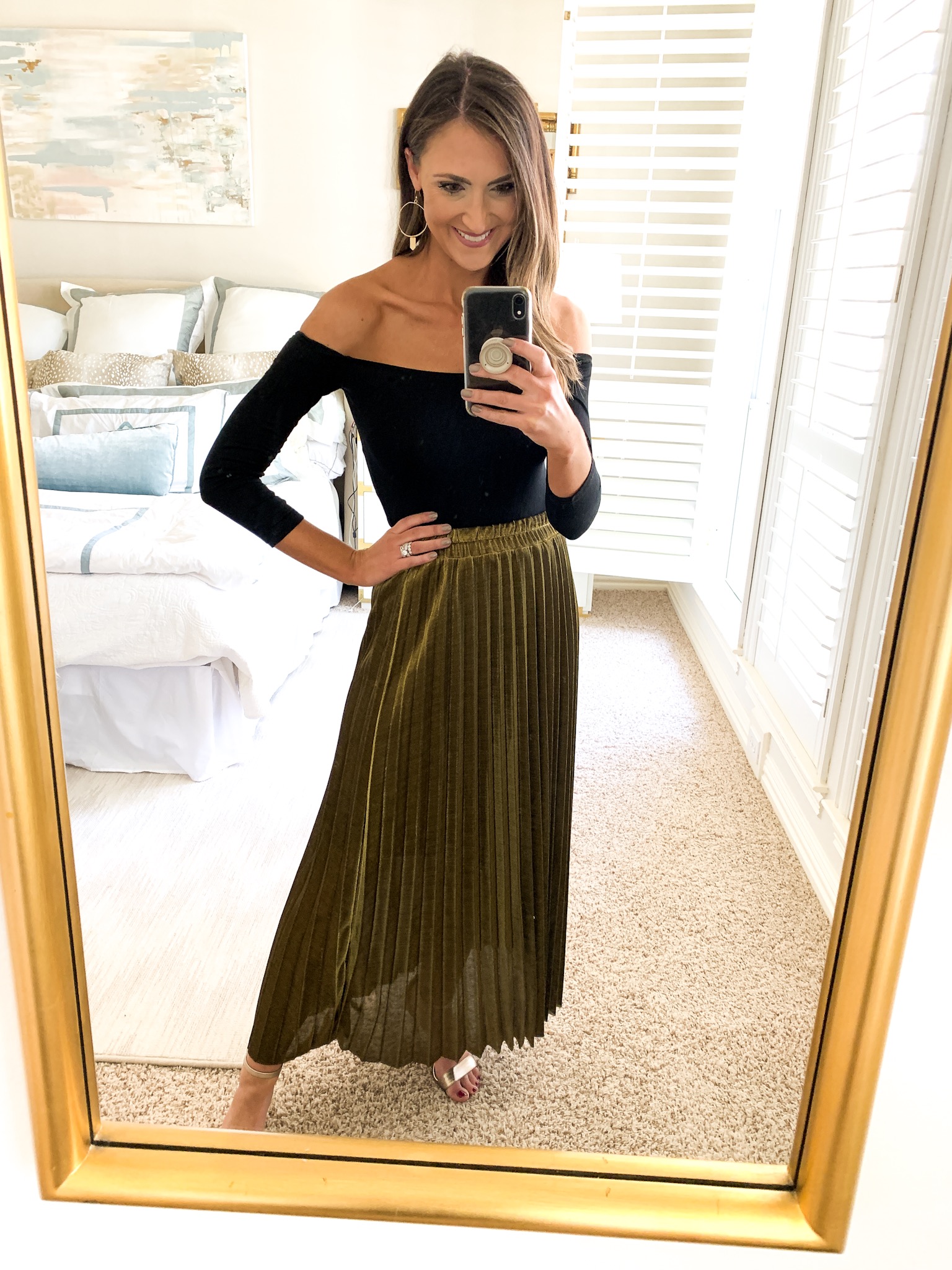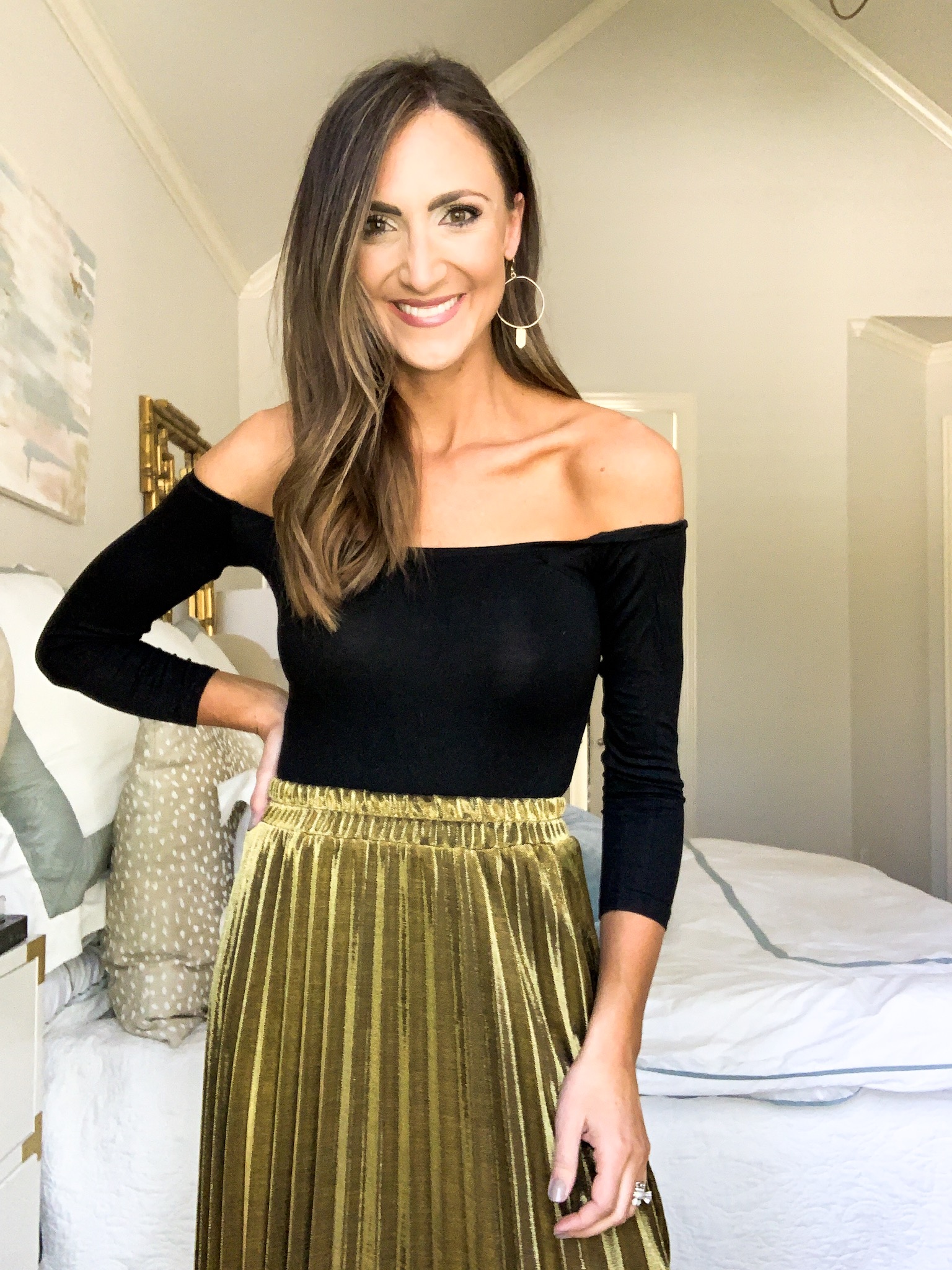 Off the Shoulder Black Bodysuit $13.19 (wearing a small) | Gold Pleated Midi Skirt $19.97 (wearing a small)
Heres the other bodysuit! I love the look of a more casual, fitted turtleneck but this one was just a touch too short to be comfortable for me. Probably best if youre under 56.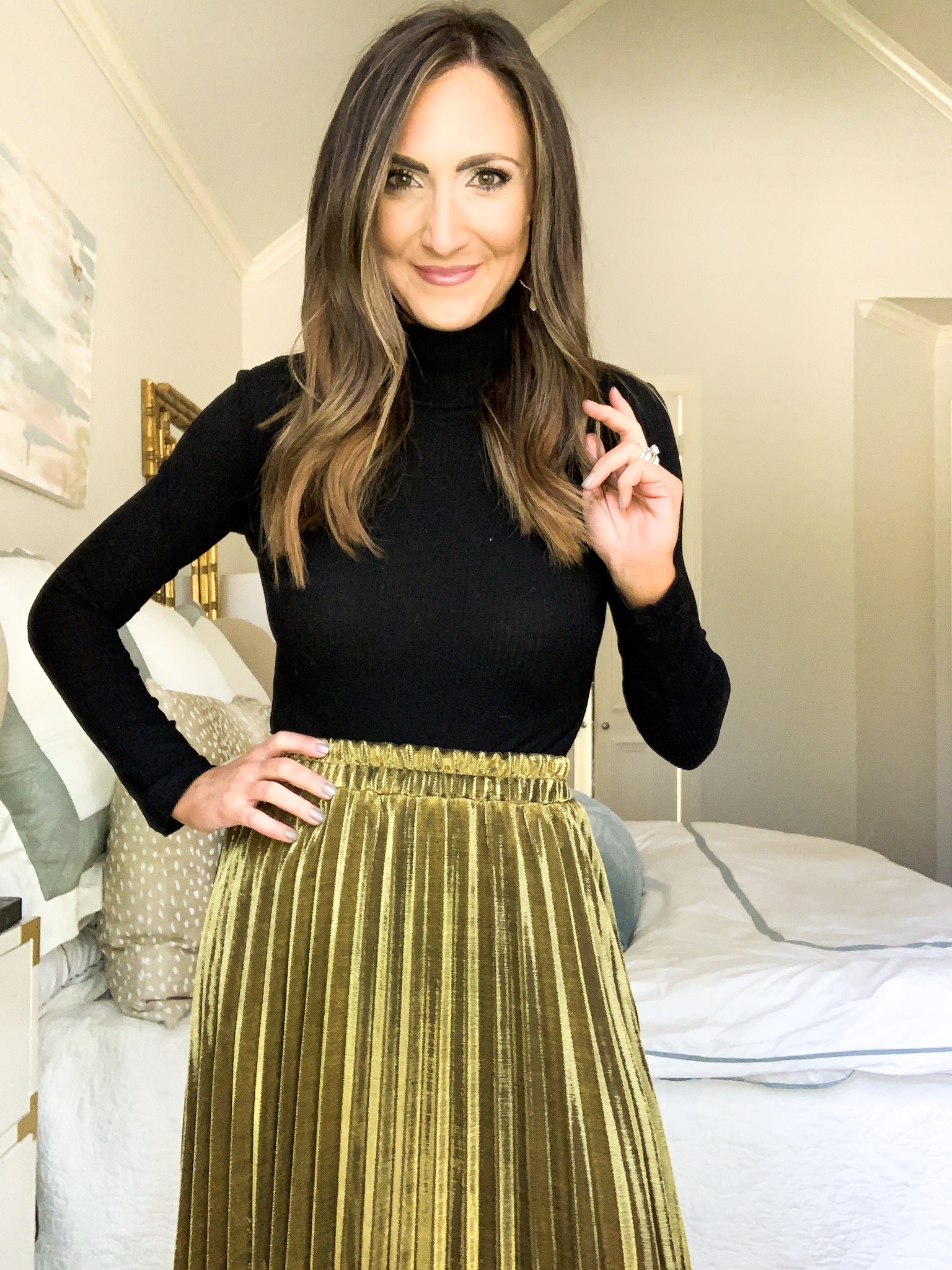 Black Turtleneck Bodysuit $16.99 (wearing a small)
This off the shoulder sequin top BLEW me away for the price tag! Under $30, full sequins and the off the shoulder detail is absolutely perfect. If you dont buy this for your NYE party, youre really missing out!!! It comes in multiple colors HERE.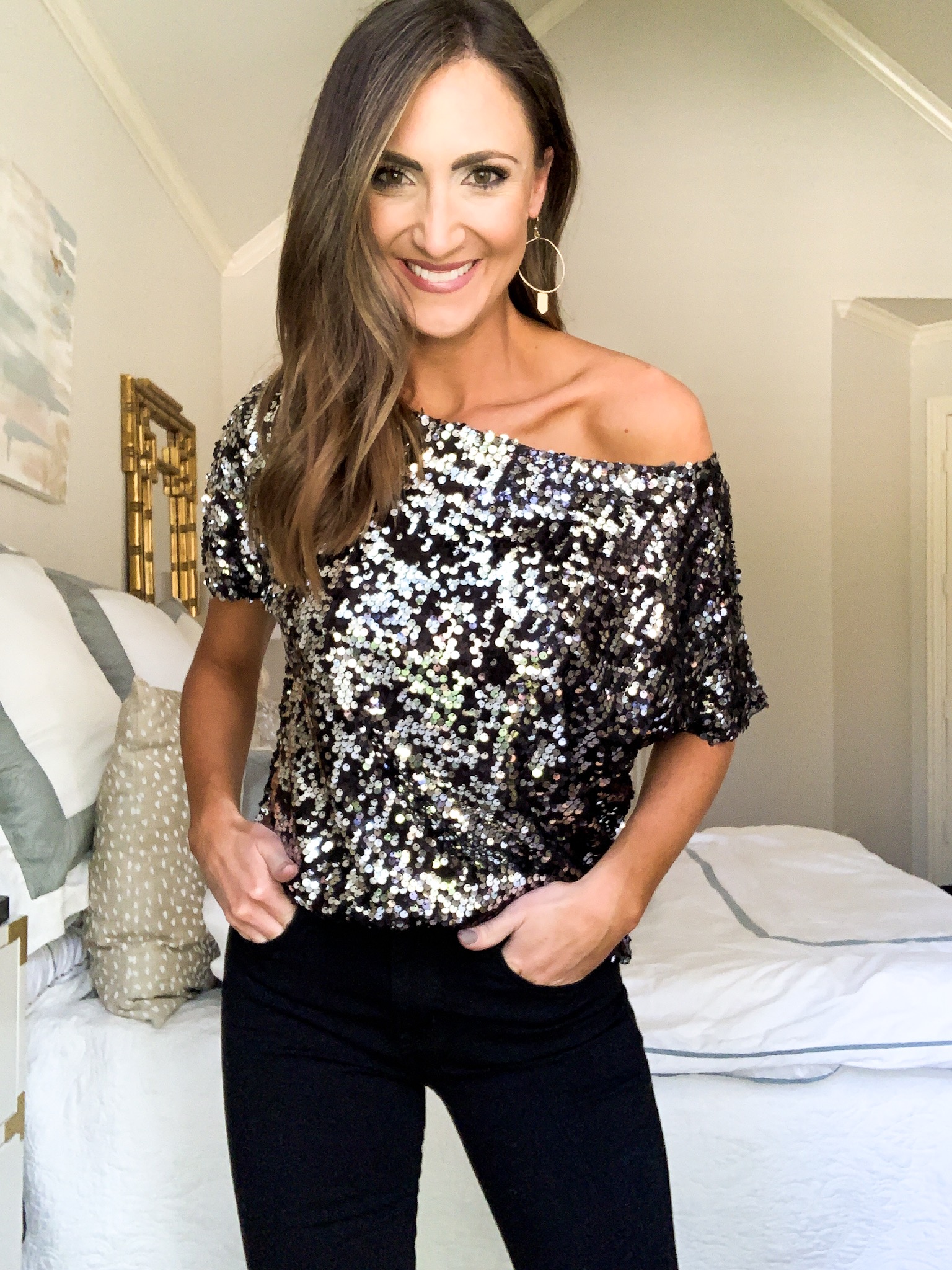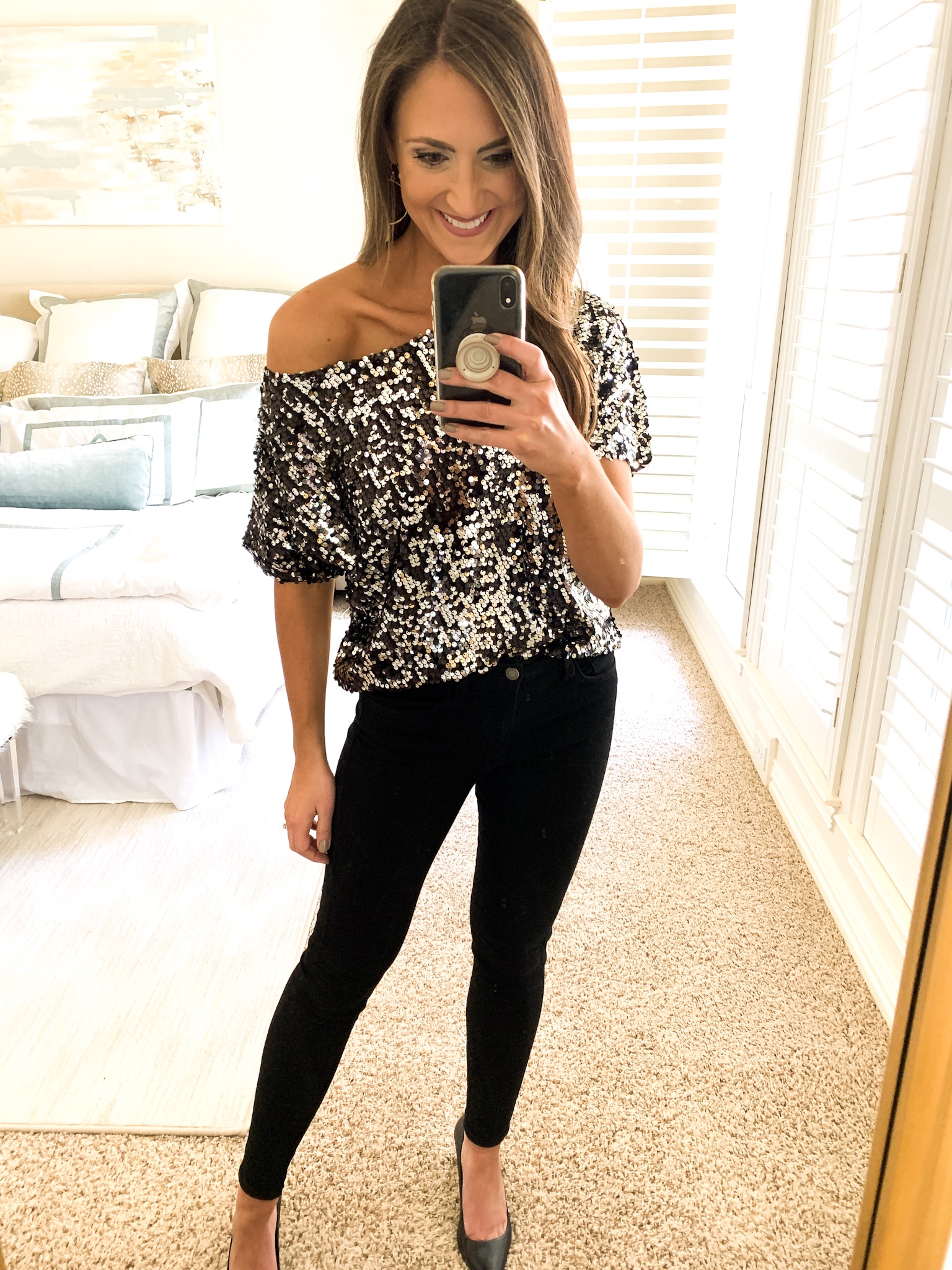 Off the Shoulder Sequin Top $29.99 (wearing a small / multiple colors)
This cape looks like something Ralph Lauren would have in his classic collection. The silhouette, coupled with the gold buttons is so effortlessly chic, and now affordable at $25.99! You do need a cami or long sleeve top underneath, but I love this as a staple for the Holidays and beyond.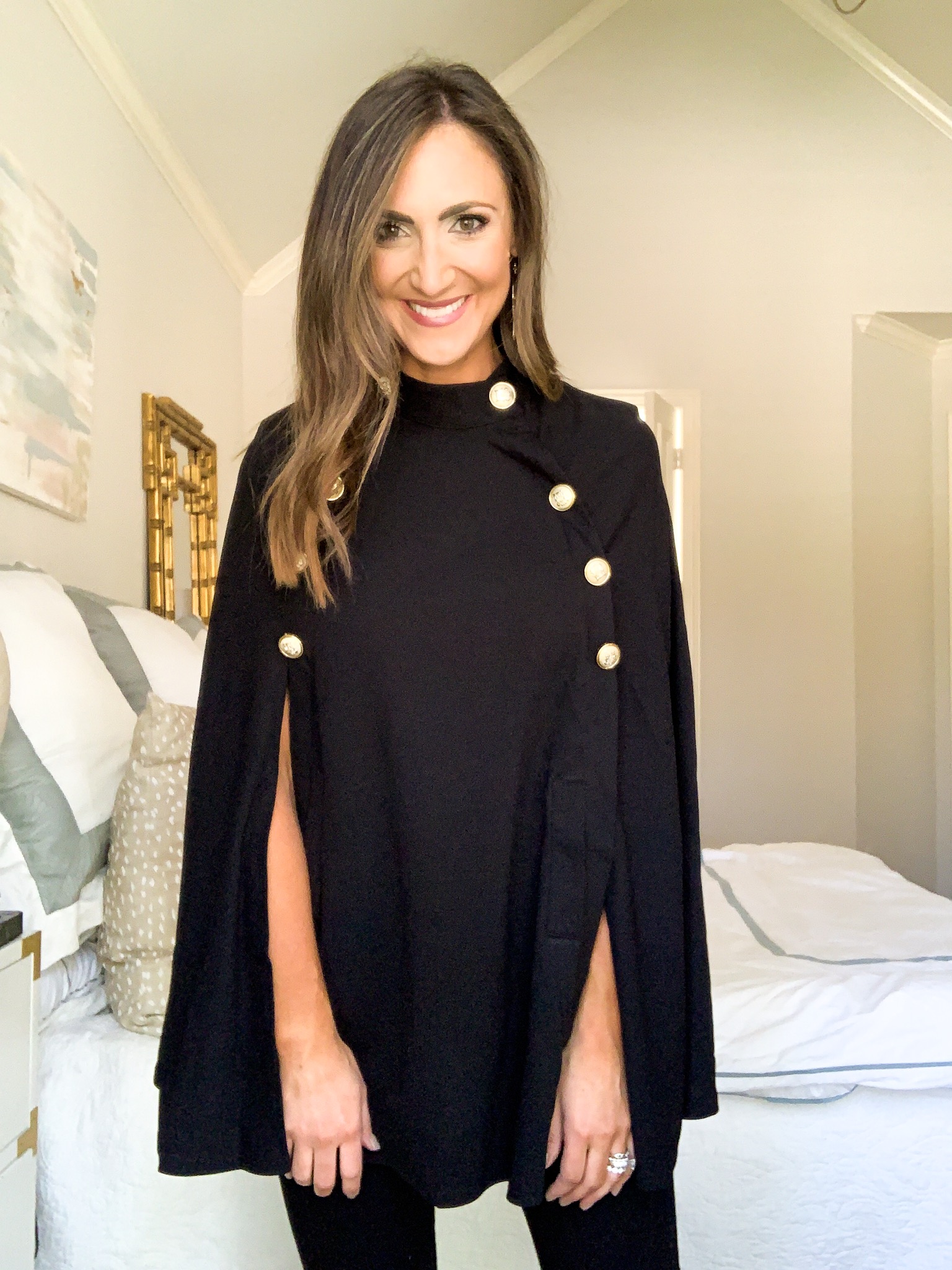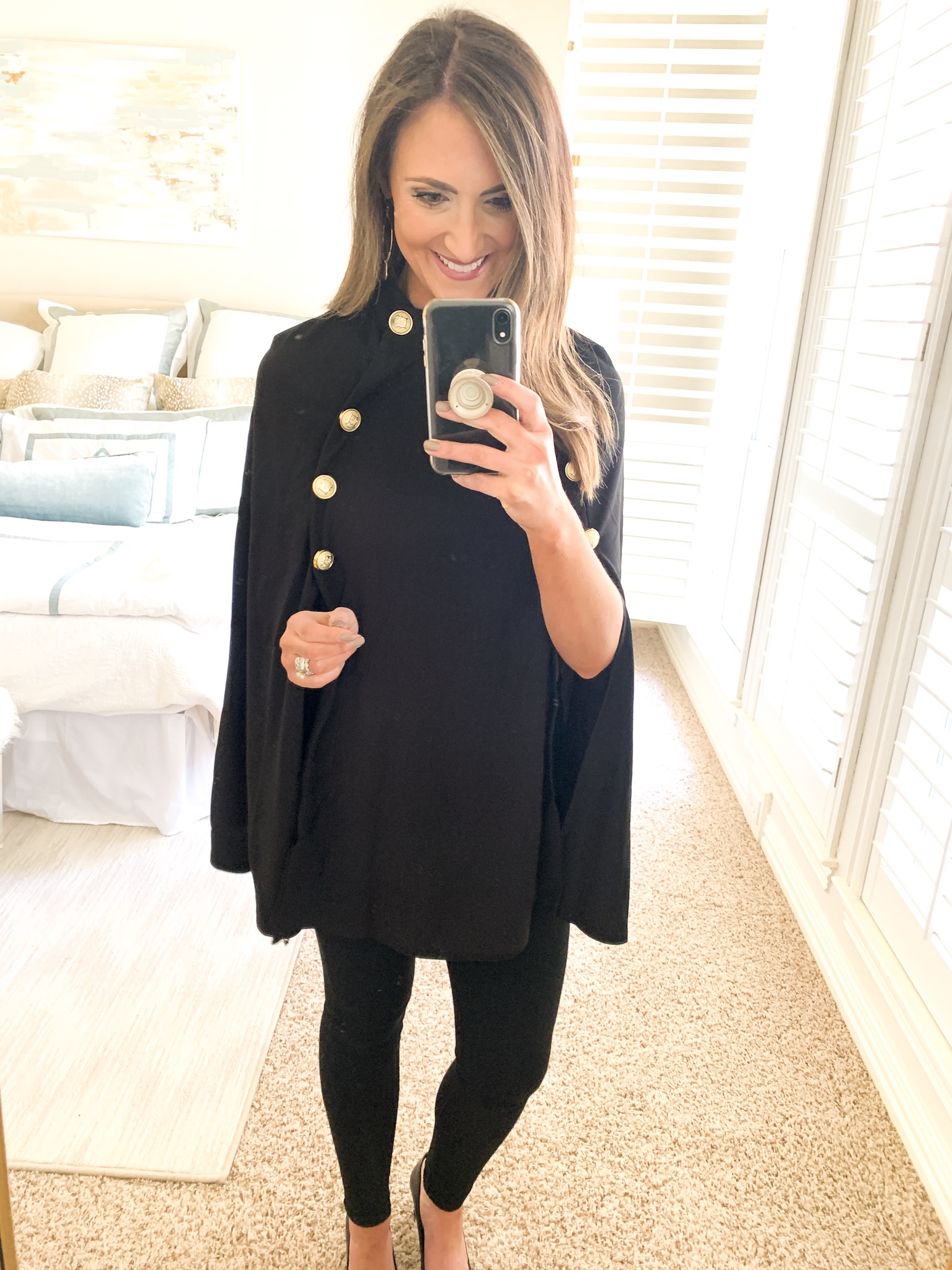 Black Cape with Gold Buttons $25.99 (wearing a small / multiple colors)
Another awesome cape, but this one feels chic and a little edgy with the extended length and flattering shoulder fit. I love the idea of throwing this one on with black jeans or flares and a fun sparkly cami underneath.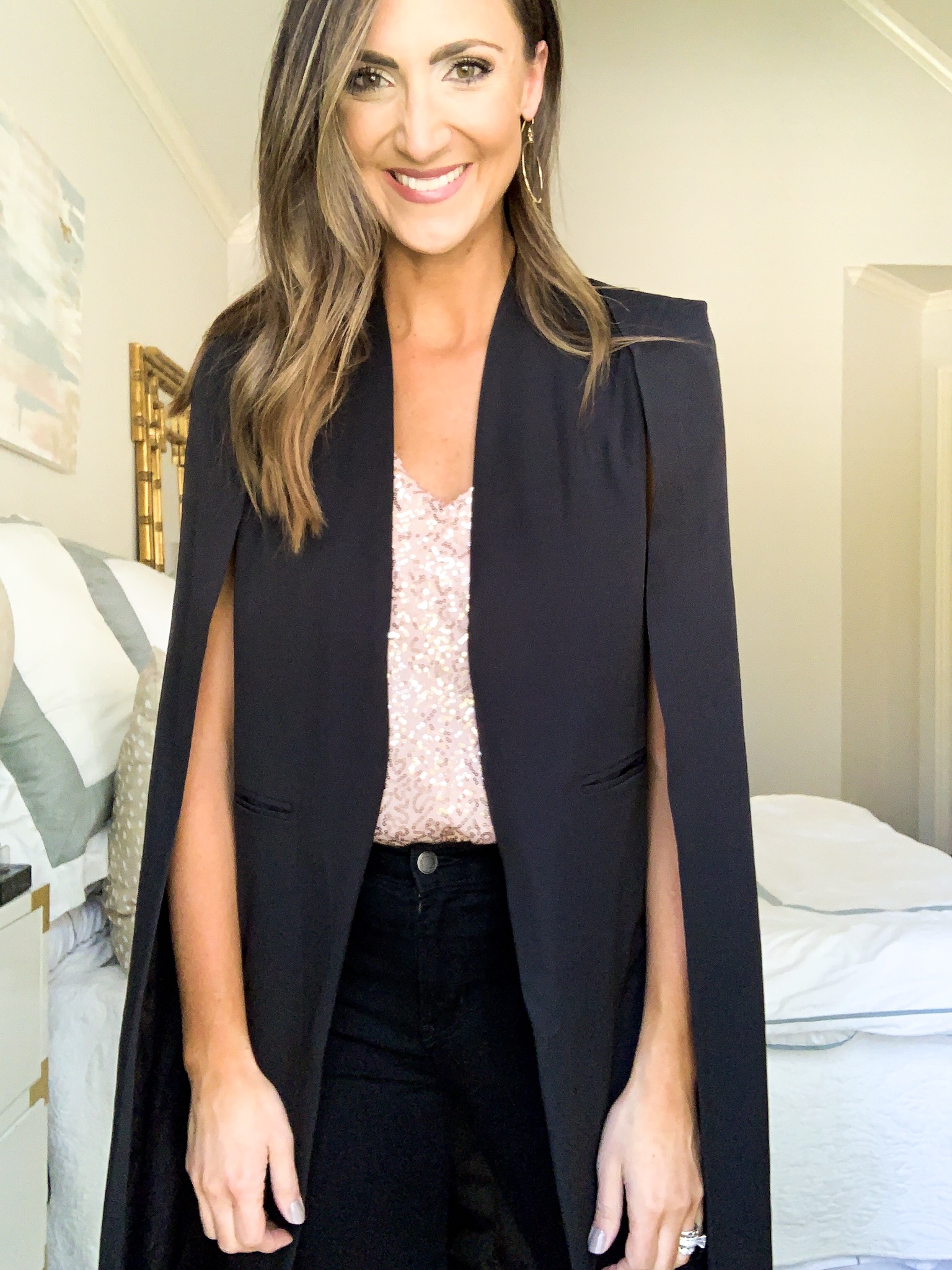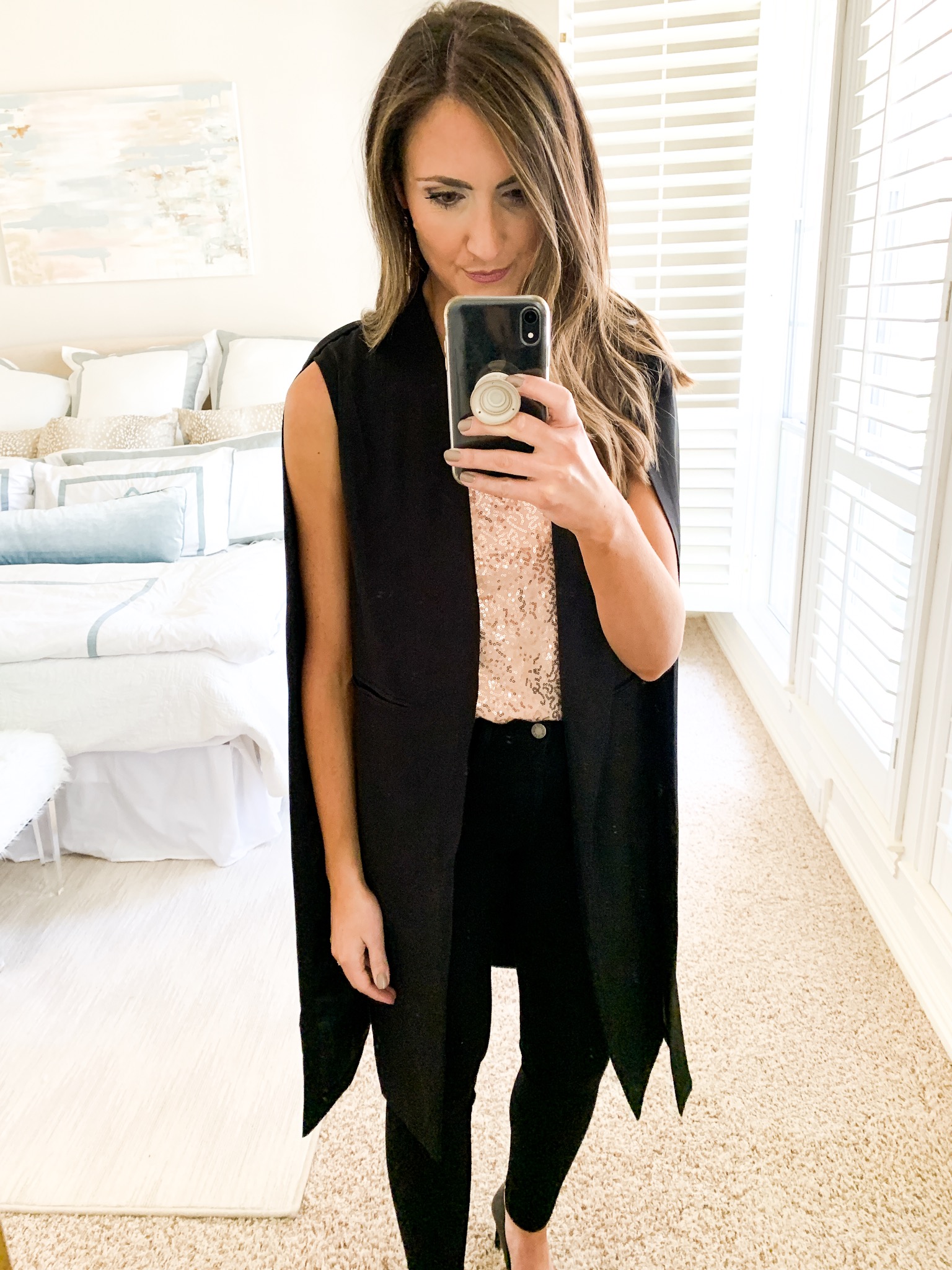 Black Long Line Cape $29.48 (wearing a small, runs big)
I hope that this was helpful and that you found something to wear to all of your fun events coming up this month! These are truly so much fun to put togetherId love it if you shared this with your friends who may also be interested. Here are some other Amazon posts that you may like: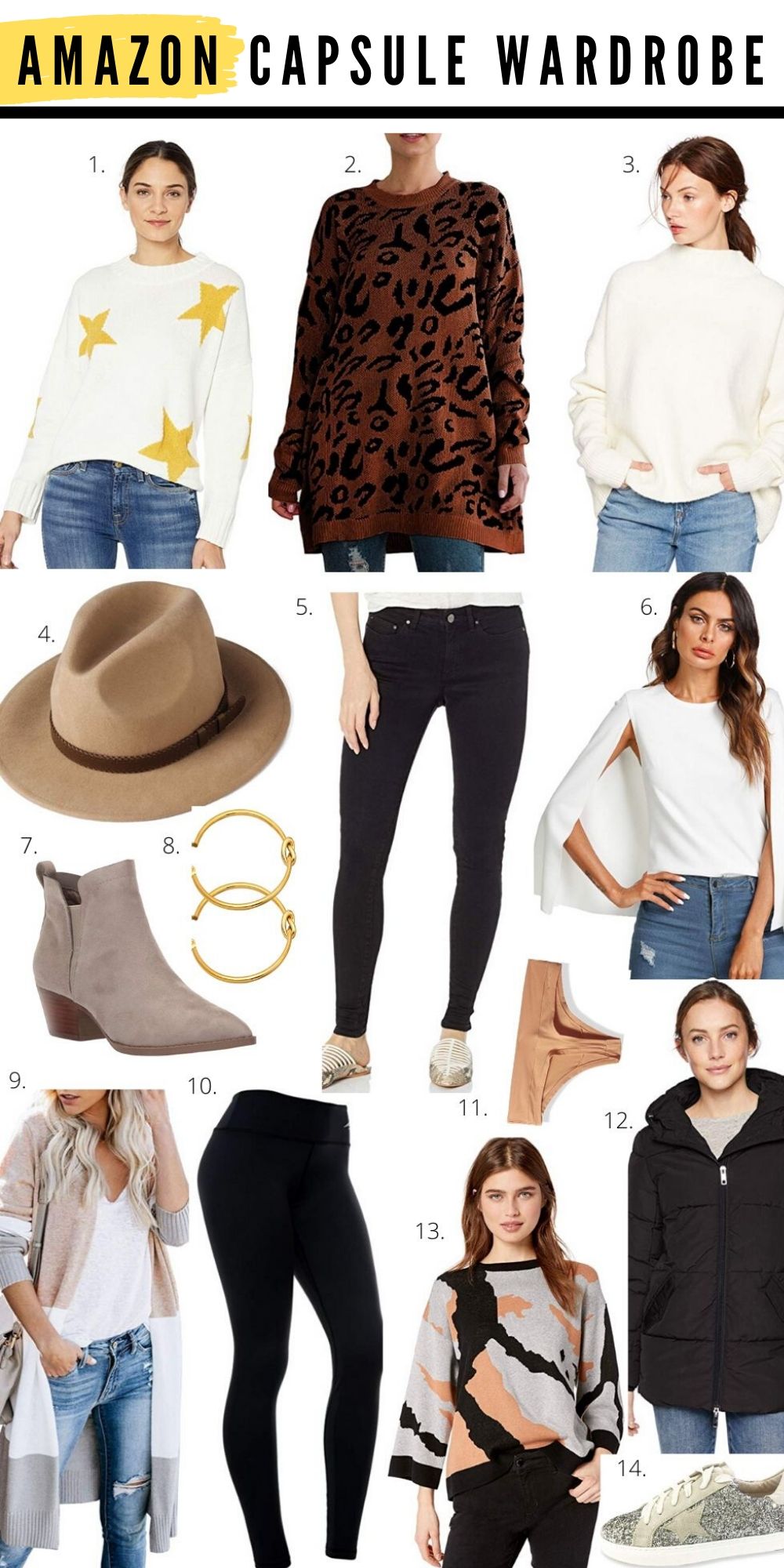 The post November/December Amazon Fashion Haul: Holiday Edition appeared first on Style Your Senses.