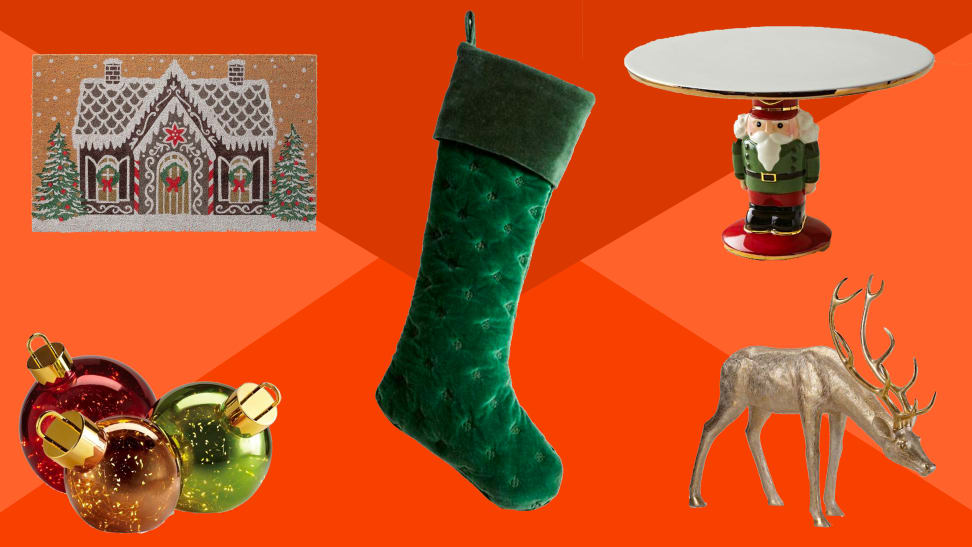 — Recommendations are independently chosen by Reviewed's editors. Purchases you make through our links may earn us a commission.
If you would describe your holiday aesthetic as maximalist, ornate, and/or opulent, you should 100% be shopping at Frontgate for seasonal decorations. This luxury retailer goes big during the winter season, offering a wide variety of indoor and outdoor holiday decor that will make your home look unbelievably festive and cheery. Whether you're searching for elegant stockings to grace your mantel or lifesize statues for your lawn, Frontgate has it all.
To upgrade your holiday decor this year, the following are some of our favorite pieces that you can buy from Frontgate.
1. These beautiful tree-shaped stocking holders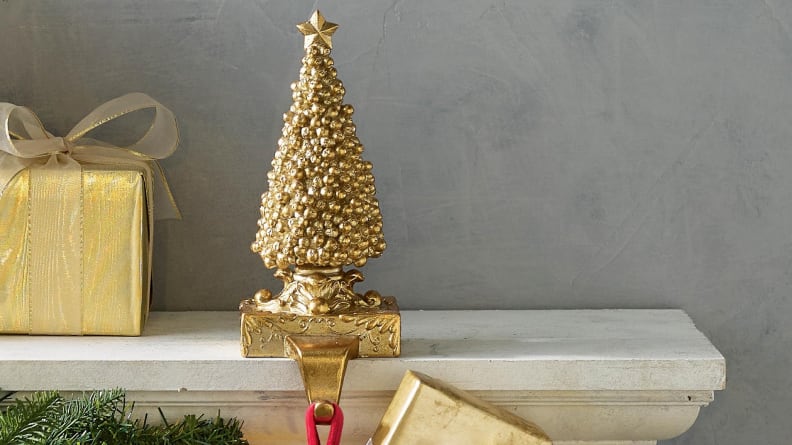 If you don't want to put nails in your mantel, this freestanding stocking holder is a beautiful and functional alternative for hanging up your family's stockings. The tree-shaped decoration is 4 inches tall and weighs 2 pounds, making it substantial enough to hold up a full stocking. The piece is molded from a hand-sculpted design, and it's even individually hand painted in an ornate gold finish. Just imagine how pretty it would be with several of the trees lined up over your fireplace!
Get the Gold Tree Stocking Holder from Frontgate for $49
2. A classic holiday wreath for your door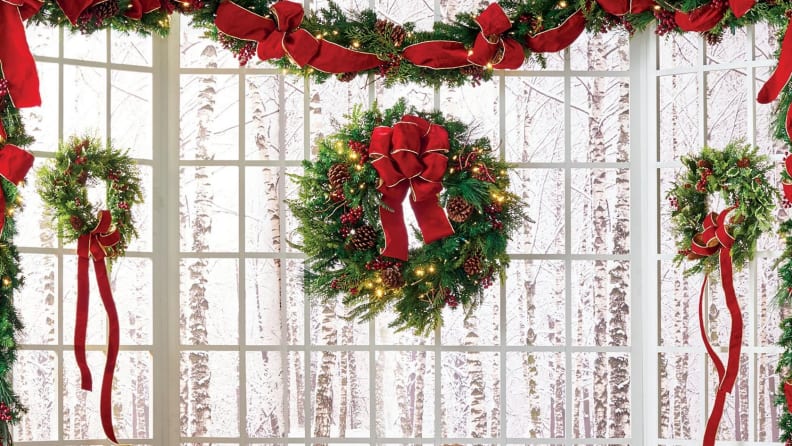 Evergreen wreaths are a classic piece of holiday decor, and this carefully crafted option will be a favorite for years to come. It comes in three sizes to perfectly match your front door, and the artificial greenery is decorated with pinecones, red berries, and more than 100 warm white lights. The wreath is completed with a stunning velvet bow with gold lining, and the battery-powered lights are on an automatic timer that will turn on every night for six hours.
Get the Christmas Cheer Wreath with Red Bow from Frontgate for $99–$349
3. A lush, realistic holiday tree with built-in lights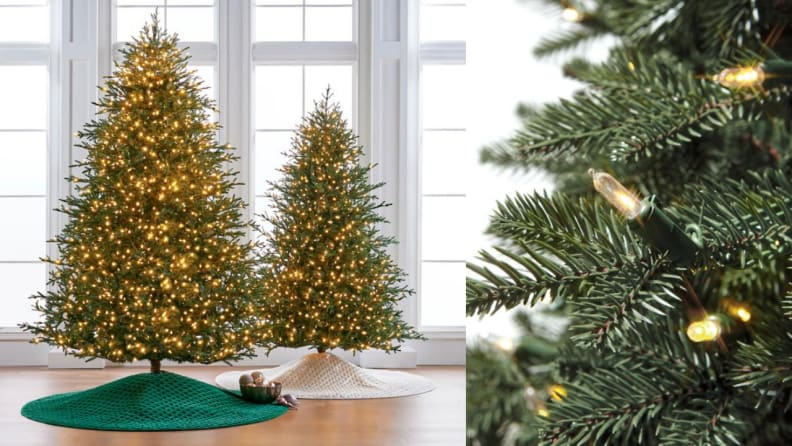 For most people, a Christmas tree is the center of all their holiday decor, and this stunning artificial Christmas tree has a lifelike appearance that's just waiting to be dressed up with your favorite ornaments. It comes in several sizes, ranging from 7.5 to 10 feet tall, and it's pre-lit with thousands of warm white LED bulbs, saving you the hassle of winding strands of lights around it. The tree's needles are molded from natural cuttings for an incredibly realistic appearance, and the tips are even reinforced with heavy-gauge metal to ensure they can support all your favorite ornaments.
For more options, be sure to check out our list of the best artificial Christmas trees that you can buy for your home.
Get the Fraser Full Profile Tree from Frontgate for $1,499–$2,599
4. Fun oversized ornaments with LED lights inside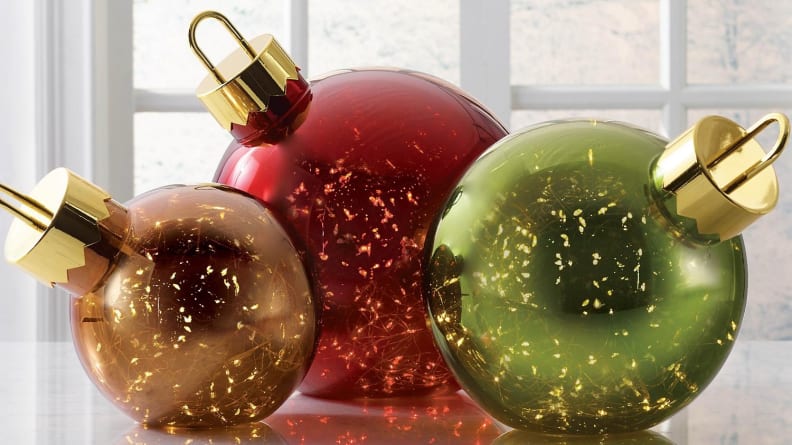 These oversized ornaments will be the cherry on top of any holiday display. There are three sizes available, ranging from 8 to 12 inches in diameter, and the colorful baubles are crafted from stunning reflective glass. While they might look like standard ornaments at first glance, these decorations have LED lights inside, which you can turn on using the included remote. There are eight lighting effects to cycle through, including slow fade, twinkling, and more, allowing you to create a bright and interactive display in your home.
Get the Lighted Christmas Ball from Frontgate for $69–$119
5. Cheery knitted covers for your throw pillows
You can dress up your couch (or side chair, or bed) for the holidays with these sweet throw pillow covers. They're designed to fit on lumbar-shaped pillow inserts, and they have a chunky knitted appearance on the front with a red velvet backing. There are two patterns available, which say "Merry" and "Bright," and the red lettering is embellished with silver beading for a bit of added sparkle.
Get the Merry & Bright Lumbar Decorative Pillow Covers from Frontgate $79–$149
6. A set of beautiful frosted glass trees for your mantel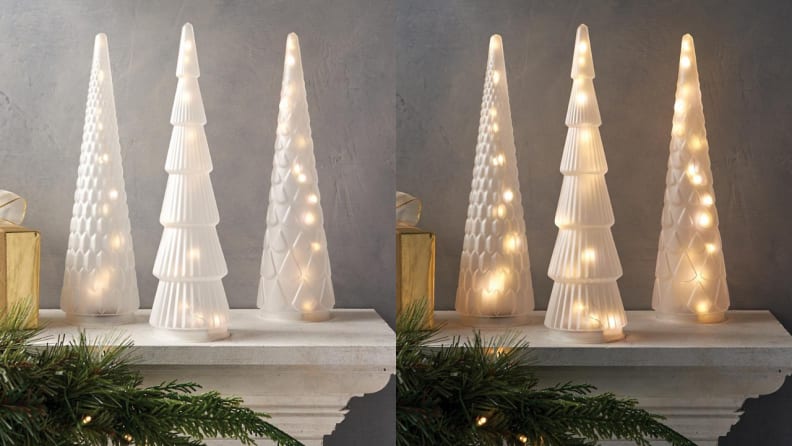 These frosted glass trees would make an understated yet elegant addition to your holiday mantel or tablescape. The set of three trees are made from beautiful frosted glass with varying textures on the exterior, and each one has 15 white LED microlights inside, allowing them to light up at night. The pieces operate on two AA batteries, and they're hooked up to an automatic 6-hour timer that shuts off during the day.
Get the Frosted LED Glass Trees from Frontgate for $79
7. A 60-piece ornament set for your tree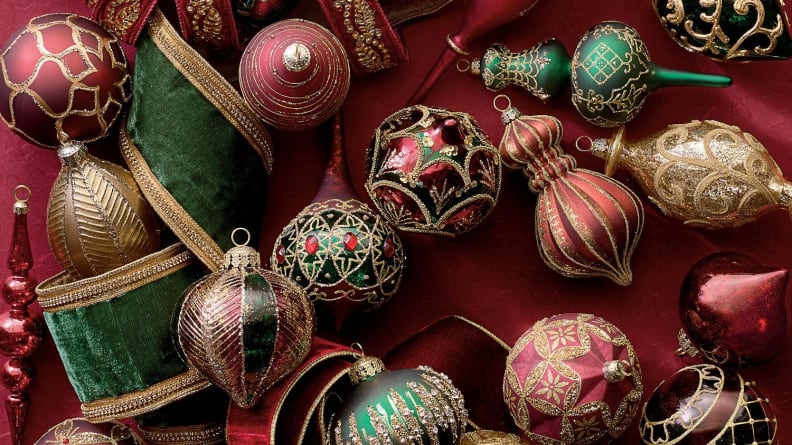 If you've ever wondered how designers and influencers get their Christmas trees to look so cohesive, here's your answer! This luxurious set of 60 ornaments includes a wide range of pieces, including balls, finials, onions, and teardrops, and they're all decorated with the same green, red, and gold colors. The set will give any Christmas tree an old-world elegance, and Frontgate even has a matching tree topper to go with them!
Get the Regal Glee 60-Piece Ornament Collection from Frontgate for $499
8. A cute nutcracker serving plate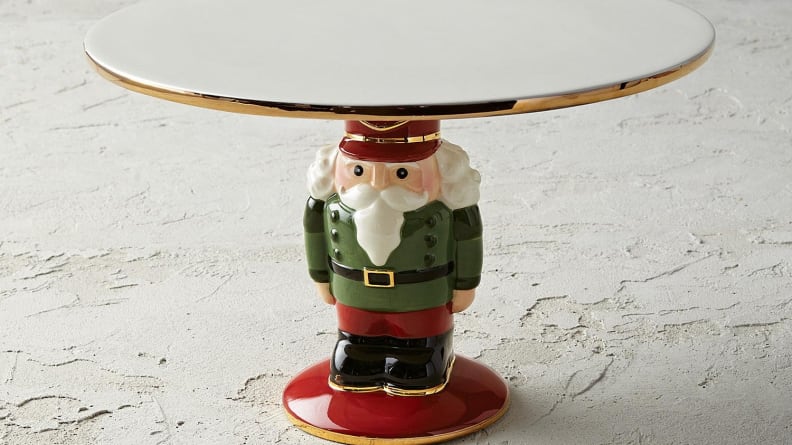 If you're the hostess with the mostest during the holidays, you absolutely need this adorable serving platter. The 10-inch plate is supported by a sweet ceramic nutcracker, and it's the perfect spot to display a holiday dessert or array of appetizers. The platter is hand-painted with beautiful gold trim, and it's sure to become a beloved family heirloom that gets passed down to the next generation.
Get the Ceramic Nutcracker Server from Frontgate for $99
9. One of these festive Santa figurines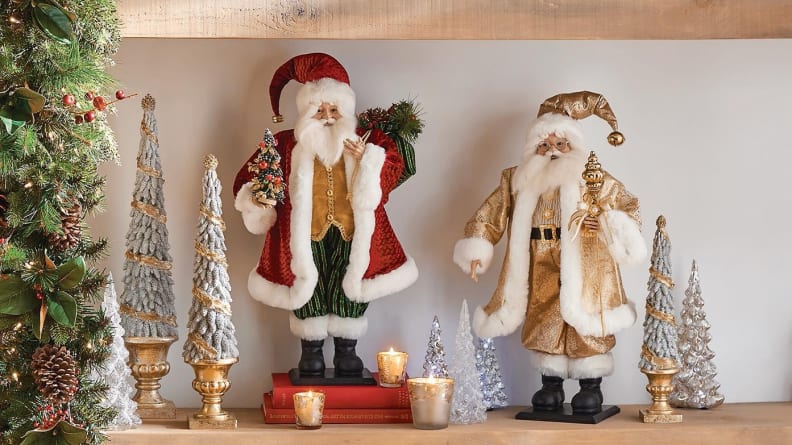 Ol' St. Nick surely deserves a spot on your mantel, and Frontgate offers several versions of this classic Christmas figure to match your decor. For a more classic Santa, opt for Yuletide Wonder Santa, who is wearing traditional red and green and carrying a sweet little Christmas tree. Or, for a more opulent version of Mr. Claus, there's Gilded Radiance Santa, who's decked out in gold from head to toe and wielding a stunning golden staff to make Christmas magic.
10. A stunning gilded deer to grace your yard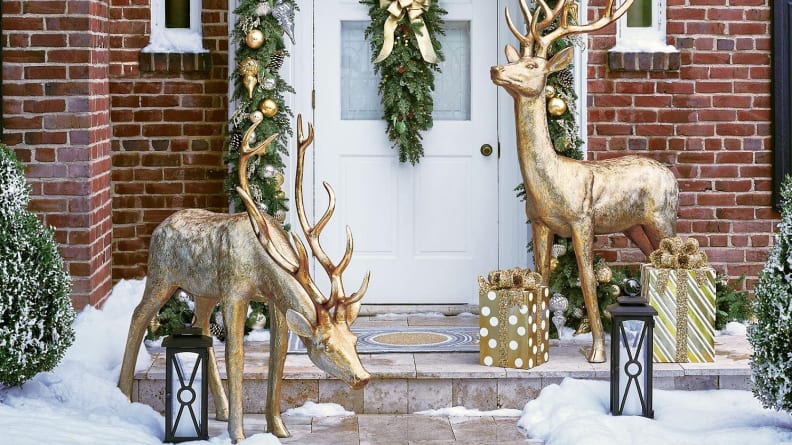 While we're on the topic of gilded decor, we'd be remiss not to mention this gorgeous golden deer. The curious creature stands more than 5 feet tall, and the intricate design has been molded from a hand-carved original sculpture. The animal is made from polyresin and stone powder, making it durable enough to display outside, and it would be the perfect focal point for your lawn display thanks to its eye-catching gold finish.
Get the Regal Reindeer from Frontgate for $1,299
11. A plush velvet tree skirt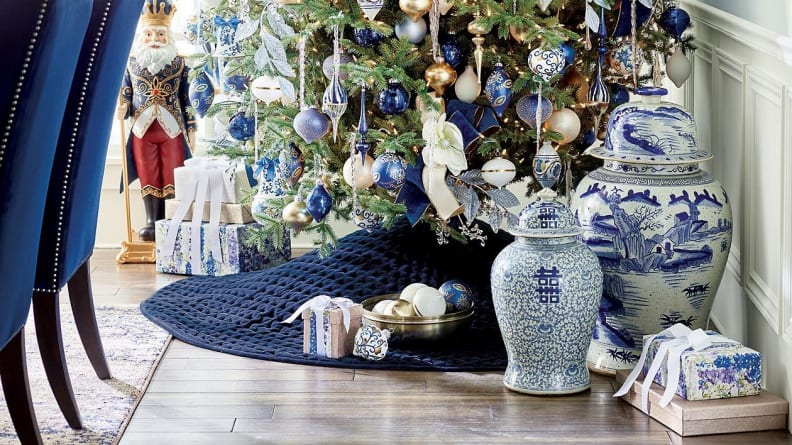 While a sturdy Christmas tree stand is a must-have for decorating, these utilitarian products typically aren't the most attractive—that's where this lush velvet tree skirt comes in. The handmade design has a lovely tufted appearance and comes in four bold colors, and it's ideal for covering up an unsightly tree stand. A set of three ties will keep the tree skirt perfectly in place all season long, and it also serves as a cushion for all the presents you pile underneath the tree.
Get the Rumi Velvet Tree Skirt from Frontgate for $199
12. A set of gorgeous holiday napkins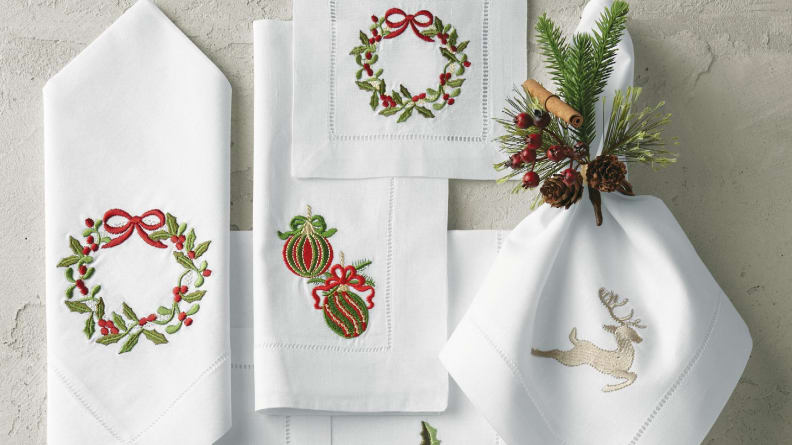 You can make your holiday table a little more festive with a set of charming napkins. They're made from a blend of linen and cotton, and they're available in both cocktail and dinner napkin sizes. There are several quaint embroidered motifs to choose from, including wreaths, ornaments, holly sprigs, and reindeer, and each set includes six napkins with a classic white hemstitch around the edges.
Get the Holiday Napkins, Set of Six from Frontgate for $41.65–$92.65
13. An adorable gingerbread house doormat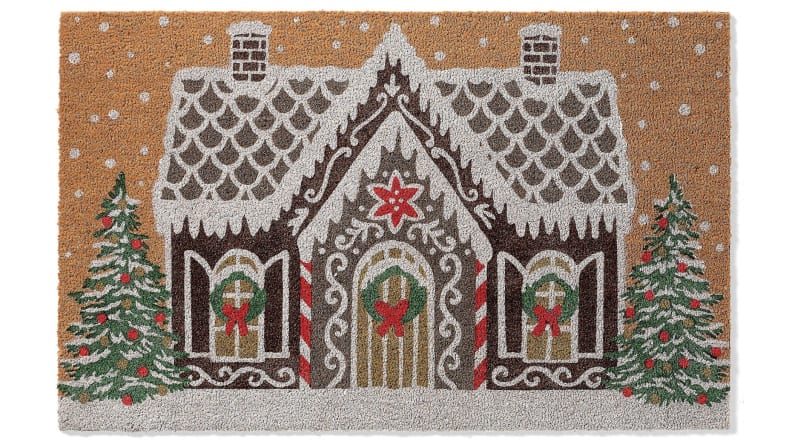 Welcome holiday guests to your home with this festive doormat. Made from durable coir fiber, it features a charming snow-covered gingerbread house, complete with holiday wreaths and trees. The sturdy construction is ideal for wiping dirt and snow off the bottom of your shoes, and its vinyl non-slip backing prevents it from sliding around in your entryway.
Get the Gingerbread Manor Coco Door Mat from Frontgate for $99
14. Ornate garlands to deck your halls
Whether you're decorating a fireplace mantel, stairwell banister, or entryway table, one of the easiest ways to make the space feel full and festive is with a lush garland like this one. The faux strand of greenery is covered with peony blooms, velvet ribbon, holly leaves, and shatterproof ornaments, and it even has 140 warm white LED lights woven in. The garland is designed to be used indoors, and it even has a built-in timer that automatically turns the lights on for eight hours each night.
Get the Yuletide Wonder Indoor Garland from Frontgate for $429
15. Festive velvet stockings for the whole family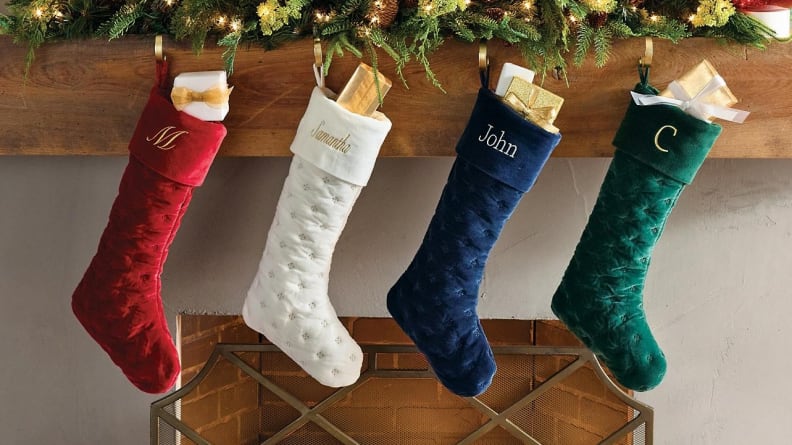 Love the velvety appearance of the Rumi Tree Skirt? Then you're sure to appreciate the matching stockings, too! These beautiful stockings are made from the same plush quilted material, and they come in four rich colors. The best part? You can have the stockings personalized for an additional $6.95 per item, choosing from a variety of metallic threads and elegant fonts—ideal if you're getting a stocking for each person in your family!
Get the Rumi Velvet Stocking from Frontgate for $59
16. A stately nutcracker to greet guests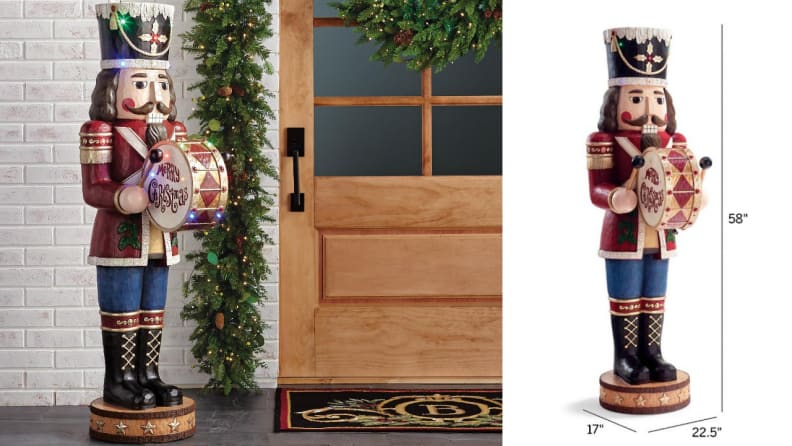 You might not have a real-life butler, but this oversized nutcracker is the next best thing! The stately figure is dressed in a sharp uniform, complete with top hat, and he's carrying a drum that reads "Merry Christmas." The statue stands close to 5 feet tall, and it's even equipped with a variety of multicolored LED lights that will create a festive display on your porch at night.
Get the Merry Christmas LED Nutcracker from Frontgate for $699
17. A personalized bag to fill with presents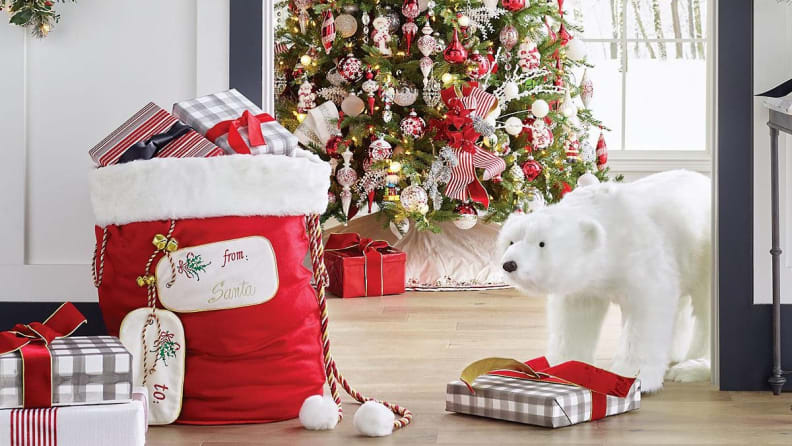 Christmas morning will be that much more magical when children's presents are wrapped in this personalized bag from Santa. It's made from plush red felt with a fuzzy white trim around the edges and a satin drawstring cord, and there's a tag on the side that says "From: Santa." Plus, you can even have the bag personalized with your child's name in red or gold embroidery for an extra-special touch.
Get the Personalized Large Santa Bag from Frontgate for $99
18. A stunning snow globe with always-falling snow
One of the downsides of snow globes is that they only "snow" after you shake them up a bit—not this one, though! This high-end snow globe remedies this common woe thanks to its built-in blower, which circulates the water and snow constantly for a magical appearance. The globe features Santa and his sleigh inside, and it's mounted on an opulent red and gold base with a hand-painted finish.
Get the Santa Scene Snow Globe from Frontgate for $299
19. A sleepy Santa for your front lawn
Santa works hard during the holiday season, so who can really blame him for needing a quick nap? This oversized lawn statue features good ol' St. Nick snoozing on his sack of presents, and it would make a fun and festive addition to your outdoor display this year. The figure made from all-weather resin and finished with nonfading metallic paint, and there are several lights built into the figurine, which are powered by batteries.
Get the LED Sleeping Santa Lawn Statue from Frontgate for $2,199
20. A pair of sweet reindeer for your indoor decor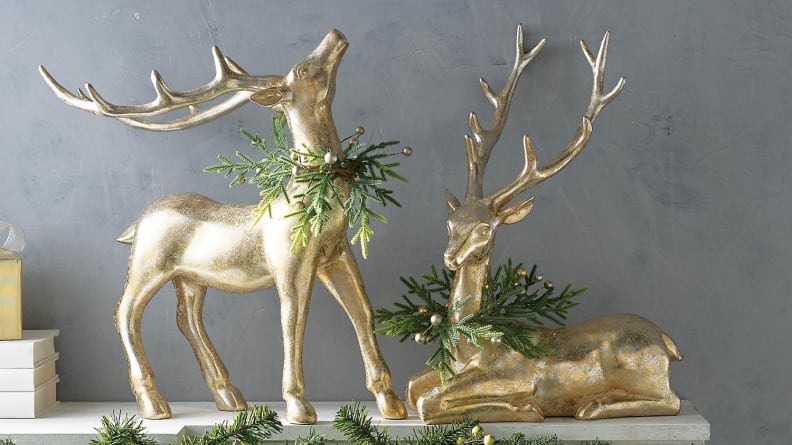 You can add a touch of whimsy to any holiday display with these sweet reindeer. The set comes with one standing and one resting deer, and they both have cute wreaths around their necks. The animals have a hand-painted gold finish that will sparkle in the light of your other decorations, and they'd look perfect on a mantle, shelf, or side table during the holiday season.
Get the Majestic Wreath Deer from Frontgate for $159
The product experts at Reviewed have all your shopping needs covered. Follow Reviewed on Facebook, Twitter, Instagram, TikTok, or Flipboard for the latest deals, product reviews, and more.
Prices were accurate at the time this article was published but may change over time.