One month after Target announced the stars of its forthcoming designer collaboration — Rachel Comey, Sandy Liang, Victor Glemaud, and Nili Lotan — we finally snuck a peek at the collection when the company released its lookbook last Wednesday. Given that this season's lineup follows one that included Christopher John Rogers, Alexis, and RIXO London, we naturally had high expectations. It's a good thing that Target, our go-to for everything from affordable bikinis to body wash, rarely disappoints. 
The four-part designer collection houses over 180 items, from dresses and jackets to bags and hair accessories, most of which cost under $50 and all of which are available in sizes XXS to 4X. Sounds great, right? Right, but only if you have the time (and decision-making capabilities) to sort through that many pieces before Target releases the entire selection on September 25 — especially since the brand's designer collabs notoriously sell out quickly. (Bravo to anyone able to snag a $55 Christopher John Rogers number before they disappeared.) 
That is where Refinery29's fashion and shopping teams come in. Rather than trying to shop Target's fall designer collection blind, find out what eight editors have to say about the impending lineup.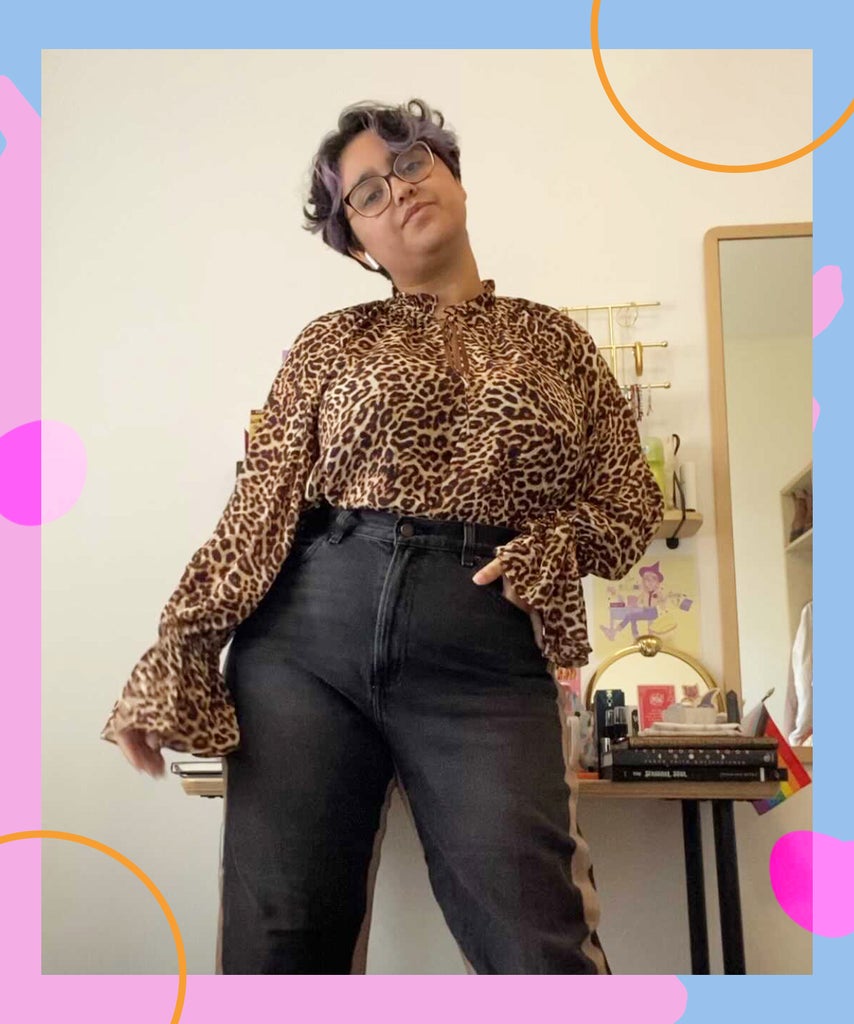 "The first time I saw the complete lookbook, I noticed there was something for everyone," says Frances Solá Santiago, Refinery29 Fashion Writer. "Though past Target collections have featured different designers, they've always seemed to remain within the same vibe. This one, however, really brings each designer's aesthetic in a unique way." 
Solá Santiago says that because of this, she immediately gravitated toward the brands she already knew and loved. Specifically, she chose a black peacoat with gold buttons from Nili Lotan's collection, a staple for the label. "I picked Nili Lotan because menswear-inspired tailoring is the one trend I'm sticking to this fall," she says. "Her Target collection is minimalistic and full of basics that really fit into that style."
As for the quality of the coat itself, Solá Santiago says she was pleasantly surprised to discover that, rather than the lightweight jacket she assumed it would be from the lookbook, one not qualified to handle a New York winter, her Nili Lotan x Target outerwear felt like a true, heavy coat. "That's what I ended up liking about it, because it doesn't look like I'm a badly wrapped burrito (a feeling I try to avoid in winter as much as possible)," she says.
Associate Deals Writer Mercedes Viera also chose to test out a piece from Nili Lotan's line — a billowy leopard-print blouse with voluminous sleeves and a keyhole neck detail — explaining that they immediately noticed the elevated and interesting silhouettes offered in the designer's selection for Target. "I picked this top because of its pirate-esque shape," Viera says. "I was drawn right away to its androgynous look, [as well as the print]." 
While the cheetah-print was a tad less subtle than expected once they saw the garment in person, they say the quality of the fabric made up for it. "It felt so nice against my skin and fit super well," they say. "High-neck or deep-V, it flattered me and fit nicely — flow-y in all the right places. And of course, I loved the sleeves."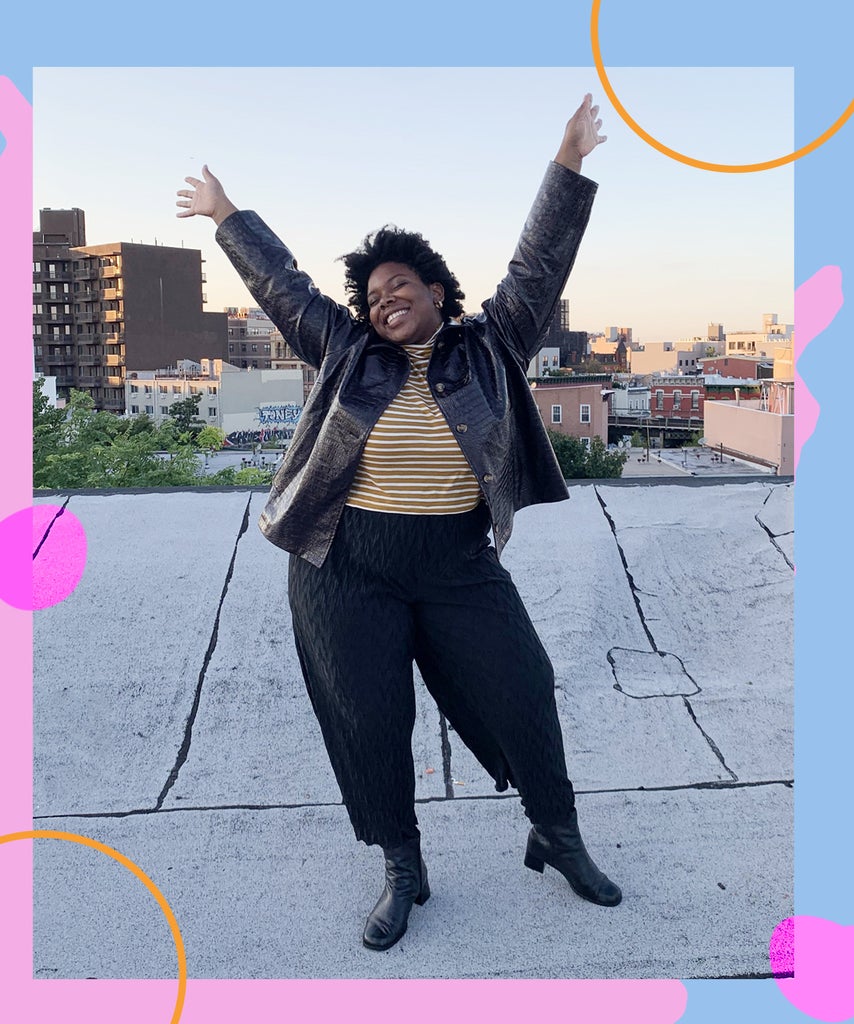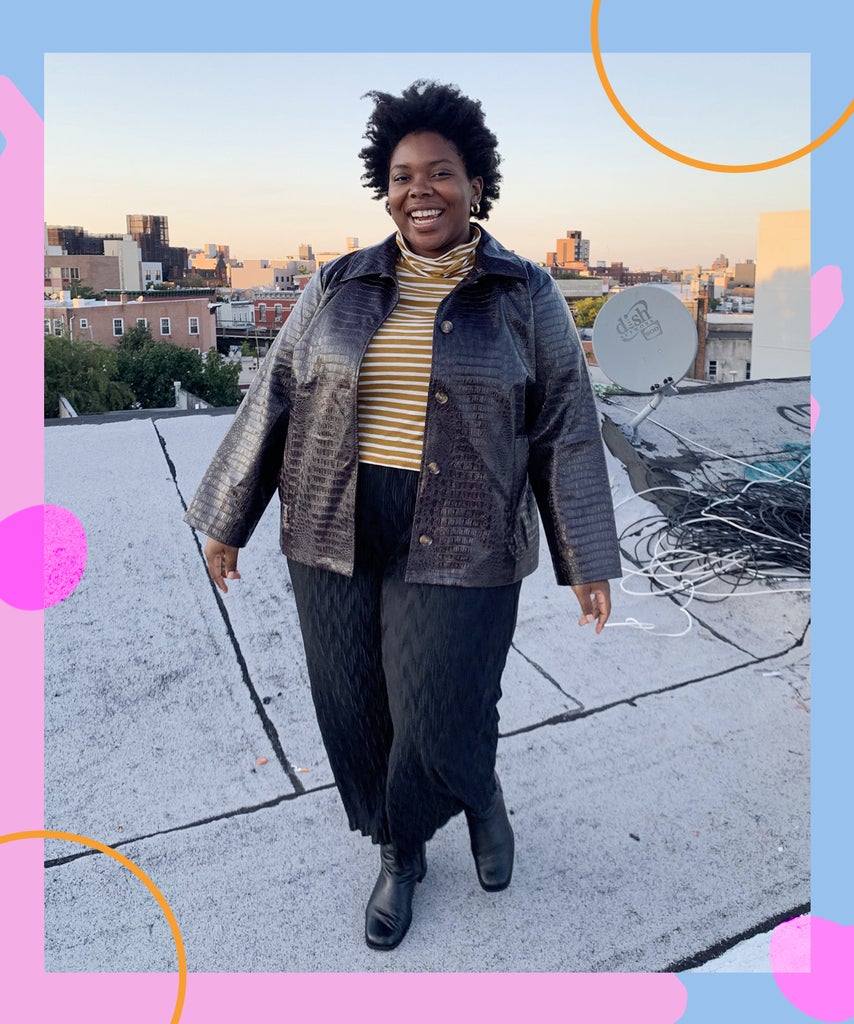 That same high-quality, low-price combo was what drew Chichi Offor, Affiliate Associates Writer, to Rachel Comey's Target creations. "I was definitely impressed with the quality considering the $55 price point," Offor says, having chosen a brown mock-croc jacket from the line. "It has the same essence as Rachel Comey's in-house collections," she says, calling the pieces "fun, yet sophisticated, like a lot of the pieces that [Comey] creates." 
Offor, who wears a size 2X, says she was worried at first about the sizing in the collection: "Sizing is a bit finicky for me a lot of times," she says. "I was genuinely pleased when I slipped the jacket on and it fit absolutely perfectly — it fell on my body at just the right point." According to her, there's just enough room for light layering come the chillier end of fall. 
Following Offor's lead, I, too, chose pieces from Rachel Comey's line to test ahead of the launch. I selected a lighter-weight set — a psychedelic turtleneck top and matching midi skirt — in the hopes that they could be worn together or separately, with the top, especially, being used for layering. Because I live in a true New York shoebox, it's important for me to be able to get the most out of my wardrobe, so versatility is key.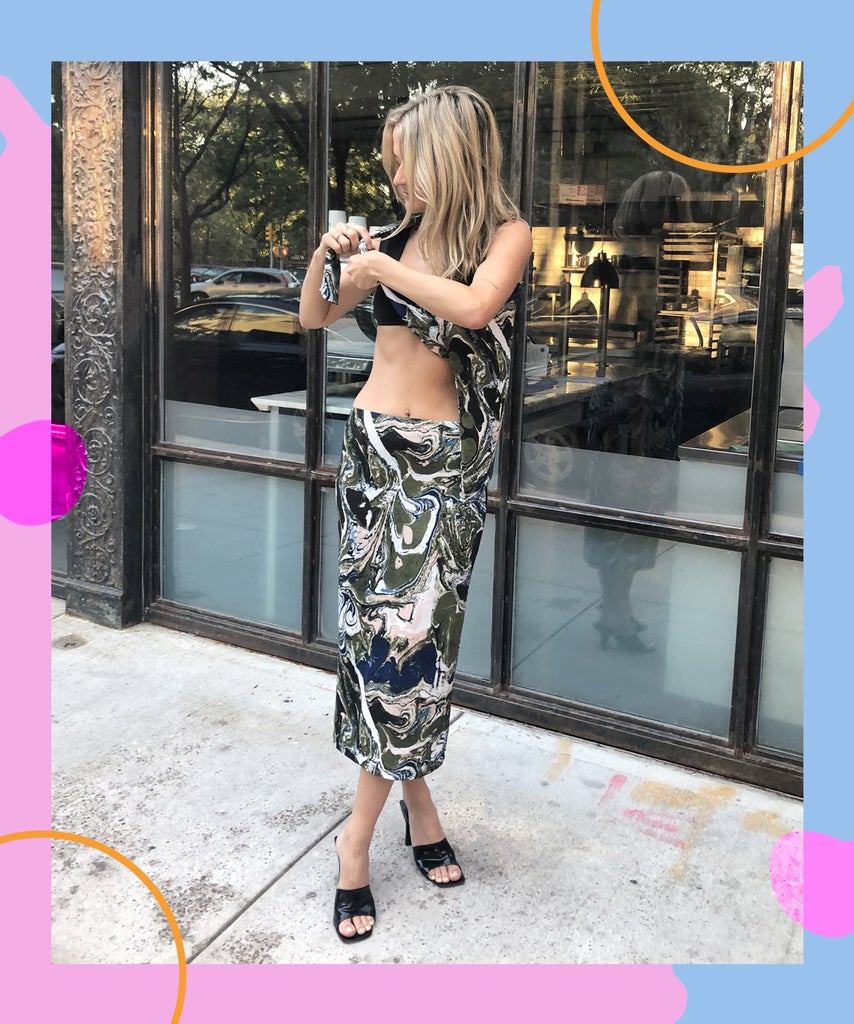 Luckily, my assumptions were spot on, and the items I chose looked great mixed and matched. Initially, I styled them together as a set, wearing the skirt and top with just gold hoops and a pair of light brown, mock-croc heels. Later, I chose a more daring ensemble, coupling the skirt with a black bra top and tying the top around my shoulders, WASP-style. What I loved most was that those were but two of about a dozen different ways I could have styled my pieces using only additions that already exist in my wardrobe.
Irina Grechko, Fashion Director, had a similar thought process when selecting her items from the upcoming Target launch. "I am a huge fan of Victor Glemaud's knitwear, so I knew that, going into fall, his would be the designer pieces that I would get the most use out of," says Grechko, who chose a black-and-white ribbed vest and shorts set from the Queens-born designer and 2017 CFDA/Vogue Fashion Fund finalist. "I already have this Victor Glemaud black-and-white skirt and sweater, so I chose something that I could amalgamate with those looks."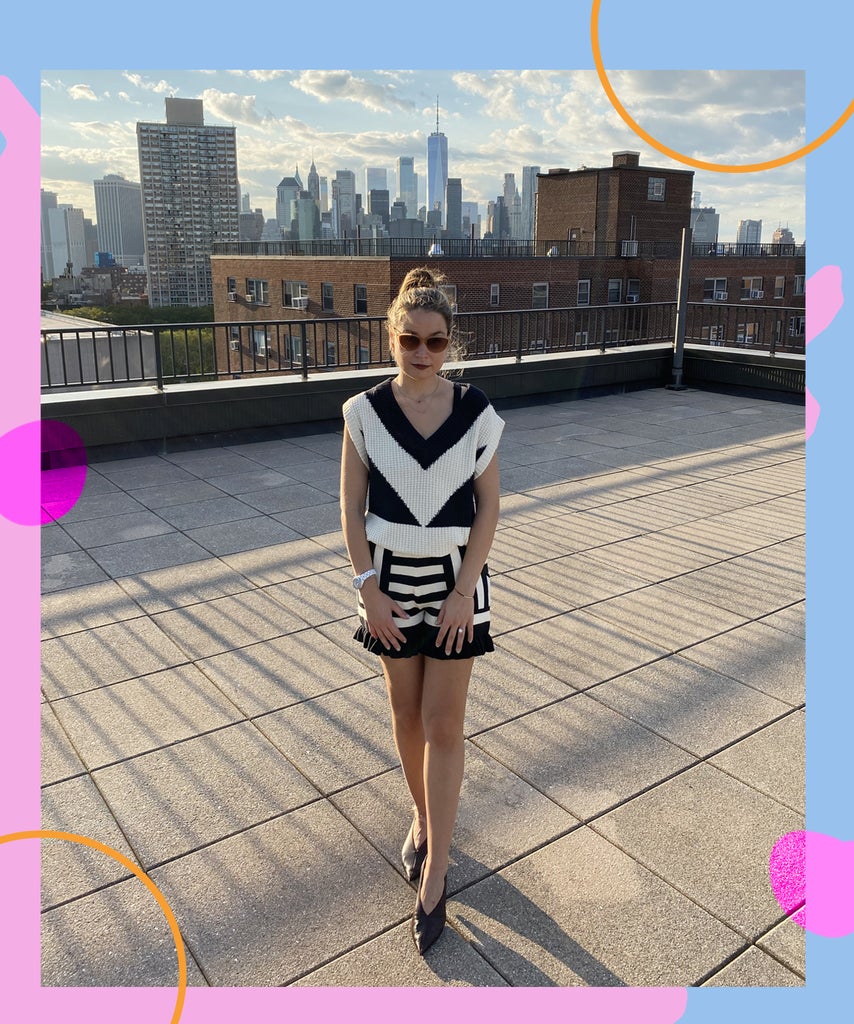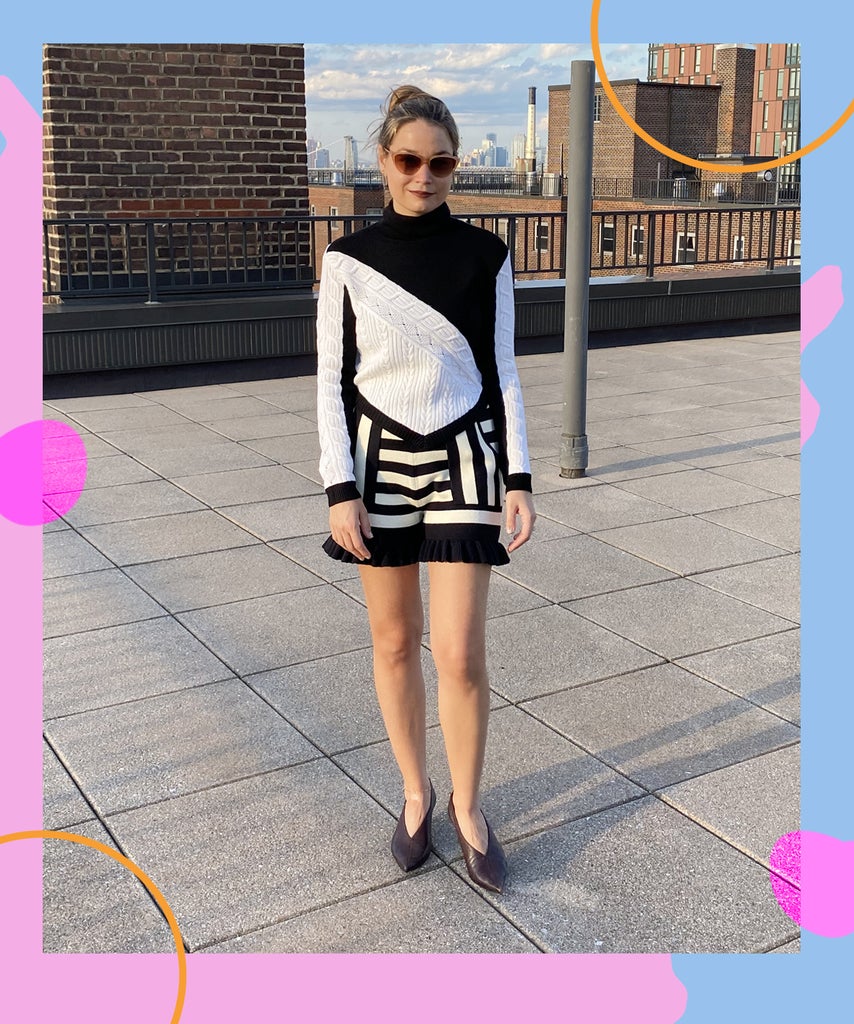 To truly compare the in-house collection with the Target one, Grechko unboxed her Target pieces alongside the Victor Glemaud pieces she already owned. "The colors were a perfect match," she says. "I could easily style the vest with the skirt and the shorts with the sweater." That said, she did notice that the Target pieces felt a lot lighter and thinner than standard Victor Glemaud knits. "The Target pieces have less of a skin-tight, fitted fit that I really like from the in-house collection," she says. Given the significant difference in price, however, a contrast between the two offerings is somewhat expected.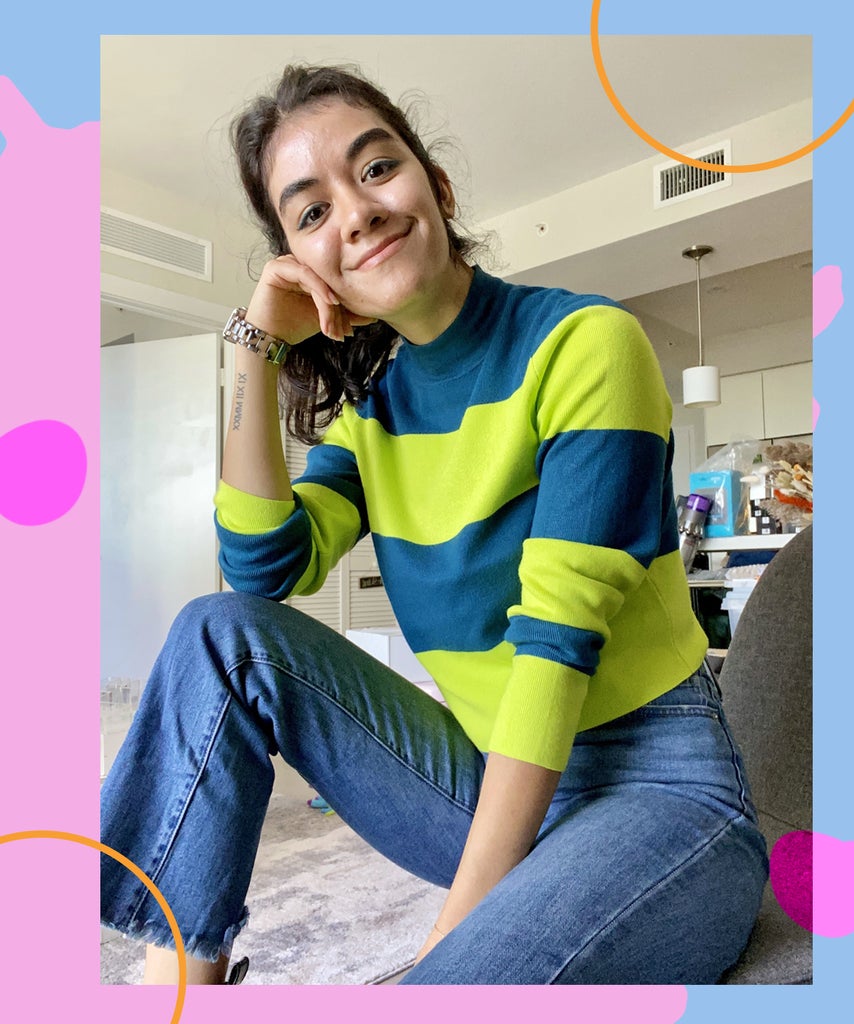 Having never owned the in-house collection before, Karina Hoshikawa, Beauty and Wellness Market Writer, was pleasantly surprised at the soft yet heavy feel of her Victor Glemaud for Target knit sweater, which features a mock neck and lime-green-and-teal stripes. "My first thoughts were pretty much, OMG CUTE?!?!" says Hoshikawa. "I was a little worried that it would be a bit snug from looking at the on-model photos, but I took my true size and was pleased that it had a slightly boxy fit that I love."
Size was also one of the biggest draws for Affiliate Strategist Kate Spencer, in addition to price. Spencer chose to test out a pair of army pants from Sandy Liang because, despite the fact that it is one of her favorite brands, its main line was always out of her price range. "I've always admired Sandy Liang and appreciated her quirky and fun, yet super wearable pieces, so I was really excited to see her collection at Target," Spencer says. "These cargos were a no-brainer pick for me: Oversized and baggy pants are kind of my thing." 
Because of her petite frame, Spencer, a size XS, was nervous about the way her pants would fit. "Pant sizing is tricky for me, as I'm naturally pretty slim and really short, aka some tailoring is pretty much always necessary," she says. "But I have to say, these worked great for me: technically, I think they're supposed to be high-waisted, but they ride pretty low on my hips, which I'm not mad about." Low-rise pants are in, after all. "I can easily roll the cuff up if I want a cropped look or roll them down if I want them to be full length," she adds.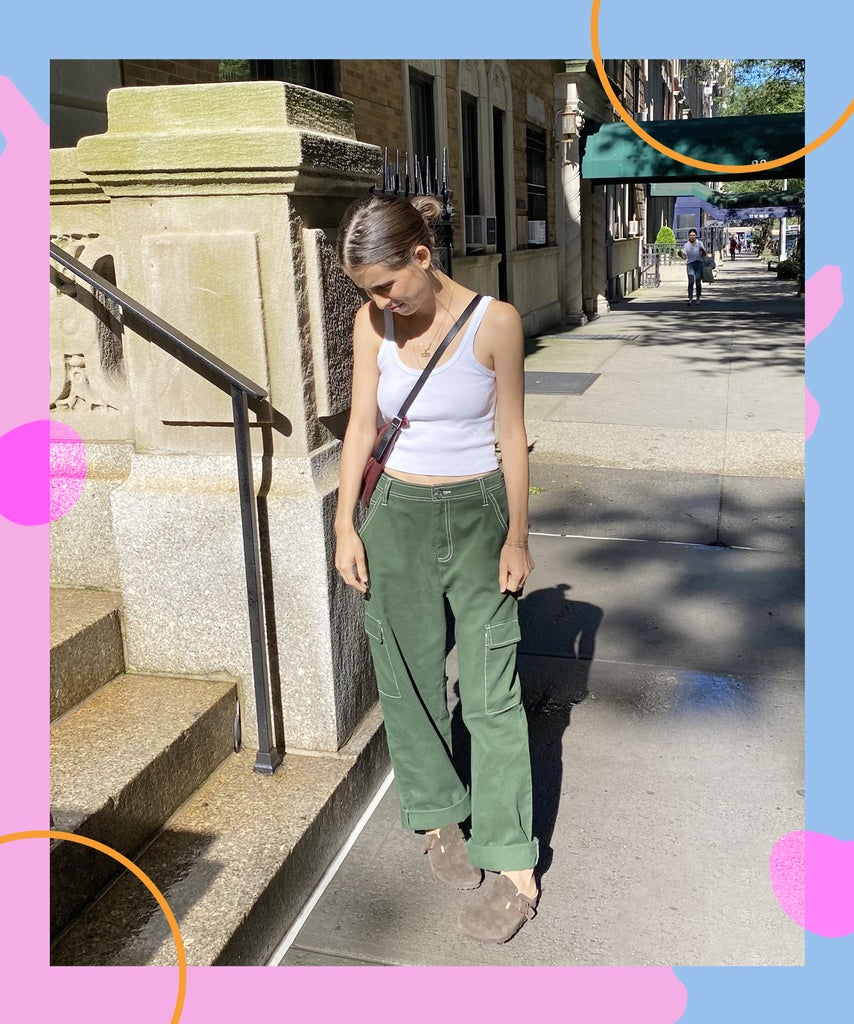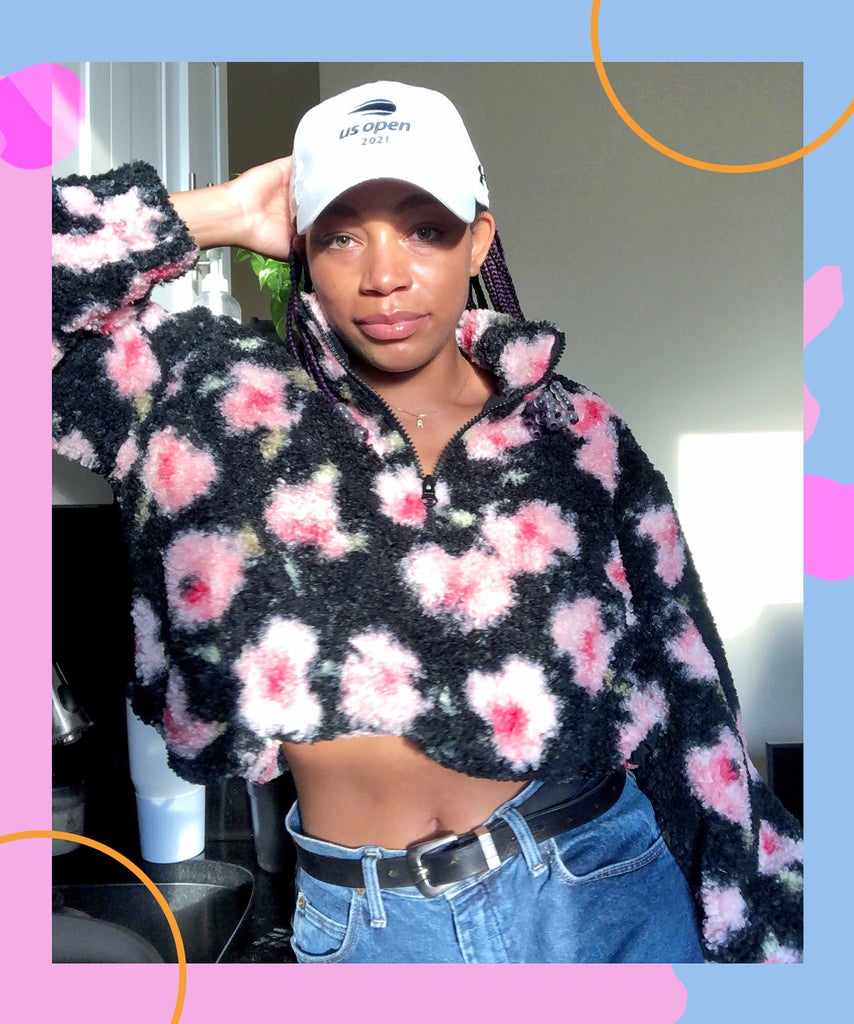 Alexandra Polk, Associate Lifestyle Writer, was likewise impressed with the similarity between her Sandy Liang for Target pick, a black-and-pink floral quarter-zip fleece, and the jackets currently for sale on the brand's website. "It's almost like the Ermie Coat ($2,900) and the Checker Fleece ($525) had an affordable love child," Polk says. But it isn't just pleasing to the eye. "The jacket is soft, durable, and bright," she says, "though, while it would definitely suffice on a chilly day, it would mandate layering once temps hit below 50 degrees." 
The best part about Target's forthcoming drop? The above make up only a fraction of the full assortment — ten pieces from a selection of over 180 — which means that if none of them speak to your individual aesthetic, there's still likely to be something in the collection that does. 
"Each designer has such a variety of styles that will easily transition from summer to fall and winter," says Spencer. Utility jumpsuits, bodycon dresses, classic trench coats, cottagecore frocks — there really is an affordable option for everyone in this season's offering. Find them all in the recently released lookbook and start planning which pieces you want to add to your wardrobe come September 25.
Like what you see? How about some more R29 goodness, right here?
Every Look From Target's Fall Designer Collection
Target's Fall Designer Collection Lineup Is Here