Years of body negativity brought on by the latest fad diet or fitness craze have made my relationship with exercise a rocky one. Growing up, I was surrounded by "Beach Body" boot camps and personal training programs that signified largeness as something to be lost. But, years later in adulthood, I found positivity in hiking and a sense of calm in yoga flows. I discovered that breaking a sweat could be an enjoyable escape instead of about how many calories I might burn. Since I spent so much time feeling like physical activity was a punishment, I didn't jump to spend my money on new fitness clothes — plus, options for plus-size retailers who do it right were already limited which made finding quality brands with inclusive activewear tricky. But, as the industry began to acknowledge bigger bodies, well-made and fashionable options started to emerge in the plus-size activewear space. And, I was lucky enough to receive a handful of such styles from the most popular brands to try on myself for size, fit, and feel.

Although my relationship with exercise today is not completely healed, it's become one with a very real glimmer of hope as I learn to be thankful for my body and appreciative of all it does for me. So, without further ado, scroll through to learn about my favorite activewear offerings for fat folk with stand-out product reviews the brands I tried on IRL and loved — I'll continue to add more styles worth sharing with you as I discover them. Let's say goodbye to the duds we once wore in darker times and hello to more size-equitable styles of sports bras that won't dig, trendy printed sets, and unique silhouettes meant to highlight our bodies instead of hiding them.
Old Navy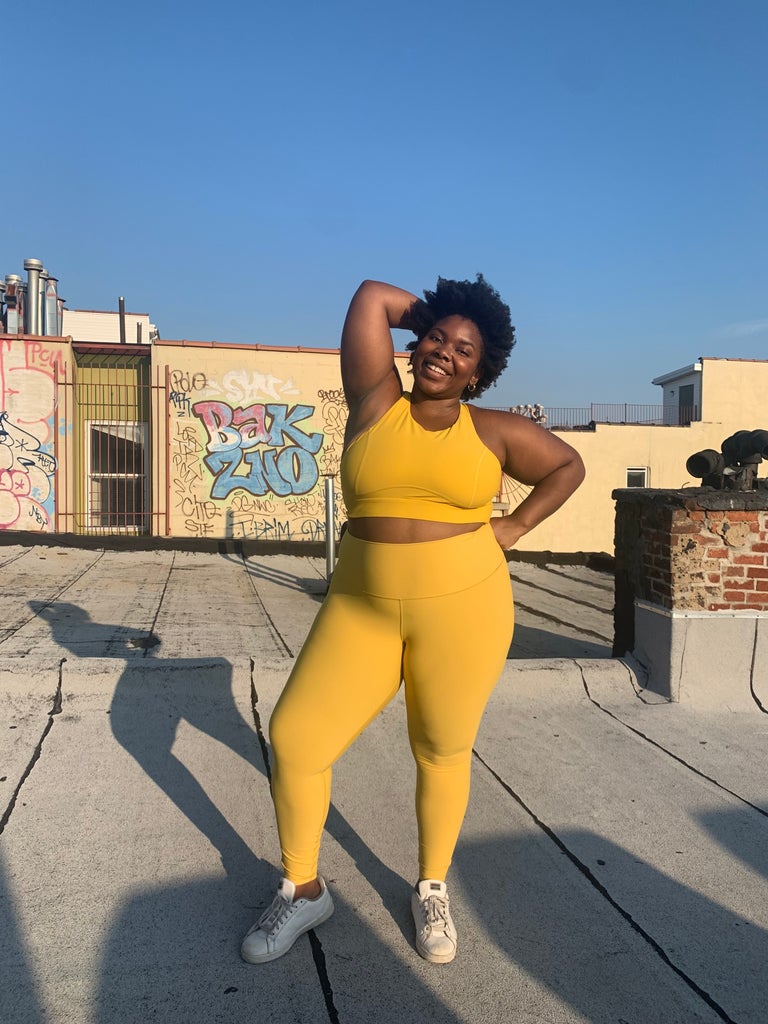 Size Range XS-4X
I was kindly gifted some pieces from Old Navy's active line. R29 readers to really be a fan of their offerings, so I had to see what all the hype was about. I received a medium support sports bra and a pair of light compression leggings from their fan-favorite PowerSoft line of activewear. It's marketed as "peachy-soft" and very comfortable. I definitely agree with this description: It's smooth and very easy to move in and didn't feel cheap or scratchy despite being the most budget-friendly option I've reviewed for this piece. If you want something ultra-compressive, however, the leggings might not be for you because they are pretty light. However, I don't see that as an issue as it added to the non-restrictive feeling when wearing it. For the bra, I took out the removable cups because my boobs are on the bigger side. Also, I'm around 5'9″ and the leggings were full-length on me.

I did a series of exercises while wearing this active set including jogging, deep squats, high knees, and stretching. The medium support bra surprisingly held my boobs down pretty well, so I definitely felt supported with slightly higher intensity movement activities. Although the fabric was slightly thinner than the fabric Athleta (Old Navy's sister brand) uses, the four-way stretch in the fabric works very well as all these movements happened so seamlessly. While doing these exercises, there was some adjusting of the leggings, but it was pretty minimal. For the price and quality, Old Navy active makes a product that's genuinely hard to beat. I do really love Athleta, but if you are looking for a solid budget option this is it.

Shop Old Navy

Girlfriend Collective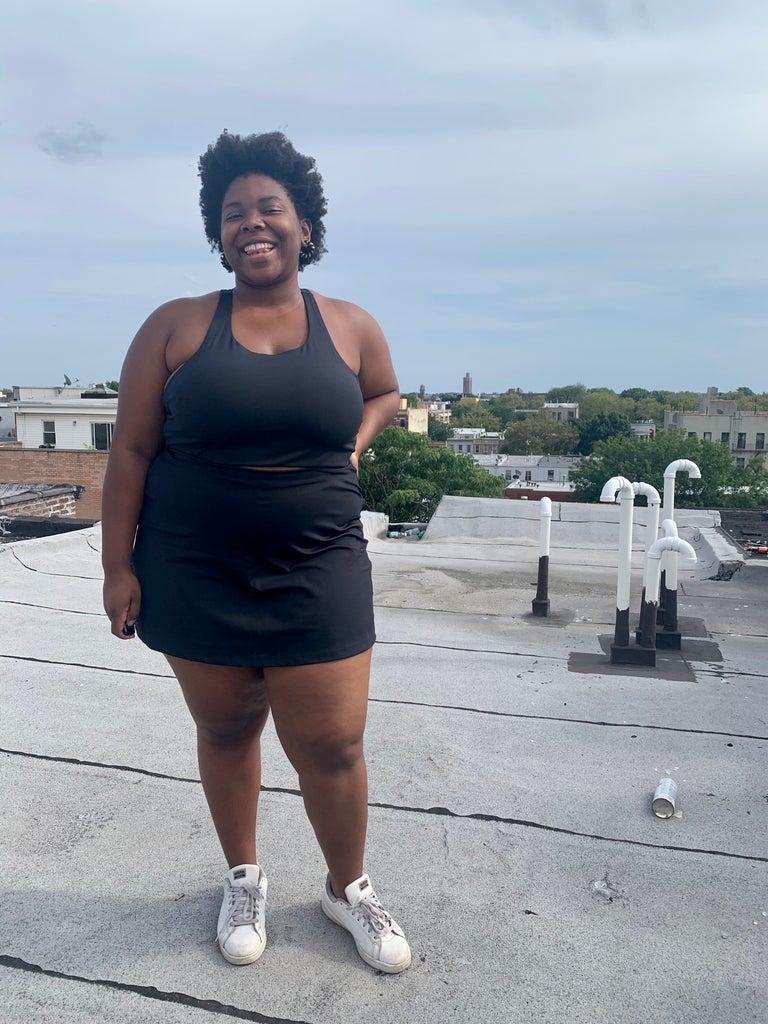 Size Range: XXS-7XL 
Girlfriend Collective has totally revolutionized the activewear space with its eco-friendly, size-inclusive apparel. I tried a few items from Girlfriend and fell in love with this black Skort and Paloma bra set, both in a 4XL. I'm usually a 2X in most of my other activewear, so this tells me that GF collective runs pretty small. I'm not sure how the sizing is on straight-sized consumers, but plus consumers should really look at the clothing chart and follow that. For the best fit, GC recommends measuring yourself and doesn't offer a conversion chart for pants sizes, so a little bit of work is involved if you're unsure what size to go with. But it's pretty accurate! Upon opening the recyclable packaging, the material felt a little on the stiffer side but was still really easy to slip right on. You wouldn't know that it's made from upcycled plastic bottles.

I loved the fit and look of the skort! It's genuinely so cute and falls on my body really nicely. I'd even wear it as a mini skirt for a night of dancing. It held up during activities such as squats, high knees, and running in place. The shorts on the inside had to be adjusted slightly in between some of those activities; I'd also go ahead and use Megababe to prevent any further chafing from the thigh area. As for the Paloma bra, I think I could have sized down for more compression. It was a little loose around the bottom band (I'm a 42DDD in regular bras).  I'd avoid any workouts above low-moderate impact with this bra.

Shop Girlfriend Collective
Athleta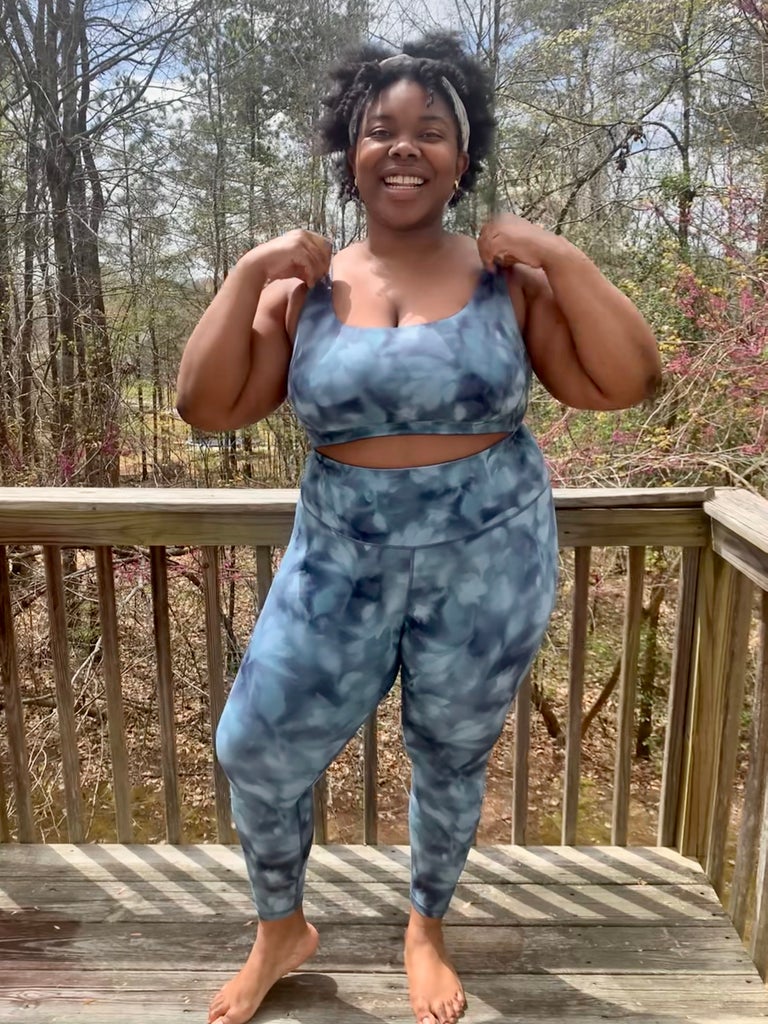 Size Range: XXS-3X or 00-26
As a certified B-Corp, Athleta prioritizes people just as much as business. It definitely shows in each garment with the obvious care they took to create the perfect fit. I tried on was the Elation Bra and the Elation 7/8 Tight. The fabric felt sturdy and thick while also being incredibly smooth and soft to touch and on the body. The ultra-high rise on the Elation Tight is probably the highest I've ever experienced, and the set is compressive without feeling restrictive. There's a pretty deep waistband pocket in the back that you can slide your keys and wallet into as well. The Elation bra curved perfectly around my back rolls and gave me the perfect lift. The thoughtfulness of the design really shines through.

The leggings passed the squat test with flying colors with a waistband that doesn't dig. Although the elation bra and tight is recommended for lower impact workouts like yoga and Pilates, they held up when I did some high knees and light jogging in place. This was definitely my favorite set among all the ones I've reviewed, and the print on this is epic! Although, they do have this same set in a solid colors as well.

Shop Athleta
Universal Standard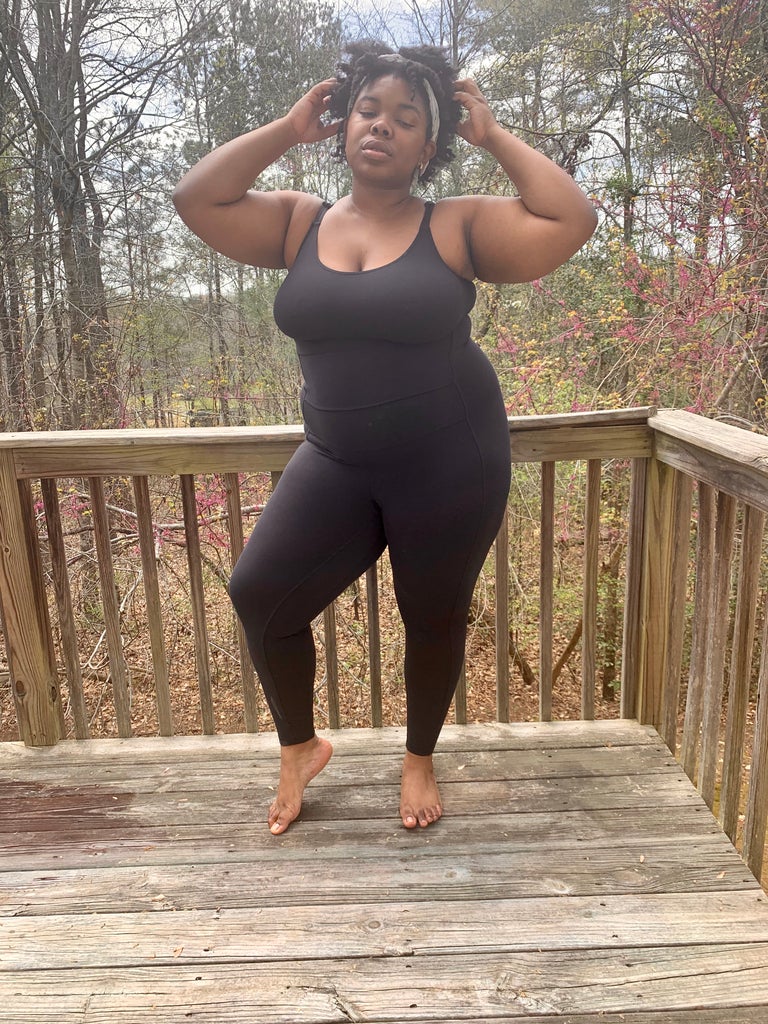 Size Range: 00-40
Universal Standard is known for their wide range of sizes and perfecting everyday classic staples, but they are quickly making a name for themselves in Activewear. I tried the Next-to-Naked bodysuit in black, and just like the name, it feels akin to a second skin. It has a sort of barely-there feel with little to no compression. It's buttery soft and honestly can be used for really any workout you'd like. However, if you are doing something more intensive I recommend wearing a sports bra as there is no hold or lift with this bodysuit. If you are someone that prefers wearing no clothes, I'd have to say this is the next best thing!

Besides my Storm costume from a few Halloweens back, I've never owned a bodysuit. This piece is definitely something I'd work out in, but I can also imagine myself wearing this with an oversized shacket and platform converse for a cute casual outfit.

Shop Universal Standard
Beyond Yoga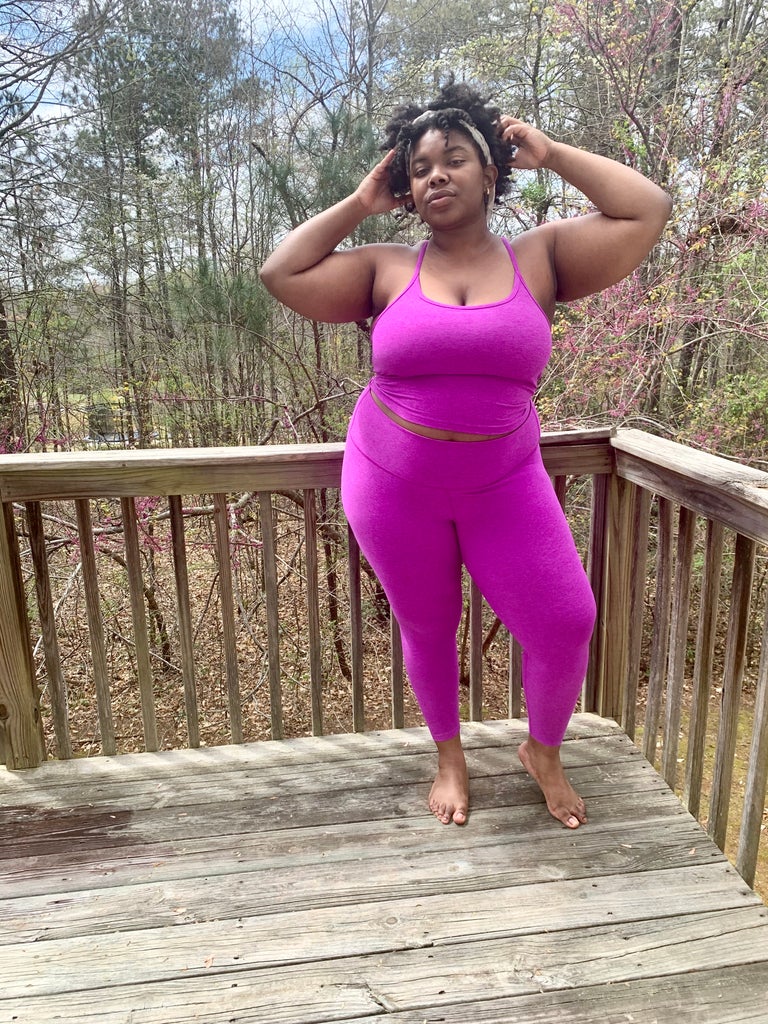 Size Range: XXS-4X or 00-28
Beyond Yoga is definitely a force with their custom Space Dye Performance fabric known to be incredibly smooth with a unique texture. I tried on the Spacedye Slim Racerback Cropped Tank and the Space Dye Caught In The Midi High Waisted Legging in Purple Pop. First off, I was immediately drawn to the fun bright color! If you can get your hand on this seasonal favorite, I highly recommend it. You'll be the center of attention in the best way!

This set would be good for low-intensity exercises as the top does not hold down your boobs enough to wear it on a run if you are busty. However, it is incredibly comfortable. While doing squats, high knees, and running in place, I did have to adjust the leggings every now and then. Although it wasn't that bad, it's something to keep in mind.

Shop Beyond Yoga
Fabletics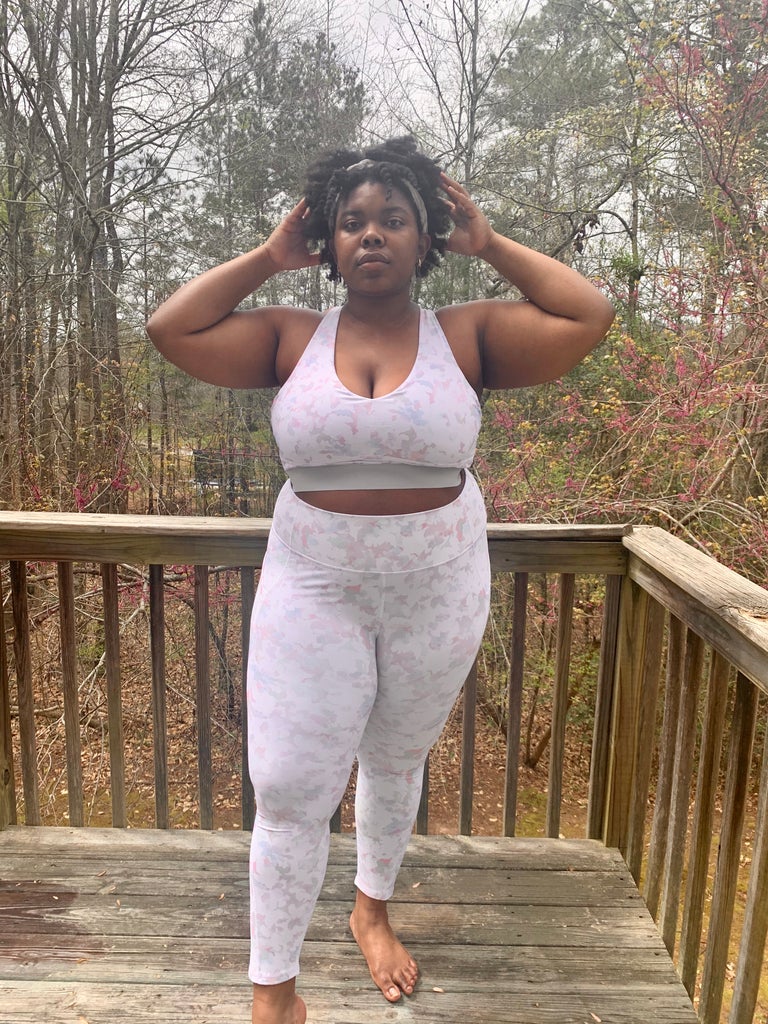 Size Range: XXS-4X or 00-24
Fabletics is known for their trendy workout clothes and celeb partnerships. I was excited to get my hands on some of these goods because I've seen lots of Fabletics love on Instagram. I tried the All day Everyday Bra and Oasis High Waisted Pocket Legging in a 3X. I love how these leggings have cool side pockets that can definitely fit your phone or keys. The strappiness of the bra was very cute. However, the bra itself was not as compressive as I'd like. I'd probably have to size down to get the fit I'd want to do slightly more intensive activities. There was a little adjusting of the leggings while I did squats, high knees, and running in place.

I'd double-check on sizing for Fabletics and even read reviews because the sizing could be a little off compared to what the overall size chart says depending on the garment. Overall the pieces were standard for activewear, but the cool pattern and design were what stood out the most.

Shop Fabletics
Super Fit Hero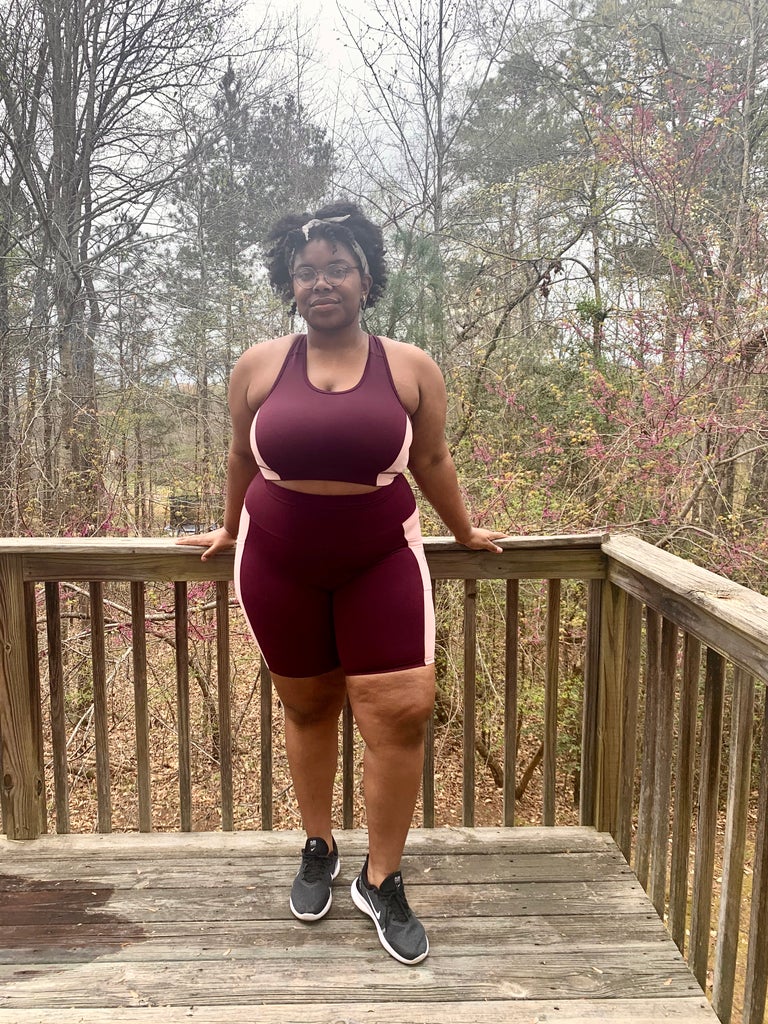 Size Range: L-7XL or 12-42
SuperFit Hero has revolutionized the activewear space in more than one way. Not only do they exclusively cater to a size large and up, but the brand's use of Plus Models on the larger end of the plus-size of the spectrum also shows how seriously SuperFit Hero takes representation.

I tried on the Superhold pocket bike short and Superhold bra in their Air Fit Size (2X or 18-20). The Superhold fabric is very compressive in all the right way. There is zero gaping and the bike shorts hold up during squats, stretches, high knees, and jogging. I love this color blocking in the set that I reviewed, but Superhold goods are also available in solid colors as well.

Shop Super Fit Hero
Lululemon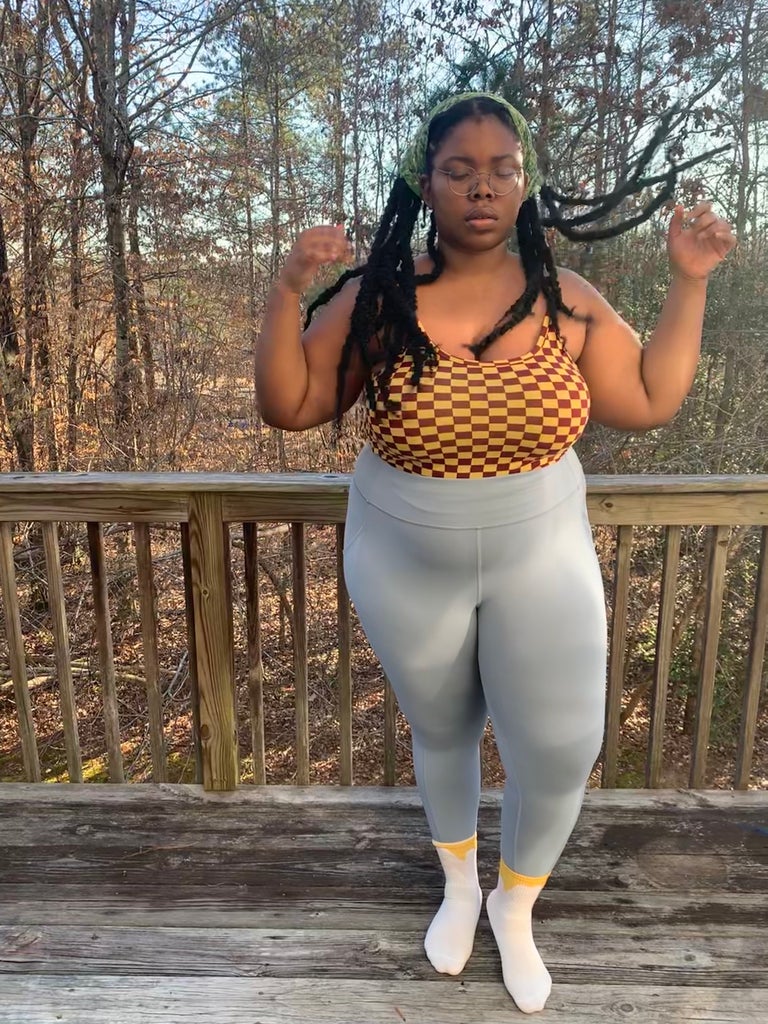 Size Range: 0-20
Lululemon was quite late to the extended-sized workout-wear party. Although its sizing is limited, the brand does make a solid pair of leggings. It's worth noting that the top pictured in my snapshot above is not from Lululemon, as I did not fit into any of the bras that were sent over. All of this goes to say that further extending on sizes is needed to cater to more bodies on the brand's part!

Although the Align Pant was my favorite in my
initial review of their extended sizing. I'd have to say the Invigorate High-Rise Tights are my favorite pair of leggings from Lululemon now. I've owned these for a couple of months now, and I've worked out in them AND also wear them to run errands. These are more compressive than the Aligns and hold their original shape more, too. There is still adjusting needed to the waistband after squats, high knees, and running in place — but all in all, I cannot lie, they're a solid pair of plus-size leggings.

Shop Lululemon
We often run into products that not only have to be seen to be believed but also put to the test. Tried & True is where we suss out these trending goods & services by taking them for an IRL spin to discover if they're up to snuff.

At Refinery29, we're here to help you navigate this overwhelming world of stuff. All of our market picks are independently selected and curated by the editorial team. If you buy something we link to on our site, Refinery29 may earn commission.
Like what you see? How about some more R29 goodness, right here?
Supportive Plus-Size Sports Bras That Won't Chafe