What to keep in mind when planning a summer vacation in Paris
So you've decided to book a trip to Paris this summer. That's great – and you are in for a treat! With an abundance of incredible museums, famous cultural landmarks, great shopping opportunities, and some of the best food in the world, Paris is a bucket-list-worthy destination any time of year, and every adventurer should travel to it at least once in their lifetime.
As you may have heard, Parisians are a 'special breed.' French women and men alike are incredibly stylish, carefree, and chic without trying too hard, and they can be pretty difficult to impress. But with a bit of preparation, there is nothing you should worry about. With my help, discover tips and tricks on what to pack for a summer week in Paris.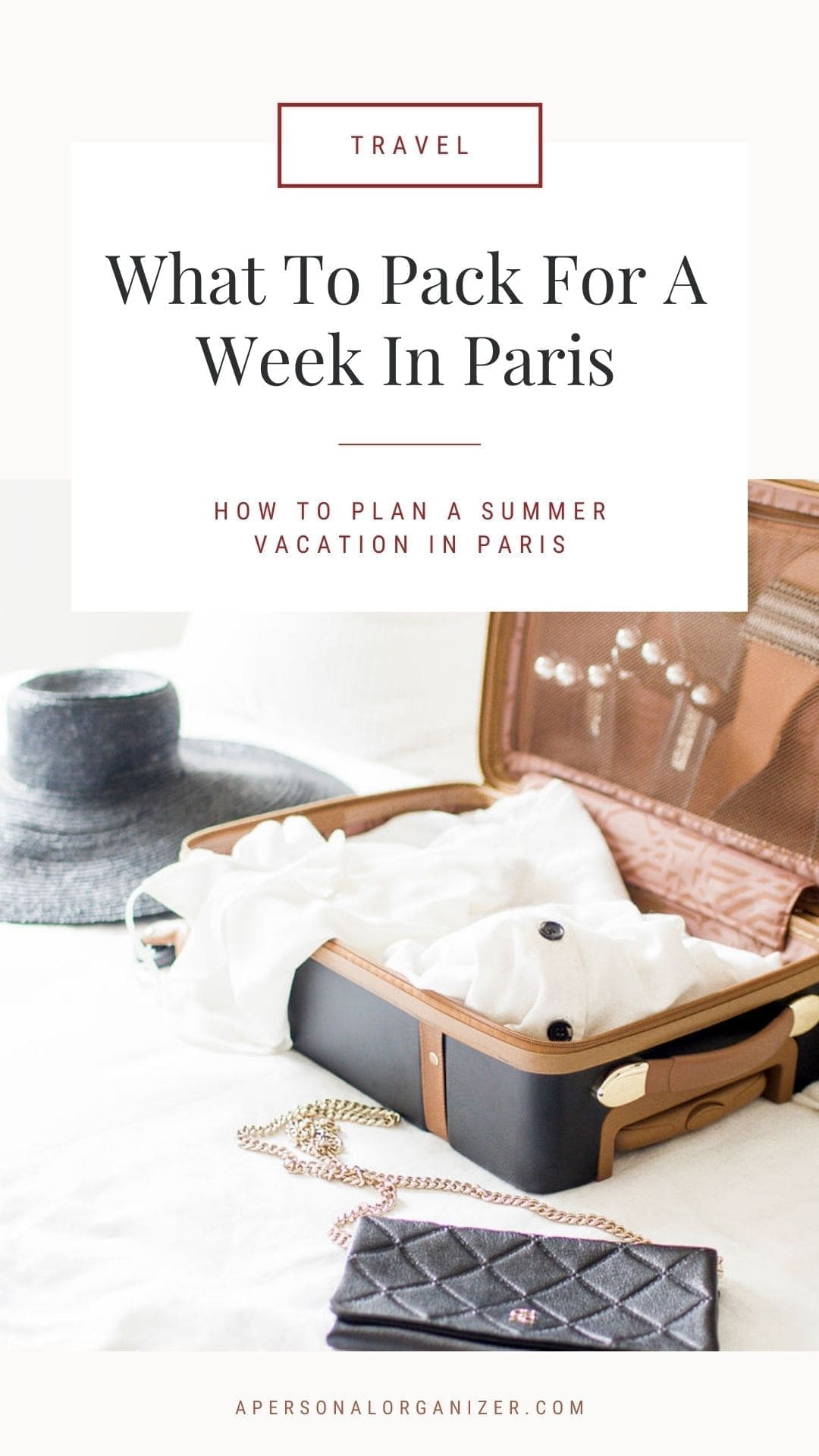 Preparing Before Your Paris Trip
The last few days before vacation can be stressful, and there is so much to take care of! Here are some essential things you shouldn't forget before switching to holiday mode.
1. Inspect Your House
Even if you're leaving your home for just a week, it is still important to prepare for your absence.
First, make sure to water any plants you own. It is a great idea to get a house sitter or neighbor to come every day to check on them. If that's an option – leave them clear instructions. 
Walk around the house, and check that windows, doors, gates, and exterior structures like a garden shed are locked. Install timers on the most used lights and set them to reflect your usual hours.
Unplug everything you can, such as computers, TV, etc., and consider closing the main water register to avoid floods while away.
Set a note to remove the trash and recycle, clear your fridge, and discard all leftovers before you leave for the airport. Remember to take care of your pantry too. You'd be surprised to know how awful rotten potatoes can smell!
2. Take Care of Your Pets
Unless you're planning on bringing your furry friends with you, you should find a suitable pet sitter. Leave clear instructions, emergency information, and your house rules for the sitter.
Go through your house and check whether anything dangerous isn't left behind. Leave plenty of food and fresh water.
3. Contact Your Alarm And Your Bank – Credit Card Company
Before heading to Paris, call your alarm-security system company and give them the dates you'll be on vacation.
The same goes for your credit card company. Let them know you will be using your card in another country. Otherwise, they may think it has been stolen or gotten into the hands of frauds, and you'll find yourself in the beautiful city without access to money.
4. Travel Insurance
If there's one thing I learned not to leave home without is travel insurance. Even more so in the time we live with a pandemic and other events.
And since I am at it, include a first aid kit in your hand luggage too.
planning a summer vacation in Paris
Taking care of the practicalities at home isn't the only thing you should do before heading on your trip to Paris.
We want this to be a fabulous vacation without nasty surprises or unpleasant situations. So, you must plan your trip, and this is what you should think about:
The Weather
Summers in Paris can be hot. We're seeing heat waves across Europe, and it isn't uncommon to have 38-40°C days, turning what could be lovely summer weather into blazing hot days.
It's not uncommon for restaurants and apartments (if you're heading to an AirBnB) to not have air conditioning. Therefore, you should plan your outfits for these warmer days and bring breathable and lightweight clothes. 
Check the weather forecast and plan your days in Paris accordingly. You can also expect rainstorms in the summertime, so having an umbrella or a rainjacket with you is a 'must' too.
Buy tickets in advance
Did you know that Paris has been awarded the title of the most visited city in the world for numerous years? It is true – the French capital is full of tourists. If you wish to stay away from crowds, careful planning is essential. 
Unless you want to stand in long queues, purchasing tickets online for famous attractions before you leave your home is a good idea. This can be done for almost any must-see site in Paris like the Louvre, the Eiffel Tower, Musee d'Orsay, and more. Quite often, this is how you can also get a better price.
Avoid the extra cost of buying your tickets on the day of your visit and skip the lines with the Paris Museum Pass.
Use Google to find out the best time to visit each attraction. It will show a little graph of the busiest times of the day, and you can avoid the crowds.
Level of formality – In Rome Like a Roman
It is no secret people in the US are much more laidback than Europeans. Among other European countries, French people are often considered the most formal. Politeness is an essential value in the Land of Eiffel.
For example, in the US, we are left alone by salespeople; when you enter a shop or any other public place, you should always greet someone with a 'Bonjour.' Otherwise, you will be perceived as rude.
Short shorts and tennis shoes might not cut in those excellent restaurants you want to try, so it's a good choice to consider the Parisian dress code before packing your flip flops. Your little black dress and a nice pair of shoes might come in handy for your evening outings.
What Shoes To Pack For A Paris Trip
If there is one thing any Parisian will tell you is that driving a car in the city is a nightmare. The traffic is terrible, and parking is difficult, so most locals favor the metro or their legs.
You should prepare for a lot of walking, and the best way to enjoy your long travel days is to pack comfortable shoes.
Keep in mind that many streets of Paris have cobblestone, so although you may look fabulous in high heels, they will make you feel miserable on your visit to this gorgeous city.
Make sure you pack comfortable walking shoes to have a good time walking around Paris.
SHOES YOU CAN COUNT ON IN PARIS

Plan Your Paris Outfits Wisely
Fashion is a key element of culture and tradition in the French capital. If there is one place where you should let your inner fashionista shine, it is here. But, with air traveling as stressful and chaotic as it is now, packing a single carry-on will keep you agile and adjust quickly to changes.
Another thing to consider is your time in the city. Navigating through the city's cobblestone streets will be challenging with a giant suitcase, so I strongly recommend traveling with a carryon bag and a travel backpack.
When packing for Paris, take classic items that can be styled in multiple ways and make you feel comfortable, confident, and elegant. 
Your life will be much easier if you stick to a particular color palette. For example, by sticking to neutral colors like black, white, beige, and navy, you'll be able to mix and match without taking too many items. You can throw a pop of your favorite color on a pair of comfortable sandals or accessories.
Most importantly, have fun getting dressed!
Paris Travel Essentials – Travel Accessories
Reusable Water Bottle – bottled water is expensive, and tap water is clean. Carrying your water bottles and refilling them throughout the day will save you lots of money. Pick one in a small size to minimize the weight.
Travel Adapter – France has different voltage and electrical outlets than the US, so it's essential to use the correct adapter to protect your electronics.
Fanny Packs – Crossbody Bag – make sure your Paris days go without headaches. Avoid taking large bags because you will have to empty them each time you enter a tourist place. Remember that Paris is full of pickpocketers. Your belongings should be close to you at all times.
Portable Charger – If you count on your phone for taking photos, the last thing you want is to run out of battery on those longer days.
Umbrella – You may have rainy days as you can get rain showers even in the summer months. Pack a small umbrella or a foldable rain jacket.
A packing list for a week in Paris – Your Paris Wardrobe
The easiest way to plan how many items you should pack is to follow this "Bottoms x Tops Ratio" – Plan one bottom (pants, skirt, or shorts) for every three days; then plan two to three tops for each bottom, making sure they mix and match to maximize your options.
For a 7-day trip to Paris, I'll bring 3 bottoms and 7 tops for the day. I will wear one of the bottoms (the bulkiest one) and one of the tops plus the light jacket on the way in and out of my destination.
When it comes to shoes, I'm very practical: one feminine and nice-looking tennis shoe for the day and a pair of flats for the evening. Plus, I have flat feet that don't go well with shoes without support. I'm glad that sneakers have become more fashionable, and we no longer need to look like we have run out of the gym.
I don't fuss with my brands and stick to what I know works well for me. Nothing beats the comfort of the Minnie ballet flats from Tory Burch, and while they're an investment, they also last forever if you take good care of them. They fold nicely and take no space in the suitcase, and the leather ones have excellent cushioning. They're perfect for night outings.
The same goes for the brands I wear – mostly J.Crew, as they're long-lasting, practical, and offer a classic look I tend to stick to.
95% of my clothes don't require ironing, but if you have items that will wrinkle, double check if your hotel/Airbnb offers an iron; if not, plan to bring a hand steamer like this one. It's excellent.
Accessories – Two sets of accessories for your evening outfits. Make sure you can mix and match! For the day, keep it simple and use the same earrings/necklace every day. Life will be a lot easier!
Scarfs – that's the most underrated accessory and the easiest way to elevate your looks and have the perfect Paris look.
Best shoes – Elegance starts with comfort because when you're comfortable, you feel confident. So bring shoes that you feel comfortable in. If you insist on bringing high heels, pack one.
Evening Outfits – One or two elegant outfits like summer dresses or blouses will elevate your experience in the fashion capital.
Travel Scarf – in Wool or Cashmere – These are larger than a scarf and are perfect for your time on the plane and to keep you warm on your evening outings.
One light jacket. The temperature can dip in the AM and the evening. You should bring one light jacket or sweater to use as a layer.
Bottoms – for a 7-day trip, you can pack 3 bottoms, making sure you can use at least one of them with most of your evening outfits.
Tops – for a 7-day trip, plan to bring one casual t-shirt or blouse for each day and a couple of nicer ones for the evening.
Sunglasses
Shorts – I'd stay away from low cut shorts and bring longer ones, or even better, replace them for skirts.
Men – I make sure "my guys" pack at least one pair of trousers, a button-down shirt, and leather tennis shoes for our evening outings.
Wear the bulkiest items like your trench coat or leather jacket on the flight. This way, you will save more space in your carry-on.
Use packing cubes and learn to fold like Marie Kondo. You'd be surprised to know how much you can fit in a carryon bag!
Bottoms x Tops Ratio – Plan one bottom (pants, skirt, or shorts) for every three days; then plan two to three tops for each bottom, making sure they mix and match to maximize your options.
Every summer, the city creates pop-up Paris beaches along some areas along the Seine. Make sure you check where they are and what activity is being offered in each of them to plan your days.
Remember that Paris is full of fabulous boutiques. So even if you forget to bring something, you can easily purchase it when you arrive.
Paris is unlike any other place in the world. There is something magical about the city of lights. Perhaps it is the stunning architecture or the fascinating people – either way, there is no question why the French capital should be your next summer destination.
I hope this Paris packing list helps you make the most of your time in Paris!
New post How to Prepare And What to Pack For A Fabulous Week In Paris on A Personal Organizer .