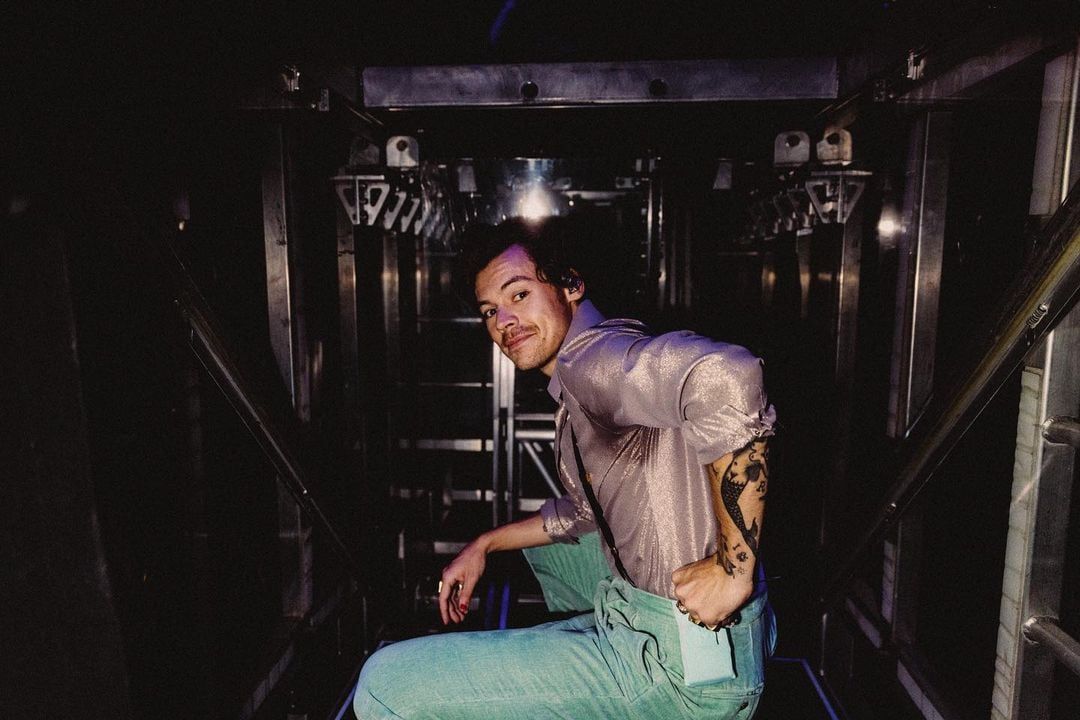 You know him for his fun discography and always looking like he picks up clothes from the women's section of Goodwill, Harry Styles reveals his pilates video, and here's why you should be doing it too.
Exhale Pilates London, a studio teaching classical Pilates in Primrose Hill and North Finchley, caused quite a stir by sharing a video to its Instagram profile. It's a compilation of men working out at the Pilates studio titled "Men of Exhale."
[Hero and featured image credit: Harry Styles/Instagram]
Harry Styles is doing pilates with Exhale Pilates London
Sandwiched between clips of professional boxer Derek Chisora, actor Giancarlo Esposito, and reality TV star Dan Osborne is arguably the most familiar face featured in the video: Harry Styles.
Wearing a bright green sweatshirt, matching green shorts, white ankle socks, and a baseball hat, Styles sits on a box on top of a Pilates reformer. His toes are underneath a strap and he's holding a bar above his head with both hands, twisting from right to centre as he rises to an upright position before twisting to the left to recline back down again.
Commenters were quick to call out Styles' brief but memorable appearance in the video. "Not y'all dropping Harry in the middle of this reel," wrote one person. "I'll sign up if you got more vids of Harry," said another.
The clip of Styles has also made its way to TikTok, where more fans are delighting in the visual of the singer working on his core.
 

View this post on Instagram

 
This isn't the first time news of Styles' doing the traditional exercise has made headlines. Vogue reported that Styles practices Pilates in his 2020 cover story (yes, the one where he broke gender norms by posing in a skirt and a dress). "I've got very tight hamstrings — trying to get those open," he said at the time.
He was also seen visiting an Exhale Pilates London studio back in 2016, according to Yahoo News and Teen Vogue. Prior to that in 2012, the then-One Direction band member shared he had taken up Pilates to work on his posture. "I have bad posture, and I've been told to take Pilates once a week," he said, reported the Independent.
Styles has been practising classical Pilates on and off with Gaby Noble, a Pilates instructor and the founder of Exhale Pilates London, since 2016, she tells Shape. However, this is the first time she's shared content featuring him on the brand's social media.
"He was extremely regular when in London, as it [Pilates] supported him with his gruelling workload and training regimen," says Noble. "Exhale Pilates London is a classical Pilates studio, so he trained on not just the reformer but on all the apparatus, including the Wunda Chair, Cadillac, and other pieces of apparatus not as commonly seen today."
Styles isn't the only celebrity to share his love of the exercise method. Jennifer Aniston, Kate Hudson, and Ashley Park are just a few of the A-listers known to take Pilates.
So, what is it that makes Pilates such a great workout? While pros make it look easy, Pilates is a low-impact form of exercise that offers serious benefits.
It was created by Joseph Hubertus Pilates in the 1920 (originally for physical rehab) and involves movements done on a mat or on a reformer machine that stretch, lengthen, and balance the body, Shape previously reported. Think plank positions, abs exercises, leg circles, and glute bridges.
By doing Pilates regularly, you can improve your posture, increase your flexibility, strengthen your joints, and even boost your cardiorespiratory fitness.
This story first appeared on www.shape.com.
© 2021 Meredith Corporation.  All rights reserved.  Licensed from Shape.com and published with permission of Meredith Corporation.  Reproduction in any manner in any language in whole or in part without prior written permission is prohibited.
Shape and the Shape Logo are registered trademarks of Meredith Corporation. Used under License.
The post Harry Styles does Pilates, so now we all want to do Pilates appeared first on Lifestyle Asia Hong Kong.