It's easy to see the effects of people finally returning to their offices regularly: public transportation is more crowded, there's more traffic during rush hour, and my TikTok For You Page is full of "office outfits I wore this week" videos. After such a long time of working from home, I find myself struggling to put together cute outfits to wear to the office.
CURRENTLY TRENDING IN /
ZODIAC
here's what's in store for you this month

Our office dress code here at The Everygirl is casual, but I still like to look professional and put-together. And for those of us who work in casual offices, sometimes, you need to dress up a bit for important meetings or special visitors. 
Dressing for work gets even trickier in the warmer months because the last thing you want (especially if your commute involves any walking) is to show up to work sweating through your clothes. That's why we've put together six office outfits that are easy to wear, not too hot, and will have you feeling chic and confident at work. 
Laid back but chic…
When I looked up "work outfits" on Pinterest, almost every single cool fashion girl in my results was wearing some version of this outfit. A bodysuit serves as a flattering base layer for a tailored pair of wide-leg linen trousers and an oversized white button-up. Finish the outfit with a cute pair of platform sandals and a brown leather tote and you'll look like you just walked into your office straight from the streets of Paris.
linen trousers | bodysuit | white button-up | sandals | tote
From the office to date night…
The warm weather and longer hours of daylight that come with the summer season often mean a fuller social calendar. You might schedule a date for right after work one day, so you need a go-to look that can take you from day to night. A black, lightweight midi shirt dress paired with chic block-heeled sandals and a layered necklace that falls perfectly in the dress's neckline is a foolproof combo that will have you feeling just the right amount of sexy.
midi dress | heels | crocheted tote | layered necklace
Classic business attire…
If your office is a little bit more formal, you can't go wrong with the timeless combination of a button-up shirt, a pair of trousers, and mules. Although you're covered up, these materials are lightweight and breezy, so you can be well-prepared for both hot weather and freezing office AC. And this roomy laptop tote from Calpak will prove that you never need another work bag again. 
button-up | white trousers | mules | laptop tote | gold hoops
Business casual…
If I'm getting dressed for work, there's an 85% chance I'm putting on some form of this outfit—a casual top, a blazer, and jeans. It's so popular for a reason: It just always works. Make it a little more summery with a ribbed tank, a lightweight blazer in a pastel color, and a fun tote bag. Finish it off with a pair of super-chic nude slingback mules and you've got yourself the easiest business casual outfit ever. 
ribbed tank | lightweight blazer | wide-leg jeans | slingback mules | tote
For the commuter…
If you have to commute on any sort of public transportation to get to work (or if you walk), you know that you have to be very intentional about what you wear. You need fairly comfortable footwear, an easy-to-carry bag, and, of course, a cute pair of sunnies. This outfit combination practically screams "I'm a cool city girl with a cool job." And if you're worried about any sort of chafing under the midi skirt (we've all been there) or getting caught in the wind, just throw a pair of biker shorts on underneath.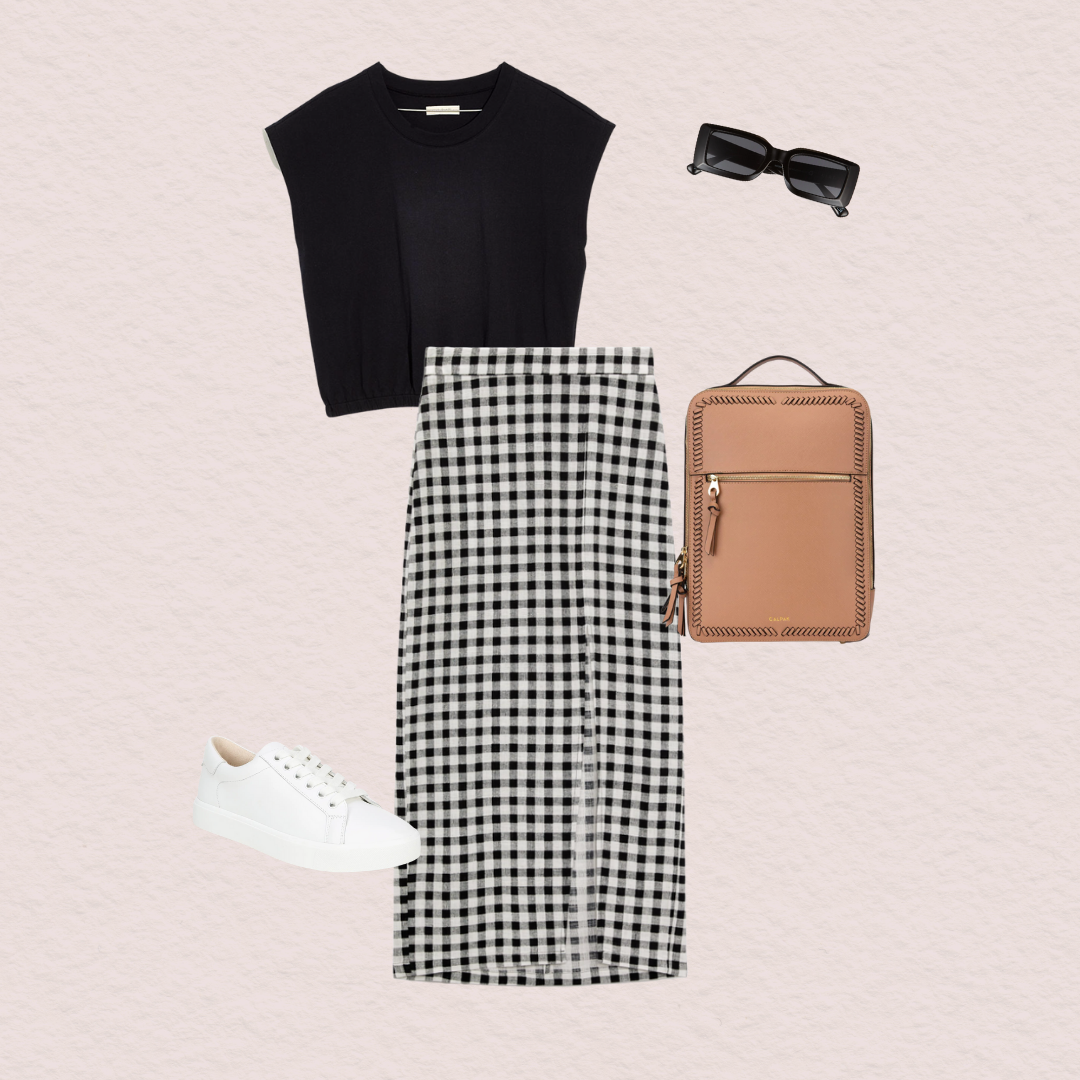 muscle tee | midi skirt | white sneakers | laptop backpack | sunglasses
The "let's get drinks after work"…
As I mentioned above, summer means a fuller social calendar. In the winter months, all we want to do is get home and get cozy after work. But in the summer, when it's still bright and warm when you walk out those office doors, it's all about happy hour. A simple look like a white blouse and pull-on linen pants (lots of room for happy hour apps) is ideal for wearing all day long.
white blouse | pull-on pants | heels | tote | raffia hoops
The post Forgot How to Dress for Work? Try These 6 Warm-Weather Office Outfits appeared first on The Everygirl.