 Note, this post includes affiliate links that when used, offer a small commission. This has zero impact on the price you pay but does help me to offset some of my website expenses and fuel an occasional Starbuck's skinny vanilla latte craving.
Evereve is my go to store for everyday stylish disability friendly clothing and accessories. Although Evereve is not an adaptive fashion retailer per se, much of their modern, comfortable and uber trendy clothing, jewelry, and even shoes, are actually ideal for style-minded people like myself who wear leg braces and/or have fine motor hand weakness and other types of disabilities.
Evereve has super fast shipping (like 3 days) and offers easy and free returns for all online purchases. Although items tend to sell out fast, They run the best clearance sales and You can often score more than 50% off of designer high priced items.
We've curated some of our favorite jumpsuits, maxi dresses, skirts, and accessories that are easy to put on, comfortable to wear, and will help you look and feel your best this spring and summer. Whether you're in need of casual pieces for everyday, traveling this summer, or just want some new and cute.
additions to your wardrobe this spring and summer, we've got you covered! Click on the photos and links below to shop our favorite disability friendly outfits, shoes and accessories from Evereve: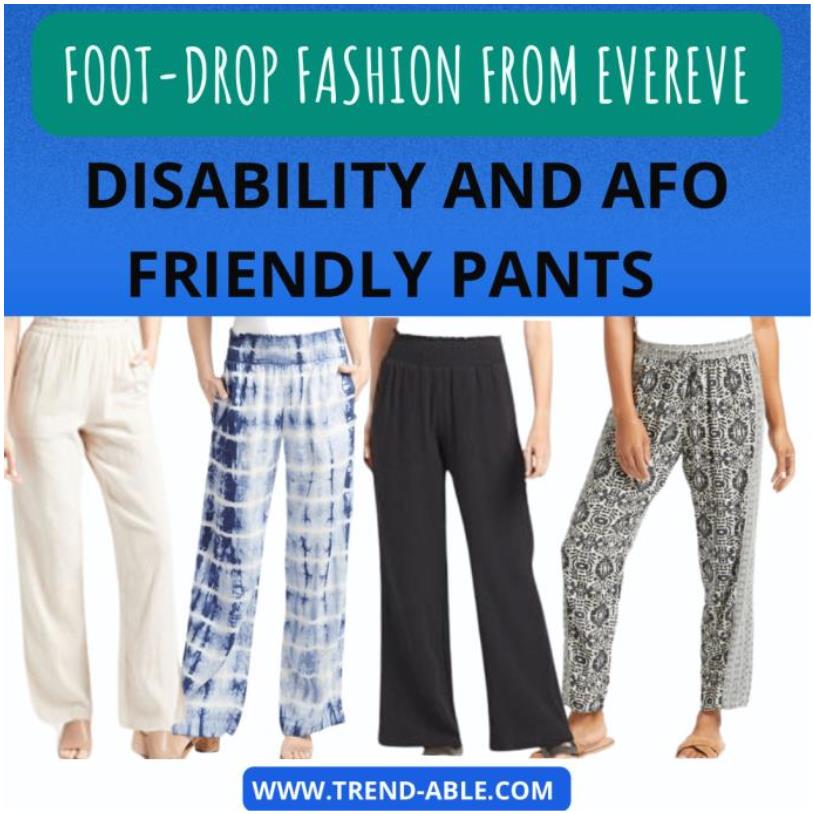 If you're not a bare your legs (or leg braces) shorts kinda gal, a pair of lightweight linen or cotton pants are an excellent and stylish spring/summer option. The ones we've found at Evereve have no frustrating buttons or zippers to have to deal with and are all comfortable to wear in the summer heat. Pair the wide-legged style pants with a fitted top or tank in order to balance out the width of the bottoms and create a flattering silhouette.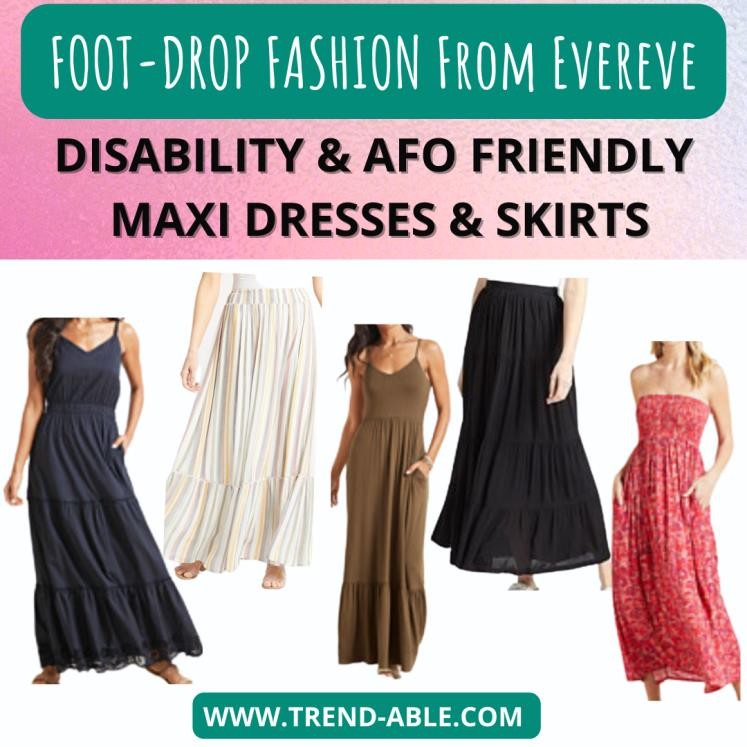 Another great spring/summer option for people with disabilities are maxi dresses and skirts. Evereve always has an awesome selection of easy on (no zippers or buttons), stylish options. Just slip one of our favorite maxi dresses over your head, or pull on a cute elastic waist maxi skirt paired with a simple tank top or tee, and you're ready to roll…Literally and figuratively.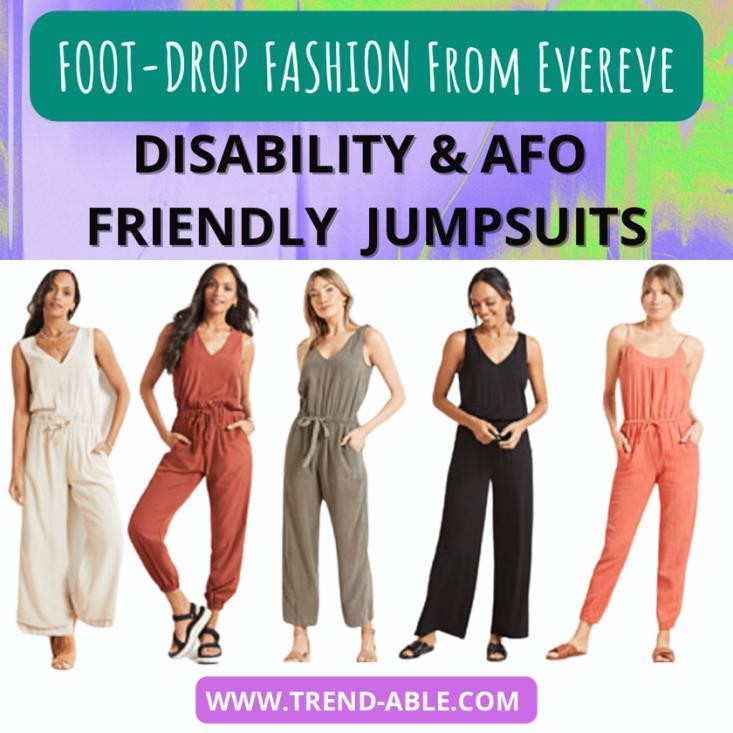 If you follow us on Facebook or Instagram, then you already know I'm a big fan of jumpsuits for any and all occasions. Not only are the pull-on styles we've found at Evereve easy to put on, but they are a one and done outfit that looks stylish and is truly effortless put on those days (for me everyday) when you don't have the time or energy to have to think about putting together an outfit. Pair them with a cute magnetic necklace from our accessories post or one of Evereve's selection of colorful stretchy bracelets below.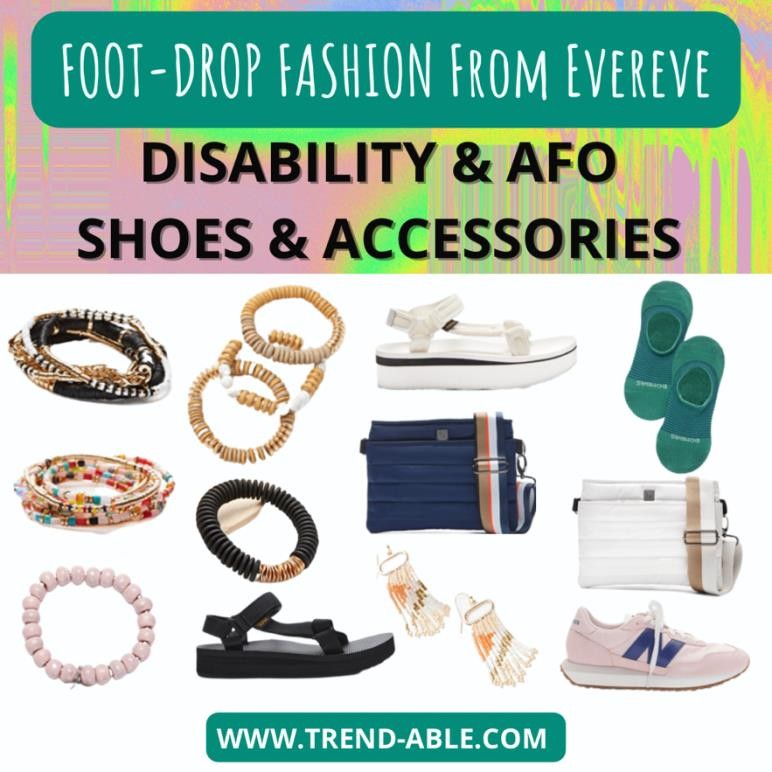 Accessories add personality to any outfit and Evereve carries numerous fun and colorful styles that are also disability friendly. They have an awesome selection of stretchy bracelets that are perfect for people with hand weakness. I love to combine materials and colors and then layer them all together. We've also included some of their awesome and lightweight crossbody purses and AFO Friendly sandals and shoes with removable insoles. Plus, the most comfortable brand of no show socks ever!
SHOP OUR ENTIRE COLLECTION OF EVEREVE FAVORITES BELOW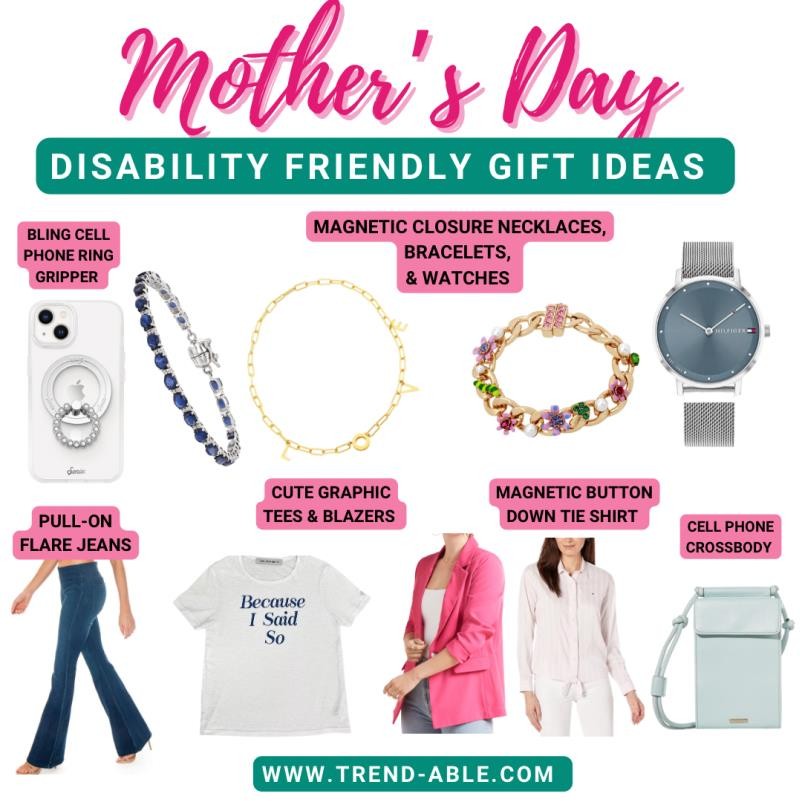 After reading this post, do you share my love for Evereve? I would love to hear what you bought and/or are eyeing. I also buy a lot of gifts for friends and family at Evereve and gift cards so they can choose something awesome themselves. Speaking of gifts, check out some other Mother's Day gift ideas here.
Xoxo
Lainie
The post Favorite Disability Friendly Clothing & Accessories From appeared first on Trend-Able.