I am so beyond thrilled for this Affordable Friday because more than ever I feel like the clothes in this affordable Friday are so so so expensive looking! Like, I truly feel like I could wear each one of these outfits to a really posh event. I always love the clothes I share, but there's something about what I found in this post that just feels very classy and chic! So let's get into it!
Hampton's Chic Outfit
I have to start with this look first, because I feel like it's straight out of the Hamptons! The shorts are only $18 and they are beautiful! At first, I sized up and got a large and they were way too big, so make sure you get your normal size in these. So size medium for me. They come in a few other colors, including navy, and a really fun, hot pink! I think I'm gonna get the hot pink as well!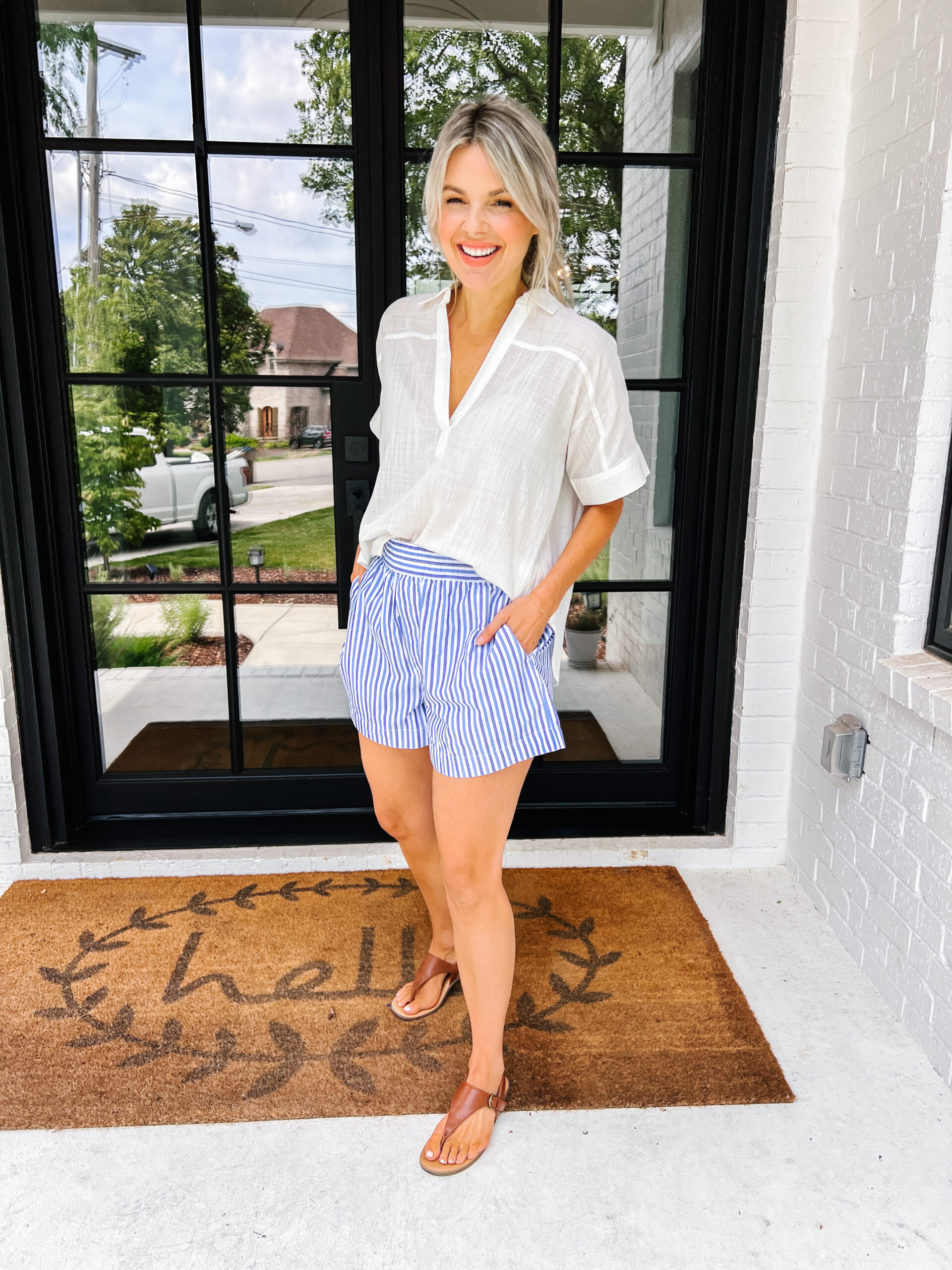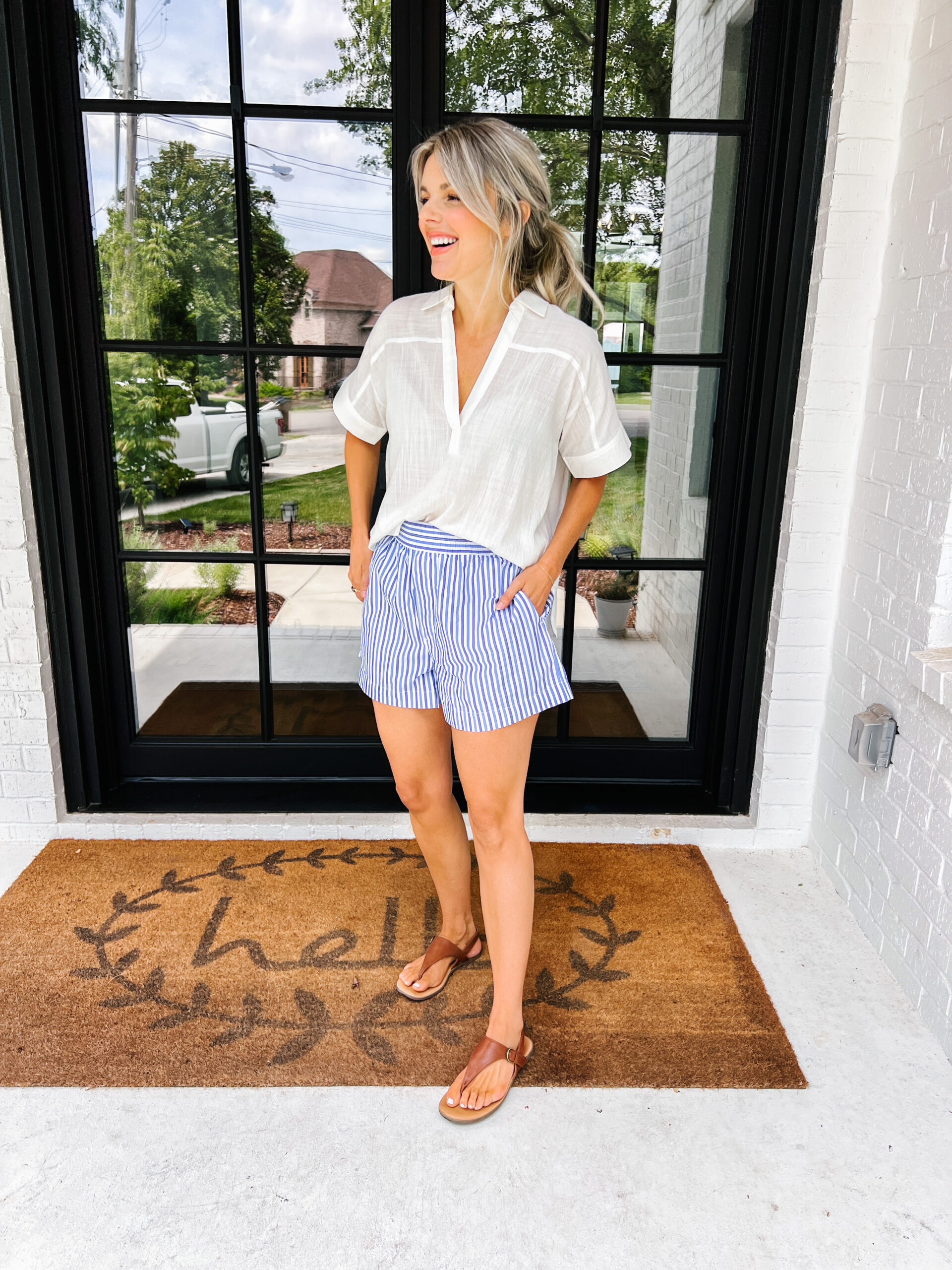 1. SHORTS | 2. TOP | 3. SANDALS
I paired them with this amazing top from Free Assembly. I'm so bummed because some of the sizes are sold out, so check it quickly to see if it's still available in your size because it's one of my favorite tops ever. However, if it's not the next white top that is super similar that I've linked below in the next look would work perfectly for this outfit too! And it's fully in stock in white right now, so snag it quick!
And then I finished the luck with these brown thong sandals that are so comfortable and so beautiful. If I didn't know better, I would think they were $60 sandals, but nope you're gonna get them for $12! Snag them fast! 
Okay, here's the next one that I just mentioned above. Very similar white top so cute and expensive feeling. It's like a linen type material and it's actually got good weight to it, but it lays really flattering. It's so so so beautiful and fully in stock right now in size XS to XXXL. Can you believe it is only $24?! It also comes in a really fun stripe pattern and red.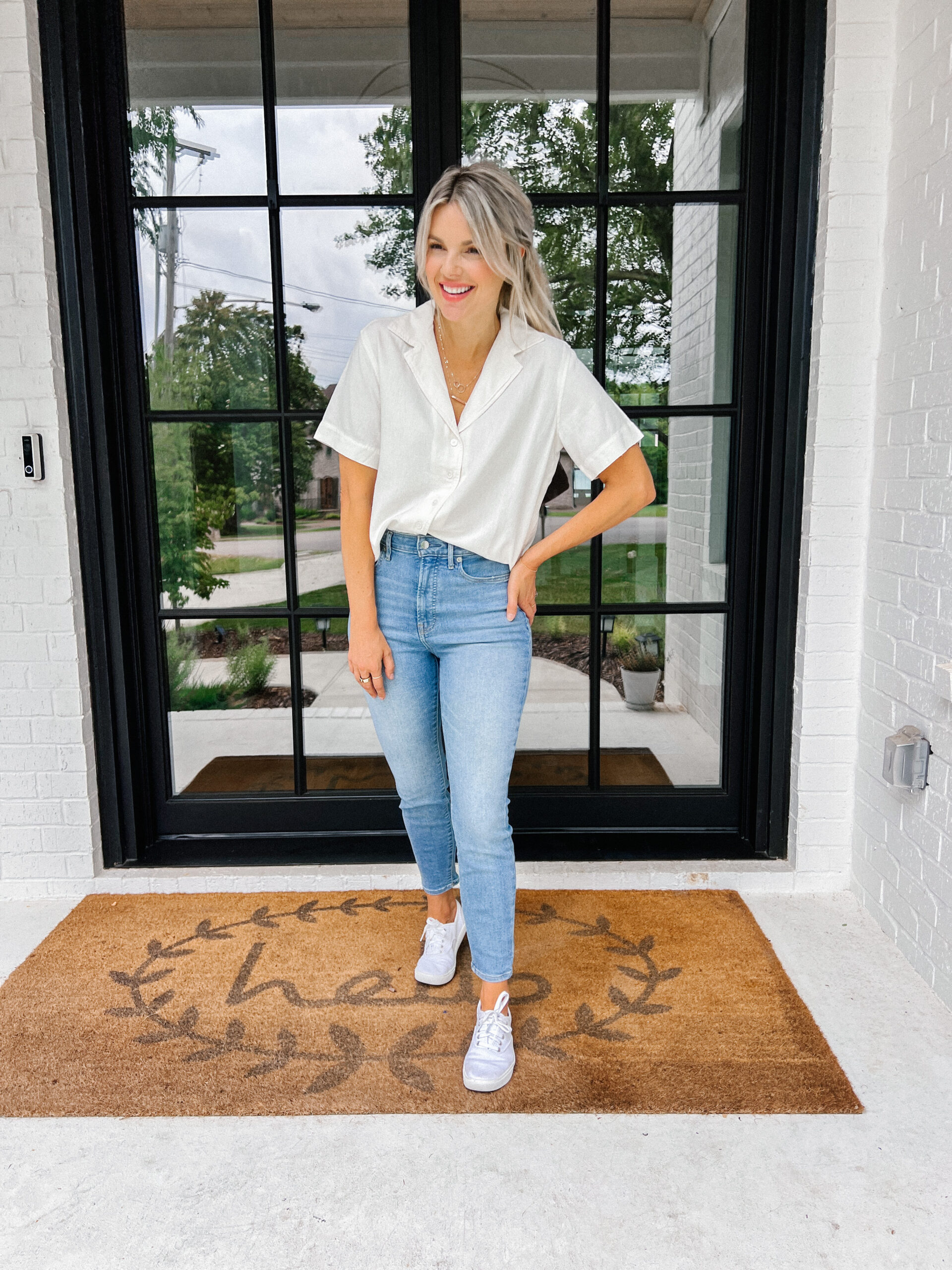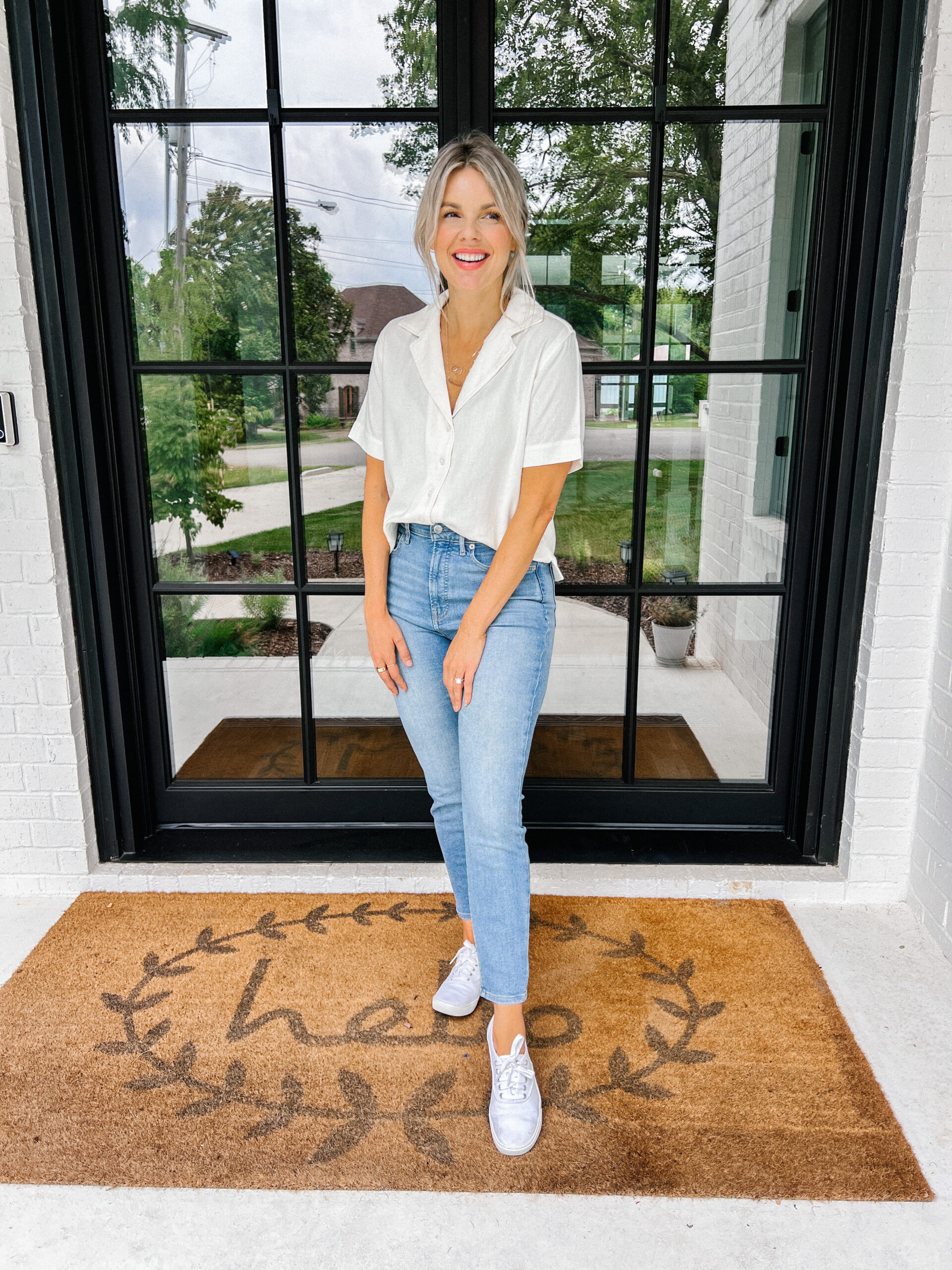 1. TOP | 2. JEGGINGS | 3. SNEAKERS
It's really versatile so you could wear the top with anything, but I'm wearing it with a cute pair of skinny jeans. The exact ones I'm wearing in the photo above are old and no longer in stock, but I'll link some $10 jeggings I got from Walmart in the picture below because they would work perfectly. I actually was planning on using them for these photos, but I couldn't find them. Then I finish up the look with these $10 pair of white sneakers. I'll link the t-shirt below cause I LOVE them!
Casual with Jeggings
[TAG6]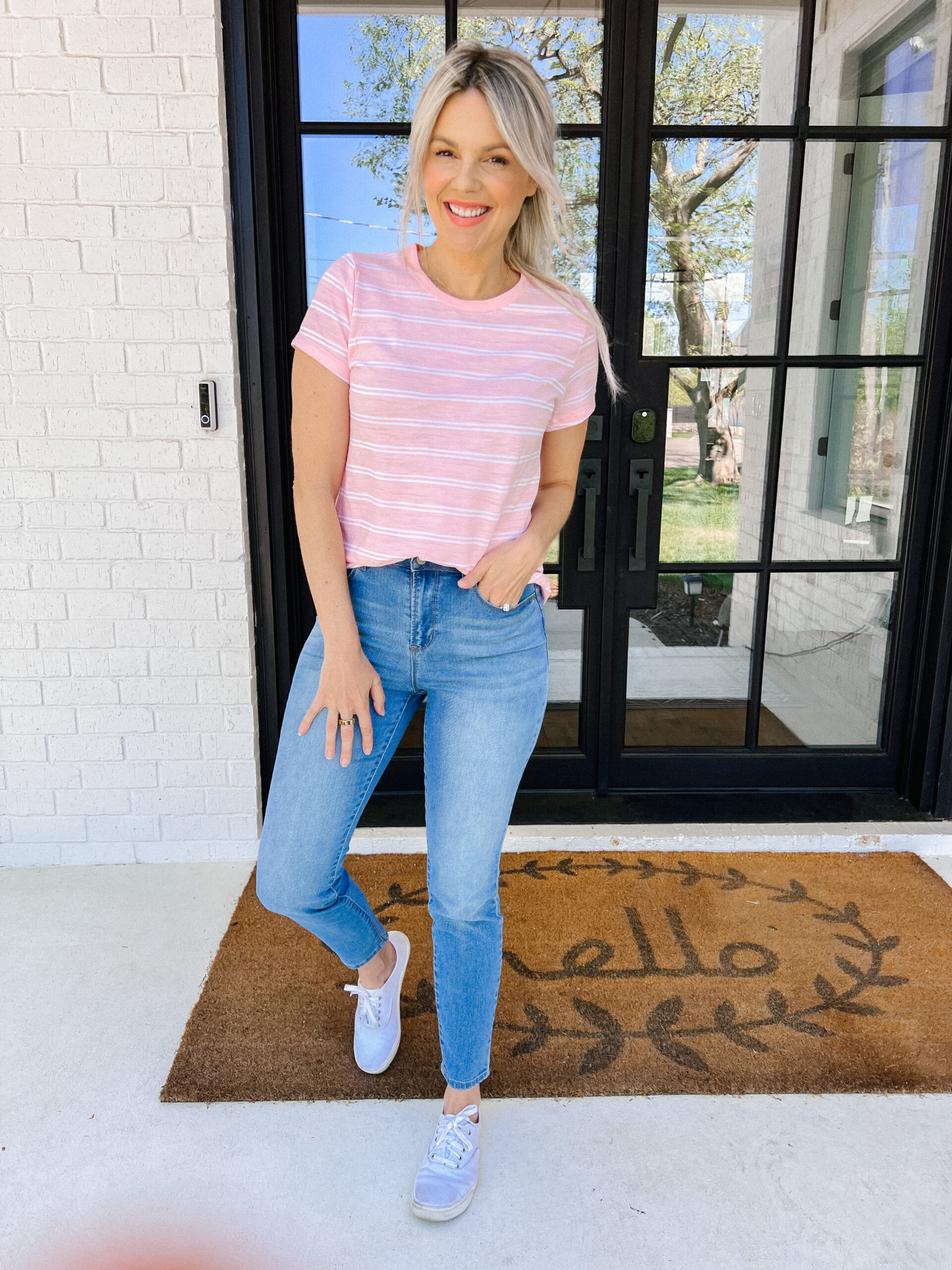 1. T-SHIRT | 2. JEGGINGS | 3. SNEAKERS
Speaking of super chic looks how cute is this one! These pants are so flattering, and so beautiful. I mean how gorgeous is this color! Every time I wear a coral blue like this, people comment on Instagram saying it's a beautiful color and it just truly is. I'm normally in between size 6 and 8 in Walmart pants and I'm wearing a size 8 in these and they fit perfectly. The 6 would definitely be too small. So if you're in between sizes definitely size up. The fact that they're $32 they're an absolute steal! The quality and construction is amazing! I don't normally buy white pans, but they also come in white and I just am such a fan of how good the quality is that I think I'm gonna get them in white as well. If I do, I'll share them with you guys to show you what they are like.
Peter Pan Preppy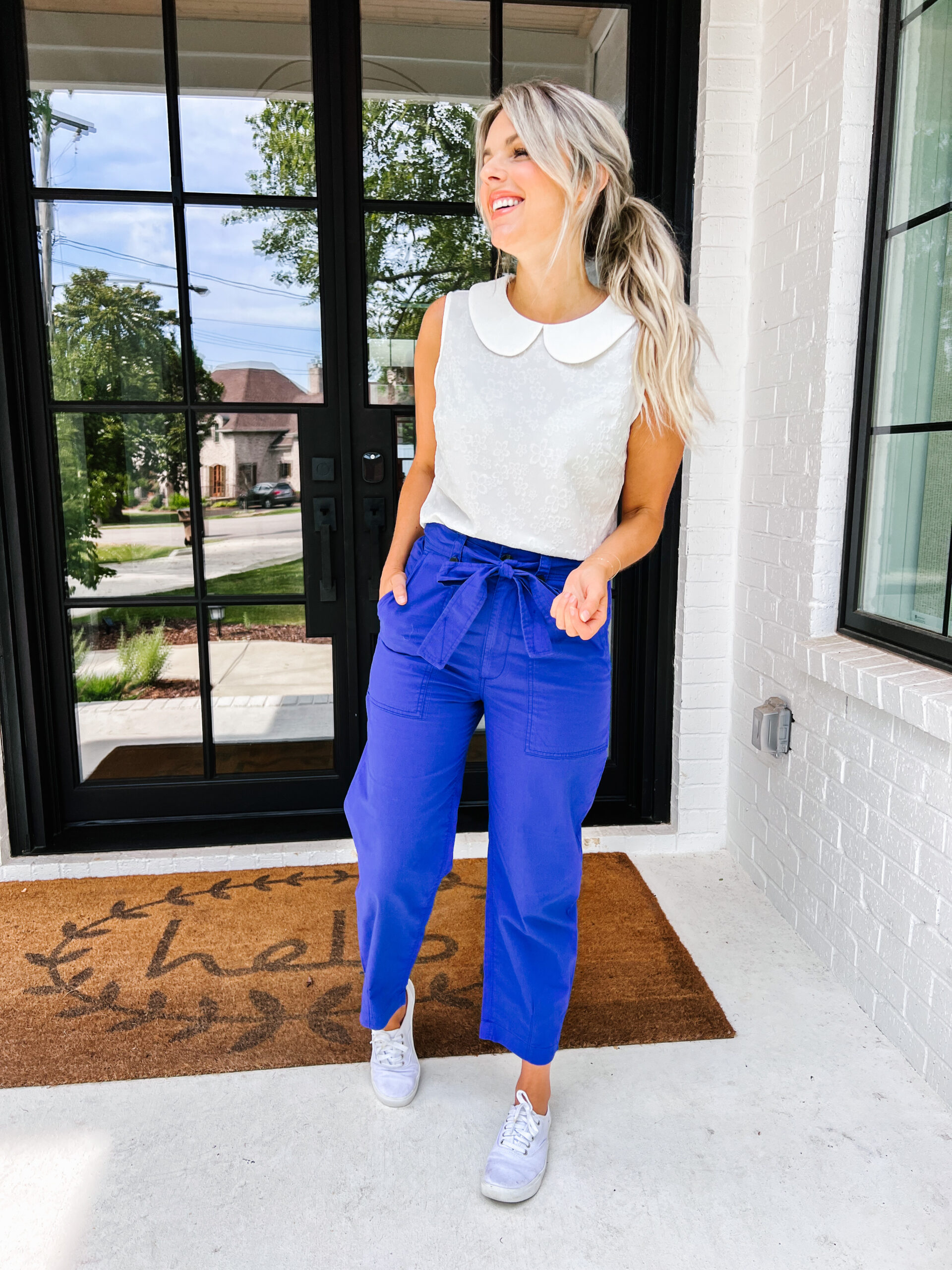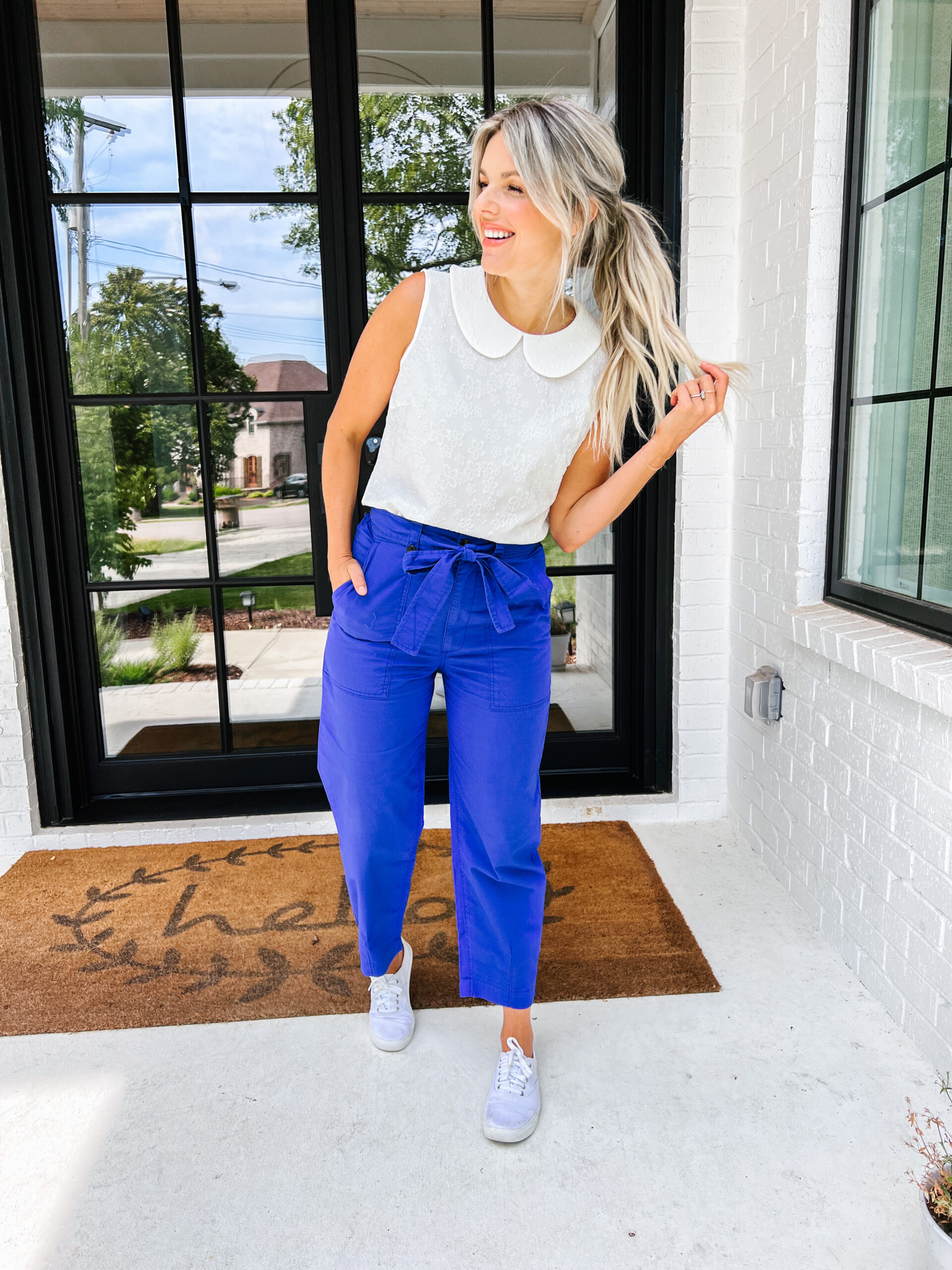 1. PETER PAN TOP | 2. BLUE PANTS | 3. SNEAKERS
I paired them with this super cute Peter Pan collared top. It's only $18.99 on sale right now, but only available in size medium and large so snag it quick if you want to! It's white but it has a really pretty floral embroidery on it. I absolutely love it! I'm wearing a size medium, which is my normal size but I honestly think I probably could've sized down in this one, but the medium fits me well too. Again just wearing the $10 pair of white sneakers.
Sticking with a gorgeous blue theme, I have to share this dress! I wore the other day and got so so so so so many DM's asking where I got it. Well now you know that I got it at Walmart and it's only $26! It comes in two other colors and is available in size extra small to XXXL. I got a size medium, which is my normal size and it fits me great even with a little room. It's like a really flattering stretchy material so it doesn't cling to your body at all. I honestly didn't know if I would like it when I ordered it because I thought it would feel too formfitting and it looks amazing! For reference, I'm  5'7″ and 160 pounds and I feel like I look incredible! There's only one review on Walmart site, but it's for five stars and the person who is reviewing it is pregnant and I actually think this would be the cutest maternity dress too because there's so much stretch to it and it would show off your bump! I just tied a white shirt around my waist to layer the luck, and then wore the $10 pair of white sneakers.
Perfect Errand Dress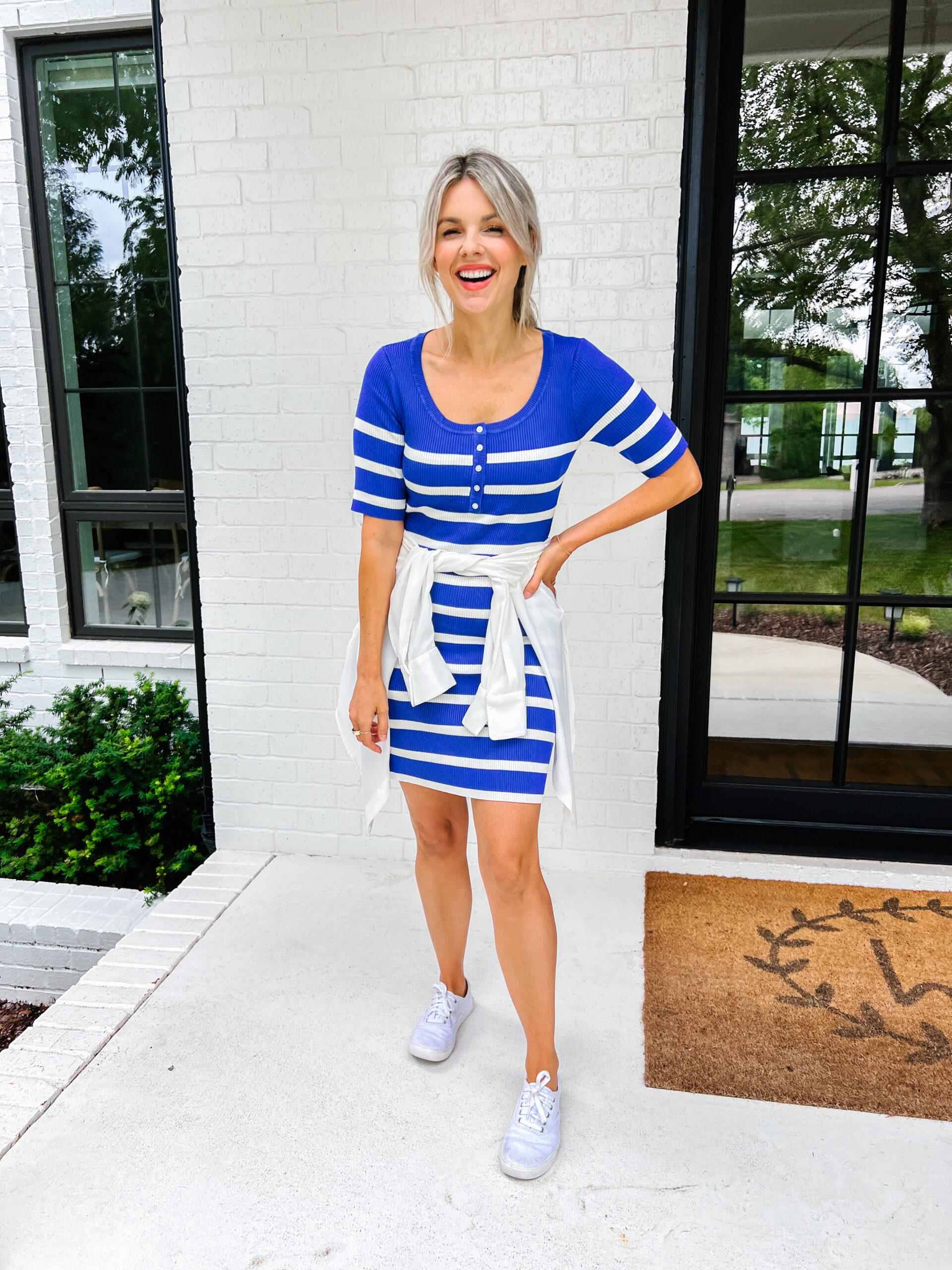 1. BLUE STRIPED DRESS | 2. SNEAKERS
A more casual fun summer look is this $9 Rolling Stones tank and denim shorts. The top is just so cute and has fun colors and I love it. I love loose fitting tops like this that are sleeveless. For $9 bucks you just cannot beat it!  Then I wanted to share these denim shorts because I've been getting a lot of requests in my DM's lately asking me to share stretchy shorts instead of shorts with no stretch. I personally just prefer no stretch, but wanted to give an option with stretch for those of you who prefer that! If I do do a short with stretch, I tend to size up just because I think it's more flattering when they're not super tight to your body. I got the size 8 and a size 10 so I could see which one I liked better. I liked the fit of the 10 better which is what I'm wearing in these photos. So size up if you like them to be a little loose, whereas if you'd like them more fitted to go with your normal size. They're really high waisted which I love love love love! They're by Sofía Vergara, so I feel like she knows a woman's body like no other!
Band Tank & Stretchy Jean Shorts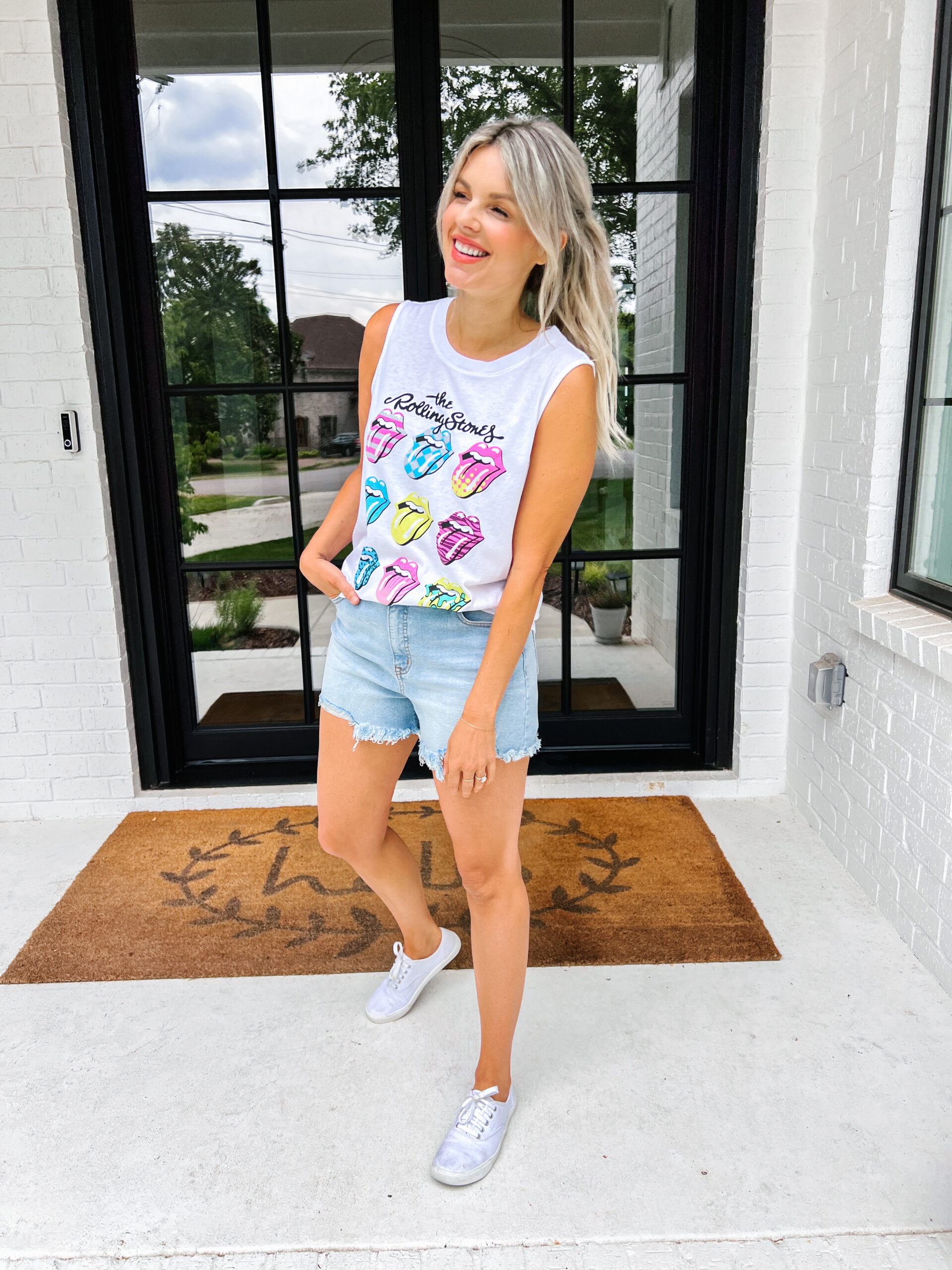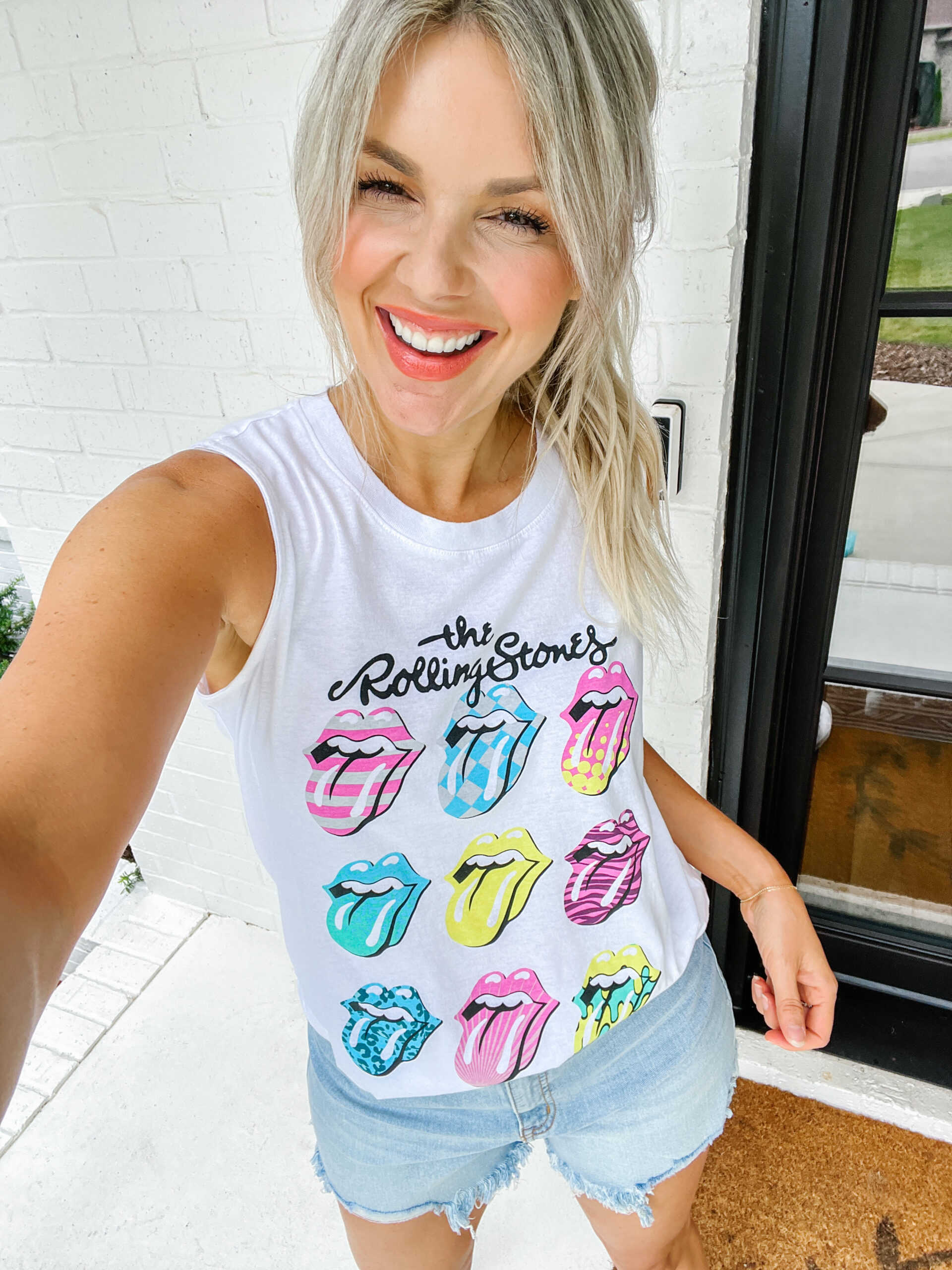 1. $9 ROLLING STONES TANK | 2. STRETCHY JEAN SHORTS
Button-Up Swimsuit
I loooove that this swimsuit covers my chest! Great for sun protection. And I wanted in included a get affordable pair of shorts that DON'T have stretch – because that's what I prefer. I got these in a size 8 but I wish I sized up to a size 10. The are soooo cute and only $14. Just a little tight on me.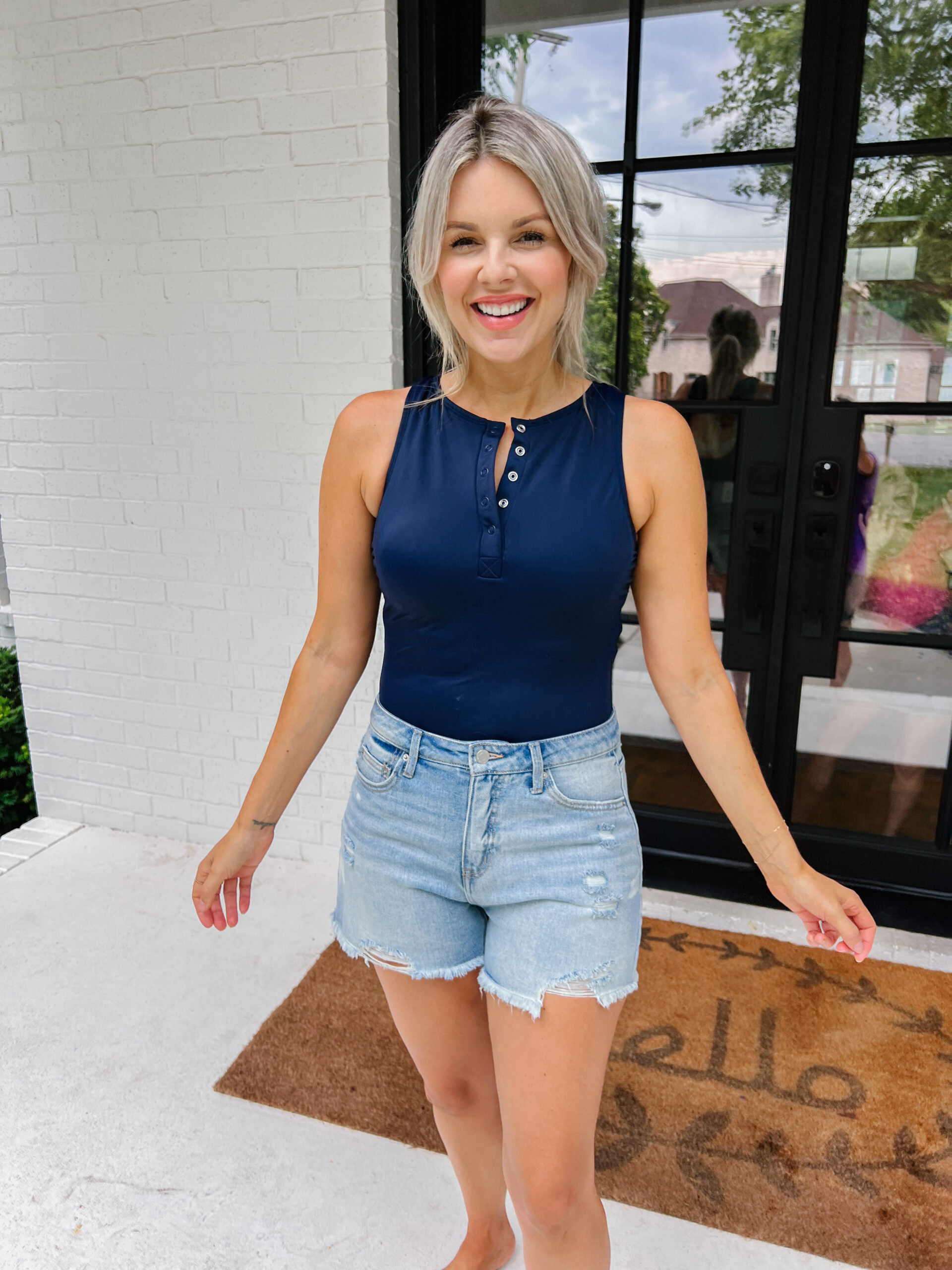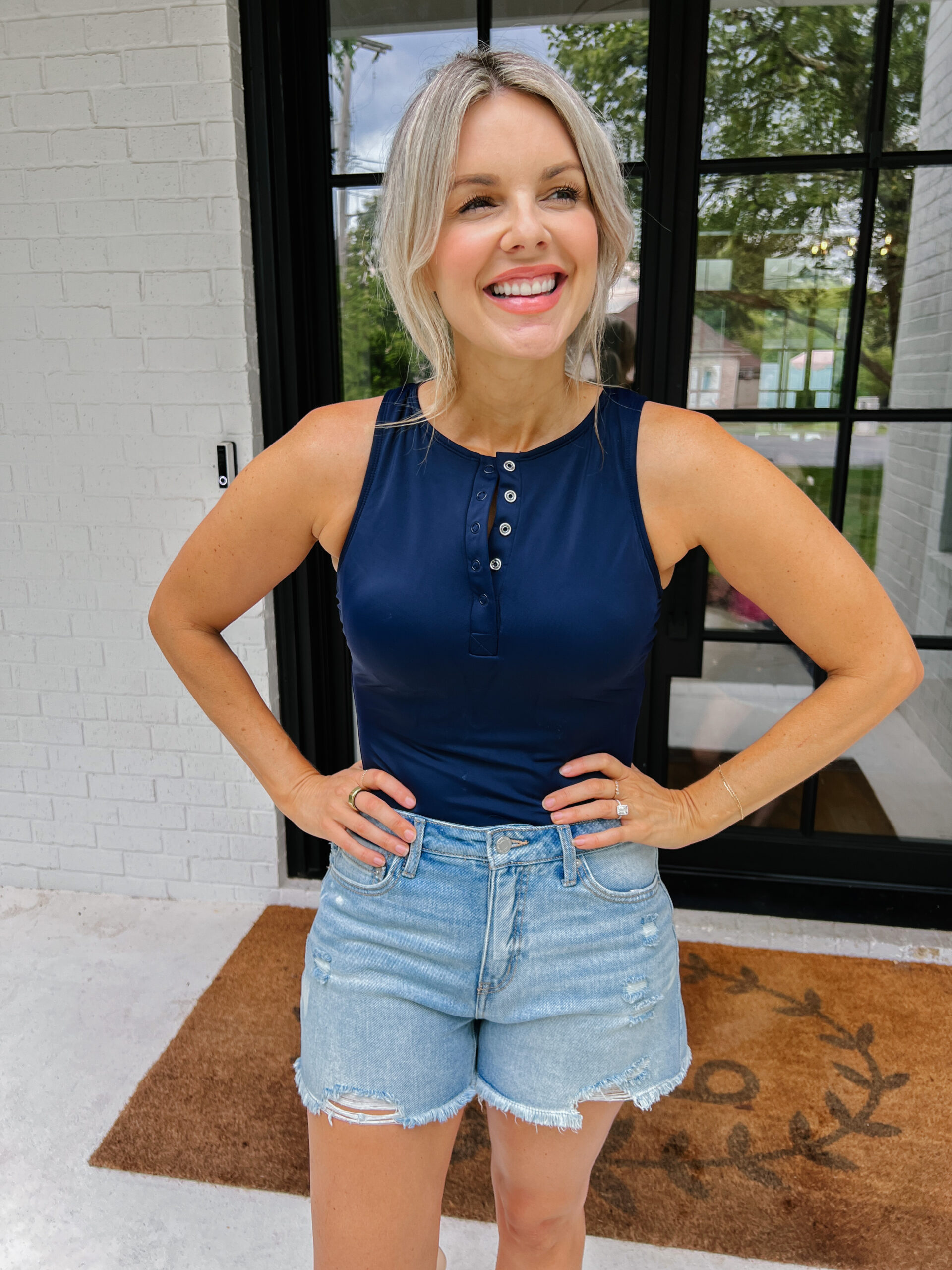 1. BUTTON UP SWIMSUIT | 2. JEAN SHORTS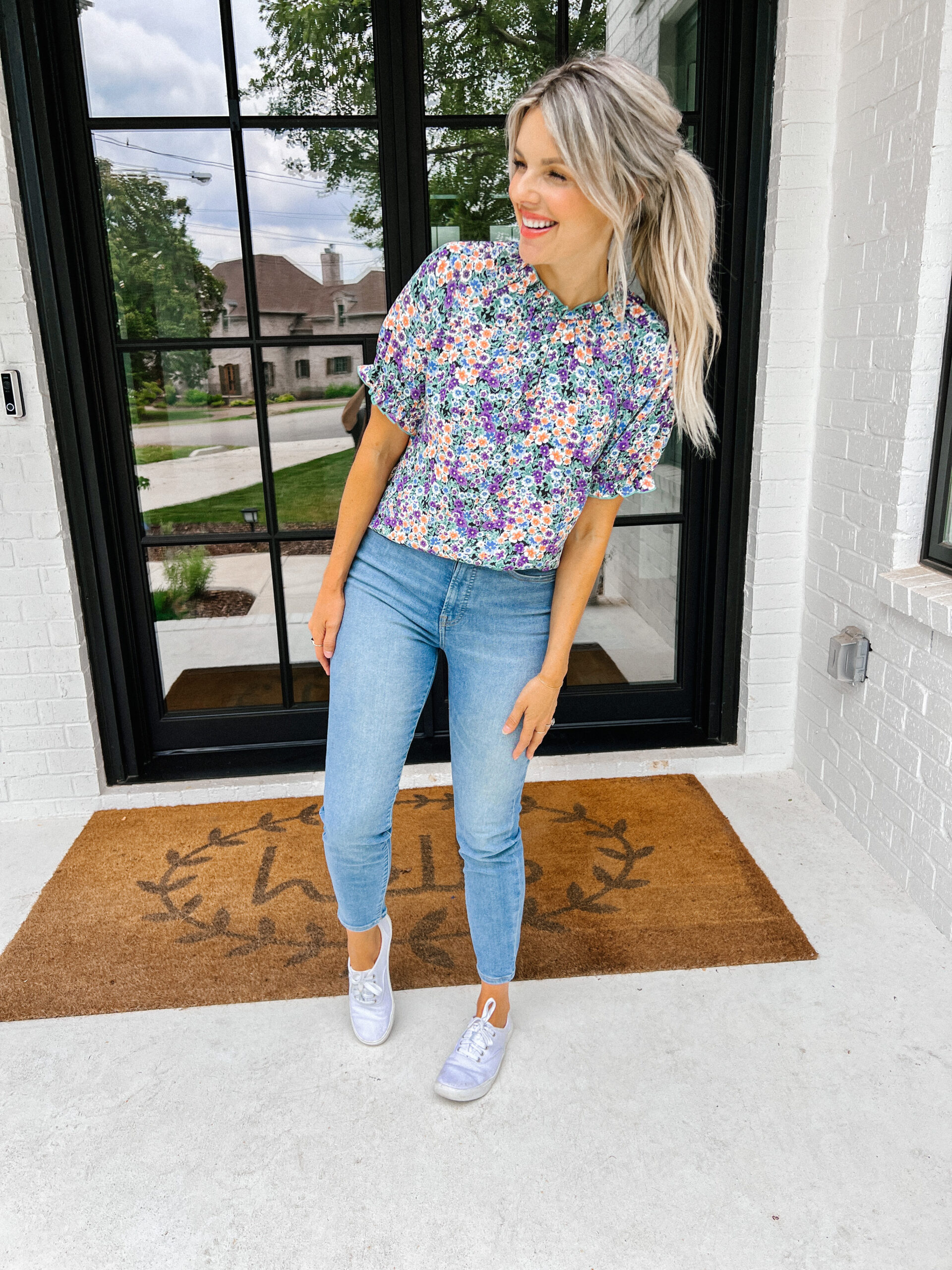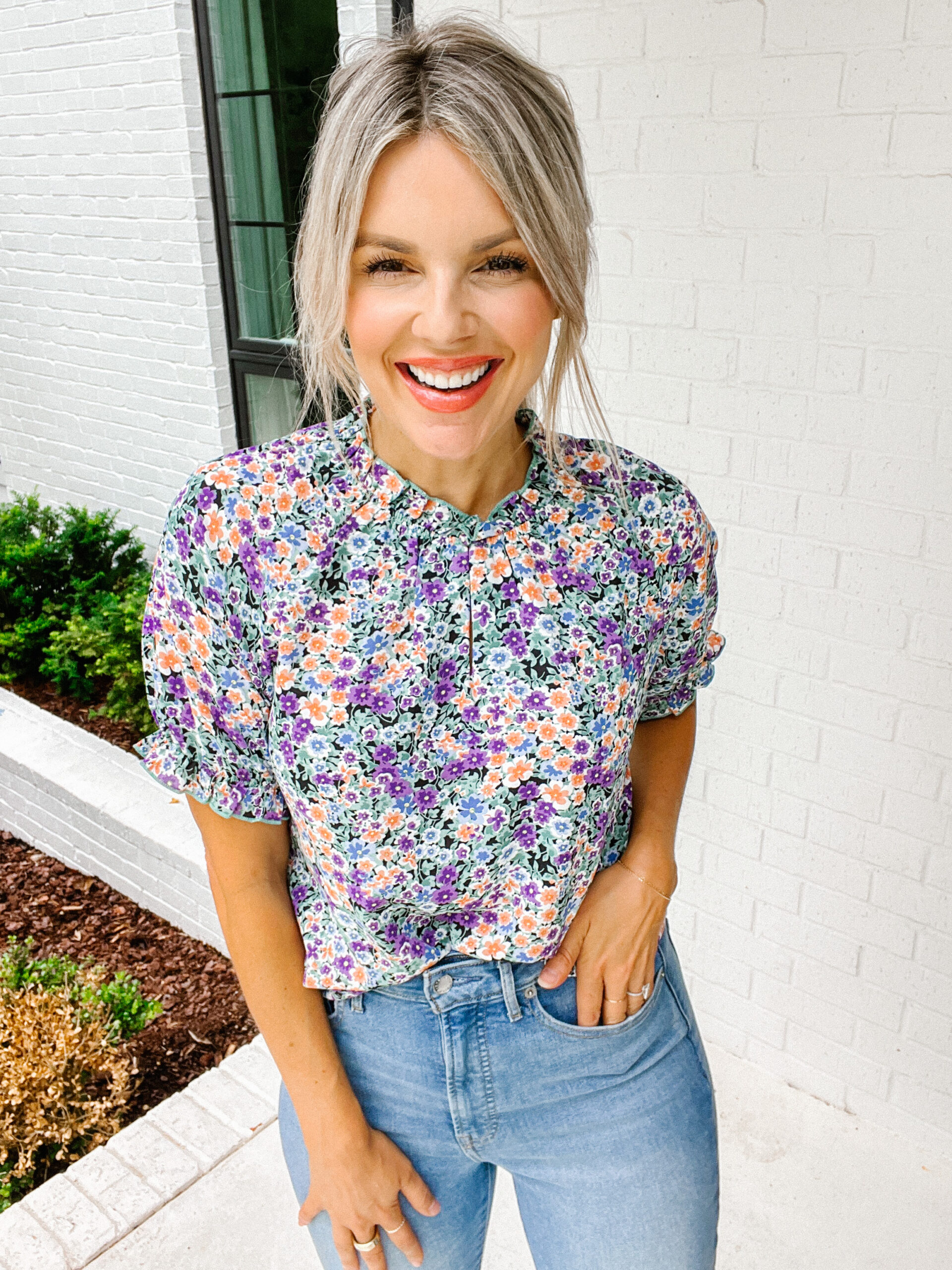 Perfect Chic Mom Top
And then for my last look that's not a dress is this gorgeous floral top. I'm not gonna say much about it because it's only available in two sizes right now, so snag it if you can, but I really do love it so much!

 1. FLORAL TOP | 2. JEGGINGS | 3. SNEAKERS
Other super cute tops but the same brand below! (since the one above is low in stock)

Dresses
Bright Florals
Okay, let's move onto dresses! Oh, well, I guess I did share a dress above but it's more of a casual running errands dress, whereas these are a little more formal or vacay vibes! Let's start with this first super colorful one! In fact I sent this picture of this dress two days ago to my friend just because she loves fun bright colors and she bought it right away! It's just so so so fun as a vacation dress so if you have anywhere tropical that you plan on visiting this summer, I think this dress is a must get – it's only $29! I'm wearing a size medium, which is my normal size.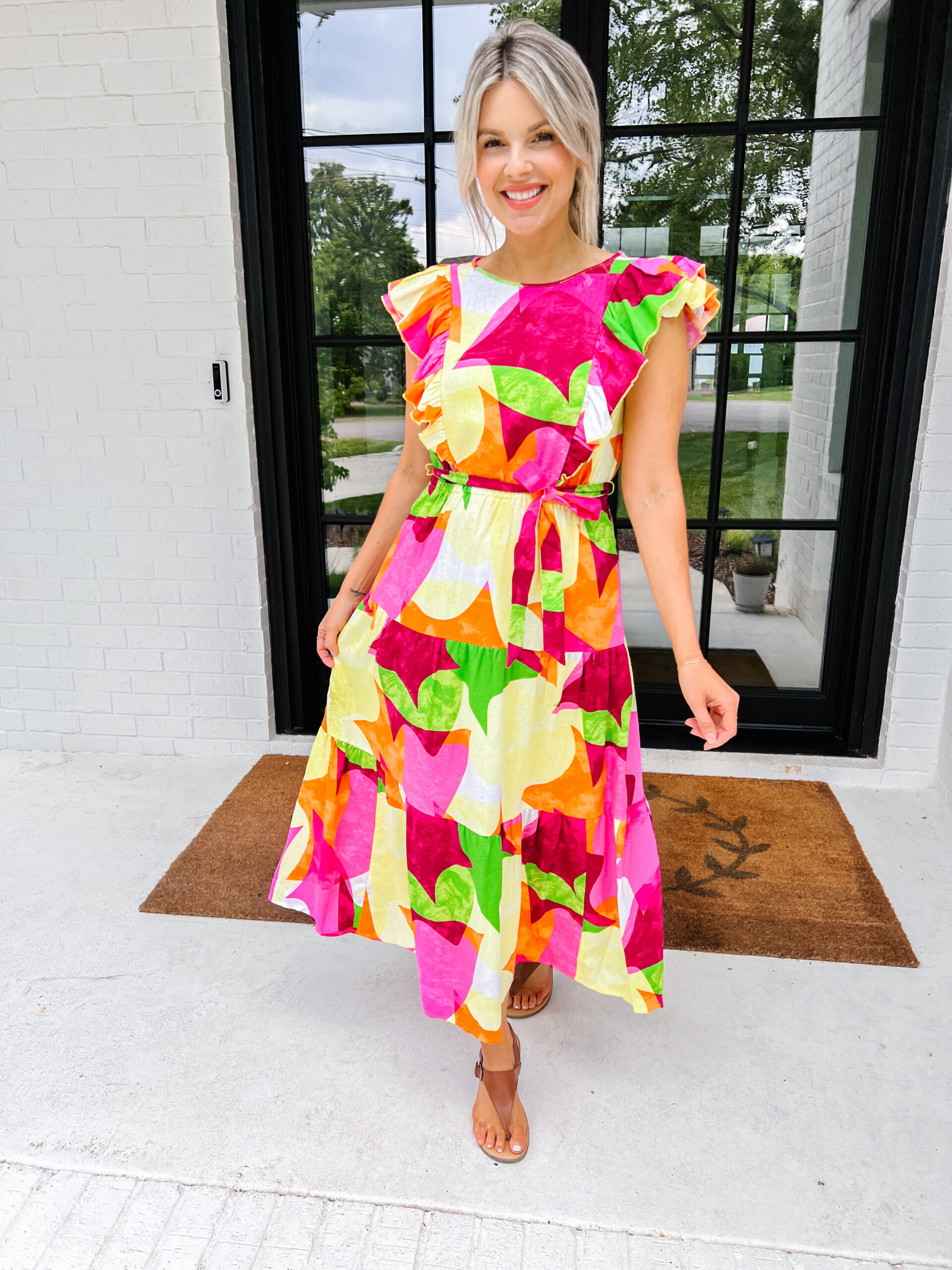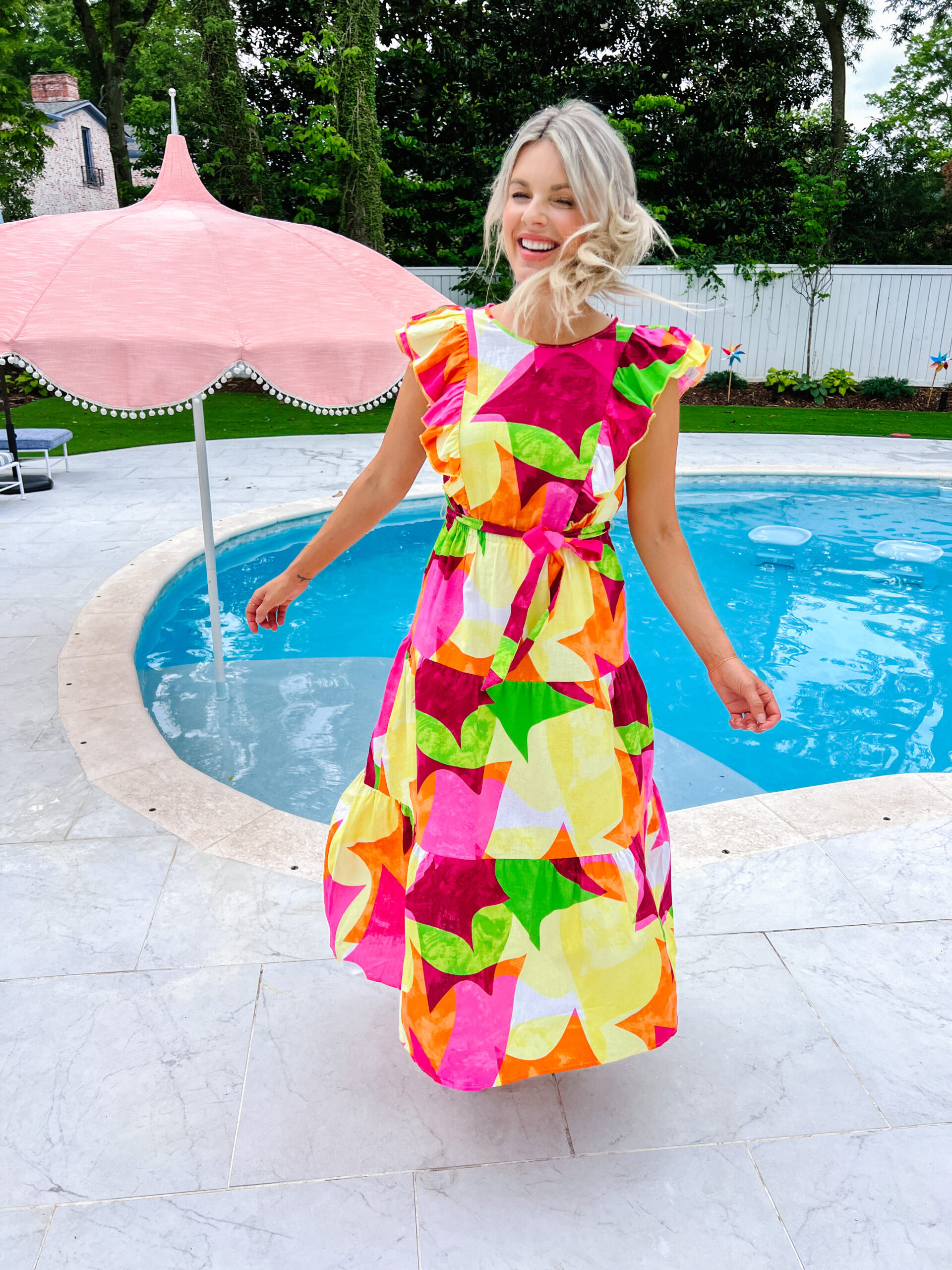 1. BRIGHT FLORAL DRESS | 2. SANDALS
Classy Black & White
Then there's this beautiful black and white dress. Guess the price?! $12 on sale right now! I'm wearing a size medium which is my normal size and it's so so so chic. I feel like the pictures don't even do it justice. It has a stretchy waistband so it will fit all different kinds of body types! So chic, and so classy!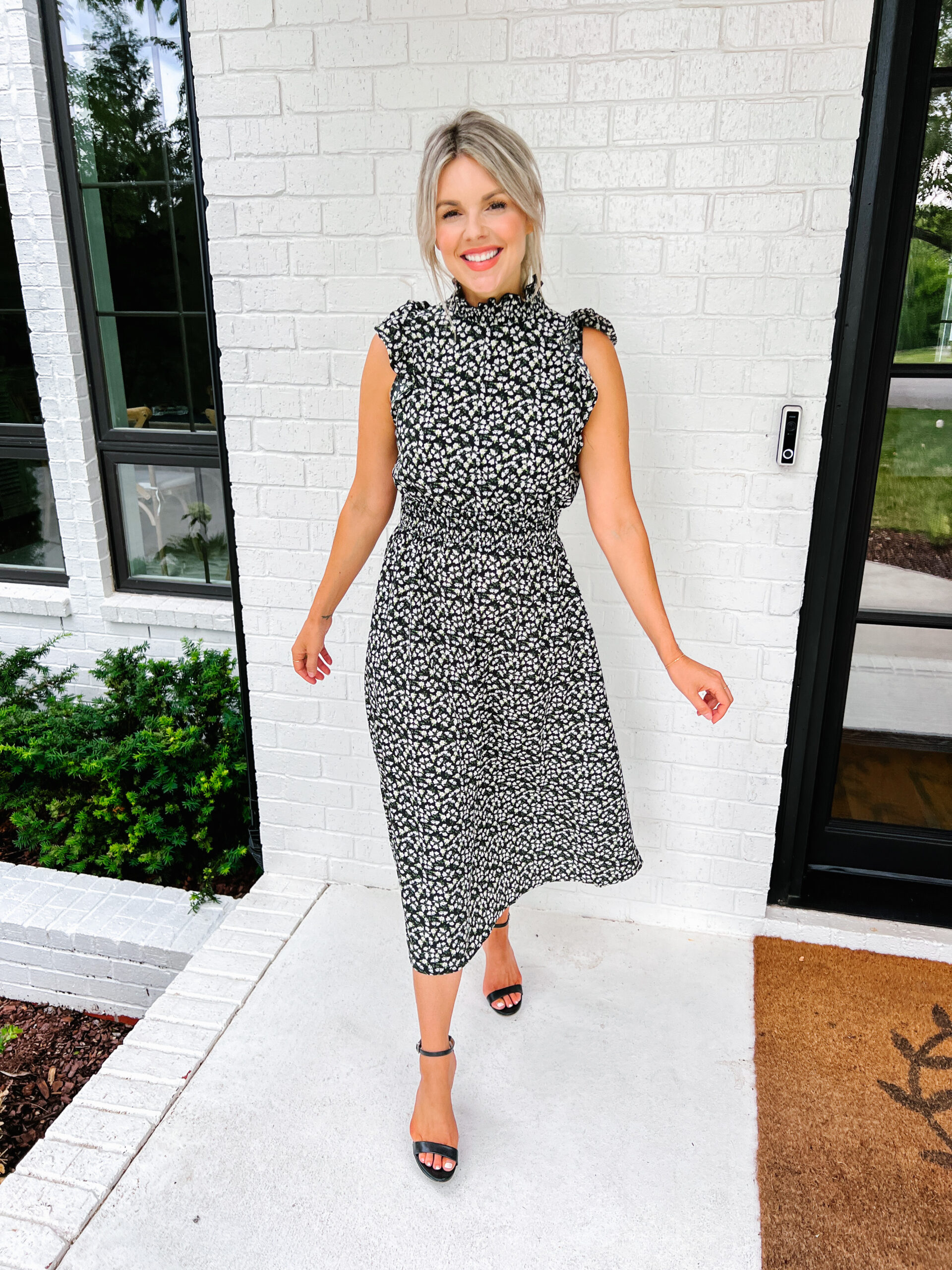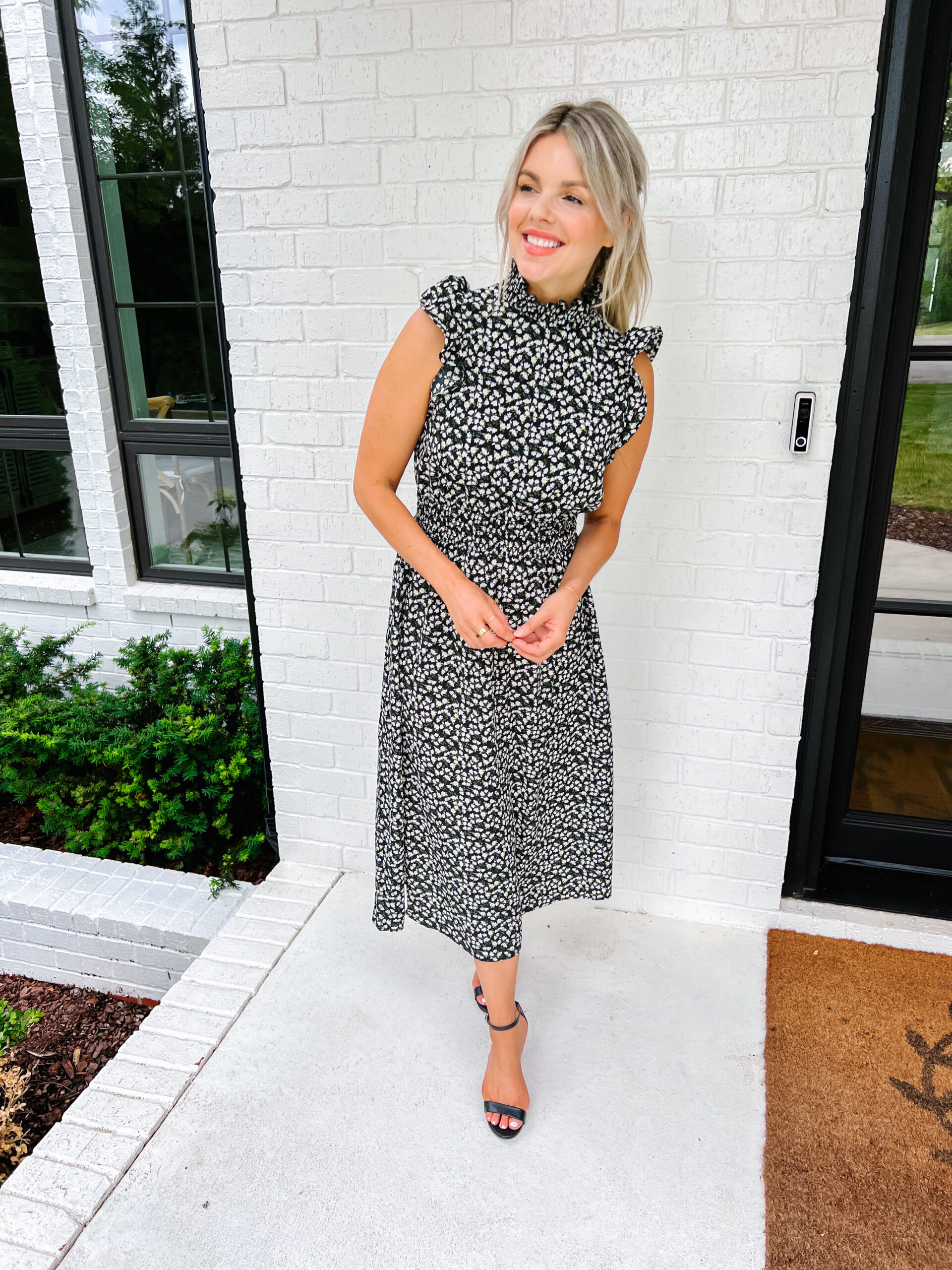 Pretty Woman Dress
Finally, this last dress is just so pretty it reminded me of the outfit Julia Roberts wore in Pretty Woman! You just can't beat the price for only $28. I'm wearing a size medium, which is my normal size and it fits like a glove! Another option that I truly feel is so classy and chic, and cannot believe how affordable it is!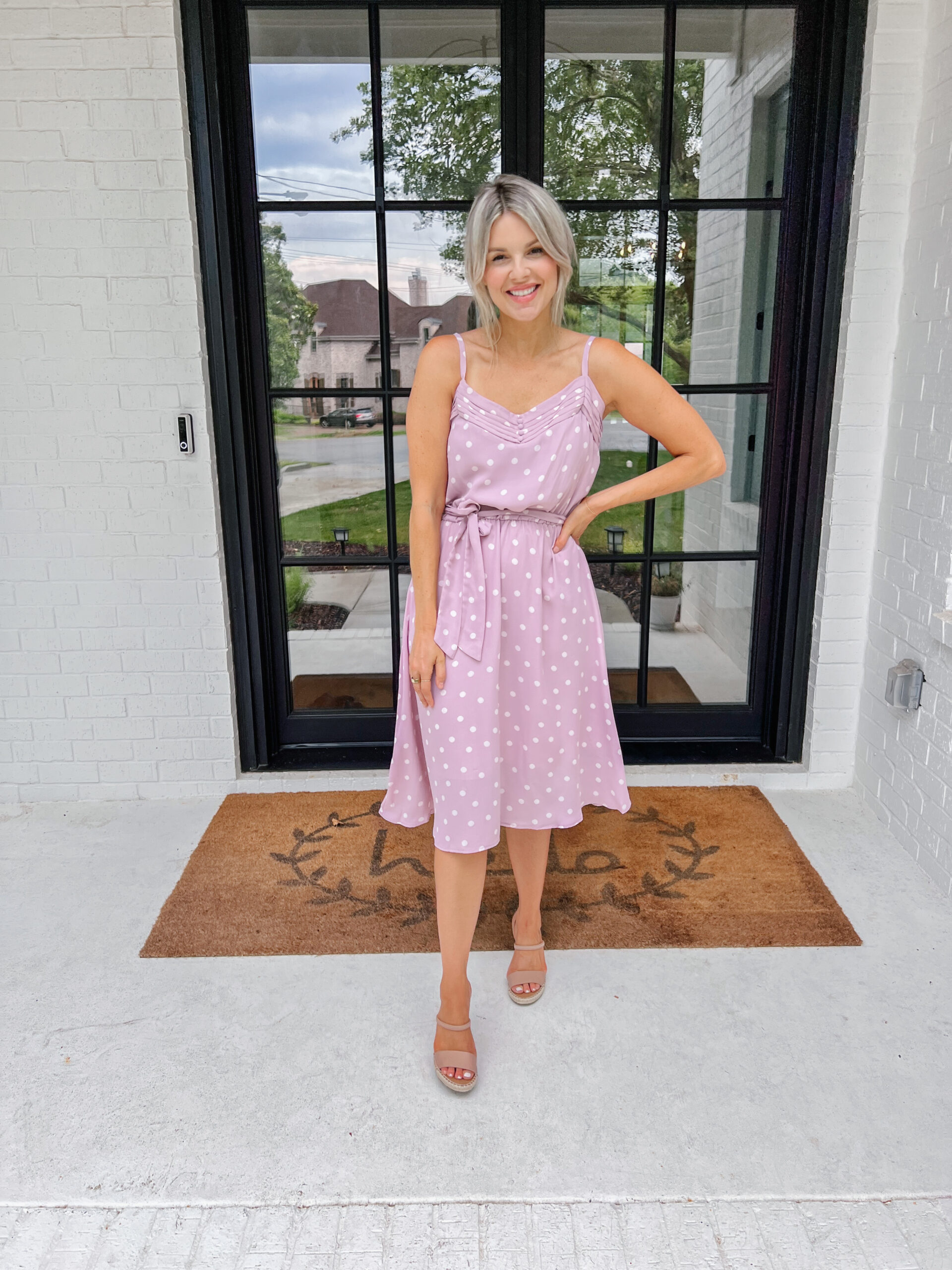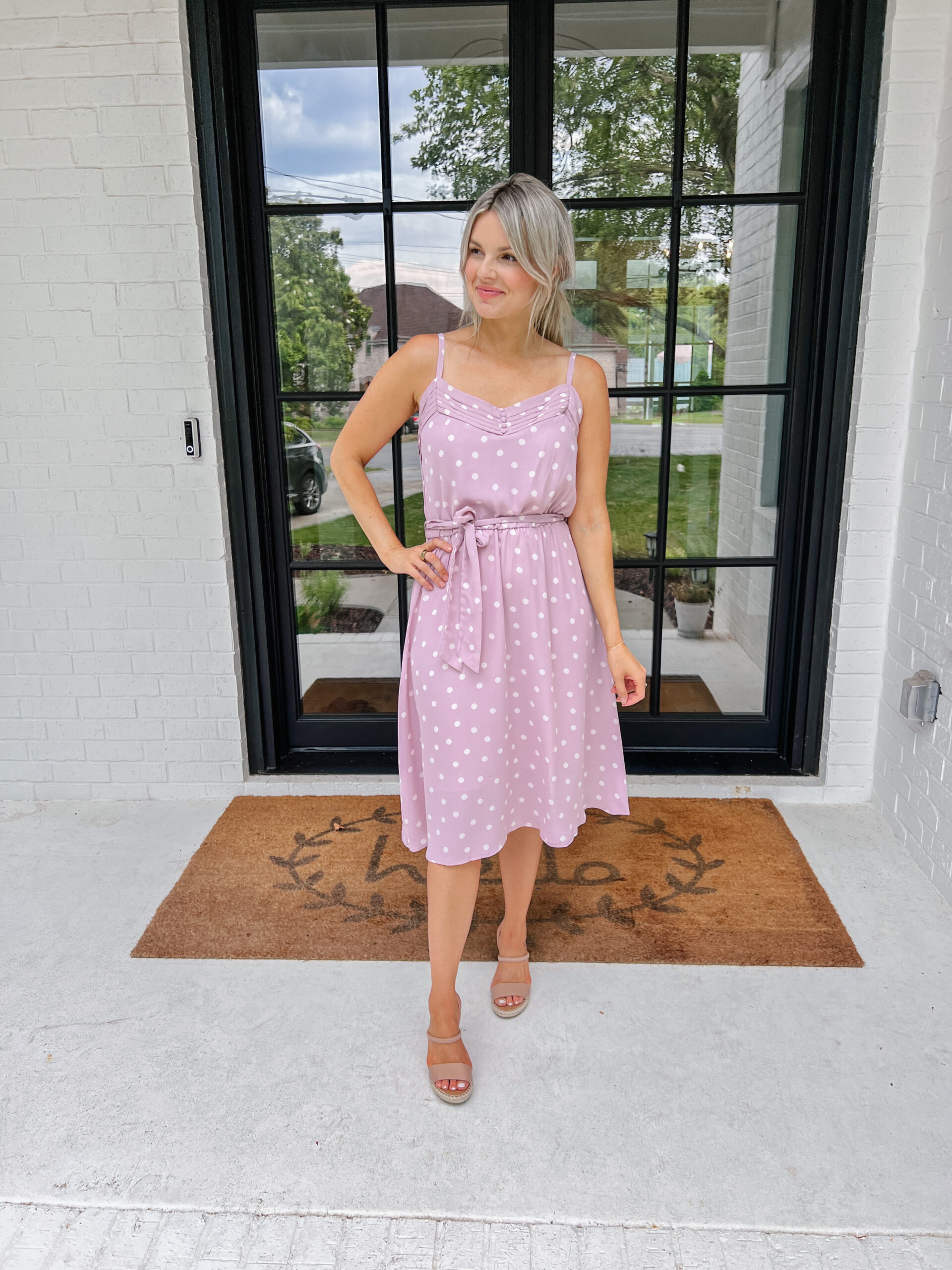 Swimsuits
I asked you guys the other day to let me know what you'd like to see in future Affordable Fridays and a lot of people said swimsuits, so I wanted to share this swimsuit that I got from Walmart. What I love about it is that it's really flattering material, only $26, and classic! Look at the website because there's over 50 reviews and they're all super positive so I'm definitely not the only one that loves this suit! It flatters "the girls" soooooo much!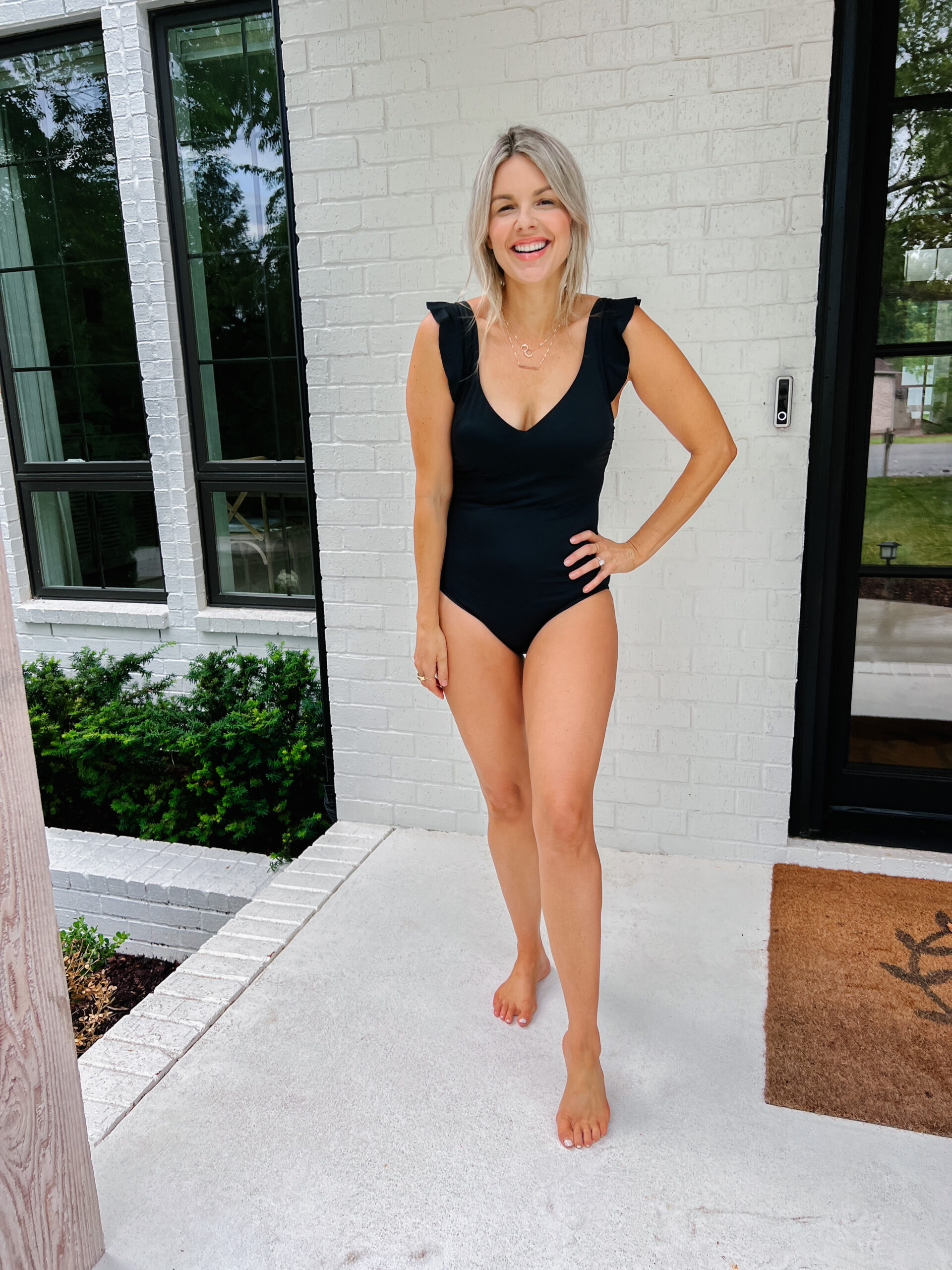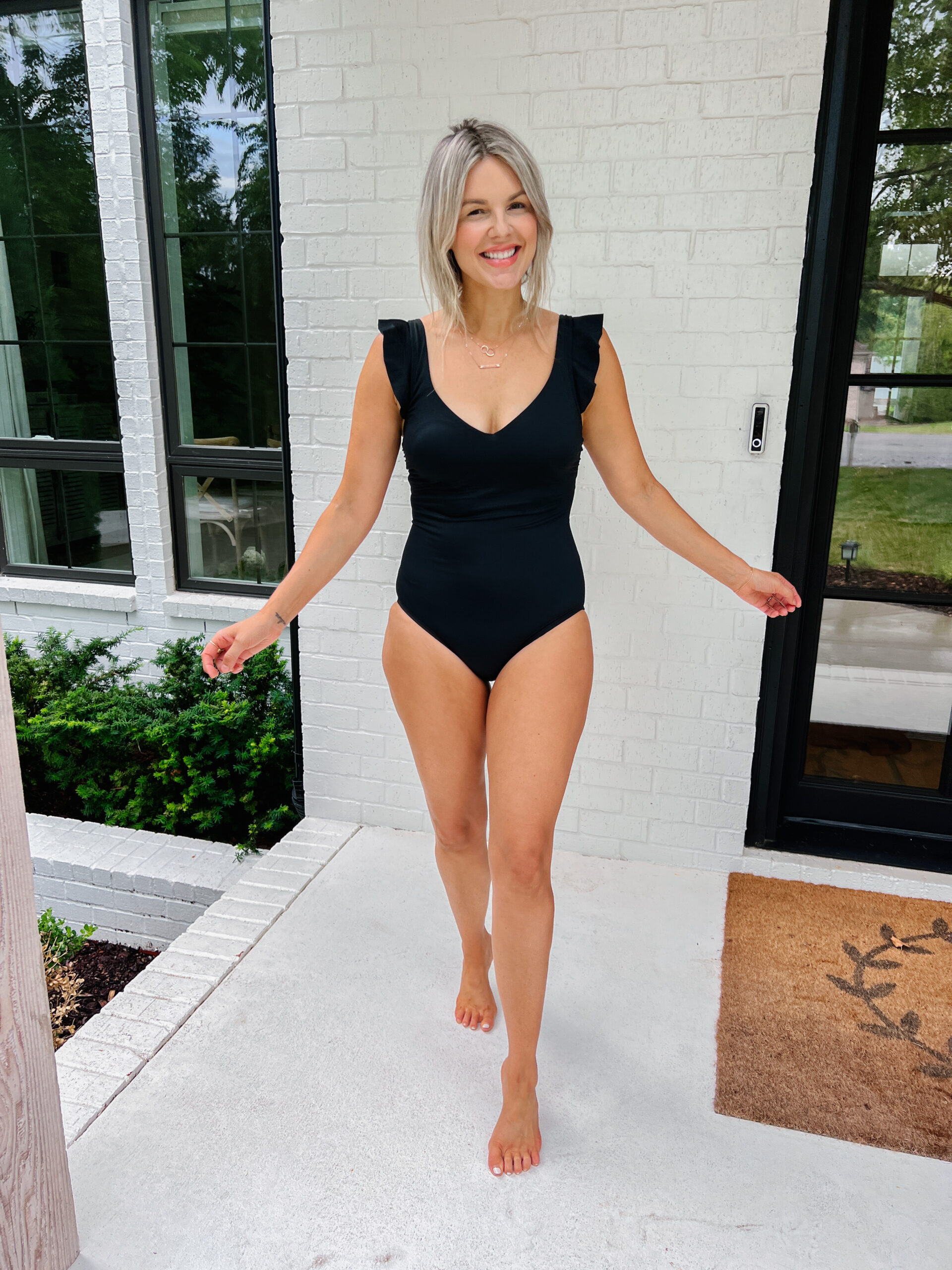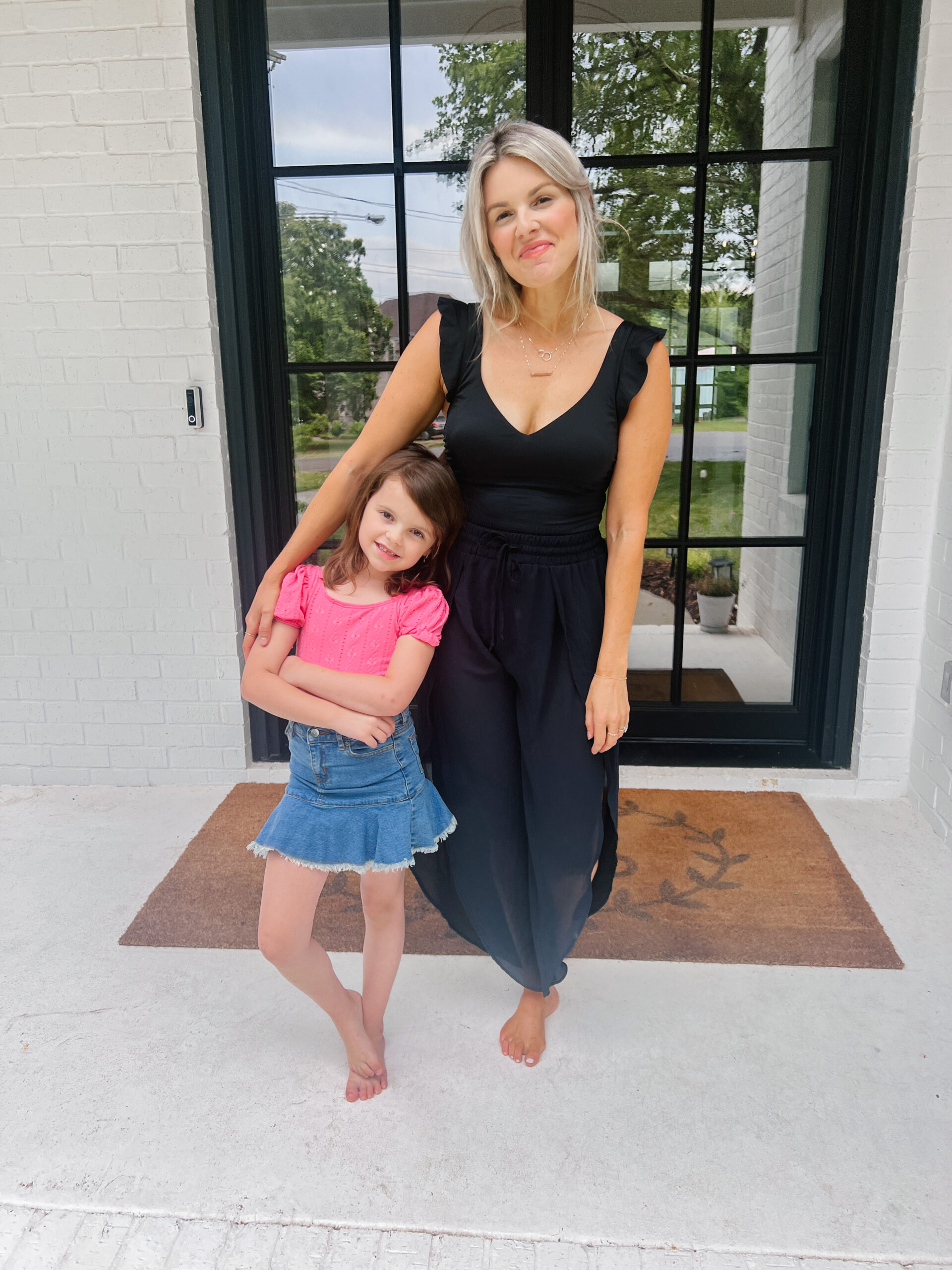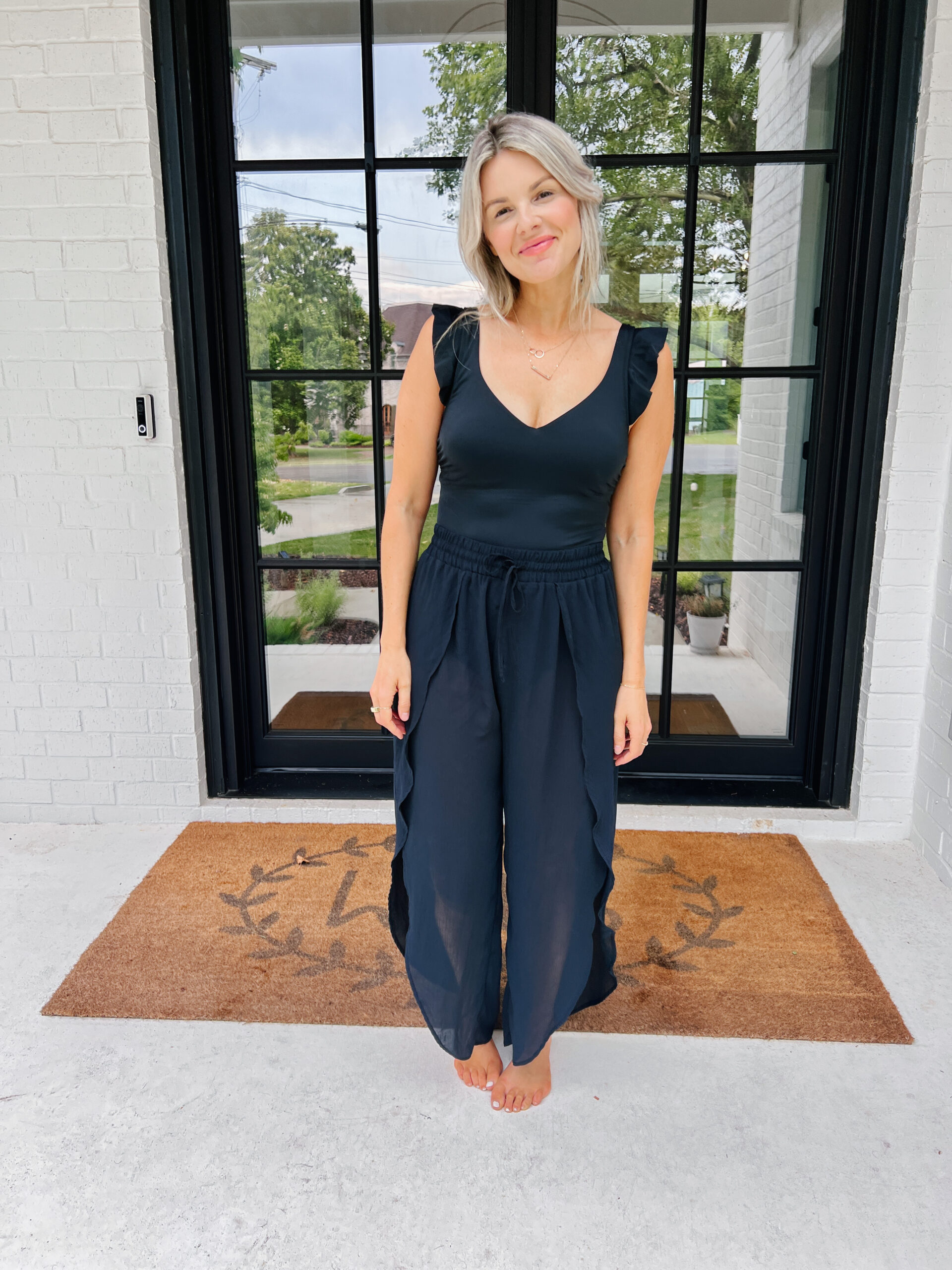 1. RUFFLE SWIMSUIT | 2. MOLLY'S SWIMSUIT
I also love that you can pair it with a maxi skirt and it looks like a really pretty bodysuit underneath so you could go from the beach to dinner easily when on vacay or wherever you're wearing the swimsuit! It's fully in stock and comes inside a Small to XXXL. I'm also going to link Molly's cute little swimsuit with the ruffle detail on the sleeve that I got her recently as well. I just love it so thought I'd share in this post, it's only $10!
Have a Wonderful Friday!
That's it for me. I worked so hard on this post and I hope you guys love it so so so so much! What is your favorite look?! Tell me in the comments below! Don't forget to tell me what you'd like to see in future Affordable Friday's, so I can make sure to look for it for you guys!
The post A Super Chic Affordable Friday!!! appeared first on Ali Manno (Fedotowsky).