Unicorns may not be real, but unicorn-inspired gifts are surreal. From kids to adults, everyone loves unicorns, and why not? They are pleasing and positive creatures that inspire us to believe in ourselves. From jewelry and outfits to hair ties and coffee mugs, you can spot unicorns everywhere. If you have a unicorn-obsessed friend, here are some impeccable gifts you can give them. We have compiled gifts for women, kids, and adults. Check them out!
30 Best Unicorn Gift Ideas
10 Best Unicorn Gifts For Girls
1. The Memory Building Unicorn Music box And Jewelry Set For Girls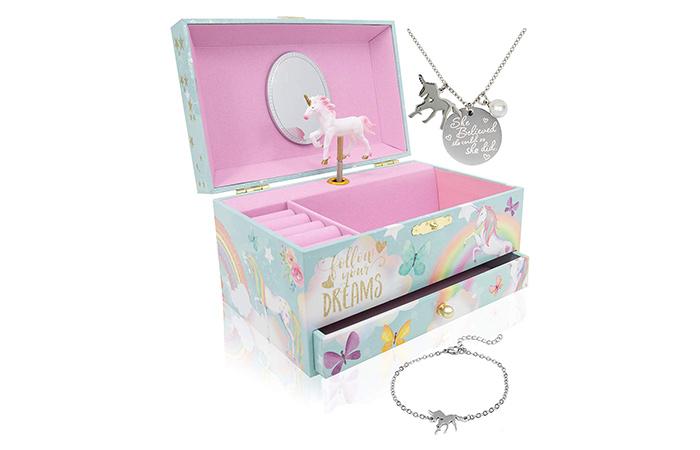 Unicorn-themed musical boxes and jewelry sets are exciting. This memorable gift set comes with a musical box topped with a white unicorn, a unicorn bracelet, and a unicorn necklace. The box has compartments for storing different jewelry items and plays the song Somewhere over the rainbow when opened. The box is specially designed by an artist with soft and blissful rainbow colors.
Key Features
Rainbow-colored gorgeous music box with jewelry set
Consists of a music box, a unicorn bracelet, and a unicorn necklace
Plays pleasant tunes in the background
2. Aurora Unicorn Fancy Pals Purse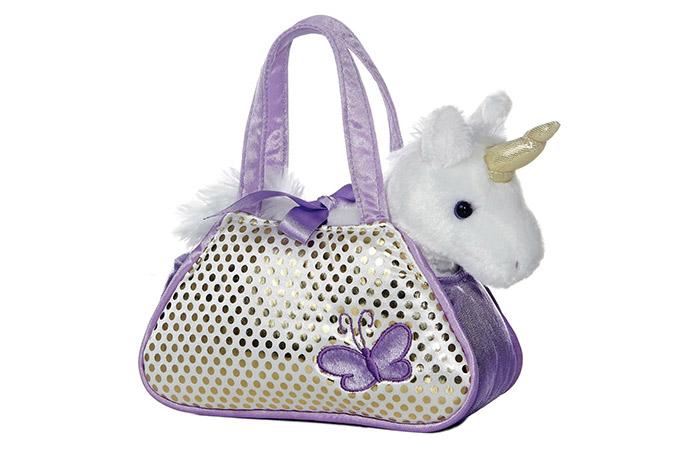 If your little baby girl loves playing with purses and plush toys, embrace her love for unicorns with this Fancy Pals Purse. The Aurora Unicorn Fancy Pals Purse comes with an 8-inch unicorn. This carrier has a pretty sequinned body, purple straps, and a cute white unicorn. It is glitzy, appealing, and all your daughter needs. The unicorn is made of superior quality material and is super soft. This is a great gift for Christmas and birthdays.
Key Features
Super-soft plush toy with a glitzy carrier
Colorful and vibrant design that grabs attention
3. Syleia Colorful Printed Hair Ties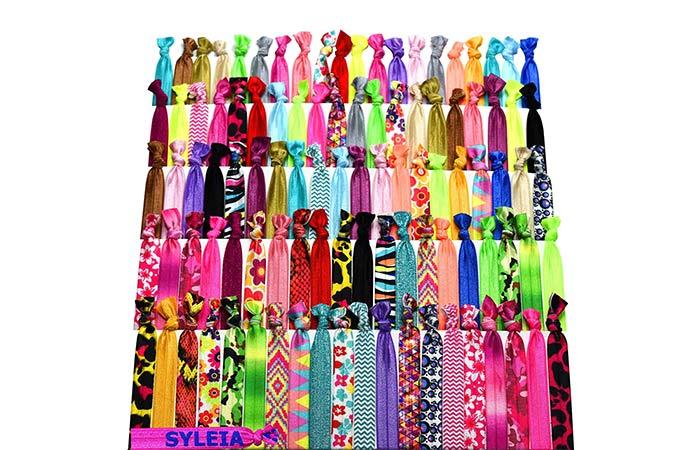 Looking for an exciting gift option for a little girl? These printed and knotted hair ties are perfect for her! Syleia Hair Ties are perfect to give on Christmas, birthdays, and other special occasions. The hair ties have animal prints, floral prints, sequin decorations, and geometric prints. They look wonderful with dresses of different colors and patterns. The hair ties are soft and gentle on hair. The stretchy elastic gives them good grip.
Key Features
Colorful and vibrant
Gentle on hair
Can also be worn as stretchy bracelets
4. Mingkids Unicorn Star Moon Projector Lamp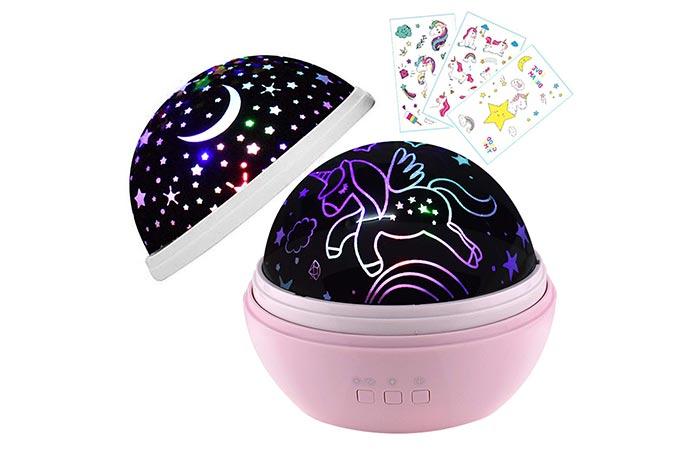 This unicorn-themed star and moon projector lamp is just the right thing to gift to your little niece, daughter, or cousin. It comes with two projector films and a projector. The projector creates the perfect magical glow in the entire room. It will take your tiny munchkin into the fairy world with its beautiful color-changing lights and rotating images. This projector also works as a great decoration for parties.
Key Features
Offers a very warm and cozy sleeping environment
Comes with unicorn and star projector films
The lights create a mystic and fun mood for parties.
The rotating and color-changing lights are pleasing.
5. Anddyam Anti-Slip Unicorn Slippers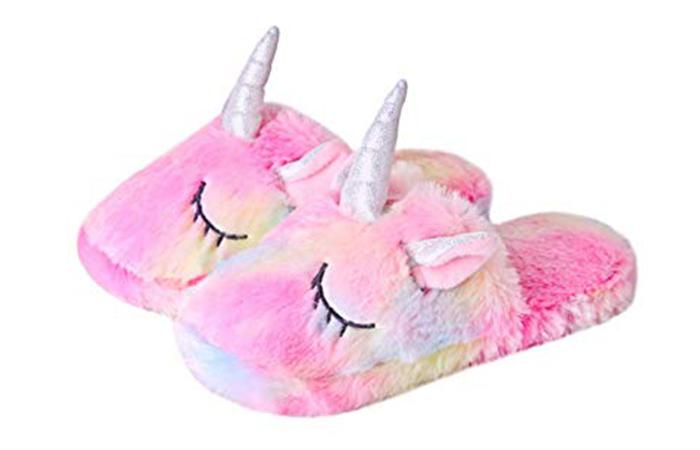 Searching for something extraordinary and comfortable for your little girl? This pair of Anddyam Kids Unicorn Slippers is the absolute best! These colorful unicorn anti-slip slippers are super soft, featuring black eyes, cute ears, and an adorable nose. The easy slip-on design makes these slippers comfortable to wear. They are perfect for loitering around the house. This pair is a lovely gift option for Christmas.
Key Features
Made of ultra-soft material
Soft sole and easy slip-on feature
Lovely cartoon design with cute black eyes, ears, and adorable nose
6. Simplicity Girls Unicorn Tutu Skirt With Headband And Hair Bow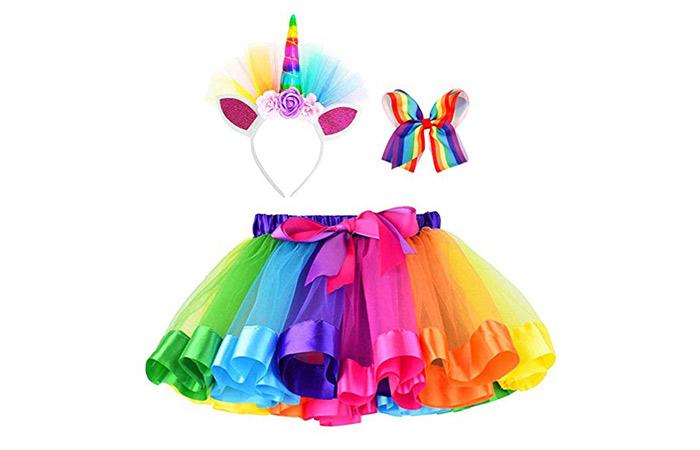 Simplicity Girls Rainbow Costume is perfect for birthdays, costume parties, and ballet recitals. This pretty tutu comes with a beautiful unicorn headband and a cute hair bow. The skirt is made with soft poly-blend fabric with a satin elastic waistband for comfort and stretch. This gorgeous ballerina tutu set is perfect for making any little girl feel like a princess.
Key Features
Made with high-quality poly-blend fabric
Comes with a unicorn headband and a colorful bow
7. JMLLYCO Unicorn Night Light
This unicorn sculpture night light is a dreamy gift for girls. It features 7 color-changing LED lights. Its advanced smart-touch and remote control facility allows you to operate the lamp lights with both the remote and the button in the base of the lamp. It is made of high-quality LED lights that are not harmful to the eyes. The light is uniform and does not flicker or dazzle.
Key Features
7 different colored lights
Smart-touch and remote control for easy operation
Highly convenient and safe for kids
8. Snuggie Unicorn Blanket For Girls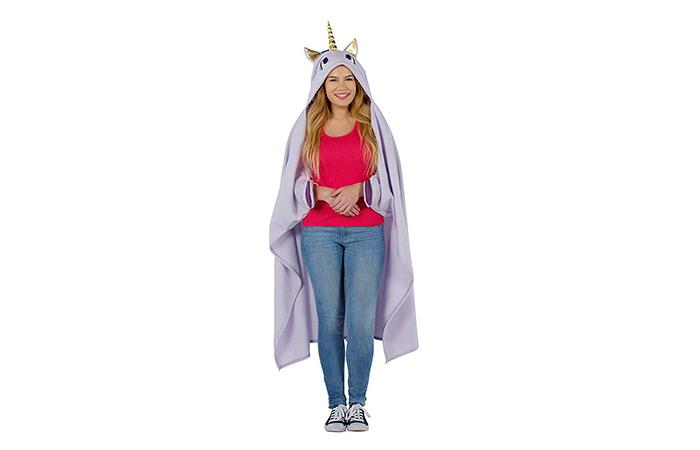 Its time to get cozy with this unicorn-themed blanket. Snuggie Unicorn Blanket is the perfect blanket to snuggle under while watching TV, reading a book, or studying. Wrap your girl up in this cozy blanket during the winter. The long sleeves create an instantly cozy feeling. The giant unicorn hood is made of soft and light fleece material. This is a great gift for teenage girls and women who love collecting unicorn-themed products.
Key Features
Perfect for lounging and staying cozy all day and night
Sleeves let you move your arms around and still be warm.
Made with lightweight and super-soft fleece
9. Marvs Store Unicorn Tiara And Birthday Girl Sash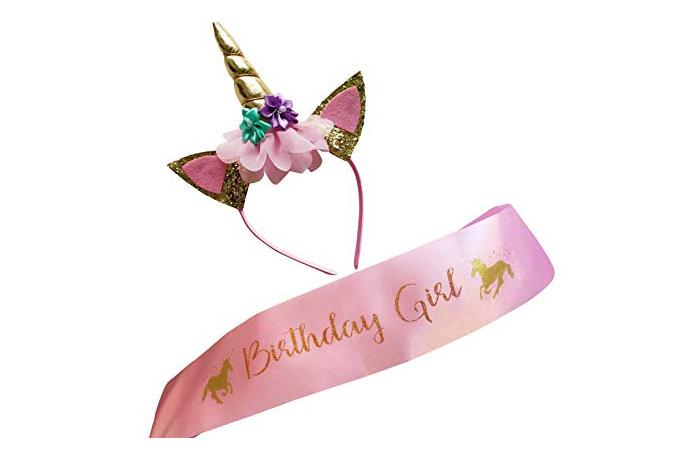 Finding the right birthday gift for girls is sometimes a strenuous task. However, with this unicorn tiara and birthday girl sash, you can never go wrong. Marvs Store Unicorn Birthday Girl Set is an exceptional birthday gift for little girls. The headband comes with a pretty pink and golden base and a golden metallic horn. The birthday girl sash is shiny and pink. This headband and pink satin sash set will make the birthday girl feel like a princess.
Key Features
Pretty pink and golden-themed birthday girl gift set
Headband embellished with glitter and flowers
10. Carters Unicorn Pajama Set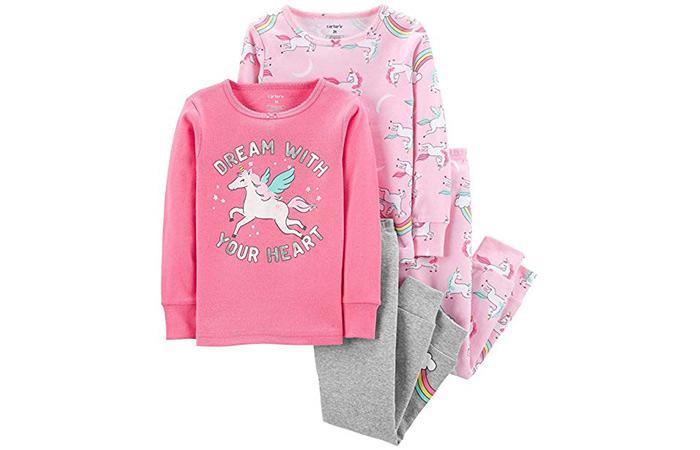 Carters Baby Girls 4-Piece Cotton Pajama Set is all that your girl needs. The design of the pajama set is simply amazing. The colors used are pastel pink and gray. The rainbow and unicorn prints are very attractive. The cuffs and neckline are irritation-free. Embrace your kids love for unicorns with this ultra smooth and attractive unicorn pajama set. It consists of twopajama sets one with a short-sleeved shirt and shorts and the other with long sleeves and long pants.
Key Features
Cute and comfy 4-piece pastel unicorn-themed pajama set
No-pinch elastic waistband and ribbed neckline/cuffs to avoid any irritation
100% cotton
10 Best Unicorn Gifts For Kids
1. Camel Bak Unicorn Water Bottle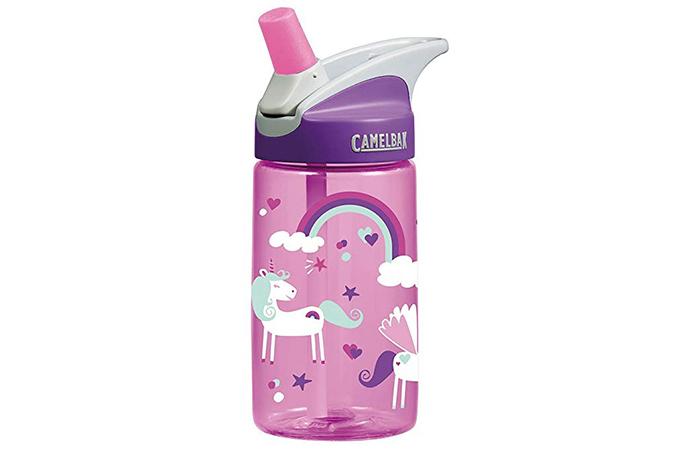 Kids love anything colorful and peppy. If your little one loves rainbow colors and unicorns, grab this Camelbak Eddy Kids BPA-free Water Bottle. The bottle is spill-proof and has a shut-off valve to prevent any leakage. It is made of high-quality material. The stem tube makes it easy for kids to sip water easily without spilling it. It is also easy to clean and assemble again in minutes. Keep your kids hydrated with this unicorn-themed water bottle.
Key Features
Unicorn-printed water bottle with interesting graphics and colors
Spill-proof bottle with a water stem and shut-off valve to prevent spills and leakage
The bottle is made from Tritan plastic that is BPA-, BPS-, and BPF-free.
2. Little Stinker Unicorn Farts Cotton Candy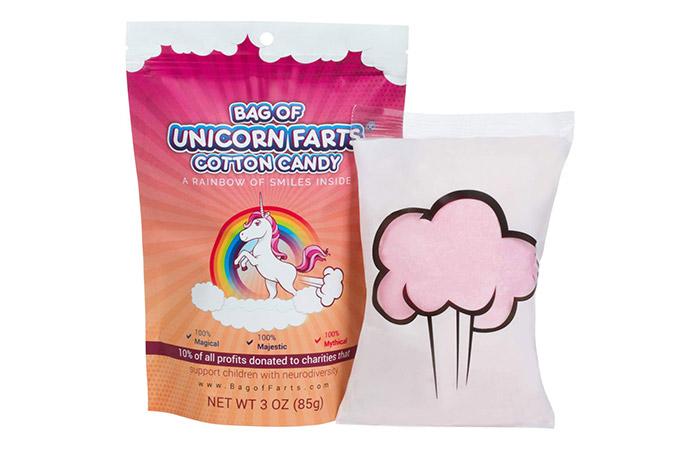 This is a fun gift for any kid or unicorn fan. Little Stinker The Original Bag Of Unicorn Farts Cotton Candy is a novelty gift for birthdays and Christmas. Your kids wont be able to get over these funny candies. The fruit punch candies taste delicious and are the ultimate treat for your kiddos. The packaging bag has a funny story that makes the kids believe that the candies really are unicorn farts! This is a must-have item on your list, especially if you are arranging a unicorn-themed party for your kids birthday!
Key Features
Awesome packaging with a fun story and cute unicorn prints
Delicious fruity flavor
3. GUND Pusheenicorn Plush Stuffed Toy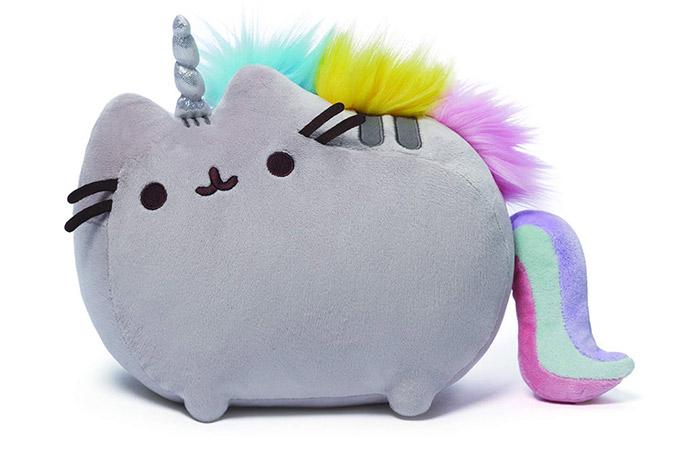 Kids love stuffed toys, and if your kid is into unicorns, grab this Gund Pusheenicorn Plush Stuffed Animal Rainbow Cat now. This stuffed toy is made of polyester blend. It is cushiony soft and smartly designed for kids. The toy has a wonderful rainbow tail, a colorful mane, and a sparkling silver unicorn horn. The toy looks realistic and is soft and huggable.
Key Features
Colorful tail, mane, and unicorn horn
Made of polyester blend
4. Play-Doh My Little Pony Make N Style Ponies Playset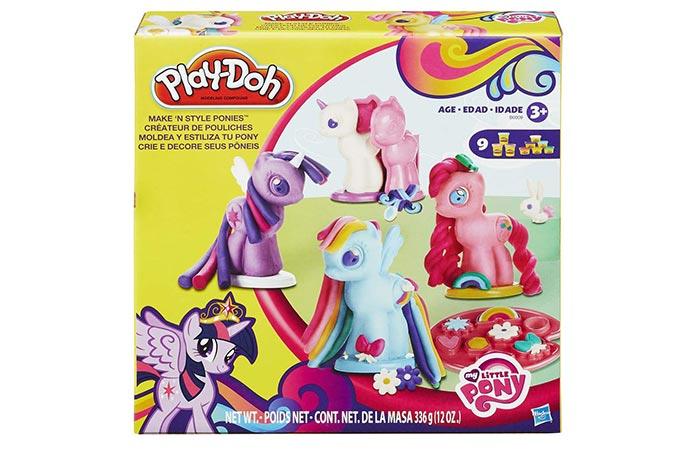 Play-doh My Little Pony Makes N Style Ponies is a set of play-doh that will enhance your kids creativity and imagination. The pack comes with 4 different molds to create 4 different types of ponies. The 9 rainbow colors let the kids create some cute accessories for the unicorns. This amazing set comes with 4 pony bases, a pony book mold, 2-piece extruder, a half mold palette, and 9 cans of modeling clay.
Key Features
Rainbow-colored clays to create unicorn accessories
Boosts the imagination and creativity of kids
5. Raskullz Unicorn Helmet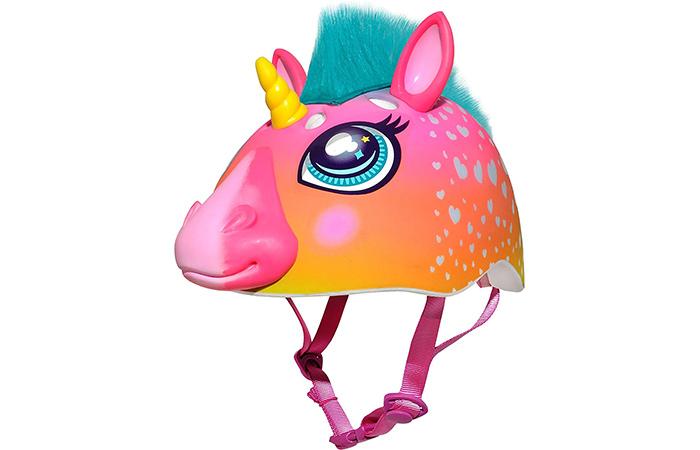 The Raskull Child Unicorn Helmet ensures security. This helmet meets CPSC and ASTM standards. It comes in different colors, and the adjustable nylon strap fits well around the head. The vented aerodynamic-style pattern promotes air flow. The vibrant colors and attractive designs will make your kid wear it all day long. The 3D unicorn ears, horn, and snout are made from high-quality TPR and are non-toxic. Despite the embellishments, the helmet is lightweight and easy to wear.
Key Features
Colorful and vibrant design
Weightless, non-toxic, and high-quality
Meets CPSC and ASTM standards
6. O.L. Surprise! Hooded Bath Towel Wrap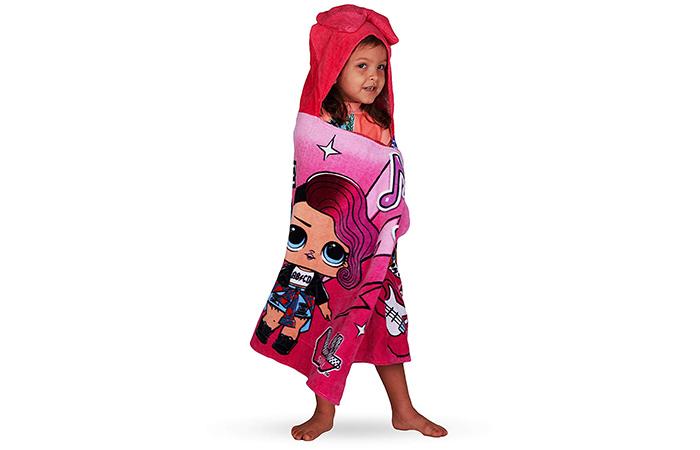 Kids are always drawn towards colorful and pretty products. If you want to surprise your kid with an awesome gift, try this LOL Surprise Soft Cotton Hooded Bath Towel Wrap. This towel wrap is made from terry material and has a smooth and cozy texture. The fabric keeps your kid dry and warm after a shower or swim. The towel can also be worn as a poncho or a bathrobe. Your child will love this wrap and use it every day. This is a great product to transform your childs bath time into party time.
Key Features
Cute hooded design
Perfect to carry for a beach vacation or to the pool
Made from smooth and comfortable fabric
7. Yoweenton Unicorn Stuffed Animal Toy Storage
Unicorn Stuffed Animal Toy Storage also converts into a fun bean bag. This is a 4-in-1 design that can be used as a cute and spacious storage bag. Your child can store their stuffed toys in it. When the bag is filled, it becomes a huge unicorn bean bag. The kids room will no longer be a mess as this huge storage bag will accommodate all their stuffed toys in minutes. This bag is made from luxury velvet for a soft and comfy feel.
Key Features
4-in-1 multipurpose toy
Can be used as a storage bag, a bean bag, and a huge stuffed play toy
Can accommodate up to 90 stuffed toys
Made from luxury velvet for durability and comfort
8. Animal Adventure White And Pink Unicorn Rocker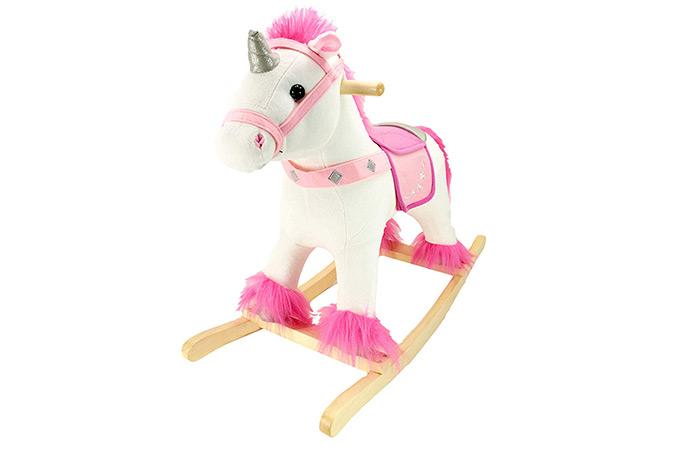 What can be more interesting than a cute unicorn-themed rocker? The rocker comes in a white and pink palette and is ideal for kids aged 3 and up. The rocker is smartly crafted and ensures safety. The seat is soft and harmless for kids, and the wood is durable and of premium quality. Small wooden handles are attached to help your child sit comfortably on the rocker and have fun. The Animal Adventures Real Wood Ride-On Plush Rocker is the ultimate gift for your kid who loves riding rockers and unicorns.
Key Features
Cute pink and white unicorn rocker made of real wood
Soft cushioning
Made from high-quality polyester fabric to offer a soft seat to the kids
Can be cleaned within minutes with just a damp cloth
Can easily handle weight up to 75lbs
9. Posh Peanut Unicorn Kids Party Hat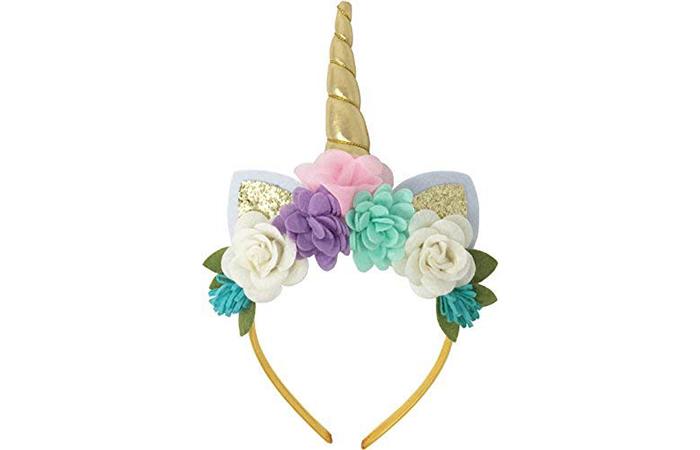 Is your kids birthday coming up? Well, heres a fantastic party prop-cum-gift you can get them. The Posh Peanut Unicorn Childrens Party Hat Horn Hard Headband is a great gift. The headband is studded with floral accessories, glitzy sequin petals, and a metallic gold unicorn horn. It is a perfect prop for cosplay that will make your little girl look absolutely stunning.
Key Features
Embellished with floral accessories and sequins
Perfect for cosplay
10. Sleepwish Cute Unicorn Blanket for Kids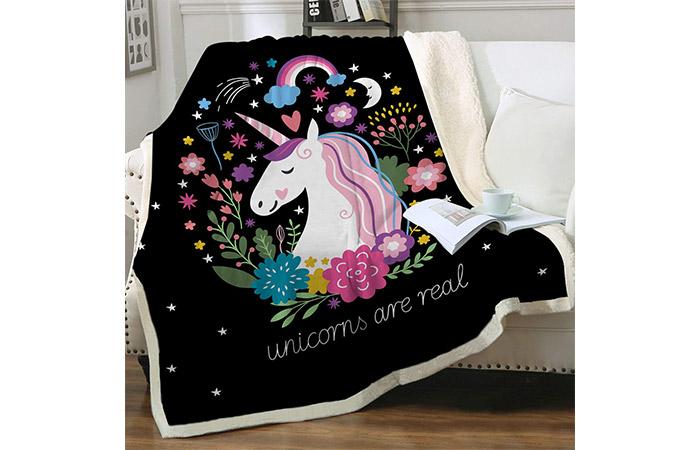 Cartoon-inspired blankets are a dream gift for kids. If your child loves unicorn blankets, choose this Sleepwish Cute Plush Unicorn Soft Blanket. The blanket has an extremely pleasing unicorn and floral print. The Unicorns are real tagline will make your child love it even more. Let your child snuggle in this wonderful blanket while watching TV or reading books on the couch. This reversible blanket has soft and plush velvet on one side to keep your kid warm. The blanket is made from 100% polyester and is resistant to wrinkles and shrinking.
Key Features
Ravishing blanket with black base
The colorful print will make the black base pop.
Made with velvet and polyester fabric
10 Best Unicorn Gifts For Adults
1. Schylling Unicorn Tin Tea Set
What would you buy for your friend who is obsessed with unicorns? We have a cool option if they are also a tea lover! The Schylling Unicorn Tin Tea Set is a perfect addition to your tea time. It is a beautiful 15-piece tea set with all the accessories that have cool unicorn designs. The whimsical unicorns and rainbows are wonderfully placed. The set comes with 4 complete place settings, 4 dessert plates, a tray, and a teapot. The entire tea set is made using high-quality materials.
Key Features
Beautiful unicorn printed tea set
Perfect to use for a tea party, a picnic, or a celebration
Comes with a dessert tray, cups, a teapot, and, place settings
2. BigMouth Inc. Unicorn Garden Gnome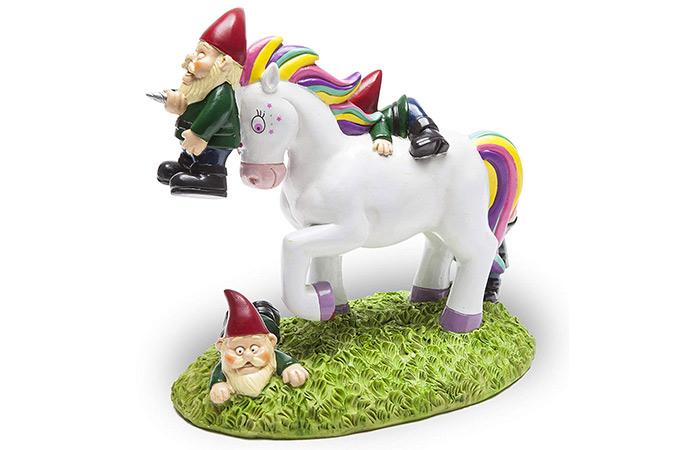 Dont buy just any other gnome when you can buy a unicorn-themed garden gnome. The Bigmouth Inc. The Unicorn Garden Gnome Massacre Statue will make quite a hilarious addition to your garden. This weather-proof garden decoration is a must-have item for unicorn lovers. The statue is made from durable cast poly resin and can withstand heavy weather changes. It can be placed in the garden as well indoors as a quirky decoration.
Key Features
9 tall and uniquely designed gnome
Made with quality materials to ensure durability
3. Enchantmints Unicorn Music Jewelry Box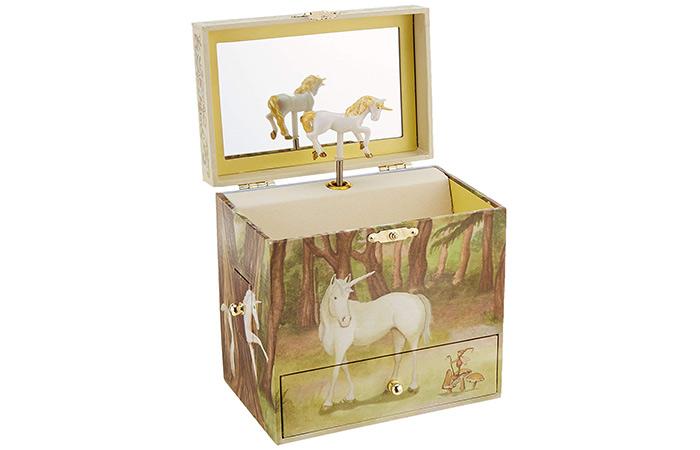 The Enchantmints Unicorn Music Jewelry Box is the perfect addition to a dressing table. It accommodates everyday jewelry items in a safe multi-layer storage box. While getting dressed, your friend can also play the music and have fun. The box comes with large drawers that can hold jewelry items and other treasures.
Key Features
Elegantly designed unicorn-themed jewelry box
Excellent storage box for tiny treasures
Comes with a back mirror
4. Glintee Unicorn LED Night Lamp Dcor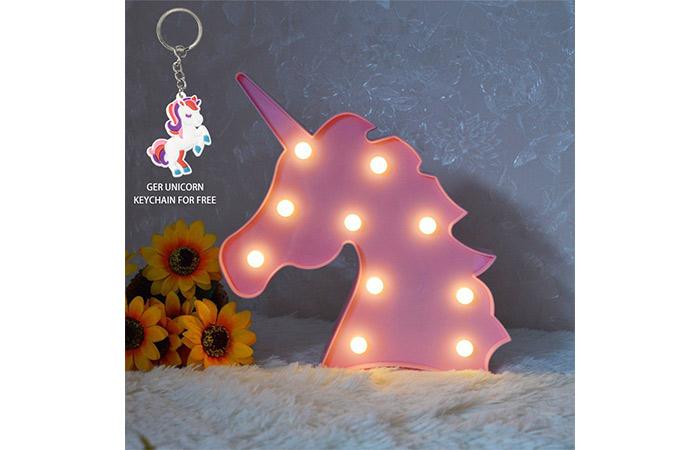 If your loved one is fond of night lamps, have a look at this unique and elegant unicorn-themed LED night lamp. The Glintee Unicorn Led Night Lamp is a wonderful item to transform their bedroom. They can place it on their bedside table on a furry rug, and it will brighten up the entire space. The LED lights offer a warm and cozy ambiance to the room and create sleepy vibes.
Key Features
Extremely appealing and cozy lights
Makes the room look serene at night
Hassle-free installation as it is battery-powered
Made from non-toxic materials
5. Beinou Unicorn Dream Catcher
Is your friend obsessed with dream catchers? On her birthday, you can surprise her with this gorgeous unicorn dream catcher. The Beinou Unicorn Dream Catcher is loaded with colorful feathers, beautiful beads, and floral accessories. It is great for hanging in the bedroom, in the kids nursery, or beside a window. The handmade flowers make the dream catcher even more appealing.
Key Features
Colorful handmade flowers, beautiful silk threads, and pretty feathers
Sparkling silver unicorn horn
6. Everspring Import Company Rainbow Unicorn Coffee Mug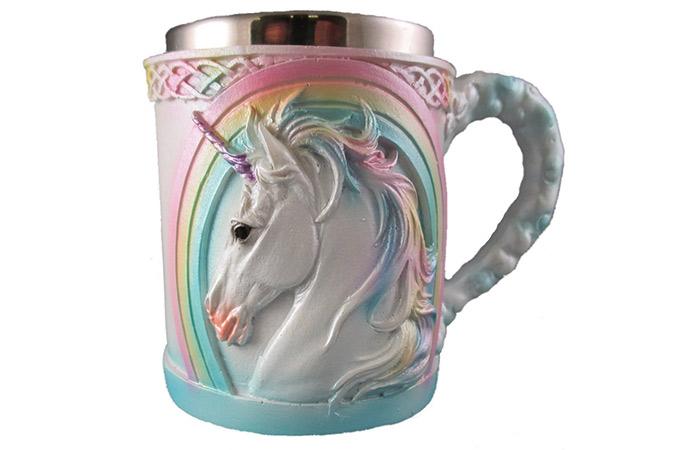 For all the coffee lovers, this is a great colorful coffee mug to try. The mug has a medieval Celtic knot design. The pastel-colored rainbow shades make this mug look gorgeous. It is made from hand-painted cold cast resin and is highly durable. It also comes with a stainless steel lining that will prevent any changes in the texture and taste of your beverage.
Key Features
Vibrantly designed coffee mug with a unicorn design and Celtic knot pattern
Hand-painted cold cast resin to ensure durability
Stainless steel lining to prevent changes in the taste of your coffee
7. Presentski Heart Unicorn Open Ring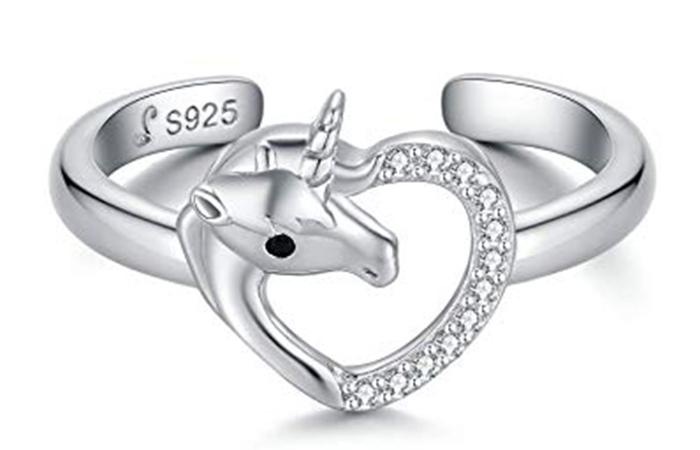 This elegant heart-unicorn patterned sterling silver open ring is studded with cubic zirconias. The design is elegant, and the ring is nickel-, lead-, and cadmium-free. It is also suitable for sensitive skin and does not cause itchiness. The ring is adjustable from sizes 6 to 9 and is a perfect accessory for parties, engagements, prom, or even as a daily wear item. It is a precious gift you can offer to your friend, mother, sister, or any unicorn lover.
Key Features
Made from sterling silver
Beautiful heart and unicorn pattern that reflects innocence and purity
Nickel-, lead-, and cadmium-free
8. Ann Arbor T-shirt Company Unicorn Racerback Tank Top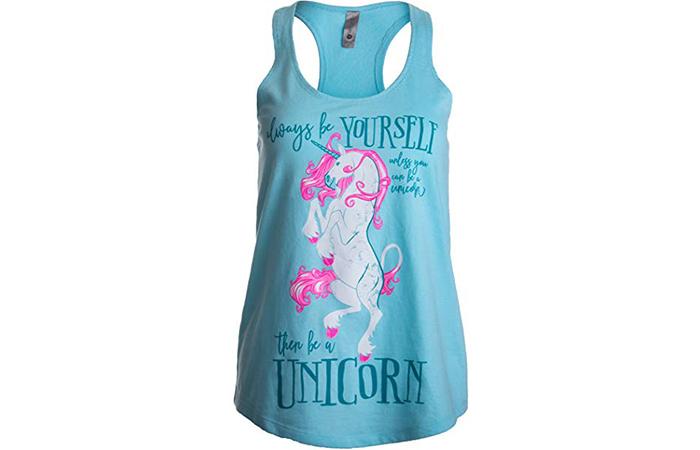 Let your friend embrace their love for unicorns every day with this cool and breathable blue unicorn printed tank top. It is comfortable to wear, especially on summer holidays and weekend trips. The top is made from 50% polyester and does not shrink. The blue color base with stunning white and pink unicorn print looks very appealing. The fabric is a French terry knit that feels smooth and perfect on the skin. It is also a great gift for friends who love collecting unicorn-themed items.
Key Features
Beautiful white and pink print on blue racerback tank top
Breathable and light
High-quality fabric to prevent skin irritation and discomfort
9. MONBO Sterling Silver Unicorn Pendant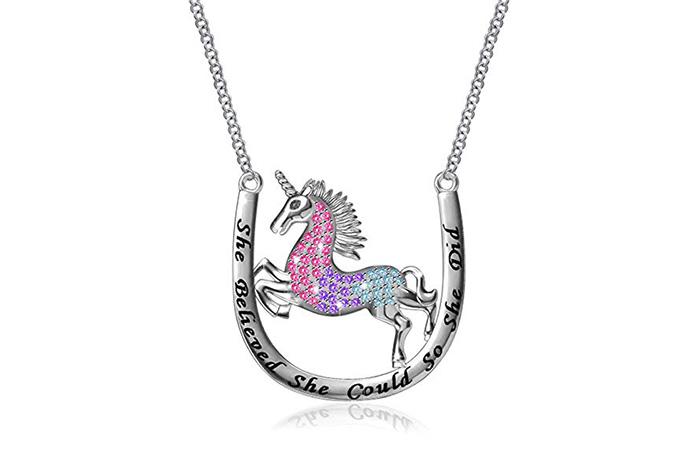 You can get this serene unicorn pendant for your loved one who loves accessories. This sterling silver unicorn necklace is a very appealing gift option. Both the chain and the pendant are made from sterling silver and embellished with rainbow crystals. The material is nickel-, lead-, and cadmium-free. The horseshoe is engraved with the words She believed she could so she did. It comes in eco-friendly packaging and is perfect for teenage girls and women.
Key Features
High-quality sterling silver pendant
Studded with beautiful rainbow crystals
Does not cause itching and discomfort
10. ZUEXT Unicorn Throw Pillow Covers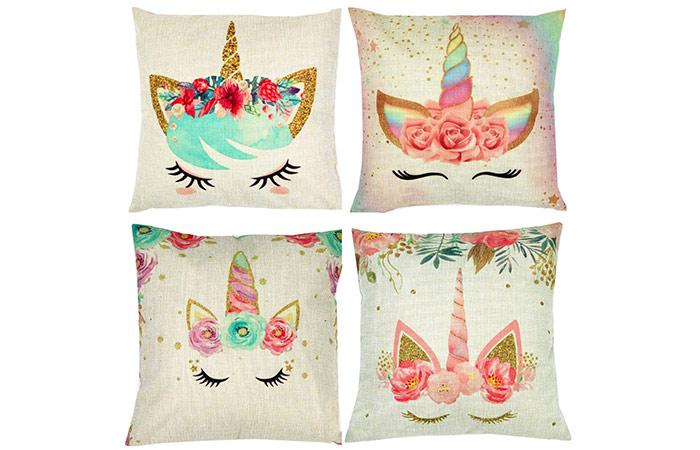 The Zuext Unicorn Decorative Throw Pillow Covers with zippers are ideal for cars, sofas, offices, bedrooms, and cafs. The covers are made of 100% cotton linen and triple stitched. The hidden zipper secures the pillow inside the cover and builds a dreamy atmosphere in the living room or bedroom.
Key Features
Colorful and vibrant unicorn-printed pillow covers
Comes in a set of 4 with hidden zippers
Let your loved ones love for unicorns grow with these gorgeous gifts. Which of these gifts are you going to give your family and friends this holiday season? Comment below to let us know!
The post 30 Best Unicorn Gift Ideas For The Unicorn-Obsessed appeared first on STYLECRAZE.