The holiday vibe is already feeling way more electric this year — perhaps you, too, are sensing the extra-festive spirit in the chilly air? After a long 2022, we're all overdue to glow up at all the office soirees, family reunions, and dinner parties that await our RSVPs. And, if you're the type to impress the crowd with a head-to-toe look, we've got quite the selection of holiday dresses ahead.
You can expect plenty of vampy velvets, luxe metallics, little black dresses, sparkly sequins, and glamorous gem tones in frocks that are trimmed with this year's top trends — think plenty of puff sleeves and cottagecore details. Just be sure to add to cart ASAP so that your outfit arrives in time — that is, in time for your grand entrance, wink wink.
If you want to stay comfy all night long but still exude that festive spirit, then glide into one of Skims' best-selling lounge dresses.
Here's a red leather holiday frock that exudes chic holiday vibes.
Now, here's a dress that will carry you straight into whatever New Year's Eve bash is on the cal.
Tell us you don't wanna shimmy-shimmy in this all night long.
It's a little intergalactic, sure, but it's also full of feather and sequin fun.
The holiday dress of your dreams has arrived. J.Crew's mini features jeweled buttons down the front, luxe velvet fabric, and puff sleeves for a modest yet whimsical dress.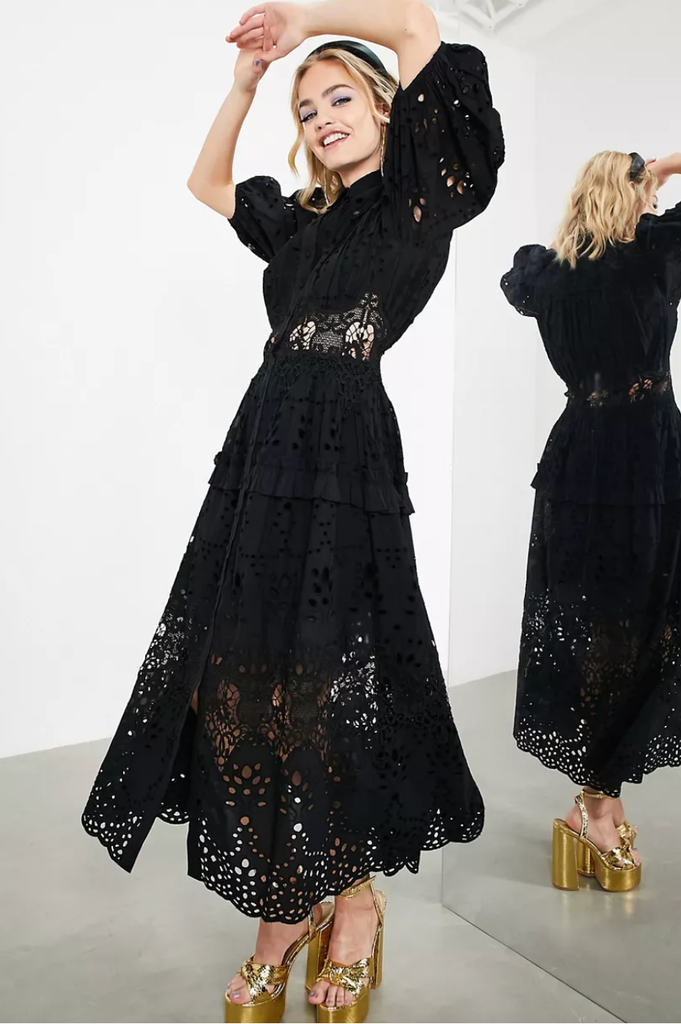 Did someone say Wednesday Addams' iconic dance dress?
This is your fit-and-flare moment. Make the pavement your catwalk.
Your only assignment when wearing this golden dress is to find the nearest light source and bask in it like a Greek goddess.
When in doubt about dressing for the holidays, put a bow on it. Plus, who wouldn't love an LBD named after the Princess Diaries' legendary country?
It's probably a rule that you ought to wear some kind of emerald green this holiday season. So why not go all out with a shimmering figure-hugging dress with a thigh-high slit?
Can you really call it the holidays without some tartan goodness? This long frock does it all with its cottagecore puff shoulders and tiered skirt.
Surely, this is a nap dress that is going to make all the waking-hours rounds. Get ready to look like an angel this holiday.
Imagine your favorite childhood sleep dress now available in the lushest navy velvet. It's a keeper, and you'll want to wear it to all your elevated dinner and holiday parties. Take it from our editors who adore all shades of the luxe style.
If you're the type to celebrate the holidays in a warmer climate and need an appropriately tropic-themed dress, Farm Rio has got you covered.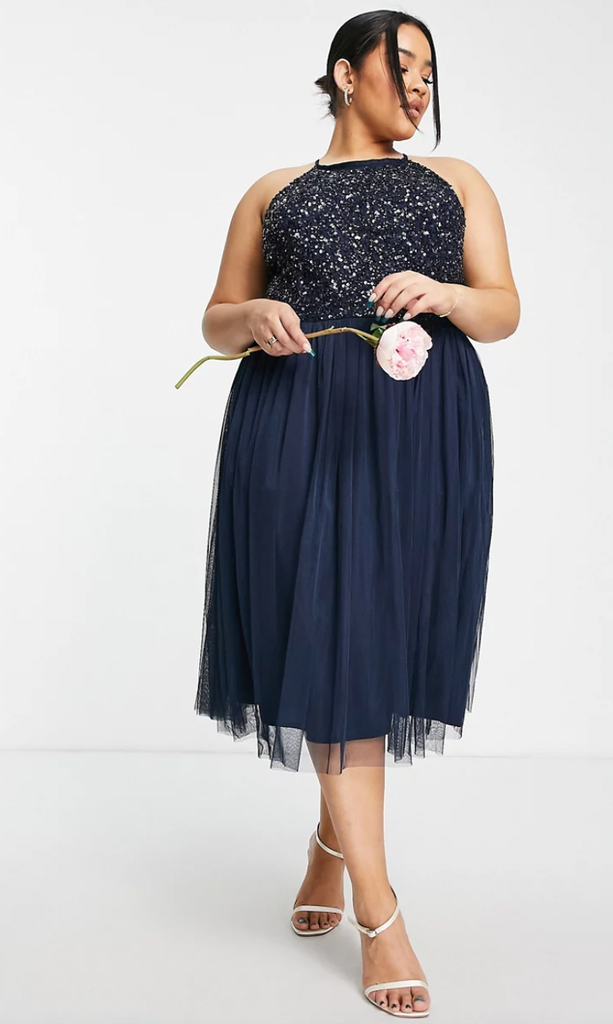 A little bit of tulle goes a long but impactful way.
Disco baby. Ring in the new year in this sparkling cherry-red mini for all the good vibes.
Layer comfortably with a turtleneck or leather jacket for a night of festivities. Quince's silk dress is made out of 100% mulberry silk, which helps maintain body temperature.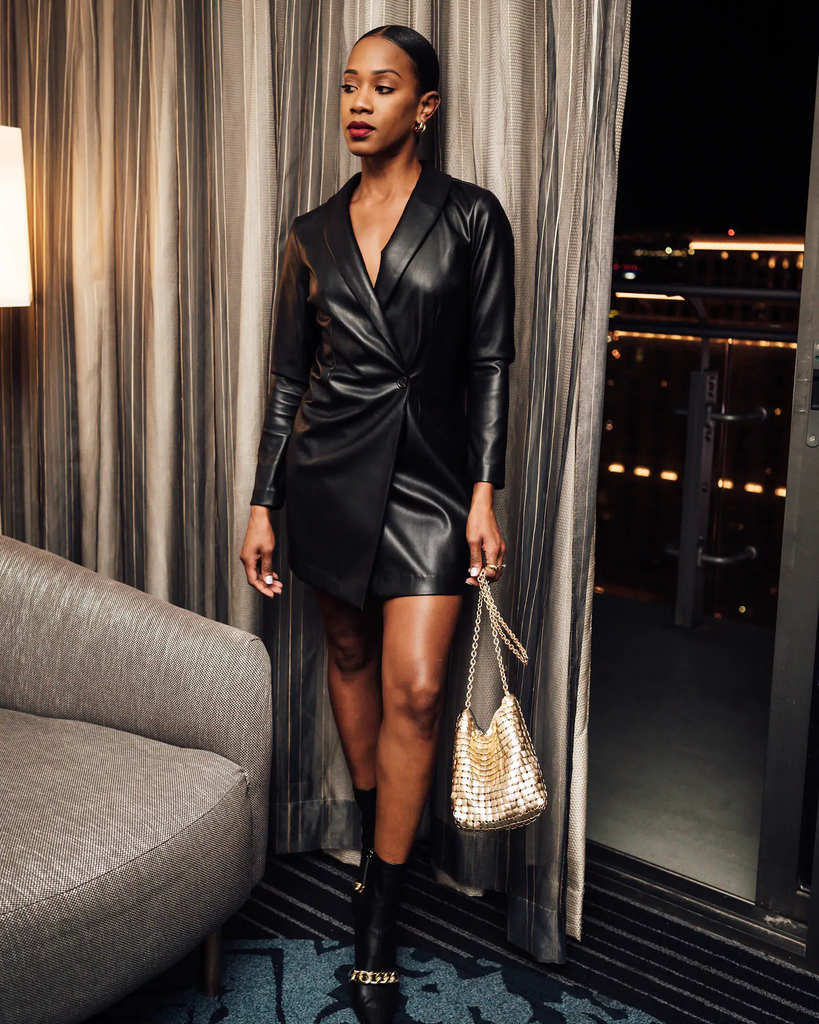 Stun the entire crowd by opting for vegan leather (you know, instead of the usual holiday materials of velvets, sequins, and satins).
As the name of this dress suggests, this look is made for an all-nighter.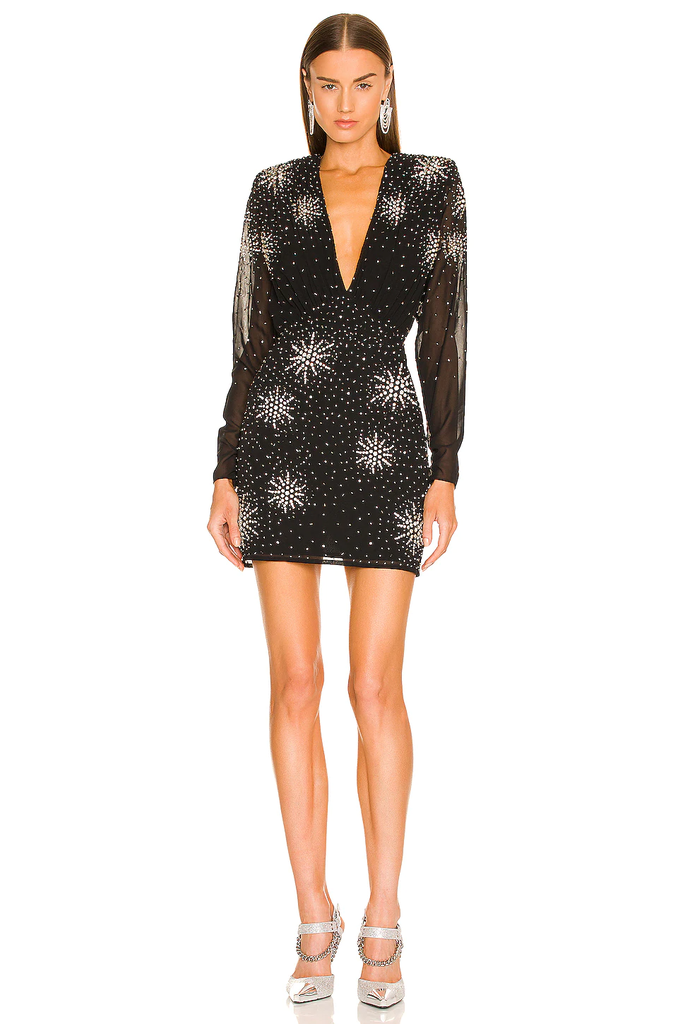 Because you can never go wrong with an LBD (that sparkles).
At Refinery29, we're here to help you navigate this overwhelming world of stuff. All of our market picks are independently selected and curated by the editorial team. If you buy something we link to on our site, Refinery29 may earn commission.
Like what you see? How about some more R29 goodness, right here?
24 Fresh Takes On The Classic Ballet Flat
Score 30% Off Urban Outfitters Dresses Right Now