our favorite sustainable fashion influencers
When you think of an influencer, what do you think of? You may have an image in your head of someone who promotes products on Instagram, offers discounts to their followers and stays up to date on the latest trends. You may even follow some influencers already. But there is an evolution of the influencer that we've seen emerge over the past few years, the sustainable fashion influencer.  As more consumers learn about sustainability and the impact our clothes can have on the environment (and the people who make them), the need for ethical inspiration in our feeds is also increasing. Sustainable fashion influencers can inspire you to have an eco-friendly wardrobe and to adopt more conscious shopping habits.
What's the difference between a fast fashion influencer and a sustainable fashion influencer?
 Fast fashion influencers build their platforms by empowering trend-led fashion and promoting the idea that you can achieve a certain 'lifestyle' or 'aesthetic' by simply buying the clothes and accessories they wear and recommend. 
In contrast, sustainable fashion influencers focus on spreading messages that encourage healthy attitudes towards fashion, like wearing what you already own, repeating outfits and opting for sustainable alternatives where possible.
While fast fashion influencers will do brand deals and take part in campaigns with most fashion brands that fit their 'niche' or that their followers will be interested in, sustainable fashion influencers will only work with brands that meet certain requirements. These requirements can be different depending on the individual influencer but would usually revolve around the environmental impact a brand has, and their policies around protecting garment workers and paying a living wage.
How can sustainable fashion influencers make a difference?
Influencer marketing in fashion is big business, and brands are increasingly working with more influencers to get access to their curated audience. Brands know that a recommendation from a creator that you like goes a long way. According to Shopify, 61% of consumers trust the product recommendations they get from influencers. Meanwhile, only 38% trust branded social media content.
This relationship works both ways, and the power that influencers have with brands is bigger than many people may think. As collaborators with a brand, a fashion influencer can have direct access to the people behind the scenes and can ask questions and influence change within the brand itself.
Sustainable fashion influencers can reach potentially millions of people on social media with their content and can use different tactics to get their content in front of consumers of fast fashion, helping spread the sustainable fashion message to those outside of the 'sustainability bubble'. 
Meet our favourite sustainable fashion influencers from the US and around the world:
It's important to note that not everyone that we've included in our list would consider themselves as an 'influencer' due to the negative connotations with the word, but rather someone who's fighting against over-consumption and trend-led fashion.
1) Aja Barber @ajabarber (London, UK)
One name has really stood out in the sustainable fashion world over the past few years. Aja Barber is known for her insightful analyses of the fashion industry's biggest problems and breaks things down in a way we can all understand and connect to. Her book, Consumed, explores issues of colonialism, climate change, and consumerism within fashion, and breaks down what collective change is needed in order to tackle these problems. Aja's outfits include brilliant bursts of color, chic silhouettes and the coolest patterns, and her #GetDressedWithMe series is the uplifting content we need!
Follow Aja Barber
---
2) Aditi Mayer @aditimayer (LA, USA)
Aditi Mayer is a sustainable fashion blogger, photojournalist, and labor rights activist, and frequently speaks on topics of social and environmental justice. Her work looks at fashion and culture through a lens of intersectionality and decolonization. Based in LA, Aditi has mastered the cool sustainable girl look, with her go-to looks including flowing dresses, natural materials, and earthy tones. 
Follow Aditi Mayer
---
3) Venetia La Manna @venetialamanna (London, UK)
Venetia La Manna is a fair fashion campaigner and podcaster and Co-Founder of Remember Who Made Them. She also created the hashtag #OOOTD (old outfit of the day) to help normalise wearing the clothes we already own and create new outfits from our existing wardrobe. Venetia's style is intrinsically London, with a mix of collared shirts, longline coats and tailored blazers. 
Follow Venetia La Manna
---
Heidi Kaluza transitioned from a fast-fashion influencer to an ethical, sustainable-fashion influencer, and now her content educates her followers about how to make a similar shift in their lives. Her TikTok's about fast fashion really blew up over the pandemic, with videos challenging the fast fashion influencers and holding them accountable for their role in the destructive cycle. Heidi champions re-wearing your clothes as much as possible and her gorgeous looks prove you can look just as good as any influencer and still be sustainable!
Follow Heidi Kaluza
---
Kathleen Elie is a sustainability advocate who set up consciousnchic to encourage more people to be sustainable and inclusive. Her fun videos make sustainable fashion more desirable to her followers by sharing her outfit details and the ethical brands she wears. Her looks are always so bright and well thought out, the perfect account for outfit inspiration. 
Follow Kathleen Elie
---
Australian-born blogger Leah Musch describes herself as a 'former fast fashion addict turned slow fashion activist'. Her goal is to show how sustainable fashion can be attainable for everyone. Leah's style includes some cool 70's inspired looks, denim dungarees and plenty of Aussie beach/skater vibes thrown in. 
Follow Leah Musch
---
7) Kara Fabella @theflippside (San Fran, USA)
Ethical fashion advocate, Kara Fabella gives us the inspiration we need to see in our feeds. She shares slow fashion styling tips and recommends ethical brands to her followers after checking them out first. Her looks are always effortlessly elegant with bursts of vibrant colours, serving major sustainable fashion.
Follow Kara Fabella
---
8) Petra Alexandra @petraalexandra (Toronto, Canada)
Canada-based Petra Alexandra has nearly 100k followers on Instagram and has built her platform by showing how you can make the most of your wardrobe without having to buy new. Her talent for creating so many different outfits from her existing clothes is great motivation for anyone who's struggling with the idea of 'buying less'. If you're looking for great workwear ideas, this is the influencer for you!
Follow Petra Alexandra
---
Sally describes herself as a 'conscious and mindful closet advocate' and her feed will not only brighten your day but will make you want to get out in nature asap! Her collection of houseplants and her nature-based content is the daily dose of green we all need. Sally shares her thrift store finds, ethical brand recommendations and slow fashion habits we can all adopt. 
Follow Sally
---
New York-based Alex shares fabulous, colorful plus-size fashion with her followers and advocates for a return to slow fashion and more mindful consumption of clothes. She Co-Founded Shiny By Nature, a size-inclusive fashion brand, as she saw there was a lack of ethically made plus-size clothing available. We love her cute white tennis skirt and gingham button-up tops for summer!
Follow Alex
---
11) Jackie @jacquitabanana (Washington DC, USA)
Jackie is a pr/comms strategist and has to be one of the funniest sustainable fashion influencers on Instagram! Her sense of humour and her ability to make sustainability information more digestible, makes her account the ideal starting place for anyone new to sustainable fashion. Jackie's style is also effortlessly chic and so versatile, with the cutest skirts, dresses, and crop tops. 
Follow Jackie
---
12) Noa Ben-Moshe @style.withasmile (Berlin, Germany)
Berlin-based Noa Ben-Moshe is a vegan fashion influencer who promotes cruelty-free fashion and innovative animal-free materials. On her blog, she states "we can still enjoy life, dress well, and have so much fun without hurting other beings or our planet". Her classic style and eye for detail result in a vibrant feed of outfit inspiration, no wonder she was crowned Vegan Style Queen by Plant Based News!
Follow Noa Ben-Moshe
---
13) Pumulo k. Nguyen @pumuloknguyen (Omaha, USA)
Pumulo is a secondhand, sustainable fashion enthusiast living in Omaha. Her bright and sunny feed is all the motivation we need to dig through our summer clothes and put together a cheerful outfit! Pumulo shares the slow fashion brands she's working with and tips on how to make your closet, home and life more conscious.
Follow Pumulo K Nguyen
---
Marielle is a passionate advocate for slow fashion and is fighting for more size-inclusivity within the sustainable fashion industry. After learning more about conscious consumerism, Marielle began asking designers questions about who made their clothes and under what conditions. Her outfits include gorgeous dresses, cute summer swimwear and activewear. 
Follow Marielle Elizabeth
---
Dominique is a sustainable style and well-being influencer who juggles several creative leadership roles as well as being a mother! Her eclectic style includes pieces from Black-owned, sustainable brands, vintage finds and her favourite items from her own wardrobe, re-worn for many years with pride. Dominique is also the Founder of the digital platform MelaninASS (Melanin And Sustainable Style) which focuses on sustainable fashion, natural beauty, wellness and land sovereignty efforts by B/IPOC (Black/Brown Indigenous Communities of Color). 
Follow Dominique Drakeford
---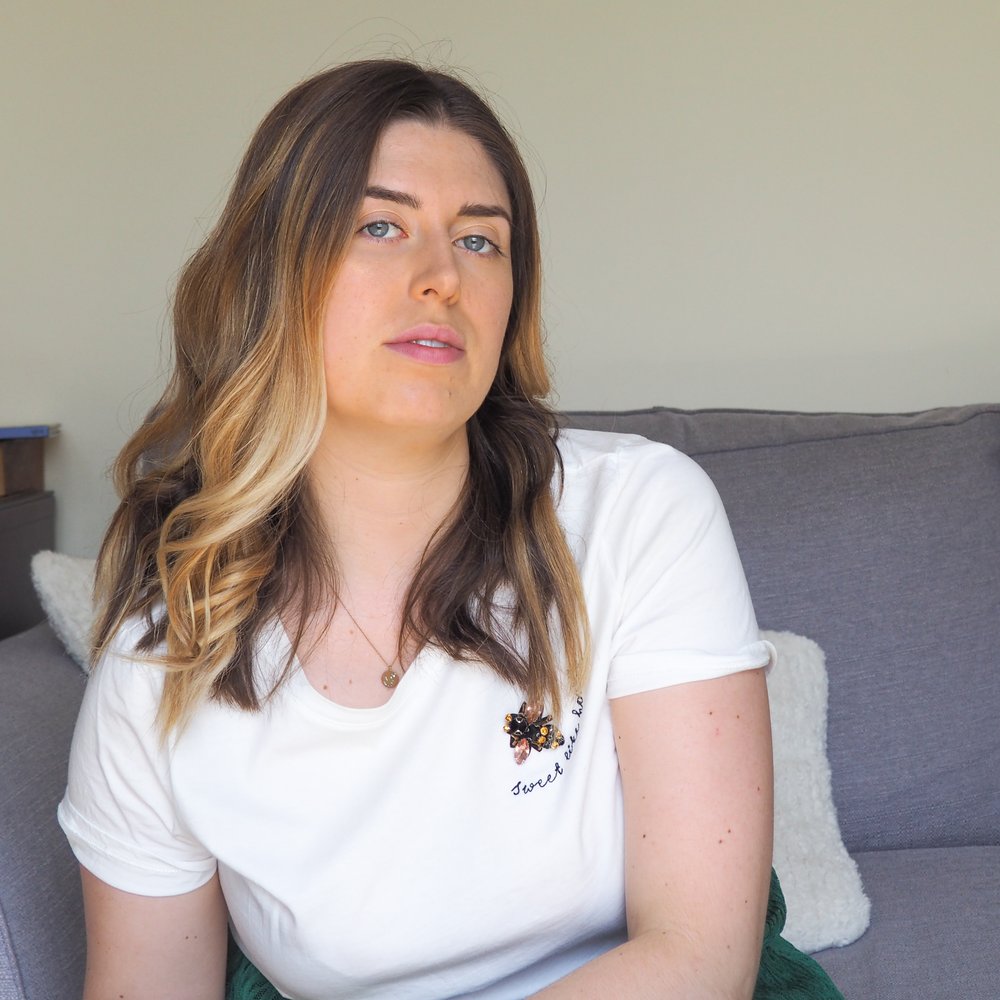 About the Author:
Sarah King is a freelance writer with a focus on vegan fashion, sustainability and ethically made clothes.
She campaigns for change in the fashion industry through her blog and on her Instagram page.
---
MAKE SURE TO PIN THE PHOTO BELOW TO SAVE THIS POST FOR LATER!
---
WANT MORE SUSTAINABLE BRANDS? VISIT OUR BRAND DIRECTORY!
Our Brand Directory is home to hundreds of sustainable brands, from makeup to cleaning supplies, from underwear to shoes. We have broken everything down by category for easy shopping, along with discount codes unique to Sustainably Chic viewers.
Shop the Sustainable Brand Directory
---
RELATED READING YOU MAY ALSO ENJOY: