Nickelodeon's hit interactive preschool series Blue's Clues & You! will skidoo onto DVD for the first time on June 2, featuring four exciting episodes from the show's debut season. The series follows beloved puppy Blue and live-action host Josh (Josh Dela Cruz) as they invite a new generation of preschoolers on clue-led adventures and solve a puzzle in each episode.

In the Blue's Clues & You! DVD collection, fans can help Josh solve games of Blue's Clues as he tries to figure out what Blue wants for a snack, what present she wants for her birthday, what she would like to do on her playdate and more. The DVD will also include special episodes from Josh & Blue's VLOG and eight bonus American Sign Language flashcards. Blue's Clues & You! will be available from Nickelodeon and Paramount Home Entertainment exclusively at Walmart on June 2, 2020 for the suggested retail price of $10.99 U.S.

Blue's Clues & You! Episodes:
Meet Josh!

Happy Birthday, Blue!

Playdate with Magenta

Big News with Blue

Special Features:
How to Play Blue's Clues Song

Josh & Blue's VLOG!
ABC Song, Hide & Seek + Dancing!

Holiday Shopping, Mailtime, Nursery Rhymes & More!

Garden Sing Along, Touring School & Mailtime with Blue's Clues!

Soccer Tricks, Gopher Game & Color Song!

American Sign Language Lesson, Nursery Rhymes & Mailtime!

Planets Song, Find The Snail Game & Mailtime!
American Sign Language Word of the Week

Blue's Clues

Thankful

Music
Blue's Clues & You! 
Fast Facts:
Retail Street Date: June 2, 2020
Walmart US: 
https://www.walmart.com/ip/Blue-s-Clues-You-Walmart-Exclusive-DVD/838020087
National Street Date: September 1, 2020
Catalog: 59210967000 (US); 59210969000(CAN)
Running Time: 1 hr 30 min
Audio: Dolby Digital English 5.1, French Stereo, Spanish Stereo
Subtitles: English Closed Captions
Format: DVD
US Rating: Not Rated
CN Rating: G          
US S.R.P.: $10.99
CN S.R.P.:  $12.99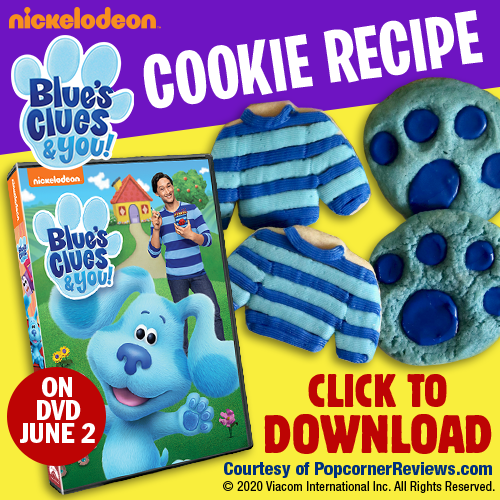 The Giveaway
One lucky winner is going to receive a DVD.  
To enter, just fill in the Giveaway Tools form below. This giveaway will end on  6/24/20. Open to the US only. The winner will be notified via email and will have 48 hours to reply. Thanks again to the sponsor for offering this fantastic prize.